Opening Day FAQ: D-backs vs. Padres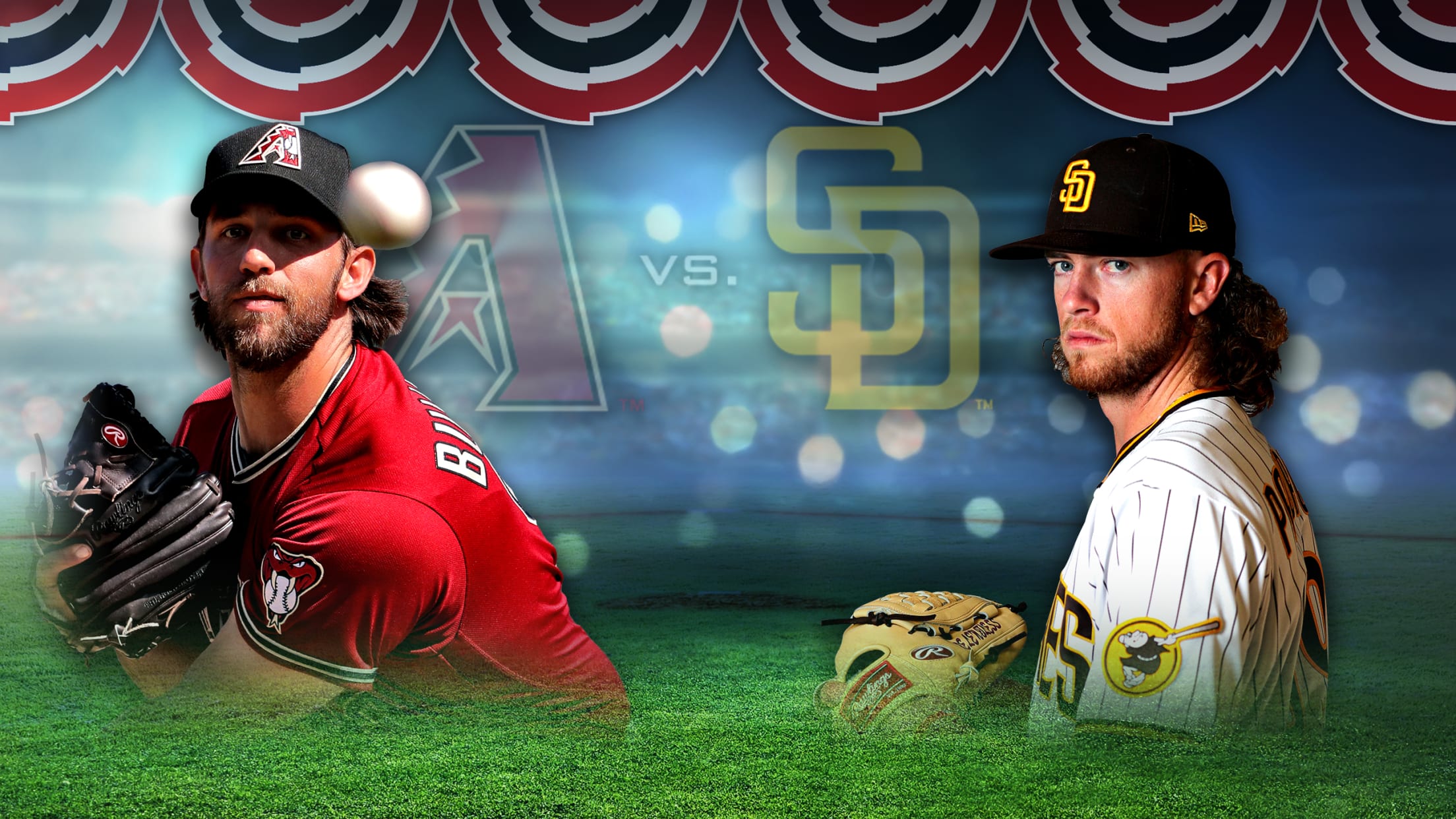 SAN DIEGO -- The D-backs and Padres are set to open their 2020 season about four months later than they would've liked. But their playoff aspirations are stronger than ever. The National League West rivals will square off Friday night at Petco Park, looking to make an early statement. Both
SAN DIEGO -- The D-backs and Padres are set to open their 2020 season about four months later than they would've liked. But their playoff aspirations are stronger than ever.
The National League West rivals will square off Friday night at Petco Park, looking to make an early statement. Both clubs are among the teams that seem to benefit most from an expanded 16-team postseason, with at least two teams from every division set to qualify automatically.
In a 60-game regular season, this weekend's four-game set already carried extra importance. But Thursday's news of the expanded postseason gave it even more weight. The Dodgers remain NL West favorites, but the D-backs and Padres are Los Angeles' primary challengers, and they might end up competing with each other for that second spot.
"We're tied for first with 60 games to go," said Jayce Tingler, who is finally set to make his debut as Padres manager.
• Opening Day previews: D-backs | Padres
It's certainly not the debut Tingler would've envisioned, amid the backdrop of the COVID-19 pandemic. Fans won't be allowed into Petco Park, and crowd noise will be piped in through speakers.
Tingler sends right-hander Chris Paddack to the mound, opposite veteran lefty Madison Bumgarner, who will be making his sixth career Opening Day start.
"He's a guy everyone looked up to as a kid, including myself," Paddack said of Bumgarner. "He's one of the greatest to ever pitch. ... Being able to go up against him, it's definitely a privilege. It's going to be a little cowboy showdown on Friday night."
A cowboy showdown to kick things off in the NL West.
When is the game, and how can I watch it?
First pitch is slated for 6:10 p.m. (MST and PT). For D-backs fans, it will be broadcast on FOX Sports Arizona, along with MLB.TV, and it can also be heard on 98.7 FM and the D-backs Radio Network. For Padres fans, it will be broadcast on FOX Sports San Diego, along with MLB.TV, and it can be heard on 97.3 The Fan.
What are the likely starting lineups?
D-backs: Christian Walker, who sustained a Grade 1 strain of his right groin during Summer Camp, will start at DH in the opener. In the past, D-backs manager Torey Lovullo has told his bench players three or four days in advance when they might be in the lineup, but in a shorter season in which he must adjust quicker, he will only give them one day's notice.
Projected lineup
1) Ketel Marte, 2B
2) Starling Marte, CF
3) Eduardo Escobar, 3B
4) David Peralta, LF
5) Christian Walker, DH
6) Kole Calhoun, RF
7) Jake Lamb, 1B
8) Nick Ahmed, SS
9) Carson Kelly, C
Padres: The Padres' infield mix seems settled. Their outfield mix seems settled, too. That leaves catcher and designated hitter as the two biggest questions ahead of Opening Day. Austin Hedges has had success as Paddack's batterymate in the past, so he's the favorite. With the lefty Bumgarner on the hill, the Padres might also lean toward Ty France, who slugged .509 against left-handed pitching last season.
Projected lineup
1) Fernando Tatis Jr., SS
2) Tommy Pham, LF
3) Manny Machado, 3B
4) Wil Myers, RF
5) Eric Hosmer, 1B
6) Ty France, DH
7) Trent Grisham, CF
8) Jurickson Profar, 2B
9) Austin Hedges, C
Who are the likely starting pitchers?
D-backs: Bumgarner will be starting his second straight Opening Day against the Padres, but this time he will be wearing a different uniform. Signed to a five-year, $85 million free-agent contract in the offseason, Bumgarner is being counted on to fill the ace role left vacant after the Zack Greinke deal at last year's Trade Deadline.
Padres: Paddack is coming off one of the most successful seasons for a rookie pitcher in Padres history, posting a 3.33 ERA with a 0.98 WHIP. But as a young starter on the path back from Tommy John surgery, his workload was often limited. That's not the case this year, and the Padres fully expect to turn Paddack loose as their ace in 2020.
How will the bullpens line up after the starter?
D-backs: Archie Bradley was named closer by Lovullo this past week, which is notable since Lovullo had Bradley in closer's role for much of the second half of last season, but declined to call him that. After three years in a setup role, this is Bradley's opportunity. How they get to Bradley is less certain, with Lovullo saying he will likely mix and match, depending on matchups. Kevin Ginkel earned a lot of trust from Lovullo last year and will pitch in high-leverage situations, along with free agent signees Junior Guerra and Héctor Rondón. Lefty Andrew Chafin will also see some back-end action.
Padres: The Padres have built one of the sport's deepest bullpens, and they intend to use it. Kirby Yates sits at the back end as arguably the best closer in baseball, coming off a season in which he posted a 1.19 ERA and led the Majors with 41 saves. San Diego spent most of the offseason building a formidable path to Yates. New acquisitions Drew Pomeranz and Emilio Pagán are expected to serve as the team's primary setup men, with Matt Strahm and Craig Stammen available to bridge the gap as well.
Any injuries of note?
D-backs: Other than Walker, the D-backs have been relatively healthy. Reliever Yoan López missed a few days last week for undisclosed reasons, but has been able to get some simulated game work in and should be ready.
Padres: The Padres are without infielder Jorge Mateo, who tested positive for the coronavirus upon intake screening (and gave the club permission to divulge his diagnosis). Mateo's likeliest role on the Opening Day roster would've been as a speed threat off the bench. Meanwhile, relievers Trey Wingenter (Tommy John surgery) and José Castillo (lat strain) will both miss significant time, dealing a blow to that deep bullpen.
Who is hot and who is not?
D-backs: No D-backs came out of the two-game exhibition series with the Dodgers hot, but quite a few impressed during Summer Camp. Ketel Marte pounded the ball as did Escobar, and utility man Vargas showed surprising power and could bid for more playing time.
As for the pitching, Robbie Ray has thrown like a man on a mission. He threw 90 pitches in his final tune-up for Saturday's start and has drawn raves from hitters who have faced him during camp. Luke Weaver, who will start the series finale Monday, has also shown good velocity and command of all his pitches during camp.
Padres: Aside from Paddack, who looked sharp throughout camp, Tatis and Pham were also standouts during the team's nightly intrasquad games. Their presence atop the San Diego lineup could prove critical in reversing a longstanding trend for the franchise. The Padres have struggled to reach base throughout the tenure of general manager A.J. Preller.
Anything else fans might want to know?
• The D-backs and Padres went to extra innings in their last meeting at Petco Park -- a Seth Mejias-Brean walk-off last Sept. 22. A reminder: If the two sides go to extras on Friday, every extra inning will begin with an automatic runner on second base. It's a rule in place for the 2020 season, designed to create offense.
• The Padres will station cardboard cutouts of players' family members and loved ones in the seats behind home plate.
• The Padres and D-backs meet 10 times this season (as all division rivals do). All 10 of those meetings come within the season's first 3 1/2 weeks.
• Bumgarner lost his Opening Day start against the Padres last season, allowing two runs over seven innings, including a Myers home run and the first two hits of Tatis' career. He owns a 2.70 career ERA on Opening Day -- including three starts against Arizona.