Notes: D-backs travel to LA; injury updates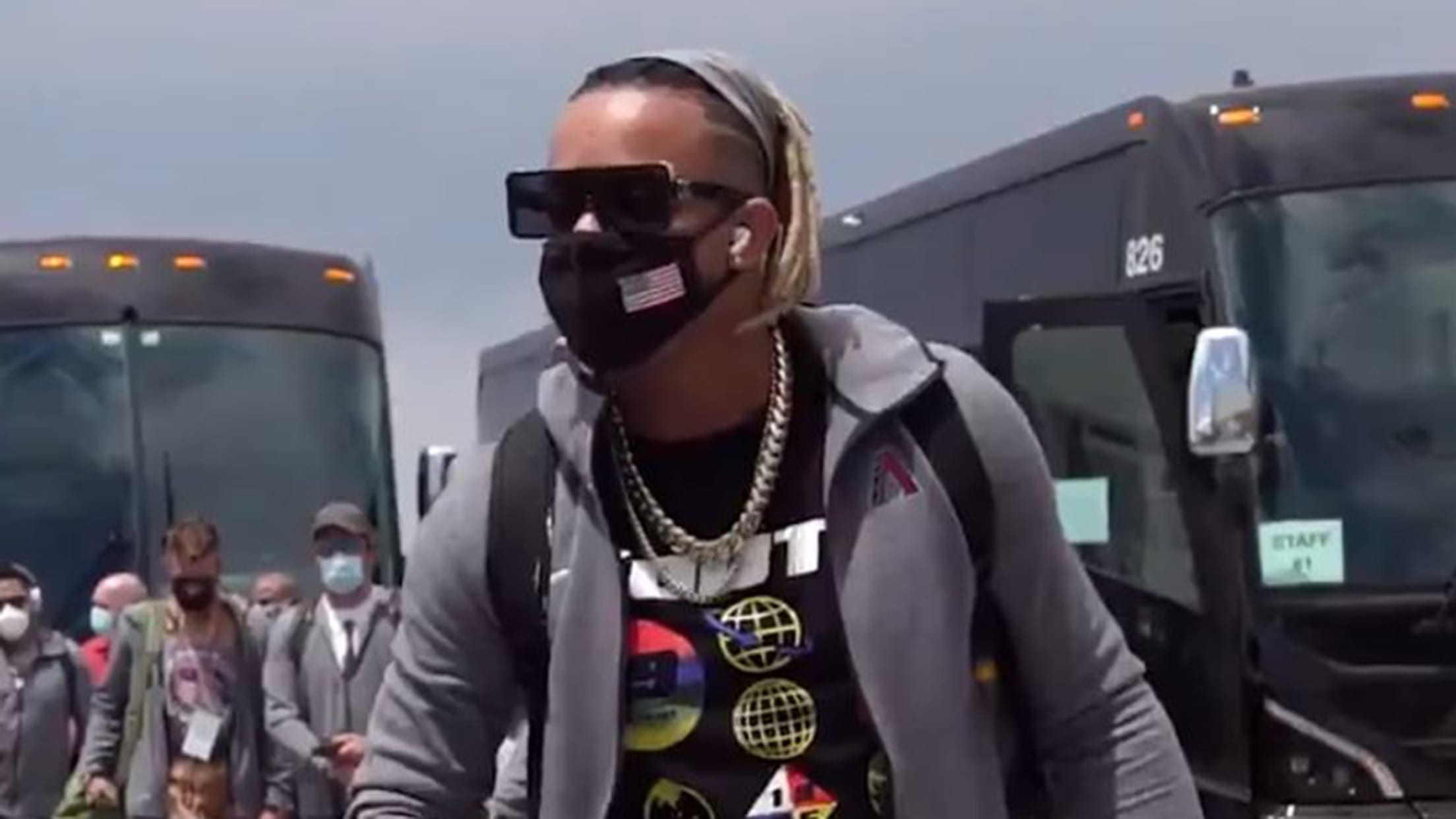 It was a flight that the D-backs had taken many times over the years -- Phoenix to Los Angeles on Sunday morning -- but it certainly had a different feel to it given the circumstances. Chartered flights are usually a time for players to move about freely, play cards, talk
It was a flight that the D-backs had taken many times over the years -- Phoenix to Los Angeles on Sunday morning -- but it certainly had a different feel to it given the circumstances.
Chartered flights are usually a time for players to move about freely, play cards, talk and relax, but that will not be the case this year with the added safety protocols due to the COVID-19 pandemic.
"As far as the plane, it got us from Point A to Point B," D-backs manager Torey Lovullo said. "There was not much movement, everybody was in their seats, obviously some bathroom breaks. There was a lot of space between guys, which we wanted to make sure was addressed. Then there were a lot of products to clean hands and make sure your area was clean and disinfected."
The team also utilized four large buses instead of the usual two to get to the Phoenix airport and to go from the airport to Dodger Stadium.
"There was a lot of social distancing on the buses," Lovullo said. "I think we had four buses to make sure that guys were not sitting next to one another nor was there was anybody in the row in front of you or behind you. That was a little different, when I step on the bus, I like to chit chat it up with everybody around me."
Wheels up. 🛫 pic.twitter.com/IqOc1UYggD

— Arizona Diamondbacks (@Dbacks) July 19, 2020
Different at Dodger Stadium
Because of the small nature of the visiting clubhouse at Dodger Stadium, the D-backs are not only using the relatively new clubhouse at field level, but also the old clubhouse, which had been in use until a few years ago and sits a flight of stairs above the other one.
"It's a little bit different," Lovullo said. "I think they, as all teams are, are trying to follow the guidelines and stay within the boundaries of social distancing. We're in two separate clubhouses, the coaches are spread out, typically this is a place where we're normally all in one area at one time. They've done a good job making sure there is built in social distancing. The service area, the food area, is no longer an option for us. That's closed off. There are some drink options, but somebody hands you the drinks. It's done the right way. It's a very safe environment."
One thing that is still the same is the field at Dodger Stadium, which has always been special for Lovullo, who is from the area.
"It's still Dodger Stadium," he said. "It takes on the same characteristics."
Lovullo usually has a lot of family visit him while he's there, but he has told them all that while the D-backs are in town the next couple of days, he will be unable to see them due to the health and safety protocols.
The next step on the journey. #RattleOn pic.twitter.com/iFOFNYGalO

— Arizona Diamondbacks (@Dbacks) July 19, 2020
Injury updates
• First baseman Christian Walker (strained right groin) worked out at Chase Field on Sunday. Lovullo said the team is still hopeful that he will be ready for Friday's opener.
• First baseman Kevin Cron (sore left hamstring) is with the team in Los Angeles and could see game action as soon as Tuesday when the D-backs play an intrasquad game in Anaheim.
• Right-hander Yoan Lopez, who had been missing for several days from camp, was back at Chase Field on Sunday and played catch. Lovullo said he could not say why Lopez had been absent and that they were optimistic he would be ready for the opener.
Up next
The D-backs wrap up their two-game exhibition series with the Dodgers on Monday night with Taylor Clarke on the mound at Dodger Stadium. Clarke is believed to still be in the hunt for a bullpen spot. As a rookie last year, he was 5-5 with a 5.31 ERA in 23 games (15 starts). Lovullo indicated that most of his regular everyday players will likely be in the lineup again Monday, with first pitch scheduled for 6:40 p.m. MST. Watch on MLB.TV on listen on Gameday Audio.