'It's one game:' D-backs still feel poised for run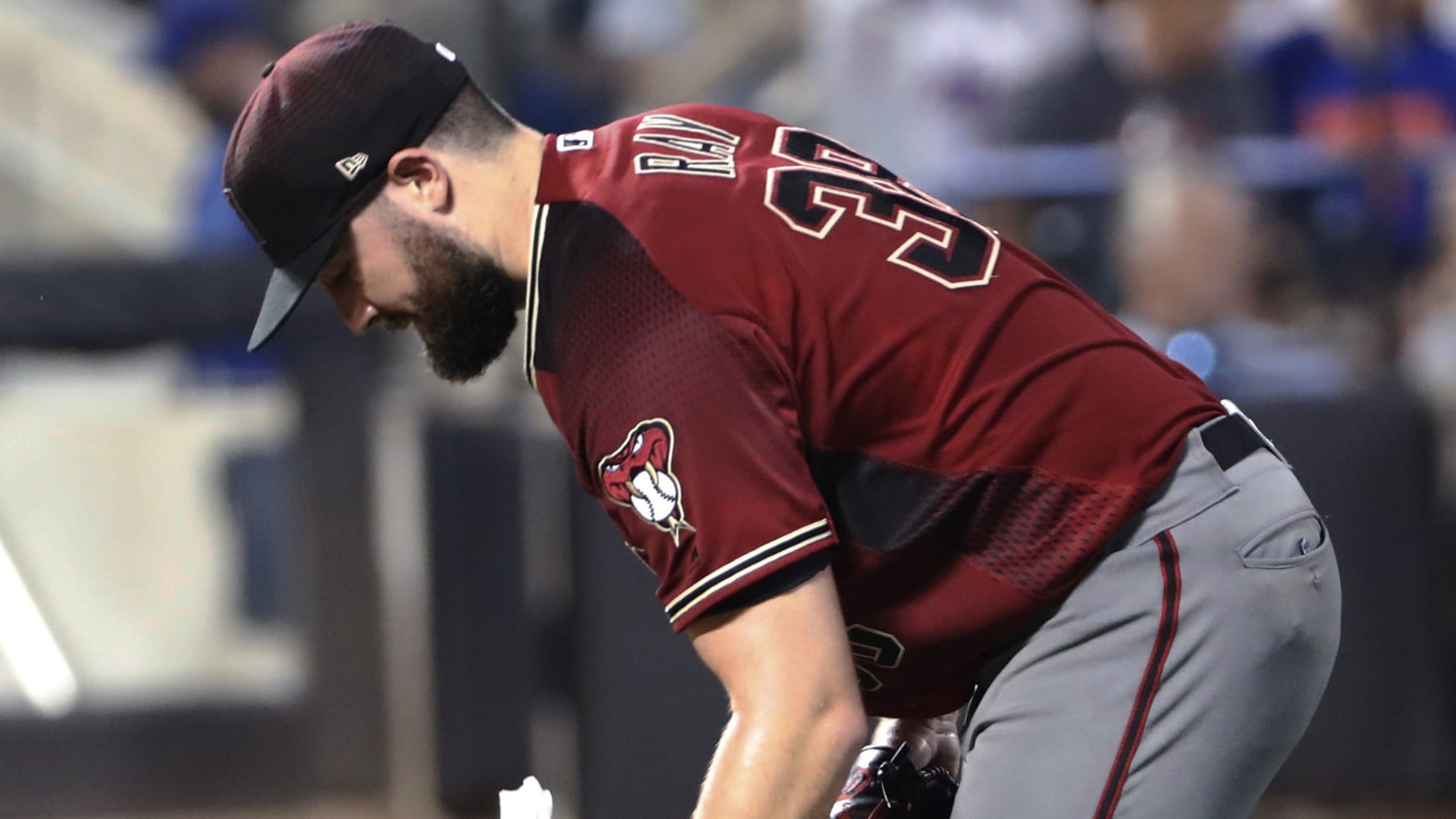 NEW YORK -- The D-backs' dreams of playing October baseball are starting to fade. If they are going to make the postseason, left-hander Robbie Ray has to step up, and he was unable to do so on Wednesday night, getting bumped from Arizona's 9-0 loss to the Mets at Citi
NEW YORK -- The D-backs' dreams of playing October baseball are starting to fade. If they are going to make the postseason, left-hander Robbie Ray has to step up, and he was unable to do so on Wednesday night, getting bumped from Arizona's 9-0 loss to the Mets at Citi Field after recording just two outs.
The D-backs have lost four straight and are 2.5 games behind the Cubs for the final National League Wild Card spot.
"We are going to be fine," Ray said. "We are going to take it day by day."
Ray was hit hard in the first frame, allowing five runs, including back-to-back monster home runs to Todd Frazier and Brandon Nimmo. After giving up a double to Juan Lagares, the eighth hitter of the inning, Ray left the game in favor of reliever Matt Andriese, who stopped the bleeding by getting Mets starter Steven Matz to pop up to second baseman Wilmer Flores.
"It was definitely weird," Ray said about the shortest outing of his career.
Arizona was aware that Ray might run into trouble again with the blisters on his fingers, especially since halfway through his warmup session before the game, Ray tore off a protective layer of skin on his left middle finger. It created a different dynamic and a different feel on the mound.
Ray had blister problems going back to his last start against the Reds that forced him to leave the game after 4 1/3 innings. Ray thought Wednesday would be a different story, saying he felt his finger was good enough to give the D-backs a quality start.
By the time the game started, though, Ray couldn't get a good grip on his curveball and slider. He could have relied almost exclusively on his fastball, but that wasn't part of the game plan in an important outing like Wednesday's game.
"I was 100 percent realistic that I was going to make this start," Ray said. "It just happened to go the way that it did. It's unfortunate. But I'll be ready for my next start."
The D-backs ended up using five pitchers in the game and the Mets took advantage of the situation, collecting 11 hits and slugging five homers. Frazier and Jeff McNeil had two home runs apiece.
It wasn't as though Arizona didn't have opportunities against Matz, who pitched six scoreless innings. In the second, Matz ran into trouble when the D-backs loaded the bases with no outs, but they couldn't push a run across. After Carson Kelly struck out, pinch-hitter Kevin Cron hit into an inning-ending double play. Arizona went 0-for-10 with runners in scoring position and left 11 men on base.
"We had the right situation where the right guy came up to pinch-hit and hit into a double play," said manager Torey Lovullo. "That kind of deflated us. There was a good energy, a good vibe when the guys came back in the dugout [in the second inning]. We just couldn't execute it."
After the game, Lovullo wanted his players to understand that a postseason berth is still very much in reach.
"Look, it's one game," Lovullo said. "I want these guys to know that we have to grind through tomorrow. We have to be ready to play with great expectations."
Bill Ladson has been a reporter for MLB.com since 2002. He covered the Nationals/Expos from 2002-2016. Follow him on Twitter and Facebook.