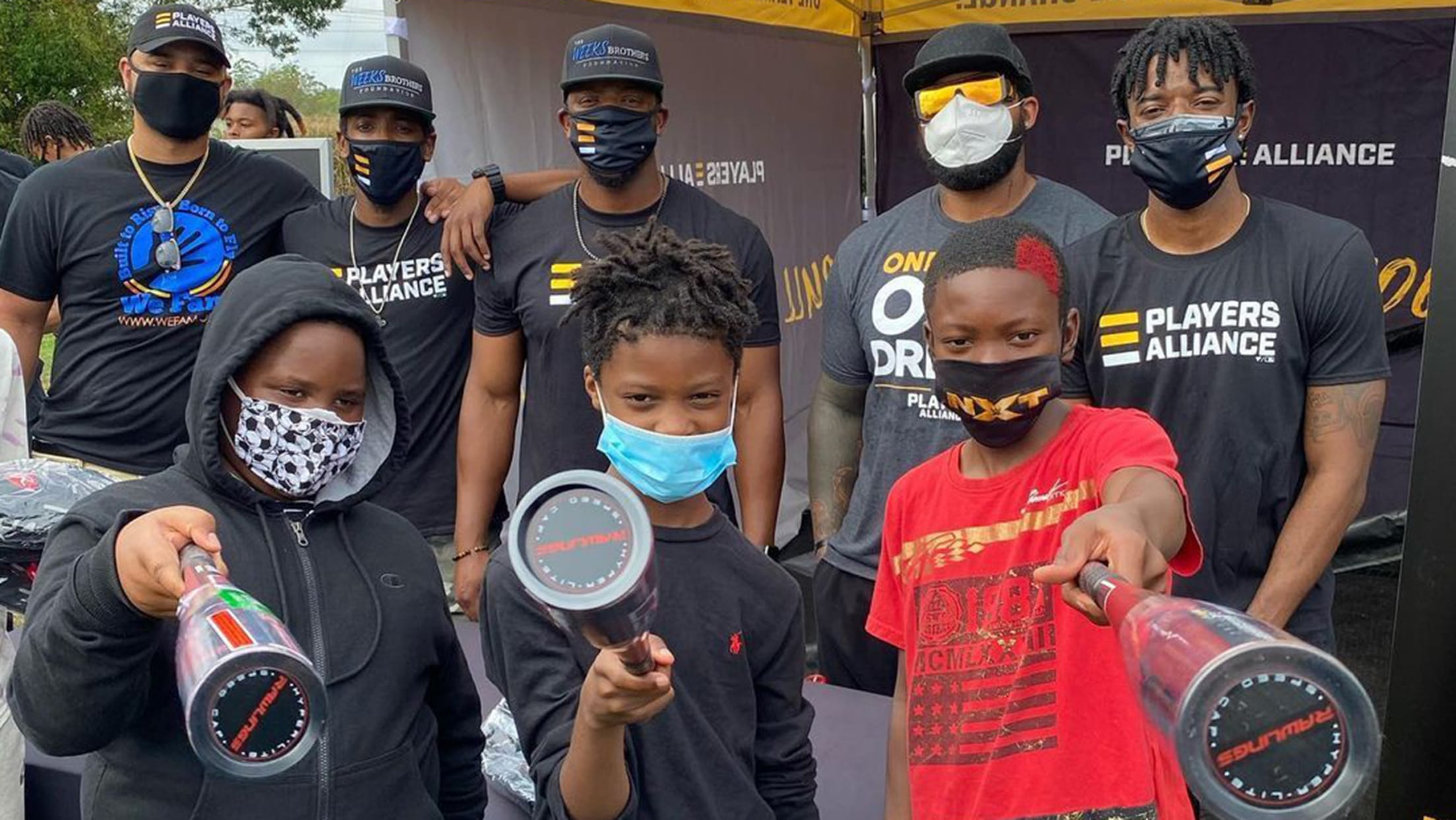 Scroll
MLK's legacy endures: 'Times are changing'
Standing before a packed, rapt congregation at St. Luke's Baptist Church in Birmingham, Ala., Dr. Martin Luther King Jr. recognized the moment's weight and its fragility.
The date was May 6, 1963. King and the Southern Christian Leadership Conference were five weeks into a direct-action campaign to fight Birmingham's segregation system with mass meetings, sit-ins, marches and boycotts. Over the course of that campaign, thousands had been arrested, including King himself. Children had joined the demonstrations and been clubbed by law enforcement and blasted by high-pressure firehoses.
It was an uneasy, unsteady, unprecedented juncture in American history. And with so many eyes upon him, King sought to remind anybody bowing to the pain of change that the hardship would be well worth it.
"The thing that we are challenged to do," King said that night, "is to keep this movement moving. There is power in unity, and there is power in numbers."
Major League Baseball's Black players felt a modicum of that power in 2020. In a nation struck by a raging virus and facing a racial reckoning, they coordinated, they demonstrated, they affected change. They became part of a movement that united athletes around the world. And in so doing, they betrayed an outdated clubhouse code and a generally conservative baseball culture to make their voices heard.
By year's end, through a newly organized nonprofit called The Players Alliance, Black players past and present have been doing their part to impact communities disproportionately ravaged by the pandemic and to bring wider awareness to the United States' unresolved, systemic injustices.
"Times are changing," Dodgers pitcher David Price said at a recent "Pull Up Neighbor" tour stop for The Players Alliance. "And that's good. We need to be able to use our voice, use our platform."
It is telling, though, that King's policy agenda is as relevant today as it was more than half a century ago. Real change, real solutions to fundamental fissures come slowly. They require a sort of stamina that is difficult for even professional athletes to summon, a commitment that must counteract the short attention spans quick to move on to the next news cycle, the next "cause du jour."
Attracting eyeballs is one thing; maintaining their gaze is another.
So with the calendar having flipped to 2021, the same players who last year stood up or knelt down face a challenge similar, in a sense, to the one those groundbreaking volunteers in Birmingham once encountered.
Their movement is at hand. Now, how to keep it moving?
'I thought about my family and my career.'
Marcus Semien wasn't ready to kneel on Sept. 23, 2017.
That was the day Oakland A's rookie catcher Bruce Maxwell, who is biracial, called a team meeting after batting practice to announce that he would be taking a knee during the national anthem. Born on a U.S. military base while his father served in the Army, Maxwell saw the gesture -- hand on his heart to represent love of country, knee to the ground to represent those who don't have a voice -- as an appropriate response both to the broad issue of police brutality and, more specifically, to President Donald Trump's words a day earlier. Speaking in Maxwell's Huntsville, Ala., hometown, the President had said that athletes who don't stand for the anthem should be fired by their teams.
Maxwell passionately explained his decision to his A's teammates, and a difficult clubhouse conversation ensued. Though he was not one of several A's players who fruitlessly tried to talk Maxwell out of his decision, Semien, who is also biracial, did ultimately let Maxwell go it alone.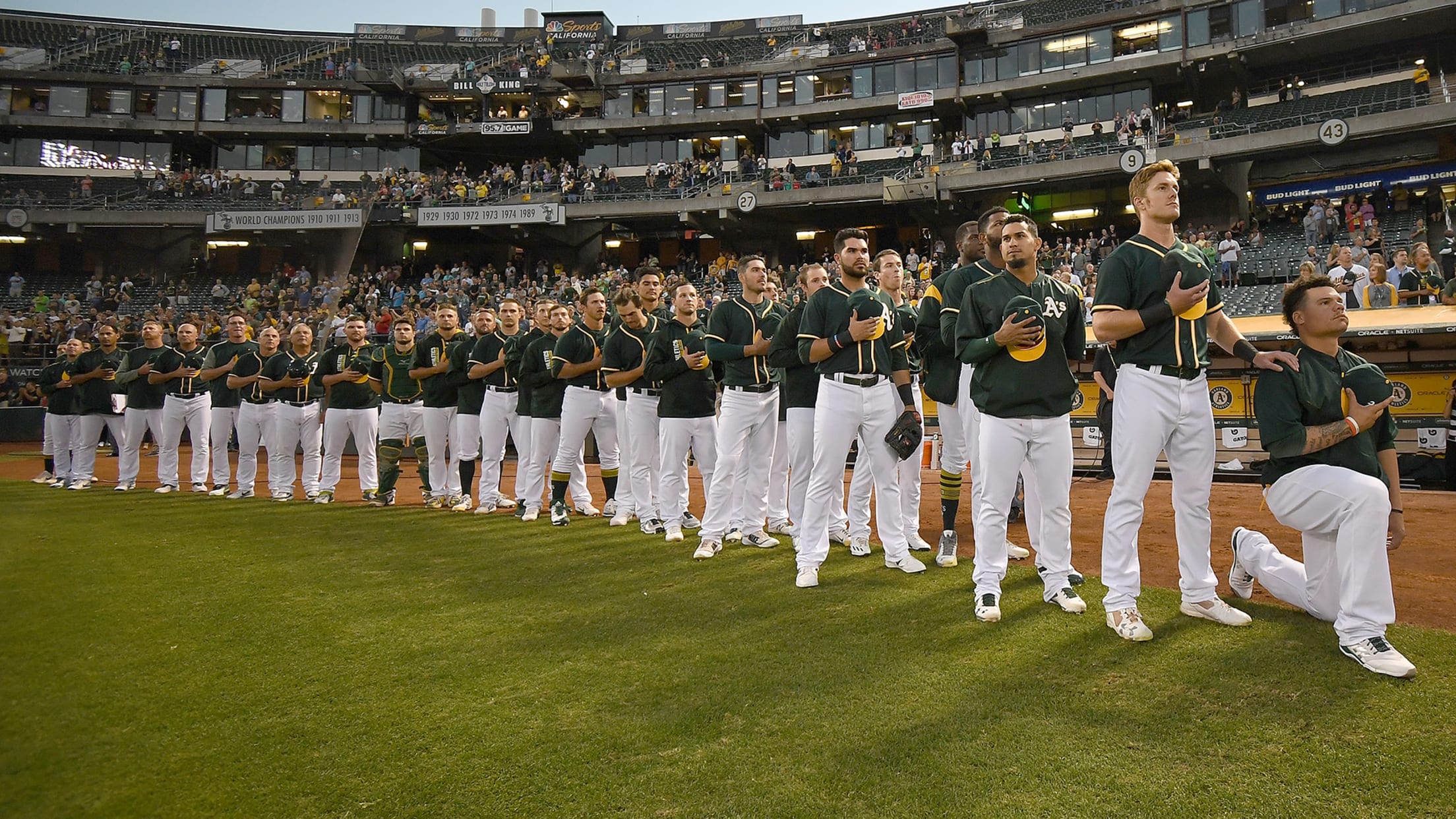 "I thought about my family and my career," Semien says now, "and I didn't end up kneeling with him."
The inference is obvious. Semien justifiably worried that his family and career could have been adversely affected by taking such a stance.
Later that year, Maxwell was arrested on assault and gun charges. A year after that, he was designated for assignment by the A's and went unsigned by MLB clubs. Maxwell, who spent the 2019 season in the Mexican League and recently signed a Minor League deal with the Mets, later said he did not feel supported in his decision to kneel. Whether that is accurate or not, this was the prevailing attitude and assumption in MLB.
That is, until players reconvened for Summer Camp in 2020.
To that point, Maxwell remained the only MLB player to have taken a knee for the anthem. Compared to its counterparts in the NBA, WNBA and NFL, the league had been slow to address social issues publicly. The deaths of George Floyd and Breonna Taylor at the hands of the police, and Ahmaud Arbery, however, had a profound impact on the nation and the sport. Players and team officials were speaking up, on their social media feeds and in media interviews. MLB itself donated to the NAACP Legal Defense and Educational Fund among other charitable donations across the league, and the league and clubs have continued to contribute to the conversation on social justice.
When games resumed, the kneeling that had once been unique to Maxwell was adopted by many, including some white and Latin players and coaches.
"I felt kneeling was a great way to peacefully protest but also make people uncomfortable, like how I've felt uncomfortable my whole life," Reds reliever Amir Garrett says. "I'm not disrespecting anybody. I have family in the military. My grandfather fought in the military, and I know he would be proud of the way I'm protesting peacefully."
Dodgers star Mookie Betts, who just four years earlier had said he would always stand for the anthem because his father served in the Air Force, now took a knee.
"I wasn't educated," Betts told ESPN of his change of heart. "That's my fault. I need to be educated on the situation. I know my dad served, and I'll never disrespect the flag, but there's also gotta be change in the world, and kneeling has nothing to do with those who served our country."
I felt kneeling was a great way to peacefully protest but also make people uncomfortable, like how I've felt uncomfortable my whole life.

Reds reliever Amir Garrett
Semien and the A's took a unified approach to Opening Day, joining with every team in the league with players wearing Black Lives Matter T-shirts and holding a black unity cloth after the player introductions. None of them kneeled. But Semien could look around the league, at the various ways teams and players took up the cause of racial justice, and see MLB was a much different place than it had been on Sept. 23, 2017.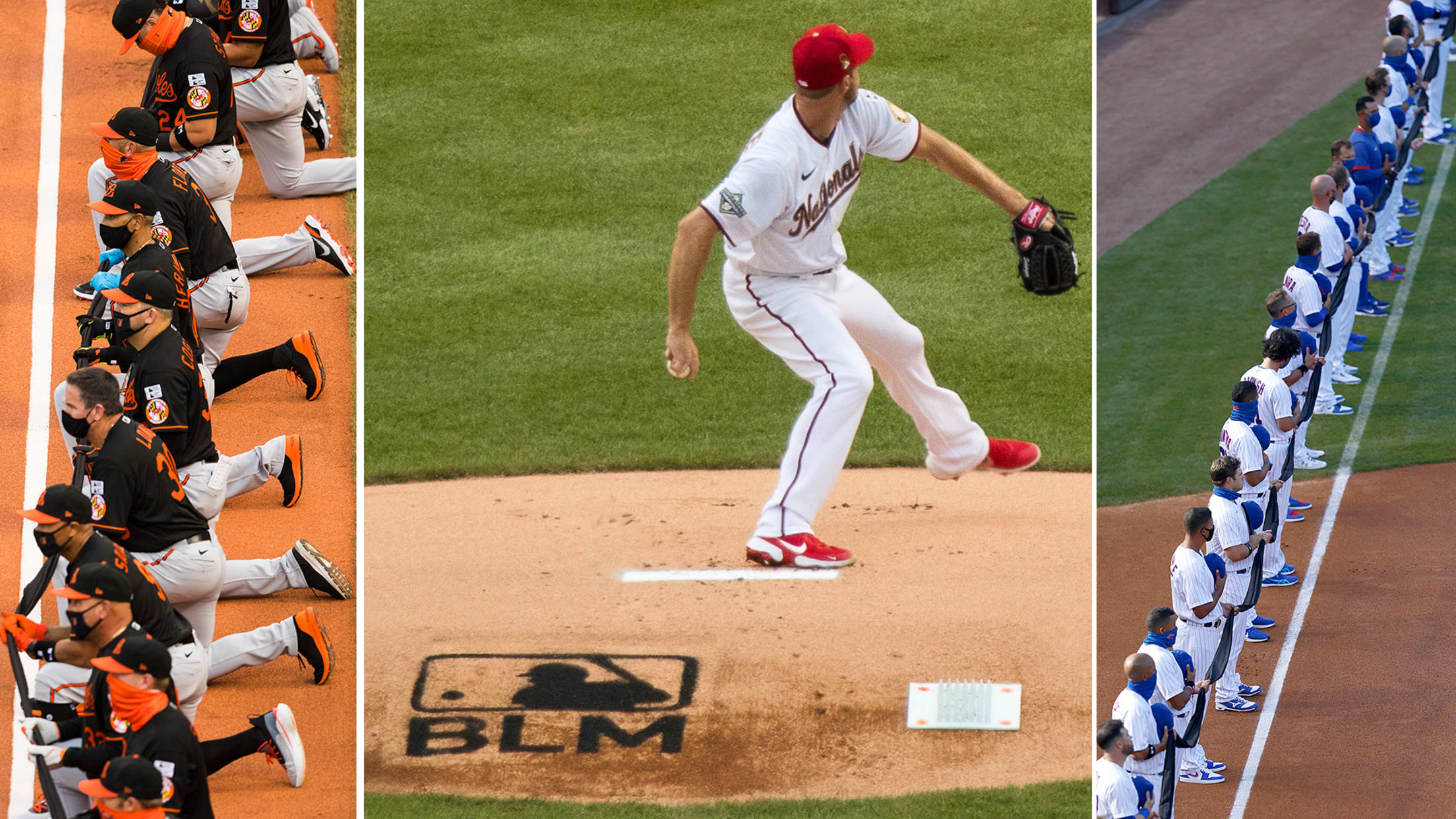 "With the momentum that has happened," he says, "people can see why Bruce knelt. People can see why you would do that."
'I want to understand.'
In August 2020, the protests went beyond kneeling. When Jacob Blake was shot seven times by Kenosha, Wis., police, it sparked an extraordinary display of athlete solidarity.
First, the NBA's Milwaukee Bucks refused to take the court for a playoff game. Then, MLB's Milwaukee Brewers followed suit. And after the Brewers and Reds agreed to call off a scheduled game at Miller Park, two other MLB games were postponed that night, and league officials issued the following statement.
"Given the pain in the communities of Wisconsin and beyond following the shooting of Jacob Blake, we respect the decisions of a number of players not to play tonight. Major League Baseball remains united for change in our society and we will be allies in the fight to end racism and injustice."
Seven more games were postponed the following day when players chose not to take the field. To those familiar with MLB's old guard, the sequence of events was staggering.
"I played on a team with about 15 Black players on a roster of 24," says former second baseman and current MLB Network analyst Harold Reynolds, who played in the 1980s and early 1990s. "And yet, I don't think we would have said, 'We're not playing tonight' back then. That's why I think Milwaukee was so significant. It was maybe three Black players on those two teams, but, basically, white teammates said, 'This is not right. We're standing up for you.'"
The thing that we are challenged to do is to keep this movement moving. There is power in unity, and there is power in numbers.

Dr. Martin Luther King Jr.
It is often said that you can change the world with your voice, and this is true. But your ears are every bit as important.
As the national conversation became more pronounced, MLB's small percentage of Black players finally had the ear of white teammates, officials and owners about issues they had once kept mostly to themselves, either out of fear or frustration.
"I could see my teammates broadening their horizons," Garrett says. "It's not even their fault. They're focused on baseball, and they keep everything else outside. But this past year, a bunch of them came up to me and said, 'Let's talk about this, I want to understand.'"
One of those teammates was Joey Votto. Last May, Garrett texted Votto the infamous George Floyd video and implored him to watch it. Votto instinctively took the side of the officer and didn't immediately click play. It was not until the next day that Votto finally relented. And when he watched that nearly nine-minute clip of officer Derek Chauvin kneeling on Floyd's neck, Votto wept. Something inside of him changed. He realized he had misunderstood the reasons behind the protests of Bruce Maxwell, Colin Kaepernick and other athletes. Days later, he wrote an op-ed in the Cincinnati Enquirer in which he vowed to no longer be silent.
Garrett was heartened by his friend's awakening, and he says he's seen it elsewhere.
"I can see a lot of things changing, man," Garrett says. "With fans, with friends, I can see a lot of things changing. Last year, when I took a knee, I would get messages from people that were really racist. But as the season went on, some of their mannerisms would change. They would say, 'Amir, I was blind to all the stuff going on in the country. I respect you, and I would kneel with you.'
"I'll never understand somebody that is white, and somebody who is white would never understand somebody that is Black. But I can try to be an open ear for them and them for me."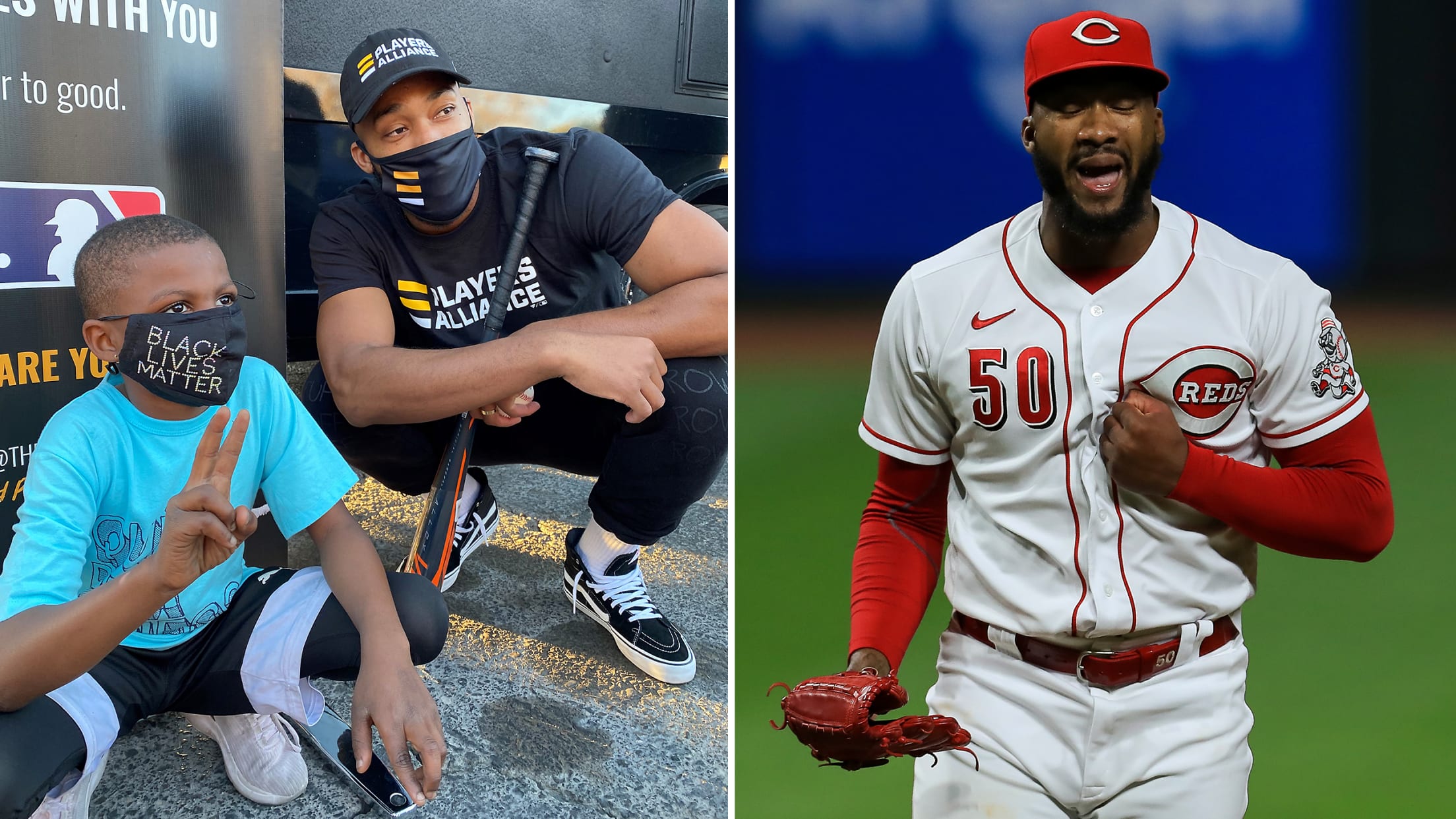 Similar conversations were taking place around the league. White players were compelled to consider the big and small injustices their Black teammates endure away from the field -- getting pulled over because they are driving a nice car, getting followed in an expensive store out of concern they might be trying to shoplift, getting hateful messages on social media when they try to speak their mind.
"Initially, the conversations can be a little awkward or feel like you're doing something that you shouldn't be doing," says outfielder Jay Bruce, who is white. "But that's the whole stigma we're trying to erase."
That's what brought the Padres together one day during Summer Camp, when young outfielder Taylor Trammell was asked to speak to the entire team. Trammell, who has since been traded to the Mariners, poured his heart out that day. He talked about growing up in suburban Atlanta, riding in the backseat when his dad was wrongly pulled over by an aggressive officer who had him confused with another Black man. He talked about what it was like to play on predominantly white teams growing up and the upsetting things his more affluent teammates would say about the fields when they'd play in Black neighborhoods. He tried to educate his teammates on what it's like to be an outlier.
Here he was, a 22-year-old prospect who had yet to play a single game in the big leagues, and Trammell felt seen and heard by the much more experienced players in the room -- a far cry from the pre-existing culture in which players with little to no service time were expected to keep their mouths shut.
"A vast majority of the guys came up to me afterward and said, 'We know that wasn't easy, but we really appreciate the way you talked about that,'" Trammell recalls. "When I had to talk about this stuff, my anxiety hits. I was vulnerable and nervous. But those guys made me feel like I made some sort of impact."
One of those guys was the Padres' white manager, Jayce Tingler. He asked Trammell, the son of a Navy veteran, for his advice on how best to handle the anthem. Trammell said his personal approach would be to stand, but with his hand behind his back and not on his heart.
"That was my way of silent protest," Trammell explains. "Something very subtle."
When the season began, Trammell and the rest of the members of San Diego's alternate roster would sit in the stands for the first few innings of the Padres' home games at Petco Park. Every night, Trammell would watch Tingler during the anthem.
And every night, Tingler would keep his hands behind his back.
'It was sickening'
After peacefully protesting police brutality during the 2020 season, Garrett was appalled by the deadly insurrection at the U.S. Capitol this month, when an unruly mob laid siege to the most important lawmaking building in the country.
"It was sickening," Garrett says. "It was very sickening to me, because I've been around the Capitol when we play the Nationals. If I walk around, just looking, I'm scared to even make a wrong turn because I know how highly guarded it is. And as a person of color, I'm on pins and needles.
"So for them to storm the Capitol like that was so heartbreaking to me. Because no matter what, white or Black, you know right from wrong. For them to do what they did and for people to try to justify it, it's heartbreaking."
On June 1, 2020, a crowd of hundreds of people peacefully protesting George Floyd's death in Lafayette Square was dispersed by law enforcement using chemical agents and rubber bullets. It is a response that now stands in stark contrast to what transpired on Jan. 6, when Capitol Police were either overpowered or, in some cases, deferential to a similarly sized crowd of Trump supporters who had openly plotted their assault online for weeks.
"Just compare how the situations were handled," Cleveland pitcher Triston McKenzie says. "Those are the things I have to explain to my teammates."
As a result of the heightened tensions and discourse in the country, some Black players have taken a more active interest in politics. In the lead-up to this month's Georgia Senate runoffs, Reds outfielder Dwight Smith Jr. teamed up with HBCU Heroes by using his Twitter and Instagram feeds to encourage Black participation at the ballot box.
So Smith was elated by the election of Raphael Warnock as the first Black senator from Georgia, a former Confederate state.
"It was a very humbling experience, being a part of something this big in this world," Smith says. "We advocate for change, so it was great to be a part of that. To get change in this world, you've got to vote."
In a span of less than 24 hours, Smith was heartened by Warnock's election, only to be heartbroken by the ugly attack on the Capitol. The experience left him reflecting on the immersion he has experienced as the son of a former Major Leaguer and as a Major Leaguer himself. He's seen a broad blend of cultures come together to form a team.
"That's how you learn and expand your mind," Smith says. "I feel like the sports world has made that jump quicker than the actual world. We're in a locker room, and we're family. The faster the real world recognizes that we are brothers and sisters, the world would be such a better place."
But as painfully evidenced by what happened at the Capitol, the results of the recent elections have only created more discord.
"All change is hard," pitcher Tyson Ross says. "This is the most divided our country has ever been. With everything that's happened this year, everything has been very divisive. But one of the things that's made this country great is the melting pot aspect of it, the fact that anybody can achieve the American dream and everybody has an opportunity. Once we get back to that idea of growth and opportunity, as opposed to divisiveness, that's when we move forward."
Once we get back to that idea of growth and opportunity, as opposed to divisiveness, that's when we move forward.

MLB pitcher Tyson Ross
'It's going to be a huge void to be filled.'
The league has made a concentrated effort in recent years to improve its frustratingly low percentage of Black players on active rosters.
Through the efforts of the Reviving Baseball in Inner Cities program, the Youth Academies, the Hank Aaron Invitational, the Dream Series, the Breakthrough Series and the Play Ball program, baseball has seen progress at the youth level and in recent Drafts. But grassroots efforts take time to yield significant results, particularly in a sport with such a long developmental path. In 2020, just 7.8 percent of players on Opening Day rosters were Black, though in an encouraging development, nearly 20 percent of players drafted in the first round since '12 are Black.
"When I was a kid, when I looked at baseball and I saw who was marketed in baseball, I saw Ken Griffey Jr. on commercials, I saw Derek Jeter on commercials, I saw athletes of my skin complexion," says Padres outfielder Tommy Pham, who is Black and Vietnamese. "That made it cool. Baseball's starting to change and is finding more marketable Black players. But in comparison to football and basketball, it's still light years behind."
This was the cause that inspired the creation of The Players Alliance in 2020. Last summer's racial unrest and protests prompted the group of more than 150 current and former players to make pointed social justice commentary. But when Edwin Jackson and Curtis Granderson and other Black players first began talking about forming something like The Players Alliance, the initial objective was to give back to the game by encouraging more Black participation at the youth level.
In an effort to break down barriers to entry, The Players Alliance launched the Gear for Good program, working with teams, corporate partners, players and fans to collect gently used equipment and have it cleaned, packaged and delivered to Black communities.
"If you ever want to see something expensive, look up purchasing a metal bat," Granderson says. "It's $100 to $500, and you're probably going to need another one the next year. And then you have a glove, a ball, training lessons, private coaches. You start adding those things, plus the travel ball, and it gets very expensive for families to play this game."
In some communities, even creating a basic structure for kids to play baseball is a monumental challenge.
Rockies outfielder Ian Desmond sought to address this in 2020, after he opted out of the MLB season. In a lengthy and emotional Instagram essay, Desmond, who is biracial, relayed the many ways racism has touched his life. He concluded it by announcing his intention to spend the summer working to get youth baseball in his native Sarasota, Fla., back on track.
"We're trying to create a mechanism that allows other players to take what we're doing and do it in cities where they're at," he says. "So we kind of have a formula that we believe in, which is to partner with organizations that are proven to be doing good and people will feel good about supporting. Ours here locally is the Boys & Girls Clubs of Sarasota and DeSoto Counties. They've been a leader in youth development since 1970. We're going to partner with them and put a baseball program in that campus."
For three big leaguers from the Bay Area -- Semien and brothers Tyson and Joe Ross – the importance of Black mentors for young athletes has become a focus. They formed a partnership with Coaching Corps, an organization that seeks out Black volunteers and gives them quality training so that they can provide guidance and boost interest in sports in communities of color.
"On the other side of COVID," says Tyson Ross, "when things are safe and opened up again, it's going to be a huge void to be filled. We want kids to have a chance to have the same youth experience that we were all able to have when we were younger."
The game has room to grow at its lowest levels and in its highest positions. The Marlins' recent hiring of Kim Ng -- the first female general manager of a team in the big four professional sports leagues in North America and the first GM of East Asian descent in MLB -- was barrier-breaking. But an overall lack of diversity in decision-making positions still exists, and it's something Black players hope can be addressed in a meaningful way.
"It's hard to do something," says former outfielder Chris Dickerson, "if you don't see people who look like you doing it."
'This is players trying to bring people together.'
The power of unity and of numbers was visible and visceral at Mullaly Park in the Bronx, at Corinthian Baptist Church in Cincinnati, at Springhill Community Park in Tampa, Fla., at Oak Cliff Community Center in Dallas and everywhere The Players Alliance's Pull Up Neighbor Tour stopped in its trek across the country this winter.
Black players around the league had donated their Jackie Robinson Day salaries to The Players Alliance to fund the tour, and MLB matched that investment with an additional $1 million contribution, consisting of health and safety supplies and youth baseball equipment. At each stop, players volunteered their time, distributing food, COVID-19 supplies and baseball equipment to community members in need. Separately, in September, MLB and the Players Association jointly committed $10 million to The Players Alliance.
"This has nothing to do with politics," Price says. "This is players trying to bring people together, just forming that unity. That's what we need to do. The world is going through some really tough things over this past year. So to be able to bring everybody together in different communities, that's going to go a long way for this next generation of kids, to show them what we're all about and that we can come together for a greater cause."
The Pull Up Neighbor Tour was the culmination of a transformative 2020 in Major League Baseball. Black players had vocalized their desires and organized their efforts. And with the full embrace of MLB and its clubs, and the hope that a post-pandemic world will provide an opportunity for more ambitious endeavors, The Players Alliance is only beginning to make its mark.
But what of the broader calls for social and criminal justice? What happens next? Has a bar of interest and activism been set by last summer's protests? If another appalling display of police brutality presents itself, will more games be postponed? Will more players kneel? Will more players -- Black or otherwise -- speak up?
These are questions that cannot be answered at the moment. We can only hope it doesn't come to that.
"Right now, no one's talking about kneeling," Reynolds says. "Everybody's talking about healing."
What is clear, in that healing process, is that Black players coming into MLB today feel more emboldened and more supported than their predecessors did.
This, itself, is progress.
"The trick," says rapper, author, producer and baseball fan Chuck D., who has created politically and socially conscious hip-hop since the 1980s, "is that you don't let it stop there. Because once this generation is in their 30s and 35 and moving to older age, somebody has to be there to pass the baton of responsibility down to the next couple of generations that come up, and not take any of this for granted and not forsake any of these things. I feel that is essential to do because they have the microphone, and they have the time and accessibility and the focus. It's about making sure that there is a maintenance of awareness."
A new generation of players is hyperaware of what is going on in the country and how social media, interviews and other platforms can be utilized to make their voices heard on important issues.
"The stuff that happened last year opened people's eyes," says McKenzie, who debuted in 2020. "It will allow people to feel more comfortable. The biggest thing is finding a way to be yourself and to understand that, while everybody may not accept you, you're going to speak for what you believe in."
We are witnessing a widening of clubhouse discourse and of athlete activism. We are watching Black players make cohesive, collective efforts to improve their sport, their communities, their country, their world. We are, it appears, at the beginning of a movement, and those behind it would be wise to heed the call King gave in Birmingham that night in 1963:
"If you can't fly, run. If you can't run, walk. If you can't walk, crawl. But by all means, keep moving."
credits:
Anthony Castrovince has been a reporter for MLB.com since 2004. Read his columns and follow him on Twitter at @Castrovince. Interviews with Price, Granderson, Dickerson and Desmond were conducted by MLB Network.