4 takeaways from 4 Wild Card sweeps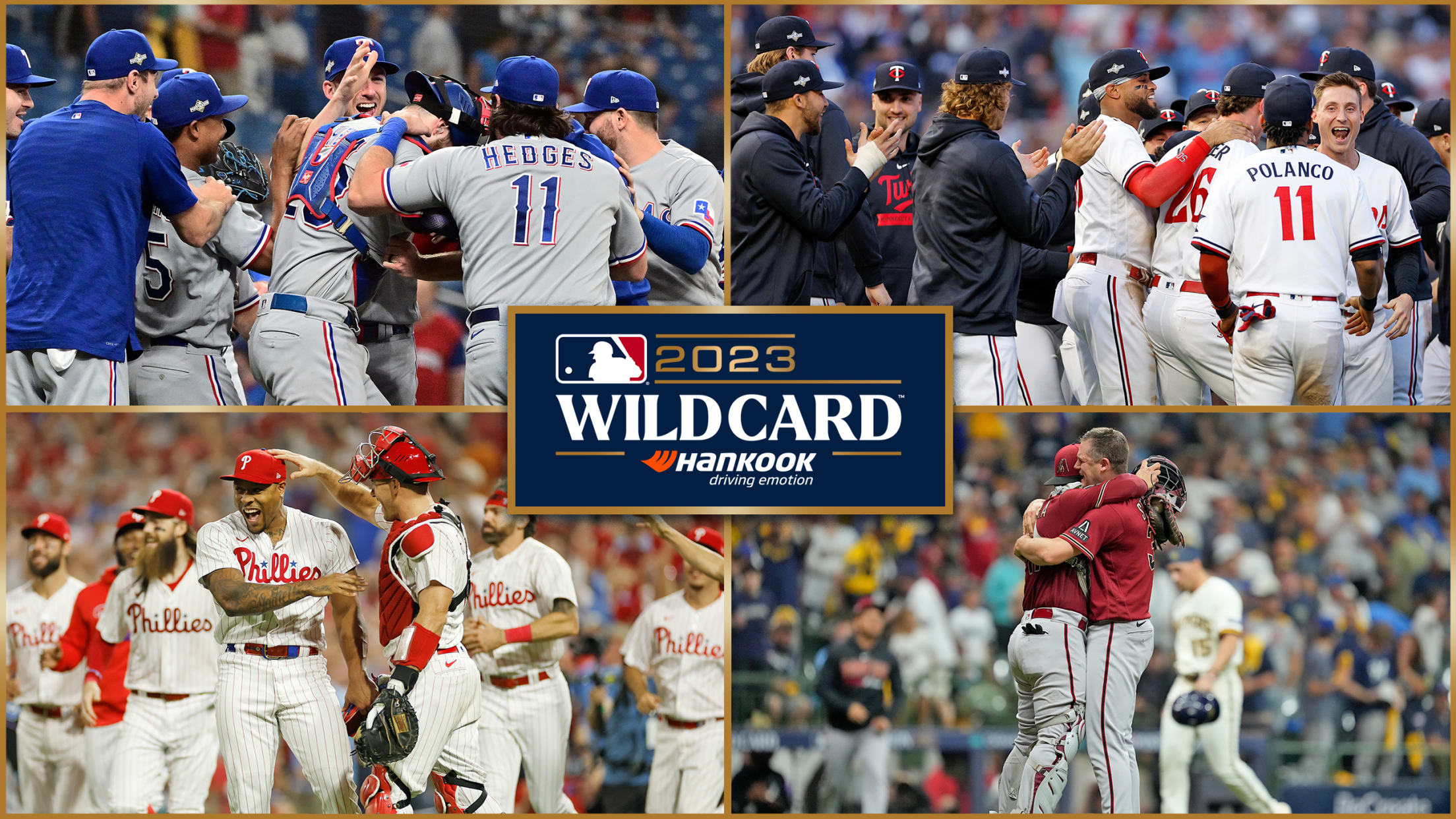 Some very bright minds have been rendered ridiculous when trying to surmise anything of substance from small numbers of baseball games. The stakes might be immense within the pulse of the postseason, but, when you get right down to it, these are still short series, which is to say anything
'He shows up': Correa adds Wild chapter to October legend
Twins inspired by star's postseason play, high IQ for daring 'big moments'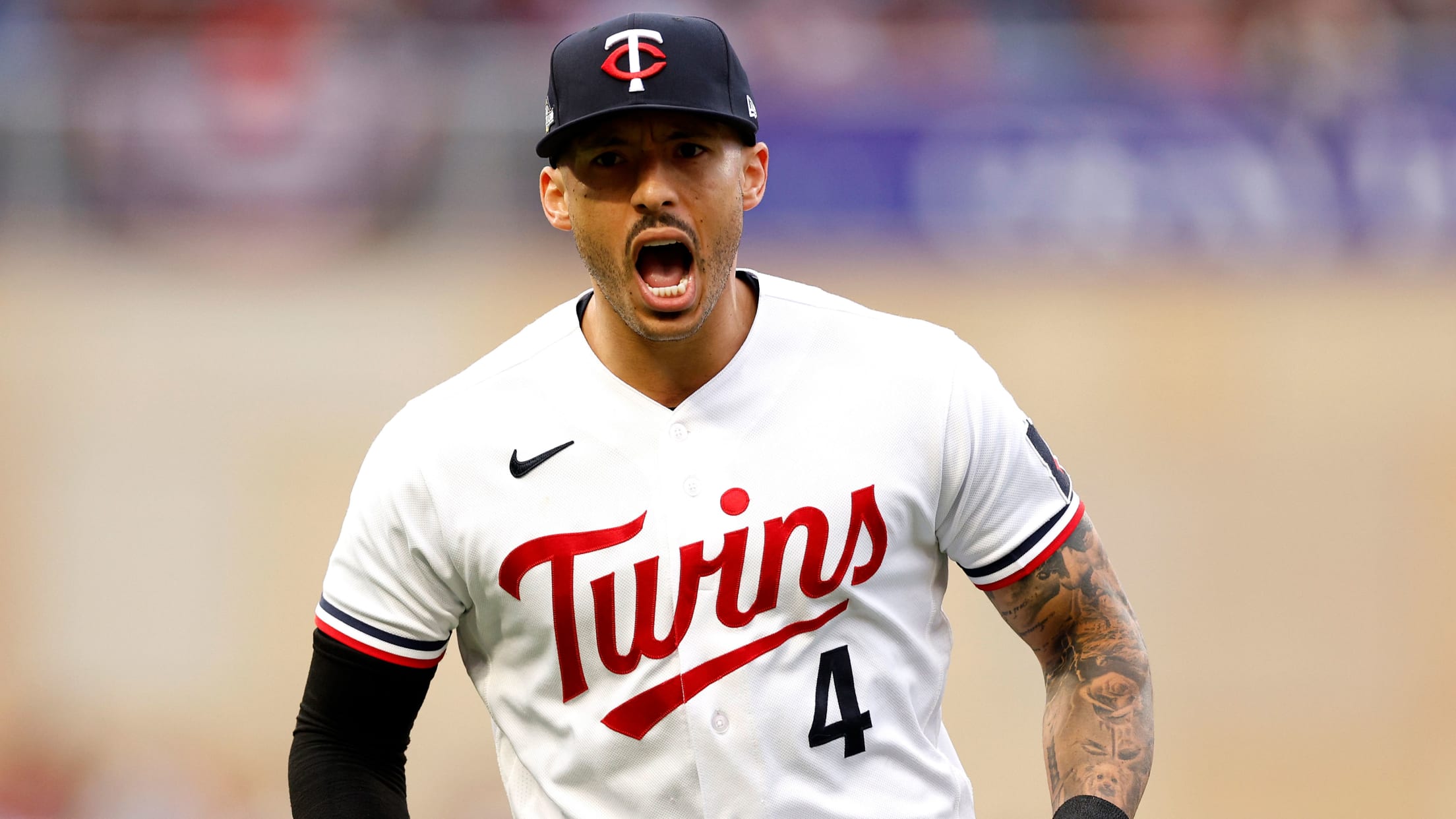 MINNEAPOLIS -- Carlos Correa was sitting on his couch at home with his wife, Daniella, last October. He wasn't used to that; the quiet and solitude felt so distant from where he usually was that time of year -- in the midst of the biggest moments and the loudest crowds.
Belt unsure about playing future after Blue Jays' playoff exit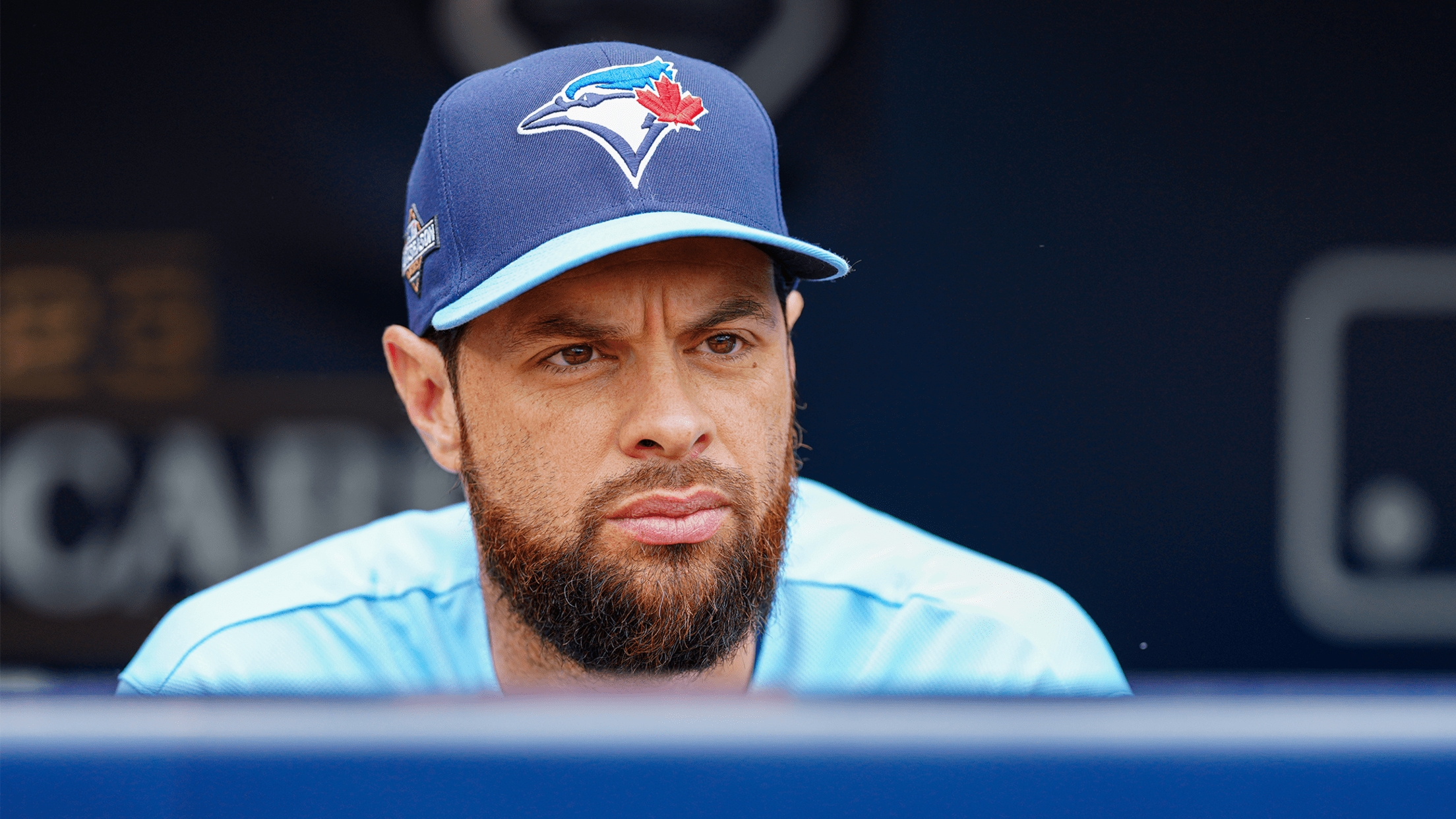 MINNEAPOLIS -- Moments after the Blue Jays' season ended on Wednesday night at Target Field, the clubhouse doors swung open and the real world tiptoed in. So much goes unsaid in these moments. An MLB clubhouse is a sacred place for those who call it home, and in an instant,
Twins advance with stellar pitching (and huge pickoff) to meet Astros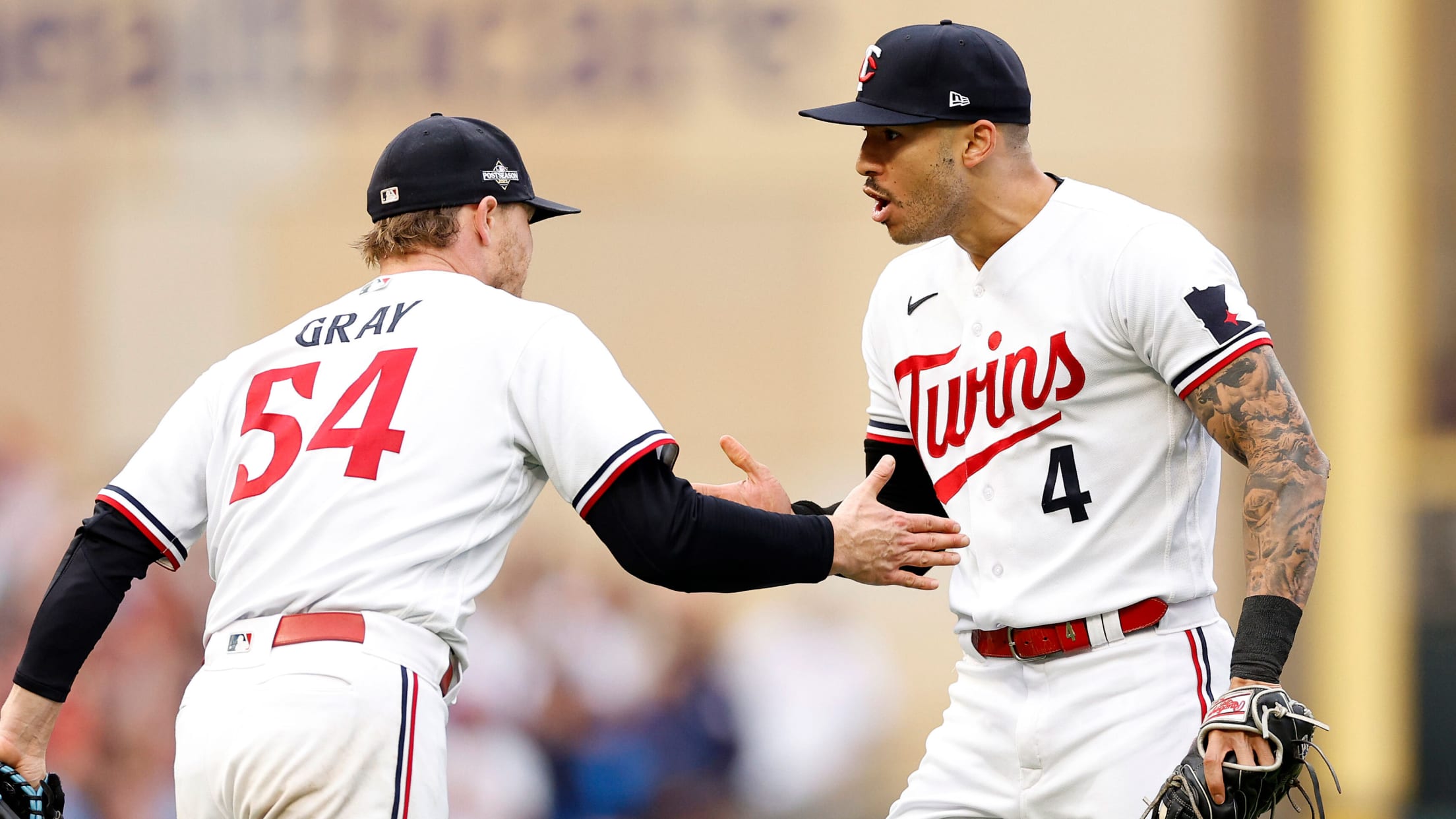 MINNEAPOLIS -- Entering this postseason, the prospect of a run deeper into October might have seemed unfathomable to a fanbase that knew only playoff heartbreak for the better part of two decades -- but the Twins finally shook off the weight of history on Tuesday.
Pickoff of Vlad Jr. costly as Blue Jays' 2023 run ends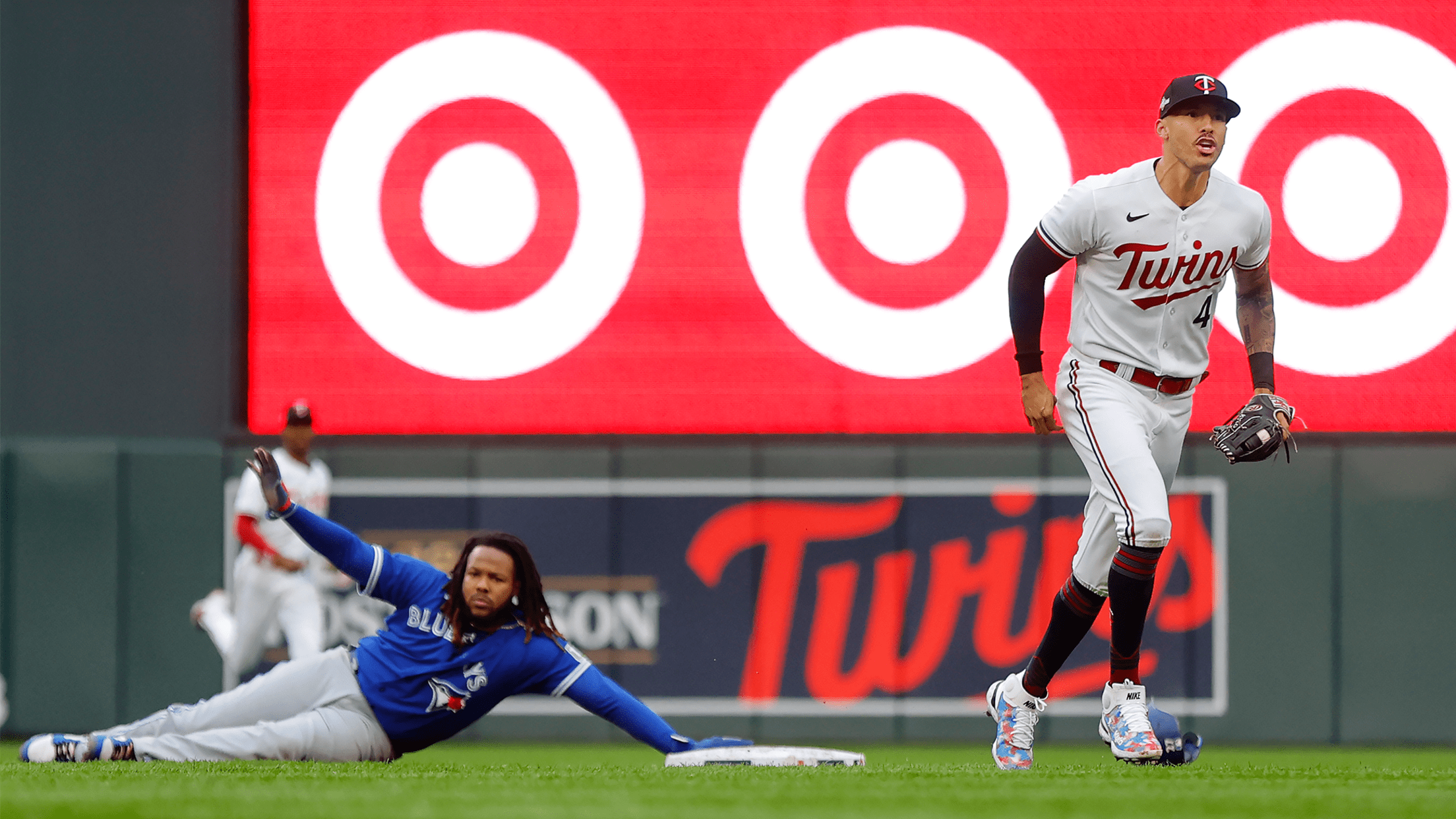 MINNEAPOLIS -- Another Blue Jays season has crashed to its heartbreaking end, and one of the lasting images will be Vladimir Guerrero Jr., right arm reaching out to his own dugout for a miracle as the Twins roared in celebration around him. In one of the biggest moments of Wednesday's
'Everybody was surprised': Berríos' early exit backfires on Blue Jays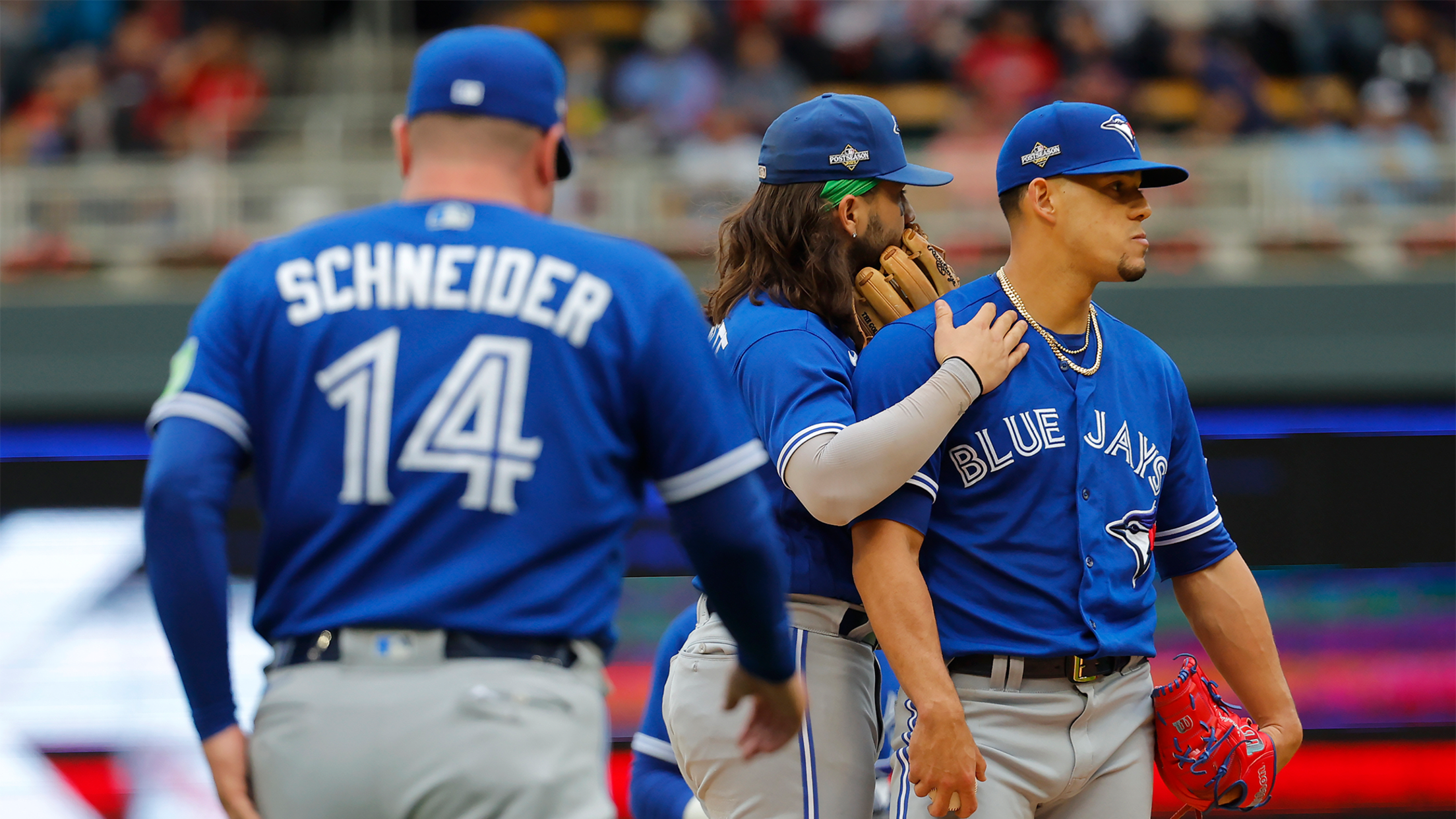 MINNEAPOLIS -- One question will hang over the Blue Jays' offseason, which began on Wednesday with a sudden thud after they were swept in the American League Wild Card Series. Why, with José Berríos steamrolling through the Twins' lineup, did they make the switch to Yusei Kikuchi? Berríos had just
'We just got outplayed': Rays' season ends with WC sweep
Year that started with record-tying win streak ends with second straight winless postseason
ST. PETERSBURG -- The Rays' season began with so much promise. They jumped out to a record-tying 13-0 start and won 30 of their first 39 games, pairing a potent offense with their typically unrelenting pitching. They then spent the entire 185-day regular season in position to make the postseason.
Eovaldi's stifling stuff clinches Rangers' spot in ALDS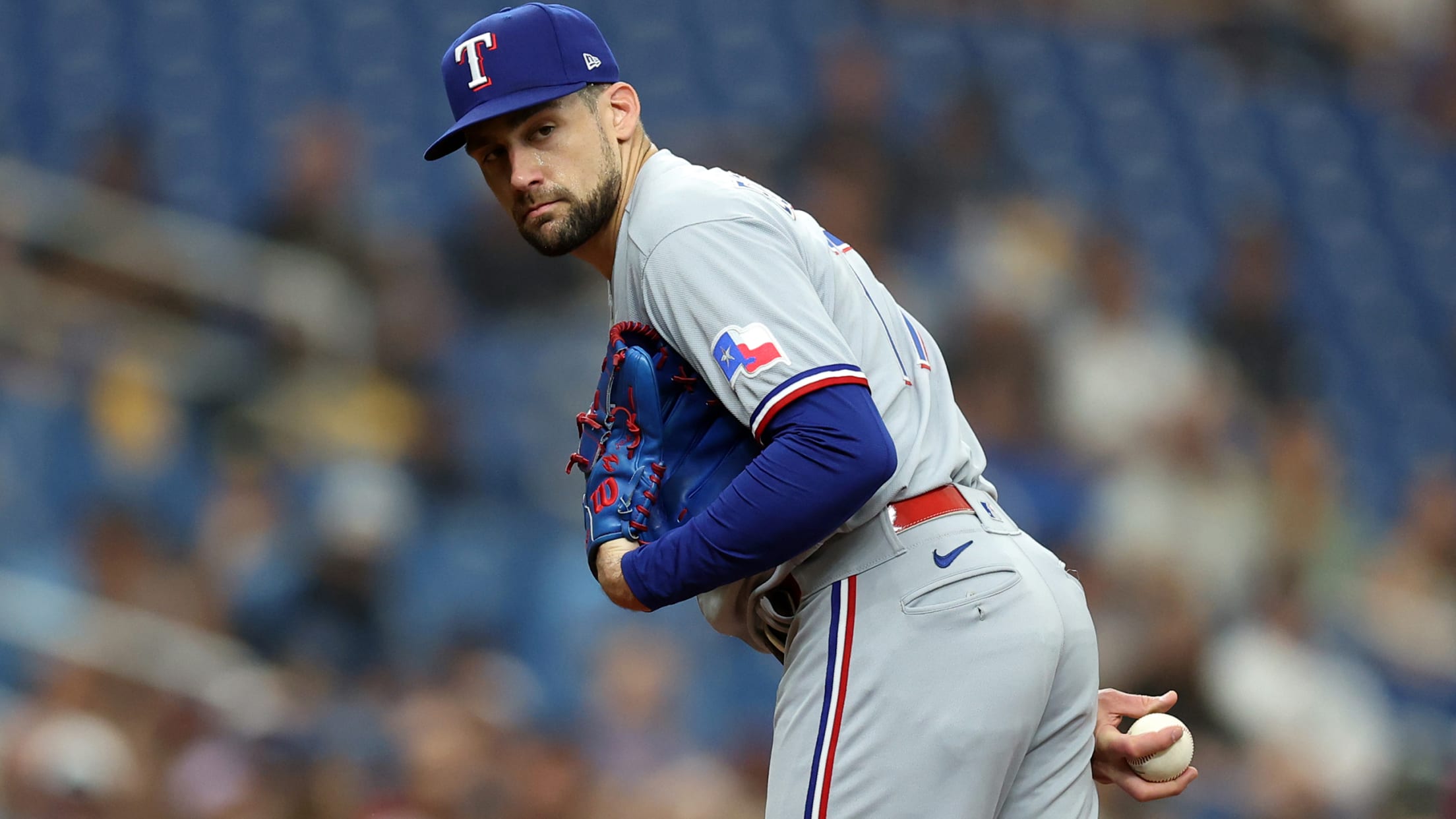 ST. PETERSBURG -- There is probably no Texas Ranger who was happier to see the calendar flip from September to October than Nathan Eovaldi. The regular season's final month was a struggle for the right-hander as he worked his way back from a forearm strain that sidelined him for more
Rays limited to one run in WC loss: 'Energy was just not there'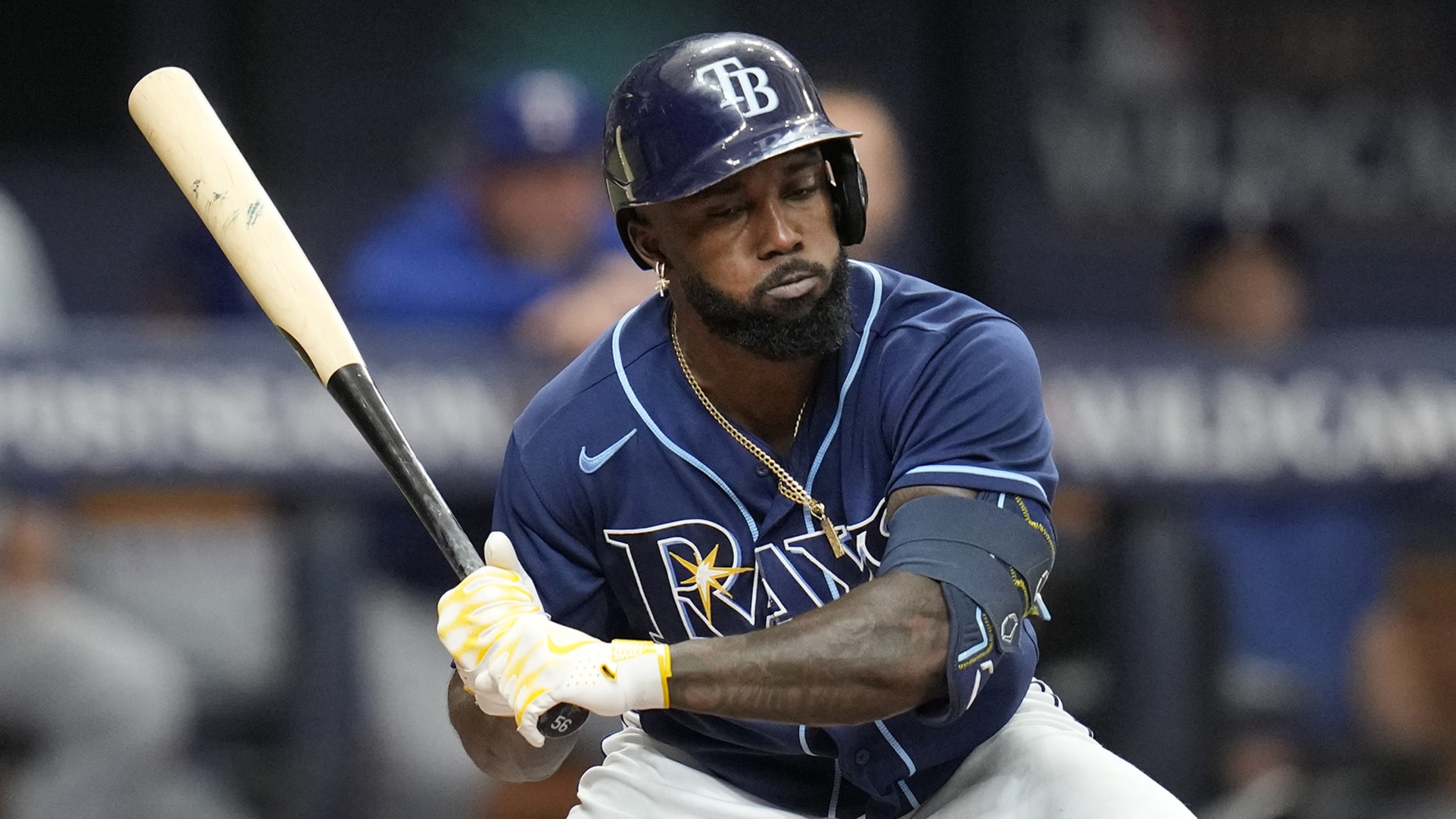 ST. PETERSBURG -- As he sat in front of a crowd of reporters on the club level at Tropicana Field, the Rays' season officially over, Kevin Cash could only find some comfort in the RBI single Curtis Mead slapped to left field off Nathan Eovaldi in the seventh inning Wednesday
Slugging rookie duo powering Rangers' playoff run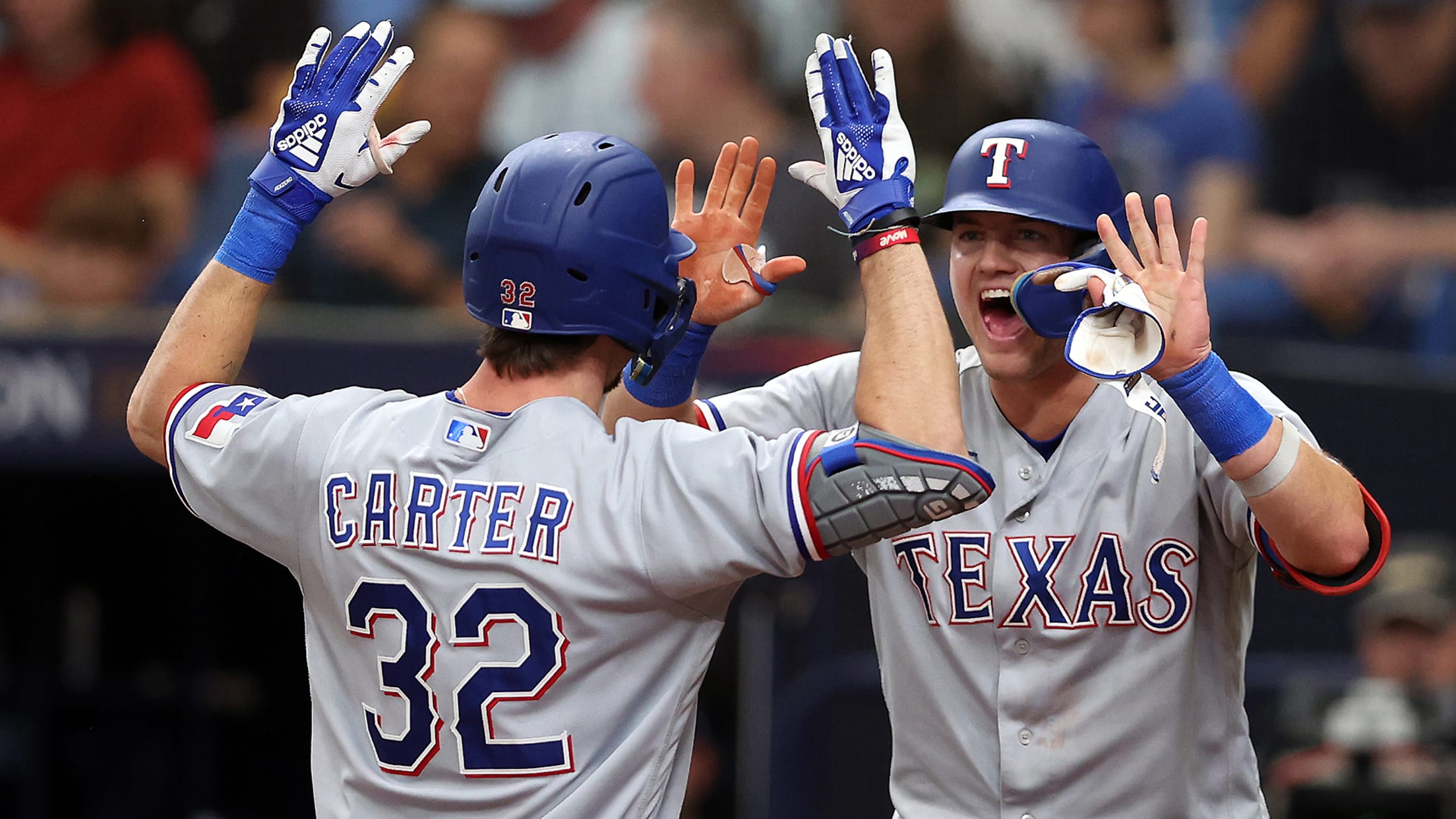 ST. PETERSBURG -- One full year ago, Evan Carter was a rising prospect in the Rangers' system who had played only six games above High-A. Josh Jung had just wrapped up a 26-game debut season in the Majors that had seen him bat .204 with a 38.2% strikeout rate. On
Rangers click in all facets to oust Rays, advance to face O's
Eovaldi K's 8, rookies Jung, Carter help power Texas to first AL Division Series since 2016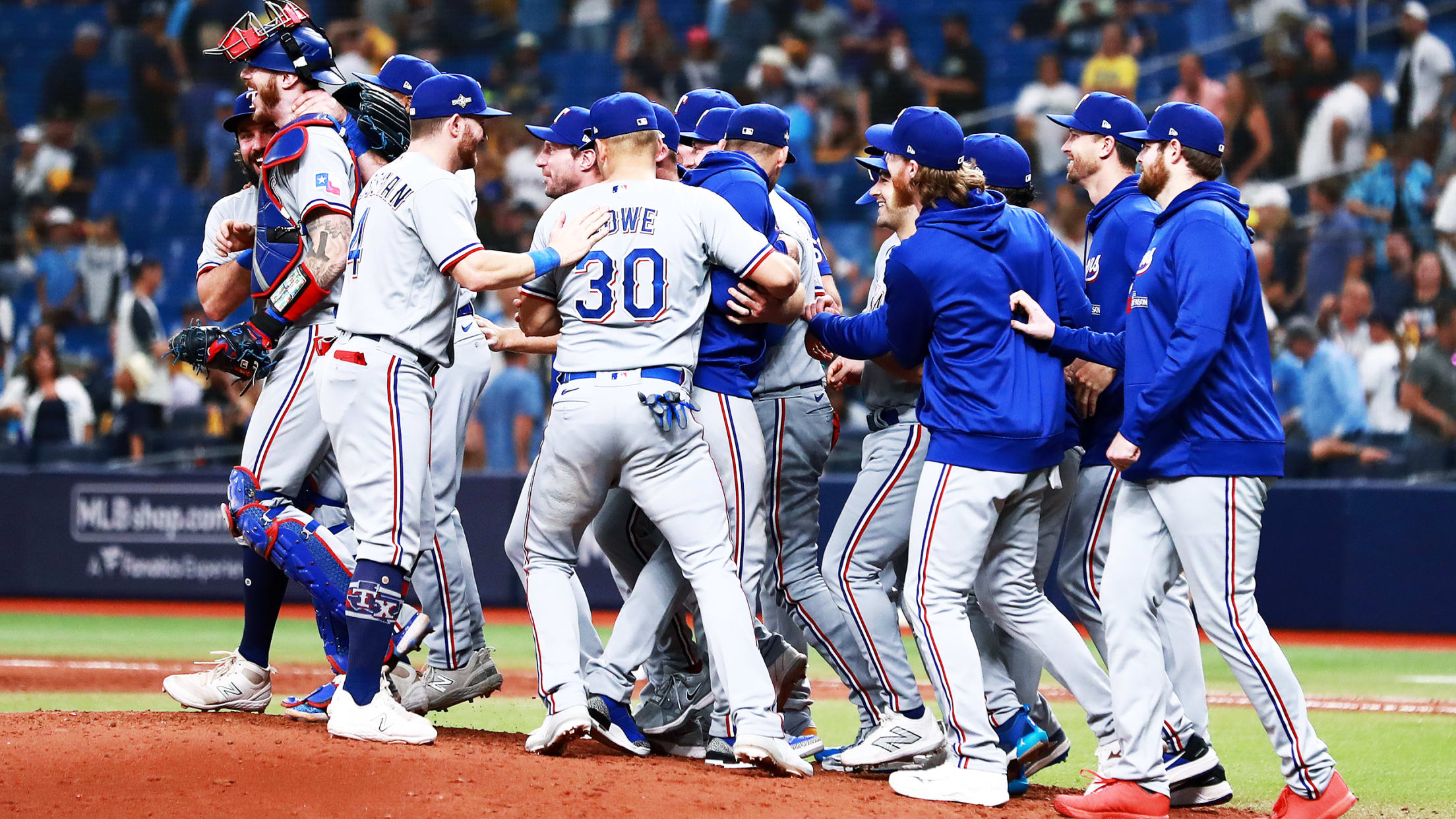 ST. PETERSBURG -- For the past week, one game has felt like an ocean to cross for the Rangers. It took two days for them to clinch a postseason berth in Seattle, and they were just one win away from winning the AL West before falling in Game 162 to
'He was born for this': Royce homers in first two postseason ABs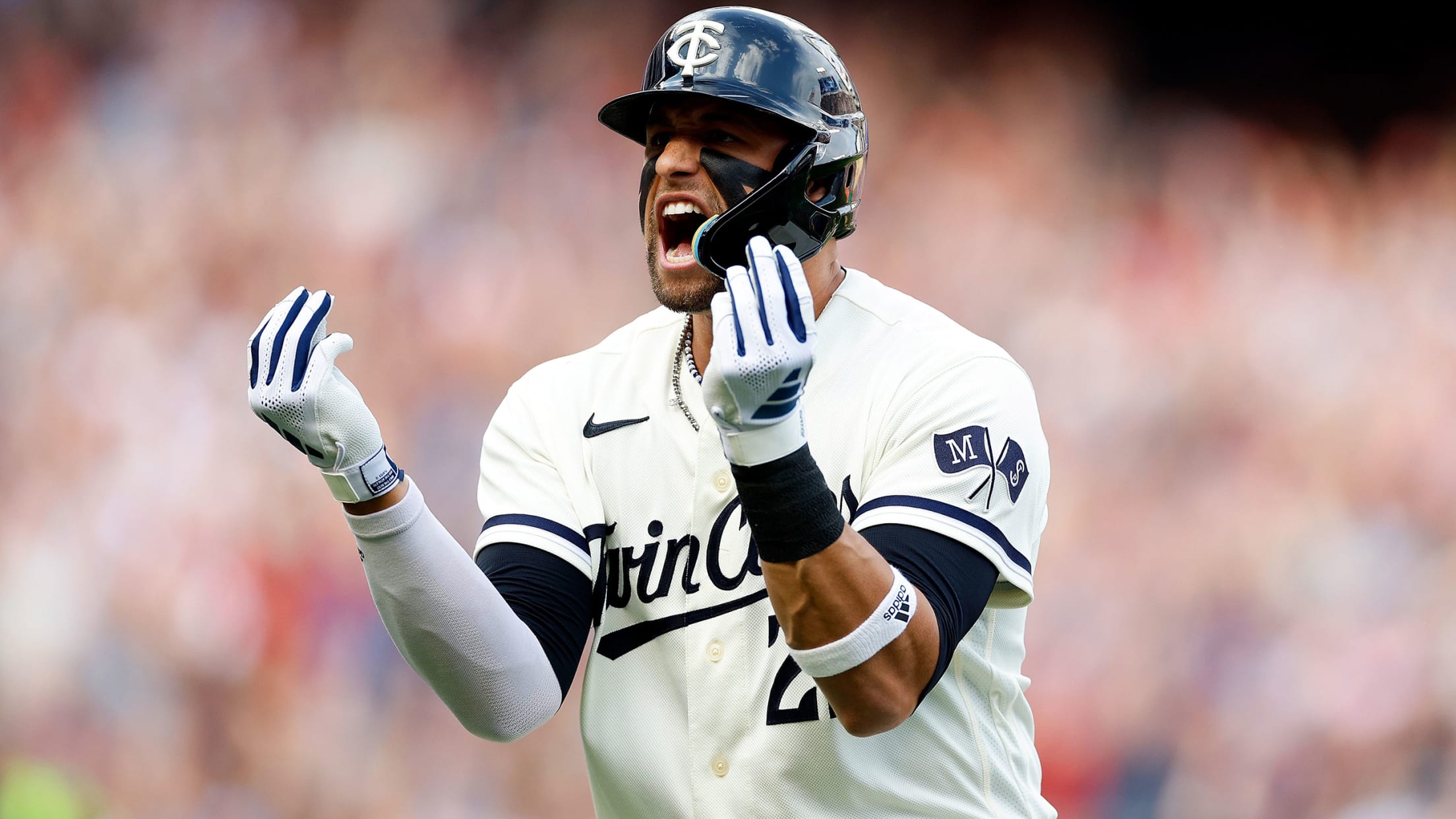 MINNEAPOLIS -- October, meet Royce Lewis. The rookie with a flair for the biggest moments continued building his already expansive Twins legacy by homering in the first two postseason plate appearances of his career -- and leaving his teammates and coaches struggling to find the words to describe it all.
Blue Jays-Twins Wild Card Game 2 FAQ, lineups (LIVE, ESPN)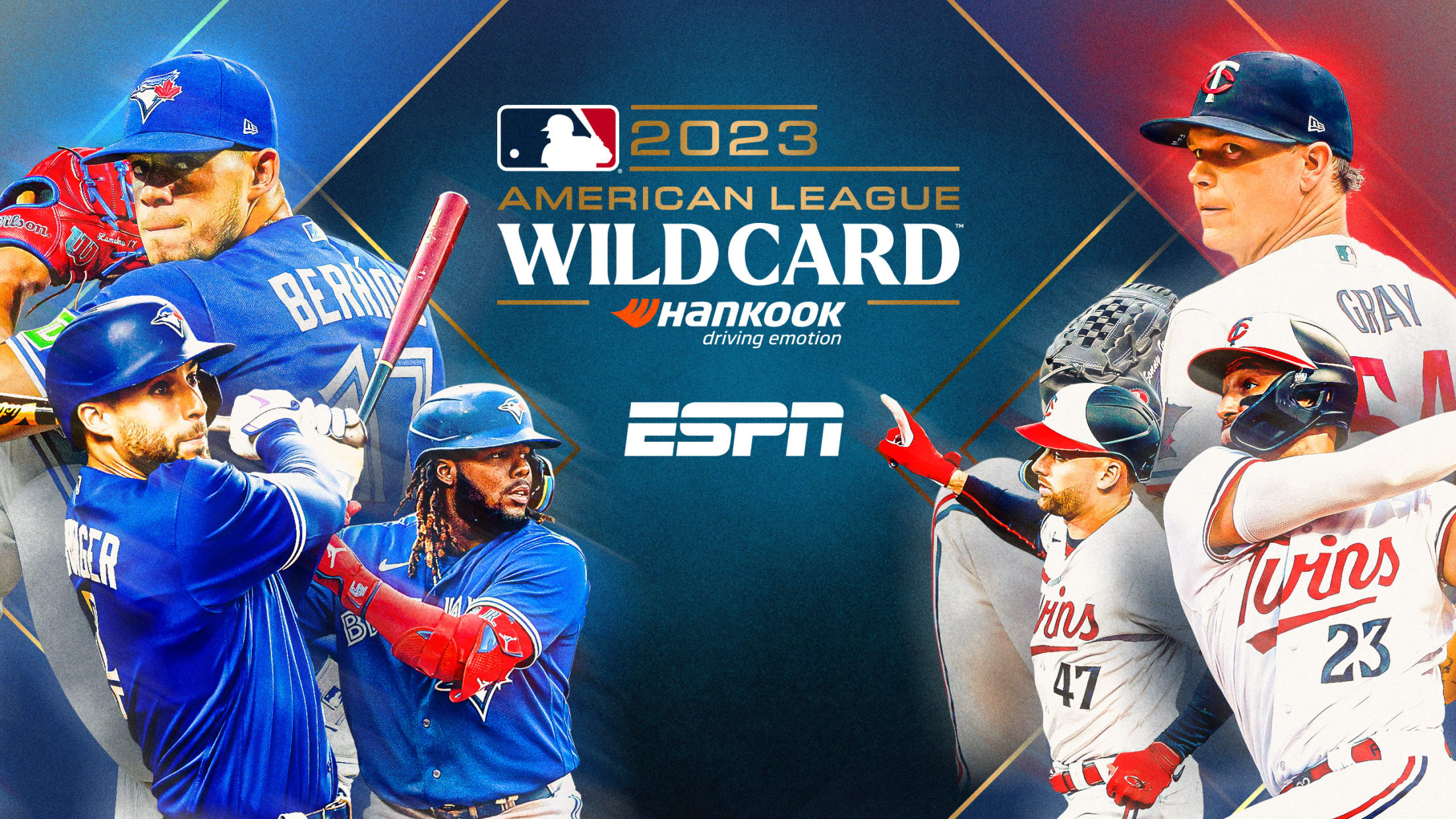 MINNEAPOLIS -- What a difference one day can make. Carrying the cloud of their 18-game postseason losing streak into this American League Wild Card Series, the Twins finally broke free of history with a 3-1 win over the Blue Jays and immediately put themselves on the doorstep of their first
At last! Twins snap 18-game postseason losing streak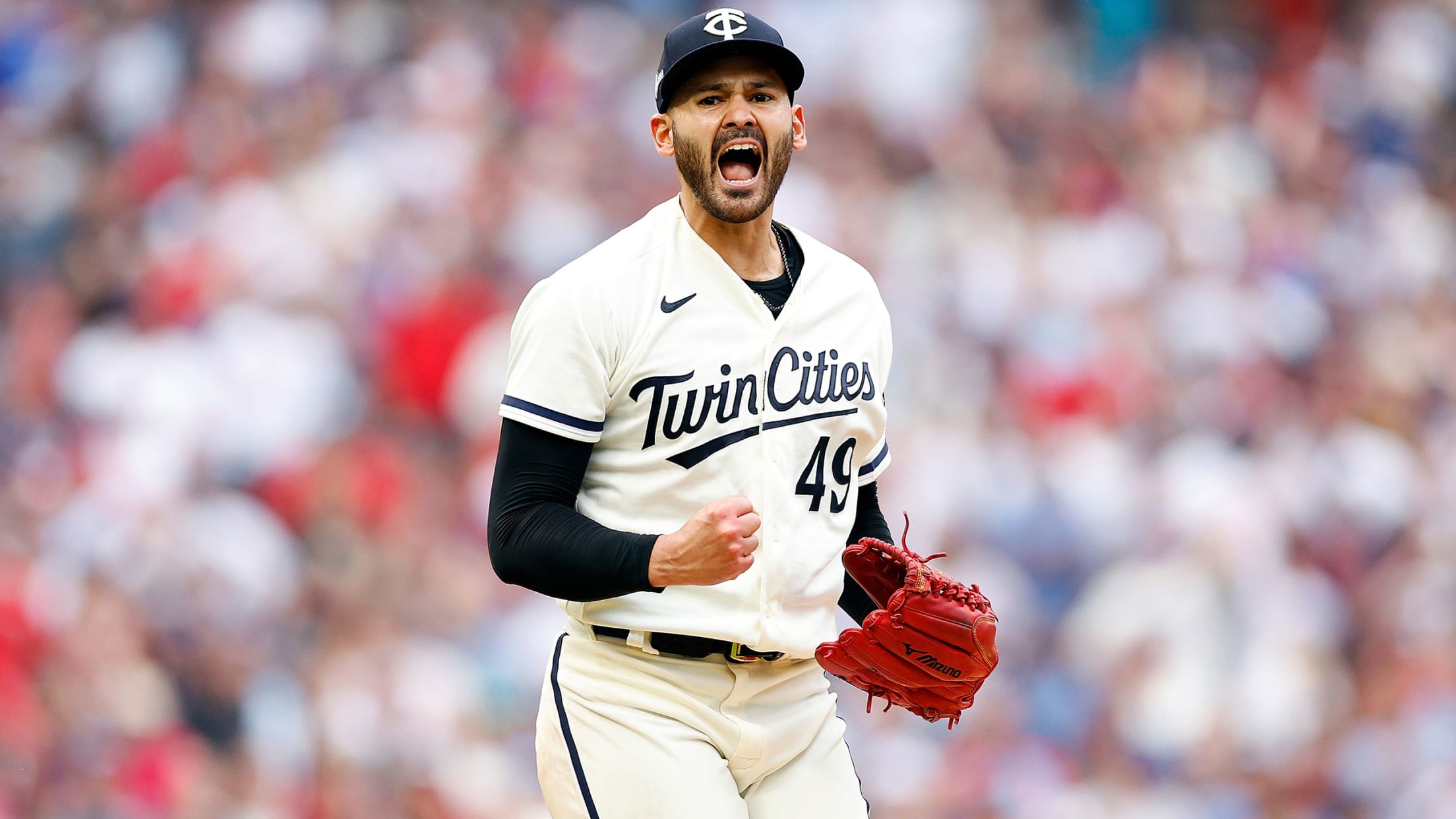 MINNEAPOLIS -- At last. At long last. Absolution. It took an ace pitcher who arrived to the ballpark in the jersey of his childhood idol, singularly determined to follow in his footsteps. It took an overlooked kid from North St. Paul and a veteran from Northfield getting the biggest outs
Rays turn to 'amazing' Eflin to stave off elimination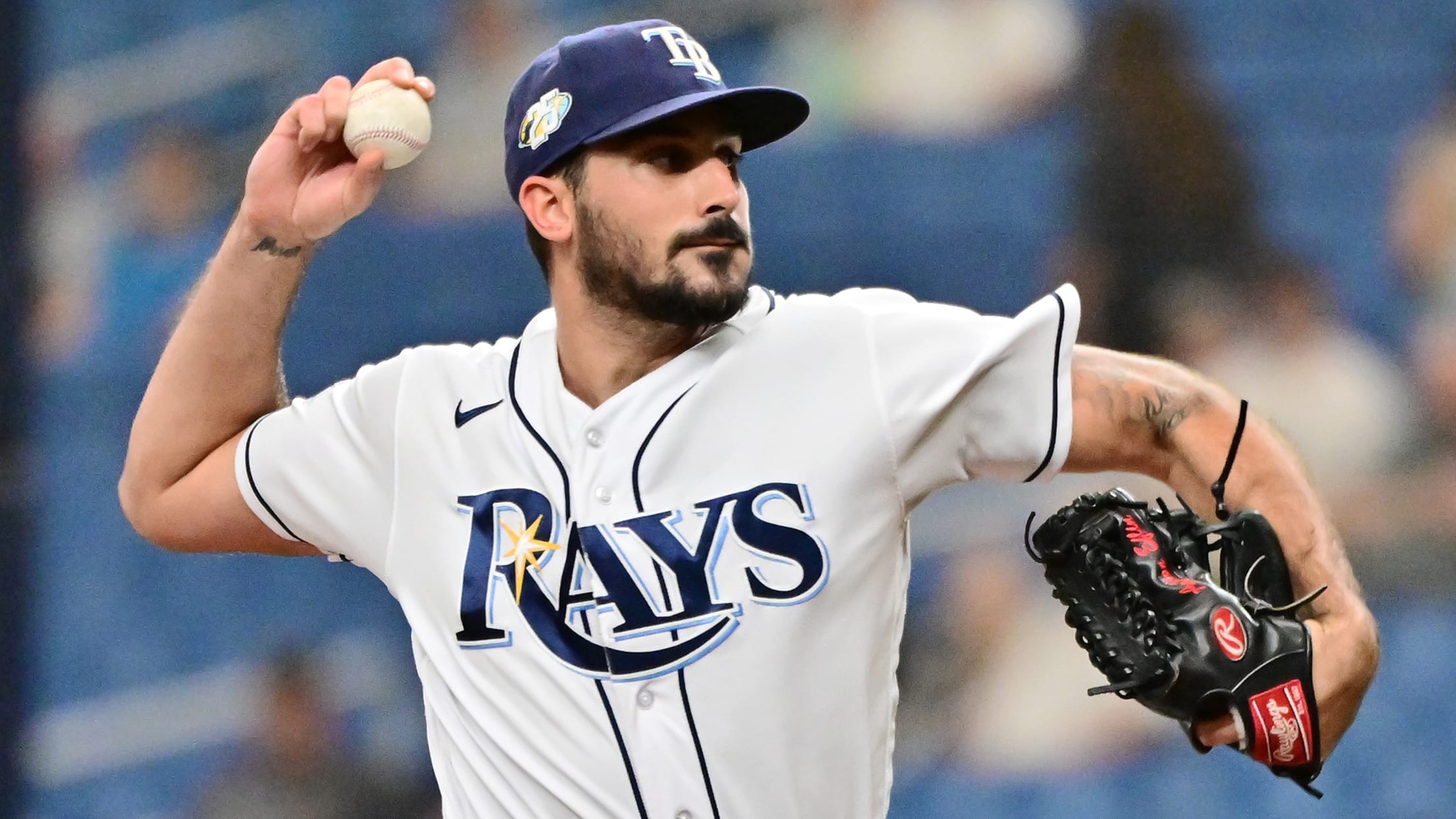 ST. PETERSBURG -- Zach Eflin will admit he's not one for overthinking, overanalyzing or getting overly anxious. He understands the postseason presents a bigger stage, especially after pitching into the World Series a year ago, but he doesn't treat it any differently. That makes him the Rays' ideal choice to
Special delivery: Arozarena's mom throws first pitch at first MLB game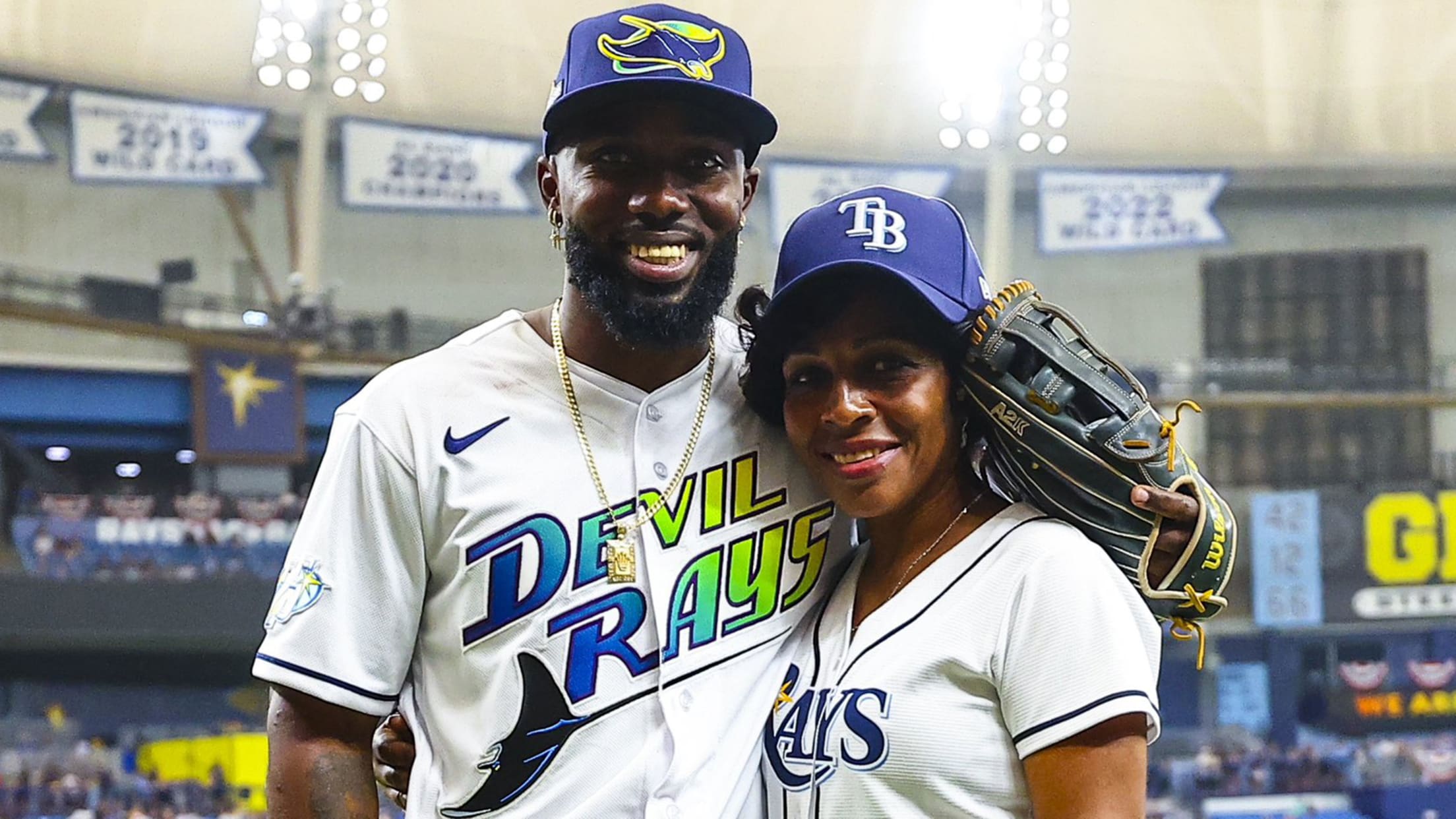 ST. PETERSBURG -- Randy Arozarena invited a very special guest to get the postseason started by throwing out the first pitch on Tuesday at Tropicana Field. His mother, Sandra González. González traveled to the Tampa Bay area from her home in Mexico on Monday, Arozarena said. Game 1 of the
Rangers-Rays Wild Card Game 2 FAQ, lineups (LIVE on ABC)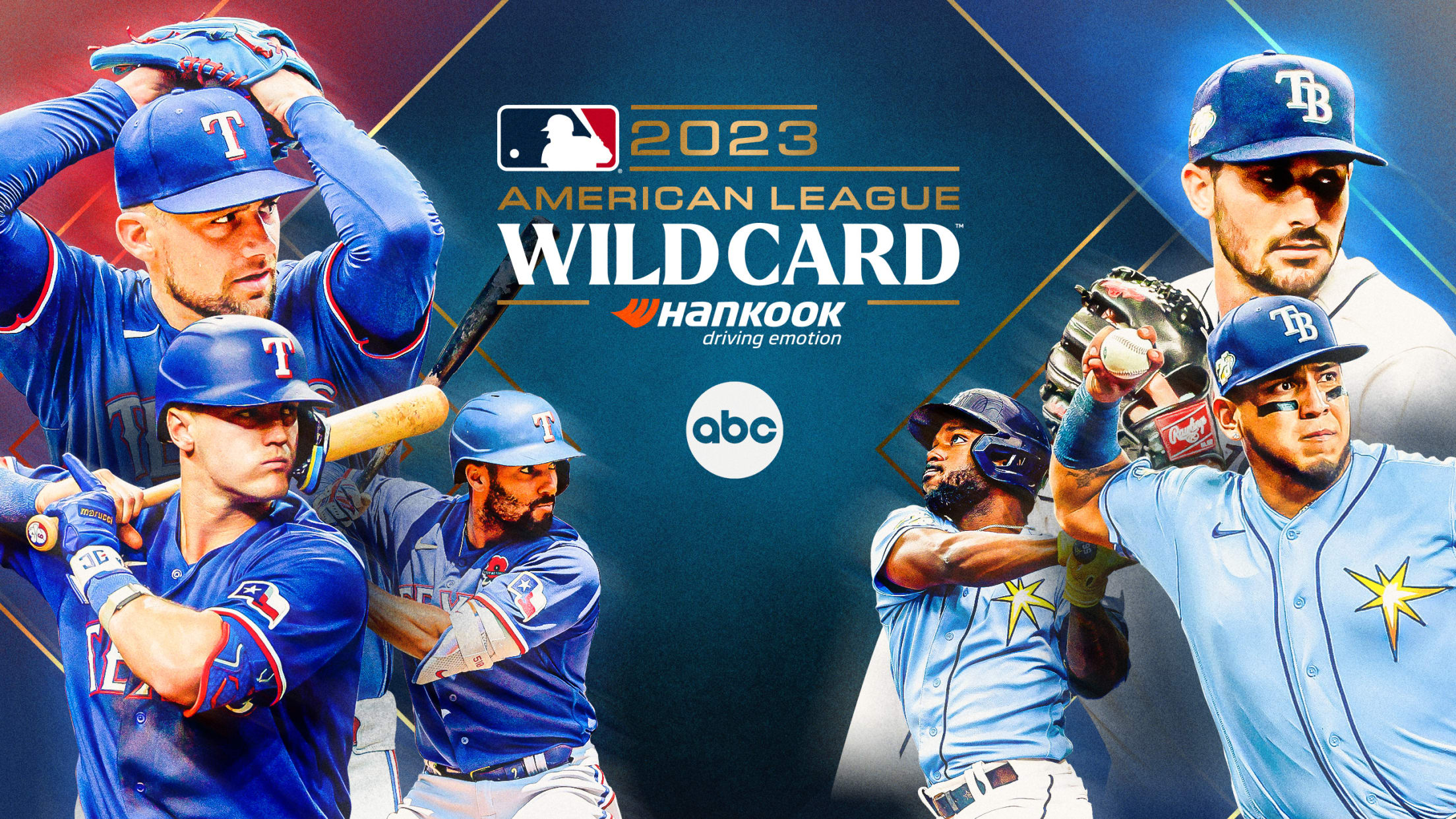 ST. PETERSBURG -- If the Rangers were frustrated by the way their regular season ended, they didn't show it Tuesday afternoon at Tropicana Field. Now, they have a chance to play their way into the American League Division Series.
Rangers grind vs. Glasnow, capitalize on Rays' errors to win Game 1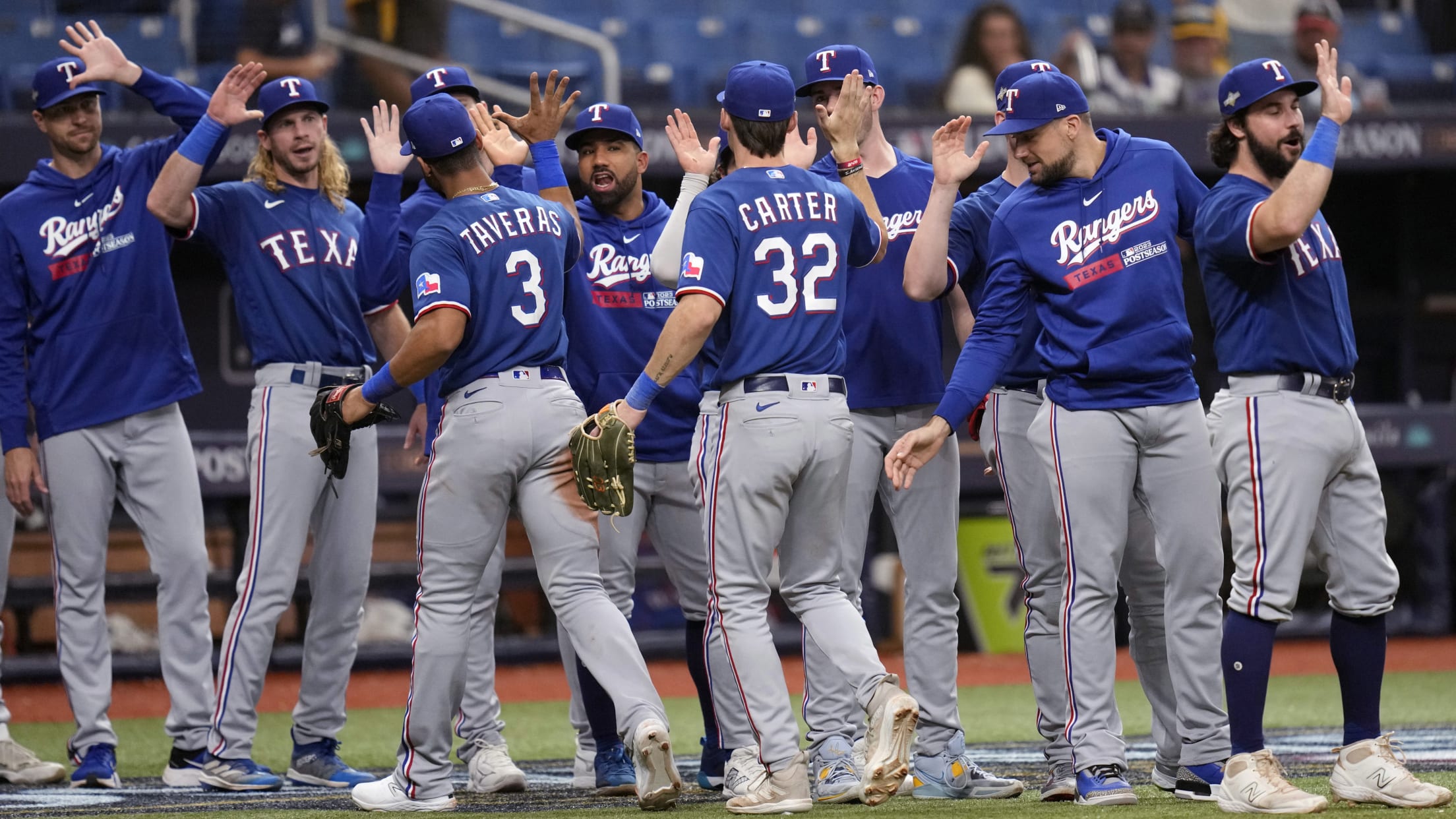 ST. PETERSBURG -- Nobody hit more home runs in the American League in 2023 than the Rangers' 233. But the long ball has been hard to come by over the past week, with Texas' last homer coming in the fourth inning of Friday's loss to the Mariners. It'll come around
1 key storyline for every Wild Card Game 2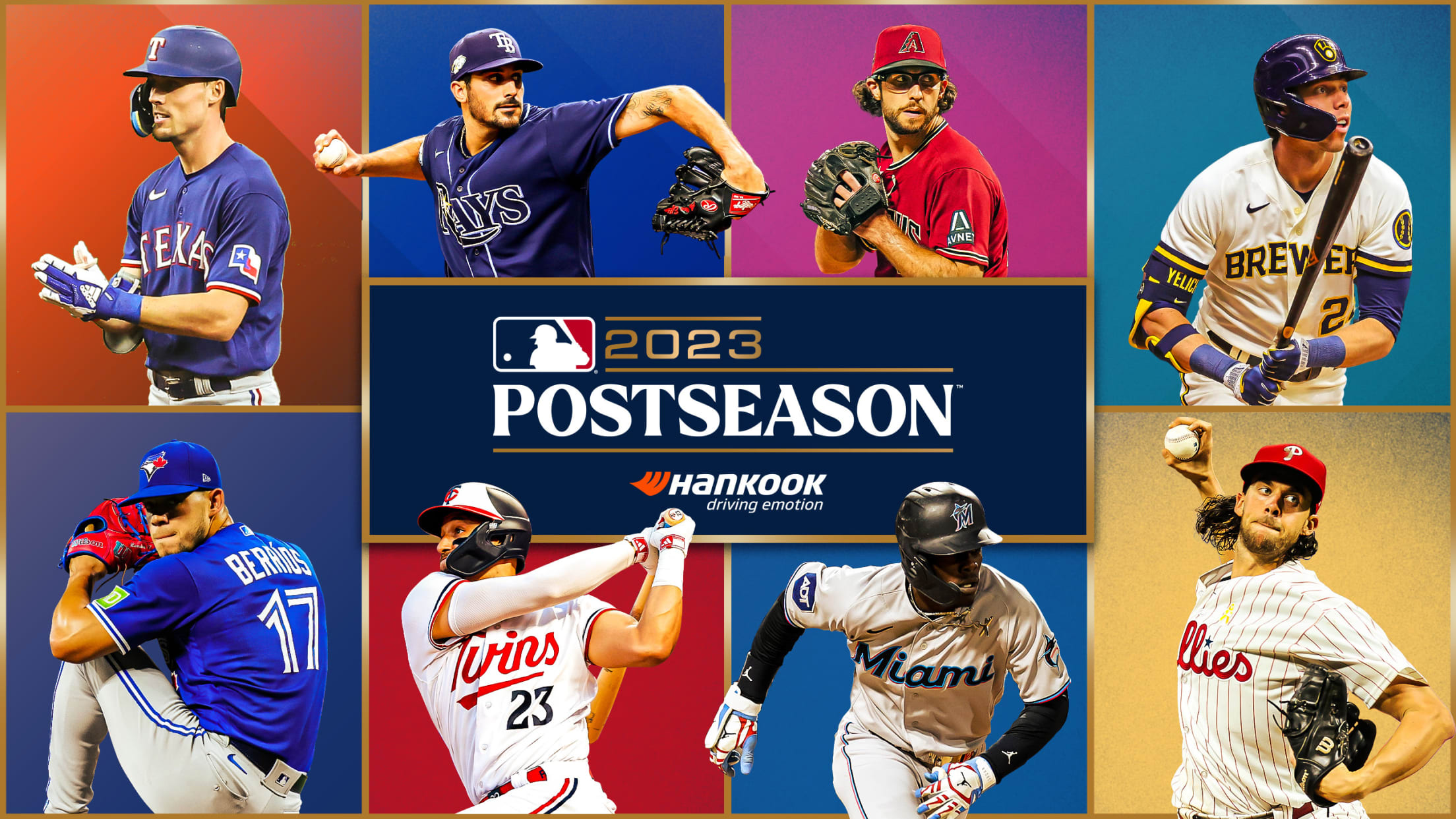 The best part of the MLB playoffs is how much one day can change everything. Yesterday, we were talking about how the Rays had been rolling the final week of the season, how well the Brewers were set up for October, and how the Twins seemingly were never going to
Correa's postseason magic continues with run-saving throw
Taylor adds 2 highlight-reel plays as Twins' D comes up big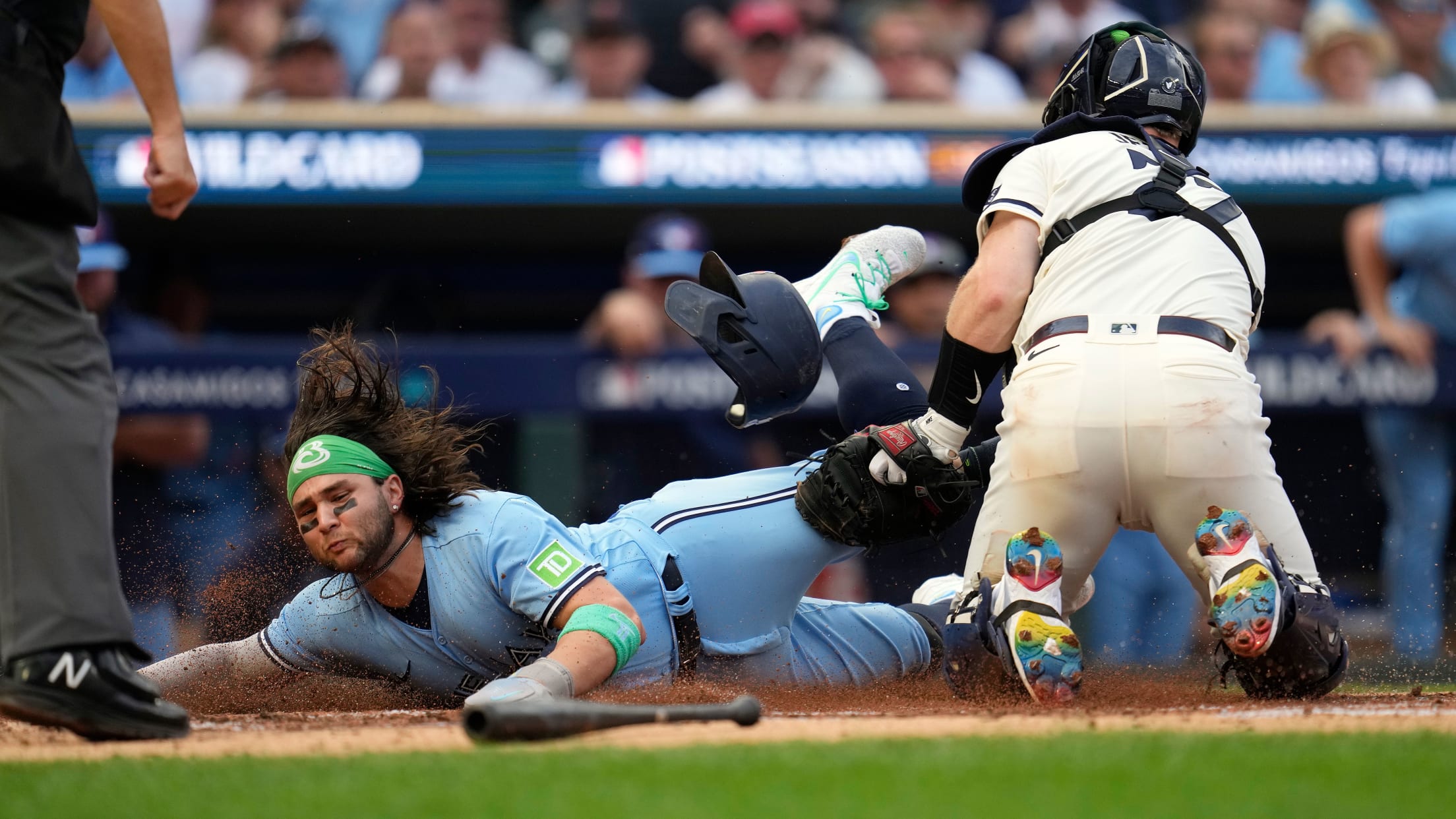 MINNEAPOLIS -- It takes a little bit of magic to exorcize 19 years' worth of postseason demons. Luckily for the Twins, they employ the man who is all but synonymous with playoff magic. How else can one describe Carlos Correa's heads-up, athletic defensive gem that saved a run for the
'Confident' Julien looks to be postseason asset with his glove
MINNEAPOLIS -- Edouard Julien's breakout season began long before Opening Day, when the then-little-known prospect crashed the international scene in the World Baseball Classic with a tournament-best 1.821 OPS while acting as his country's table-setter in the leadoff spot ahead of Freddie Freeman. That breakout began with "Canada" stamped across
Kikuchi's renaissance allows Blue Jays to get creative in postseason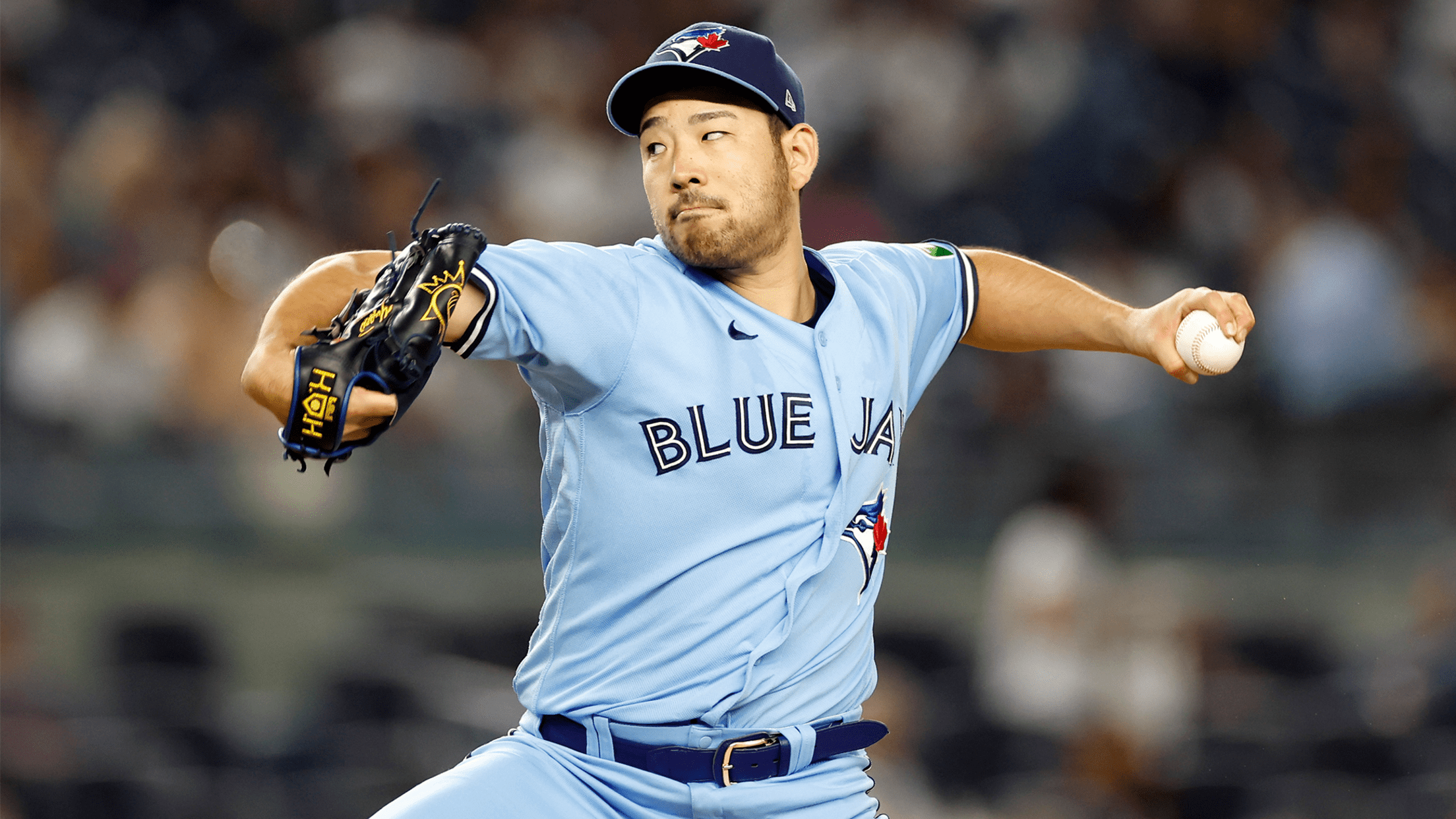 MINNEAPOLIS -- Is Yusei Kikuchi a short relief option, a fallback bulk guy or the Game 3 starter? "When you get to this point, it's all hands on deck," manager John Schneider said. Coming into Game 1 of the American League Wild Card Series on Tuesday, Kikuchi was scheduled to
Sloppy defense puts Rays in a hole in WC Series
'We didn't hit, pitch or defend,' Cash says after Tampa Bay makes 4 errors in shutout loss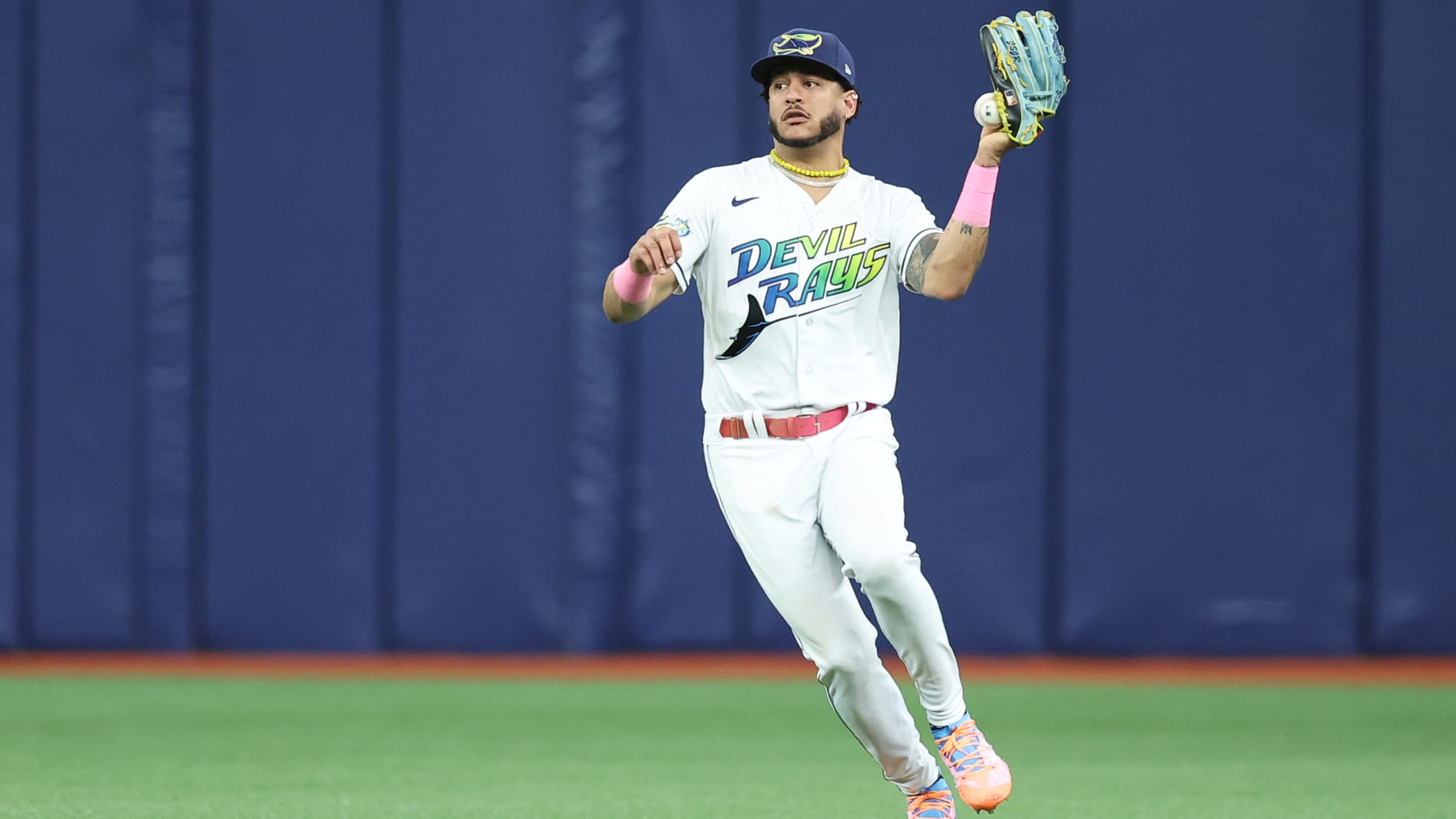 ST. PETERSBURG -- Despite a number of key injuries and a tough opponent coming to Tropicana Field, the Rays felt good about themselves heading into Game 1 of the American League Wild Card Series. They were coming off a 99-win regular season. They had their top two starters lined up
Blue Jays can't back Gausman, pushed to brink by Twins
MINNEAPOLIS -- The Blue Jays just got rolled by Royce. All of the Blue Jays' old ghosts were out to haunt them in their Game 1 loss to the Twins, 3-1, at Target Field on Tuesday, but it's Royce Lewis they'll be seeing in their nightmares. Lewis launched two home
Berríos in familiar territory for Blue Jays in Game 2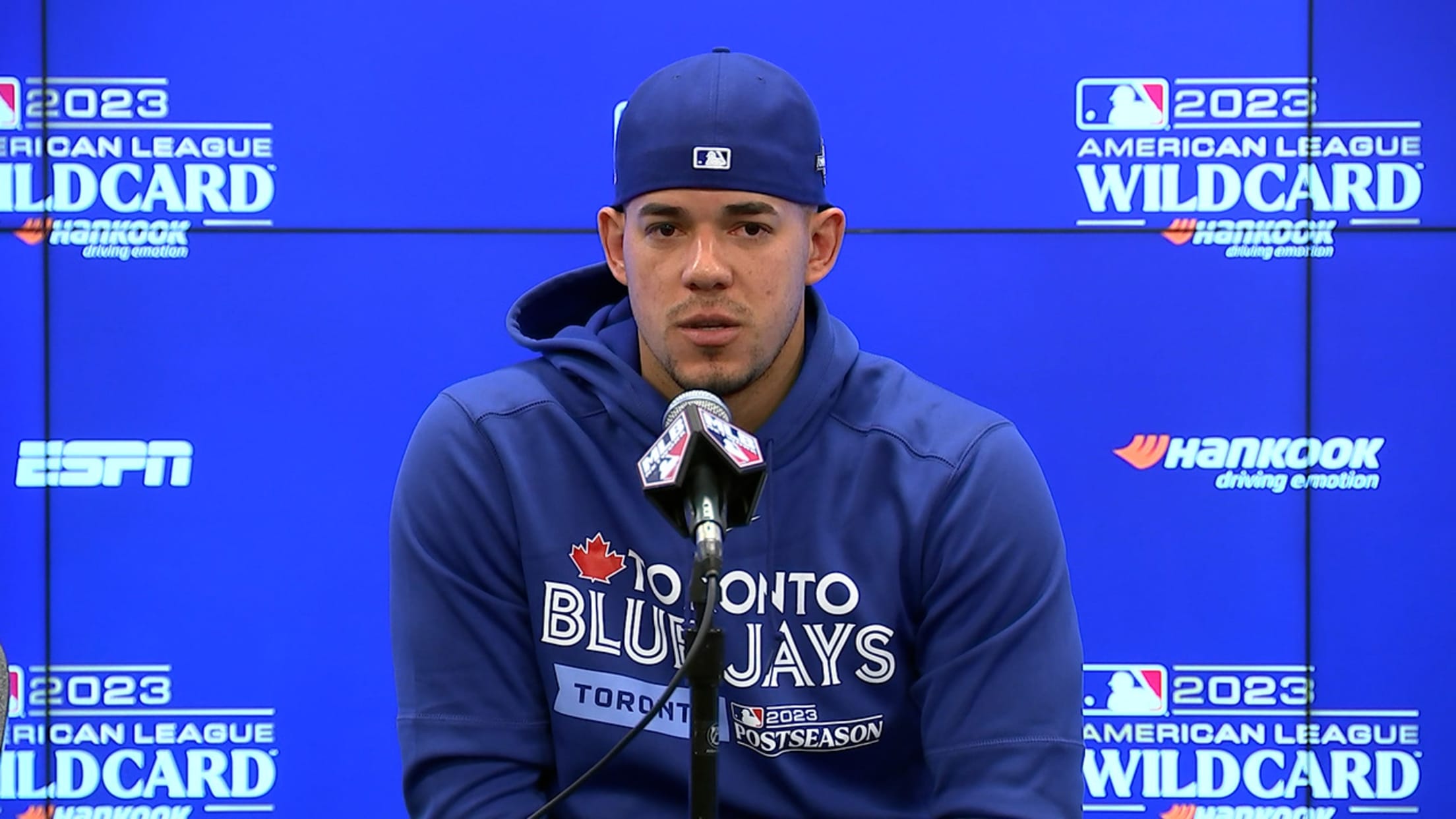 MINNEAPOLIS -- There's an advantage to familiarity, and no Blue Jays player knows this city like José Berríos. Berríos was one of the faces of the Twins' organization for six seasons, a homegrown star who developed from a high schooler into one of the game's most reliable starting pitchers. He's