Houston hitters continue to seize second chances
Alvarez, Bregman spark rally in decisive 7th inning of ALCS Game 4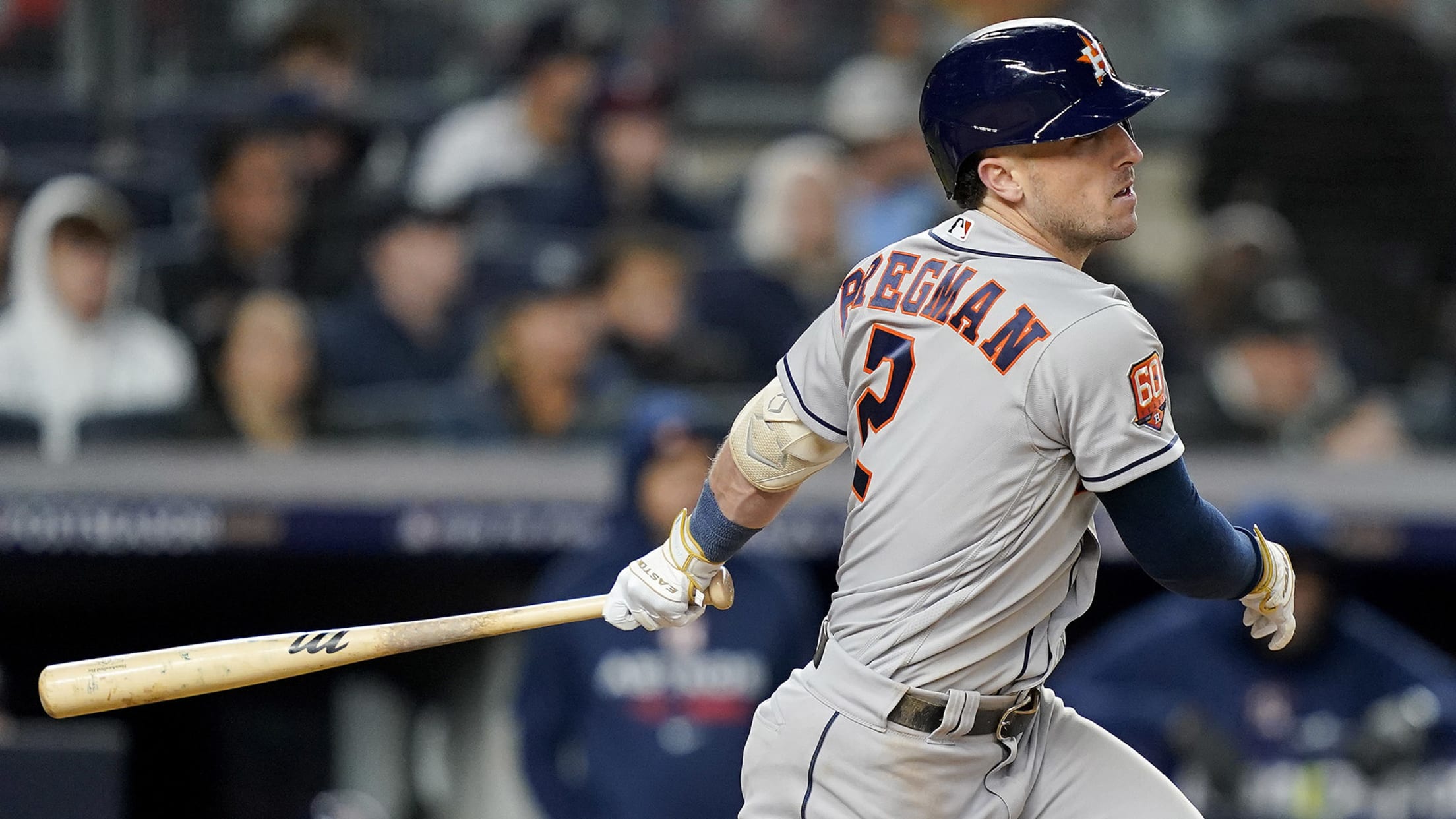 NEW YORK -- For much of the 2022 season, en route to their respective division titles, the Astros and Yankees jockeyed for position atop the American League. The No. 1 seed and home-field advantage in a best-of-seven series were on the line in anticipation of a heavyweight bout between two
'We want to win for him': Baker relishes another chance for WS title
Astros advance to Fall Classic after ALCS sweep of Yankees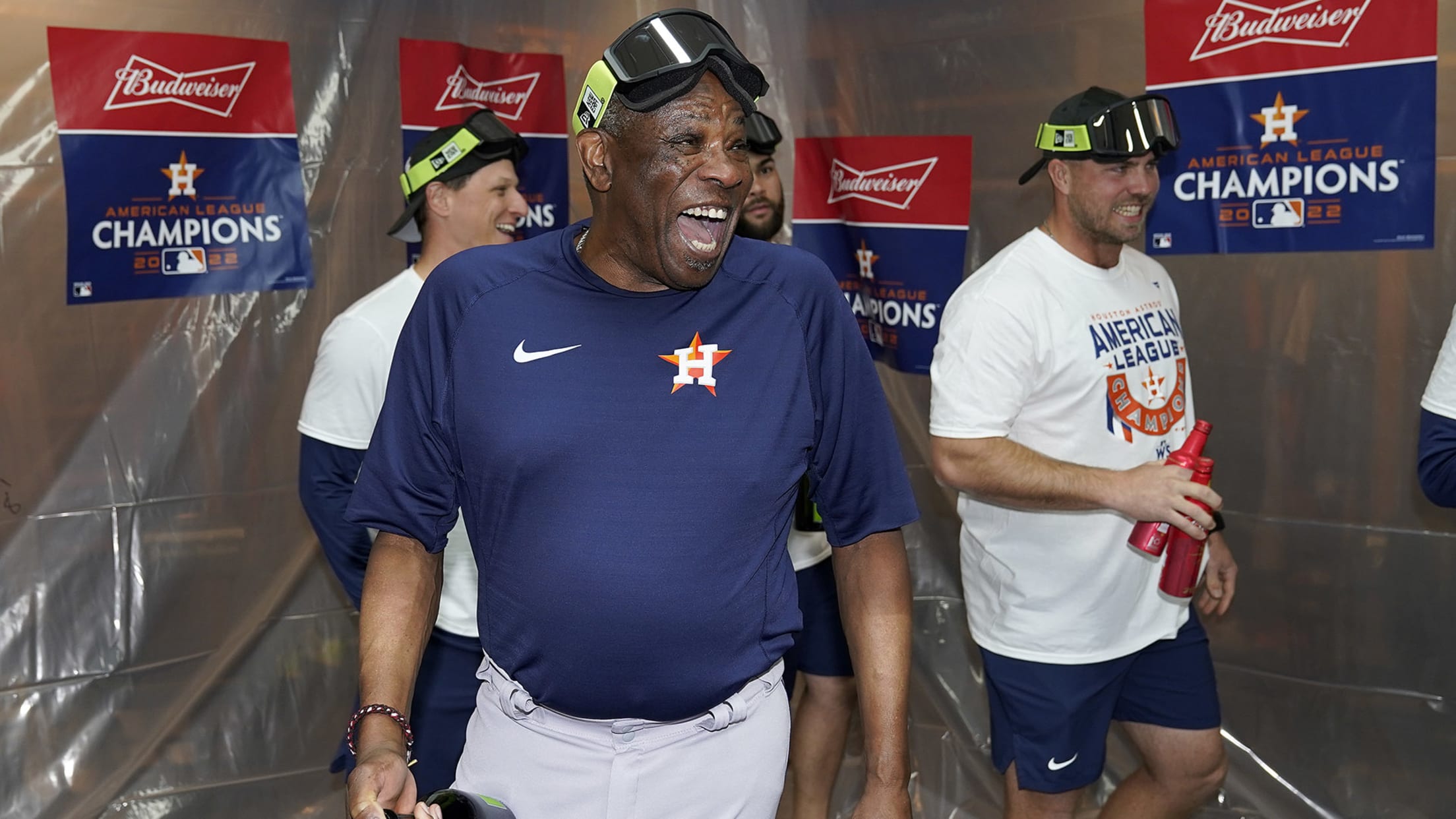 NEW YORK -- As the Astros cruised to a dominant Game 3 win in the American League Championship Series on Saturday, Dusty Baker peered to the end of the visiting dugout and saw Framber Valdez mouthing lyrics to the song playing on the Yankee Stadium loudspeakers.
Peña's clutch HR caps ALCS MVP performance
Rookie continues hot hitting to erase Yankees' early Game 4 lead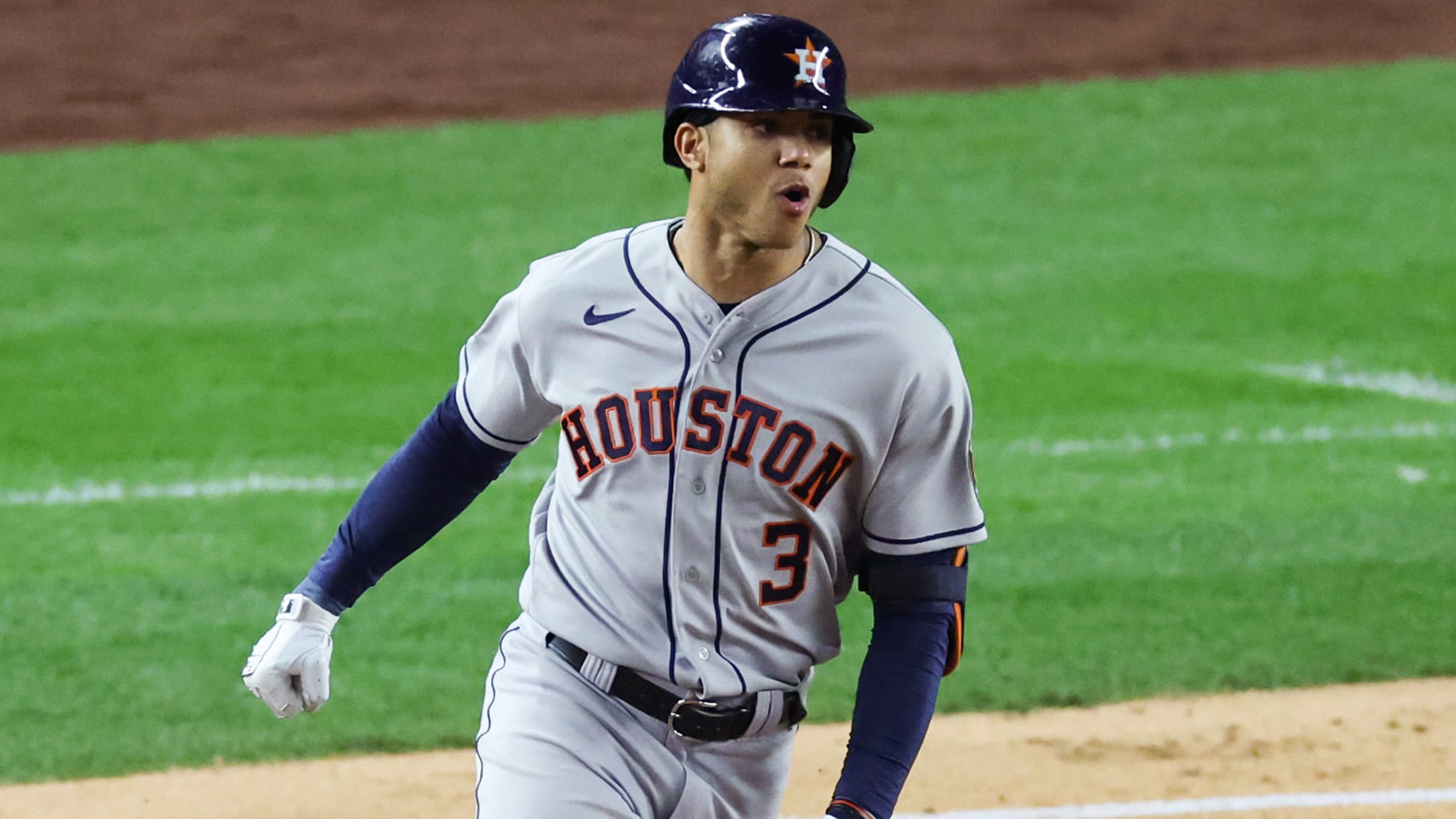 NEW YORK -- Jeremy Peña might not win the American League Rookie of the Year Award, but the Astros rookie is heading back to Houston as the AL Championship Series MVP. The 25-year-old shortstop punctuated his epic four-game run in Houston's sweep of the Yankees with his third homer of
Astros ride perfect postseason back to World Series
Houston sweeps Yankees for 4th AL pennant in 6 years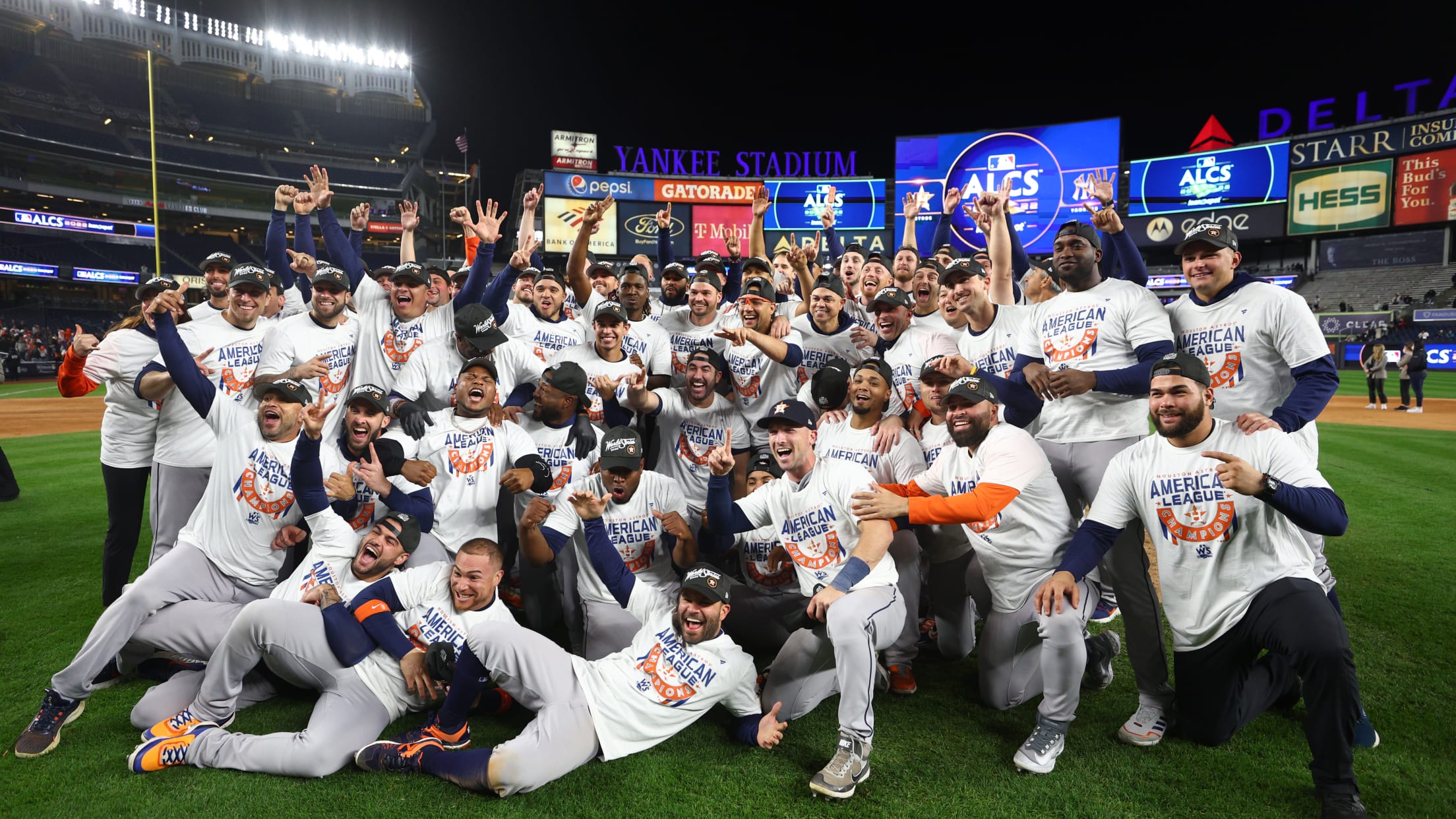 NEW YORK -- Astros third baseman Alex Bregman carried the American League championship trophy from the Yankee Stadium field toward the third-base dugout, where a few thousand orange-clad Houston fans filled an otherwise vacant ballpark with cheers. Bregman disappeared into the clubhouse, where the real celebration was about to take
Astros' stingy bullpen carries load in ALCS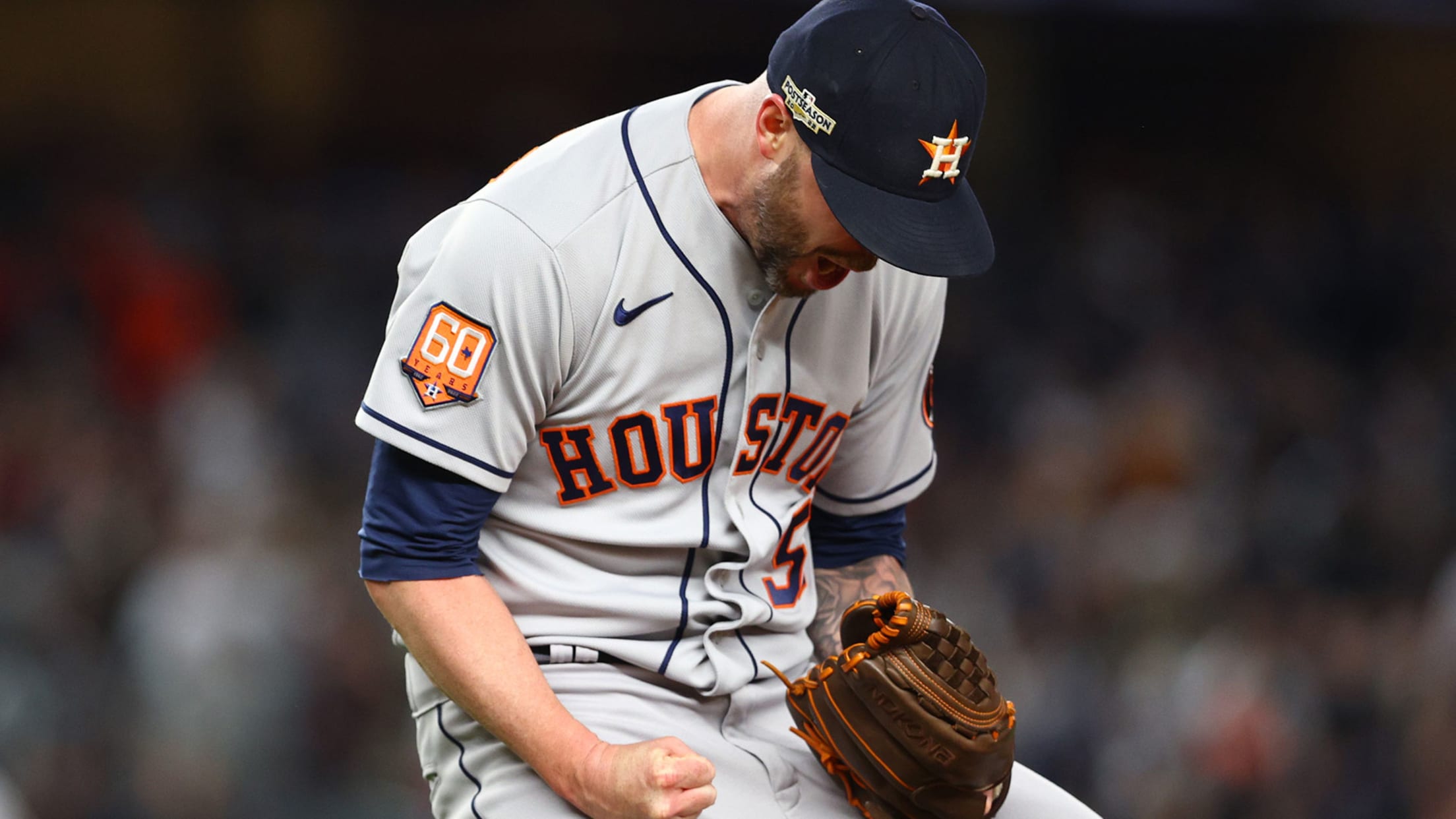 NEW YORK -- There is a good reason the Astros are going to the World Series for the second consecutive year: Their bullpen has been almost unstoppable throughout the postseason. Take Sunday's 6-5 victory over the Yankees in Game 4 of the American League Championship Series at Yankee Stadium, which
What might future hold for Judge, Yankees?
With New York eliminated, slugger set to become free agent following World Series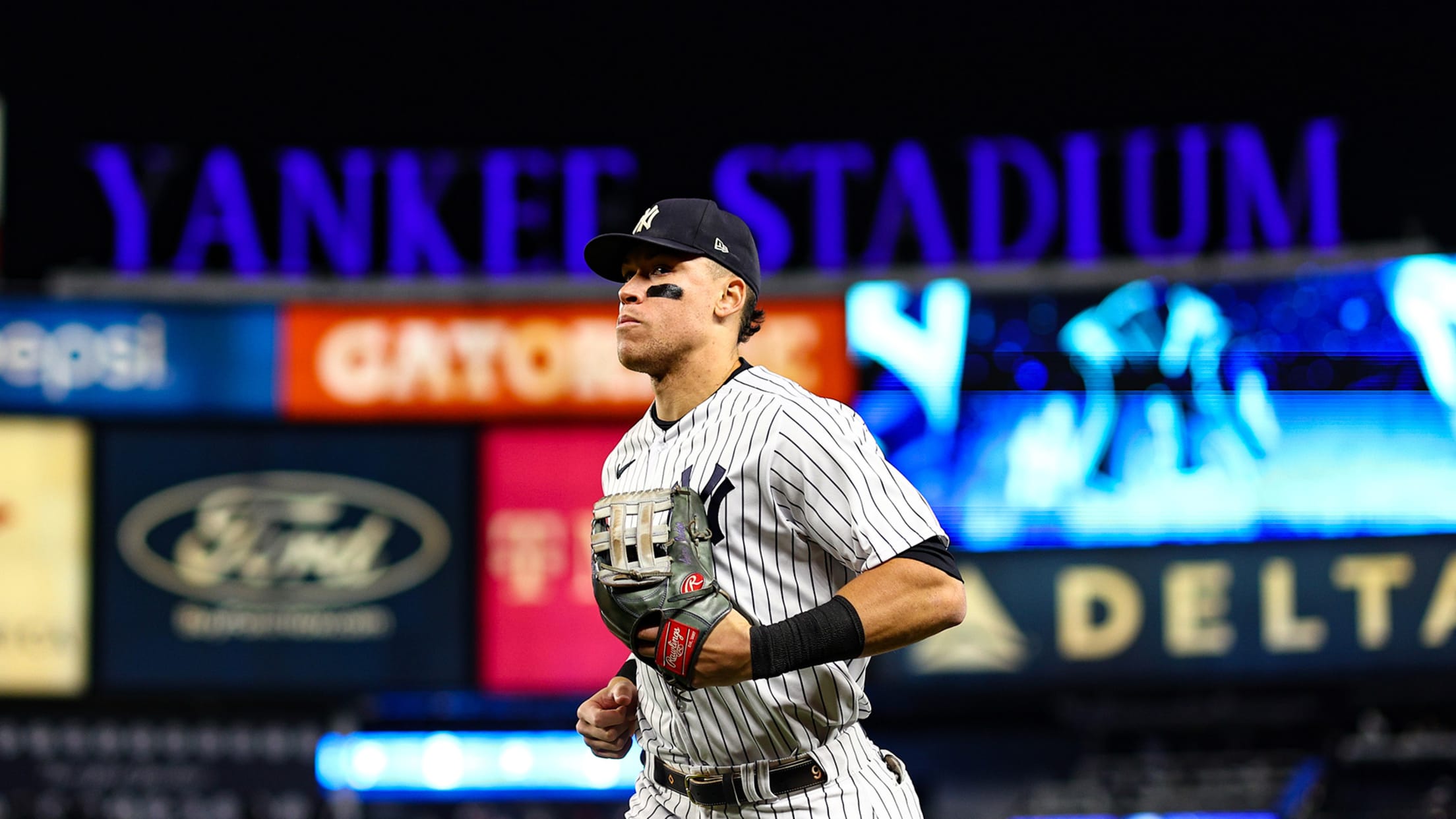 NEW YORK -- It came down to Aaron Judge once again, a situation that the Yankees have steered into all summer long. Assuming the familiar, imposing stance that cracked an American League-record 62 home runs during the regular season, the game's most recognizable slugger was the team's last hope of
Battling injury, Cortes burned by one big swing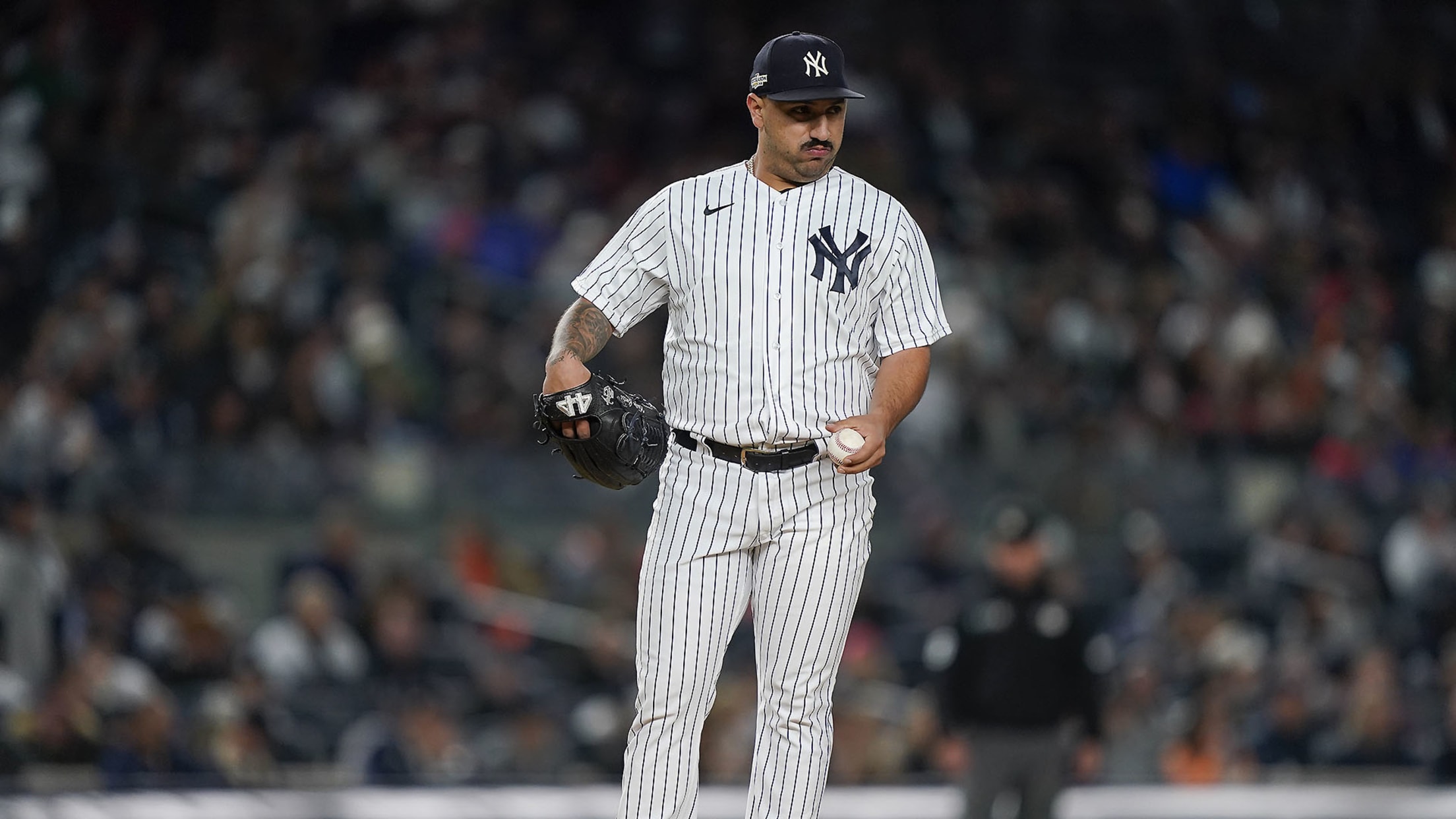 NEW YORK -- On Oct. 18, Nestor Cortes threw five innings of one-run ball in the Yankees' decisive win over the Guardians in Game 5 of the ALDS. His second start in an elimination game this postseason didn't go as well. The budding Yankees ace departed with a left groin
Bader's big October an encouraging sign for '23
Yankees CF goes deep in ALCS Game 4, finishes postseason with 5 HRs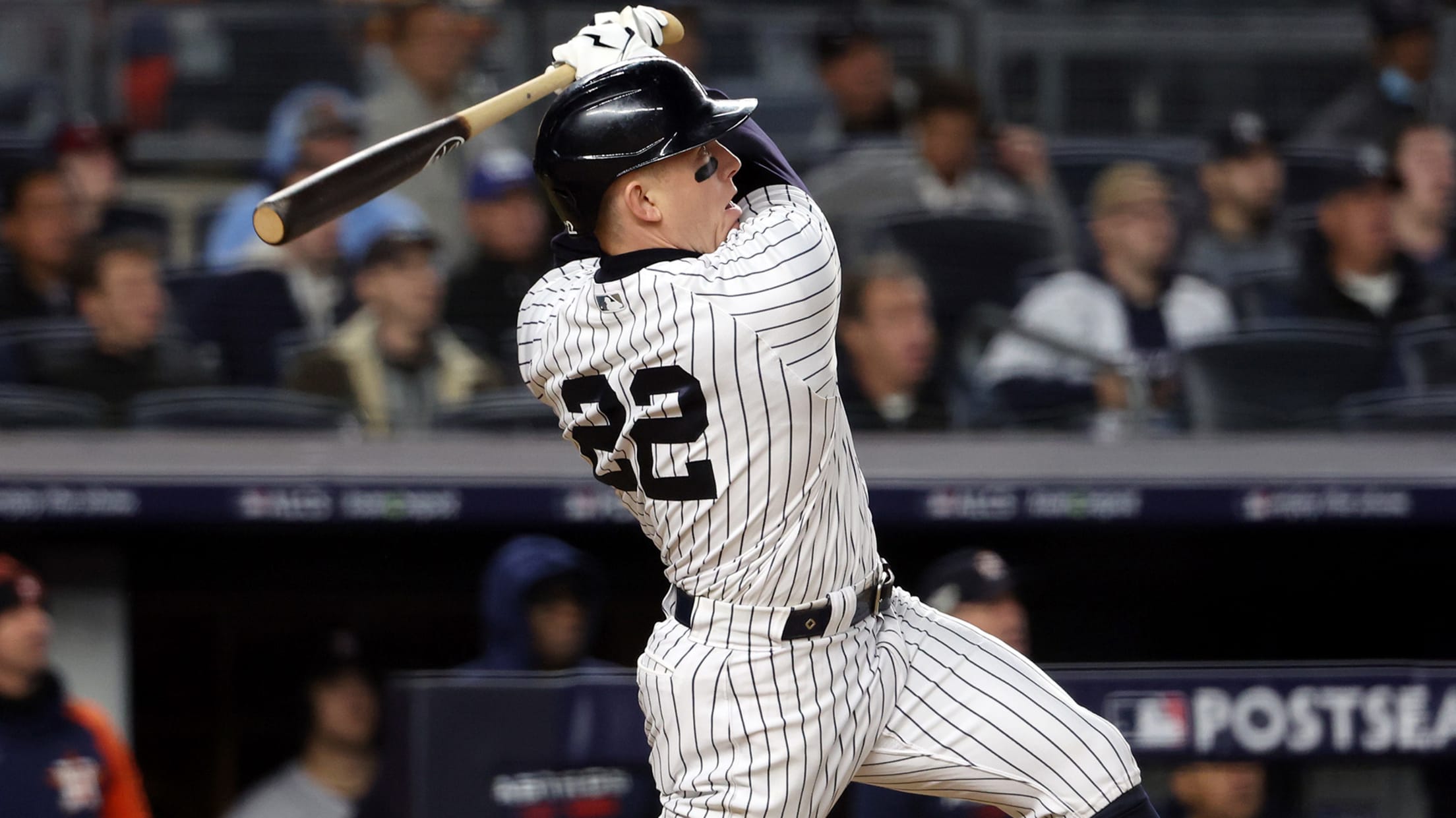 NEW YORK -- The Harrison Bader trade still has more fruit to yield after his brilliant 2022 postseason. A glimmer of hope throughout a frustrating American League Championship Series for the Yankees, Bader closed out his year with a three-hit night in New York's season-ending 6-5 loss to Houston in
Yanks' season ends in familiar heartbreak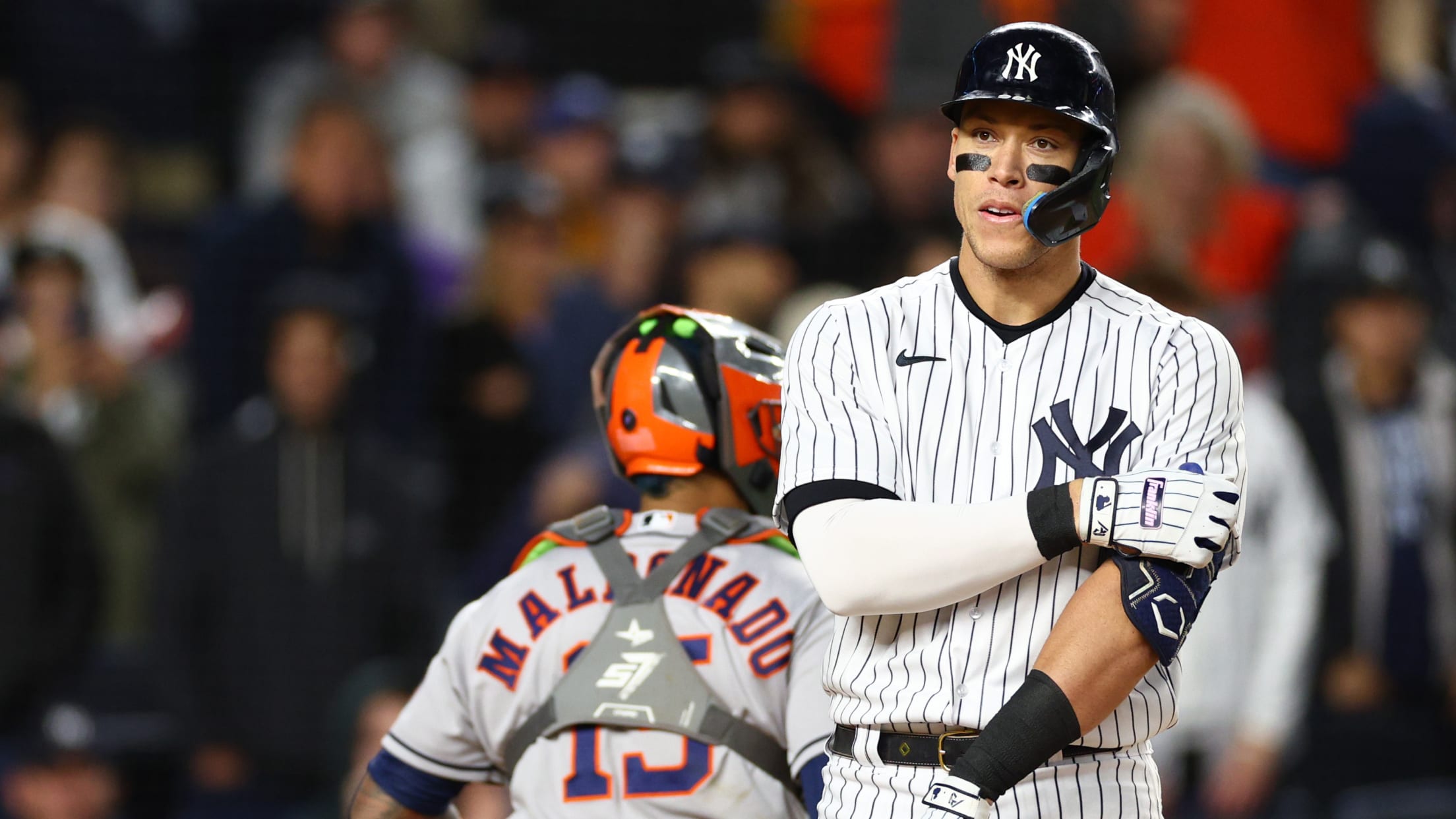 NEW YORK -- The Yankees' two most recent trips to the American League Championship Series ended with heartbreak in Houston, their pindrop-silent clubhouse filled with back slaps, hugs, tears and regrets. The opponent remained the same this time, with the Astros celebrating yet another advance to the World Series, but
Yankees notch season first in 11th meeting with Astros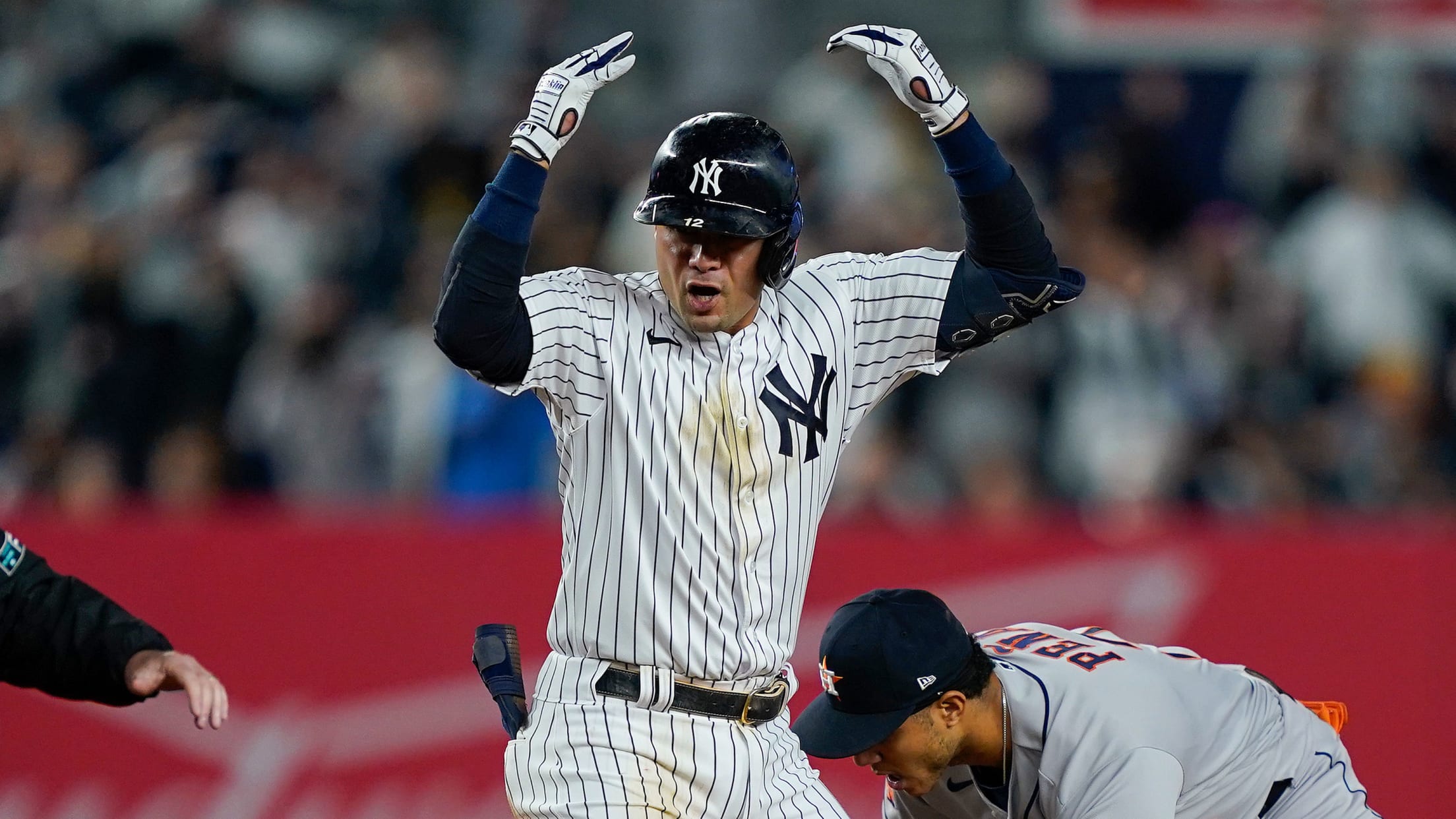 NEW YORK -- There's still life to the Yankees' bats after all. Giancarlo Stanton handed New York a 2-0 first-inning lead against the Astros in Game 4 of the American League Championship Series on Sunday, the first time they've led Houston at the end of a full inning through the
LIVE: Astros-Yankees G4 FAQ, lineups (TBS)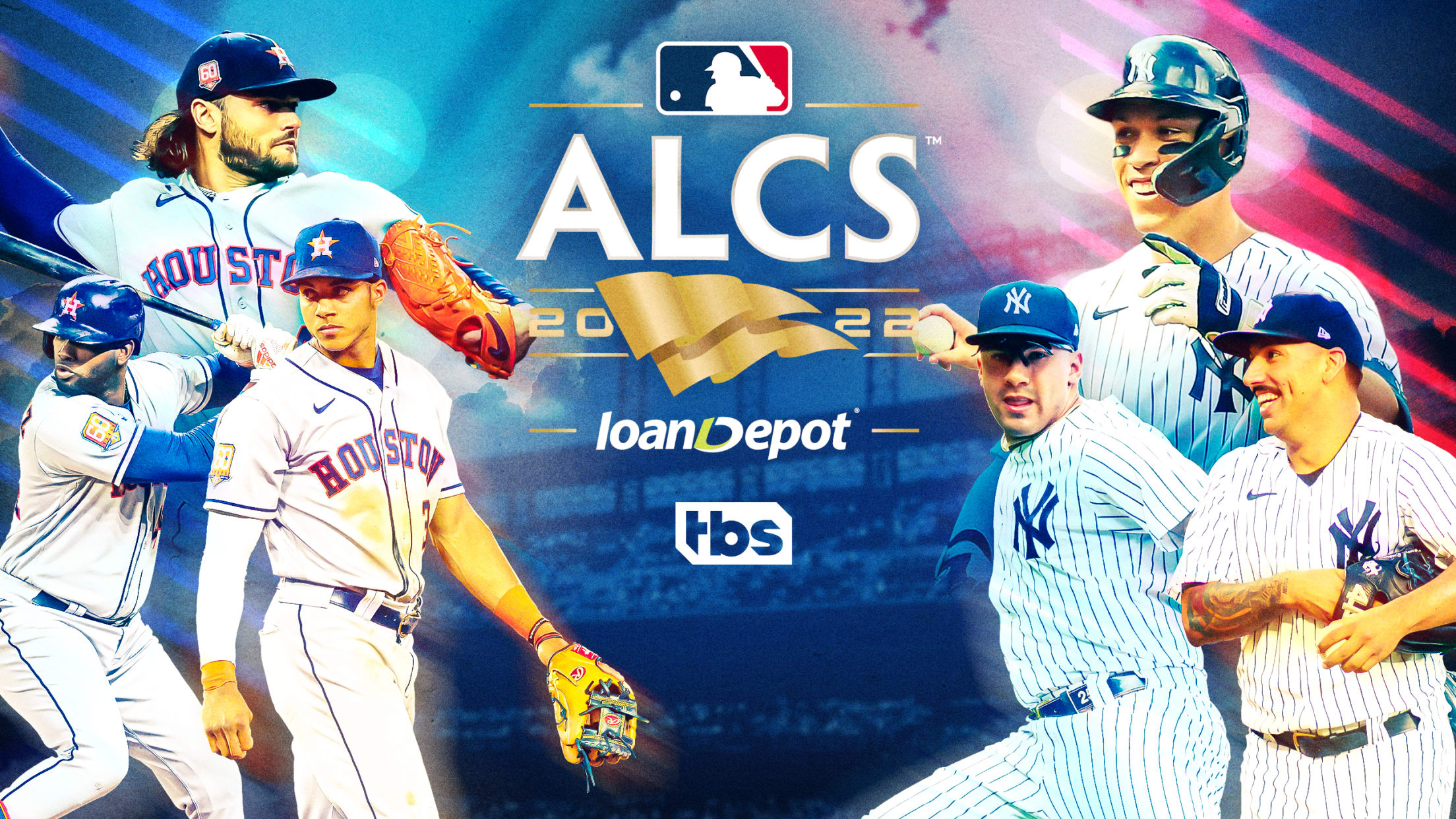 Game 4 between the Astros and Yankees in the Bronx will not start on time due to weather in the area. The expected start time is 8:30 p.m. ET. Check back here for updates.
Yankees gain inspiration from ... '04 Red Sox?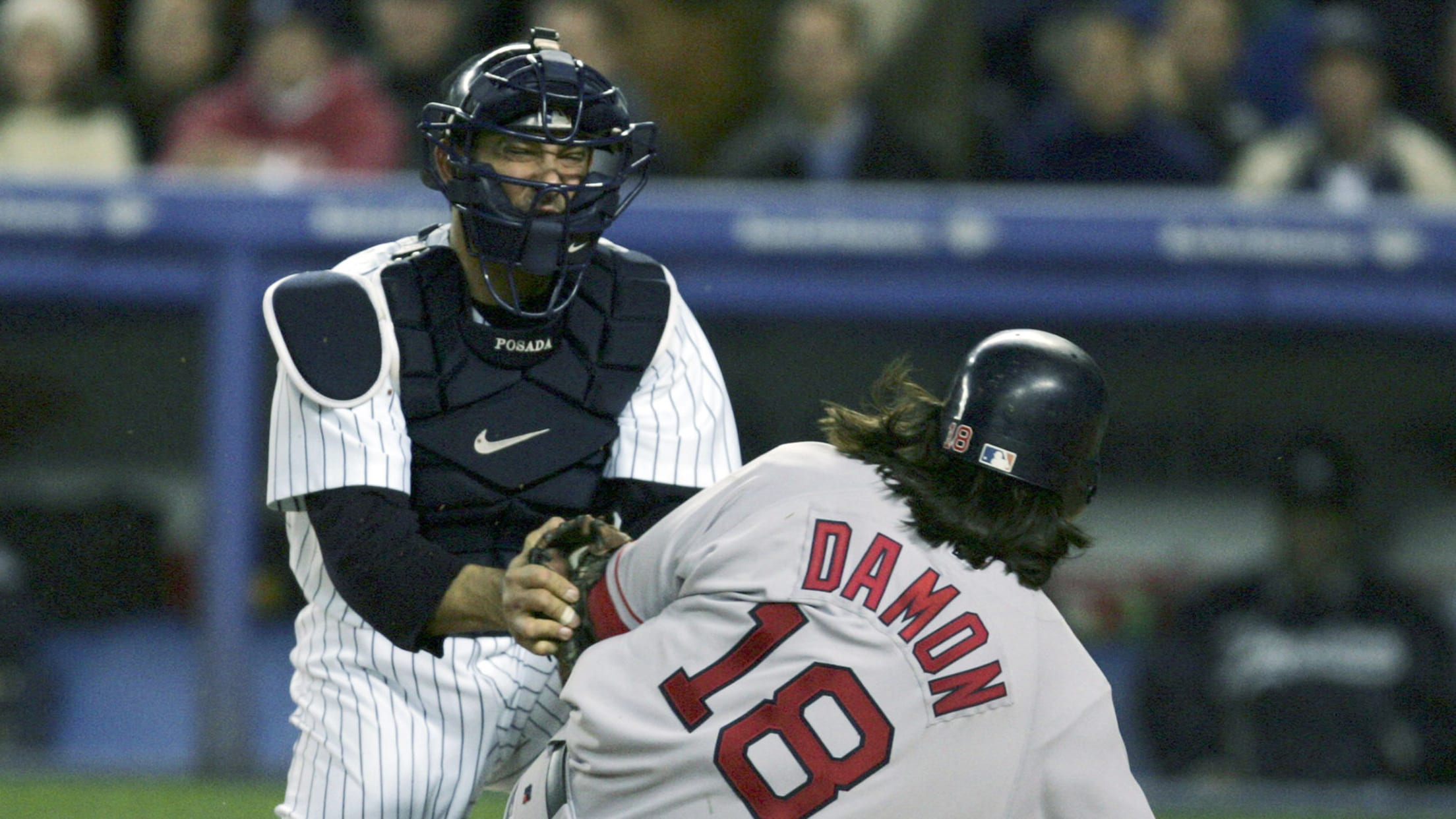 NEW YORK -- It was 18 Octobers ago that Red Sox infielder Kevin Millar prowled the Fenway Park infield during batting practice for a seemingly decided American League Championship Series, warning anyone who would listen: "Don't let us win tonight." Within the Yankees' clubhouse walls, that could have easily happened
The key storylines for today's NLCS, ALCS games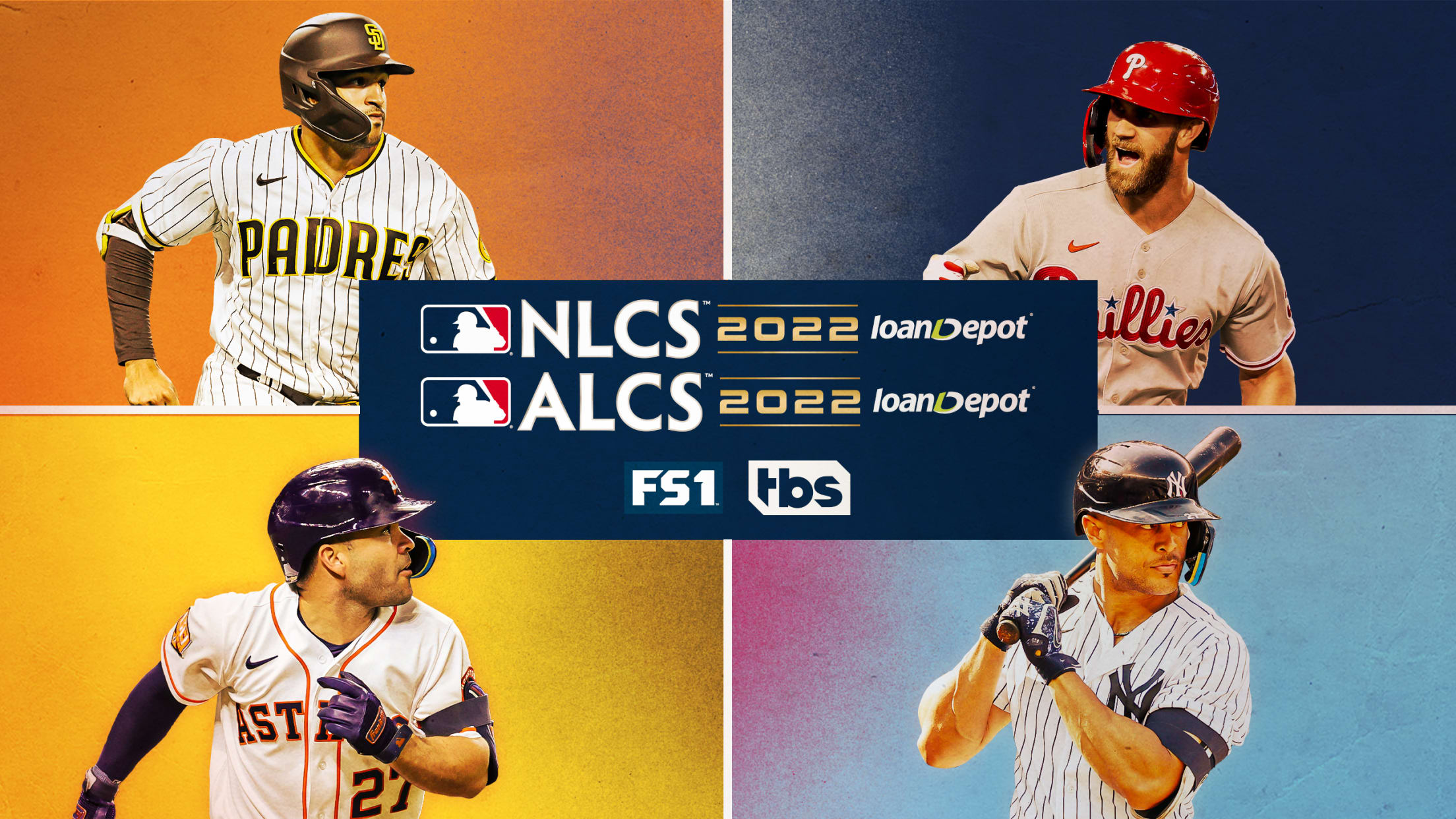 Is Sunday going to be the last day with multiple Major League Baseball games until next March? If the Yankees can't extend their ALCS with the Astros or the Padres can't do the same against the Phillies in the NLCS, it will be. It's not dark yet, folks … but
A familiar foe, Vázquez does it all vs. Yanks
Former Red Sox catcher delivers clutch two-run knock, guides staff to three-hit shutout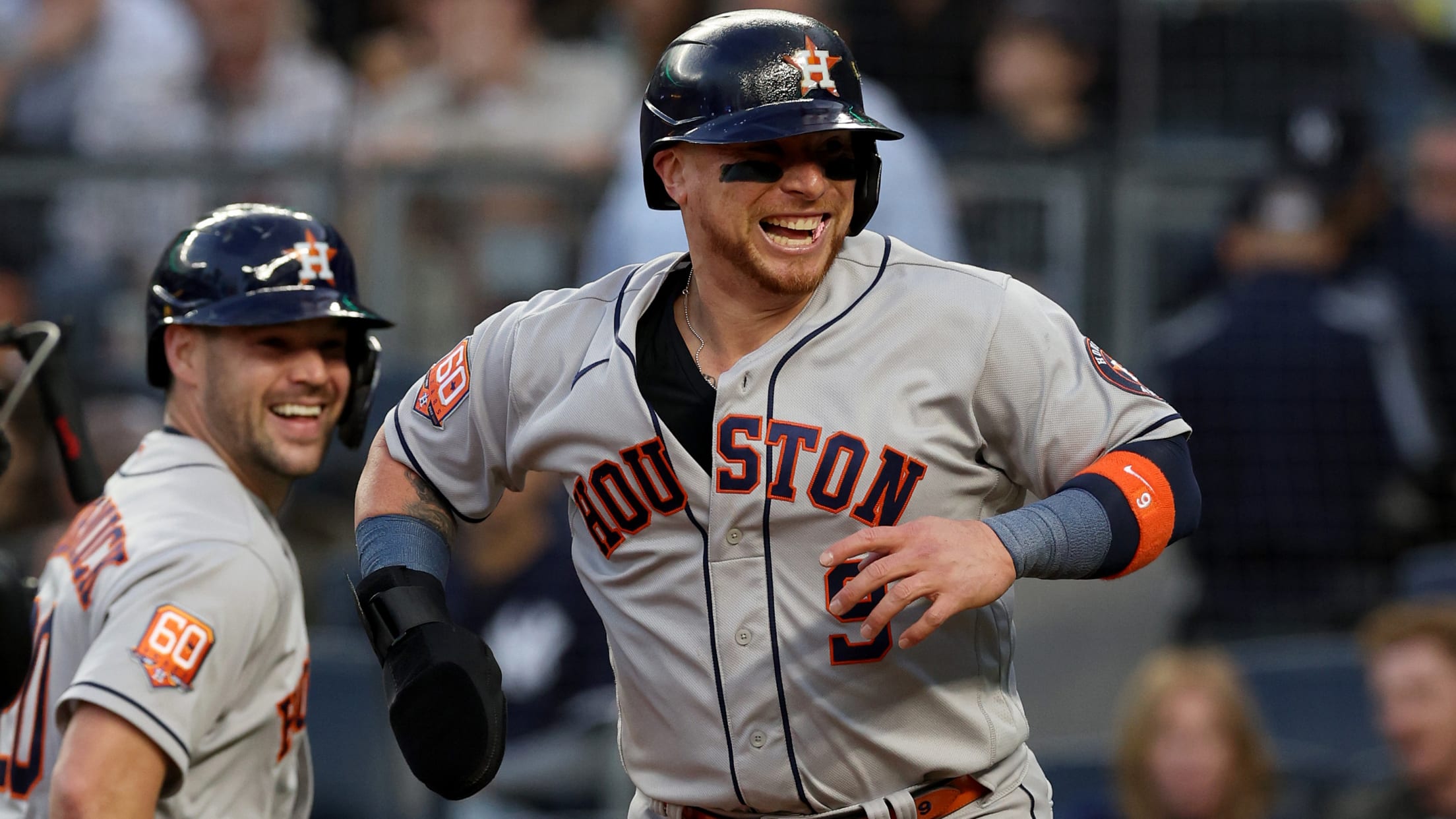 NEW YORK -- Astros manager Dusty Baker made it known after Saturday's 5-0 victory in Game 3 of the American League Championship Series at Yankee Stadium that Martín Maldonado isn't the team's only great catcher. The skipper pointed out that Christian Vázquez can hold his own, too.
Altuve snaps historic postseason hitless streak in G3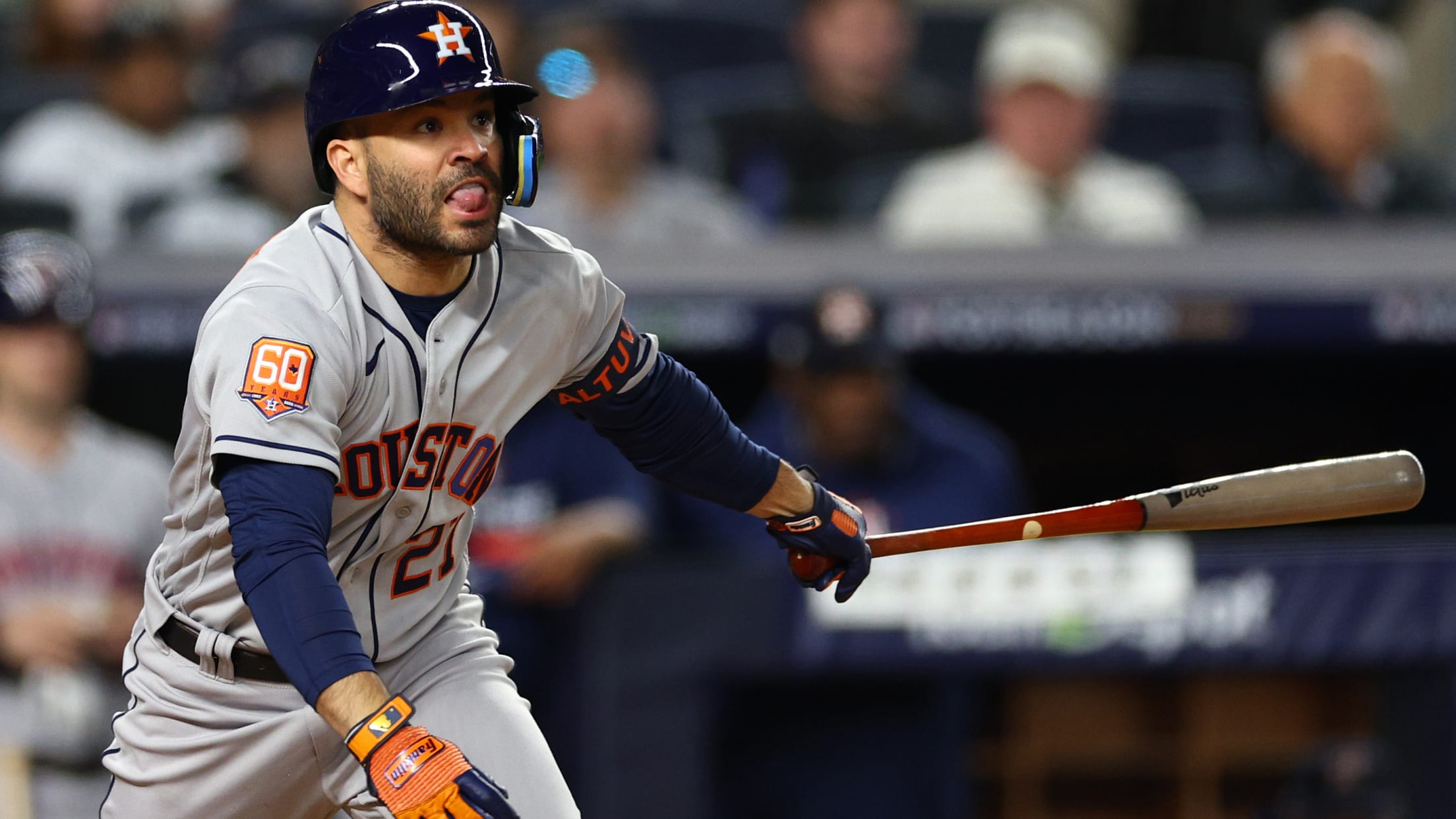 NEW YORK -- As the Astros have been saying all along, it was only a matter of time for Jose Altuve. Houston's All-Star second baseman may have set a Major League record for the longest hitless streak to start a postseason, but it came to an end on Saturday evening
McCullers excited to start G4 in baseball's 'mecca'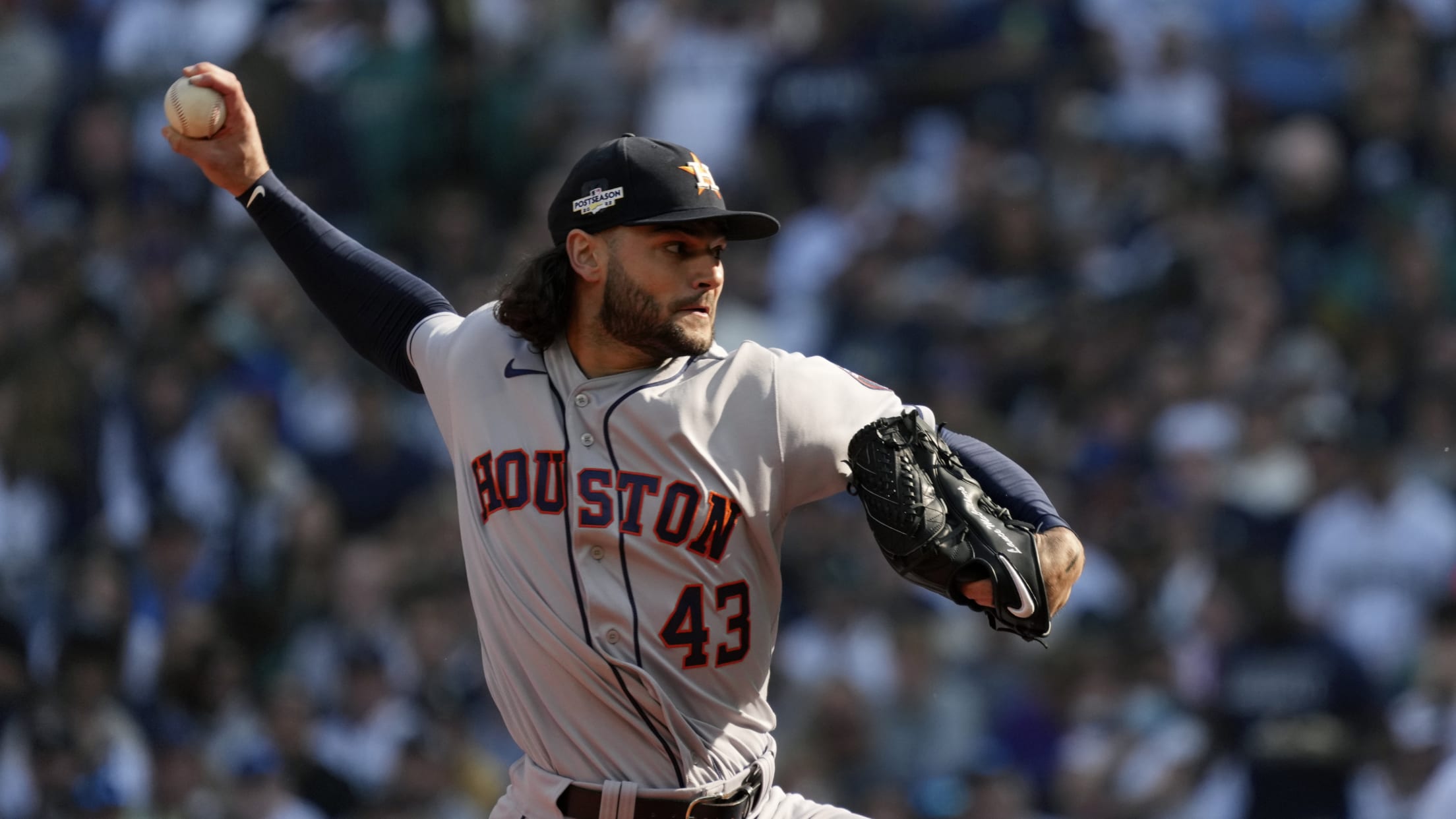 NEW YORK -- No matter what he does during the rest of his career, Astros pitcher Lance McCullers Jr.'s performance against the Yankees in Game 7 of the 2017 American League Championship Series -- in which he famously threw 24 consecutive curveballs while tossing four scoreless innings in relief to
Astros ride all-around dominance to 3-0 ALCS lead
Javier, McCormick, Vázquez key contributors as Houston moves within 1 game of World Series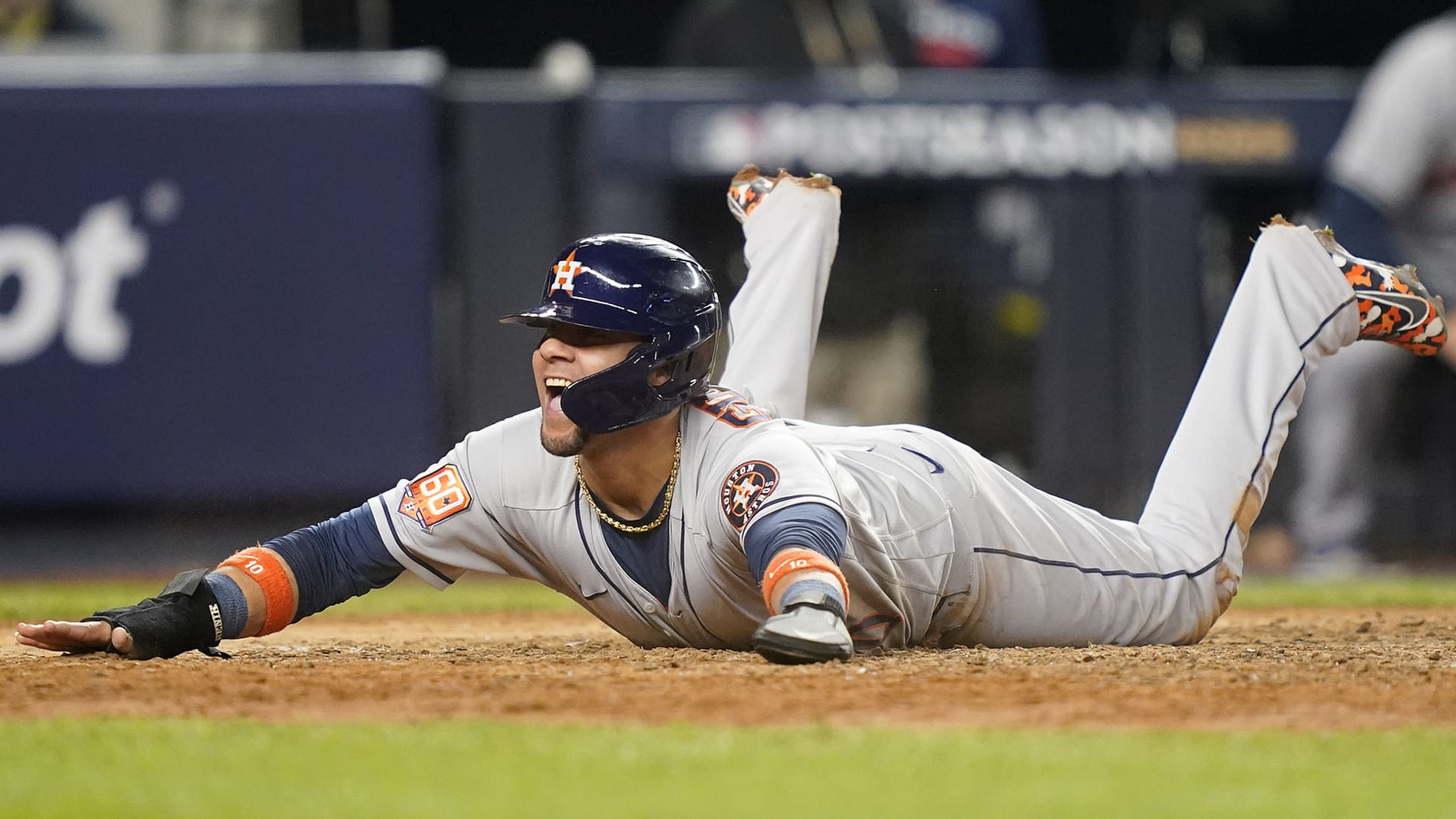 NEW YORK -- When the Astros came to Yankee Stadium in June and split four games with the Yankees, it wasn't really a true indication of how much they had dominated. Houston never trailed at any point in the four games, with the exception of two walk-off swings by Aaron
Chas hits 2-run 'chomp,' makes Yanks pay for error
McCormick, Astros continue to exploit opponents' mistakes in Game 3 win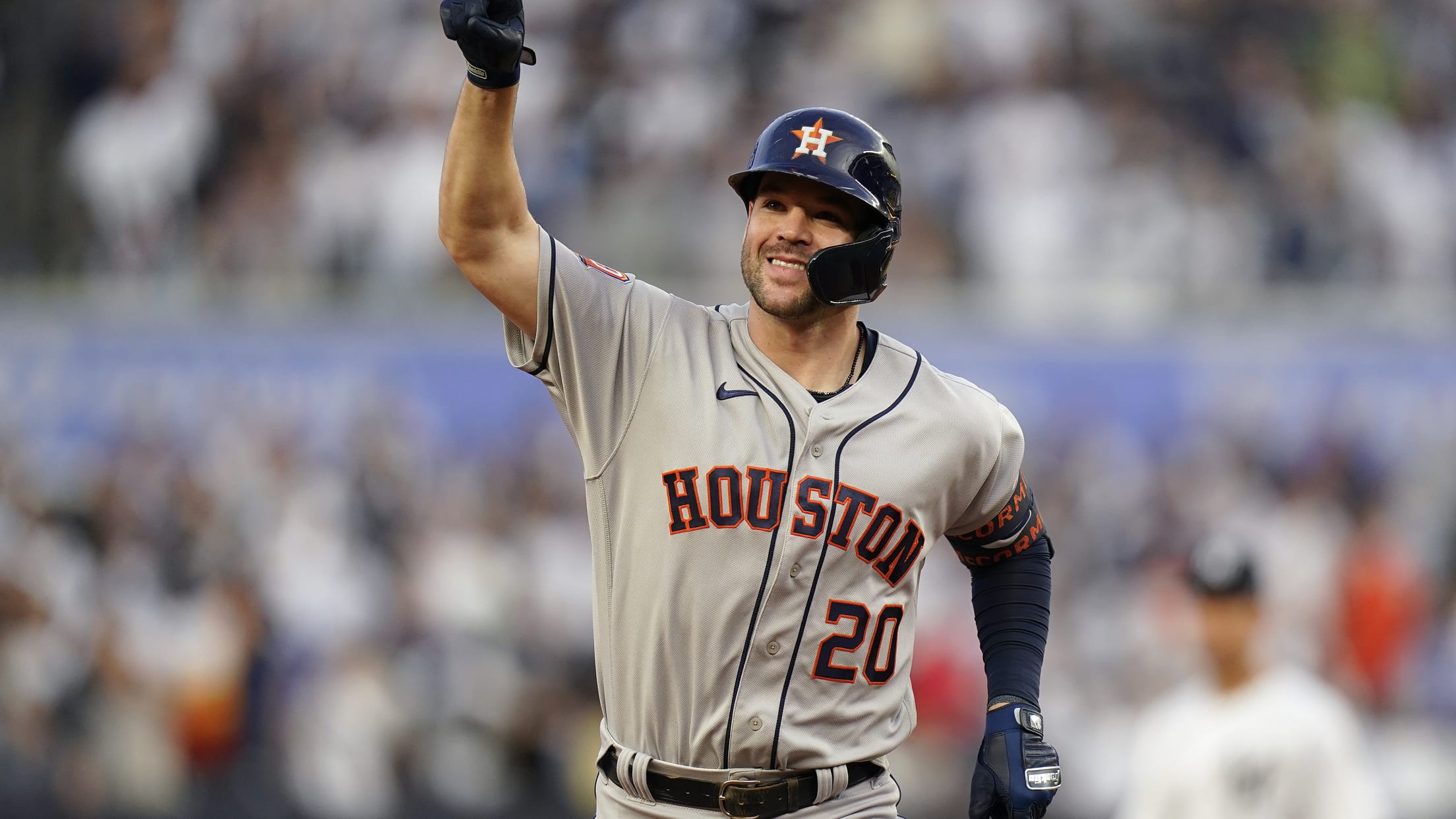 NEW YORK -- There's no easy way to statistically contextualize a team's ability to exploit its opposition's mistakes. A search filter on FanGraphs or Baseball Savant doesn't exist for a metric illustrating when one squad blunders and the other responds with a gut punch.
Call to bullpen backfires after Cole gets in a jam
Yankees' ace goes five-plus innings in Game 3, with line hurt by a costly error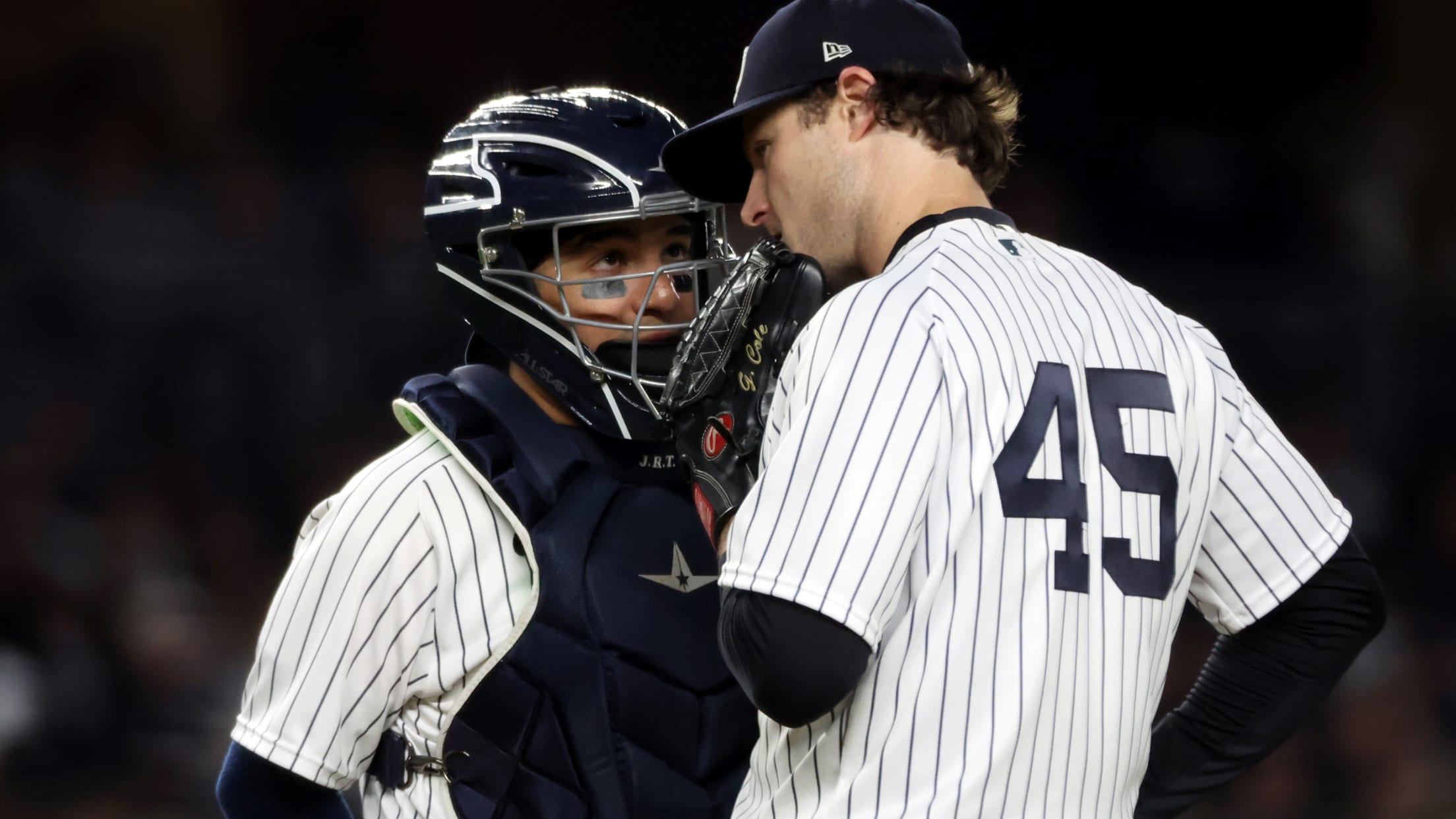 NEW YORK -- Yankee Stadium fell into a collective sigh of shock and exasperation when manager Aaron Boone pointed to the bullpen after Gerrit Cole loaded the bases with nobody out in the sixth. The Yankees' ace had kept the Astros in check for most of Game 3 of the
Yanks' backs against wall after Game 3 loss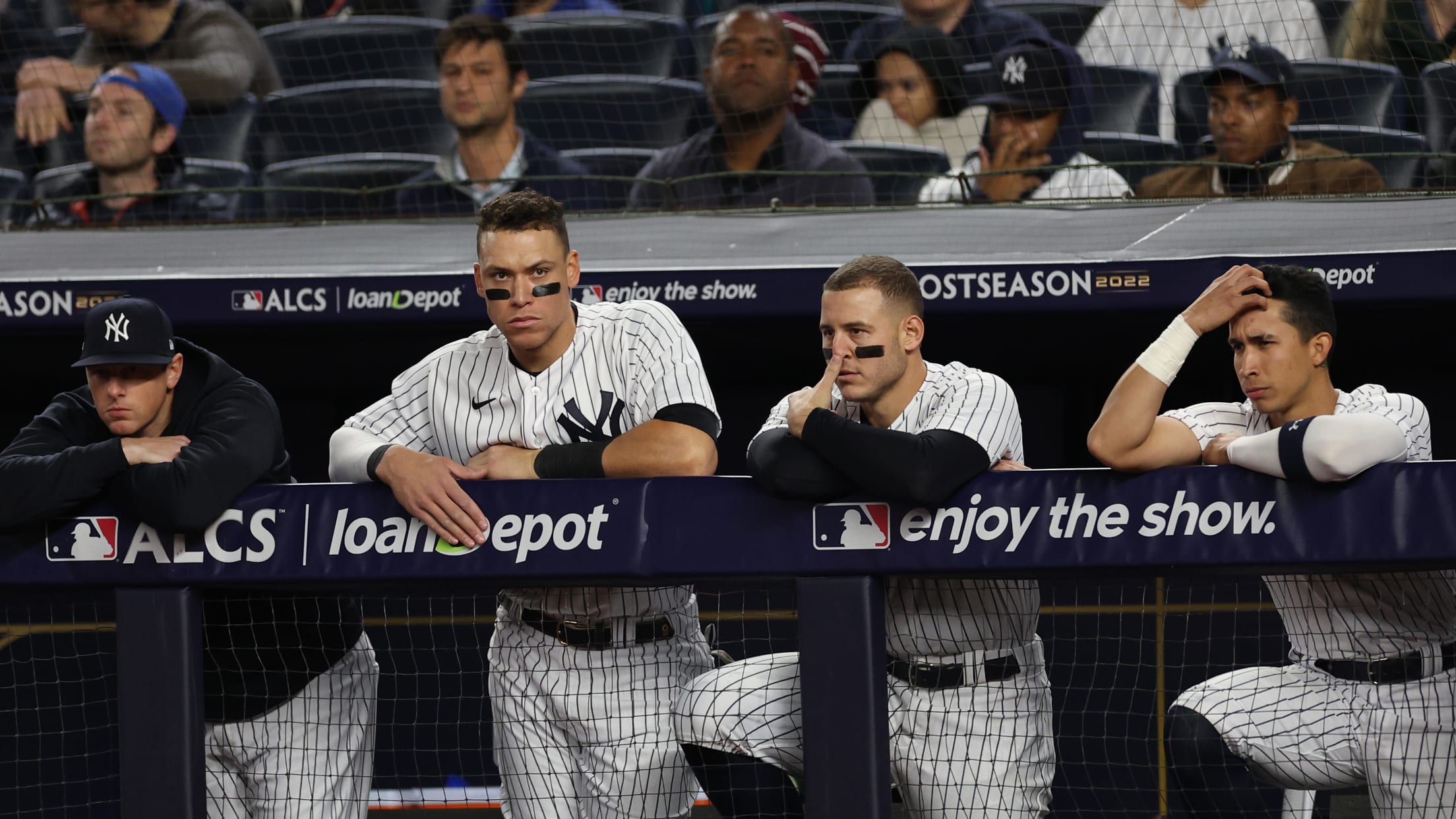 NEW YORK -- The walk toward the mound seemed to transpire in slow motion, Aaron Boone measuring each step across the infield grass as he approached the gaggle of Yankees clustered around Gerrit Cole. The bases were loaded with none out, and seemingly with some hesitation, the manager extended his
LIVE on TBS: Astros-Yankees Game 3 FAQ, lineups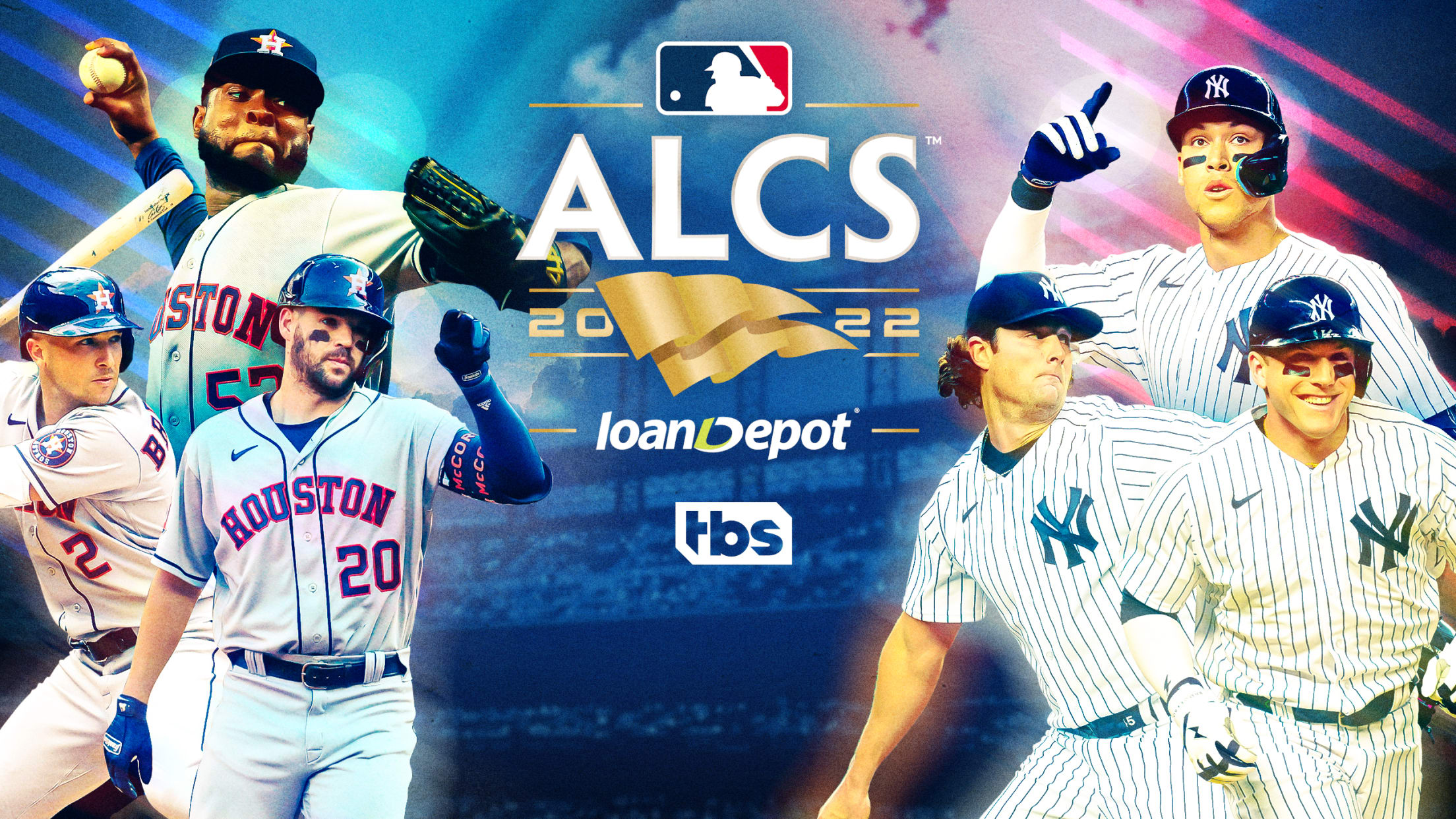 HOUSTON -- They call Yankee Stadium "The Zoo," and after the Astros pocketed both of the first two games of this American League Championship Series, the Yankees will need their home-field advantage more than ever. Gerrit Cole is on the mound for the Yankees as the Bombers return home for
Cortes: If Judge returns, 'he's our captain' in 2023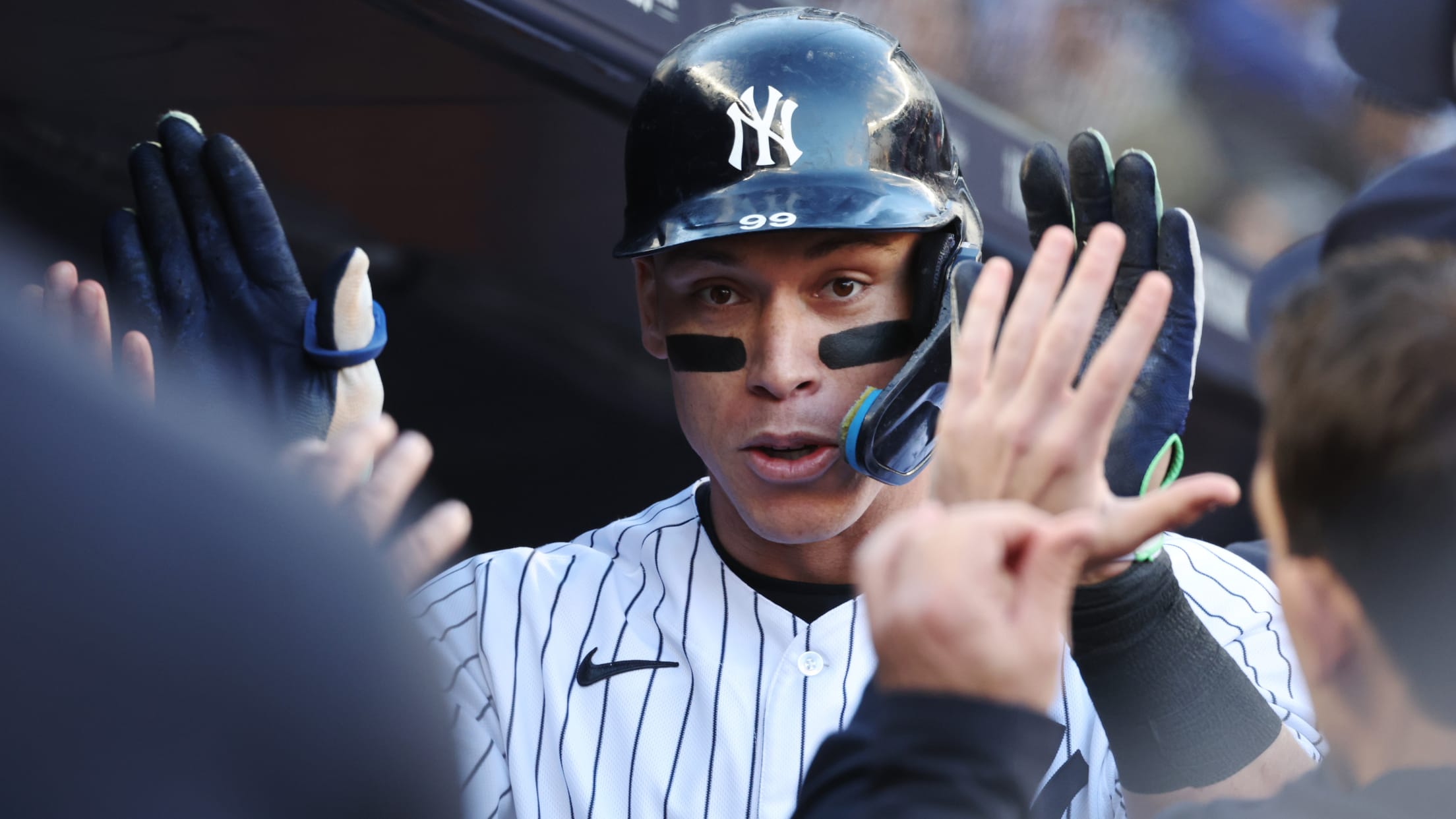 NEW YORK -- The Yankees have had 15 captains or co-captains in their storied history, but none since Derek Jeter's final game in uniform, when the eventual first-ballot Hall of Famer tipped his cap to wave goodbye at the end of the 2014 season. If Aaron Judge returns next season,
Gurriel reminding what he's capable of in October
First baseman is 9-for-22 through the Astros' first five postseason games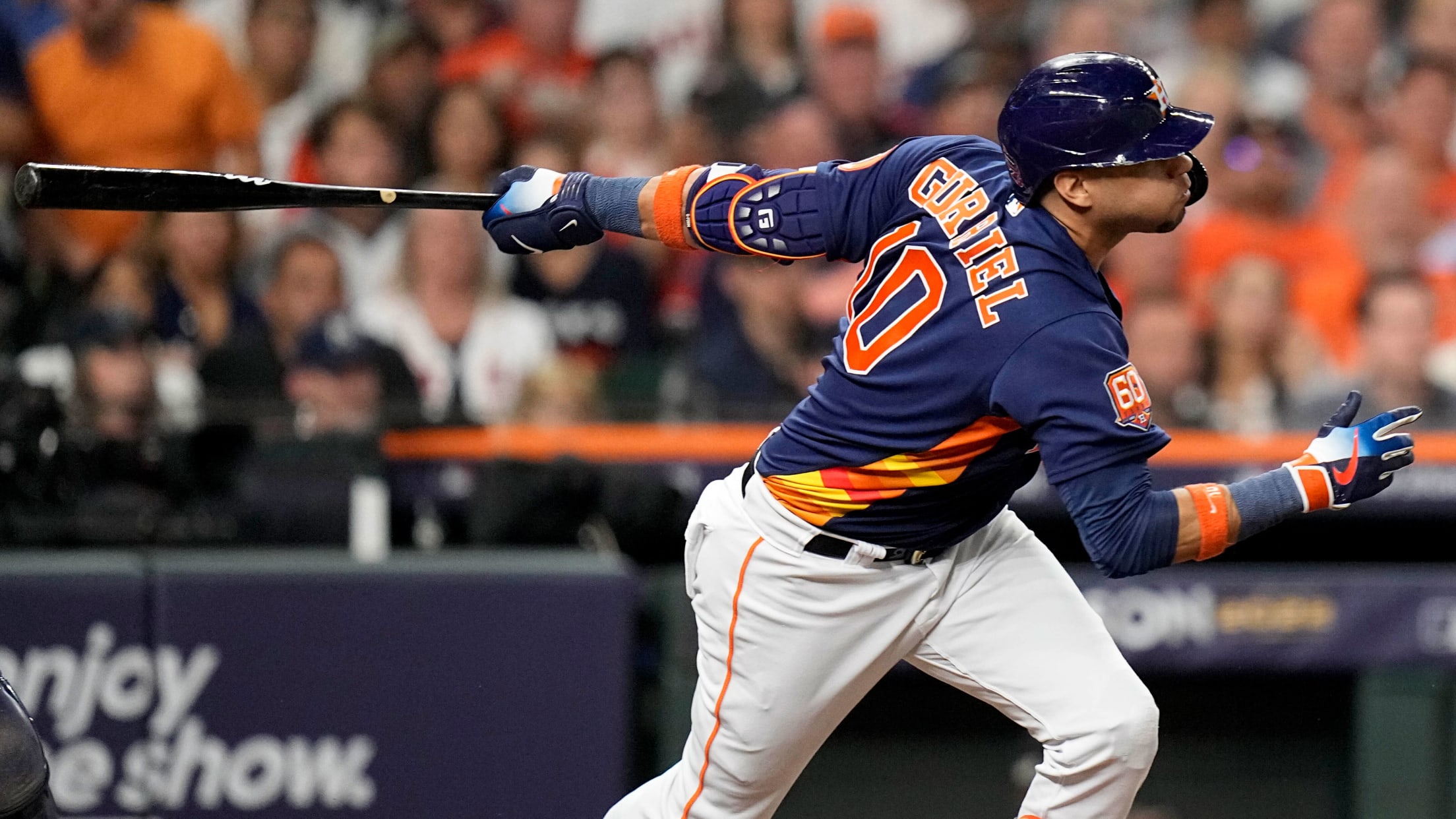 HOUSTON -- If this is the swan song for Yuli Gurriel with the only organization he's ever known, the seasoned Astros veteran is making the most of it. Houston's 38-year-old first baseman went 2-for-3 with a pair of hard-hit singles in the club's 3-2 win over the Yankees in Game
Valdez (9 K's, 0 ER) dominates as Astros go up 2-0 in ALCS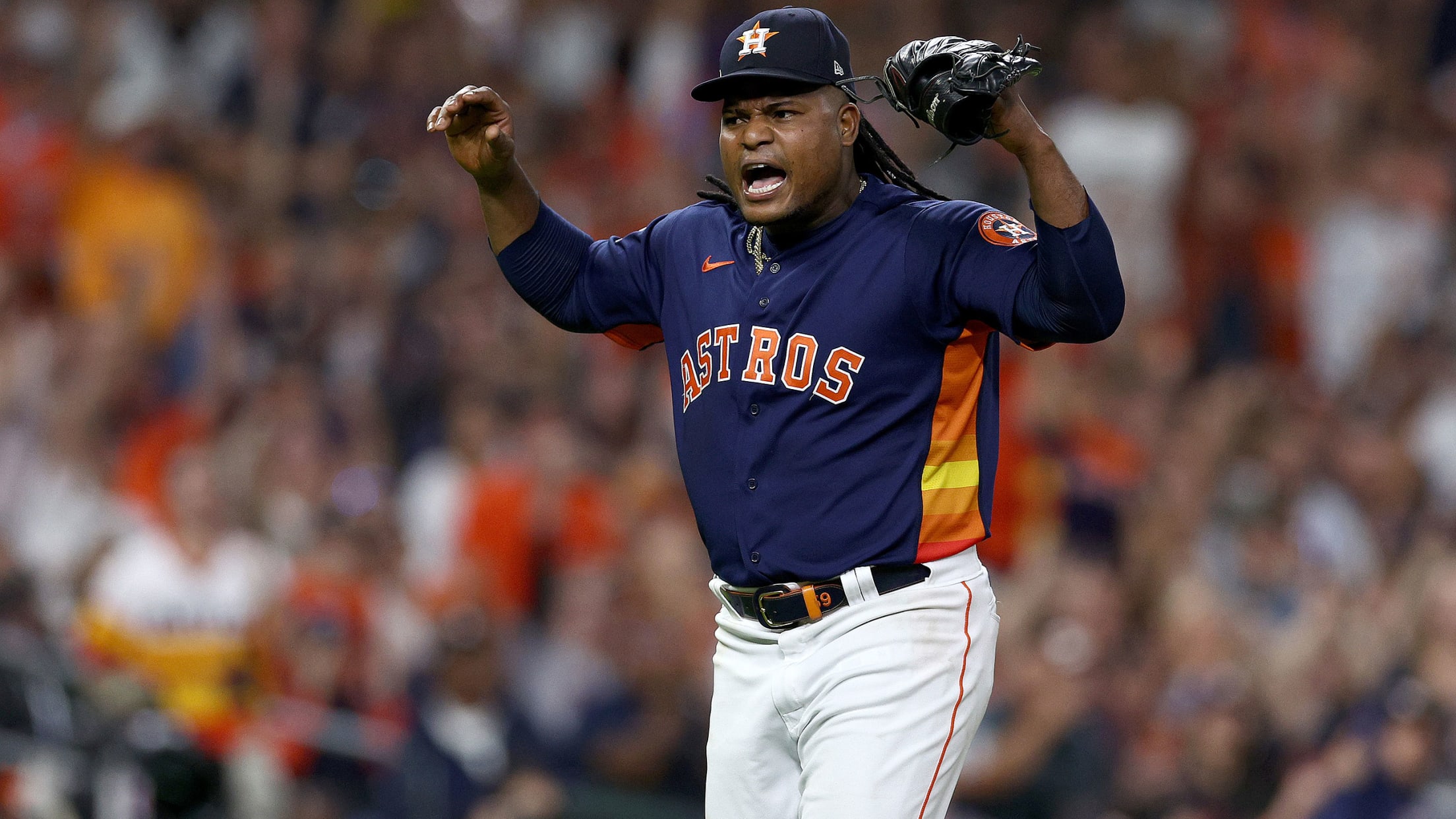 HOUSTON -- A high chopper off the plate by Yankees slugger Giancarlo Stanton in the fourth inning Thursday night had Framber Valdez on the brink of disaster. Instead of fielding the ball and turning a double play to clear the bases, Valdez committed a pair of errors that put runners
Astros' homer trend continues with Bregman knock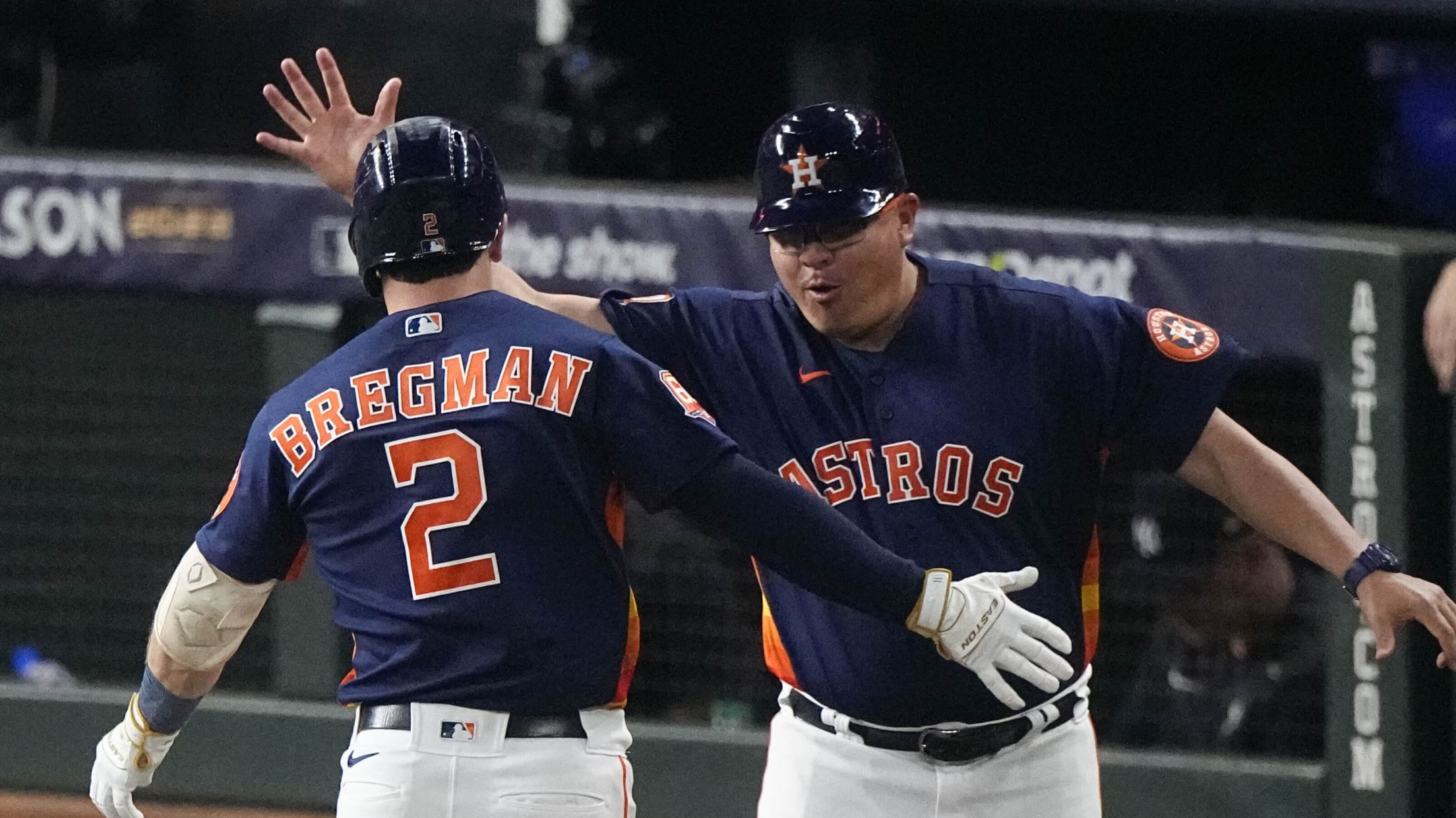 HOUSTON -- Living by the long ball isn't necessarily the Astros' formula by design, but it has nonetheless been one of the biggest reasons in why they remain undefeated in these playoffs.