The Houston Texans' impression of the Astros' walk-off win was pretty spot-on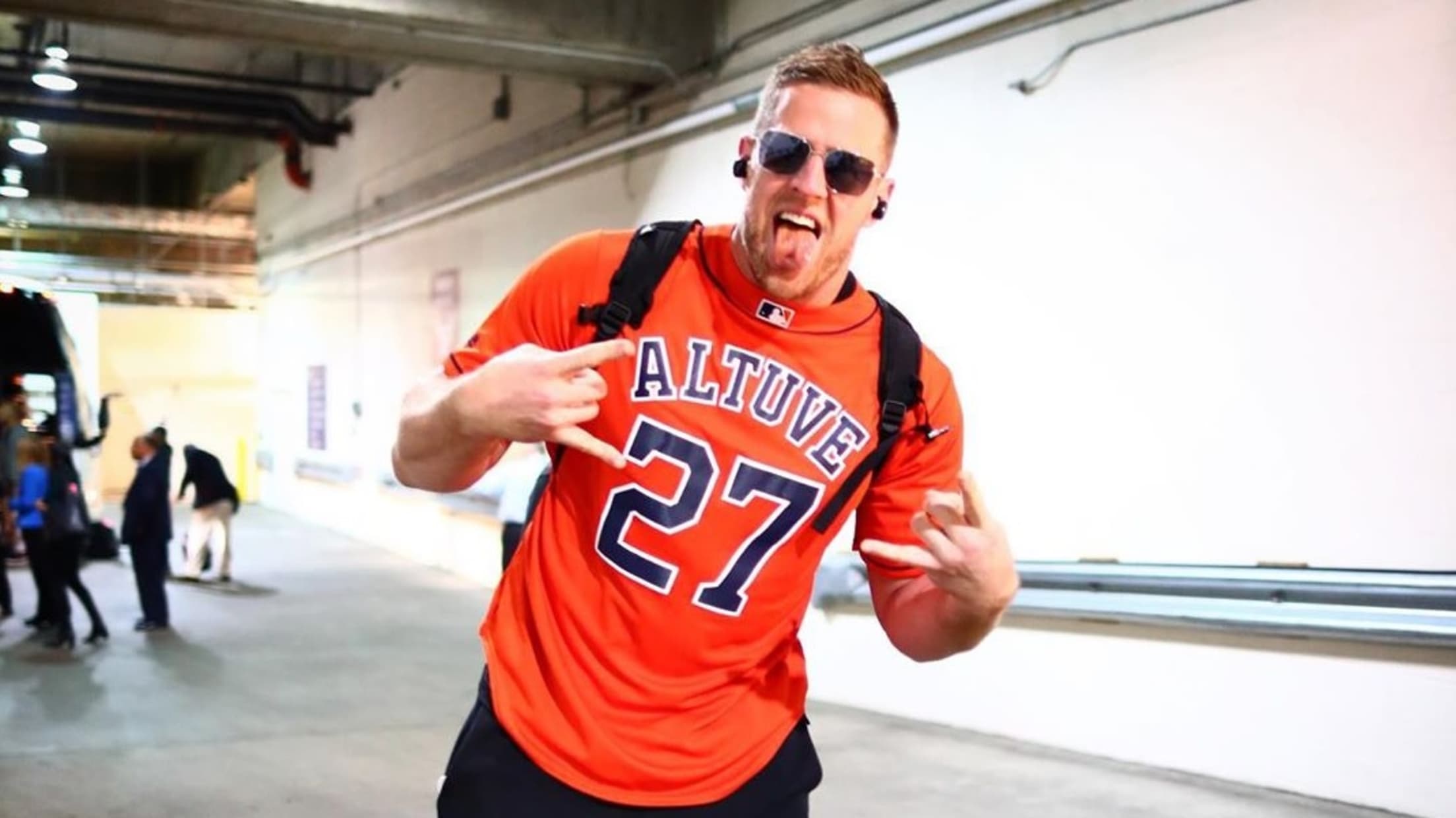 The pro sports teams in the Houston area are a tight-knit bunch, so with the Astros fighting for the AL pennant on Saturday, it was hardly a surprise to see the Texans don Astros jerseys for their road trip and the Rockets' James Harden and Russell Westbrook waving rally towels
Clinching heroics net Altuve ALCS MVP honors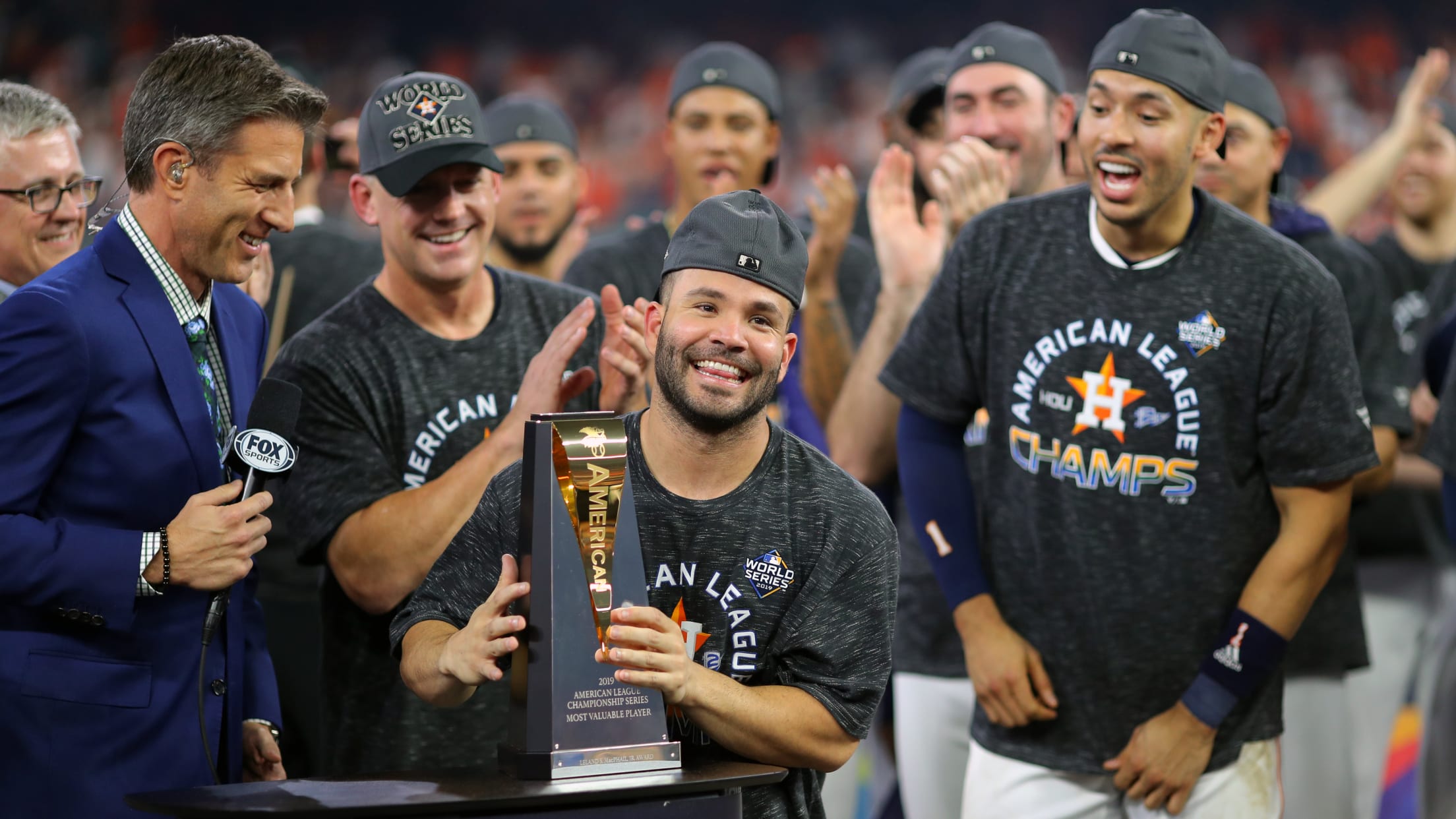 HOUSTON -- The pictures of José Altuve standing beside the 6-foot-7 Aaron Judge have circulated through social media time and time again. But even as his size is constantly called to our attention, the Astros' small-framed second baseman never fails to prove that no moment is too big for him
11 walk-off HRs to clinch a postseason series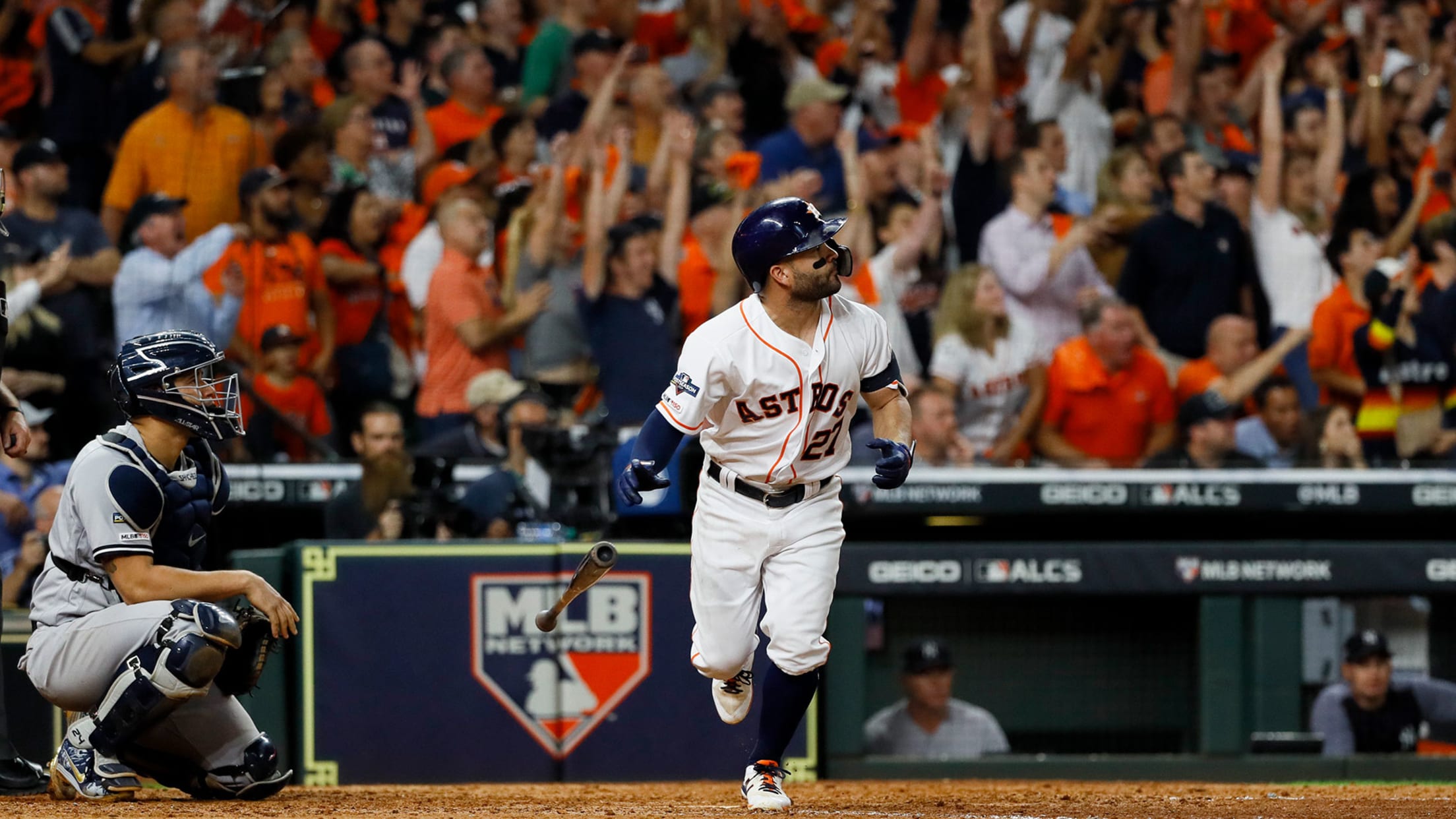 There are few plays in baseball more dramatic than a walk-off home run. One of them is a walk-off home run to win a postseason series. For the 11th time in MLB history that occurred, on Saturday night in Game 6 of the American League Championship Series between the Astros
Astros' rotation sets up perfectly after G6 win
Cole to get nod Tuesday in Game 1, followed by Verlander, Greinke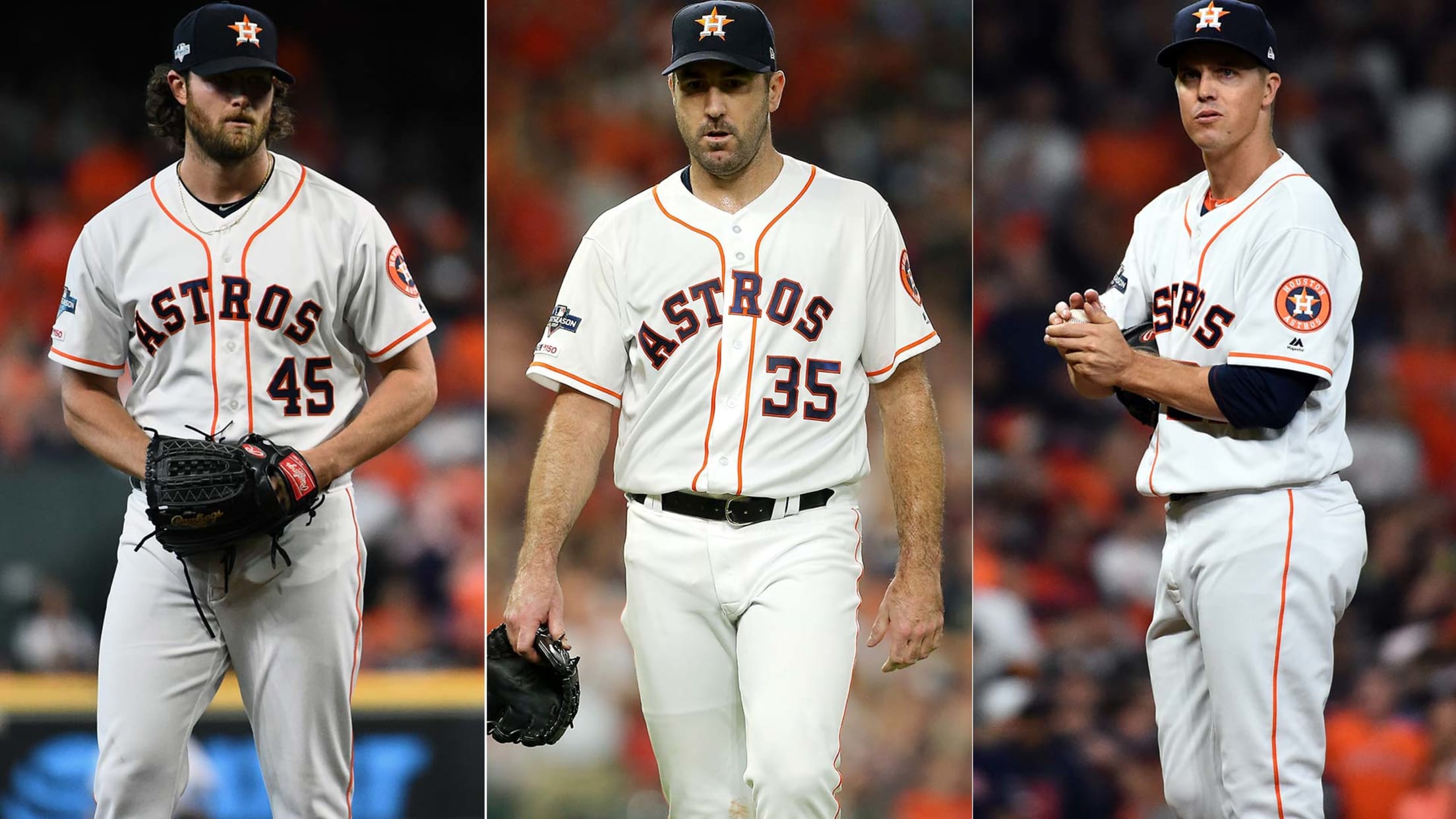 HOUSTON -- The Astros had their goal set before the American League Championship Series against the Yankees began: Win as fast as possible.
Hicks: 'I don't see myself having Tommy John'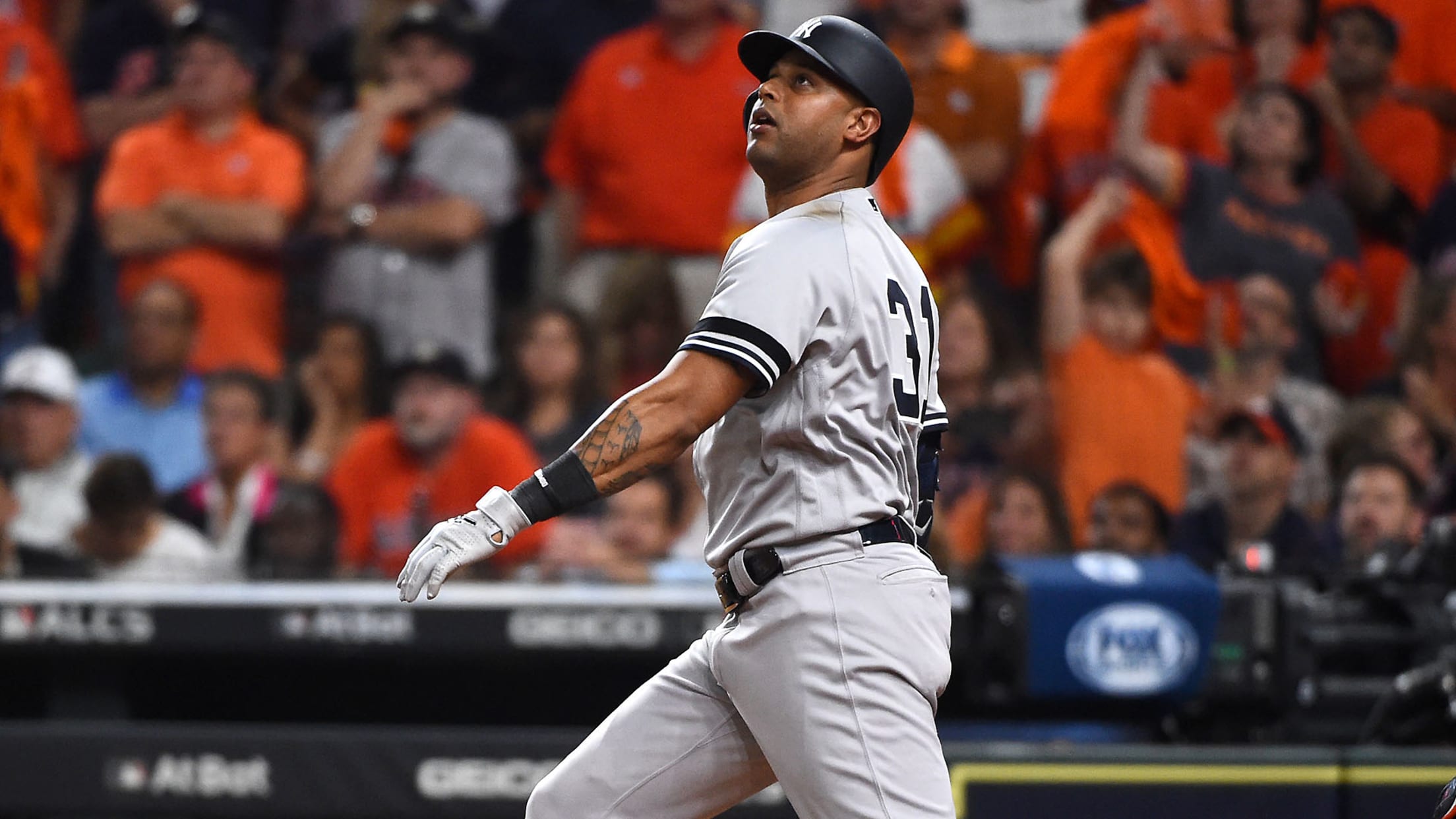 HOUSTON -- The hugs seemed to last a little longer in front of Aaron Hicks' locker in the visiting clubhouse at Minute Maid Park on Saturday evening, with good reason. The Yankees outfielder was told weeks ago that his season should be over, with Tommy John surgery having been recommended.
After ALCS loss, Yankees brace for adjustments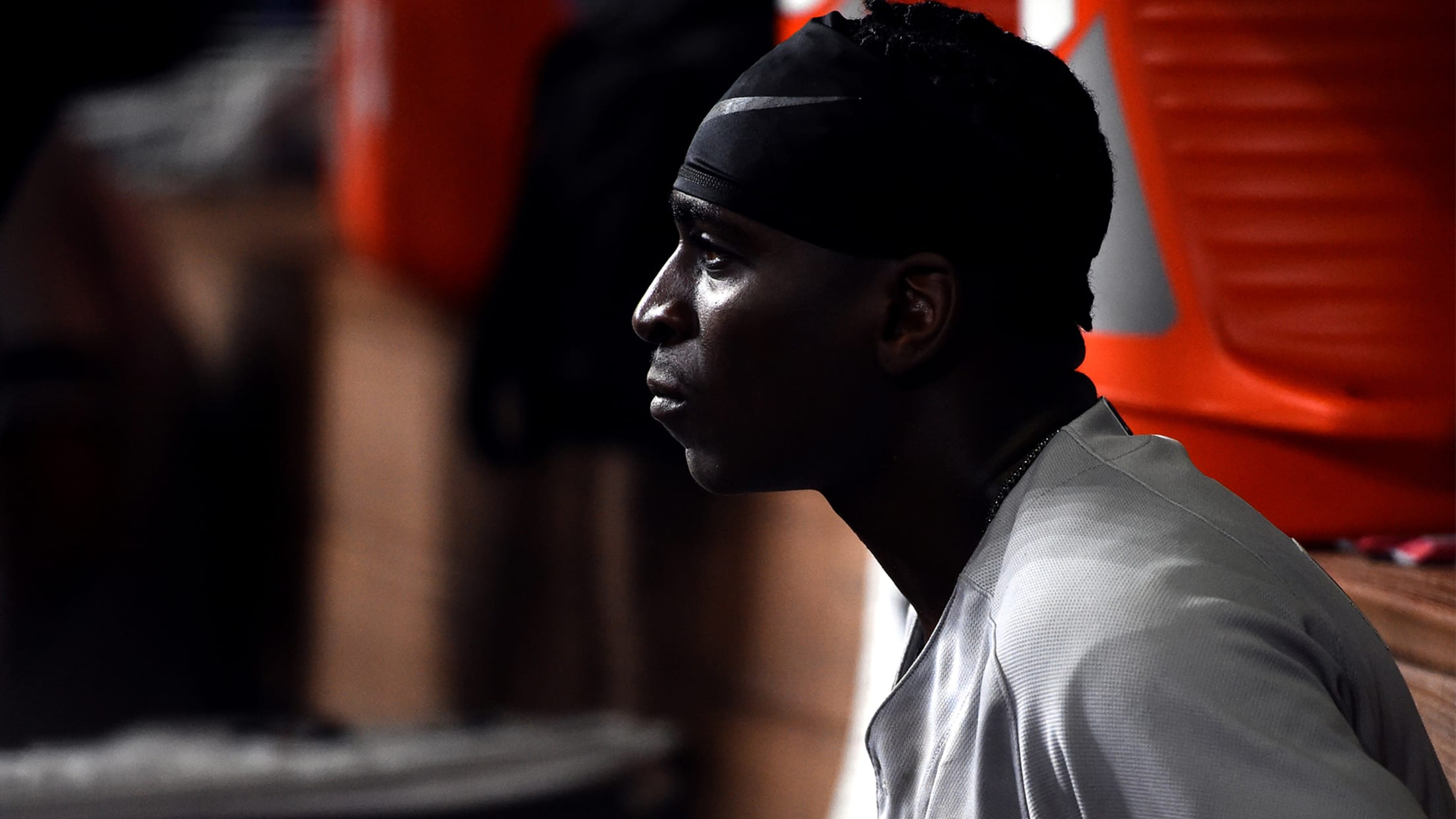 HOUSTON -- As the Yankees exchanged hugs in the visiting clubhouse at Minute Maid Park on Saturday night, their 6-4 loss to the Astros in Game 6 of the American League Championship Series still too fresh to process, there was certainty that it was the last time that the entire
From 'terrible' to 'excited': Astros pick up Osuna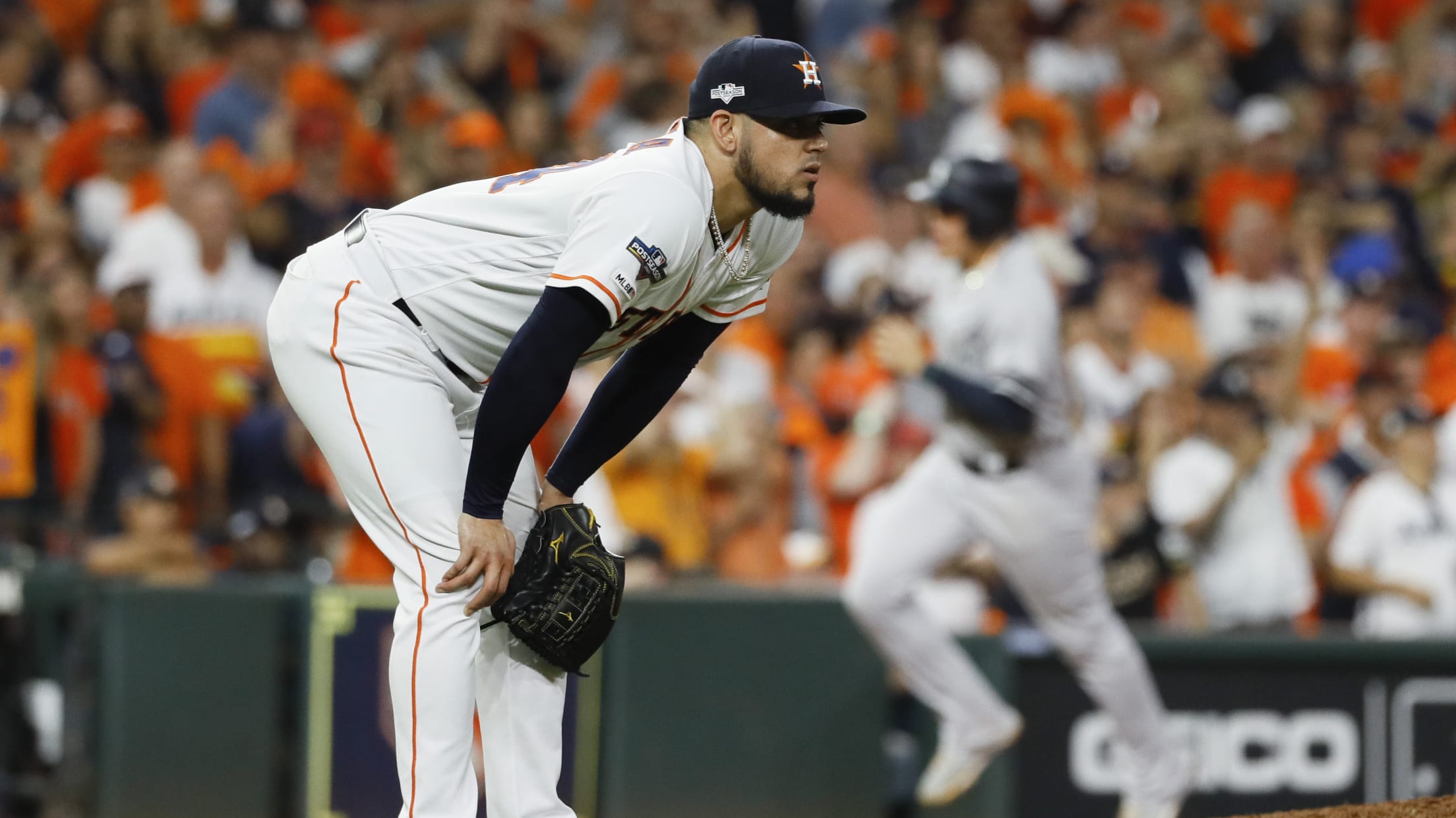 HOUSTON -- Minute Maid Park had experienced this kind of stunned silence before. If you've followed the Astros for any length of time, you remember Cardinals slugger Albert Pujols hitting a go-ahead homer off Brad Lidge to win Game 5 of the 2005 National League Championship Series.
Brantley's epic play tops G6 defensive gems
Reddick also makes diving grab; Correa turns DP with rocket throw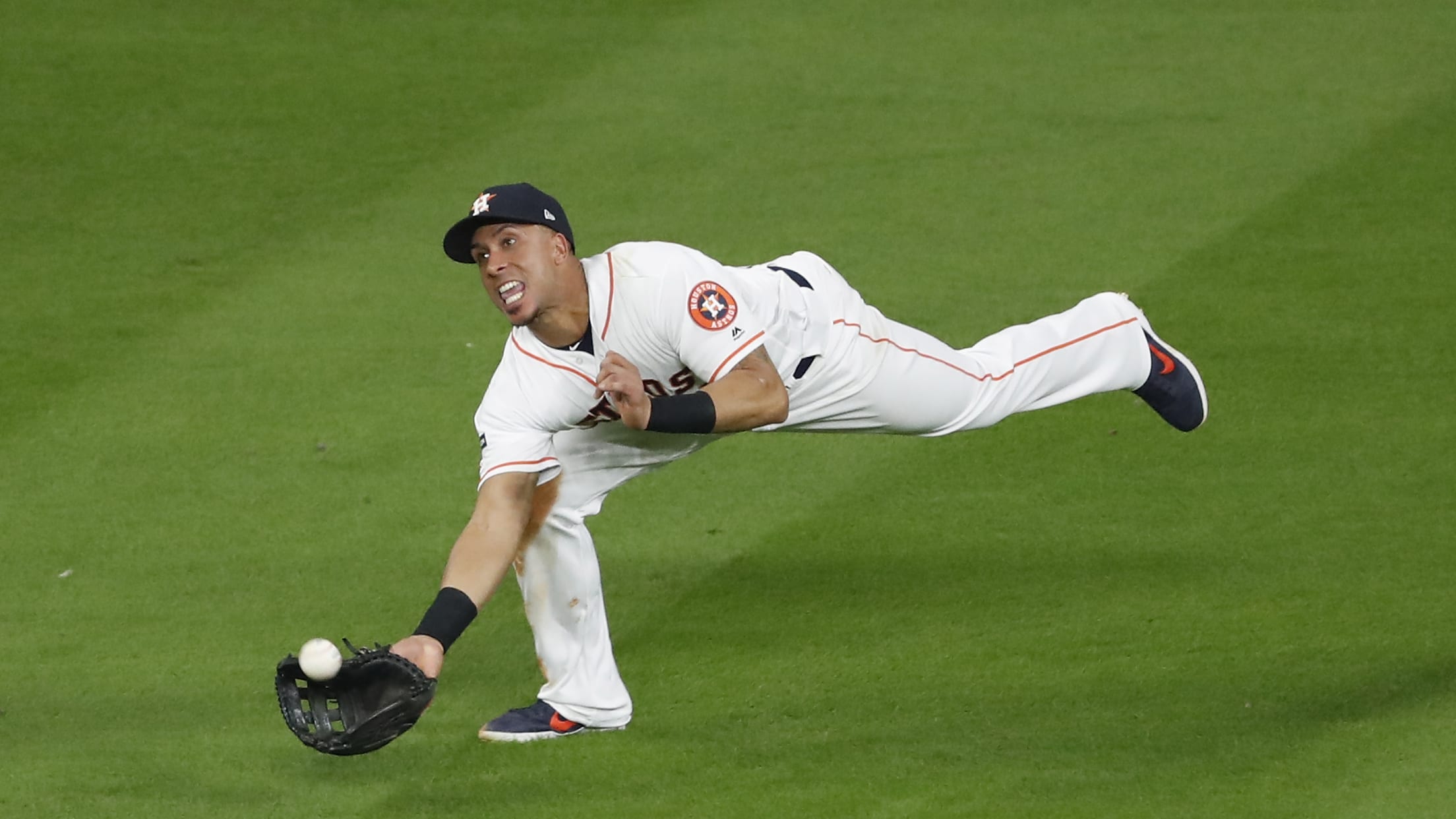 HOUSTON -- Michael Brantley spent much of the 2019 season quietly putting together one of the best seasons of his career, doing so while flying under the radar, as is typical of the low-key veteran outfielder. But Brantley's defensive play that helped end the seventh inning, drawing the Astros within
Pressly exits hurt, but expects to pitch in WS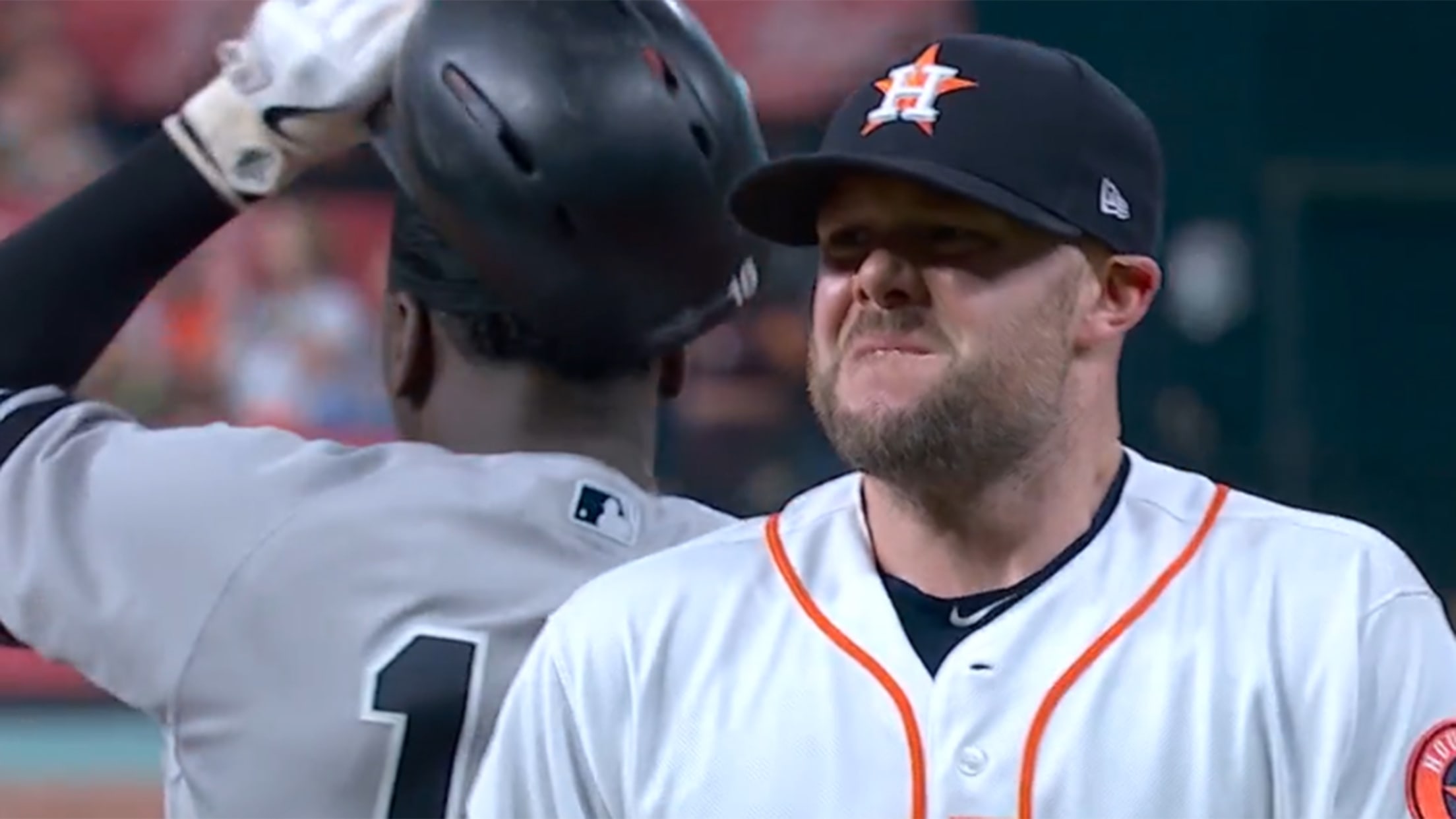 HOUSTON -- All-Star reliever Ryan Pressly says he expects to be available to pitch in the World Series after injuring his surgically repaired right knee in the third inning of the Astros' 6-4 win in Game 6 of the American League Championship Series on Saturday night at Minute Maid Park.
Altuve's walk-off homer sends Astros to Series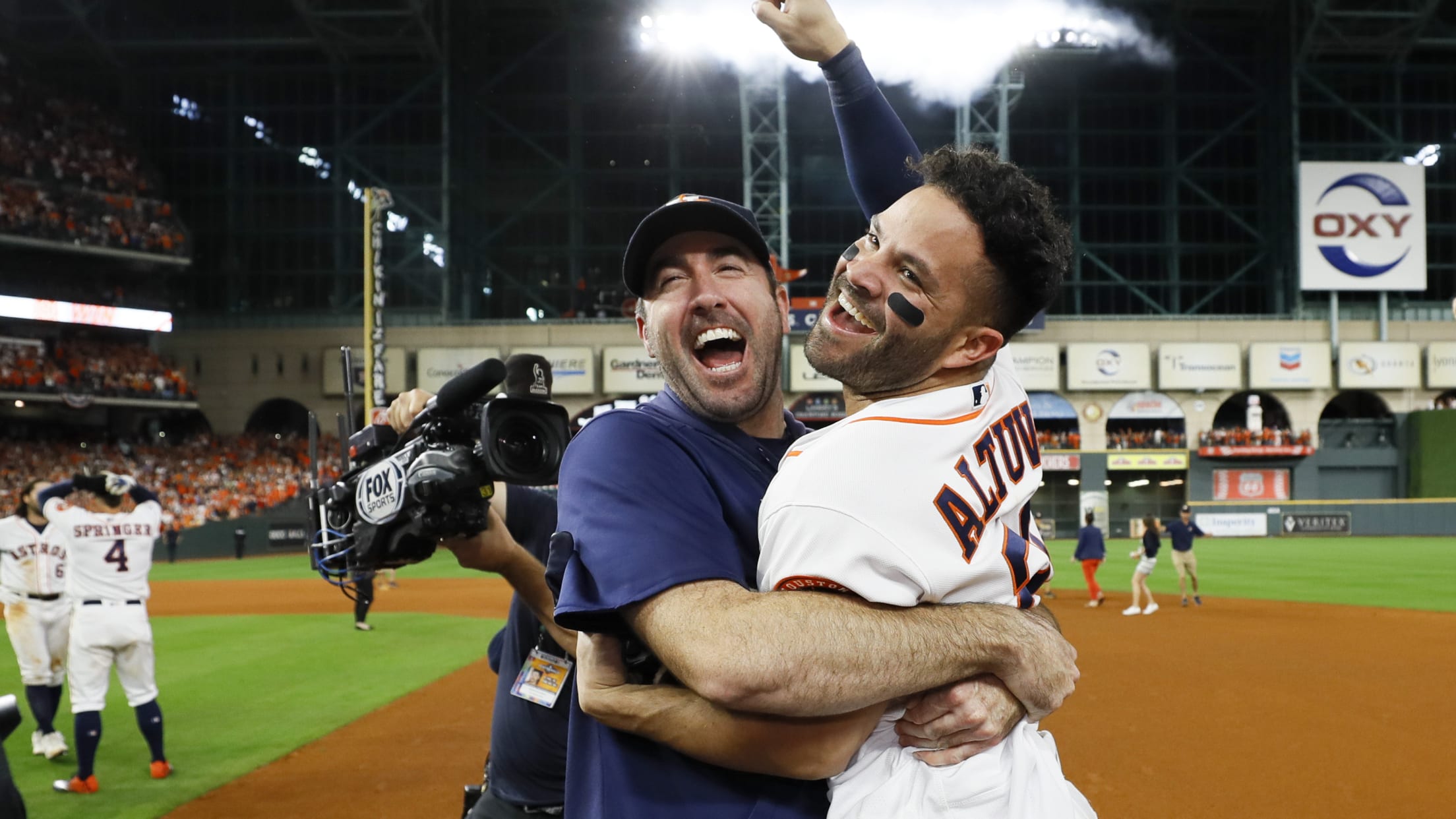 HOUSTON -- The Astros weren't built to win just one championship. Raising the trophy one time was never going to be good enough. You don't endure three consecutive years of losing 100 games to rebuild into a juggernaut and get just one taste of champagne at the end of October.
'I couldn't believe it': Chapman on walk-off HR
Closer reflects after giving up series-ending HR in ALCS Game 6 loss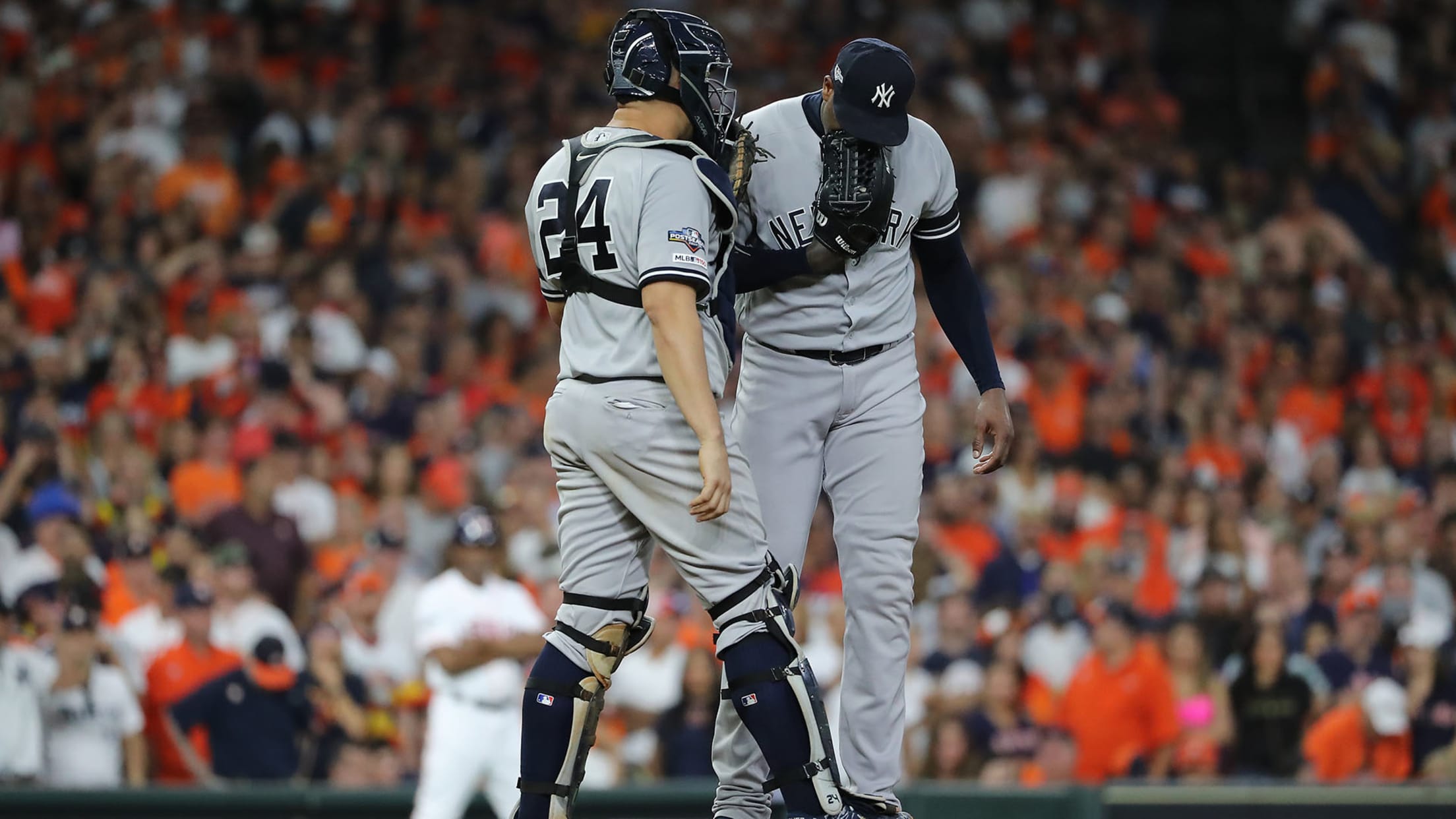 HOUSTON – There's a facial expression some people in the game make after a failure. It's a masking device, often involuntary, and it's designed to hide the surprise and pain that comes with a devastating defeat in baseball. It was the face of a stunned Aroldis Chapman as he watched
Hinch: 'It's winning that drives this team'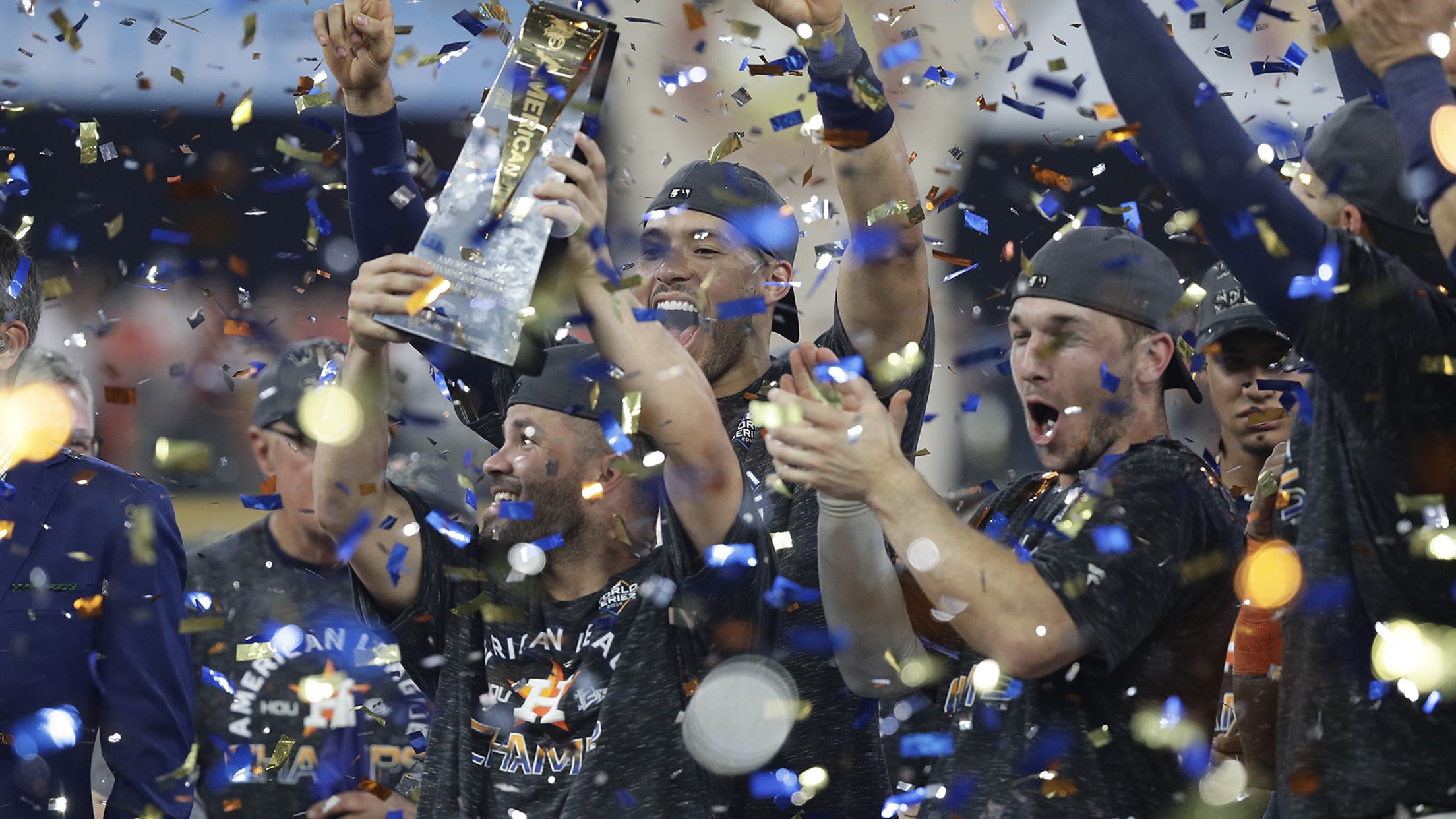 HOUSTON -- It had to be José Altuve, didn't it? How perfect. How appropriate. This player who represents every single thing the Houston Astros hope to be. This player who endured the three consecutive 100-loss seasons and whose own rise to greatness mirrors that of an entire franchise. With his
'Unluckiest guy on our team' gets Astros started
Yuli breaks out with three-run blast in first inning of Game 6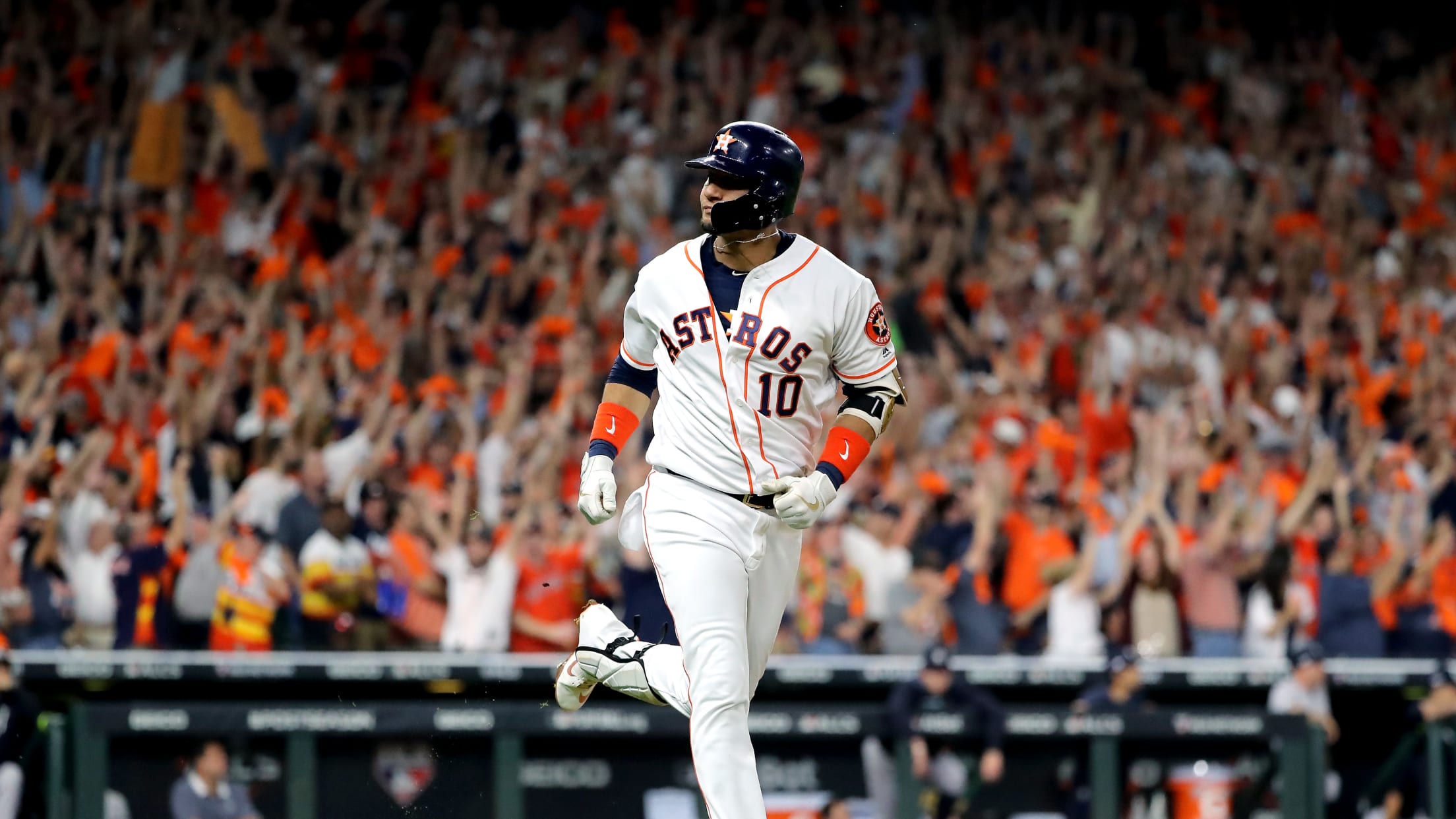 HOUSTON -- Before the first inning of Game 6 of the American League Championship Series on Saturday night, Yuli Gurriel had fallen in line with most of the rest of the Astros' lineup, in that he was one of several hitters who had not done a lot offensively throughout the
Yanks' run ends with heartbreaking walk-off loss
After DJ hits tying HR in 9th, Chapman allows winning blast to Altuve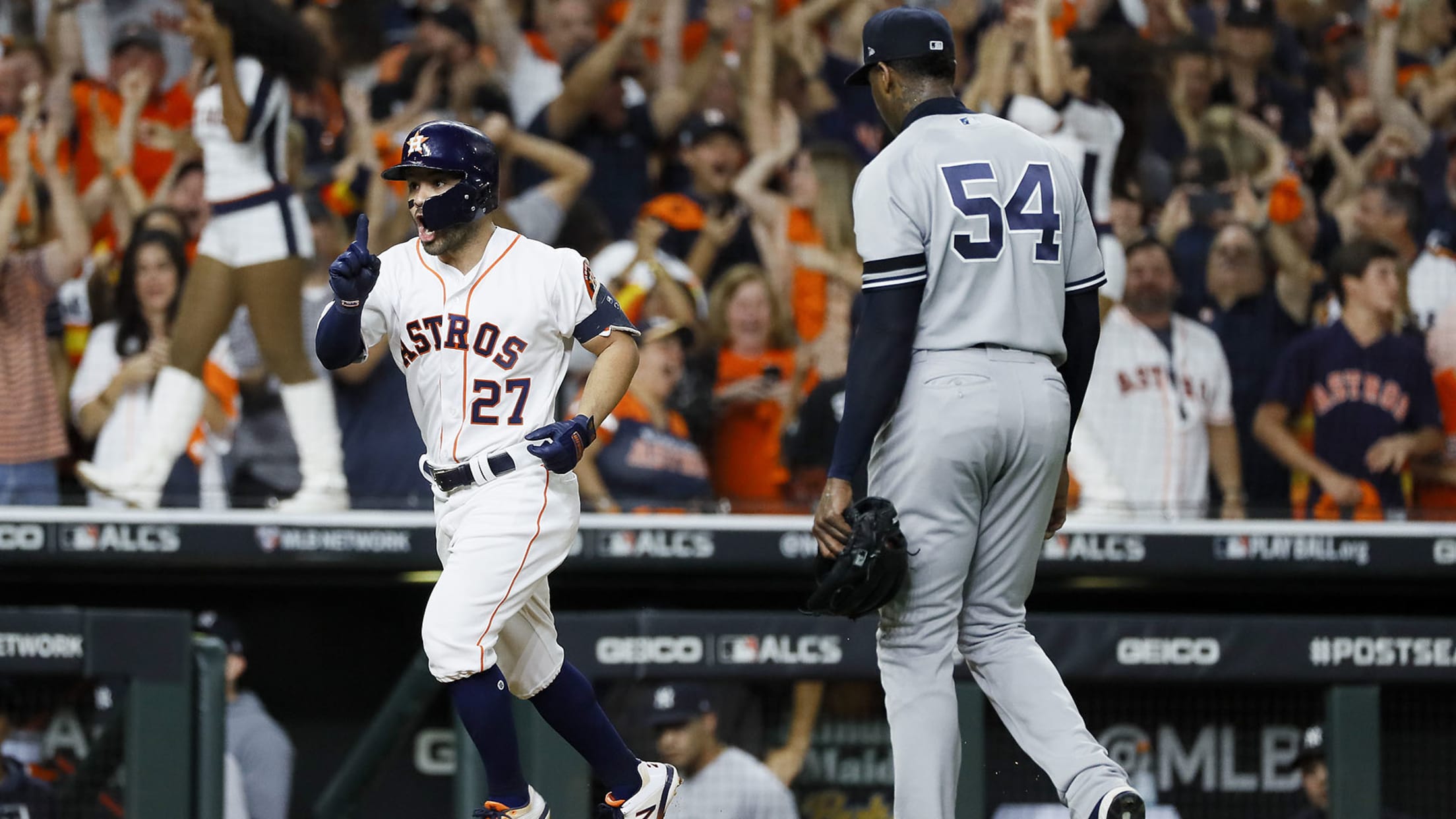 HOUSTON -- These "Next Man Up" Yankees withstood a historic barrage of injuries that saw a Major League record 30 players land on the injured list, including all but one member of their Opening Day lineup. On they pressed, riding a blend of power-hitting bats and big bullpen arms to
Aaron Boone makes walk-off history in loss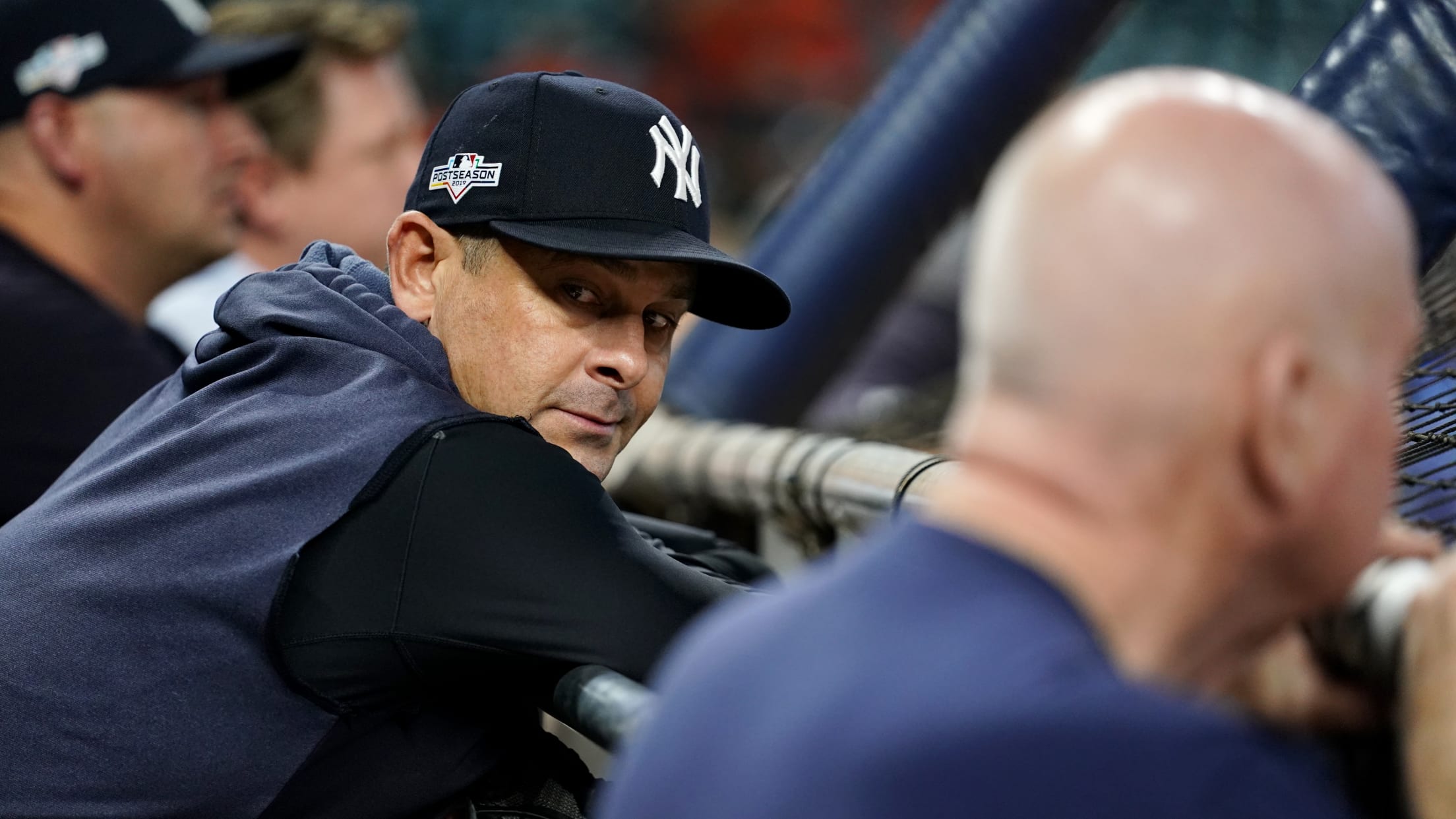 One of Aaron Boone's greatest moments as a player came in a Yankee uniform. Now, the Yankees skipper is on the other end of history.
Spanish, Korean calls of Altuve's walk-off HR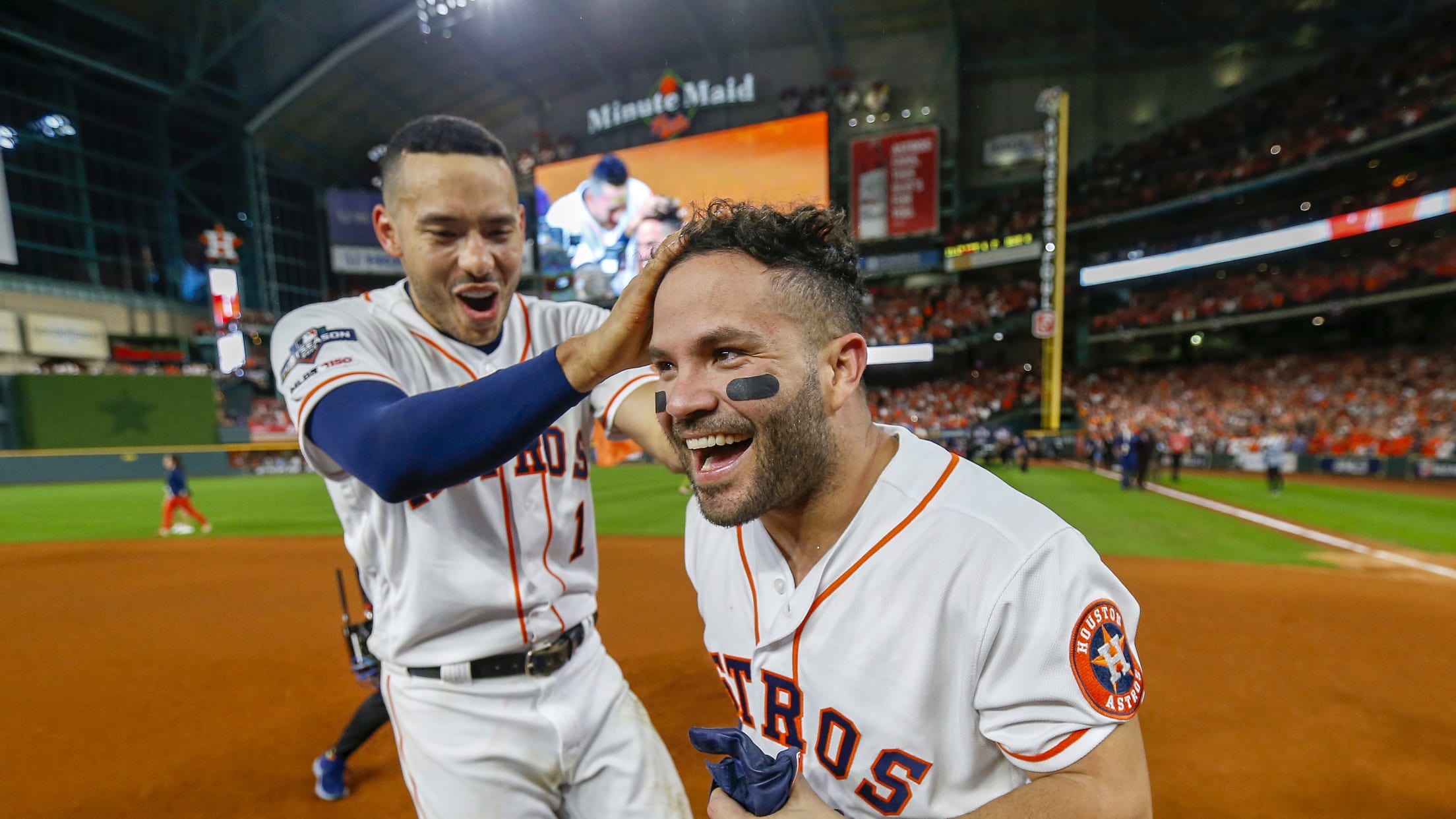 JOSÉ ALTUVE, EL PEQUEÑO GIGANTE! That translates to "José Altuve, little giant," and it was a part of FOX Deportes' epic call of Altuve's walk-off homer that sent the Astros to the World Series on Saturday night.
Short starts in Game 6 a playoff first since 1999
Yanks' Green, Astros' Peacock both last fewer than two innings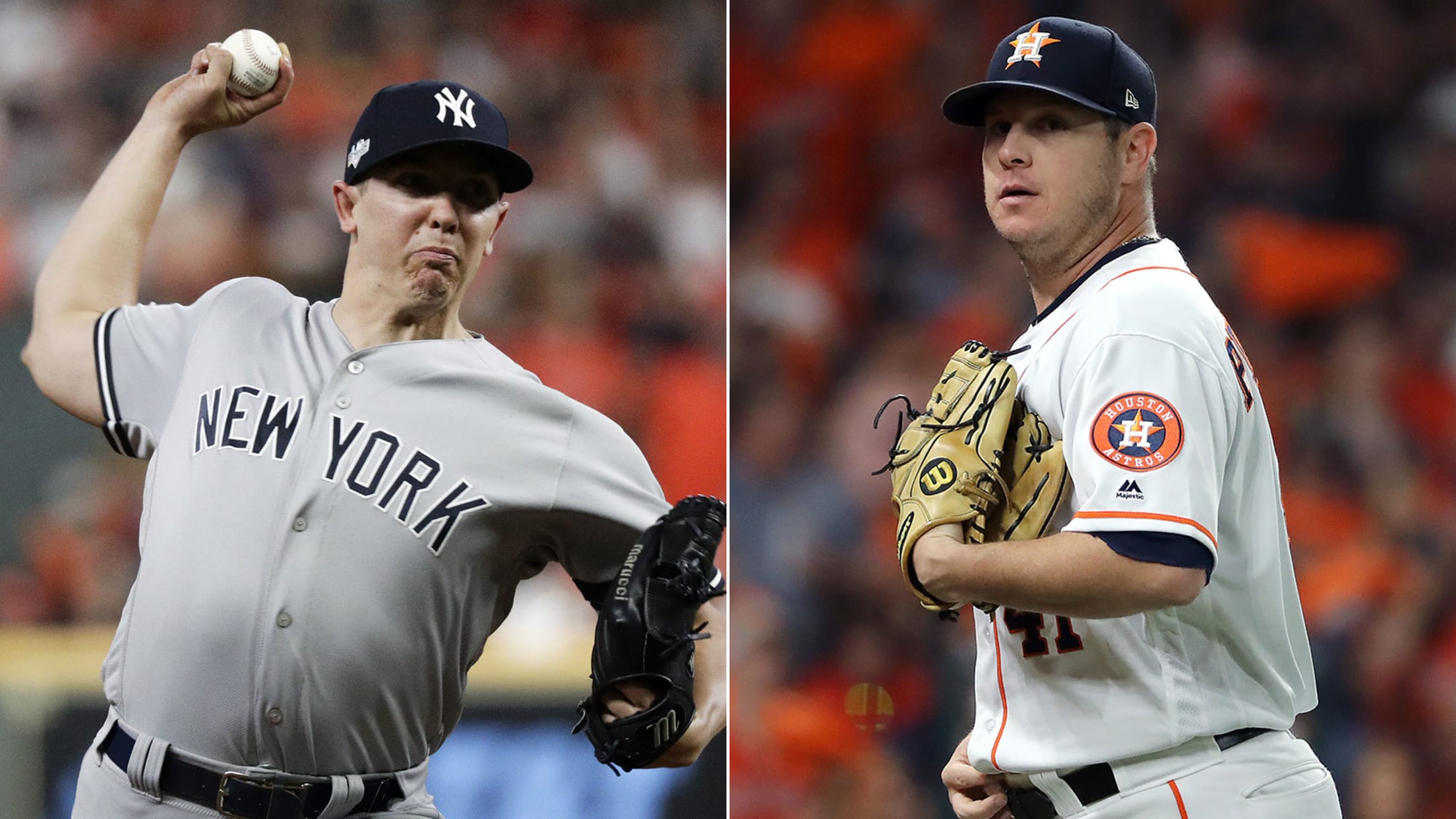 HOUSTON -- As Yankees manager Aaron Boone fielded questions from the media prior to Game 6 of the American League Championship Series on Saturday -- a 6-4 walk-off win that sent the Astros to the World Series -- a big grin emerged on his face when he was asked to
Congrats to the Astros for clinching a trip to the World Series in the most adorable way possible
We need to talk about José Altuve. He's been with the Astros since 2011, years before they became the villains you love to hate in baseball. He's been with the team through the lows (and they were VERY low, 100+ loss season after 100+ loss season), earning his stripes, so
Yankees' offseason could be a game-changer
Fortifying rotation will be top priority for Cashman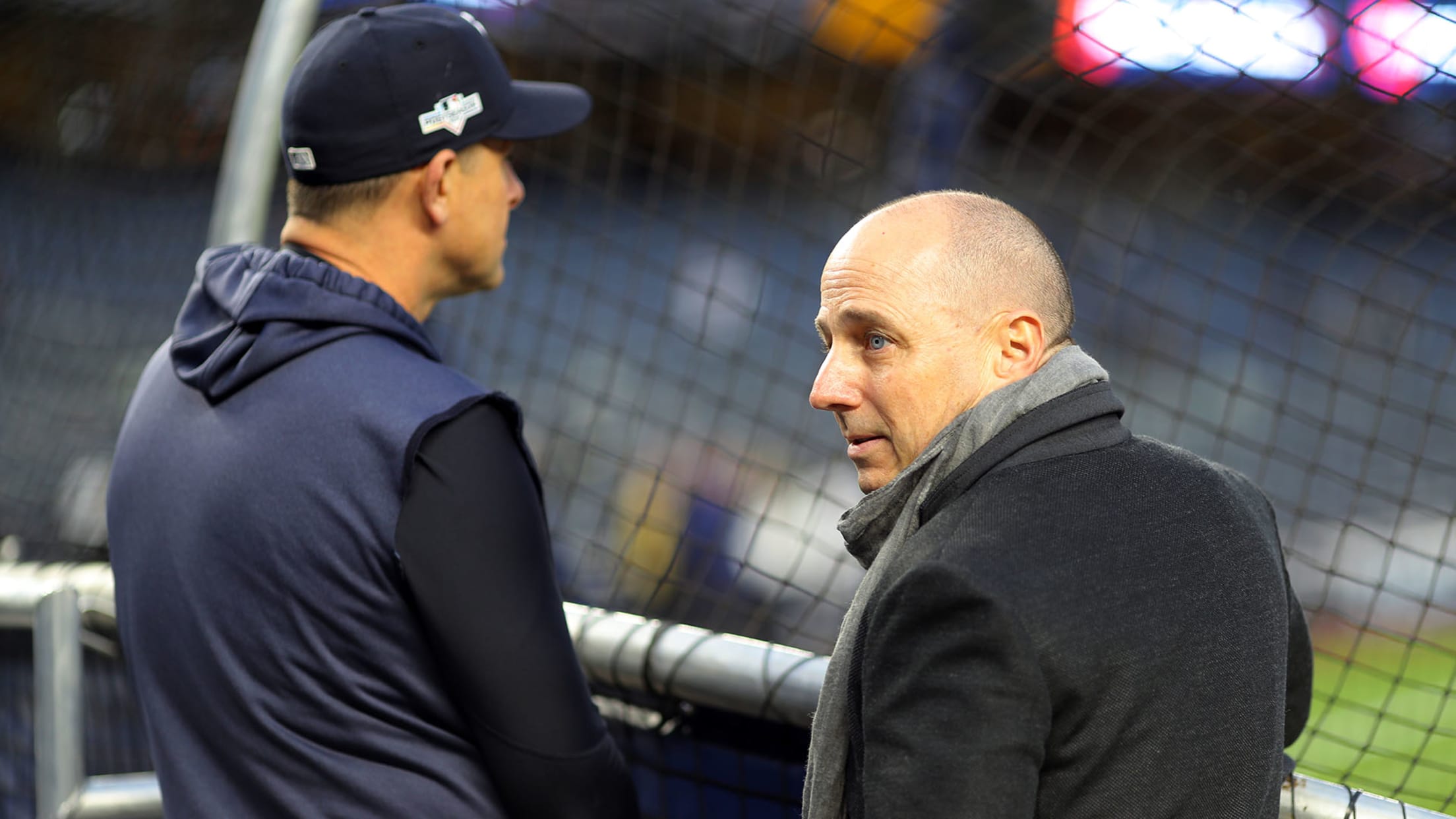 When baseball historians look back at the 2010s, they might refer to it as the lost decade of the Yankees' storied past. Another season ended in disappointment for New York on Saturday night, as the Astros finished off a six-game American League Championship Series with a 6-4 victory, sending the
Yanks 0-for-WS in decade for 1st time since 1910s
Bombers' last Fall Classic appearance was 2009 championship season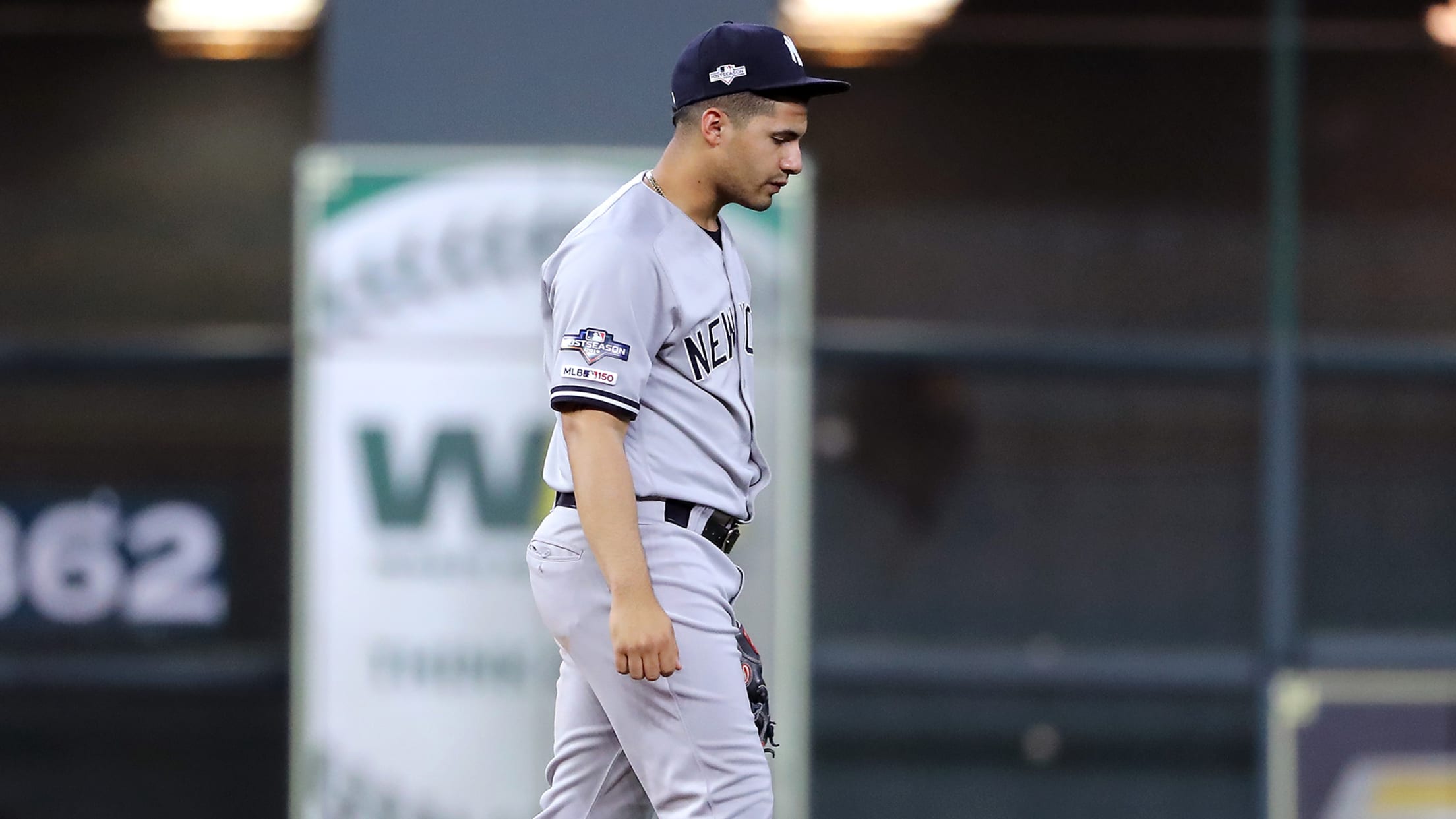 The Yankees' 6-4 walk-off loss to the Astros in Saturday's Game 6 of the American League Championship Series sealed a fate that was looming for years: The pinstripes finish this decade without a single World Series trip. A pennant-less decade hasn't been seen by nearly any Yankees fan over the
This is how you throw a dagger into the hearts of the Yankees
On Saturday, the Astros had a chance to eliminate the Yankees from the postseason and advance to the World Series. Sure, the Astros may have had the better record during the regular season, barreling into October as the top seed in the AL. And, yes, they just won it all
LeMahieu ties Game 6 in 9th with 2-run HR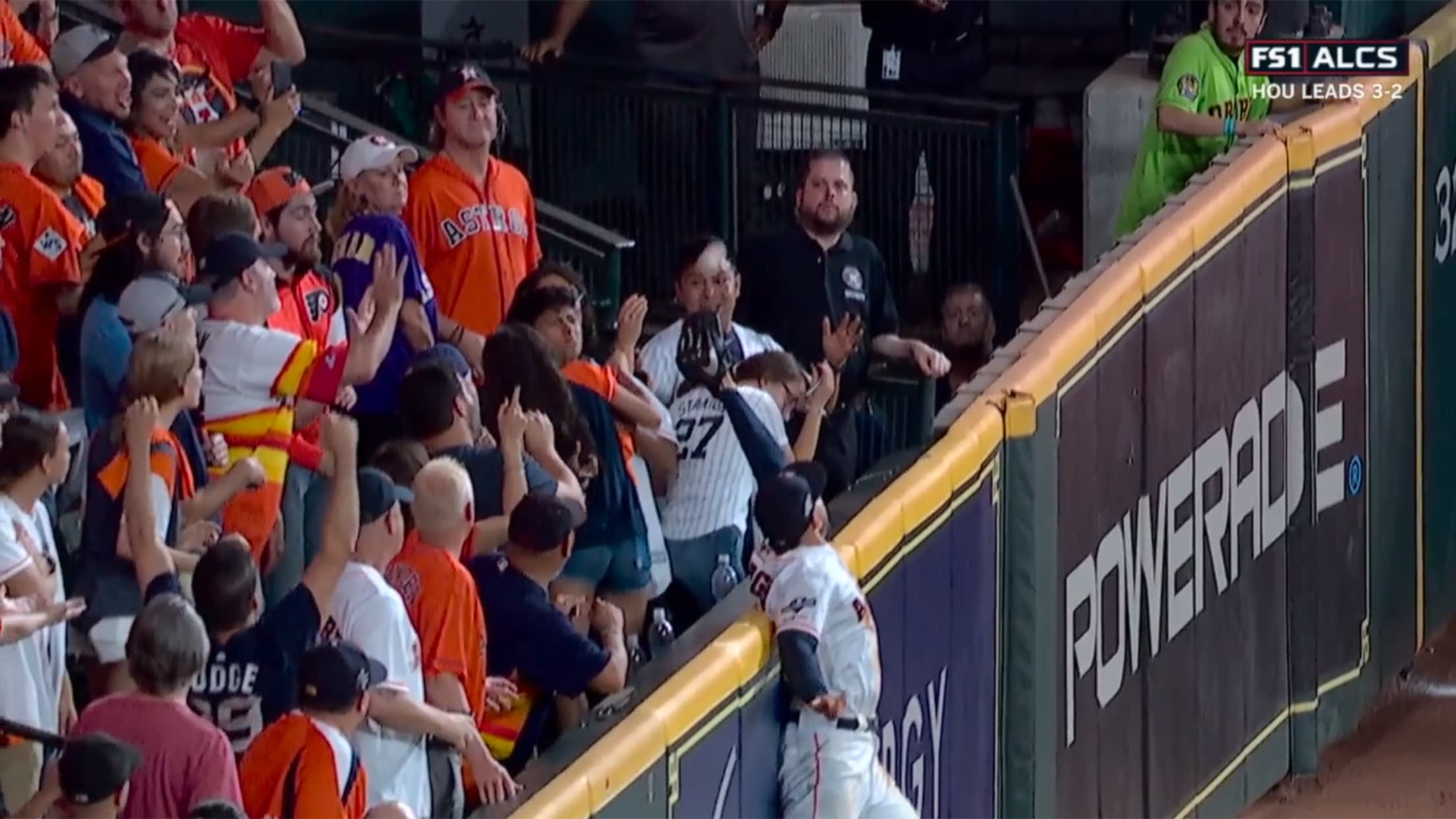 DJ LeMahieu continued his postseason heroics with a two-run shot out to right to tie Game 6 of the American League Championship Series at 4 in the ninth on Saturday night at Minute Maid Park and temporarily extend the Yankees' season, although Jose Altuve's walk-off homer in the bottom of
James Harden and Russell Westbrook transformed into rally towel-waving Astros superfans
The handful of baseball teams that make it to October in hopes of winning the World Series do so under intense pressure. It's a pressure to win, sure, but it's also the pressure of even more people tuning in to watch -- pop stars preparing for huge concerts, neighborly NFL
Peacock's playoff feat not done in 95 years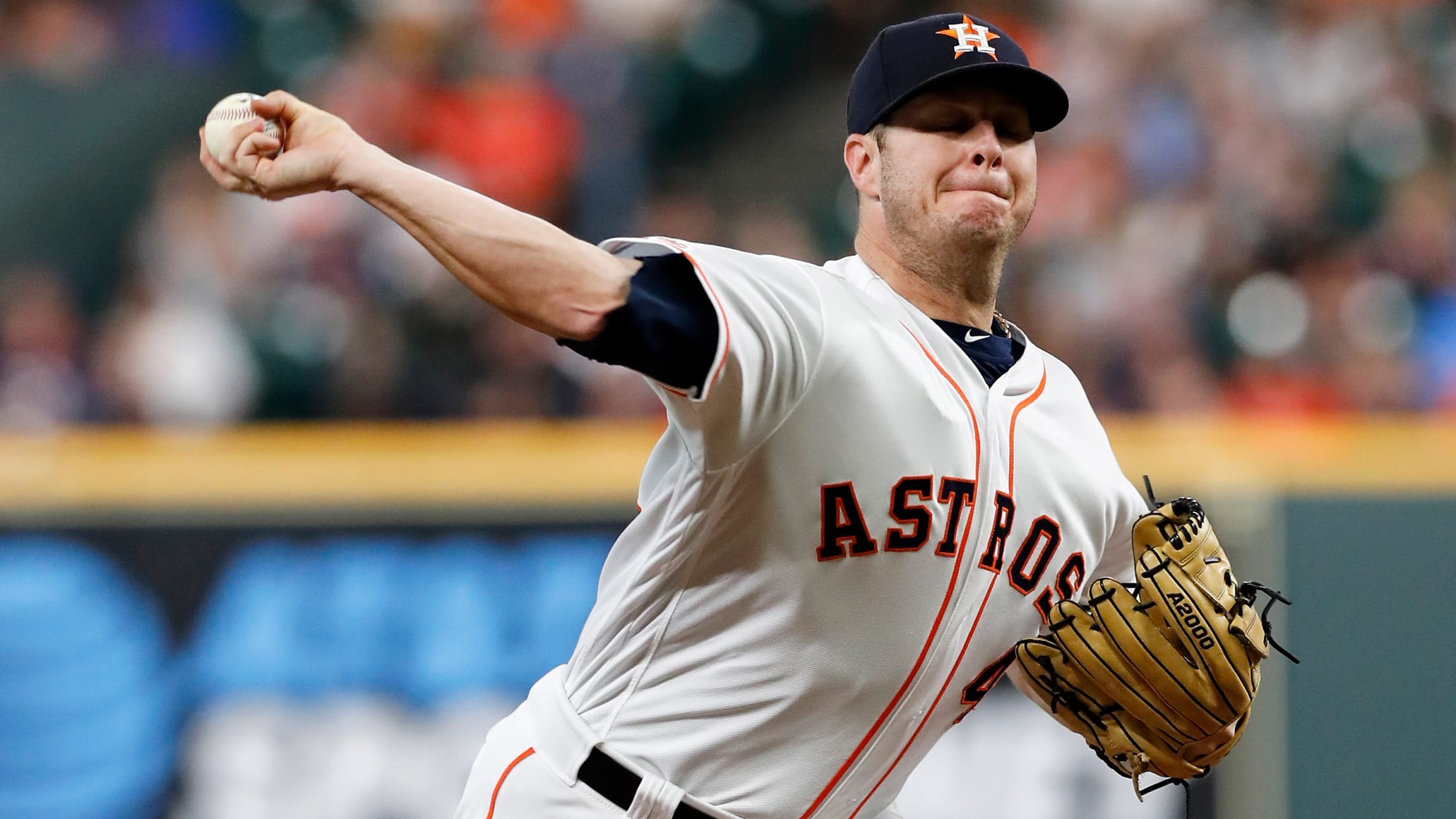 HOUSTON -- Astros right-hander Brad Peacock started Saturday's Game 6 of the American League Championship Series against the Yankees, allowing one run on two hits in 1 2/3 innings while striking out two. His line wasn't remarkable, but the veteran's outing was historic: Peacock made his first postseason appearance on
FAQ: Green, Peacock to open G6 (FS1)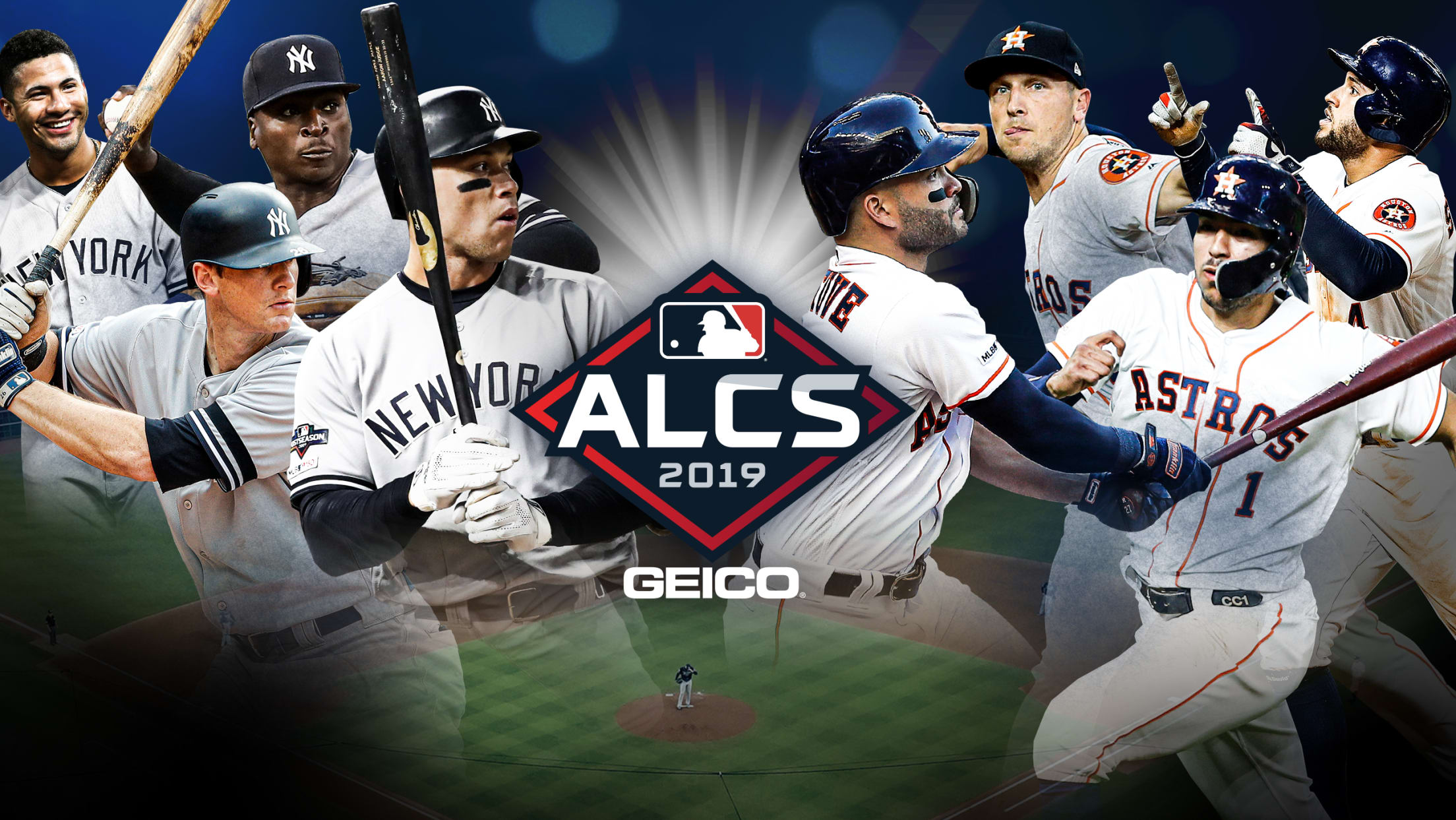 With no remaining margin for error, the Yankees' first goal was to get to the airport, avoiding the task of packing their lockers in favor of continuing to battle for the American League pennant. As they soared above the 1,400 or so miles that separate Yankee Stadium from Minute Maid