Alvarez (3 hits, 3 RBIs) unleashes in Game 5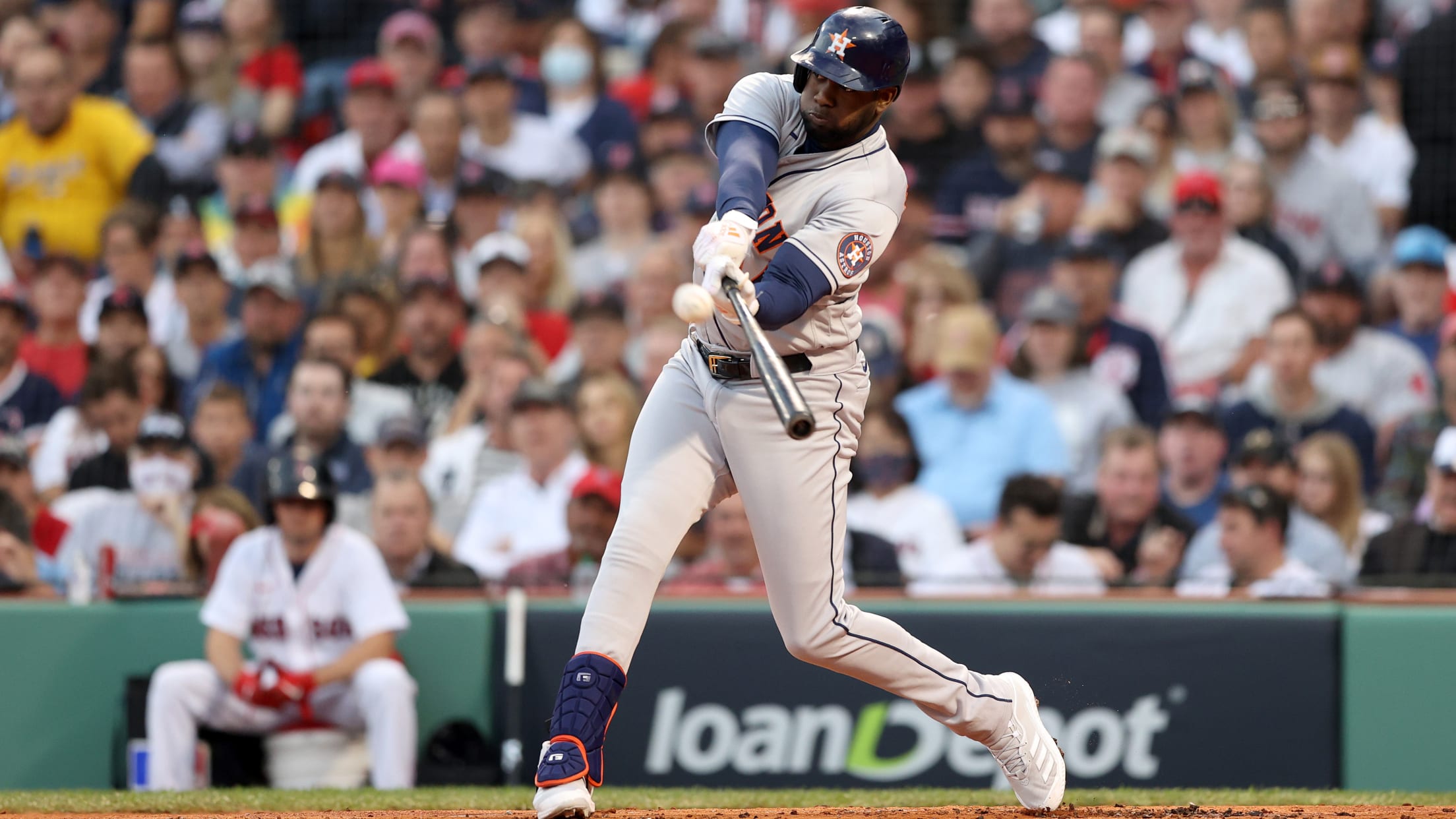 BOSTON -- Chris Sale was cruising on Wednesday in a way he hadn't since, arguably, before his Tommy John surgery in the spring of 2020. Until he ran into Yordan Alvarez. Houston's slugging designated hitter tagged Sale for the only hits that Boston's ace surrendered, which led to three of
Framboso! Lefty lifts Astros to cusp of AL title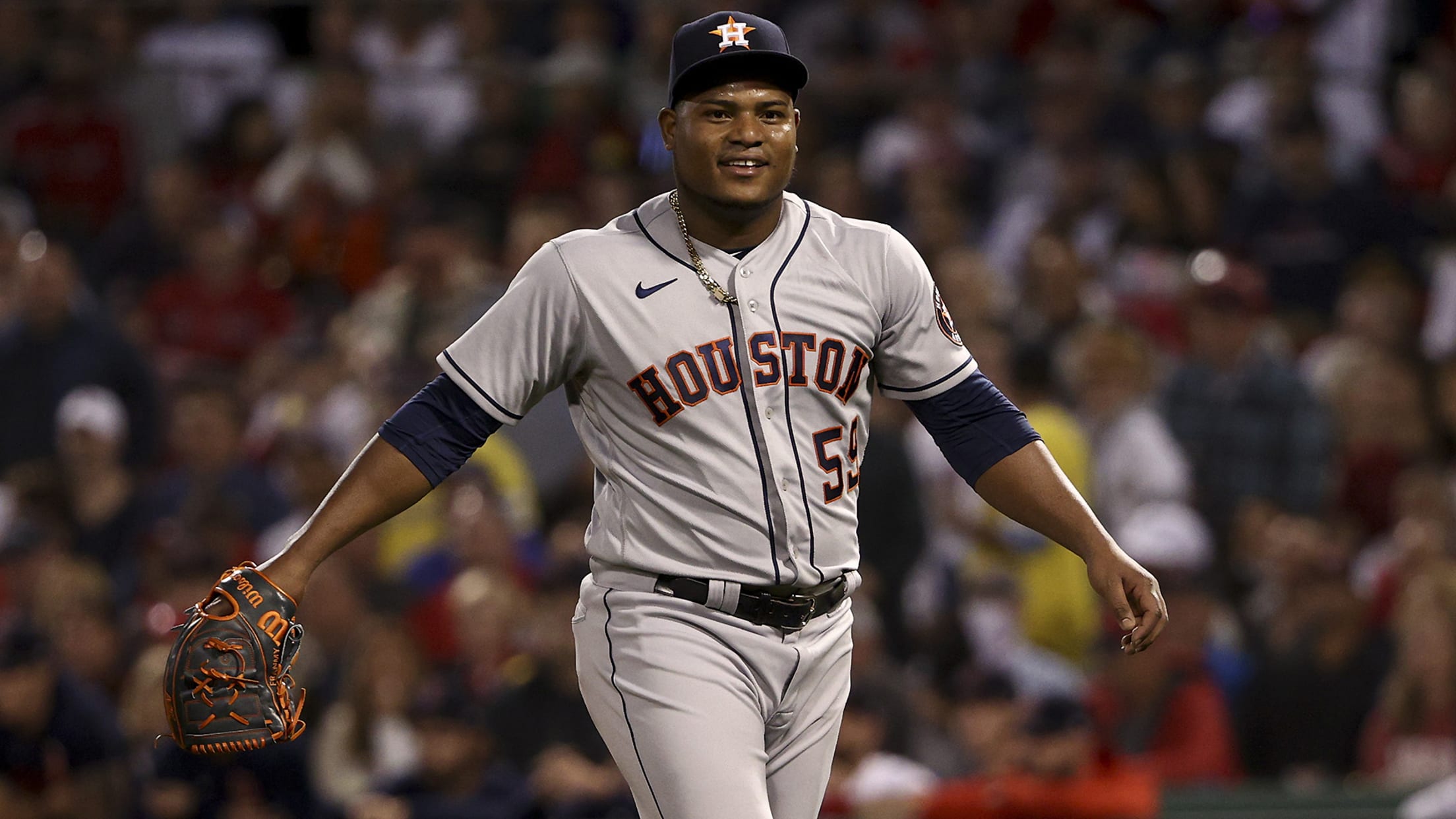 BOSTON -- The mental side of Astros pitcher Framber Valdez's game has been the primary reason he has made the transformation from a fledgling Major Leaguer who struggled with his control in 2018 and '19 to one of the most productive left-handers in the game the last two seasons. Valdez's
ALCS Roundtable: What to expect in Game 6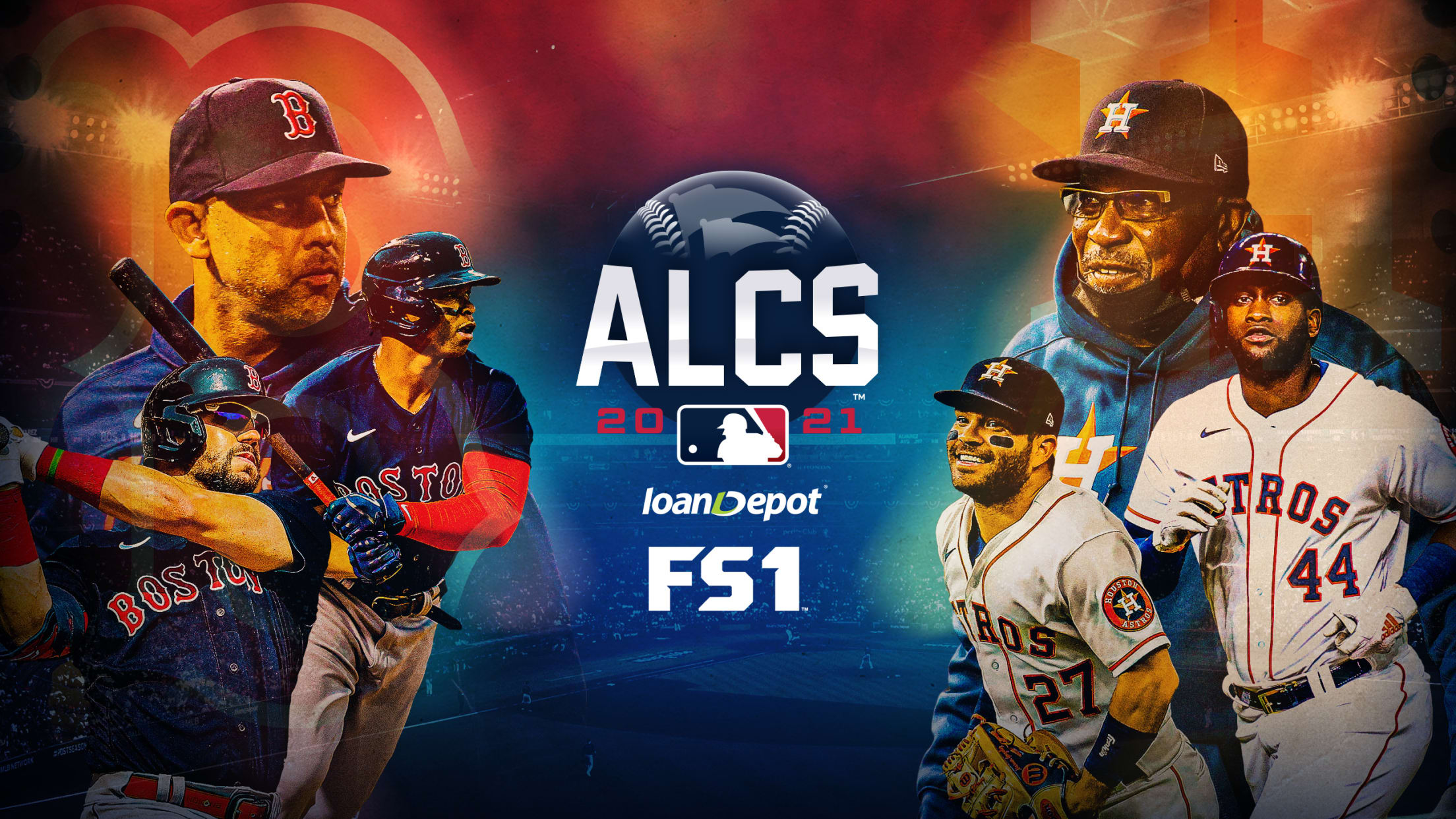 Given that the American League Championship Series began with a split of two games at Minute Maid Park, it was hard to imagine the Astros would return home for Game 6 with the chance to clinch the AL pennant. But here we are. On the eve of what may be
Knee fine, Garcia can pitch Astros to WS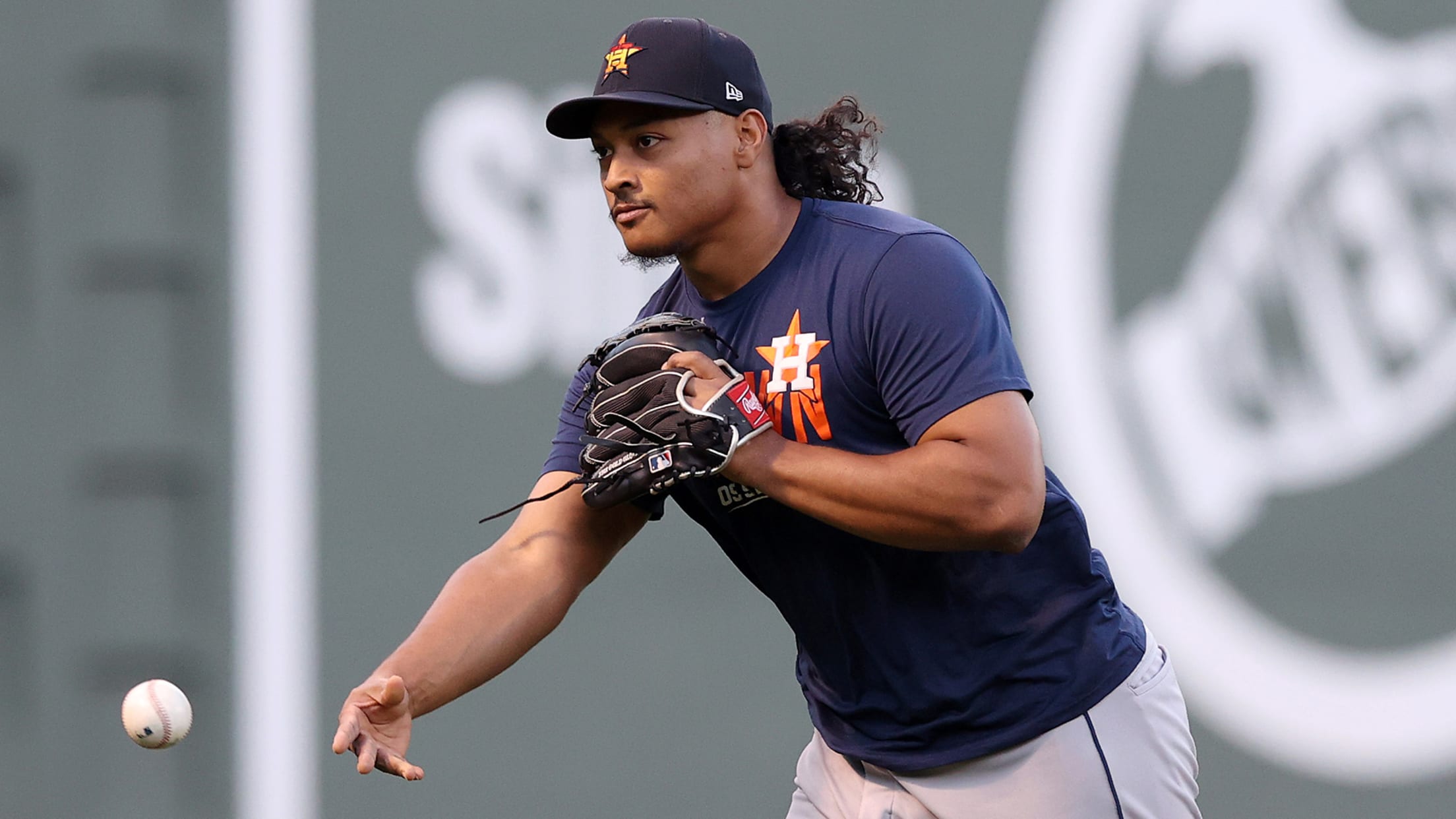 HOUSTON -- The Astros are hoping for a Framber Valdez-like turnaround tonight from right-hander Luis Garcia, who will start Game 6 of the American League Championship Series against the Red Sox at Minute Maid Park with a chance to pitch Houston to the World Series for the third time in
Red Sox-Astros Game 6 FAQ (8 ET, FS1)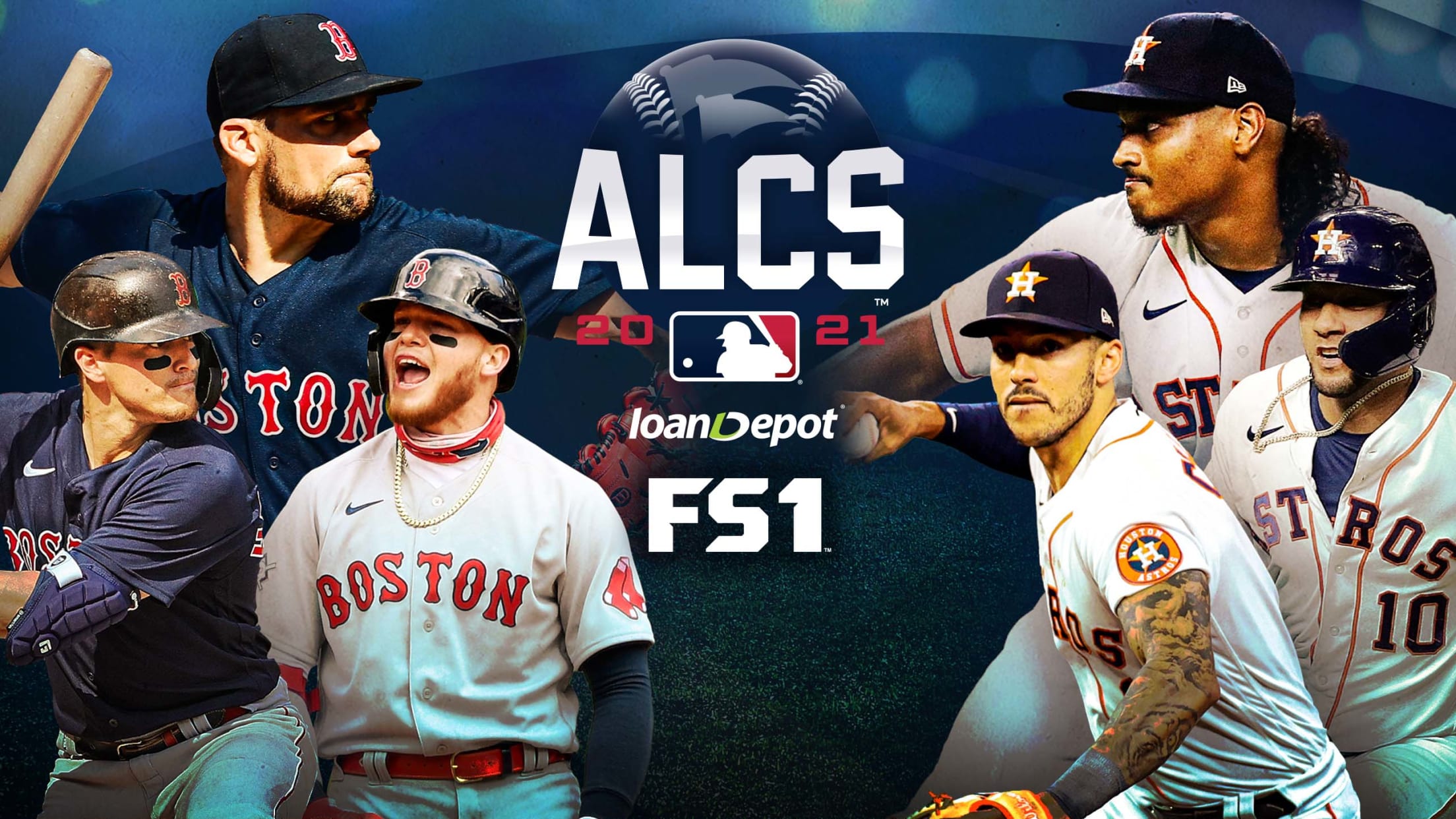 After getting blown out in Game 3 of the American League Championship Series, the Astros were just hoping to find a way to get the series back to Houston. Their situation has improved markedly in a span of 48 hours. Not only are the Astros headed back home, but they
Complete 2021 MLB postseason schedule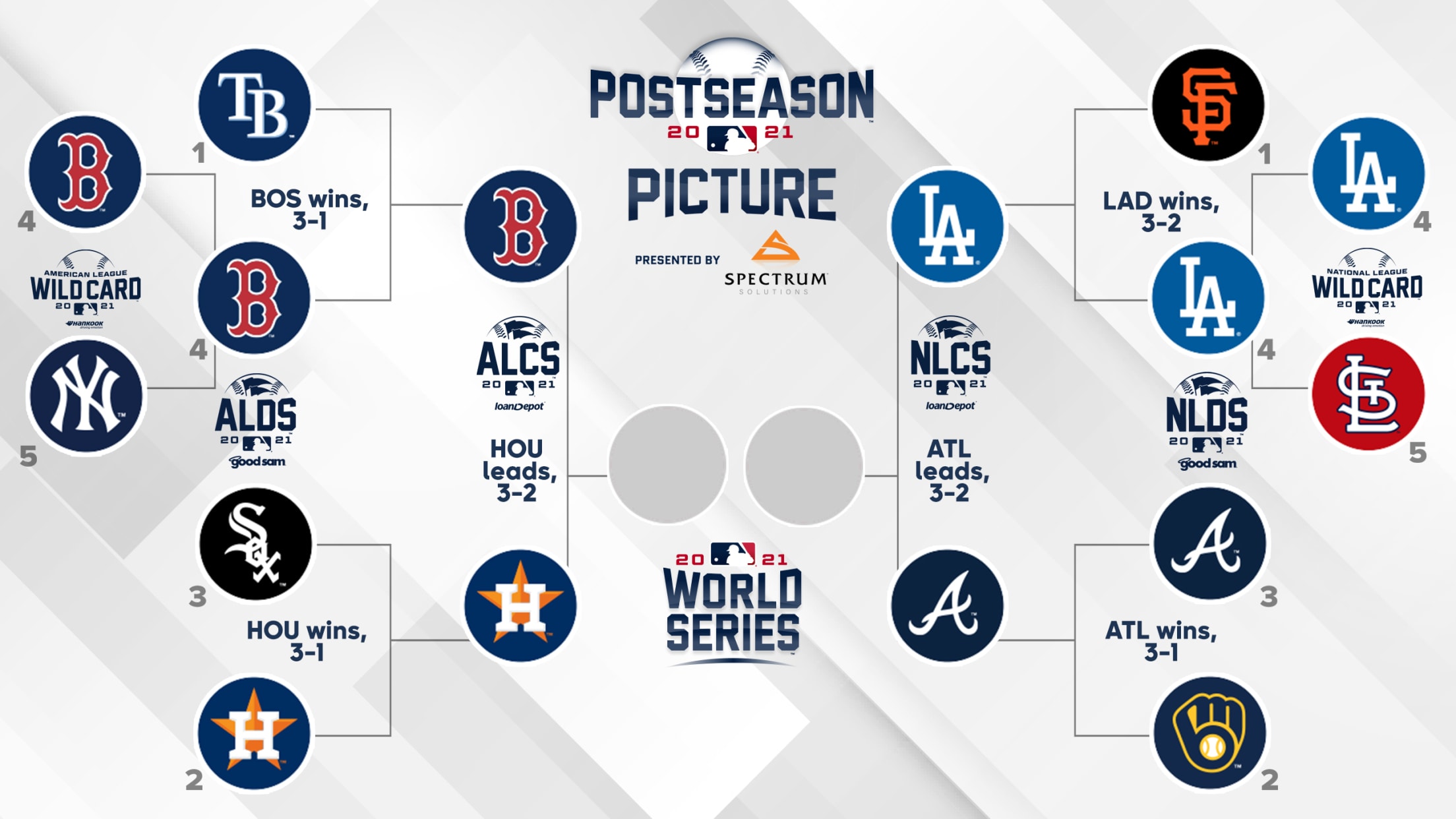 The 2021 MLB postseason began with the Red Sox and Dodgers winning the AL and NL Wild Card Games, respectively. Now there are only four teams left standing, as the Red Sox, Astros, Braves and Dodgers have all punched their tickets to the League Championship Series. ESPN Radio will provide
Sox in a must-win? Been there, done that
'This is our story': Boston confident it will respond again with backs against wall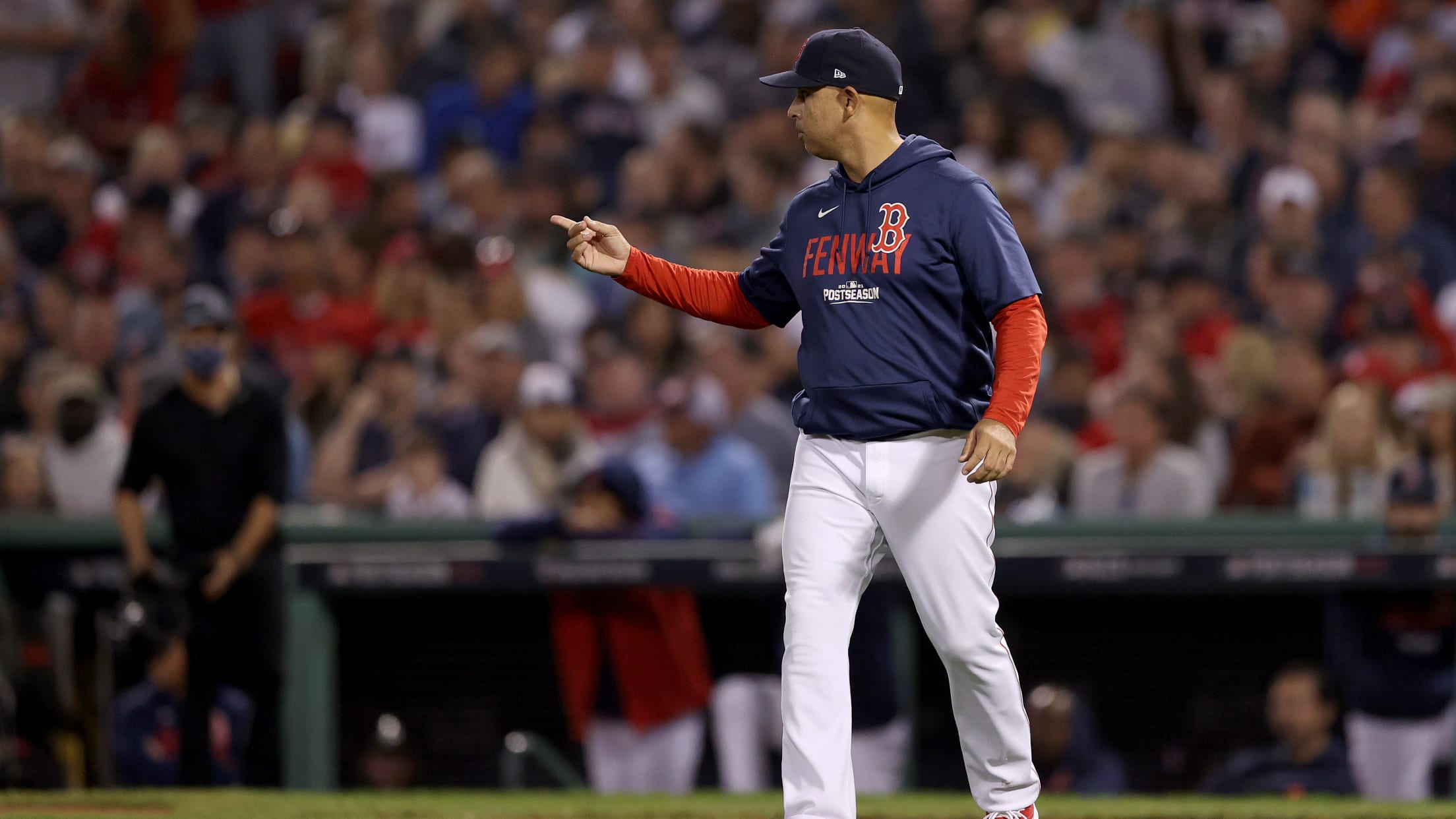 HOUSTON -- The Red Sox arrived in Houston on Thursday amid external buzz that they might finally be in a hole too big to climb out of. Internally, from manager Alex Cora to a battle-tested roster, the feeling is much different.
Eovaldi embraces latest win-or-go-home start
Red Sox righty: 'This is what everybody wants to do'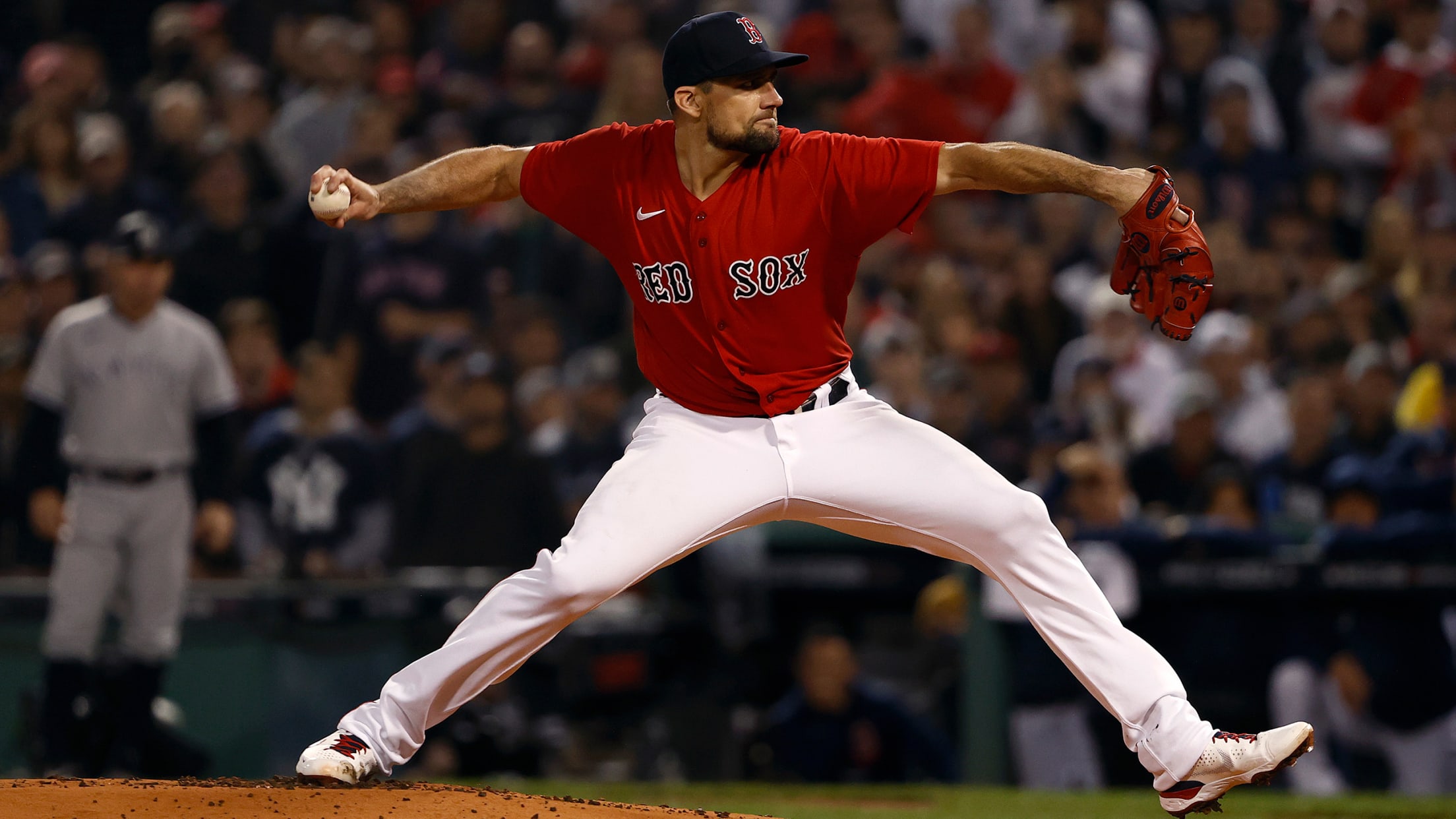 BOSTON -- In the postseason, every game has a "must-win" feel, regardless of where a series stands. The mindset of winning today and worrying later about what's next is a mentality shared by many October teams. For Nathan Eovaldi, Boston's unofficial ace has become quite familiar with pitching in actual
Once reluctant, Kiké now among best in OF
Hernández, slated to play 2B every day, embraced opportunity: 'I want to win'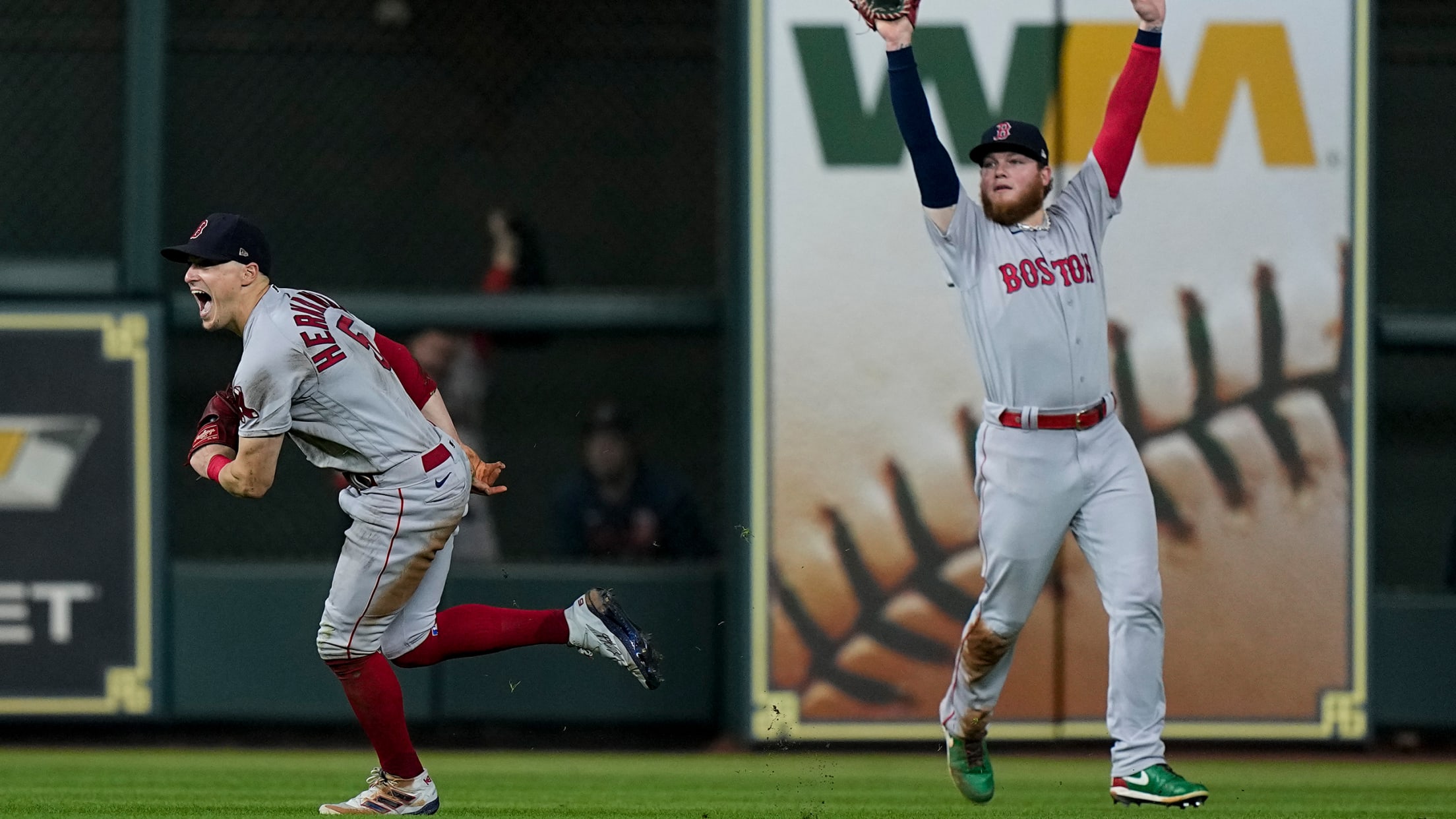 BOSTON -- Kiké Hernández didn't even want to play center field when the 2021 season began. Crazy, right? Given how boisterous he's been while playing defense in the American League Championship Series, especially when making some incredibly flashy plays, it's hard to believe that Hernández had pause at the idea
Sale in vintage form until fading in 6th
Lefty delivers fastest velo since 2018: 'I had to leave everything out there'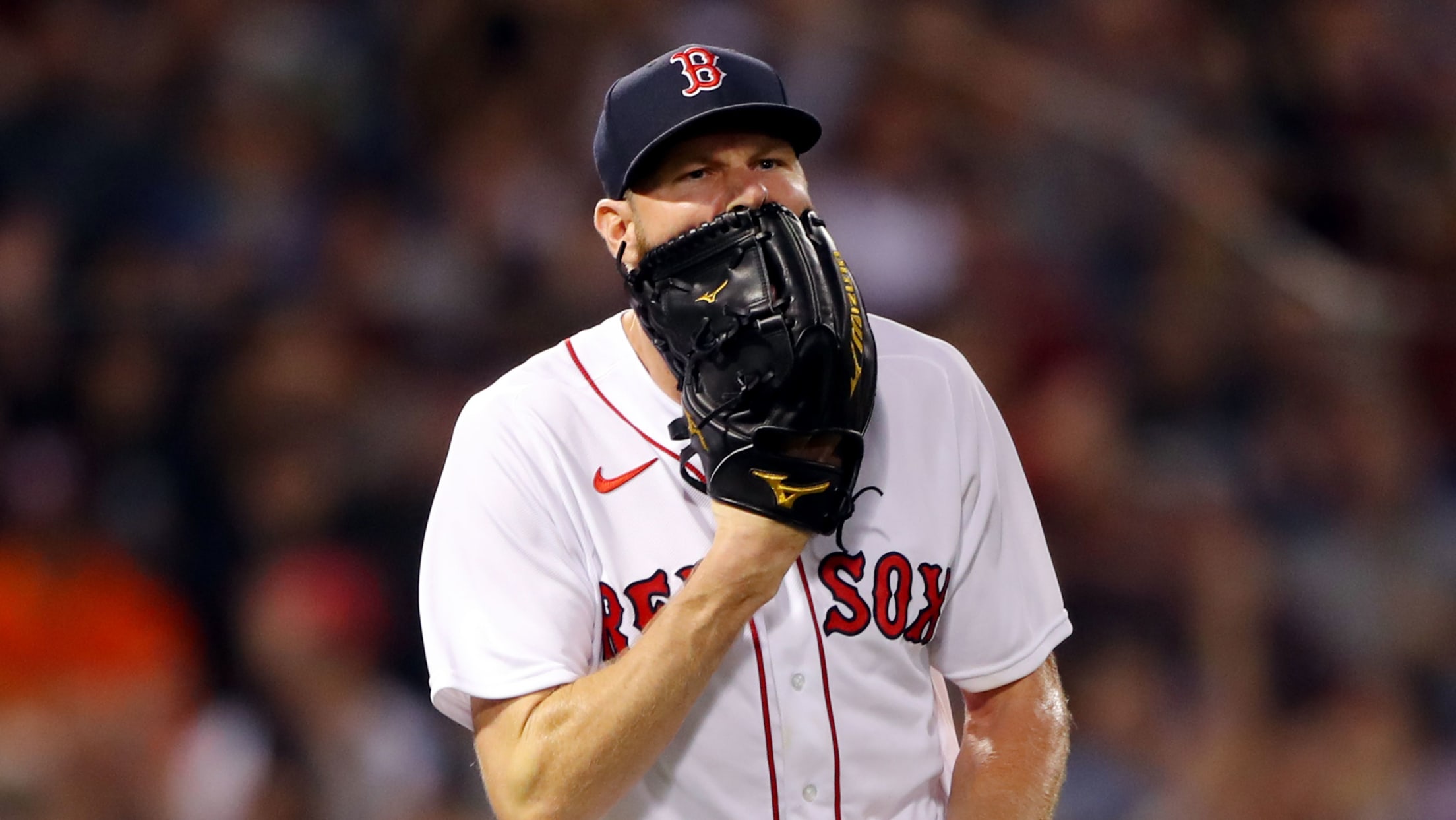 BOSTON -- The Red Sox never lost hope in Chris Sale. Even after he struggled through his first two outings of the postseason, they've seen enough of what the left-hander can do at his best to know it was only a matter of time before he returned to form. Handed
2-out rally is the theme of Astros' playoff run
Houston's 5-run 6th inning included pair of RBI hits with two away
BOSTON -- It was only a matter of time before the Astros' offense found its stride in the American League Championship Series. After mustering just three runs and falling to Boston in Game 3, Houston put up 18 runs across back-to-back wins at Fenway Park to head back to Minute
Sox on brink: 'We've got to win two games'
Offense remains cold; Sale struggles in pivotal sixth inning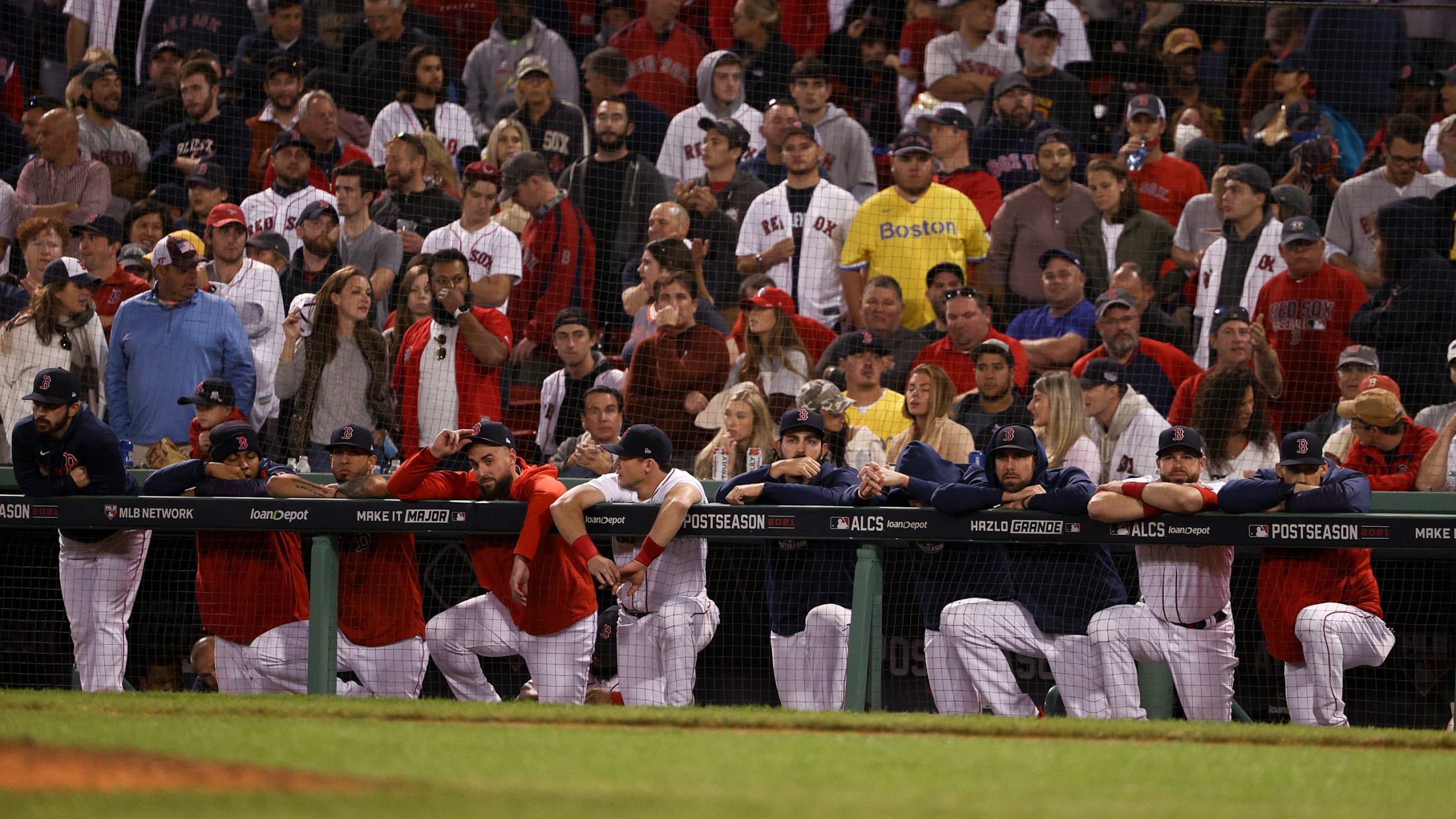 BOSTON -- Wednesday, a perfect autumnal day at Fenway Park, started with a buzz in the air. Chris Sale was throwing heat and it looked like his resurgence might inspire the Red Sox to retake control of the American League Championship Series. All of that buzz was gone by the
Sale to start Game 5: 'This is crunch time'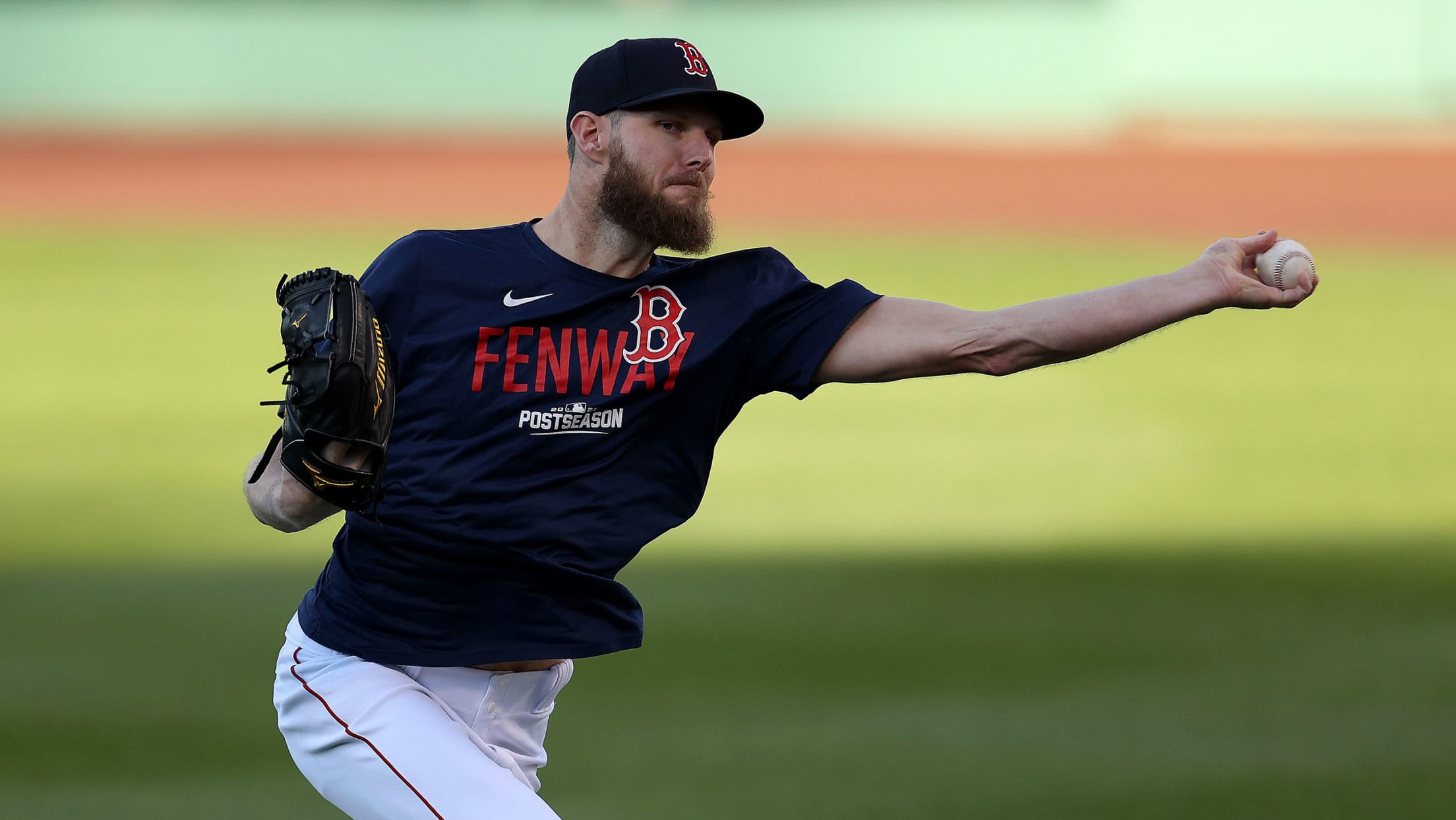 BOSTON -- Chris Sale is no stranger to pitching in crucial postseason games for the Red Sox. In 2018, the lefty led his team into October with a Game 1 win over the Yankees in the American League Division Series. In Game 4 of the same series, Sale came out
The playoff slugger crushing every mistake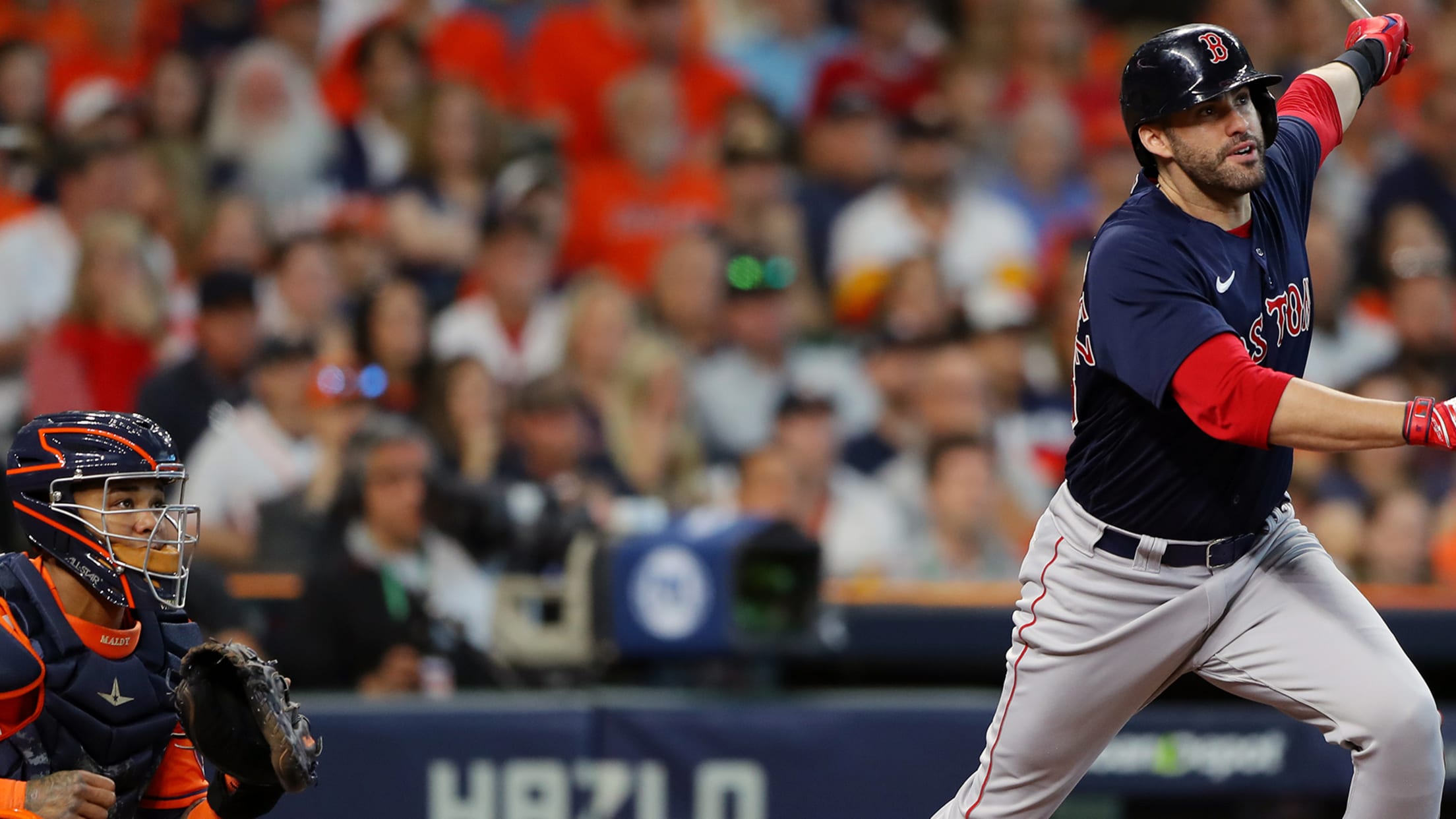 Of course, you never want to make a mistake to J.D. Martinez, one of the best hitters in baseball. But you really don't want to make a mistake to him right now. In a Red Sox lineup that's been carrying the team through the playoffs, Martinez is batting .379 and
Sox drop G4, ALCS tied up: 'Not much to say'
Boston's bats held in check; Whitlock, Eovaldi struggle in late innings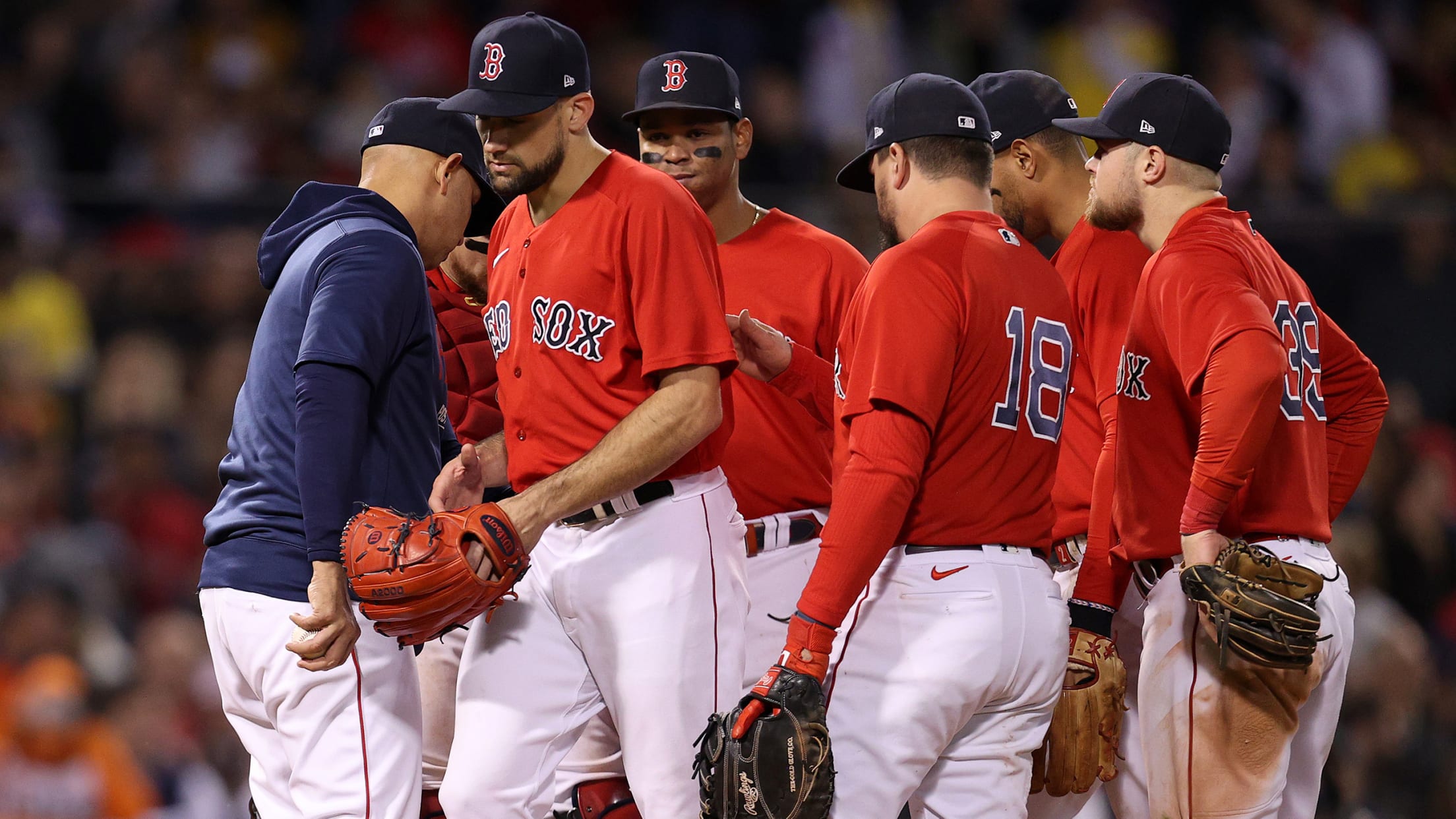 BOSTON -- Six outs away from putting the Astros in a stranglehold in this American League Championship Series, the Red Sox instead saw the tables turned on them in the late innings and suffered a painful 9-2 defeat in Game 4 on Tuesday night at Fenway Park.
Despite 'traffic,' Sox can't cash in on offense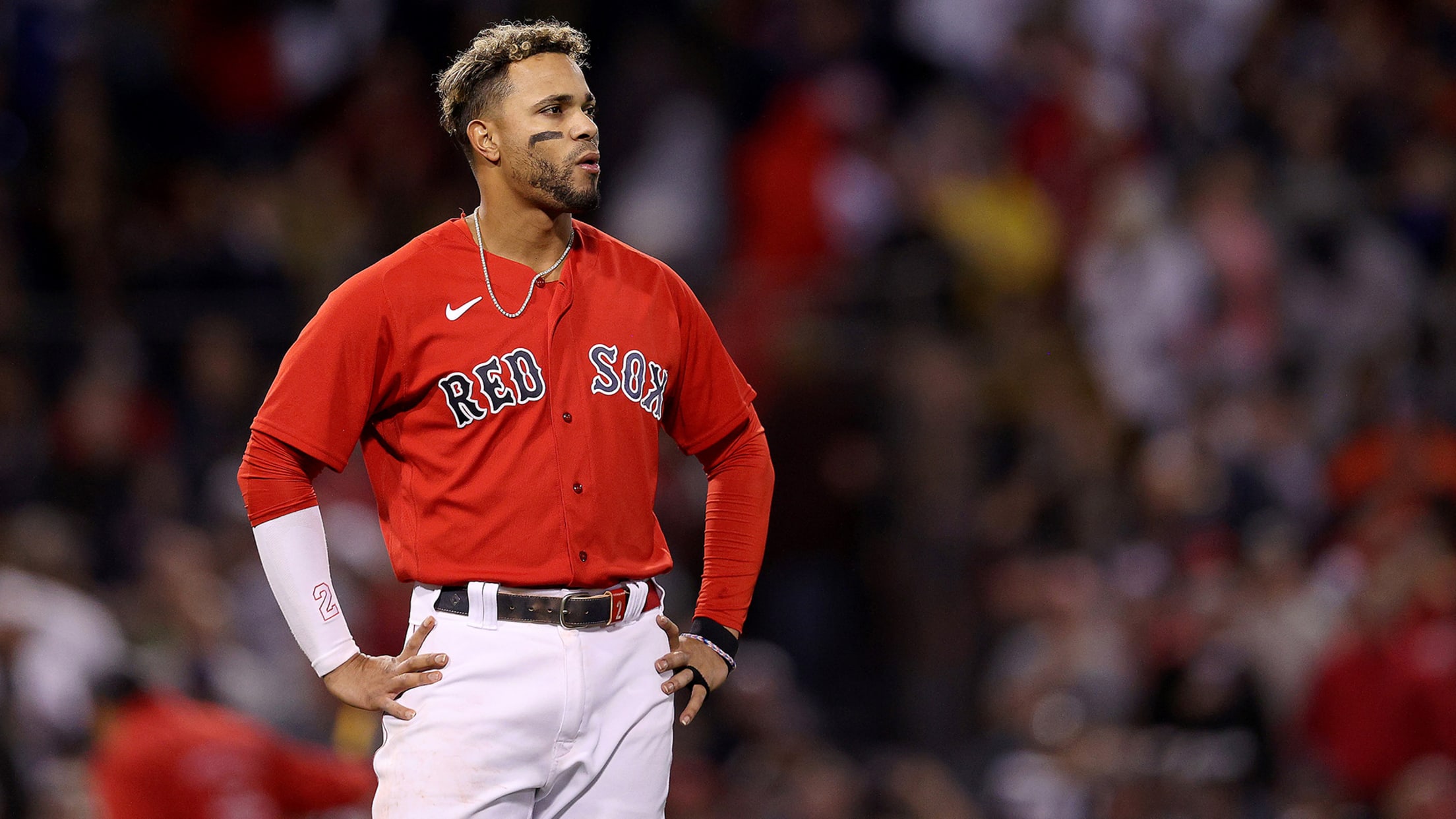 BOSTON -- Considering how the previous two games of the American League Championship Series played out, the way Xander Bogaerts started Tuesday's contest felt like the setup to yet another high-powered offensive performance for the Red Sox.
Astros-Red Sox Game 5 FAQ (Live, FS1)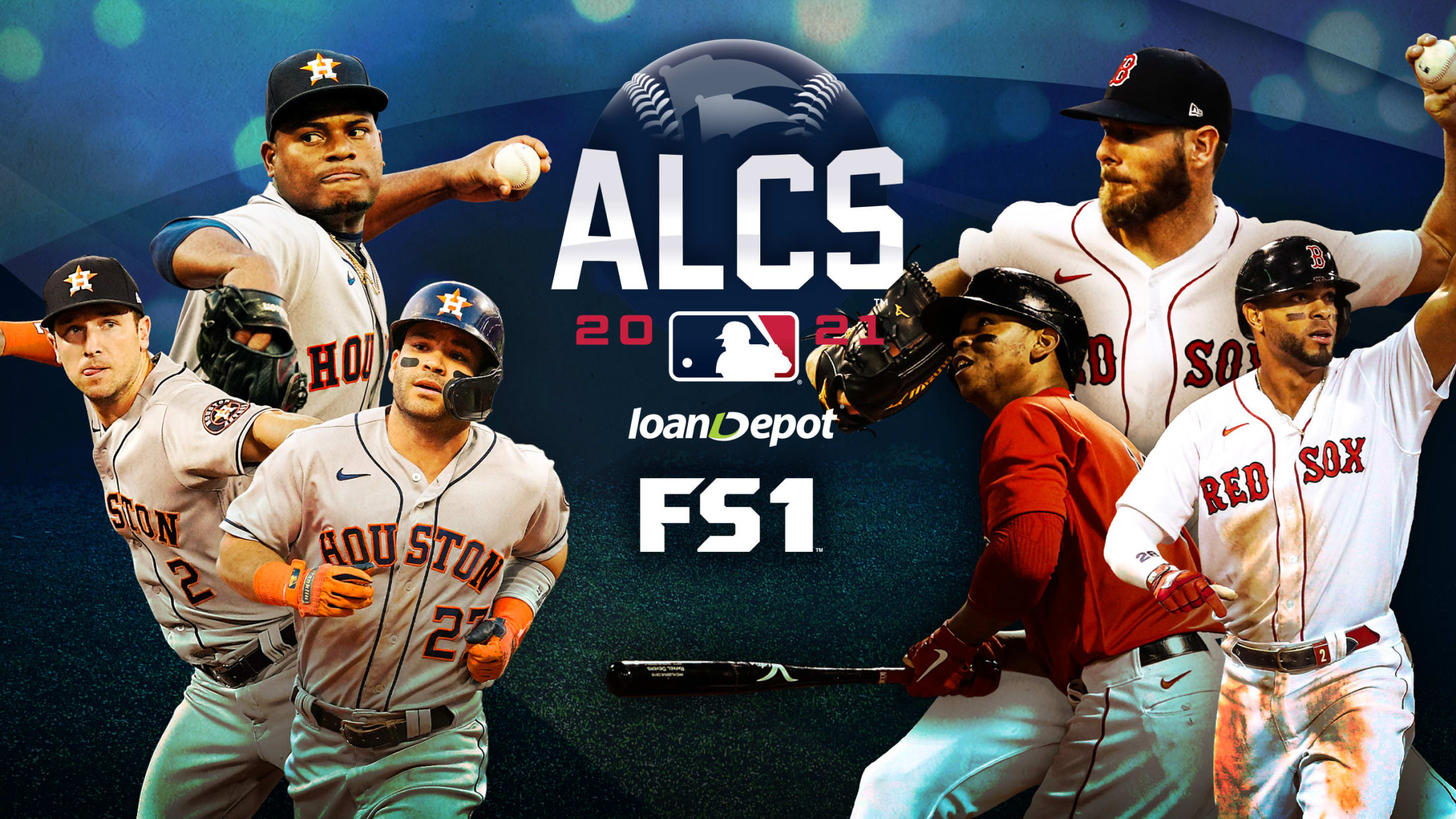 This American League Championship Series is now going to have the drama everyone originally expected.
1 key storyline for each playoff team today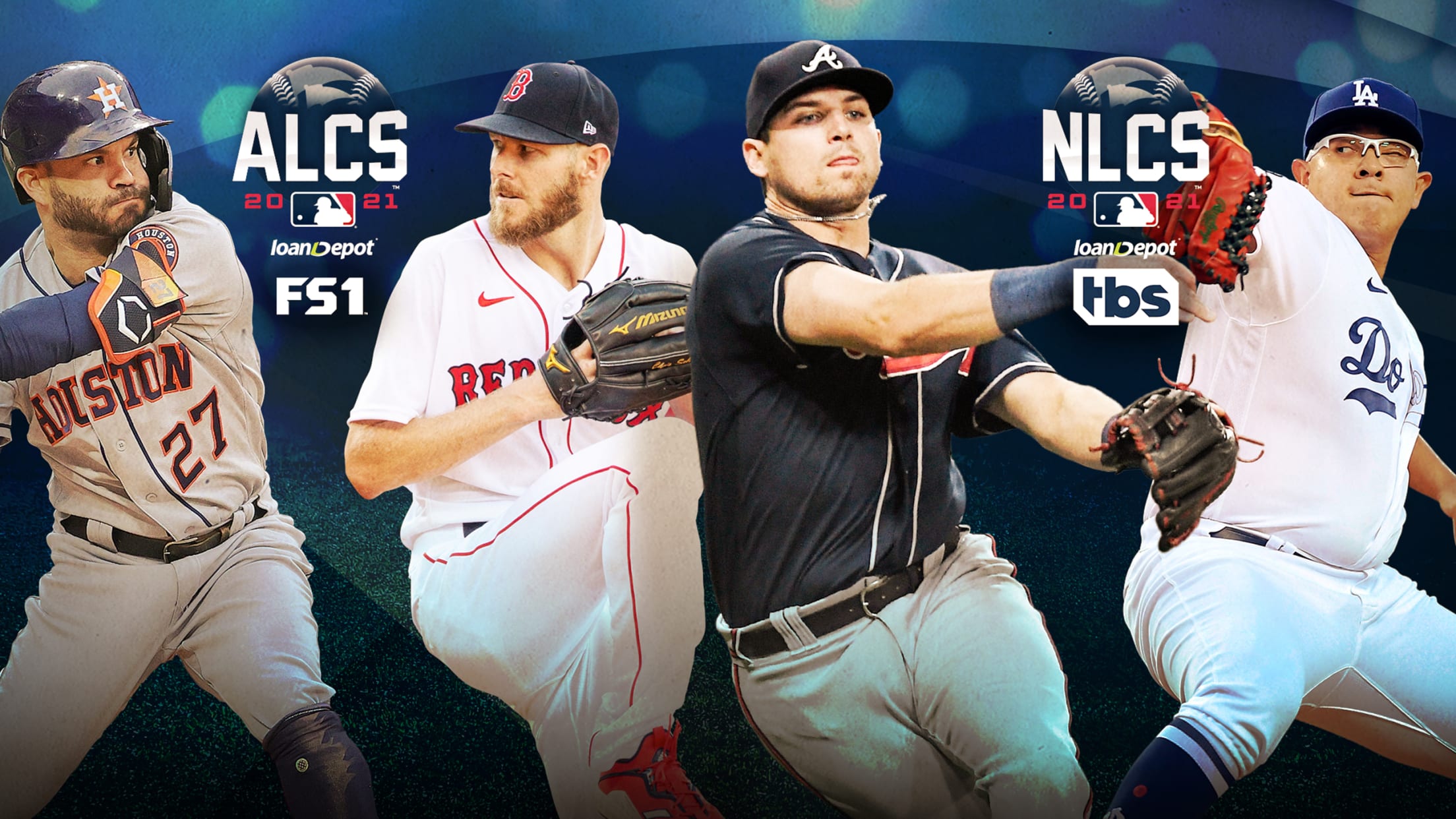 Tuesday was a truly thrilling late afternoon and evening of baseball, with twists, turns and face-melting moments. And the thing those games ultimately assured, more than anything, was that we were getting even more games moving forward -- more baseball. We've got two more games on Wednesday, and because of
Castro's crucial hit a decade in the making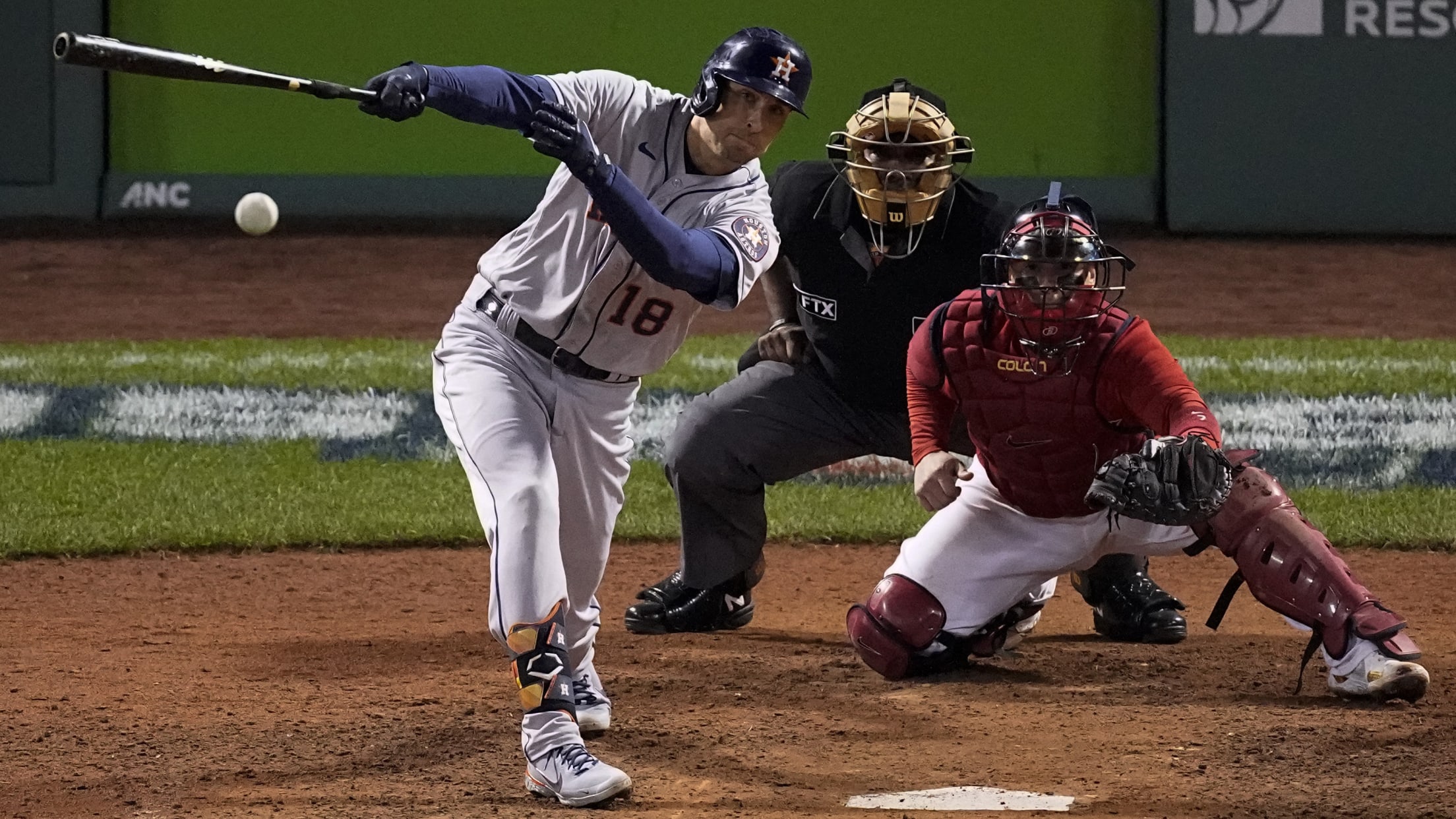 BOSTON -- Jason Castro was here for the worst of times, and he was gone before the best. Castro was the Astros' lone All-Star on their 111-loss 2013 team, their first pick in the Draft five years prior and a player they planned to build around more than a decade
Astros STUN Fenway in 7-run 9th, knot ALCS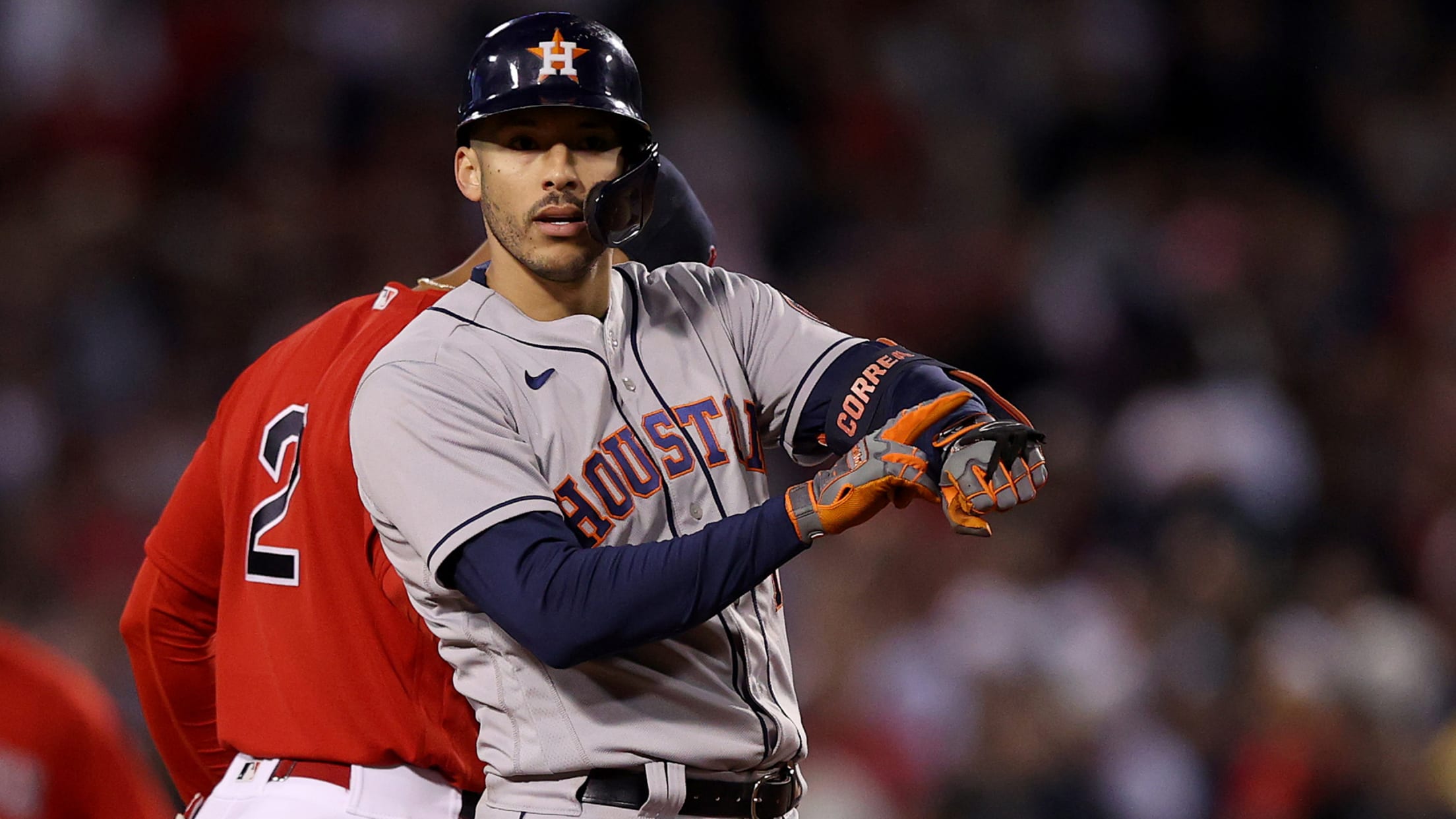 BOSTON -- The highest-scoring offense in baseball had been in a fall slumber for nearly two full games of the American League Championship Series, and the Astros were in danger of being pushed to the brink of elimination as a result. The Astros had managed solo homers by Alex Bregman
'What a job': Astros' bullpen delivers in G4
5 Houston relievers combine for 7 2/3 scoreless innings to power ALCS-tying win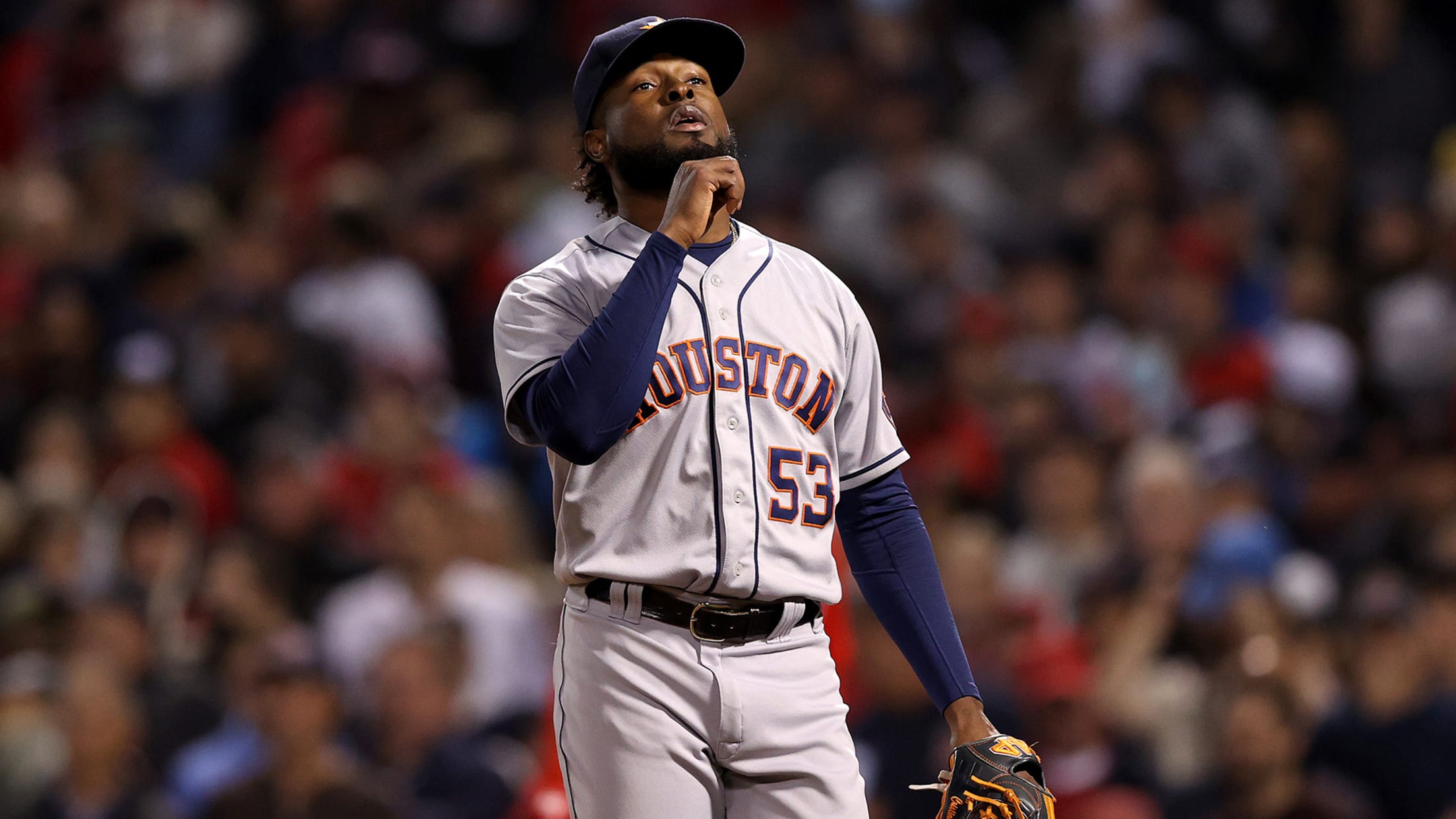 BOSTON -- The Astros' bats finally broke through on Tuesday night. It took patience and persistence, as has been their formula all season. But it also necessitated a brand of offense that kept them from playing with such a drastic deficit, as was the case following the Red Sox's historic
Wild stats from Astros' 7-run 9th in Game 4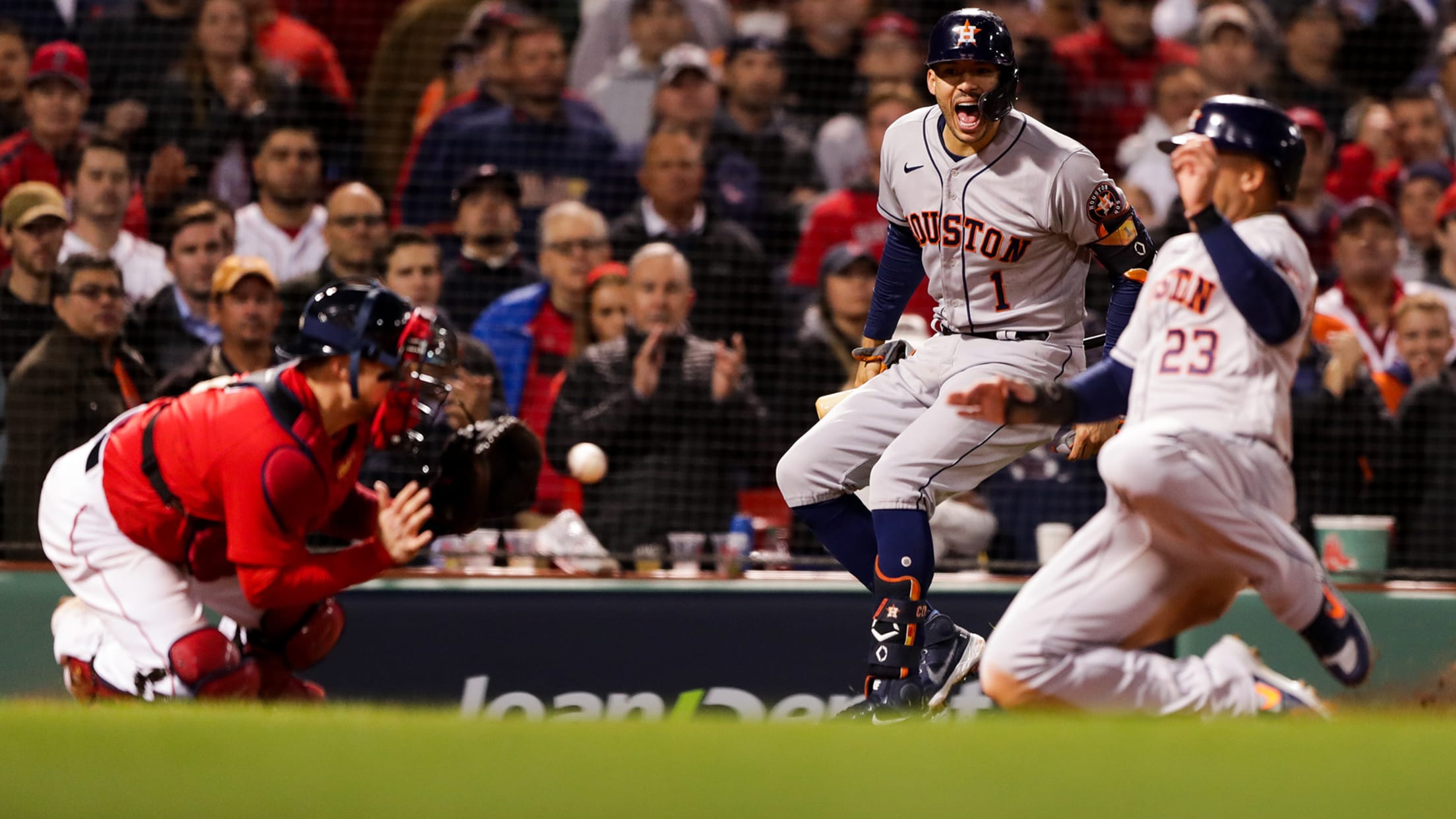 Game 4 of the 2021 ALCS was tied, 2-2, entering the top of the ninth inning on Tuesday night ... but things quickly changed, and by the time the half-inning was done, the Astros had pulled ahead of the Red Sox, 9-2, before shutting the door on Boston in the
LIVE: Astros-Red Sox ALCS G4 FAQ (on FS1)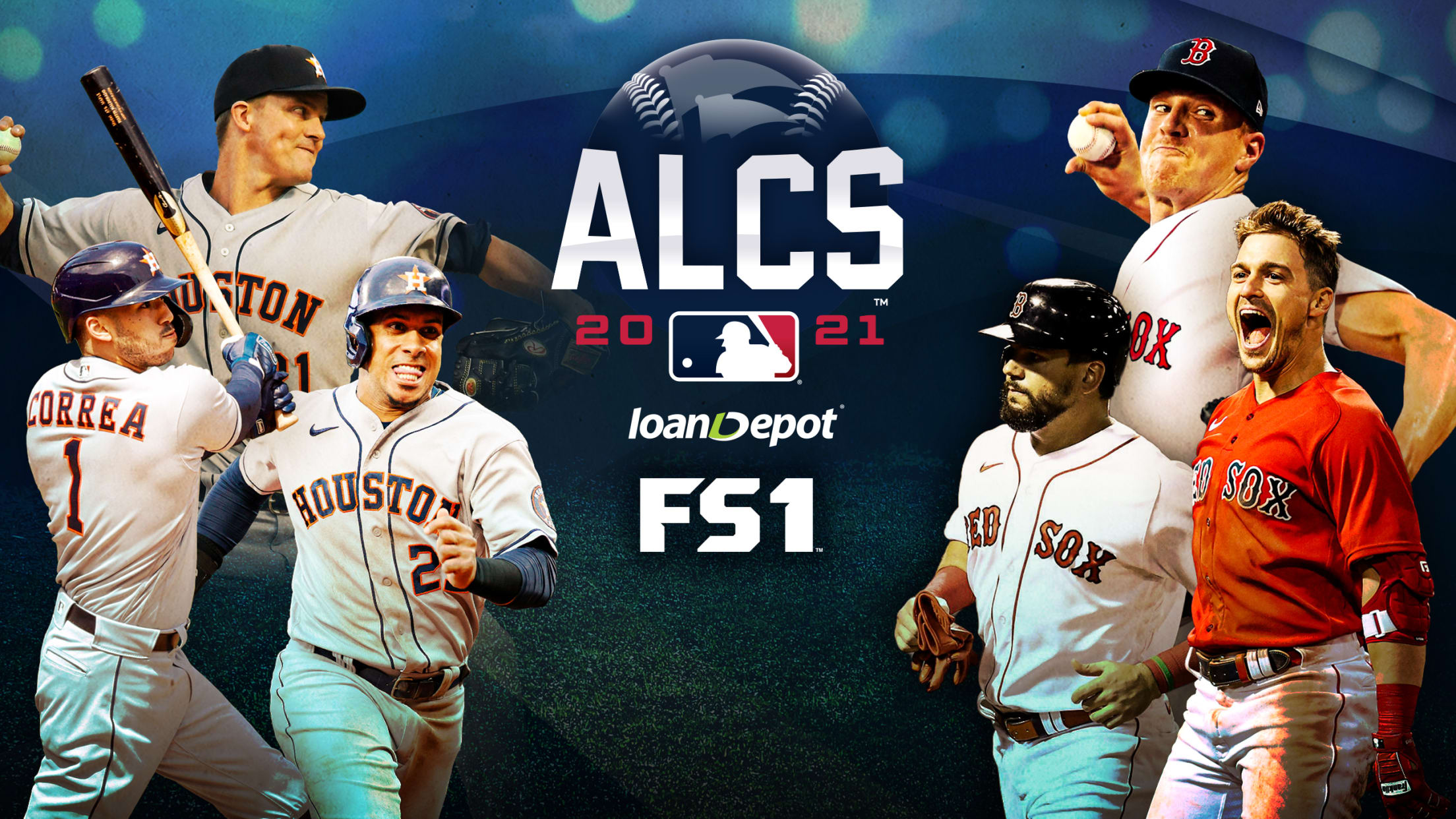 The Red Sox have turned the tables on the Astros in a big way in the last two games of this American League Championship Series after losing a nailbiter in Game 1. Just as quickly as the Astros have lost the momentum, getting outscored, 21-8, in the last two contests,
Astros 'pumped to play' after vets' pep talk
Meyers not in starting lineup, but available for Game 4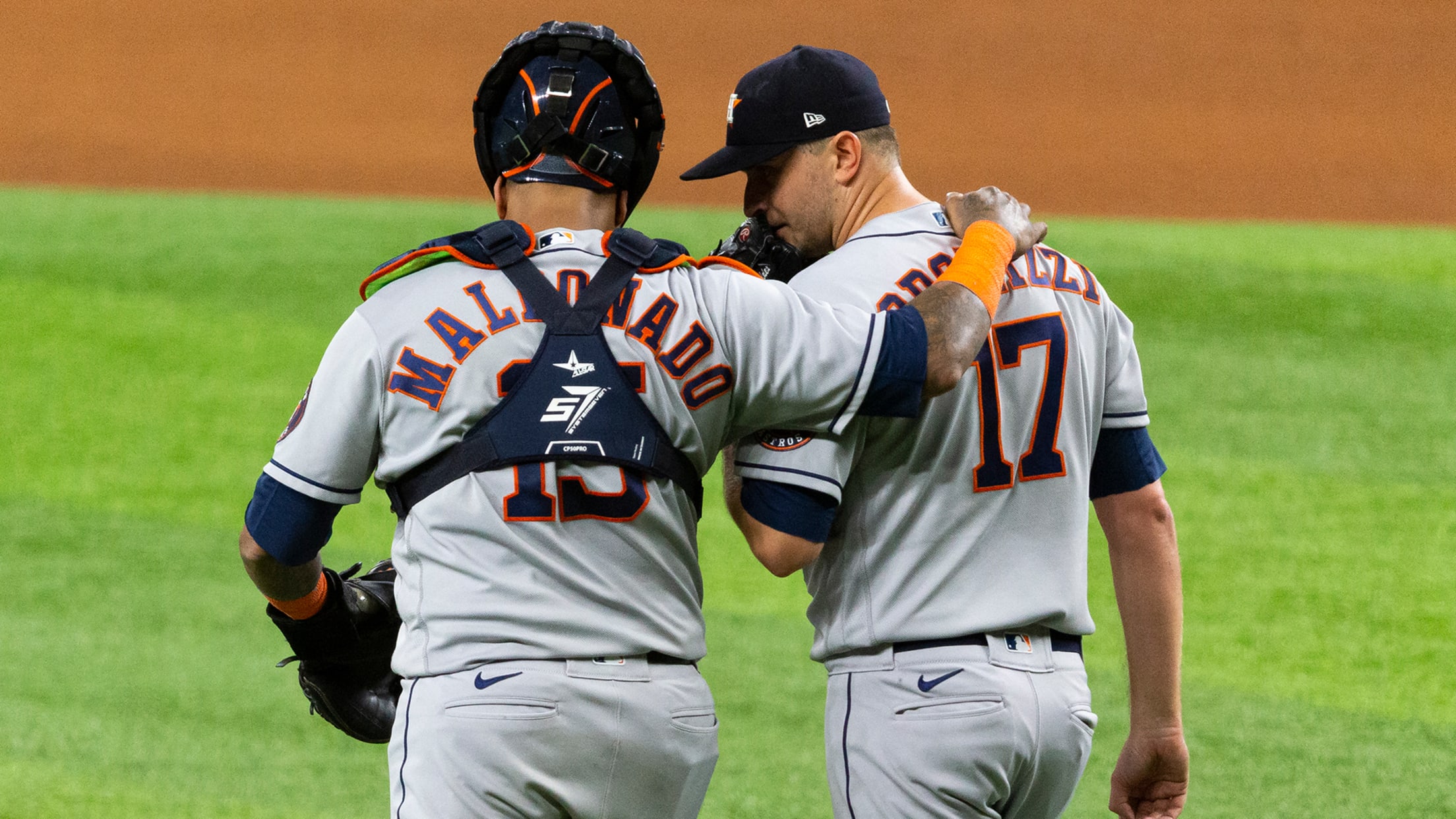 BOSTON -- Astros veteran catcher Martín Maldonado and veteran pitcher Jake Odorizzi addressed the club following Monday's 12-3 loss to the Red Sox in Game 3 of the American League Championship Series, said outfielder Chas McCormick. "Maldonado, after the game yesterday, just gave us a little speech about 'Keep fighting,'"
1 key storyline for each playoff team today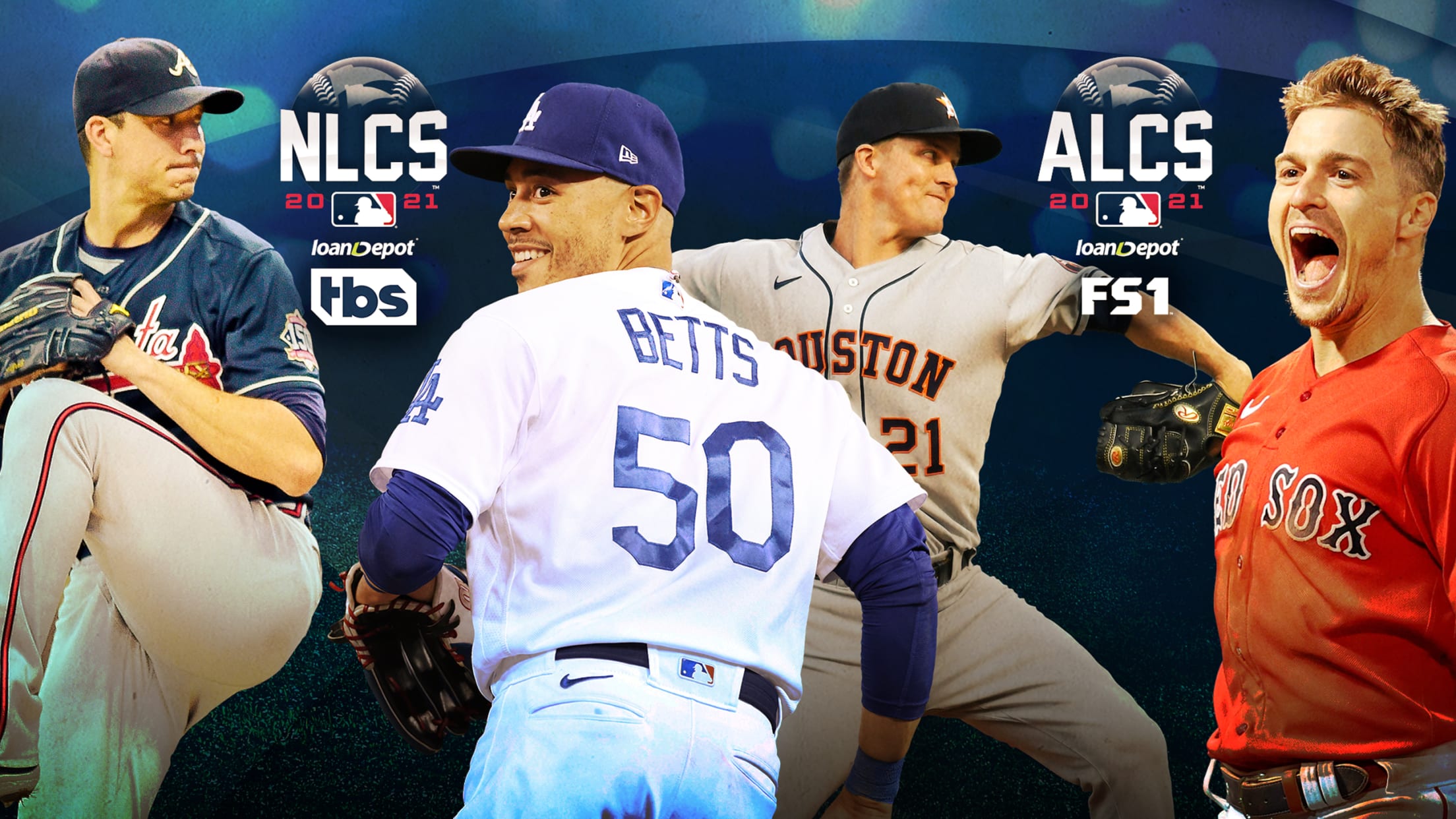 I hope you have already started your work day for Tuesday, because you're going to want to make sure you're done with everything early. There are two League Championship Series games today, and each of them is packed with thrills, peril and import. And they get started early. So try