Chapman looking healthy -- and fit -- at camp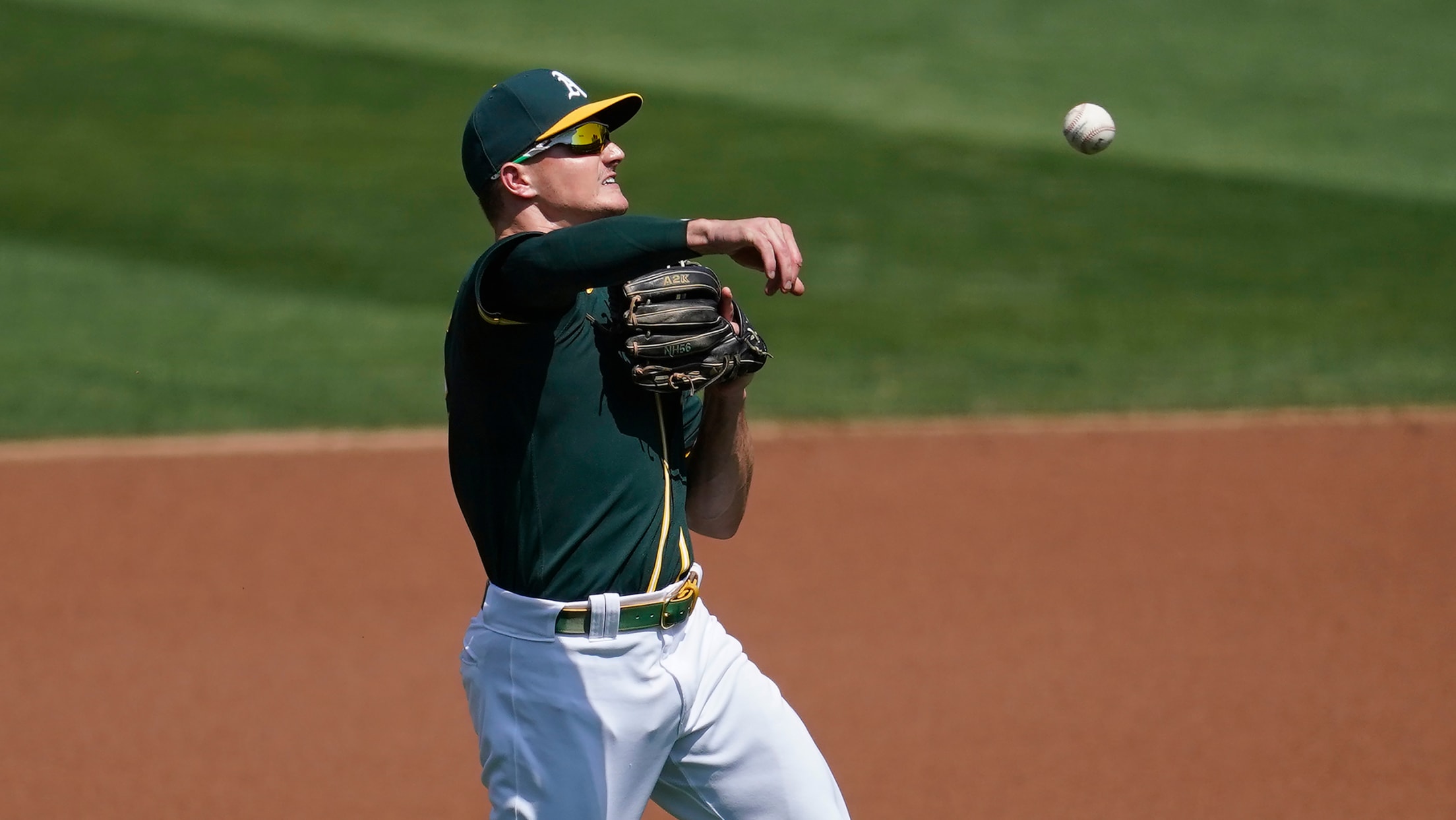 A's position players don't have to report to Spring Training until Monday. But given Matt Chapman's relentless work ethic, it should come as no surprise that the star third baseman has arrived early. During the club's workout for pitchers and catchers on Thursday, Chapman, who is returning from season-ending hip
A's without 2 key players as camp opens
Melvin: Montas positive for COVID-19, Murphy recovering from collapsed lung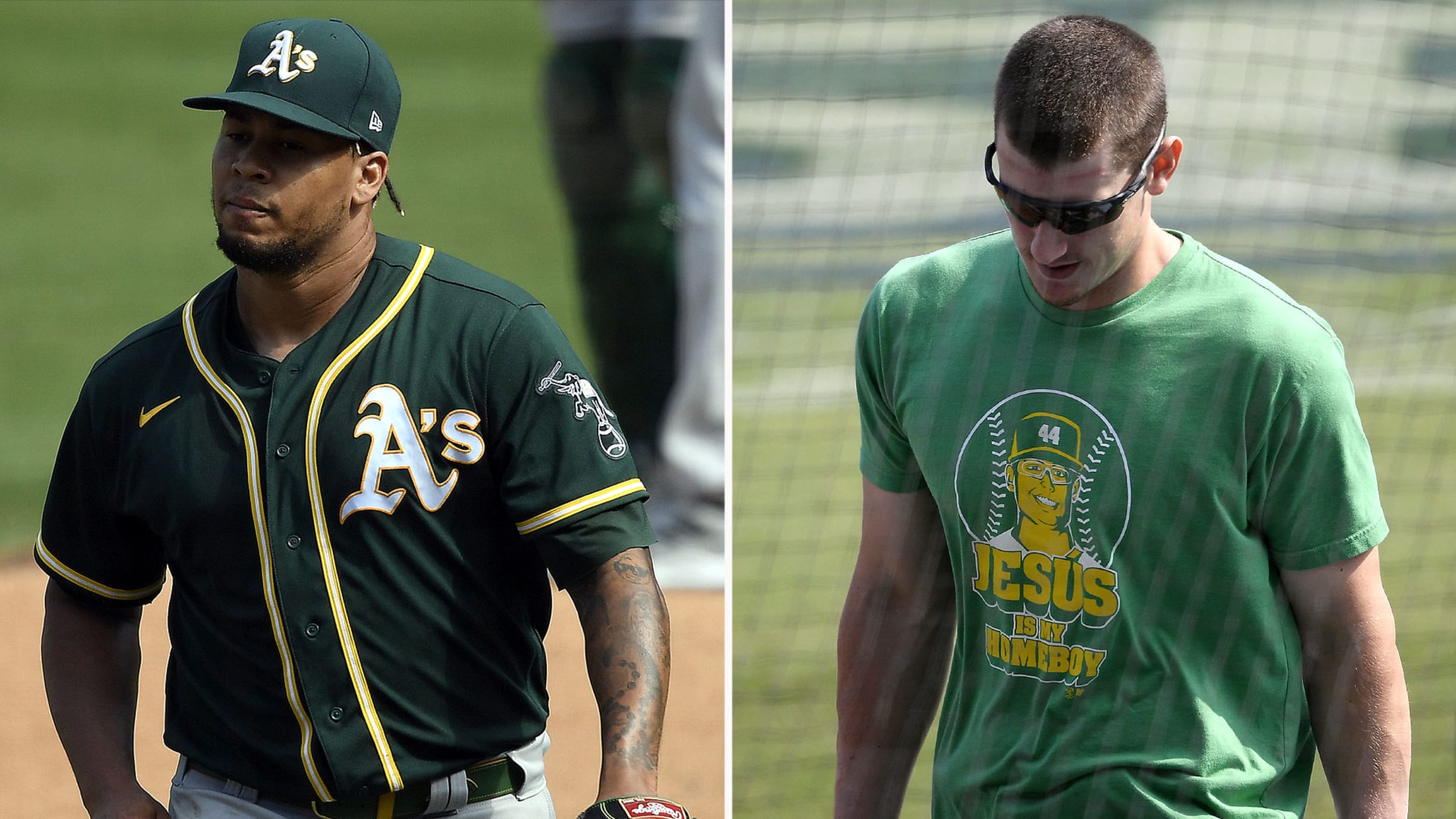 Spring Training got underway in Arizona for the A's on Wednesday with two notable players absent from camp. According to manager Bob Melvin, Frankie Montas is away from the club due to a positive test for COVID-19, and Sean Murphy is at home as he recovers from a collapsed lung
La Stella plunked on elbow; X-rays negative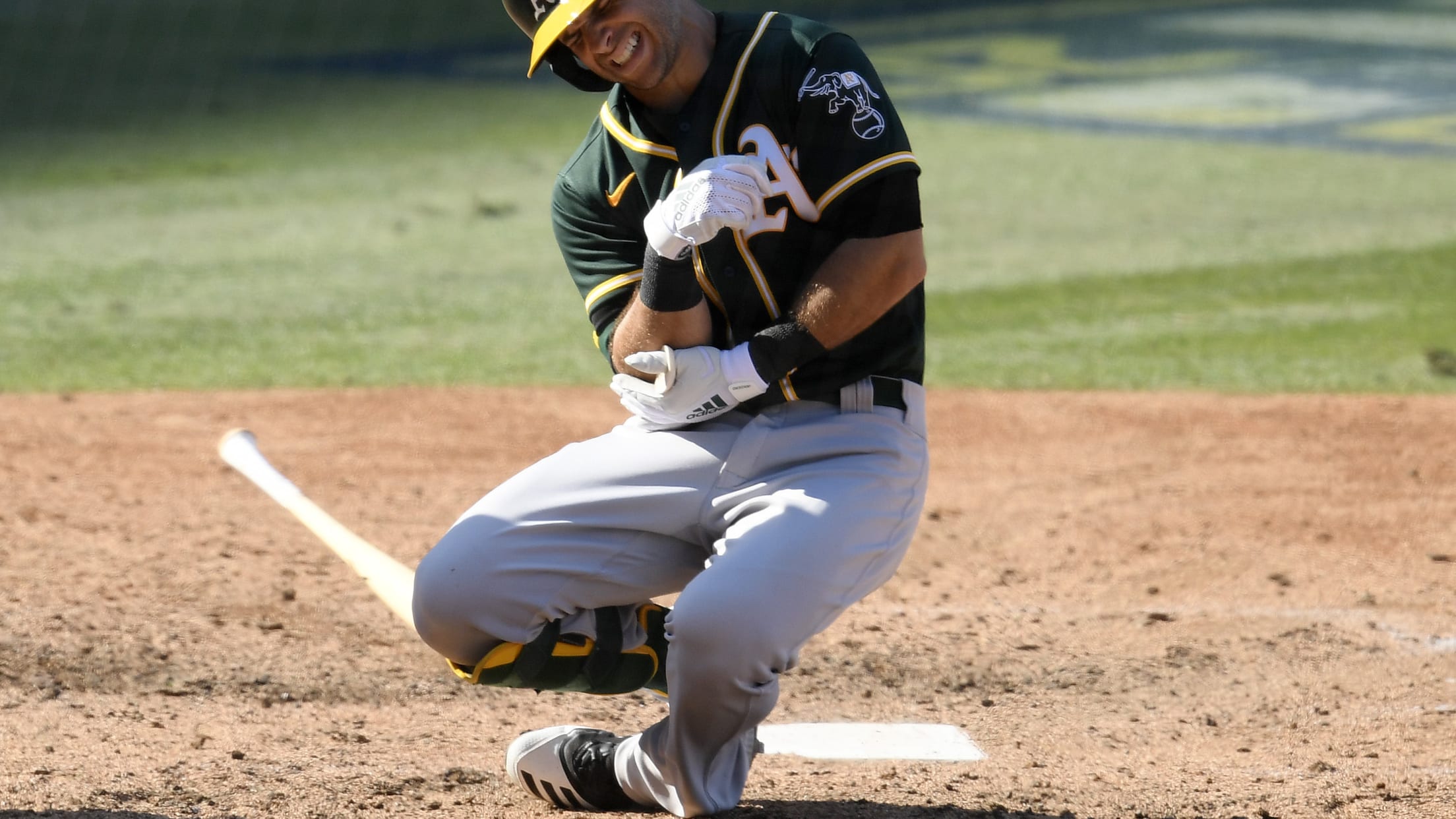 LOS ANGELES -- A's second baseman Tommy La Stella exited Oakland's 9-7 win in Game 3 of the American League Division Series on Wednesday in the eighth inning after being hit by a pitch on his right elbow from Astros left-hander Brooks Raley. La Stella was diagnosed with a right
Wendelken placed on IL, Kaprielian activated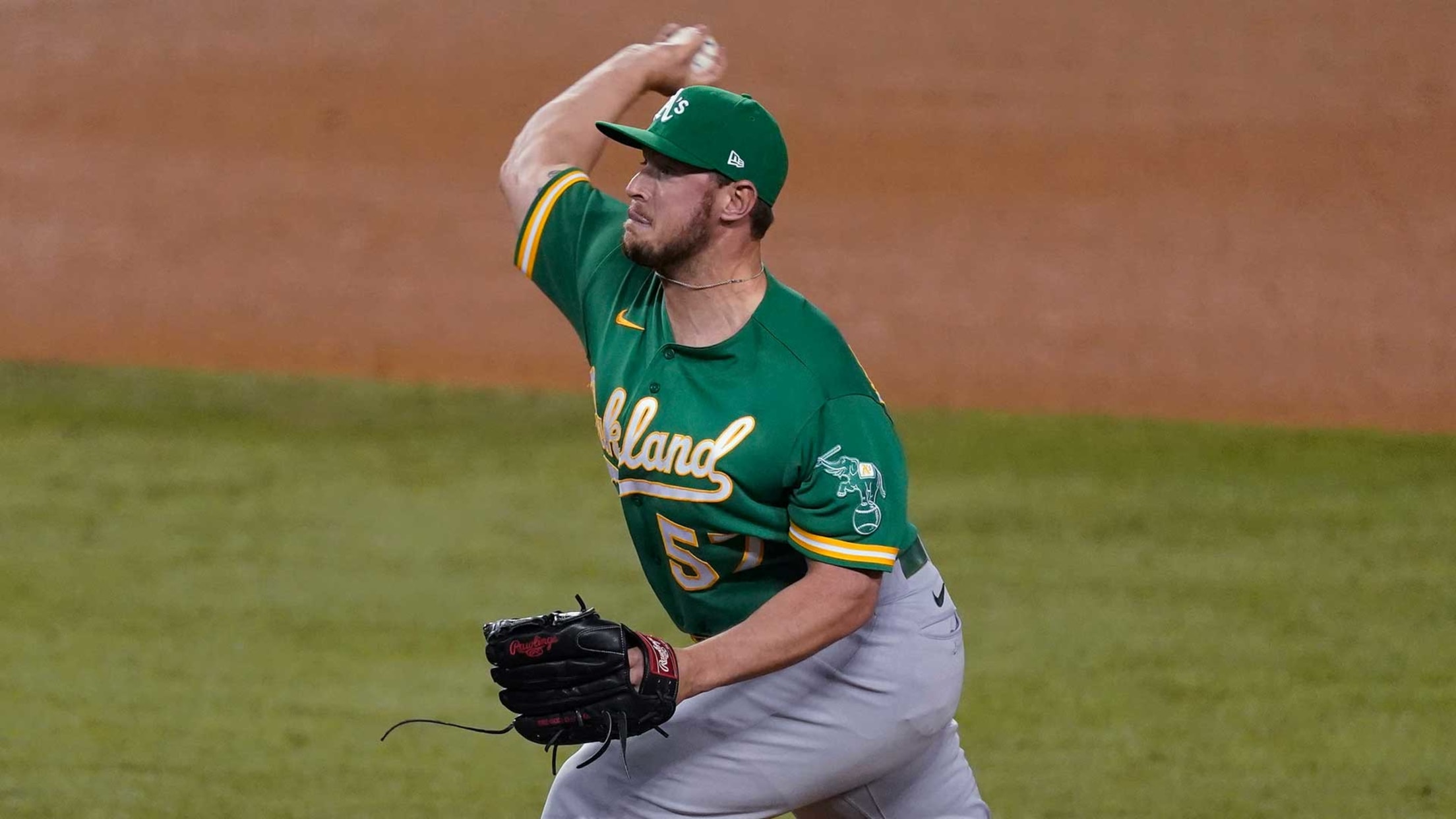 The A's bullpen, which has developed into one of the top relief corps in baseball this season, took a hit on Thursday with the loss of right-hander J.B. Wendelken. Wendelken was placed on the injured list prior to Thursday night's three-game series finale against the Dodgers in Los Angeles. The
Notes: Pinder ramps up; reps for Khrush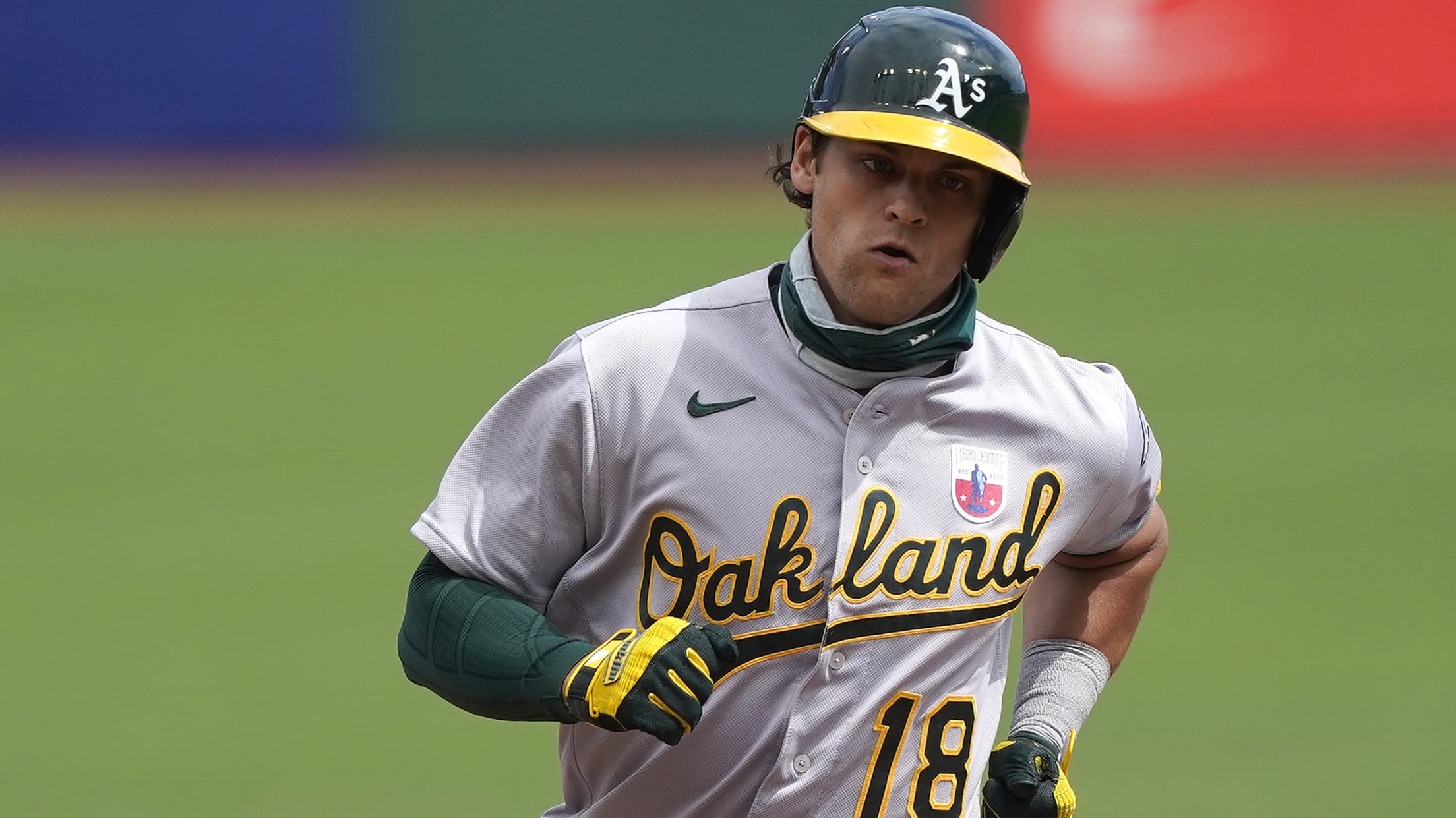 A's utility man Chad Pinder took a significant step back in his recovery from a right hamstring strain by going through a series of baseball activities at the Oakland Coliseum on both Saturday and Sunday. Pinder, who hasn't played since Sept. 12, is eligible to come off the 10-day injured
A's get good news from Puk's surgery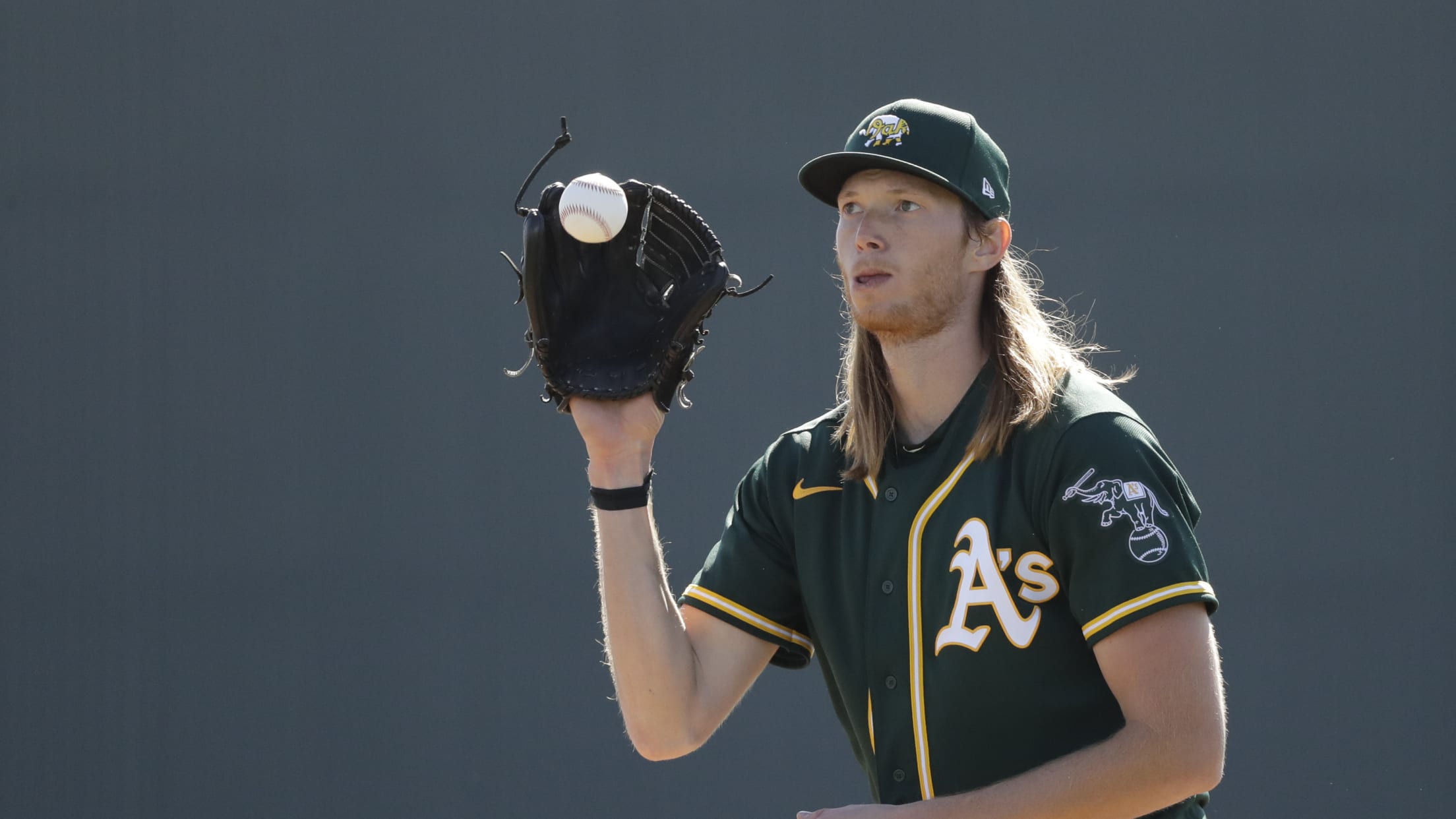 OAKLAND -- The A's are feeling optimistic about the future of A.J. Puk after the left-hander underwent successful shoulder surgery on Wednesday in Los Angeles. The procedure, performed by Dr. Neal ElAttrache at the Kerlan Jobe Clinic, involved a debridement of Puk's labrum and rotator cuff while also cleaning out
Notes: Chapman's rehab; Pinder in playoffs?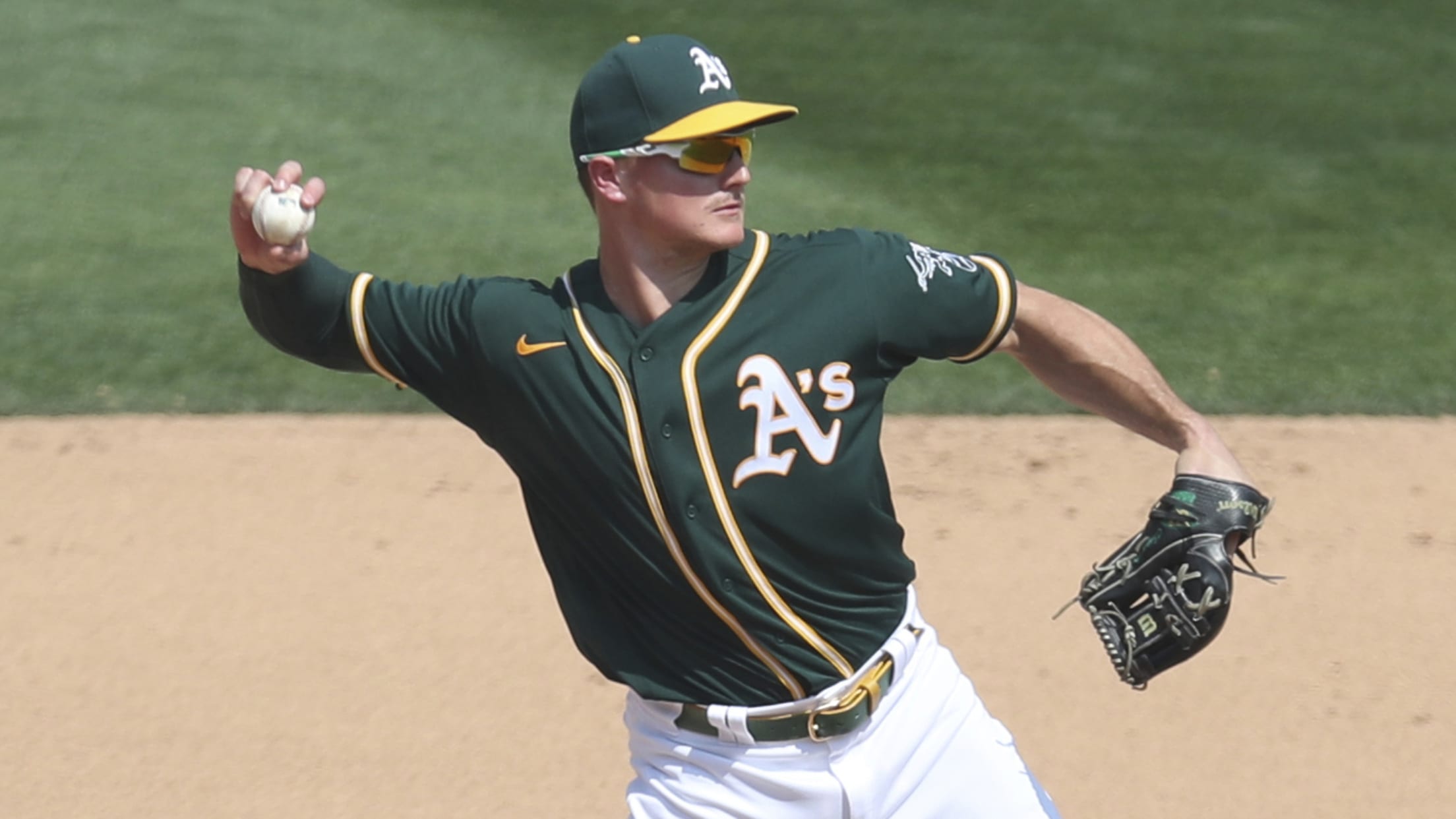 Matt Chapman will not be a part of the A's playoff run. After his hip surgery on Monday, however, the club has an idea of when he might get back to full strength. The procedure, performed by Dr. Marc Philippon in Vail, Colo., involved cleaning out Chapman's right hip near
A's place Pinder (hamstring strain) on IL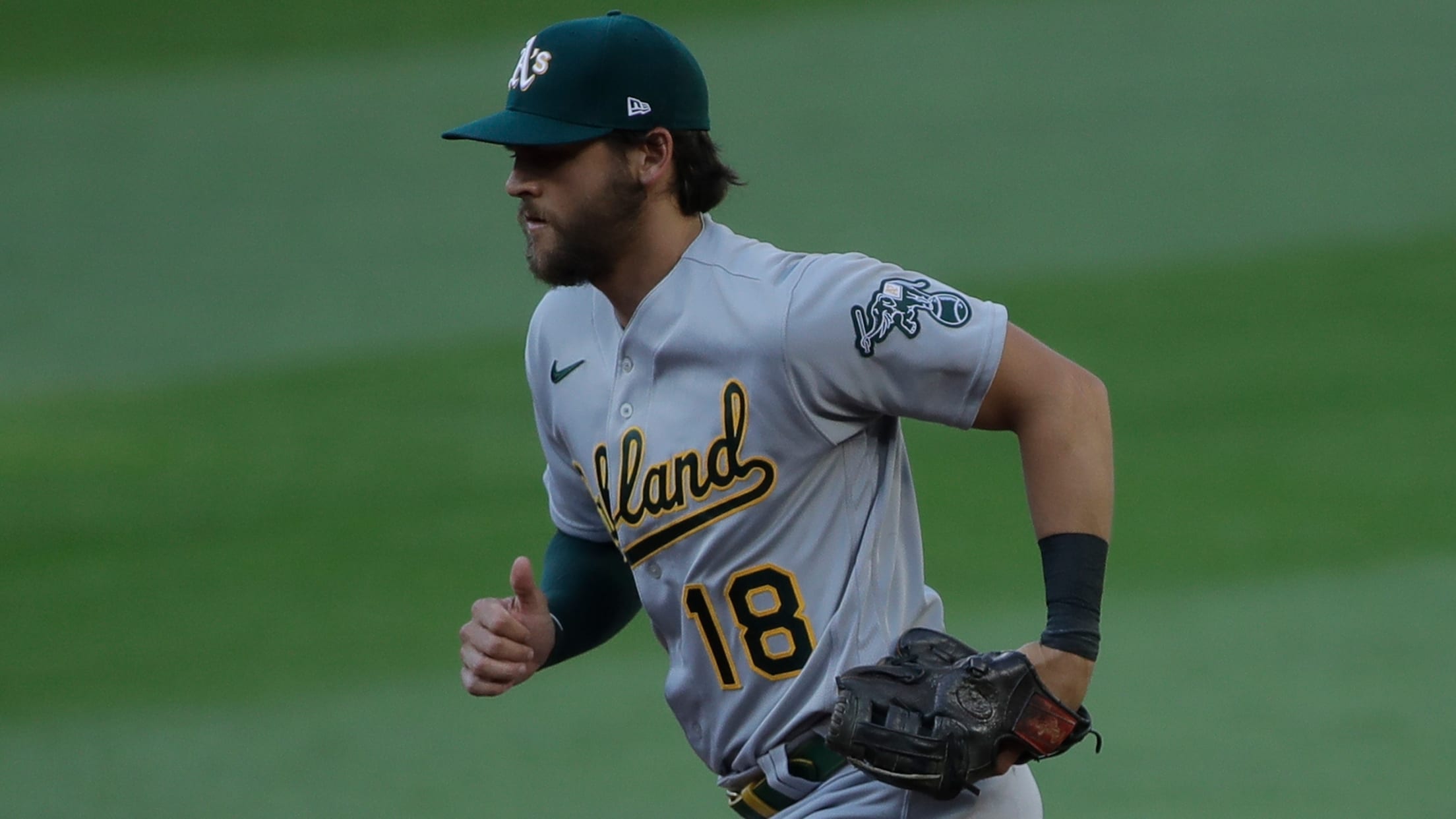 The Oakland A's placed infielder Chad Pinder on the 10-day injured list with a strained right hamstring and selected infielder Nate Orf from their alternate site, the club announced today. Pinder was batting .226 with two home runs and seven RBI in 23 games before injuring his hamstring in the
Matt Chapman (hip surgery) likely out for year
Pinder also injured in DH, paving way for Machín at hot corner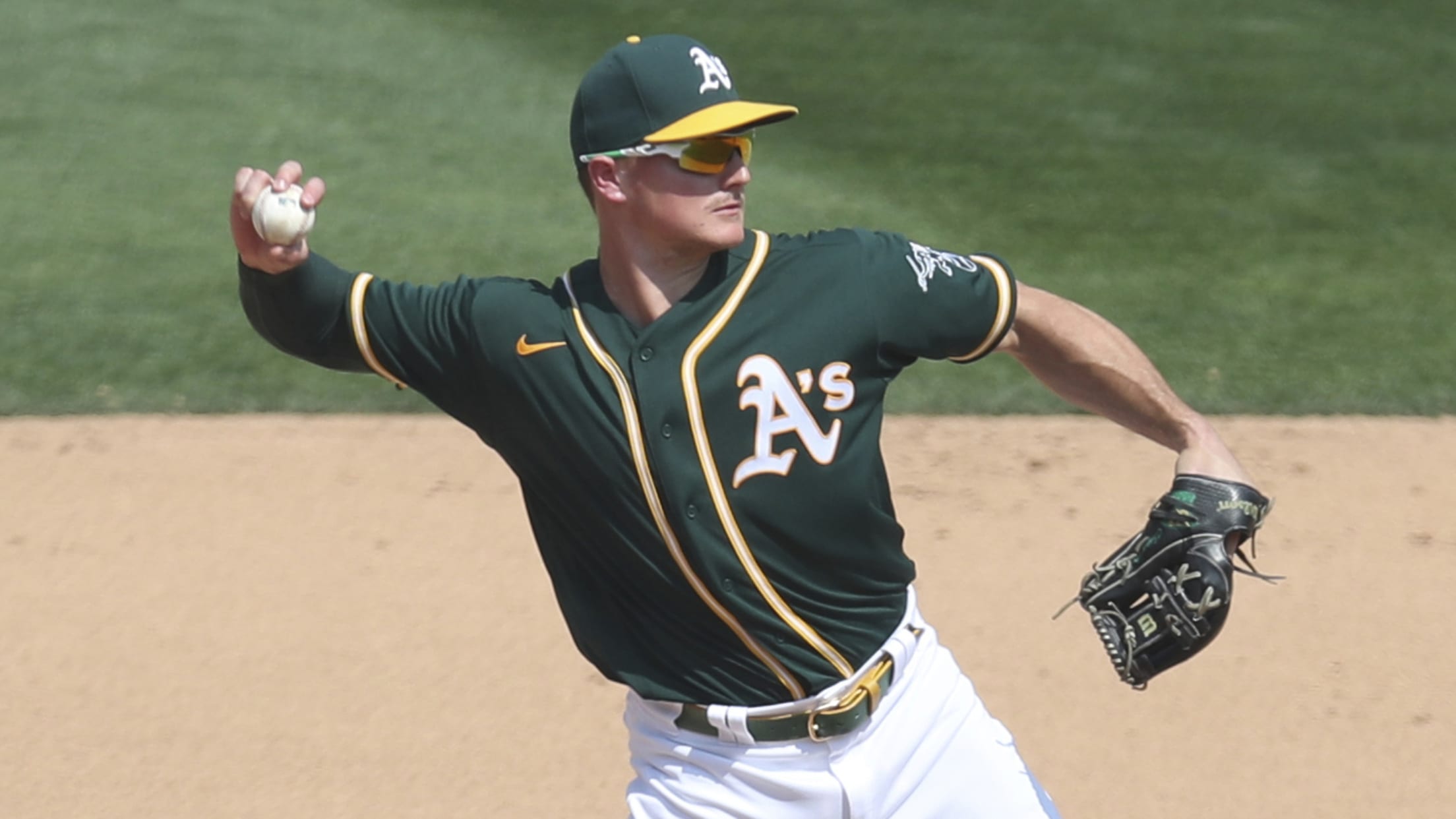 If the A's are going to accomplish their goal of bringing a World Series title back to Oakland this season, it's going to have to come without their superstar. The club announced on Saturday that Matt Chapman will undergo surgery on his right hip, which will likely end his season.
Chapman sits (hip tendinitis); Puk shut down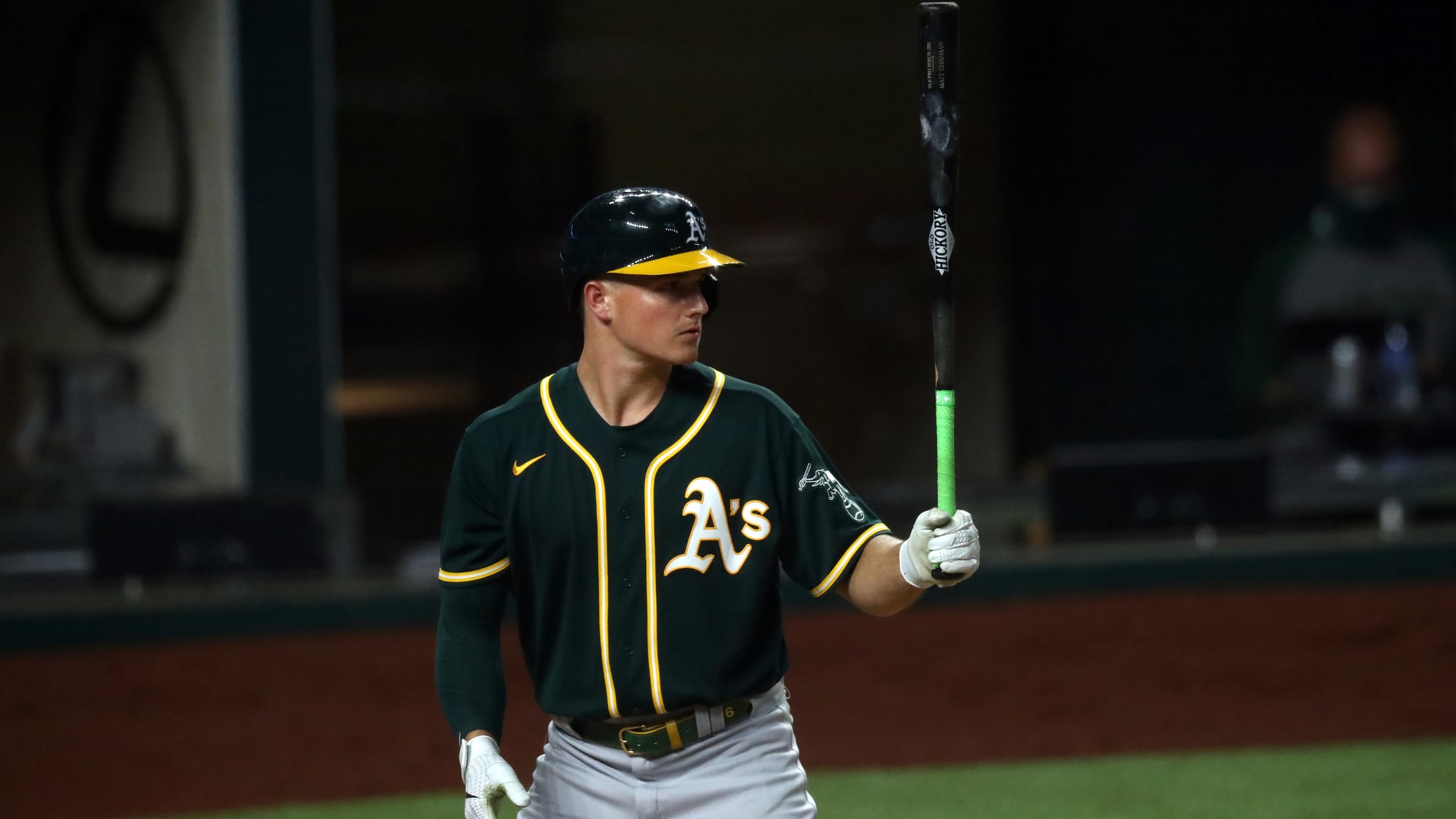 Matt Chapman was out of the A's starting lineup on Monday for the start of a critical stretch of five games in four days against the Astros, and his chances of playing at all in the series look bleak after MRI results revealed tendinitis in his right hip. Chapman was
Notes: Bullpen likely for Puk; Semien hits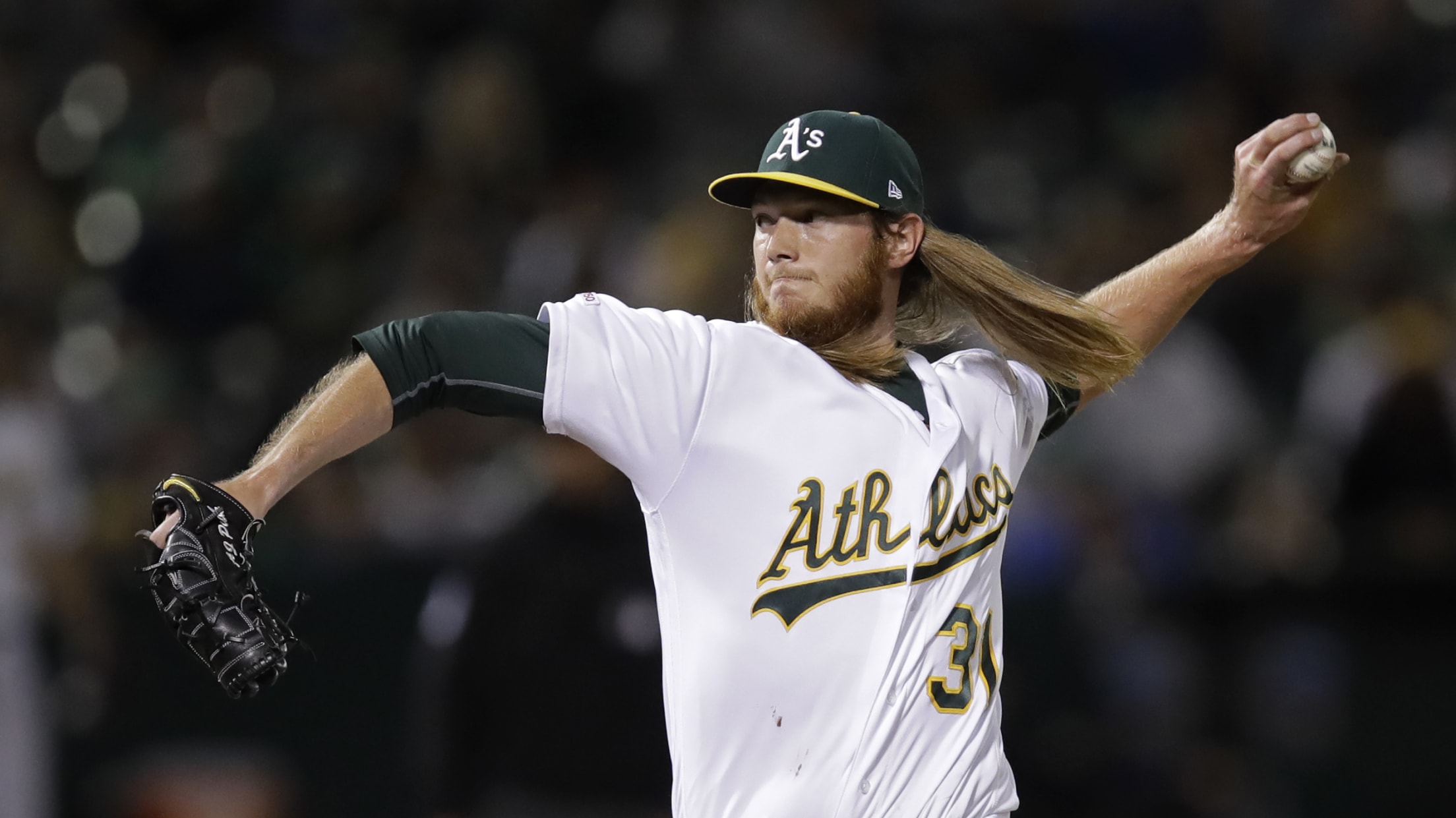 OAKLAND -- The A's could add another big arm at some point during their current eight-game homestand. A.J. Puk is nearing the end of his rehab from a left shoulder strain. After throwing to hitters at the A's alternate training site in San Jose on Friday, the left-hander is scheduled
Semien has side injury; Chapman plays SS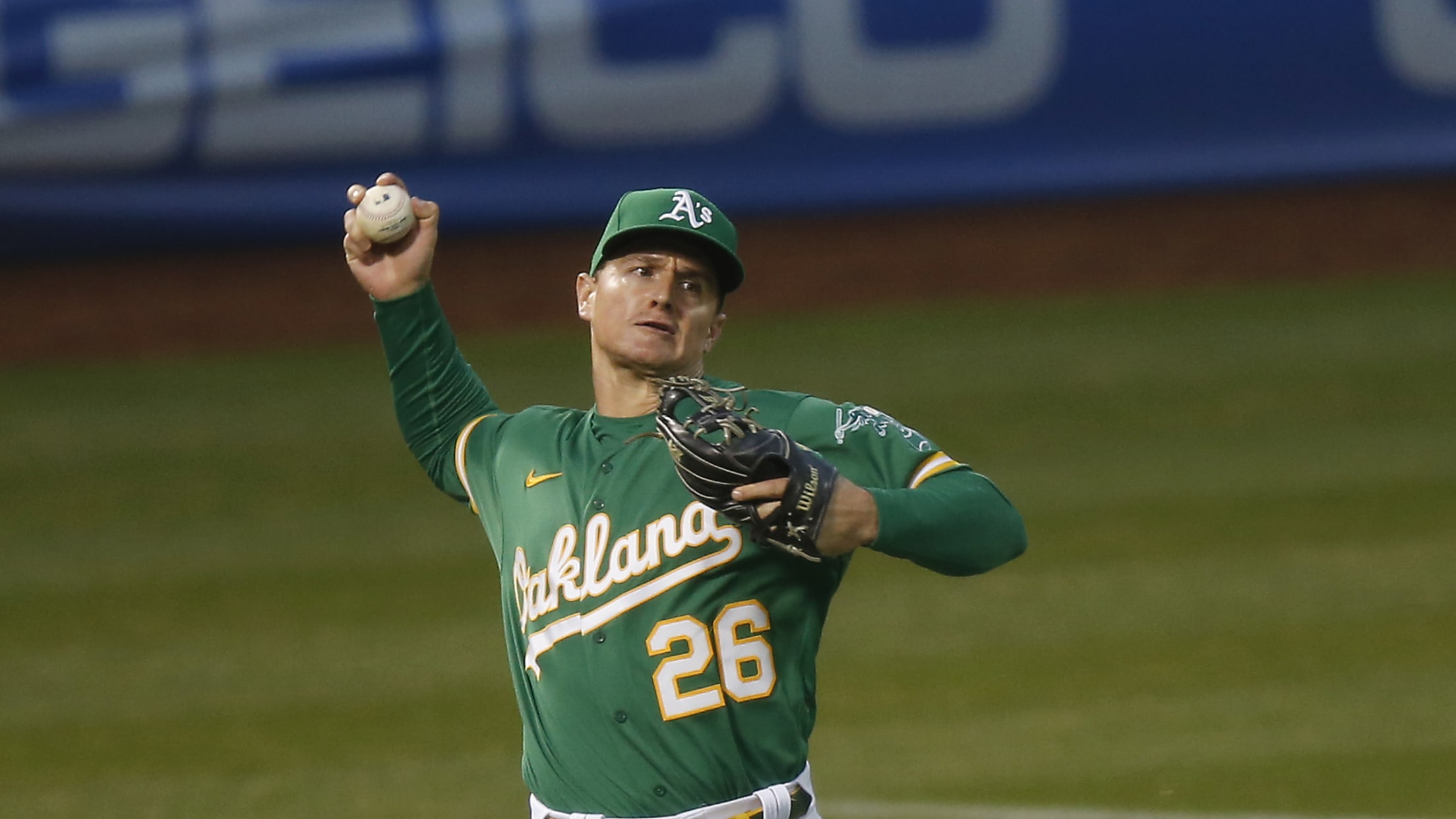 The A's might not go through a worse day in the 2020 season than the one that transpired Saturday. Not only did the A's get swept in a doubleheader by the Astros at Minute Maid Park, they also may have lost their shortstop and team leader Marcus Semien for an
Chapman comes off bench, makes key play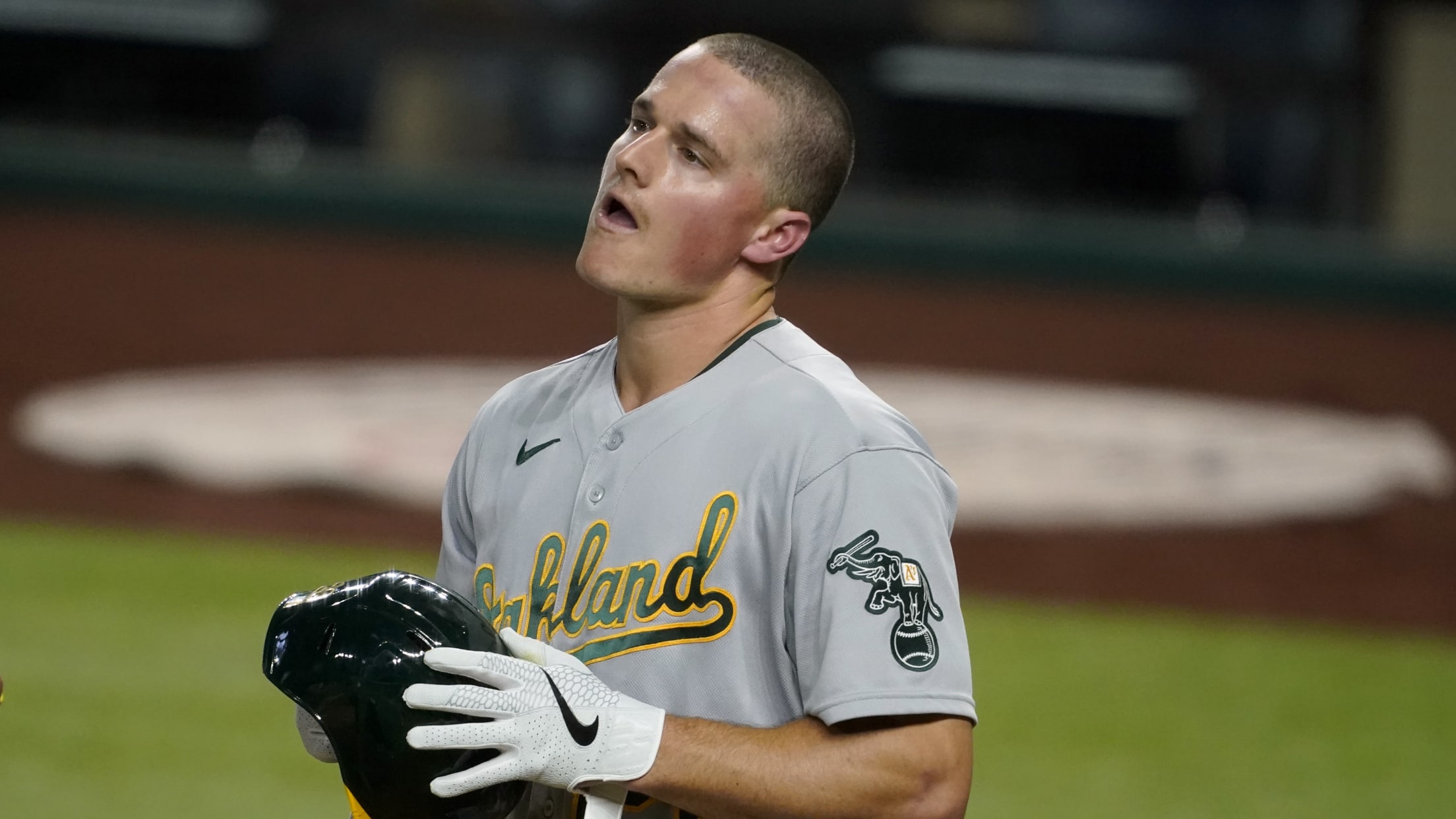 Third baseman Matt Chapman was scratched from the A's lineup Wednesday night after experiencing a headache, one day after he was hit in the head by a pitch from Rangers right-hander Kyle Gibson. Vimael Machin got the start at third. But Chapman approached A's manager Bob Melvin during the team's
Notes: Smith's MRI results; Puk's progress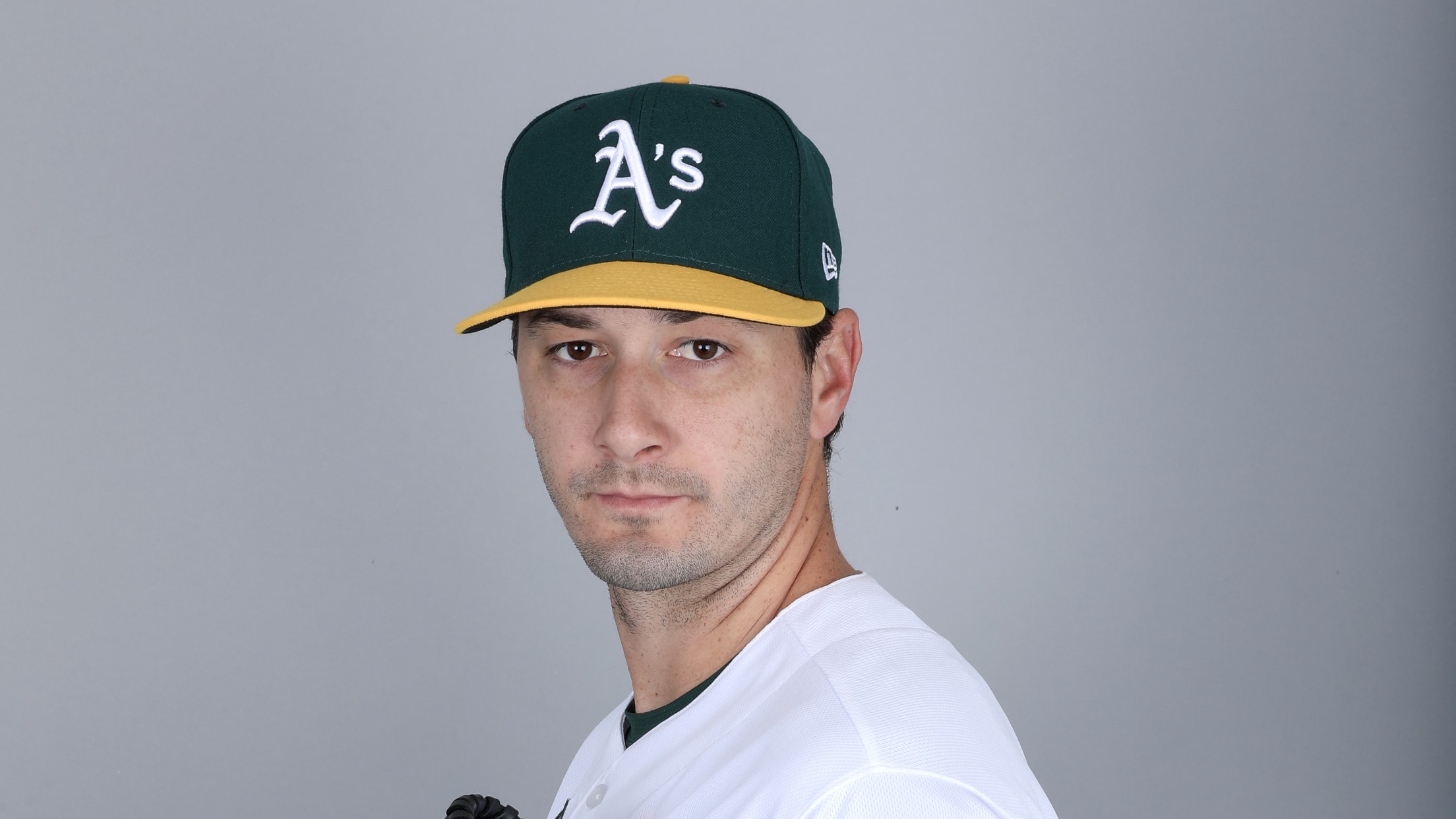 The A's might be down one of their top relievers for an extended period of time. After receiving MRI results on Burch Smith's right forearm on Monday morning, the A's were relieved to learn that there was no ligament damage. Given the 60-game season, however, a return in 2020 is
Notes: Puk, Montas updates; Hendriks' heat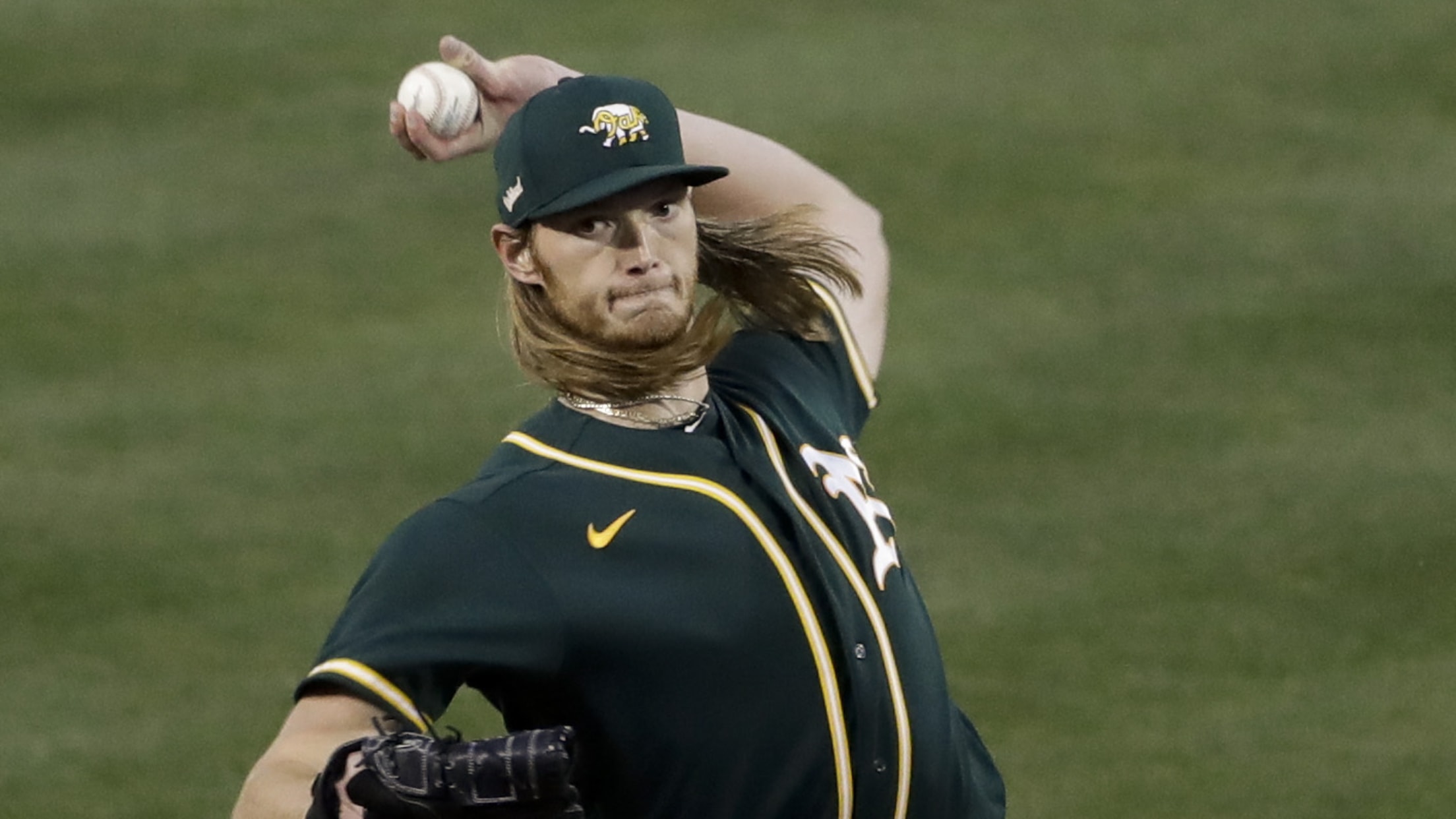 A return to the mound in 2020 is starting to look a lot more realistic for A.J. Puk after reaching a milestone in his rehab process on Friday. After a three-week period of throwing strictly off flat ground, Puk, Oakland's No. 3 prospect per MLB Pipeline, threw his first bullpen
Notes: Montas injury; Laureano appeal heard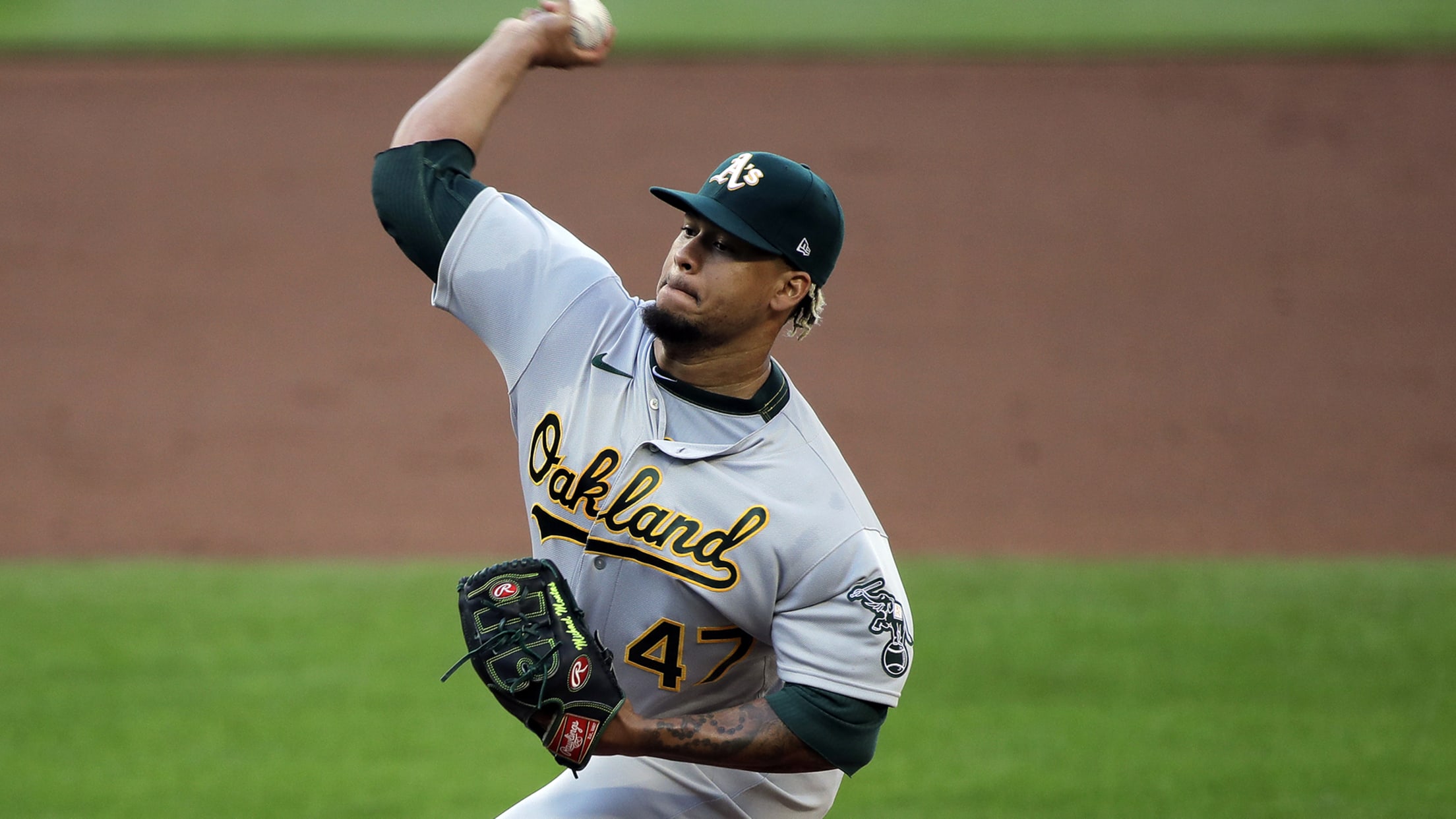 The A's scratched Frankie Montas from his scheduled start on Friday in San Francisco due to upper back tightness. The back issue follows an impressive week that earned Montas American League Player of the Week honors after going 2-0 with 14 strikeouts and one run allowed in 14 innings. Rookie
Bullpen role likely for Puk upon return to A's
Left-hander continues to progress in rehab from shoulder strain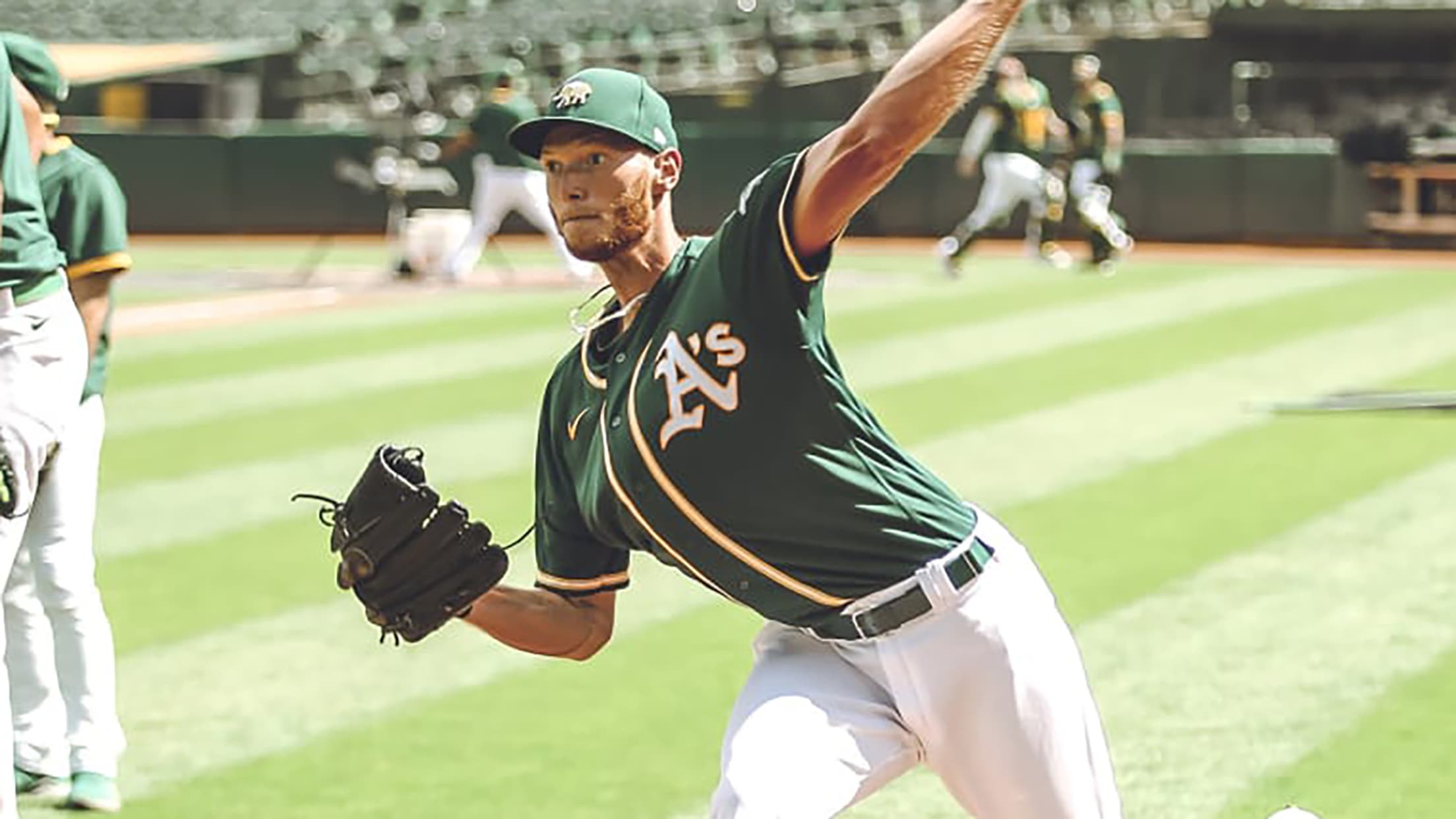 OAKLAND -- A.J. Puk continues to progress from a left shoulder strain that landed him on the injured list just before the start of the regular season. Practicing at the A's alternate training site in San Jose, Puk has been gradually increasing the distance from which he has been throwing
Notes: Puk, Luzardo updates; Payton returns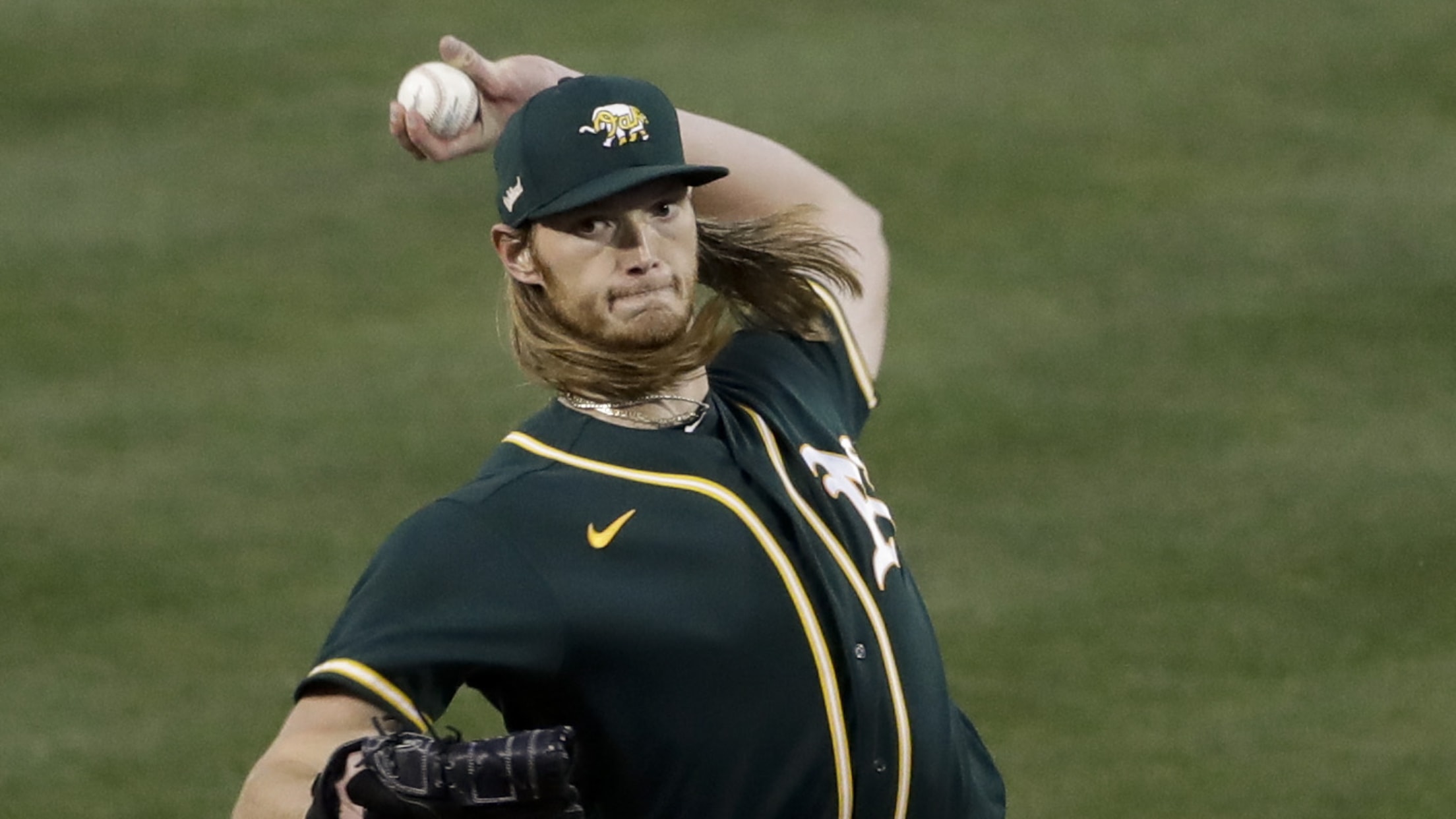 The A's will enter the regular season not knowing when starter A.J. Puk will be available to pitch. Following a meeting with shoulder specialist Dr. Neal ElAttrache on Monday in Los Angeles to look over a shoulder strain that landed him on the injured list, Puk received a PRP cortisone
A's Puk on injured list with shoulder strain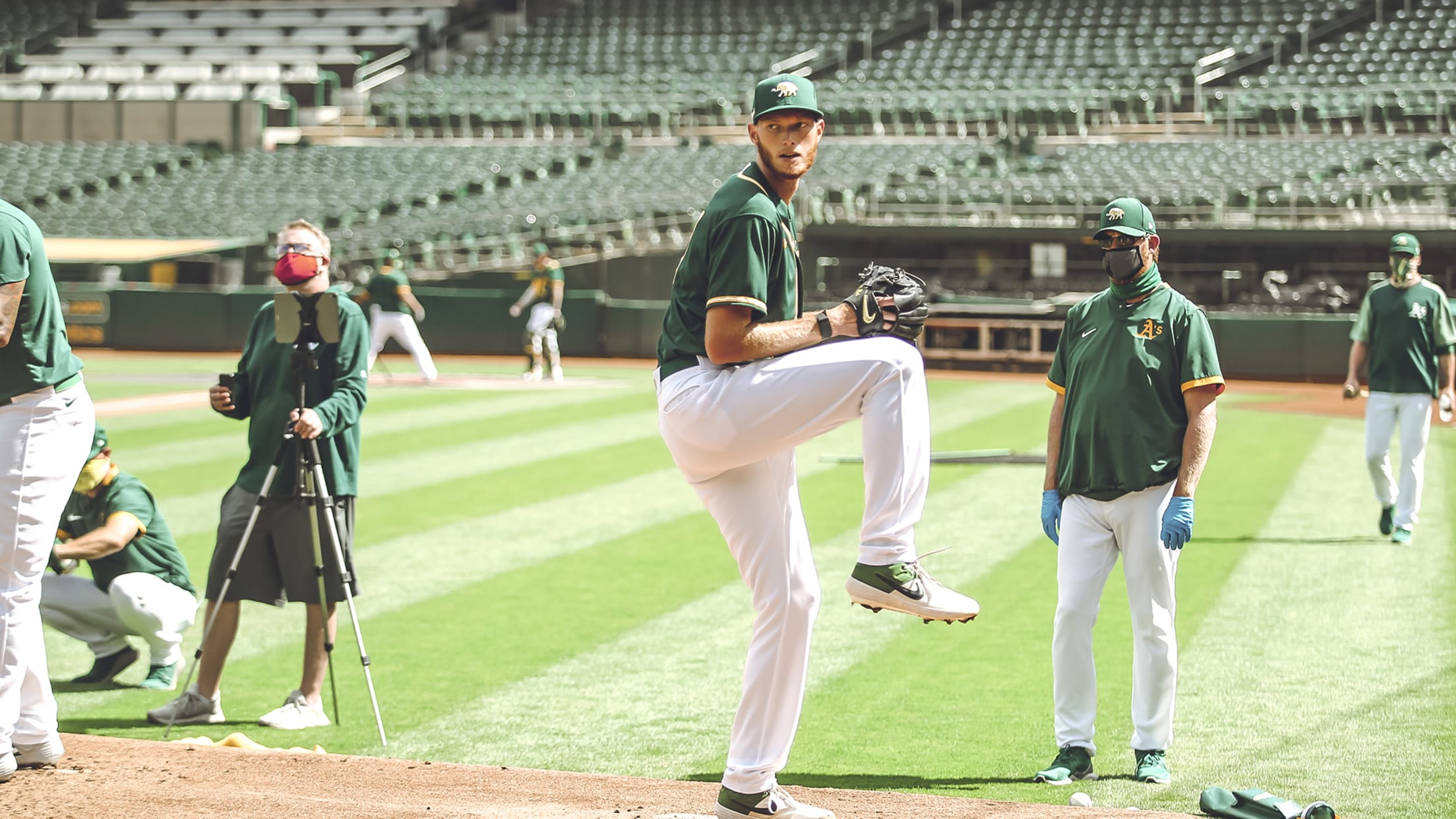 OAKLAND -- A.J. Puk's first Major League start will have to be put on hold. Puk, the A's No. 3 prospect per MLB Pipeline, was placed on the injured list prior to Monday's exhibition game against the Giants with a left shoulder strain. Slated to fill the fifth slot in
A's Piscotty held out with rib issue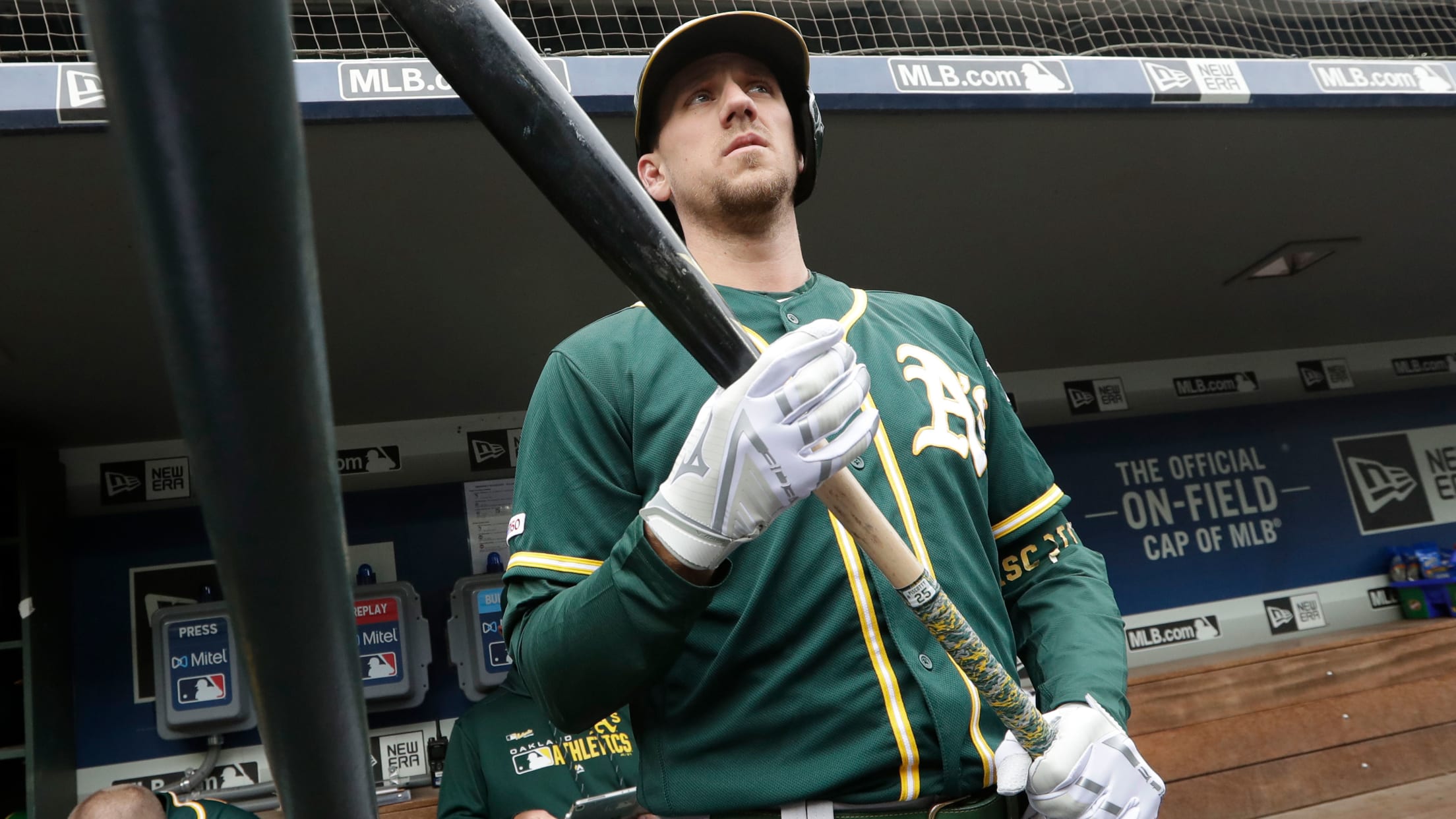 MESA, Ariz. -- Stephen Piscotty will be a little late joining the rest of the A's regulars in Cactus League play. The A's have held Piscotty out of game action due to an issue on his rib cage that sprung up earlier in camp. The right fielder has been taking
Canha optimistic after sustaining groin injury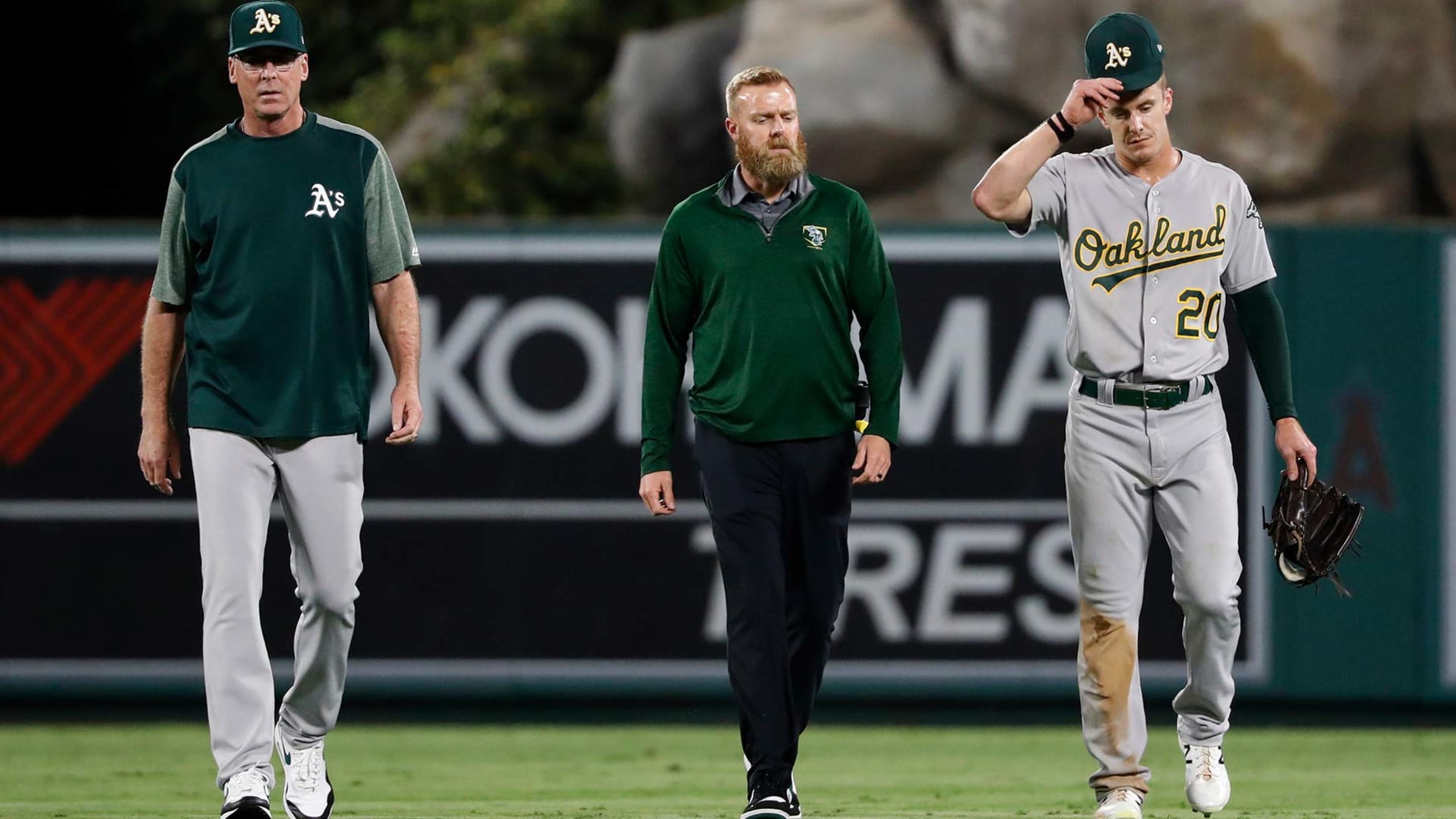 ANAHEIM -- Mark Canha's night was cut short due to a left groin strain on Wednesday following an awkward throw at Angel Stadium, putting a damper on what was an otherwise thrilling 3-2 victory over the Angels. Chasing down a line drive by Jared Walsh in left-center field to lead
A's maintain WC lead, but Fiers' status uncertain
Right-hander feels 'a little zinger' down arm and numbness in right hand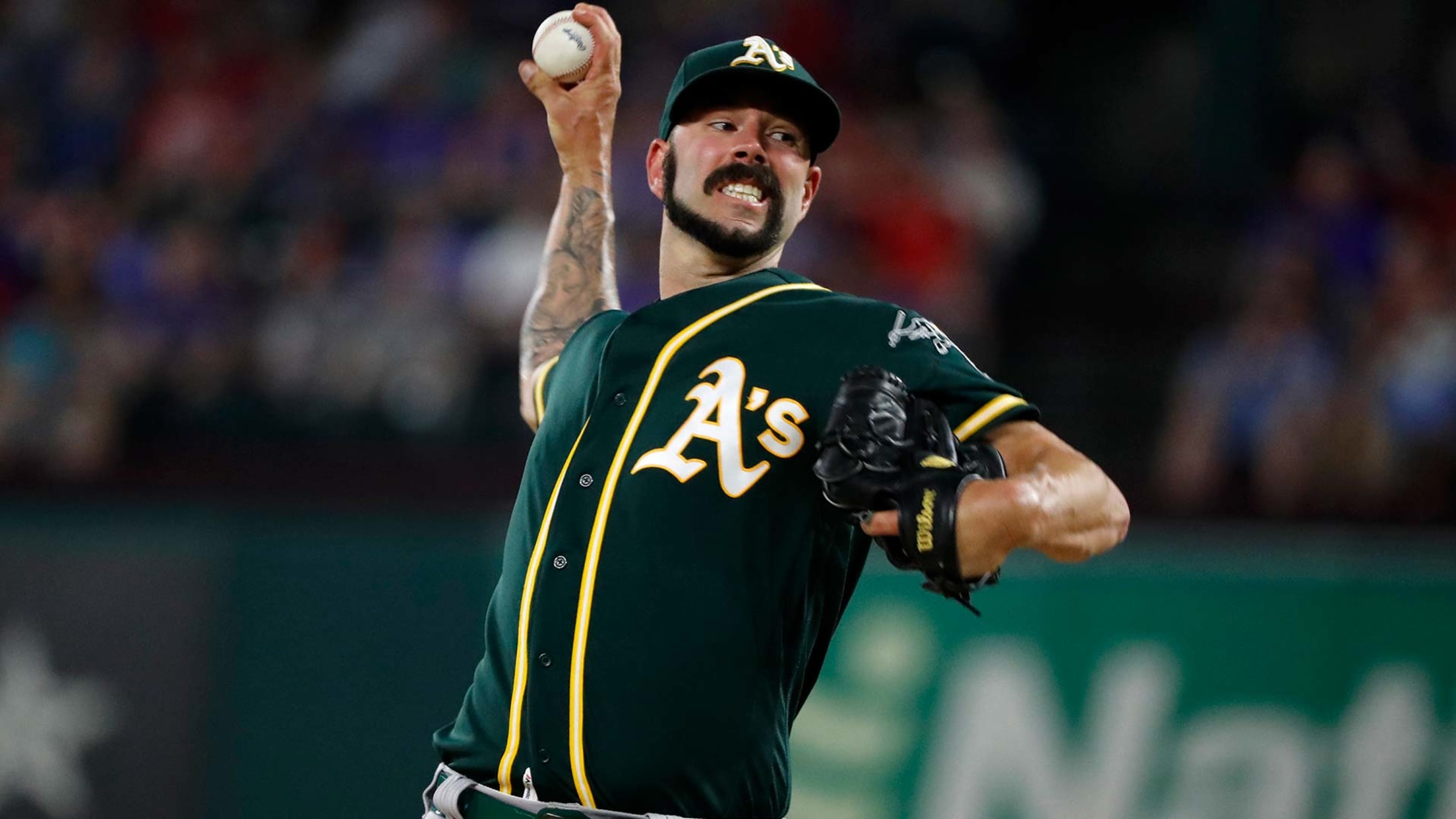 ARLINGTON -- The A's made more progress in their playoff push on Saturday with an 8-6 win over the Rangers at Globe Life Park, but this one came with a high price. The A's, who ended the contest with their half-game lead over the Rays in the American League Wild
Laureano hurt in 2nd game back from injured list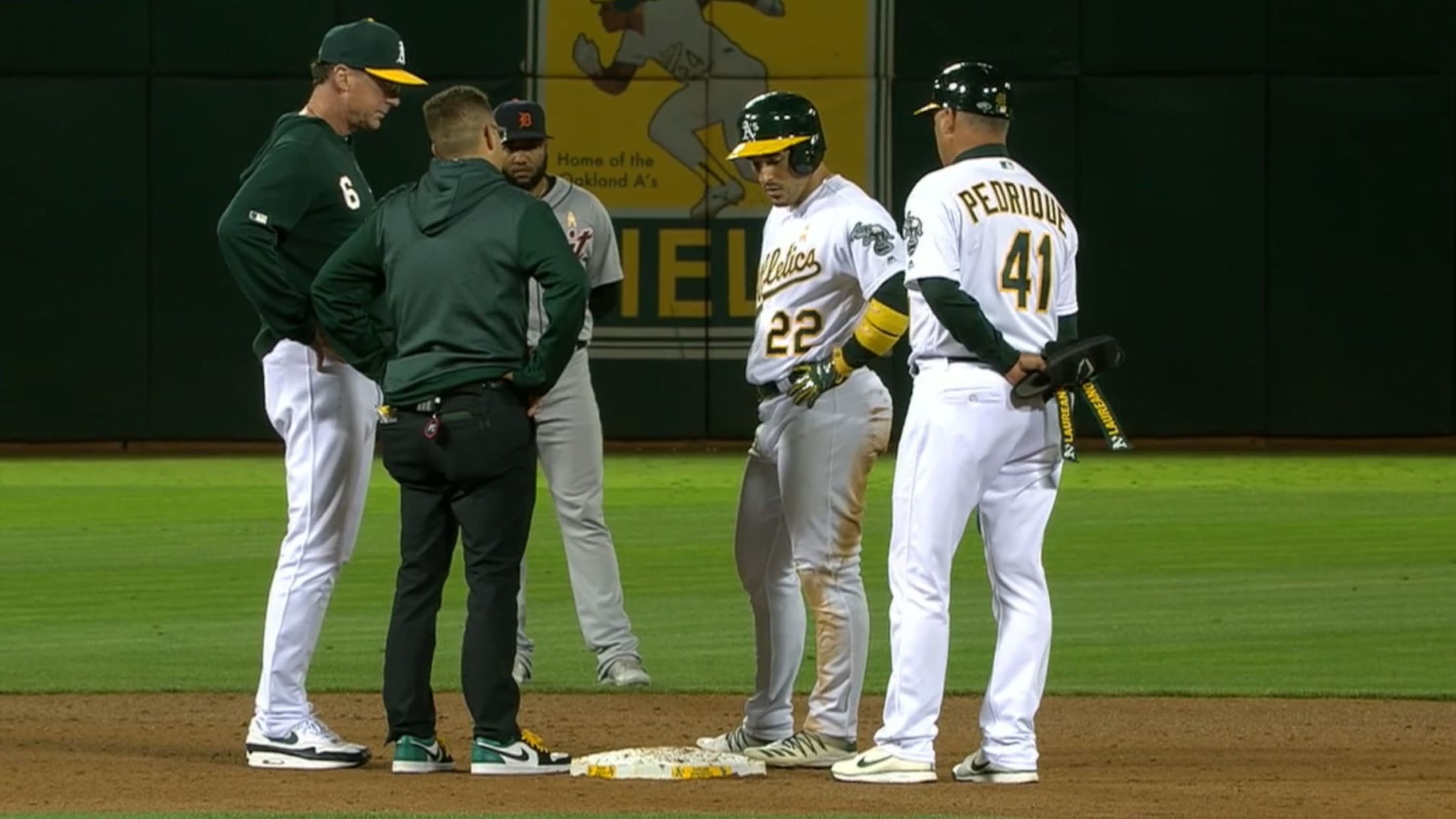 OAKLAND -- Ramón Laureano, who just returned from a right shin issue on Friday, left Saturday night's 10-2 win vs. the Tigers with a right leg cramp. Laureano was limping out of the box before gingerly arriving to second base after belting a leadoff double against Tigers reliever Matt Hall
A's expect Laureano (shin) back this weekend
Center fielder has missed 5 weeks with stress reaction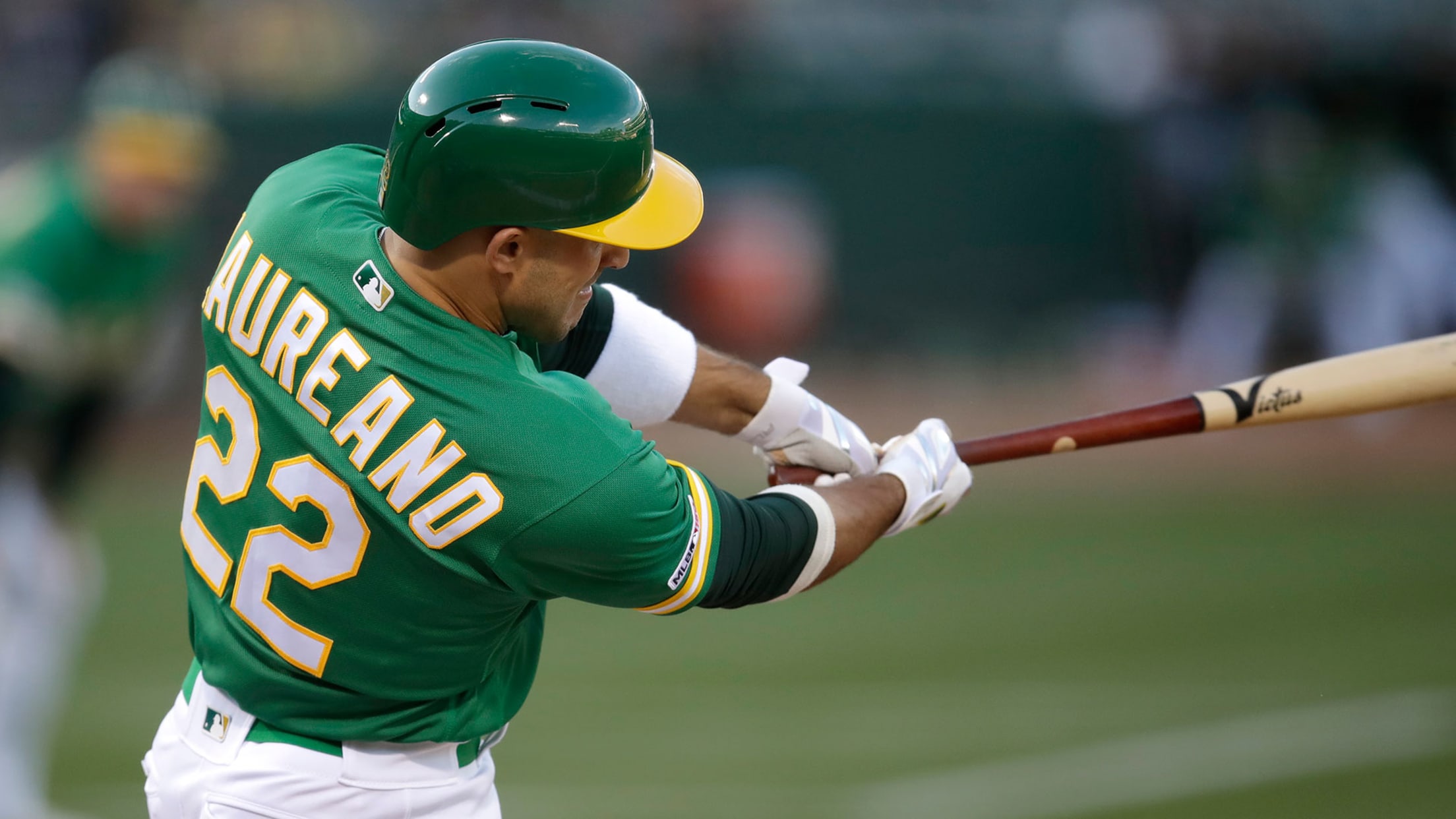 OAKLAND -- Ramón Laureano has meticulously followed each step of his rehab process, anxiously awaiting the green light from team doctors. Now he's been given an official target for a return. Laureano is expected to come off the 10-day injured list at some point in the A's upcoming three-game series
Chapman 'all right' after HBP scare
Third baseman struck in helmet by pitch in 1st inning Wednesday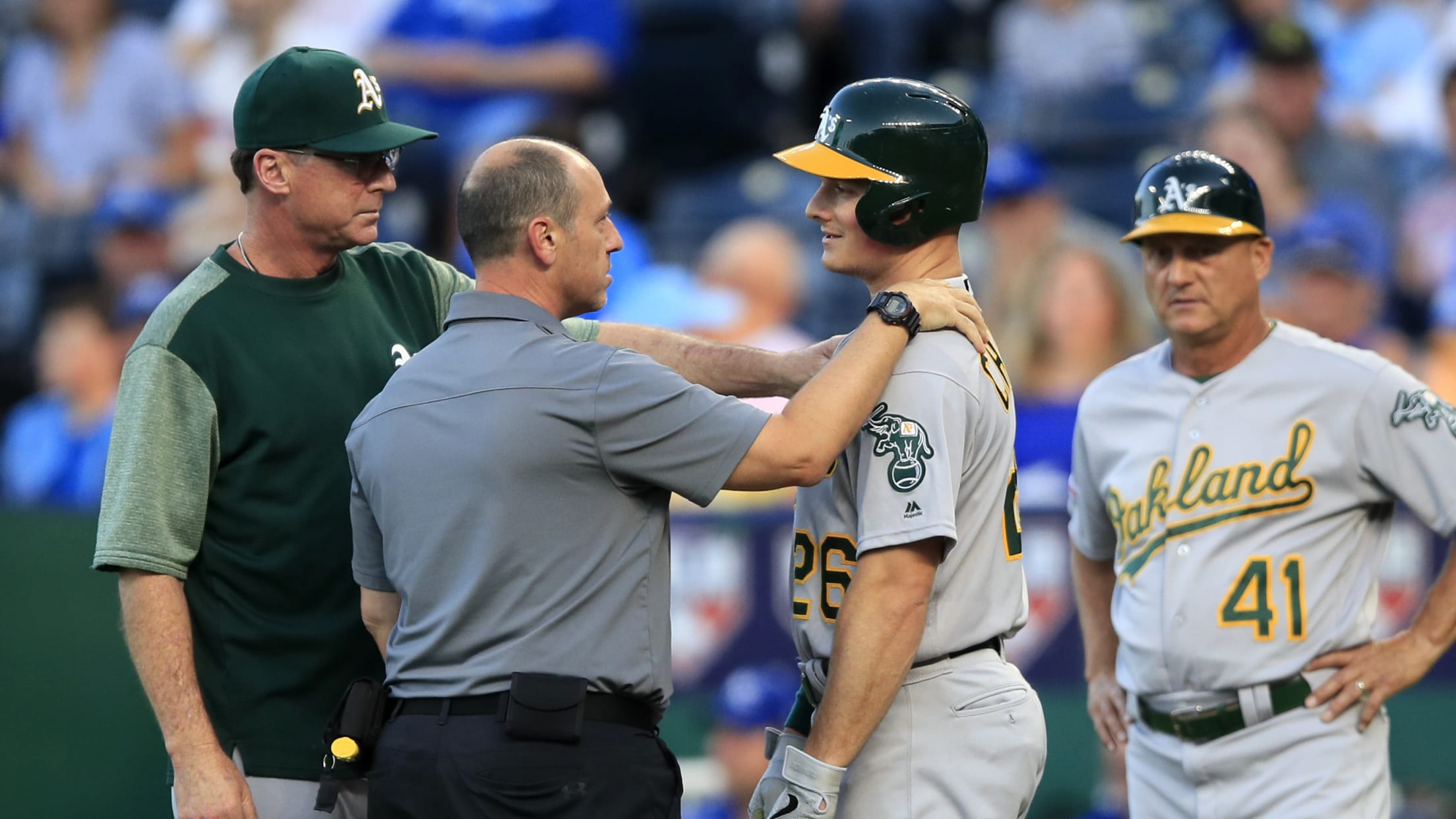 KANSAS CITY -- A's third baseman Matt Chapman left Wednesday's 6-4 loss to the Royals early after a scary moment in the first inning. After taking the first two pitches of his at-bat against Royals starter Jakob Junis, Chapman was nailed with a 90.7 mph pitch that caught the side