Athletics Arizona Fall League updates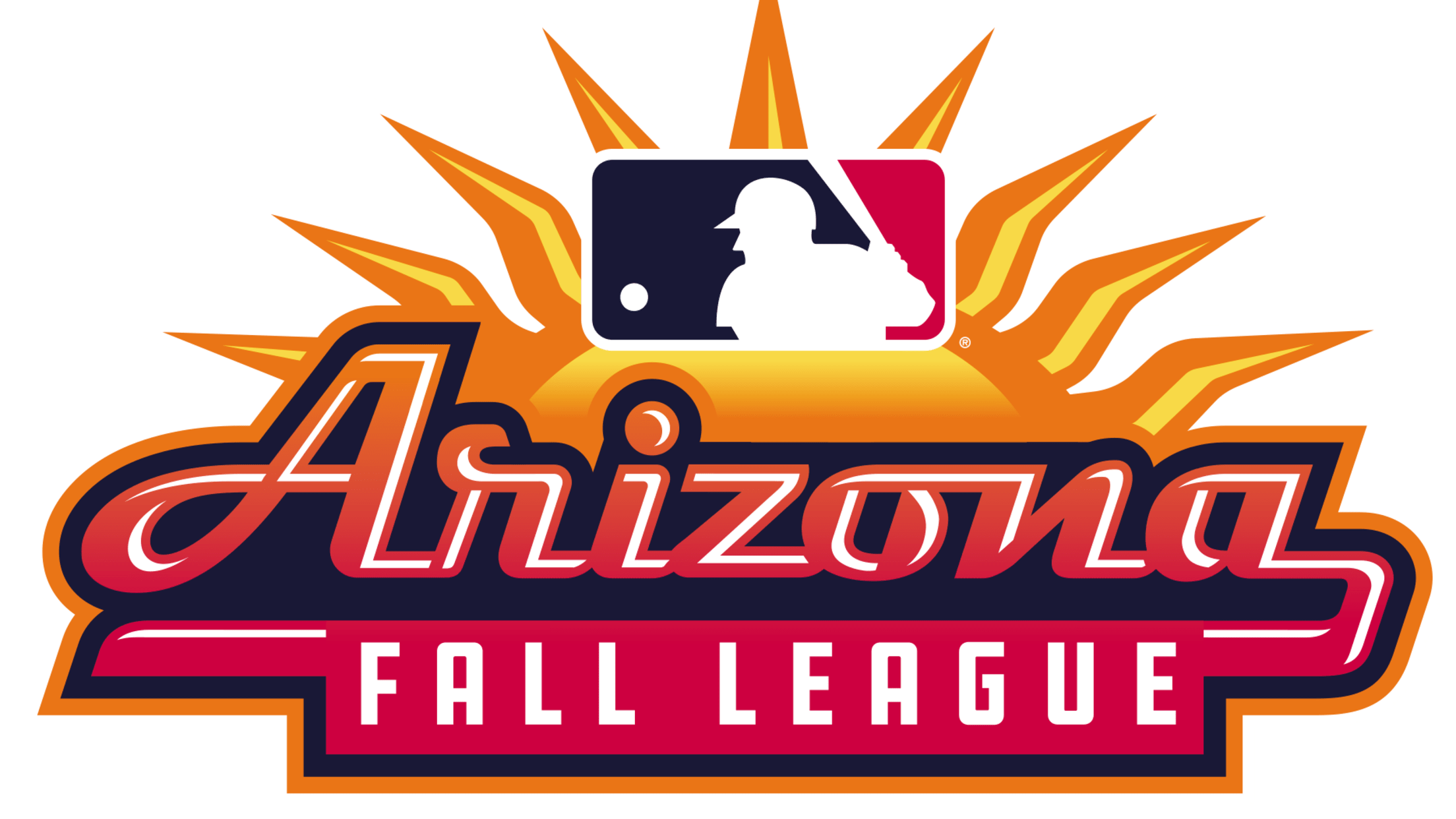 Seven A's prospects are playing for the Mesa Solar Sox in the 2019 Arizona Fall League: Shortstop Nick Allen (No. 6), outfielder Greg Deichmann (No. 17), first baseman Alfonso Rivas (No. 25), right-hander Brady Feigl (No. 28), right-hander Daniel Gossett, right-hander Jhenderson Hurtado, and right-hander Jesus Zambrano.
Here are the 7 A's in the Arizona Fall League
No. 6 prospect Allen excited to make up for lost time in AFL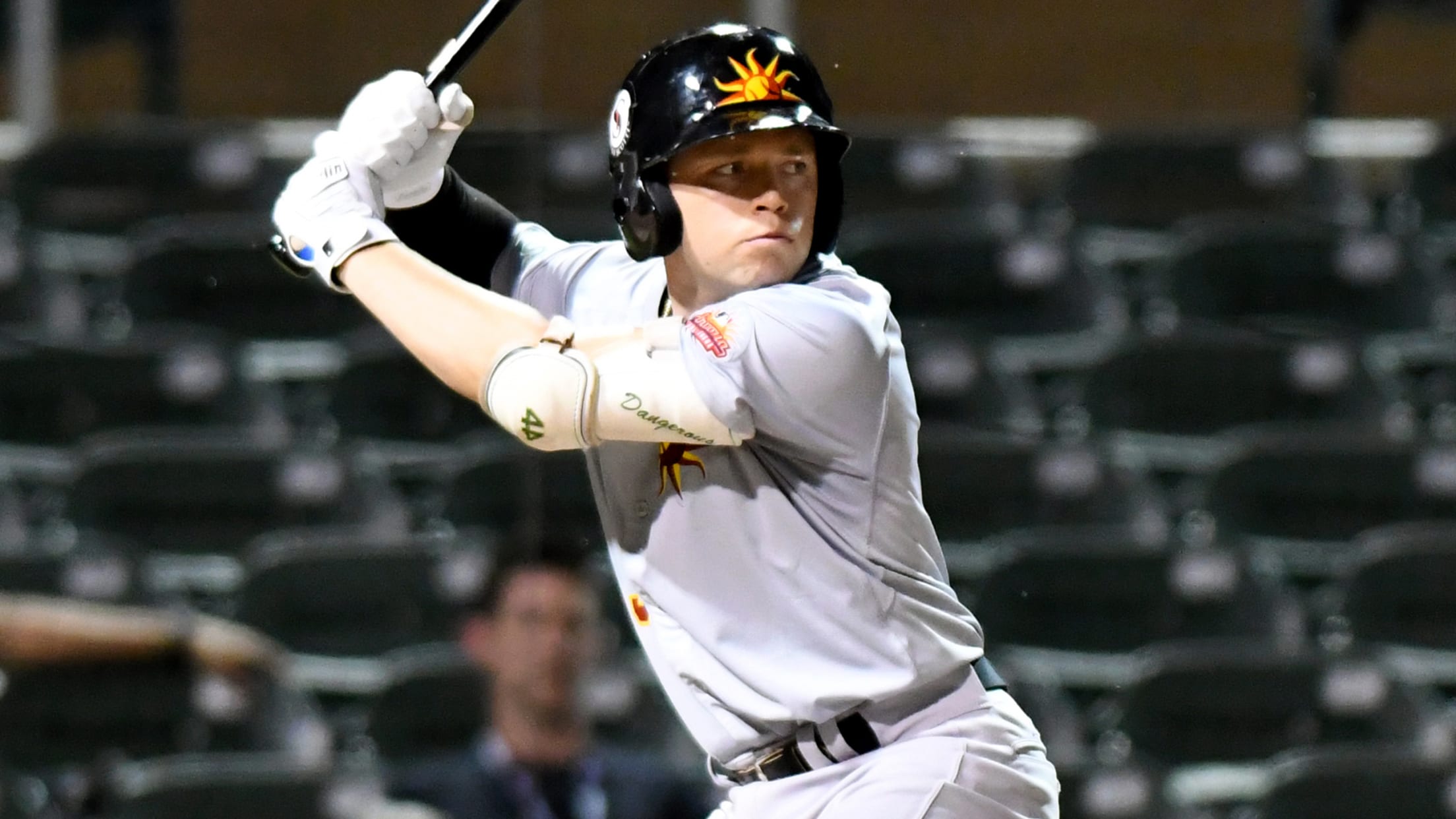 It looked like Nick Allen was having a breakout season at the plate with Stockton in the Class A Advanced California League in 2019. The A's No. 6 prospect, known more for his defensive prowess than his bat, had brushed off a first full season where he hit just .239/.301/.302
A's prospects deliver in walk-off AFL victory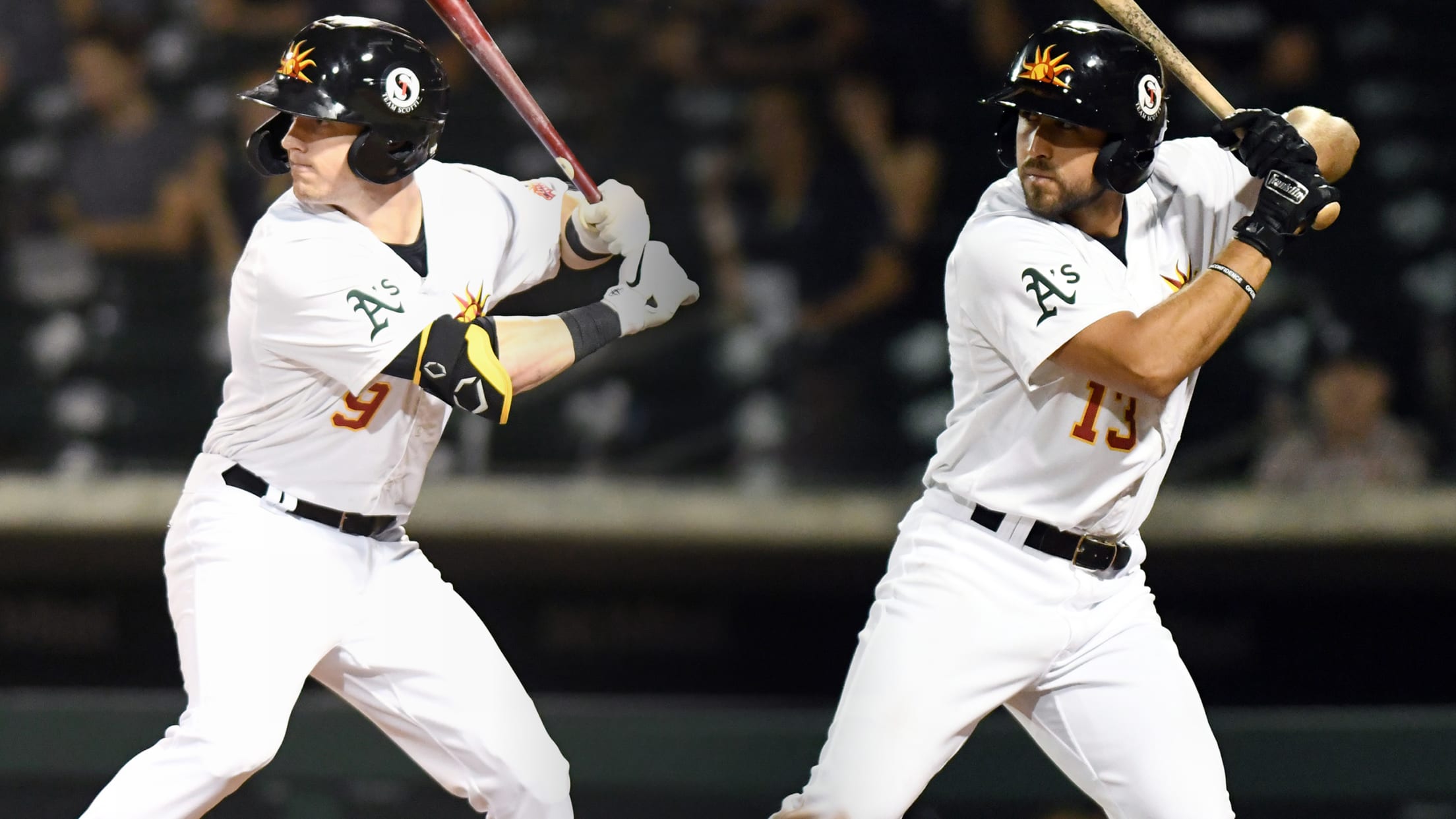 MESA, Ariz. – The chants in the home dugout started with one out in the ninth inning and the Mesa Solar Sox trailing by two runs in Arizona Fall League action. Mesa second baseman Nick Allen, Oakland's No. 6 prospect, could certainly hear it growing louder as he strolled to
Pipeline names A's Prospects of the Year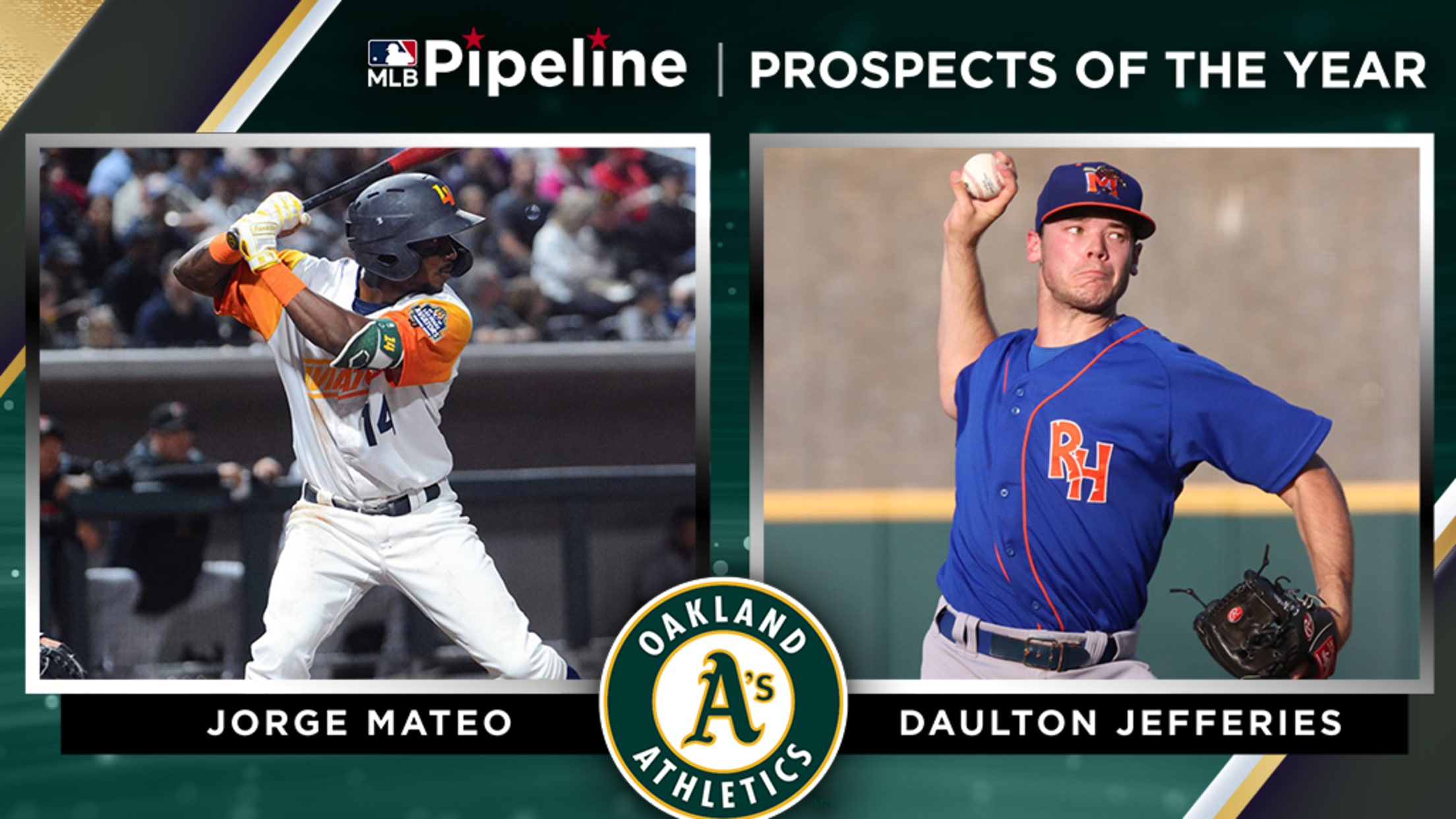 OAKLAND -- A tough-luck injury prevented Jorge Mateo from reaching the Majors in 2019, but his overall body of work has positioned him nicely as one of the A's top hitting prospects. Mateo has been named Oakland's Minor League Hitter of the Year by MLB Pipeline, while right-hander Daulton Jefferies
A's break out the brooms behind Manaea's gem
Luzardo fires 3 innings of 1-run ball to earn first career save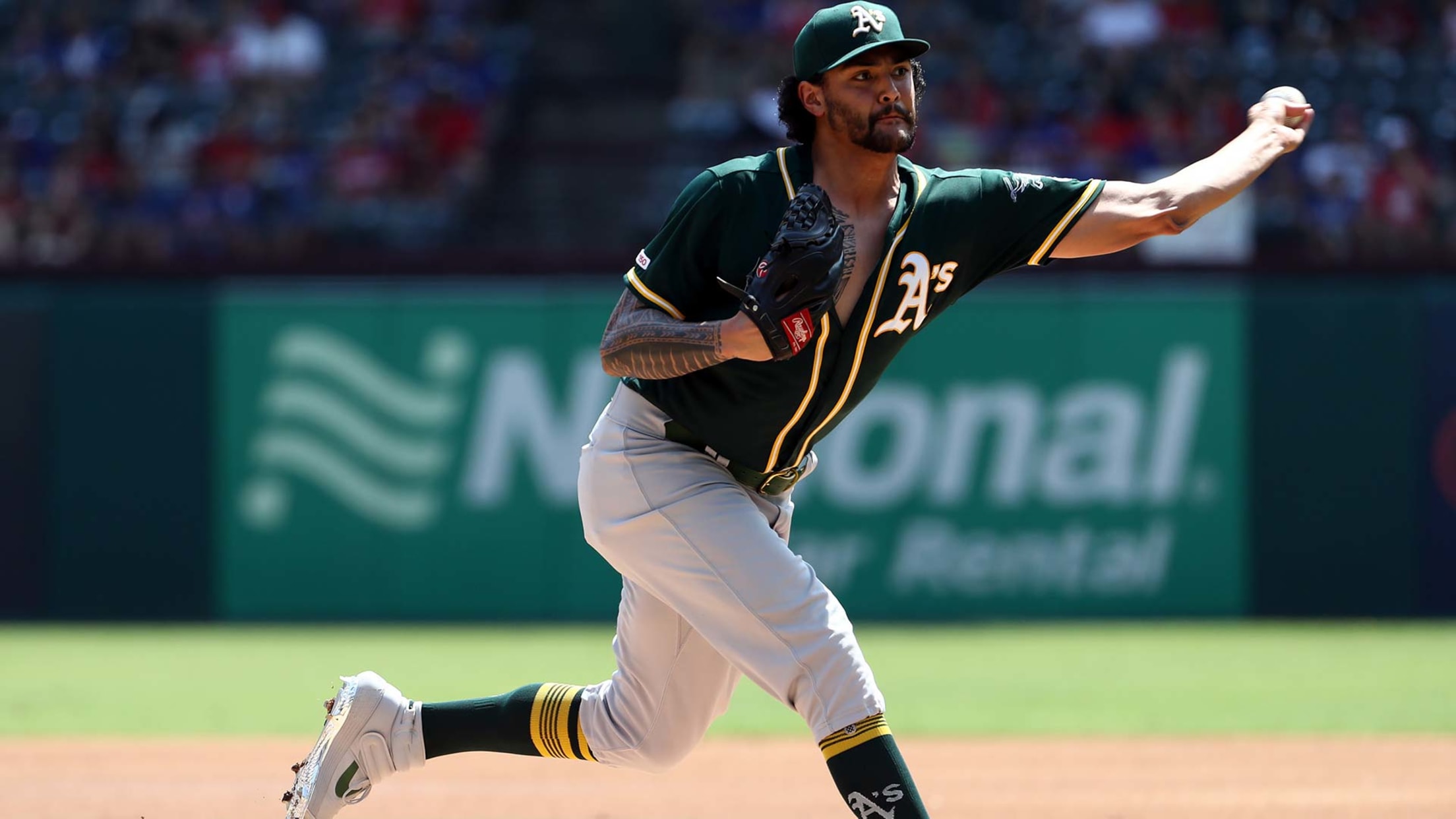 ARLINGTON -- Given the A's just won their 90th game of the season, it's fair to say they managed pretty well without Sean Manaea while the lefty was rehabbing from last year's shoulder surgery. But if Manaea pitches as well as he has through his first three outings since being
Luzardo debuts with 3 IP of high-stakes relief
A's top prospect clocked at 98 mph, allows one hit (solo HR)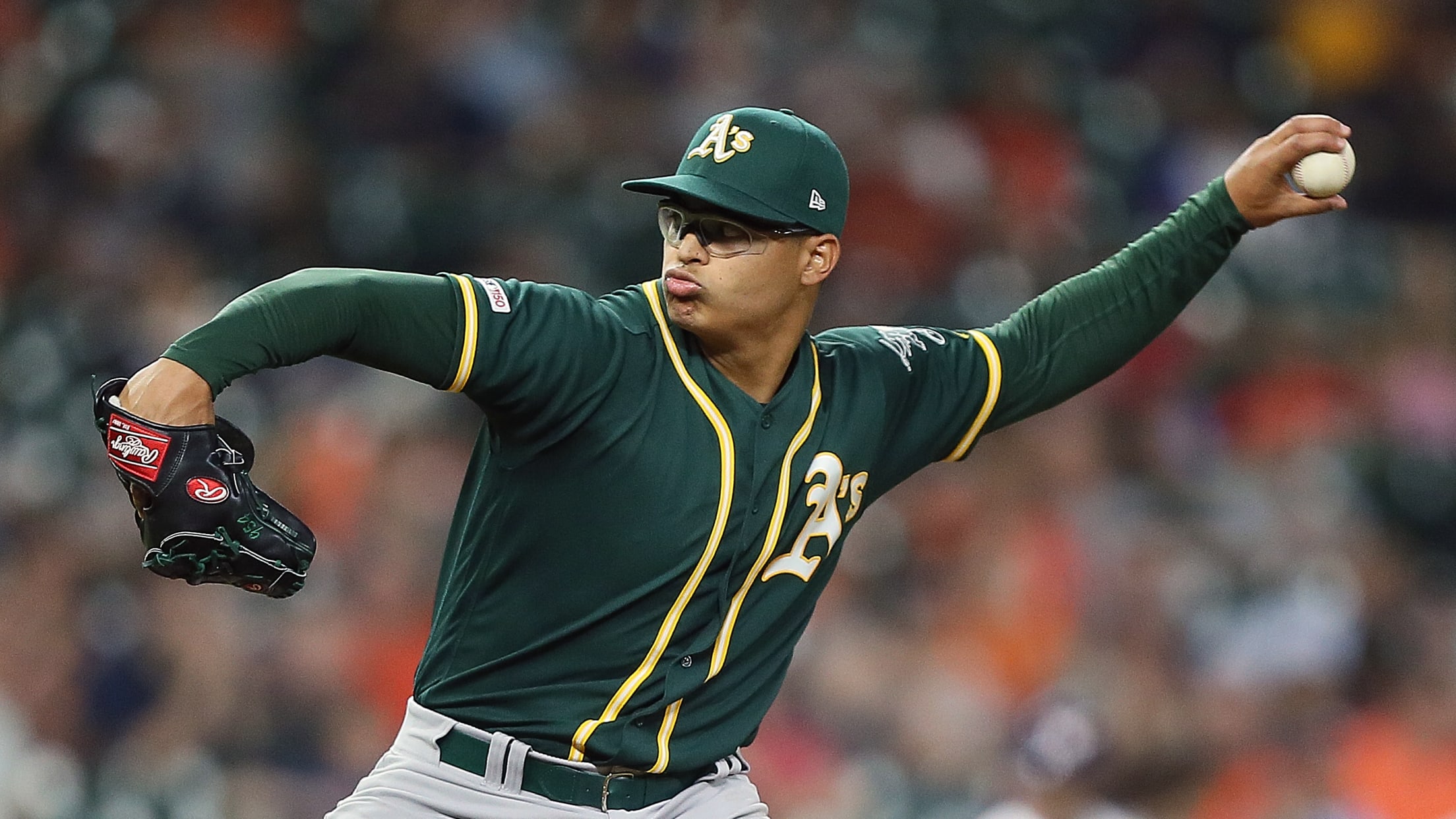 HOUSTON -- Few debuts in A's history have come with as much anticipation as the fanfare surrounding the one for young phenom Jesus Luzardo. After getting the call to the Majors on Monday, the left-hander finally took a big league mound for the first time on Wednesday night, and he
A's call up No. 1 prospect Luzardo
Peruvian-born lefty likely to come out of bullpen; Mengden recalled, Barrera to 60-day IL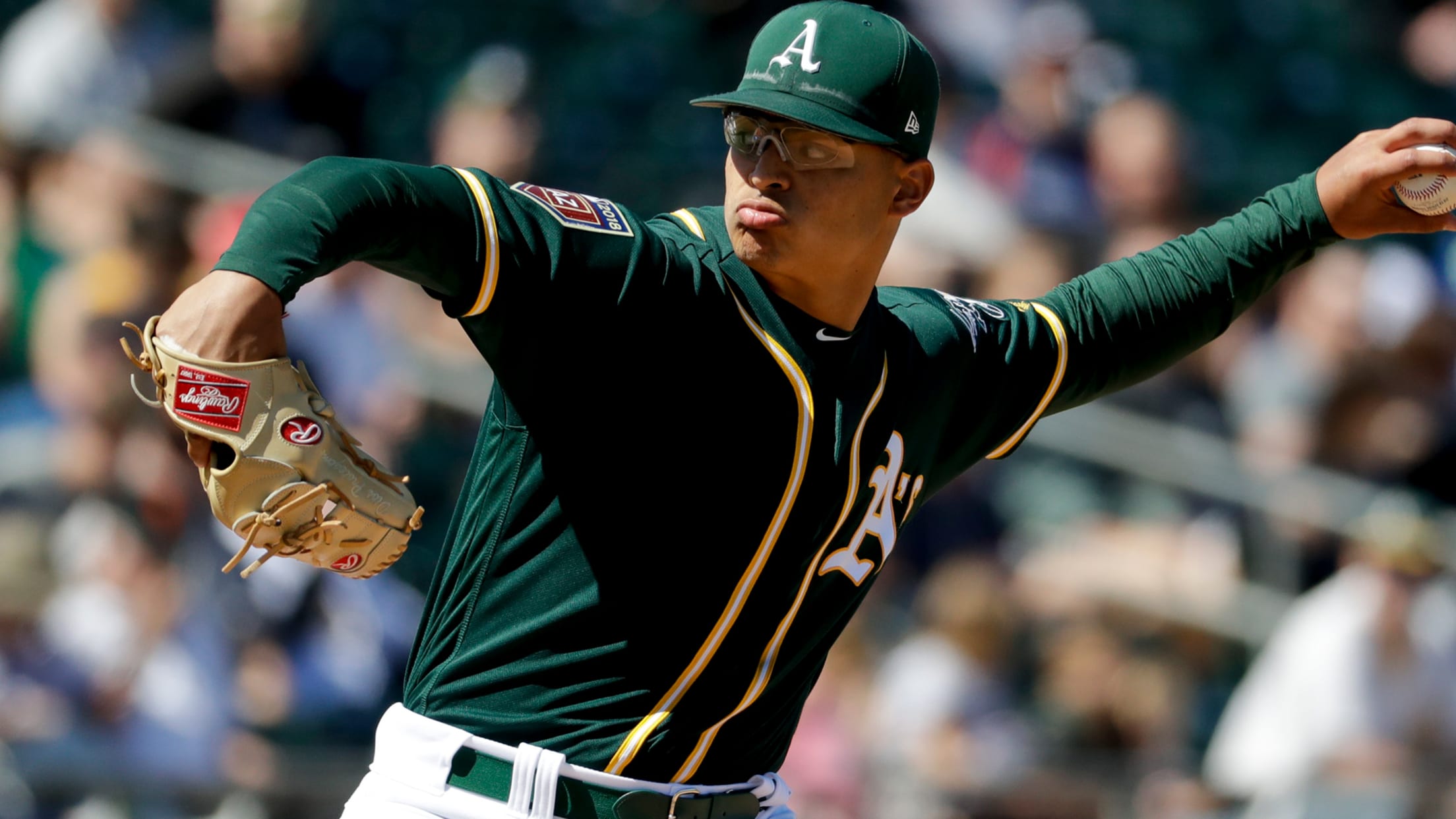 HOUSTON -- It's the dawn of a new era: The Jesus Luzardo Era. The A's selected Luzardo, their No. 1 prospect and No. 18 prospect in baseball per MLB Pipeline, and also recalled right-hander Daniel Mengden from Triple-A Las Vegas on Monday. The left-hander joined the club at Minute Maid
Here's what to expect from Luzardo in the bigs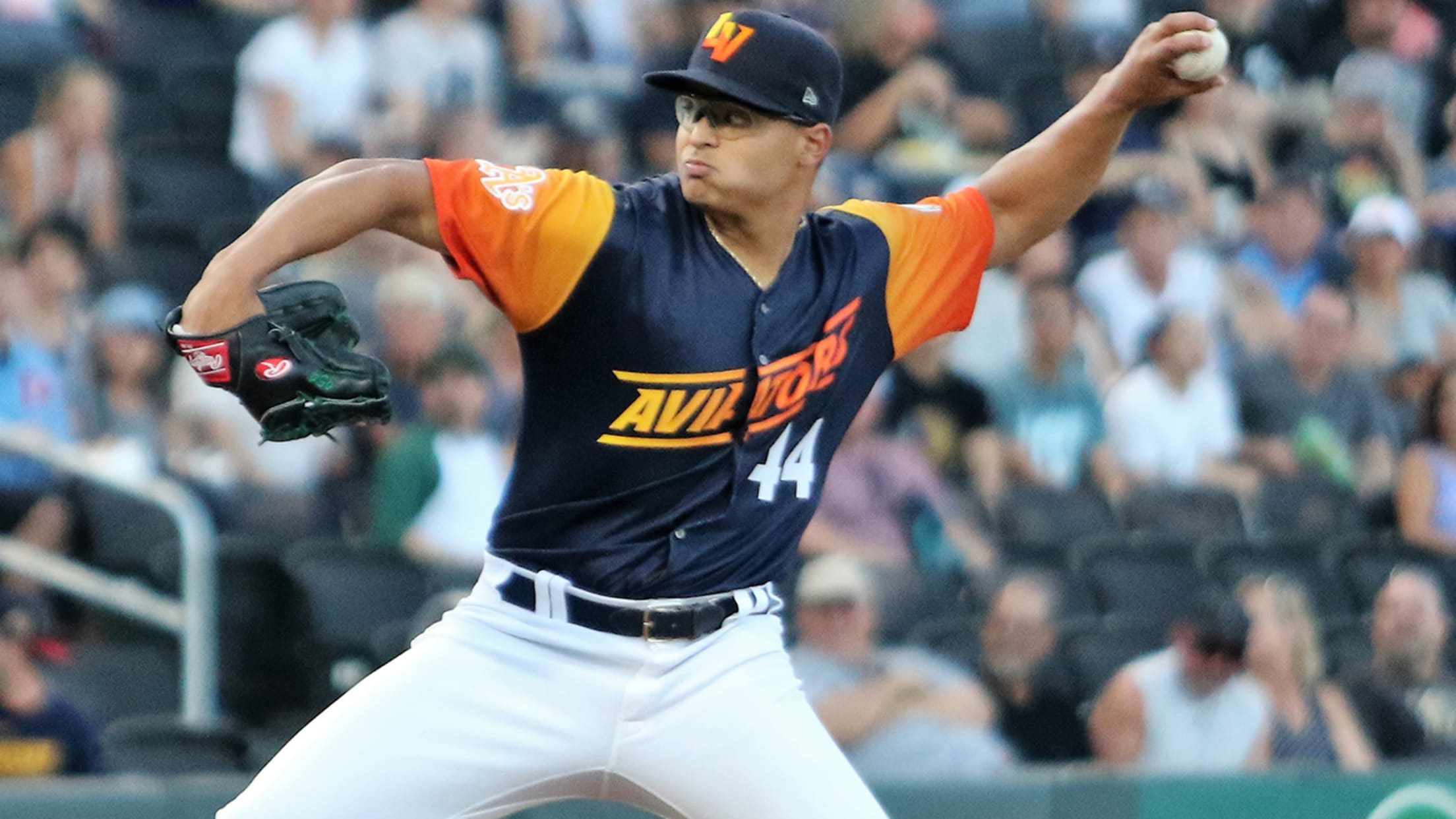 If you had asked anyone within the A's organization in February about top prospect Jesus Luzardo pitching in the big leagues in 2019, the answer would have been some kind of "when, not if" reply. And most would have put the over/under at some point in the first month or
A's Murphy has memorable big league debut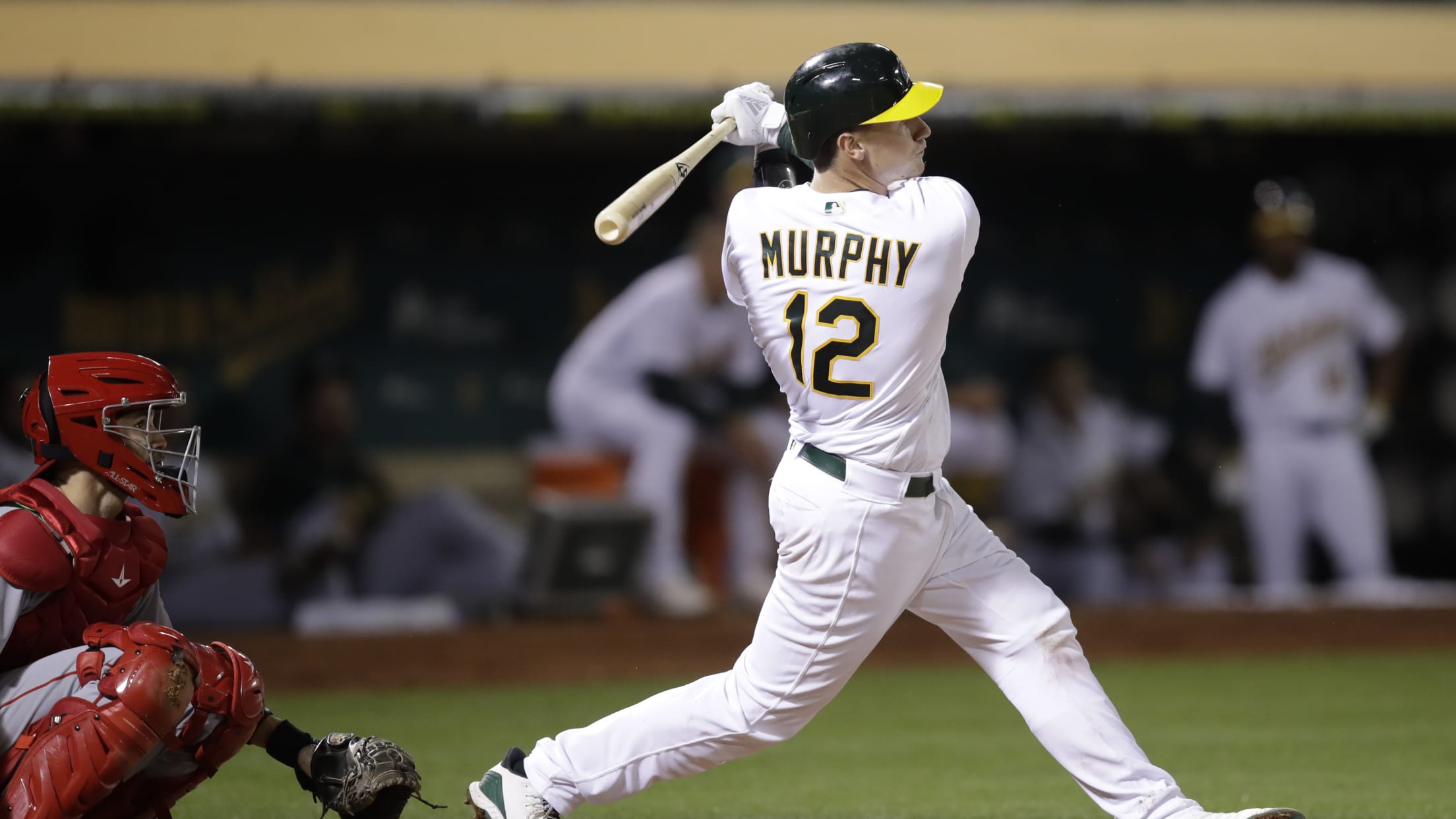 OAKLAND -- Sean Murphy sat around patiently for three days as he waited to get his first taste of big league action after joining the A's on Sunday as a September callup. That chance finally came Wednesday, and he wasted no time making an impact. Murphy provided a glimpse into
No. 3 prospect Murphy among A's callups
RHP Blackburn, INF Barreto also brought up from Triple-A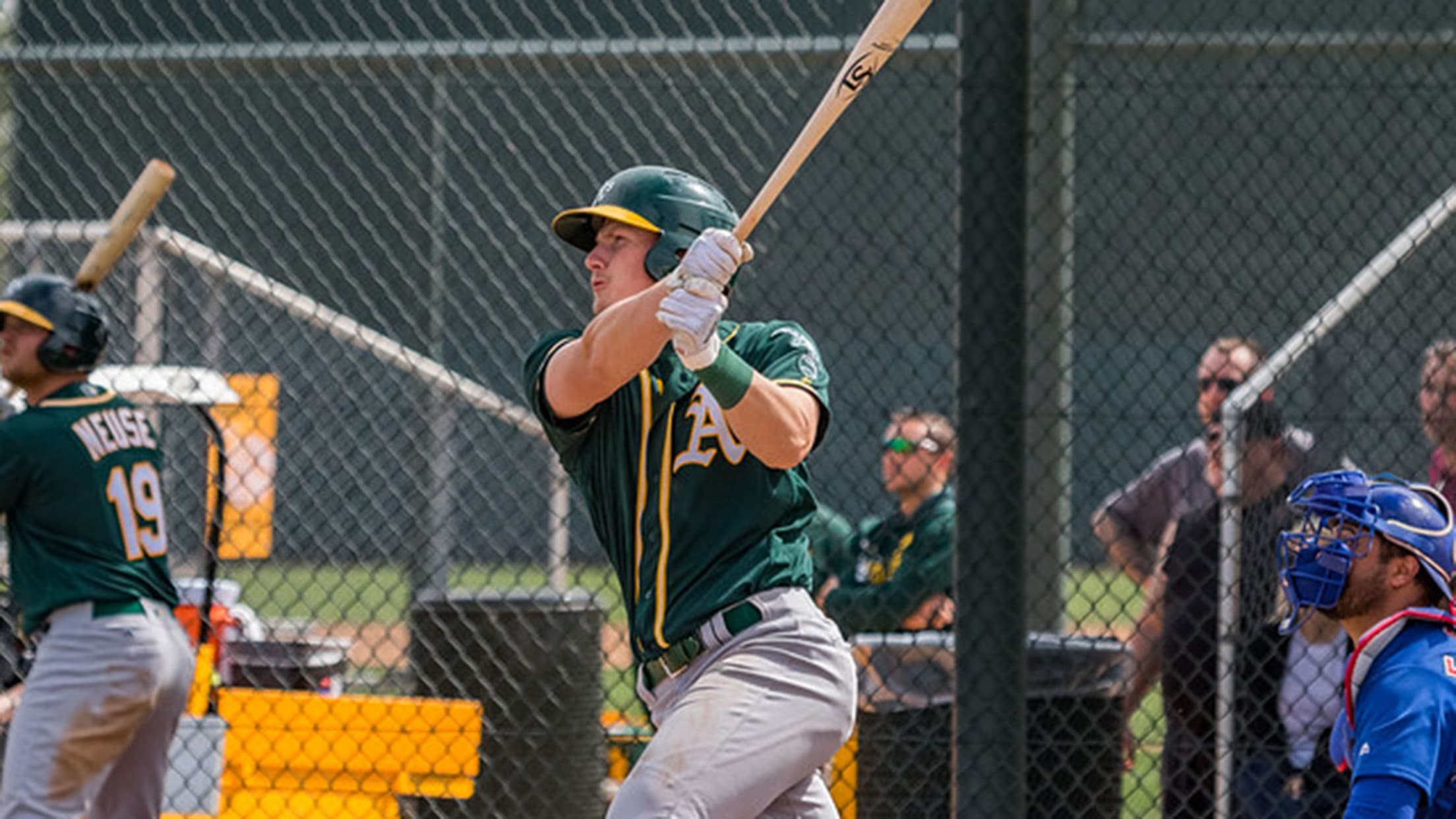 In the midst of the American League Wild Card race, the A's made moves to improve their roster Sunday by calling up catcher Sean Murphy, pitcher Paul Blackburn and infielder Franklin Barreto from Triple-A Las Vegas. Murphy, the club's No. 3 prospect according to MLB Pipeline, is expected to see
'Big moment' for Neuse as he makes MLB debut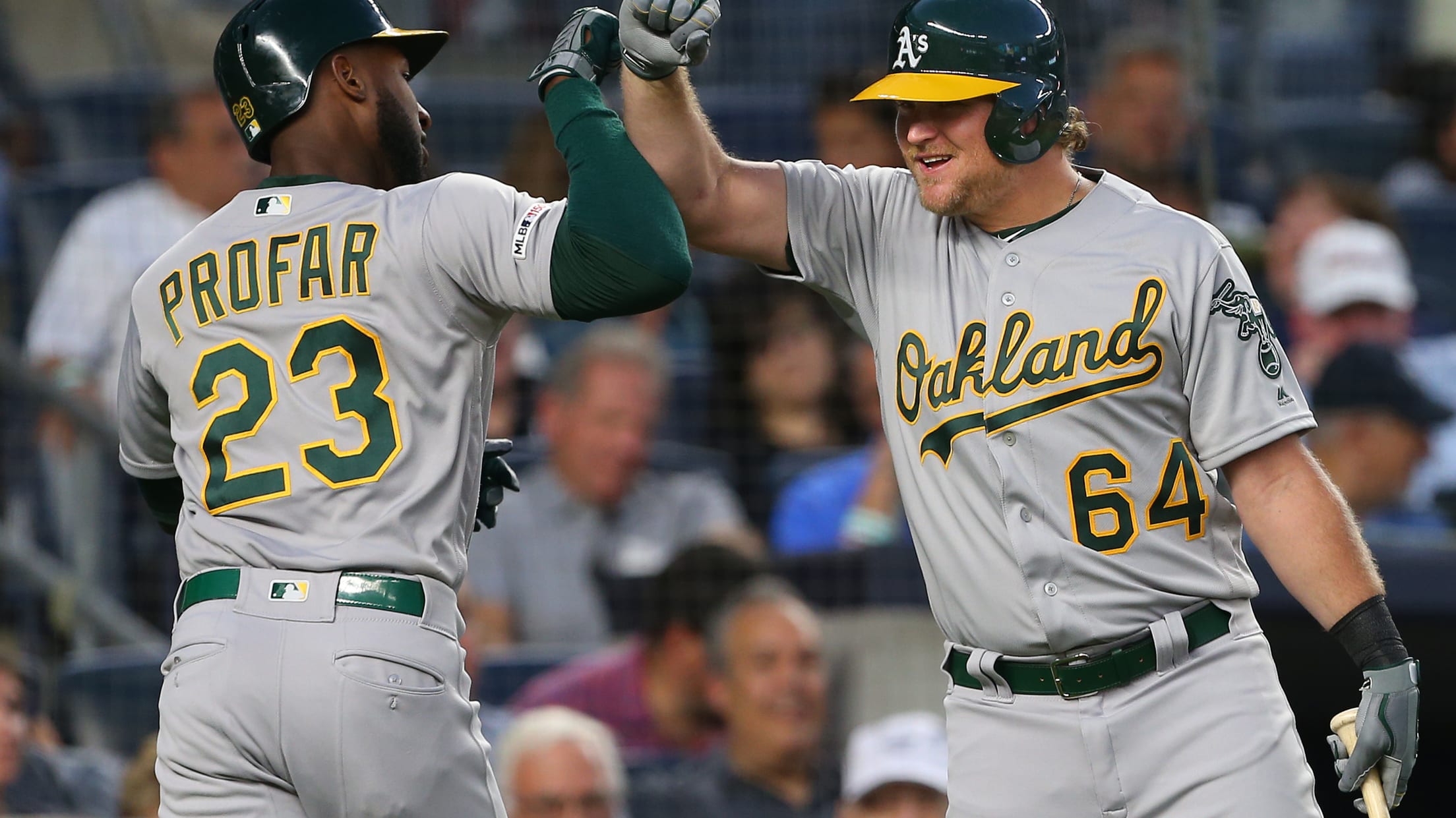 NEW YORK -- Infielder Sheldon Neuse, the Athletics' No. 8 prospect according to MLB Pipeline, made his Major League debut in Oakland's 8-2 victory over the Yankees on Friday night, batting eighth as the designated hitter. He went 0-for-3 with a walk. Manager Bob Melvin considered putting Neuse at second
Neuse (27 HRs, 102 RBIs) promoted to Majors
Davis placed on paternity list; Wang designated for assignment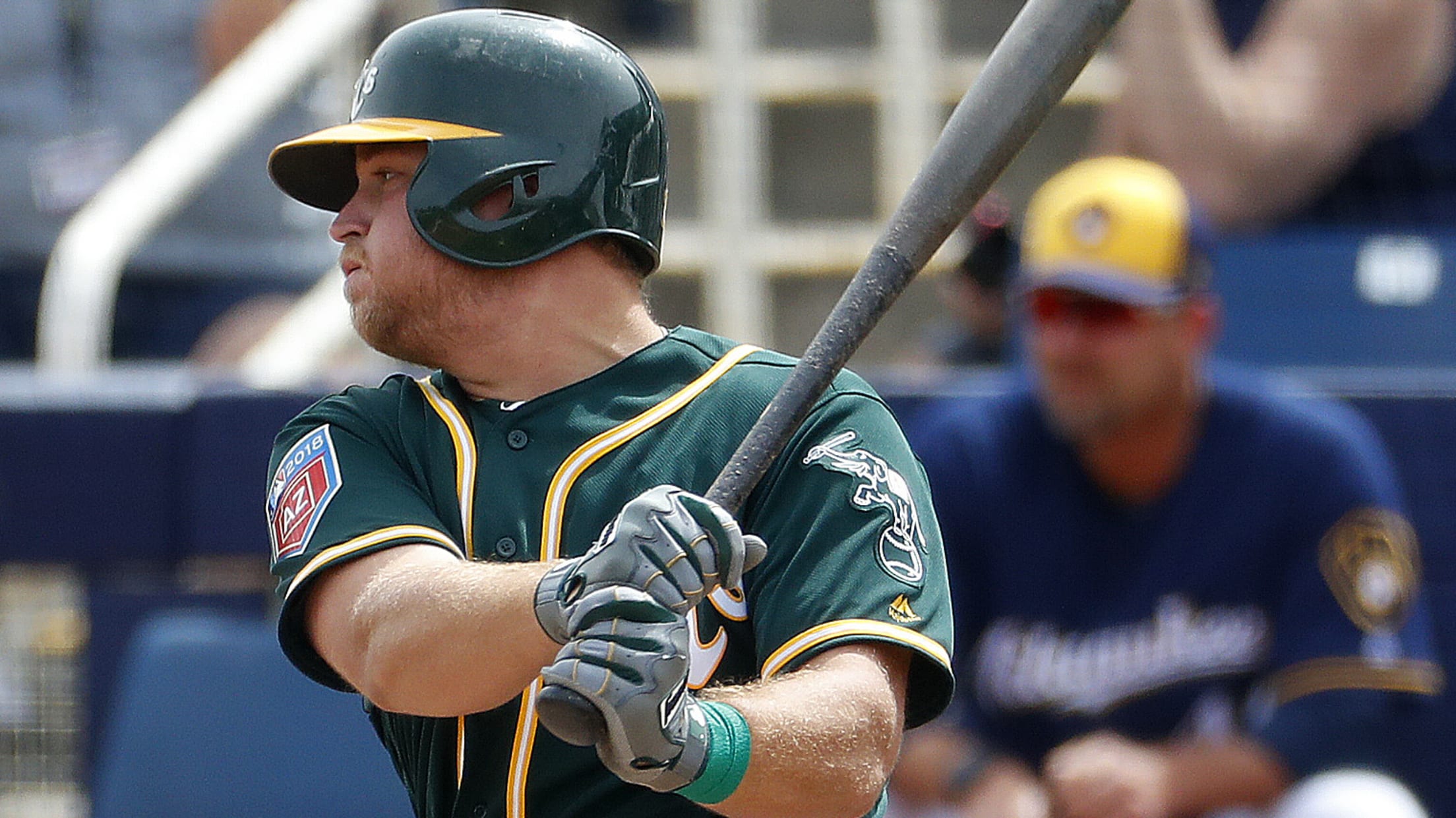 KANSAS CITY -- The A's called up one of their top hitting prospects ahead of Thursday's series finale against the Royals. With Khris Davis on paternity leave for the birth of his second child, Sheldon Neuse's contract was purchased from Triple-A Las Vegas. In order to clear a spot on
Brown impresses A's with defense against KC
Rookie left fielder's catch, 1st assist help Fiers collect 13th win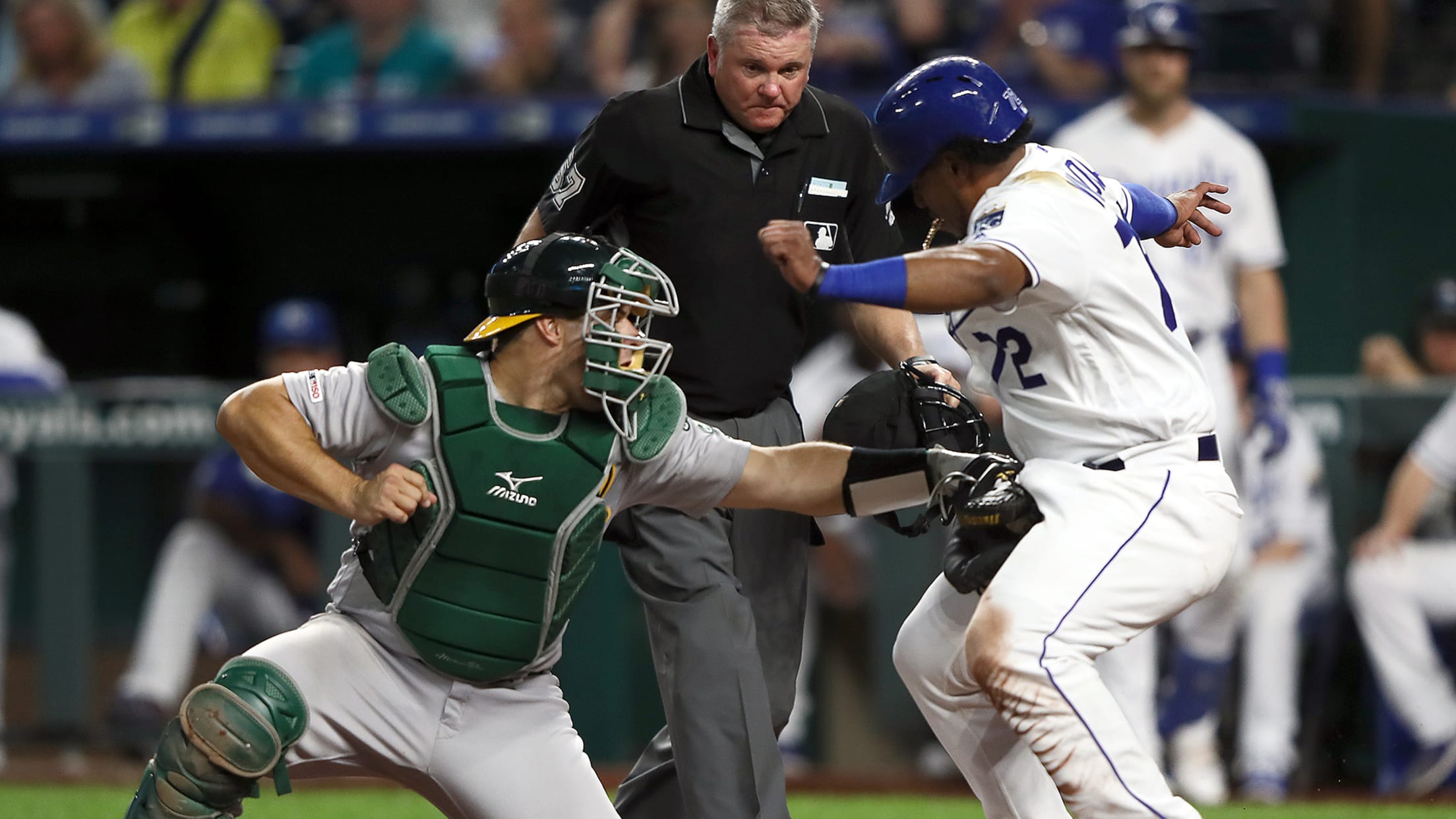 KANSAS CITY -- After learning what Seth Brown can do at the plate the previous night, the A's found out the rookie can also play a little defense. Playing in just his second Major League game, Brown provided a couple of defensive gems for the highlight reel in Oakland's 2-1
Top prospect A.J. Puk joins A's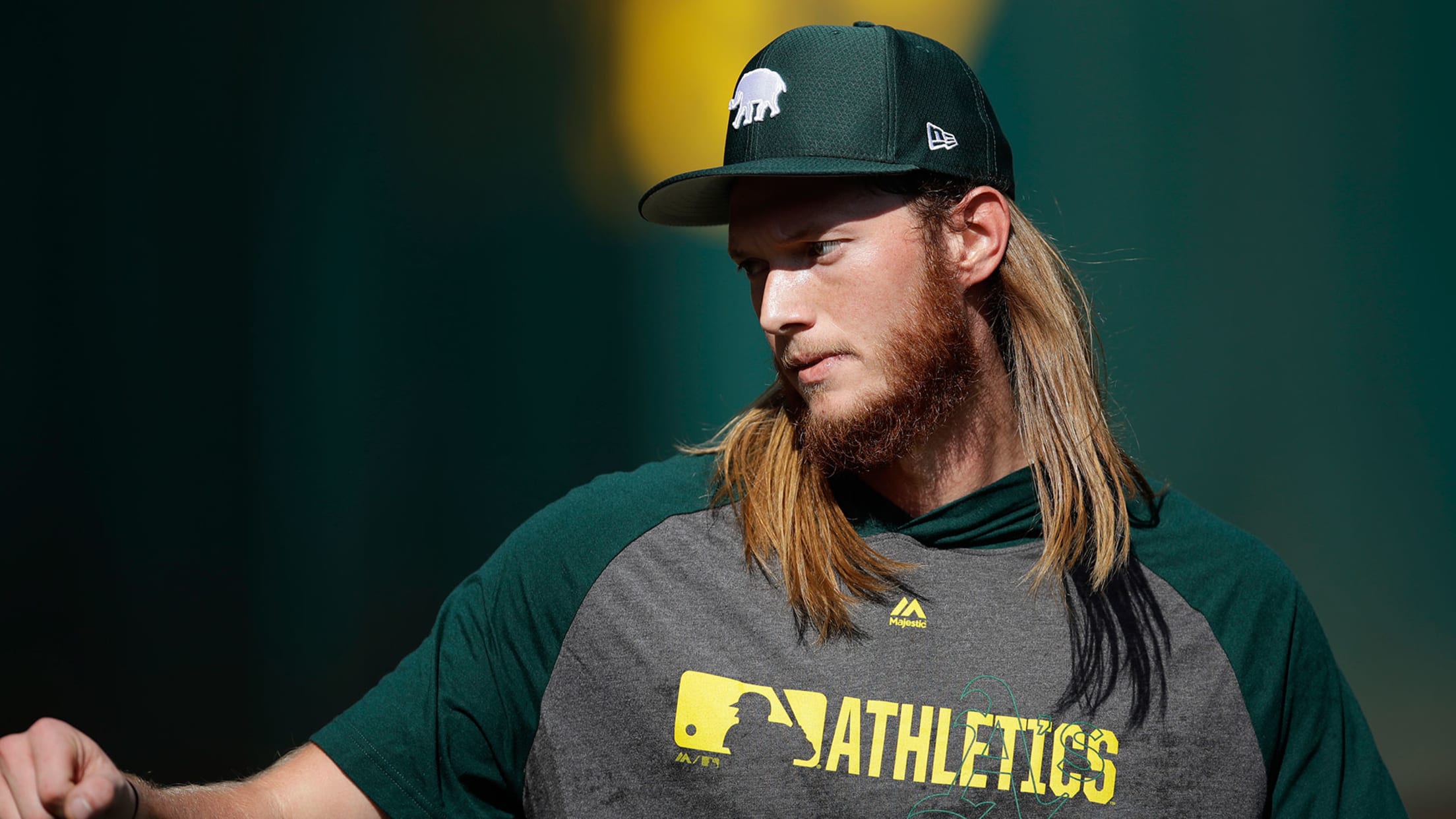 OAKLAND -- The A's expect A.J. Puk to serve as one of the anchors to their starting rotation for years to come. His first chance to make an impact in the Majors, however, will come in a different role. Puk, rated Oakland's No. 2 prospect and No. 43 overall by
A's top prospect Luzardo has Grade 2 lat strain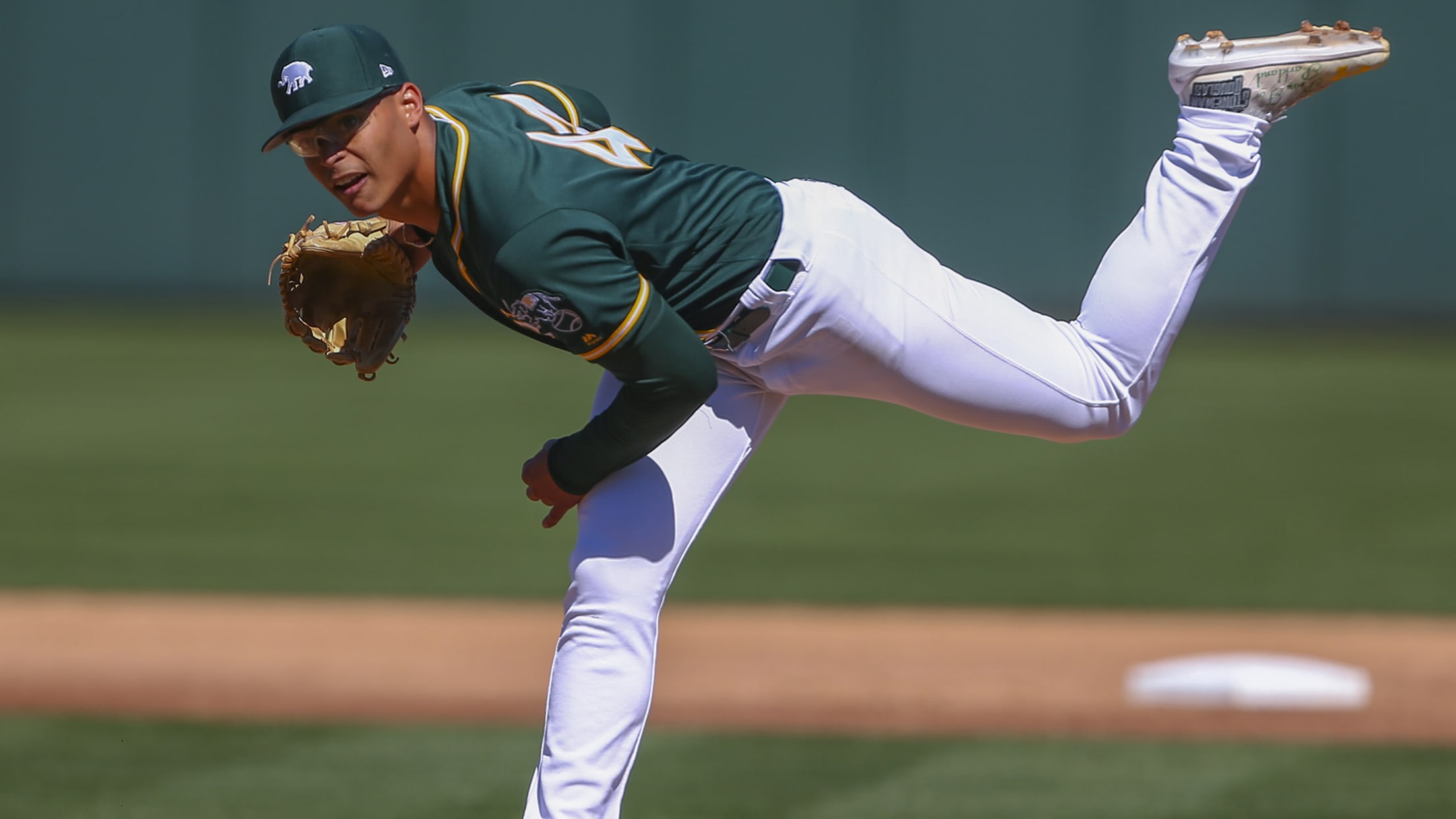 OAKLAND -- The A's received tough news on left-hander Jesus Luzardo on Wednesday, when they announced that MRI results revealed a Grade 2 lat strain for the club's No. 1 prospect per MLB Pipeline. Luzardo, MLB's No. 15 overall prospect, was pulled from his start at Triple-A Las Vegas on
A's have deal with No. 2 int'l prospect Puason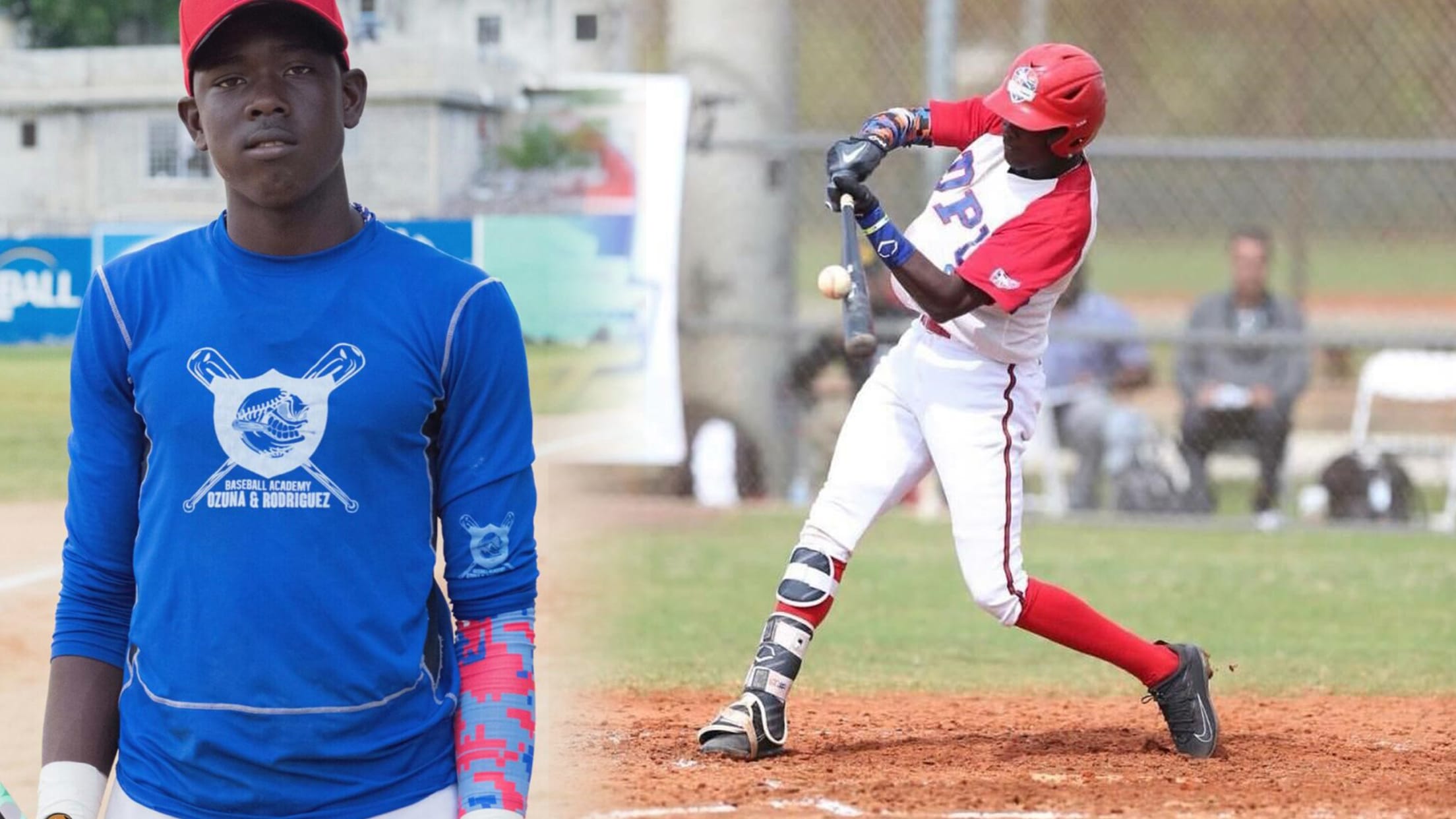 OAKLAND -- This year's pool of international prospects is considered to be one of the most loaded in recent history, and the A's believe they just landed the best player of the group. • Here's where top international prospects are signing today The A's reached an agreement on Tuesday with
No. 8 prospect Mateo selected to Futures Game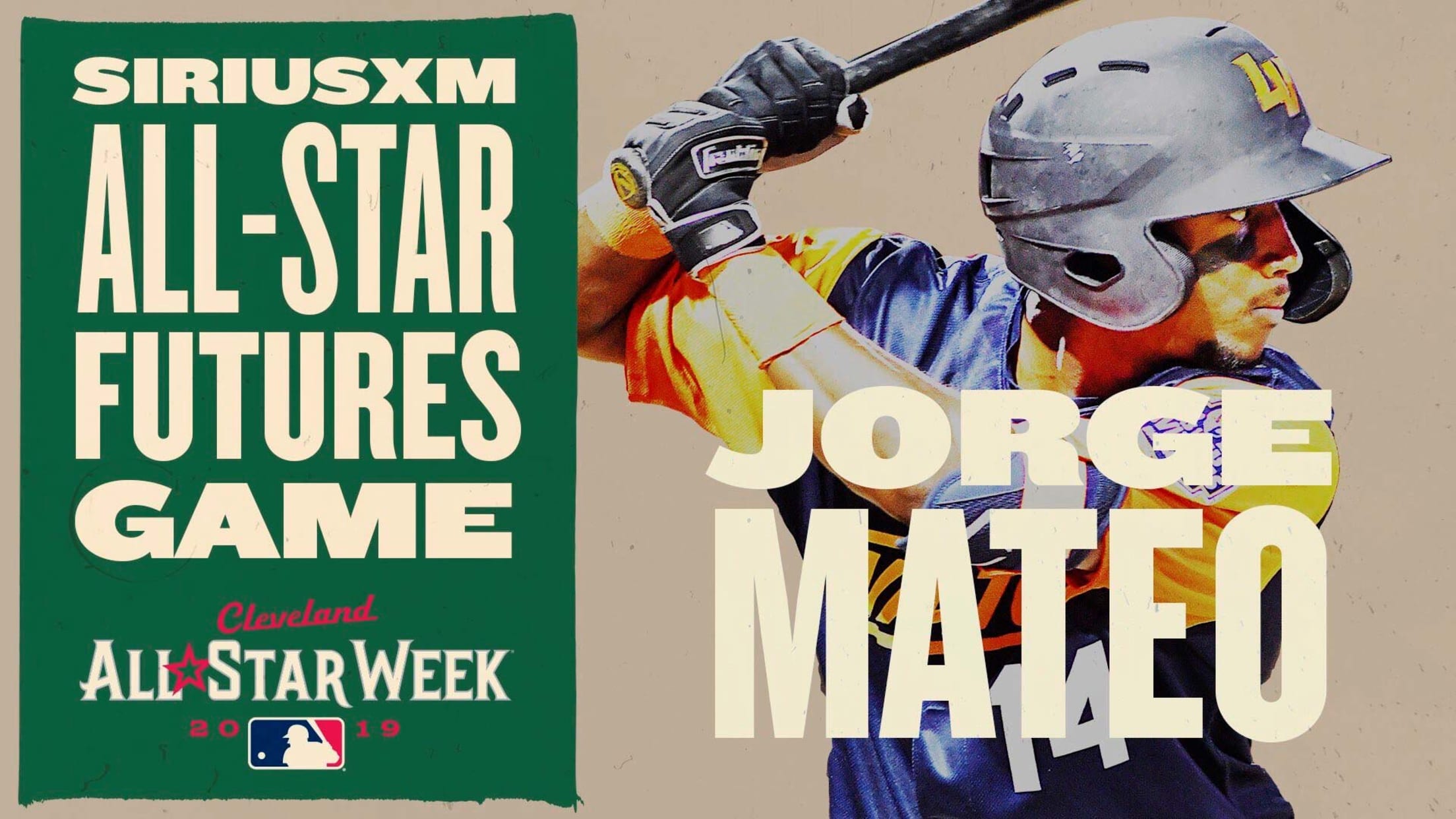 ANAHEIM -- Jorge Mateo will be representing the A's in the 2019 SiriusXM All-Star Futures Game in Cleveland on July 7, a development few in the organization foresaw around this time just a year ago. Acquired in the 2017 deal that sent Sonny Gray to the Yankees, Mateo arrived to
Inbox: When will lefties Luzardo, Puk arrive?
Beat reporter Martin Gallegos answers questions from Oakland fans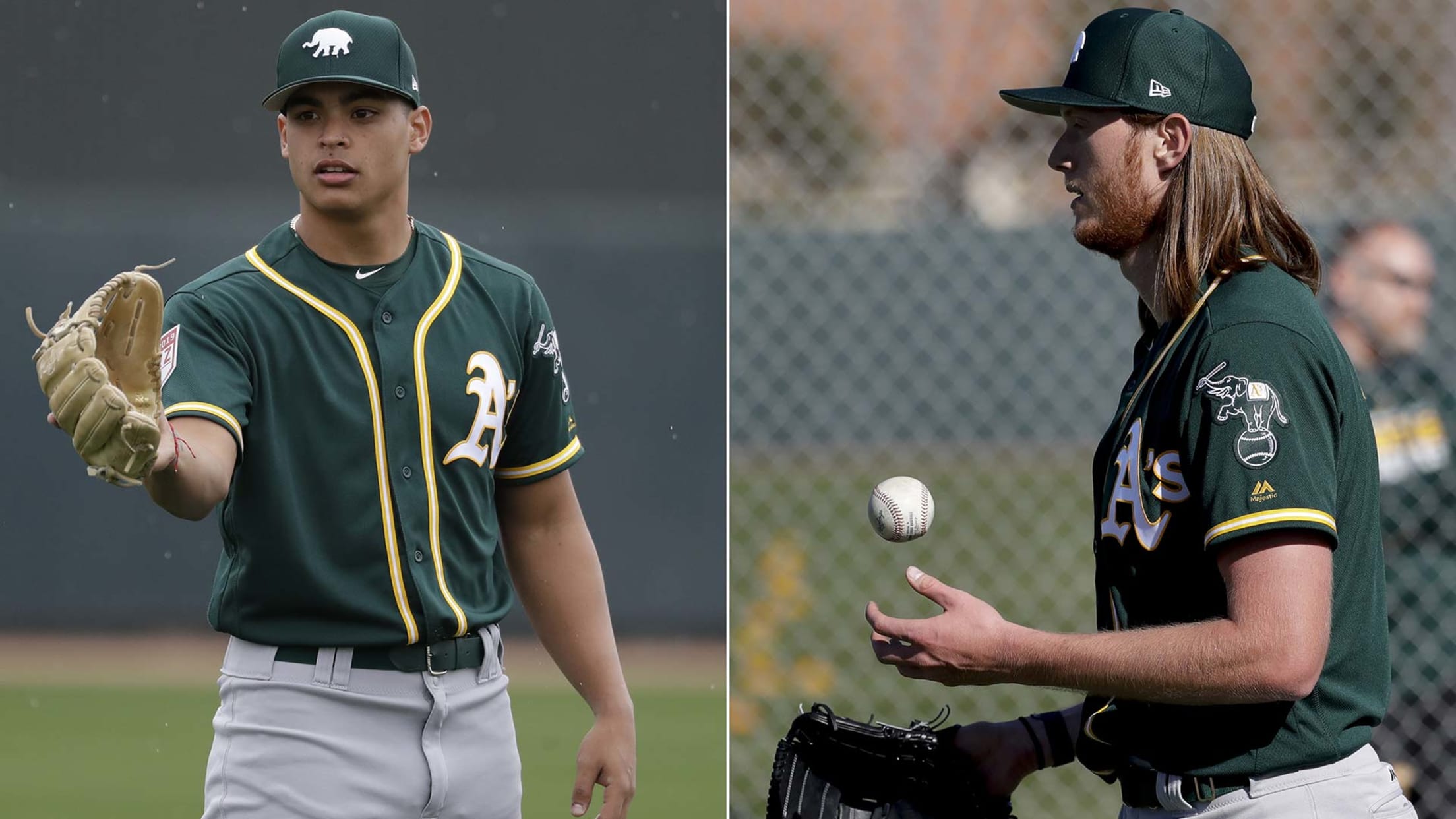 Are you expecting Jesus Luzardo and A.J. Puk to be in the rotation after the All-Star break? -- @The3rand via Twitter Post-All-Star break is a pretty accurate timetable for Luzardo, the A's No. 1 prospect. The left-hander's fastball reached 99 mph in his rehab start with Triple-A Las Vegas on
Here are future All-Stars from the AL West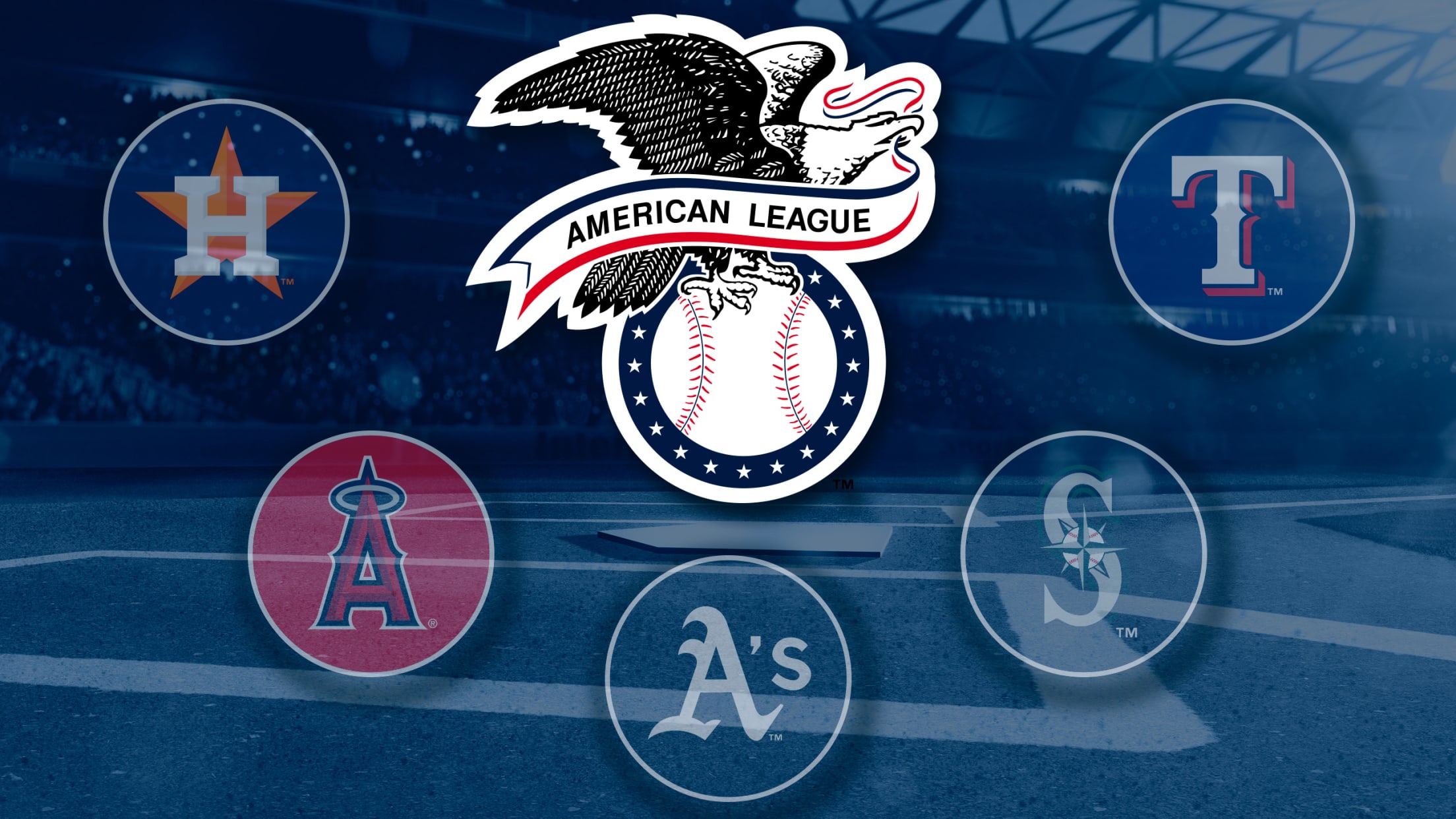 We're pretty close to finding out who this year's All-Stars will be, and while there may be some surprise elections and selections revealed, it's not that difficult to figure out which worthy candidates are most likely to hear their names called. But what about next year's All-Stars? Predicting that may
Davidson excited about opportunity with A's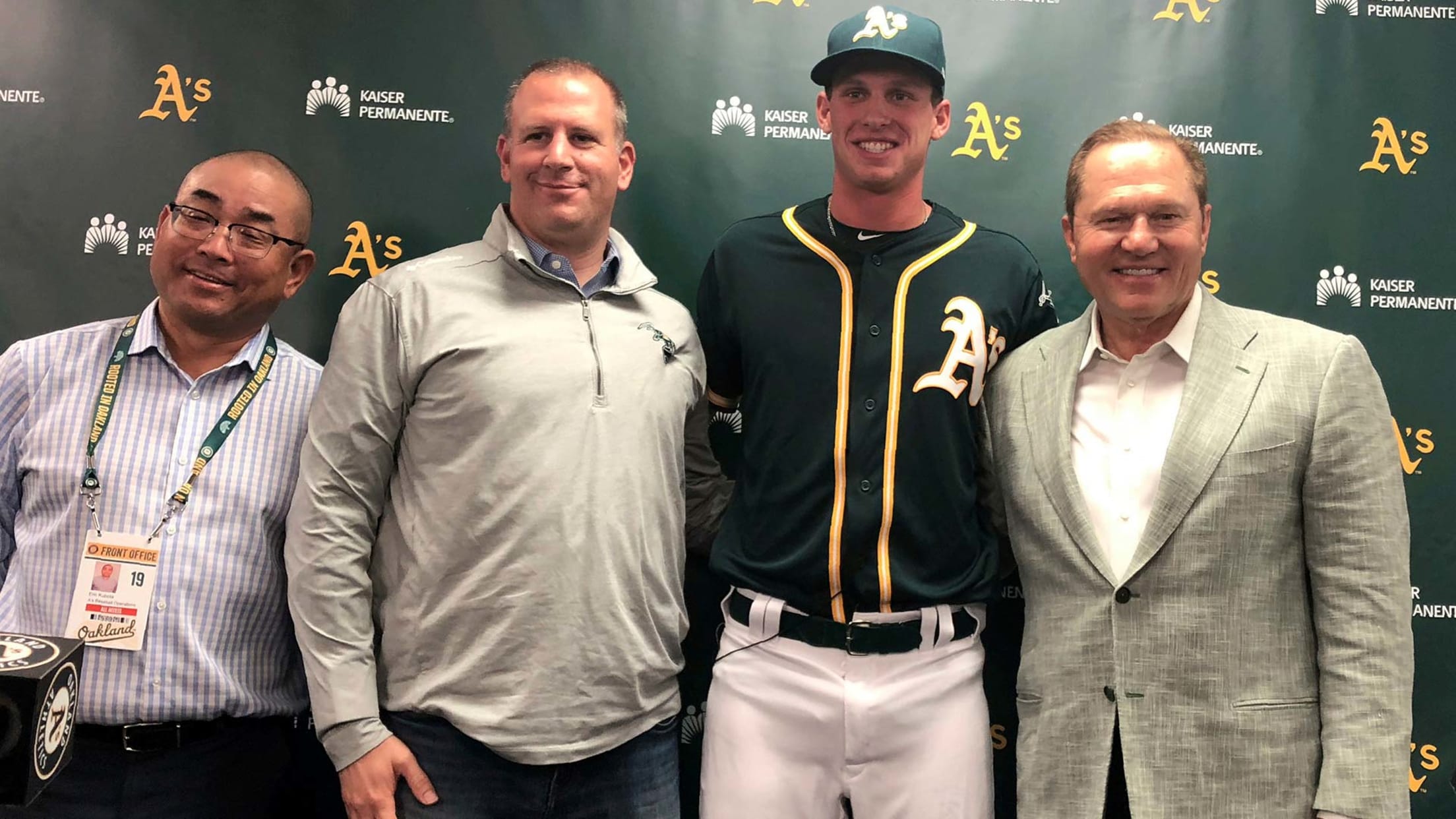 OAKLAND -- Logan Davidson has an idea about what it's like to play in the big leagues. After all, his father, Mark, played six seasons with the Astros and Twins. But when he stepped into the A's clubhouse at the Coliseum for the first time in his life on Monday
A's have deal with 1st-round pick (sources)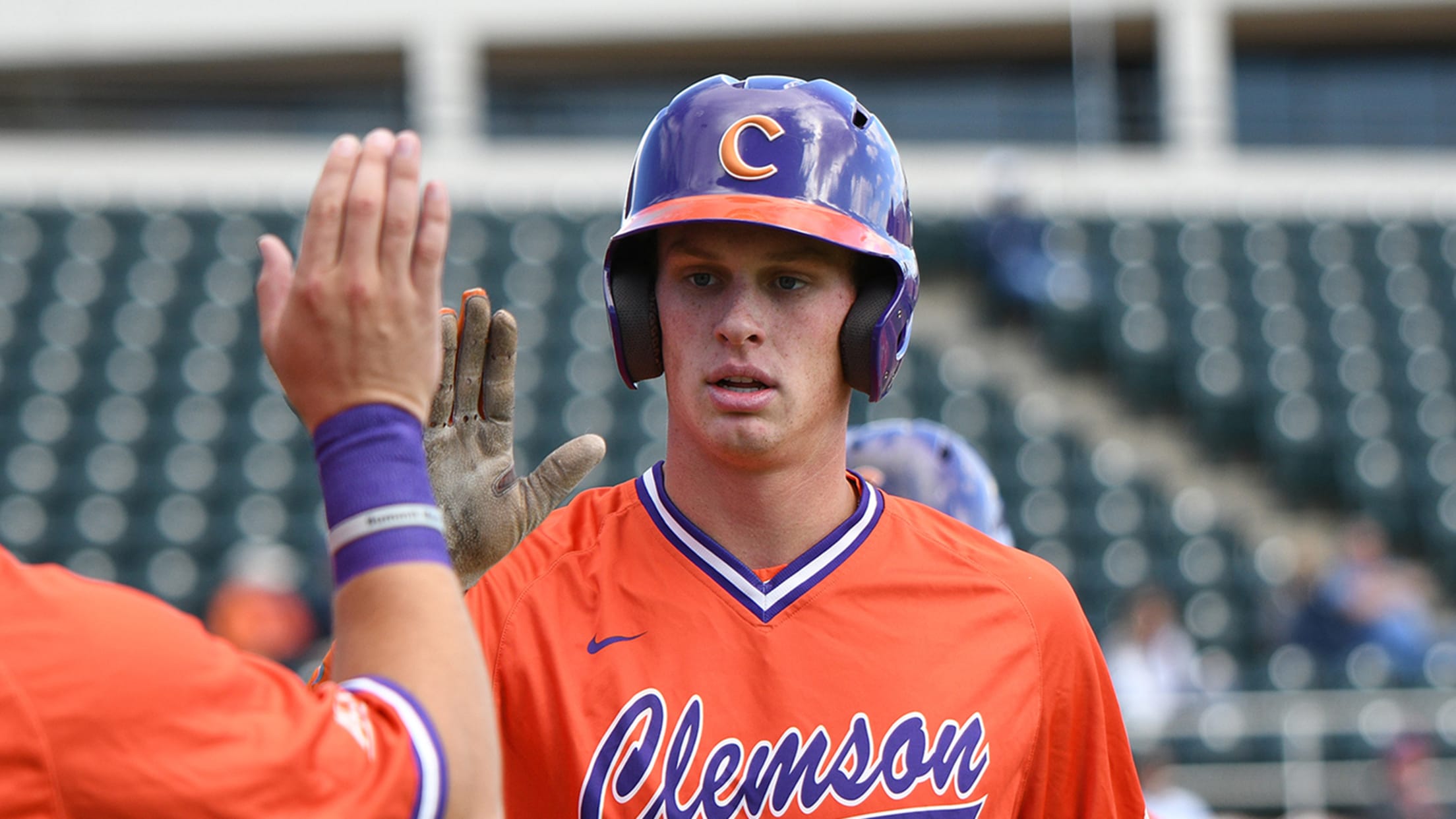 The A's have agreed to terms with Clemson shortstop Logan Davidson, the 29th overall pick in this year's Draft, sources tell MLB.com's Jim Callis. The deal, which Oakland has not confirmed, is for the full slot value of $2,424,600. Davidson, 21, is the son of former Major Leaguer Mark Davidson,
Luzardo, Puk make season debuts in Stockton
A's top prospects impress in first appearances following injuries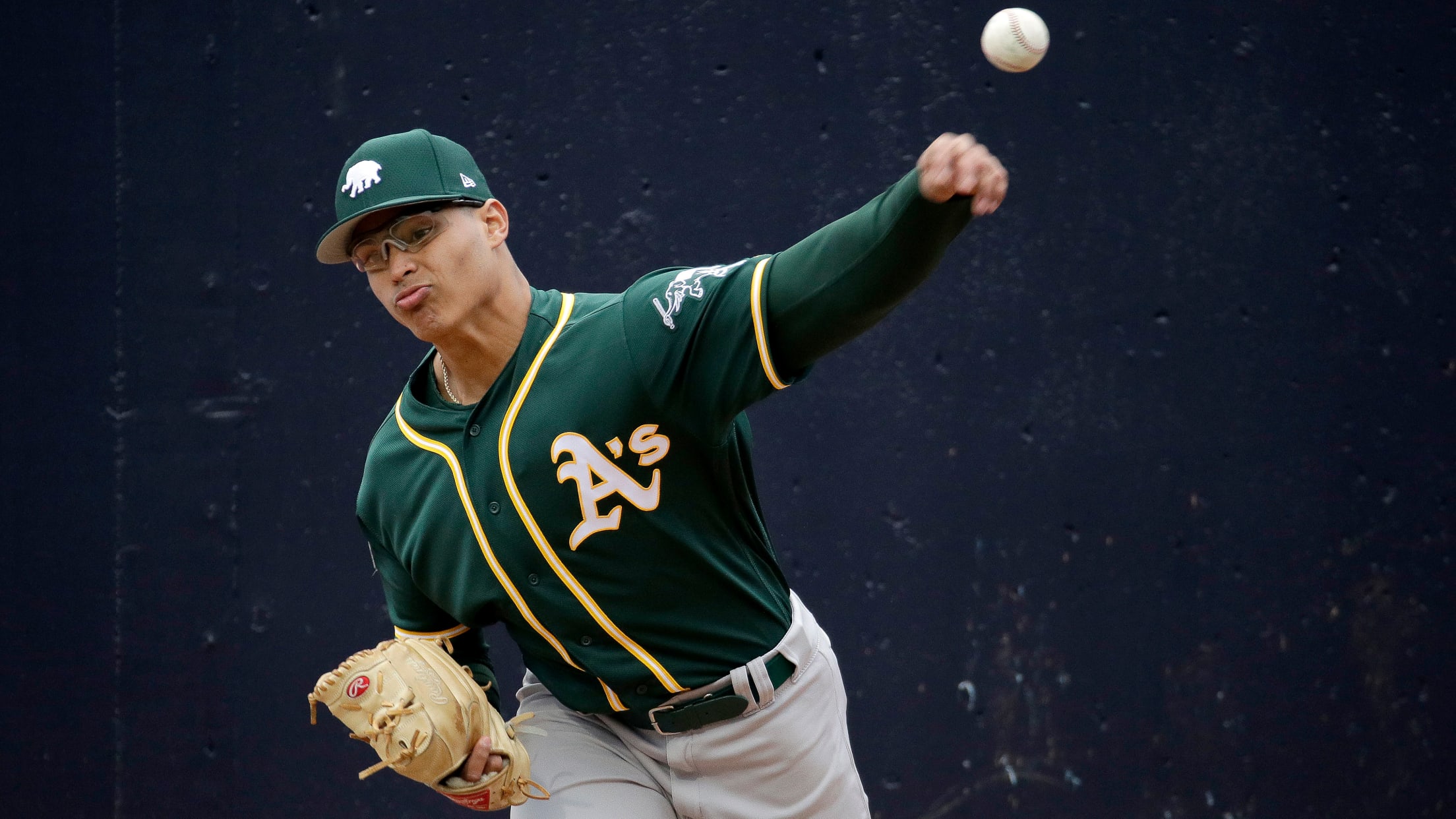 ST. PETERSBURG -- Wednesday brought with it exciting news from Class A Stockton, marking the highly anticipated season debuts for the A's top two prospects, according to MLB Pipeline, Jesus Luzardo (ranked No. 13 in MLB) and A.J. Puk (No. 35) Puk, a first-round Draft pick in 2016 who had
Collegians prominent throughout A's Draft
P/OF Smith and P Dicochea notable prep selections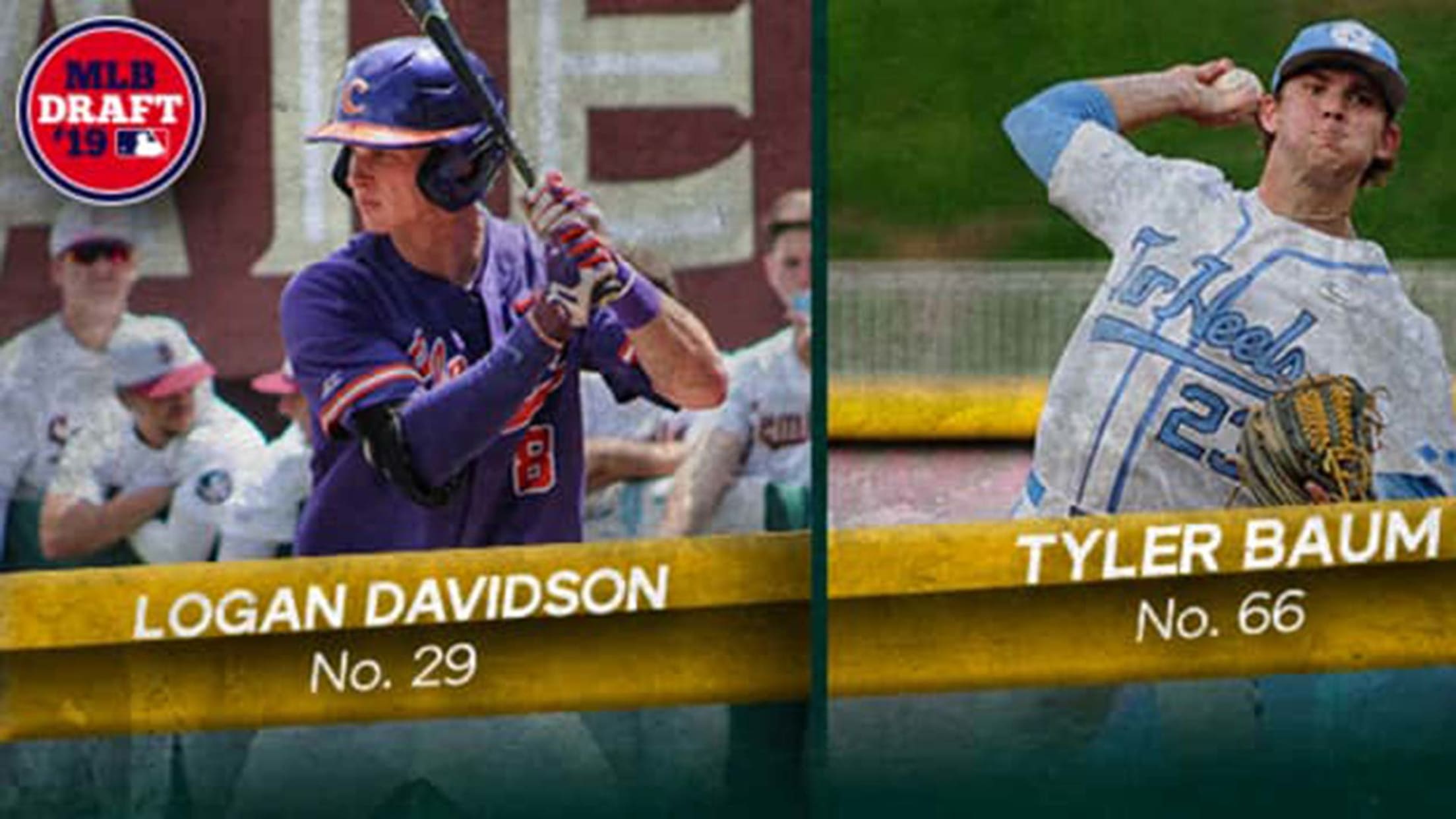 OAKLAND -- Given the A's knack for discovering and developing talent, at least two or three members from their 2019 Draft class can be expected to make an impact as Major League performers. However, management isn't dropping any hints regarding which selections from this year's draft, which concluded Wednesday, ultimately
Oakland takes 2 catchers on Day 2 of Draft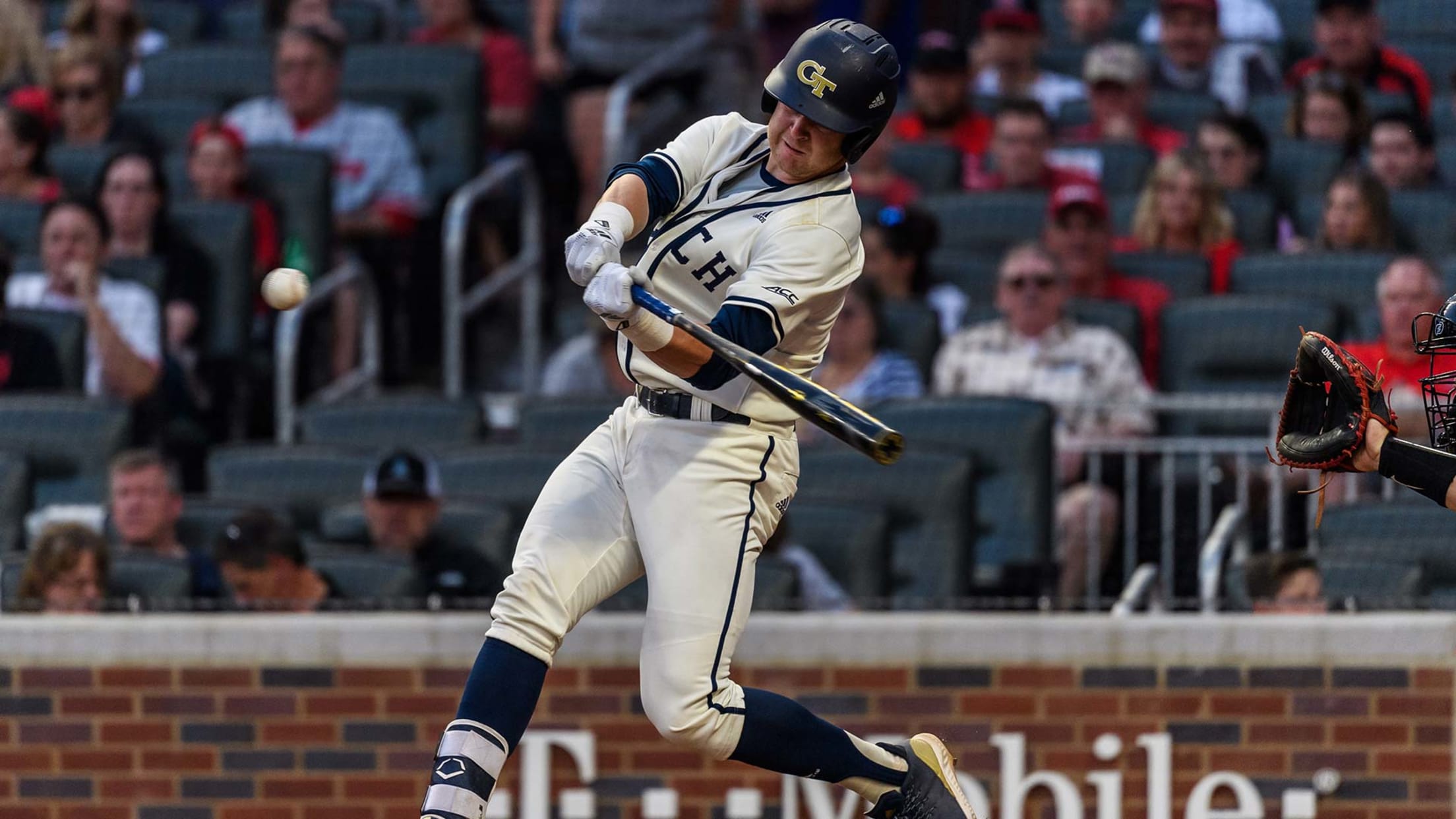 OAKLAND -- The A's spanned virtually the entire continental United States with their group of selections in Tuesday's Day 2 of the MLB Draft. • A's select SS Davidson at No. 29 overall The A's looked east to find Harvard first baseman Patrick McColl. They looked within the west for
A's select SS Davidson at No. 29 overall
Clemson junior 8th shortstop taken in 1st round; Oakland gets Baum at 66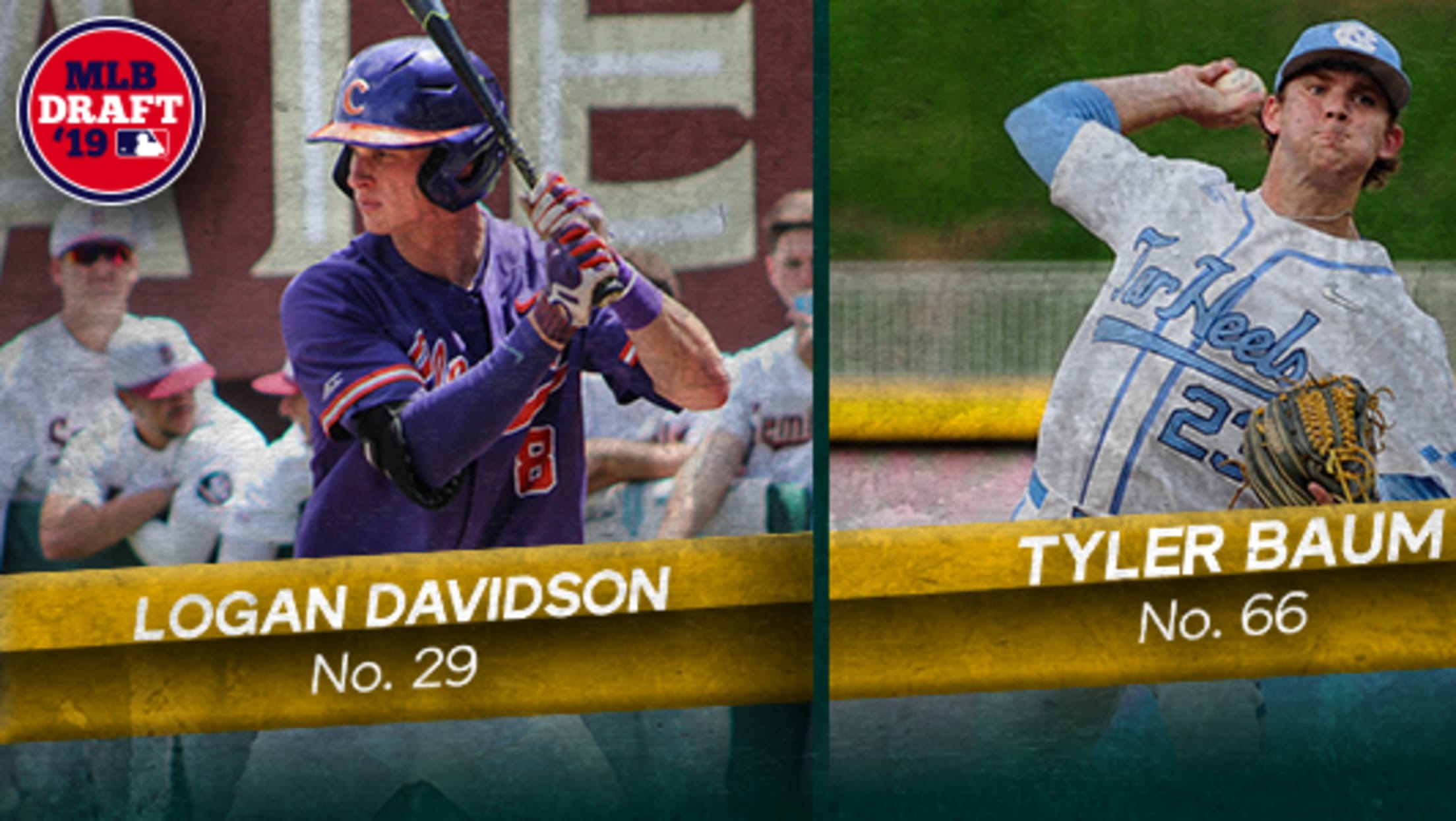 OAKLAND -- There wasn't one specific area of need the A's were targeting in the first round of the 2019 MLB Draft. What general manager David Forst and his scouting team were in search of was an "impact player," and they believe they found one in Clemson shortstop Logan Davidson.