Reinforcements could boost Blue Jays' 'pen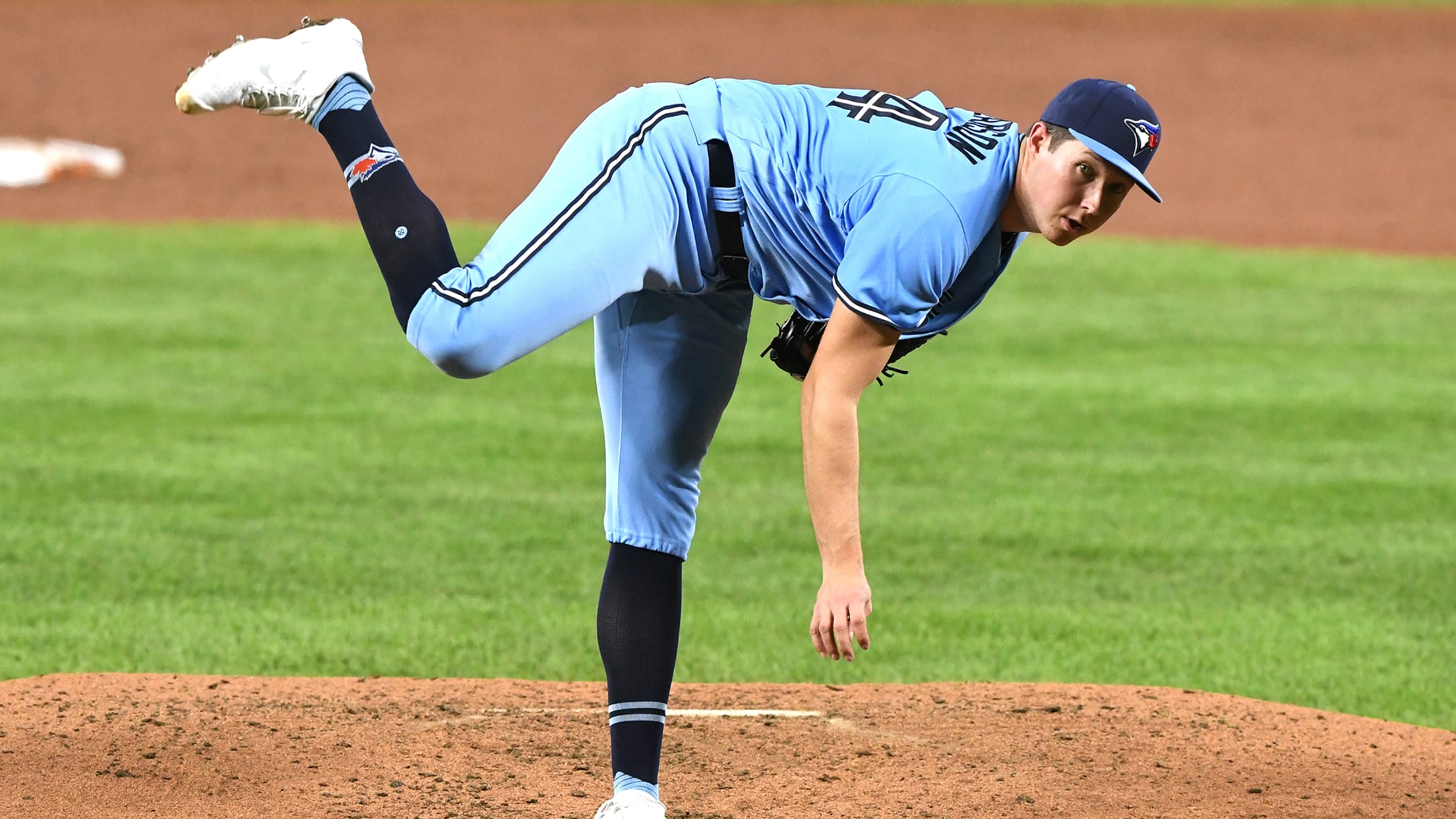 For much of the 2020 season, the Blue Jays' relievers were one of the club's biggest success stories. That's changed recently, but it's not too late for the bullpen to catch a second wind for the postseason. Just like the lineup, Toronto's bullpen has ridden a string of hot streaks
Blue Jays' Giles to have Tommy John surgery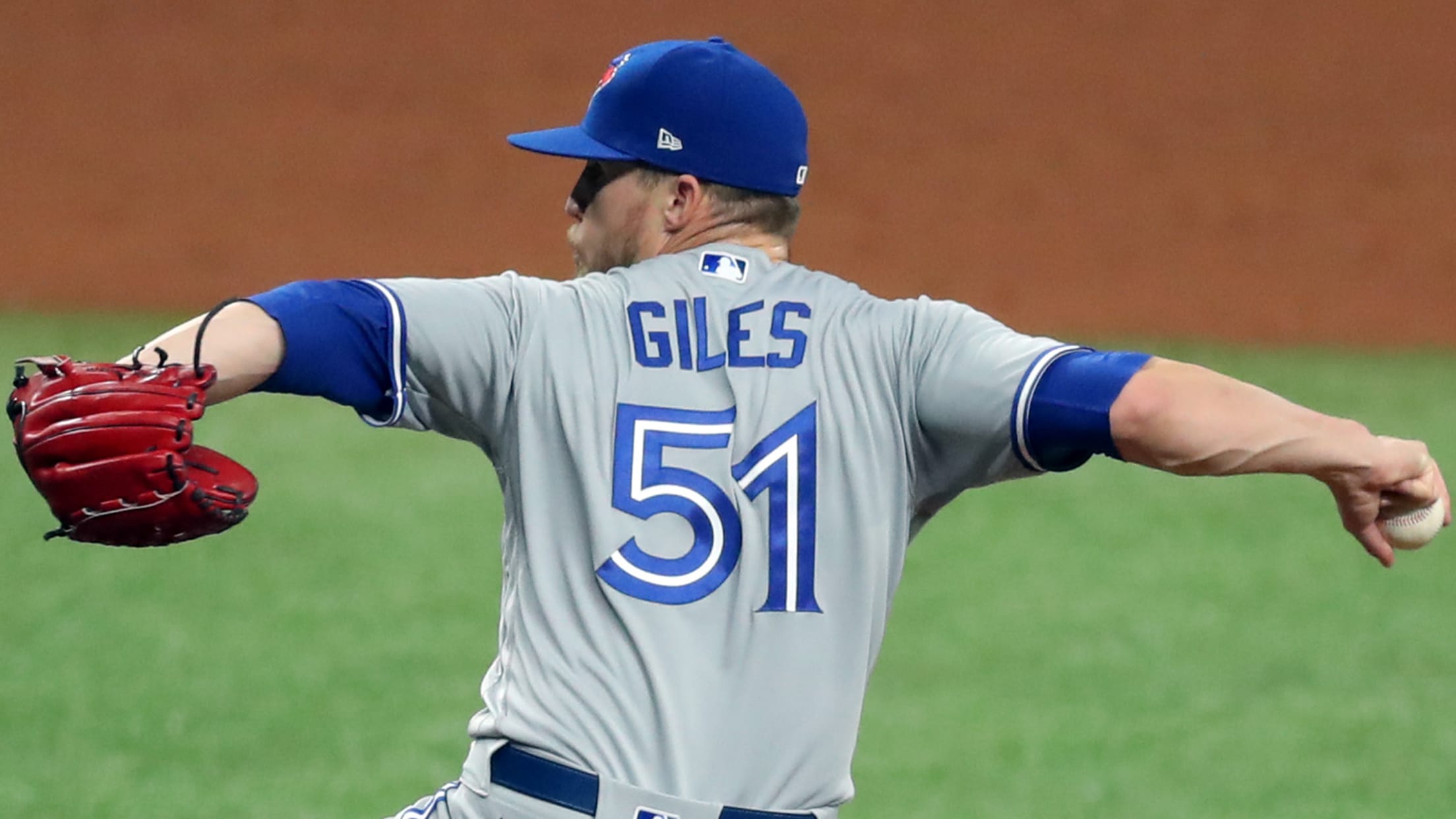 Ken Giles and the Blue Jays reached the decision they'd been hoping to avoid on Monday, as the club announced its star closer will undergo Tommy John surgery on his right elbow. Giles will leave the team on Tuesday to begin the process, which is also likely to wipe out
Notes: Zeuch, Font return; Waguespack to IL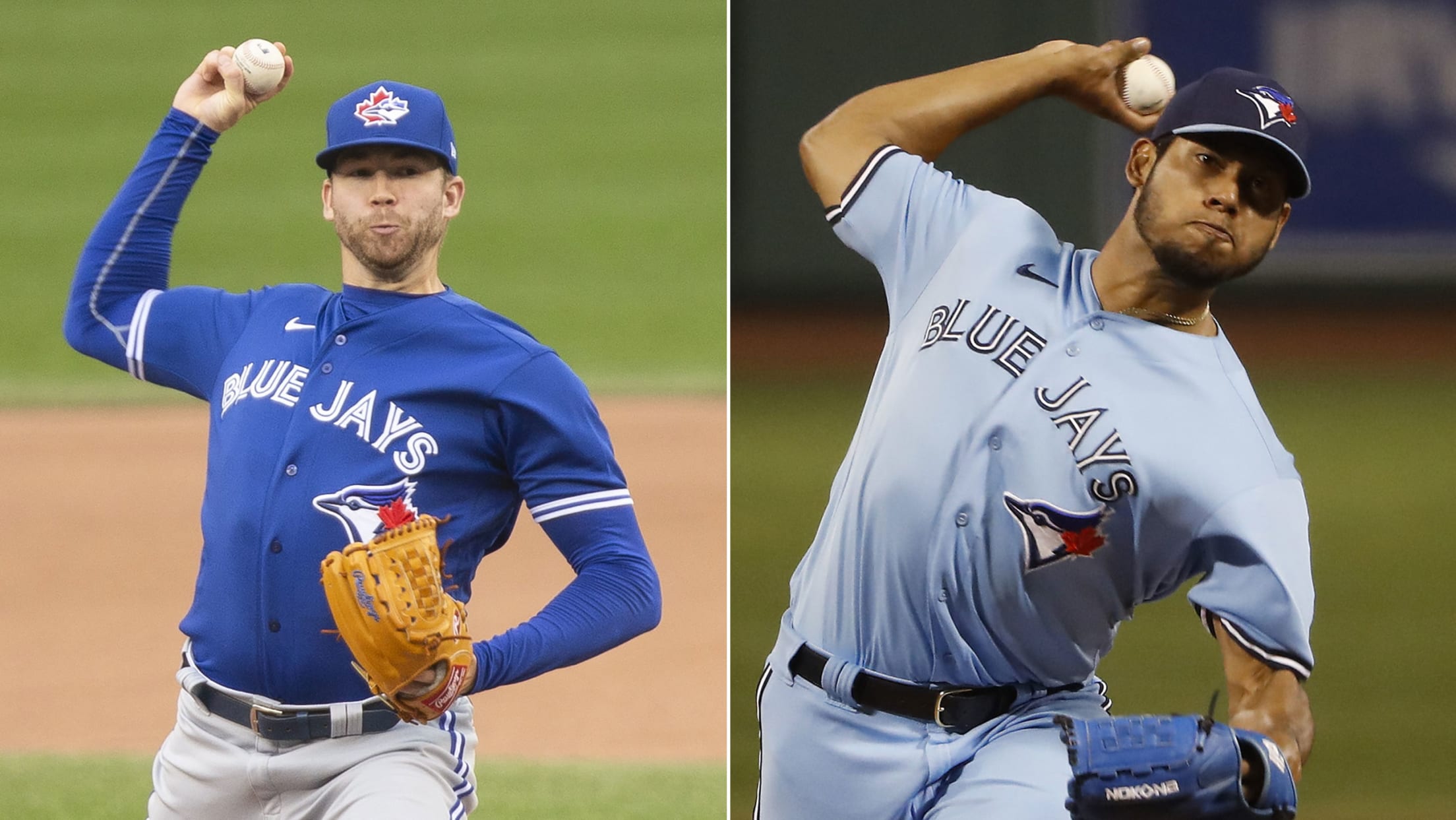 As the Blue Jays scramble to cover innings after two blowout losses against the Yankees in New York, they made a pair of roster moves prior to the series finale Thursday, bringing in right-handers T.J. Zeuch and Wilmer Font. The pair of fresh arms offers the Blue Jays some length
Notes: Giles returns to IL; Teoscar activated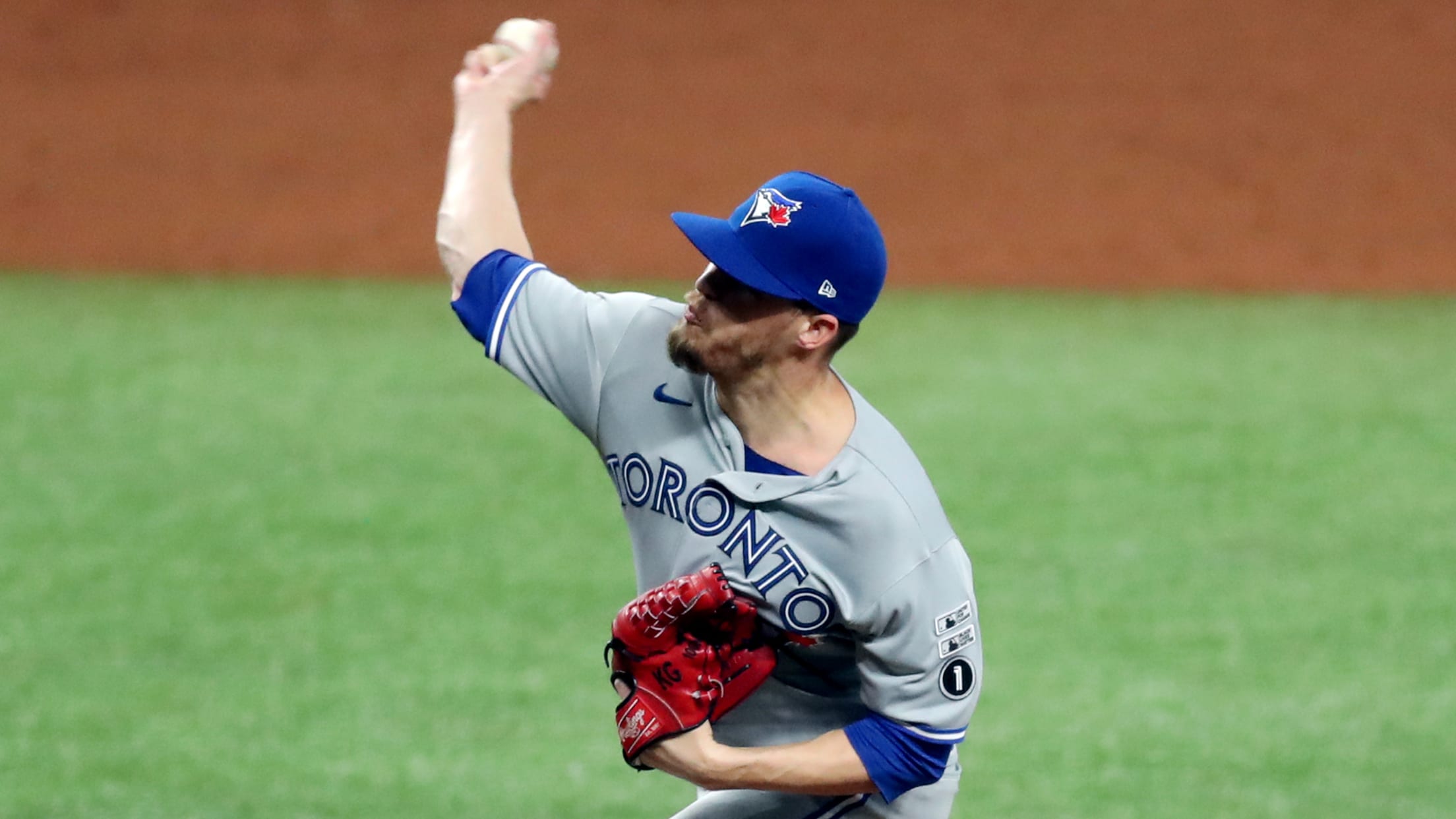 Closer Ken Giles is headed back to the IL with a right flexor strain in the same elbow that had already caused him to miss the majority of this season, the Blue Jays announced prior to Wednesday's game against the Yankees. That wasn't nearly the end of their transactions, either.
Notes: Rowdy to IL; Pearson progressing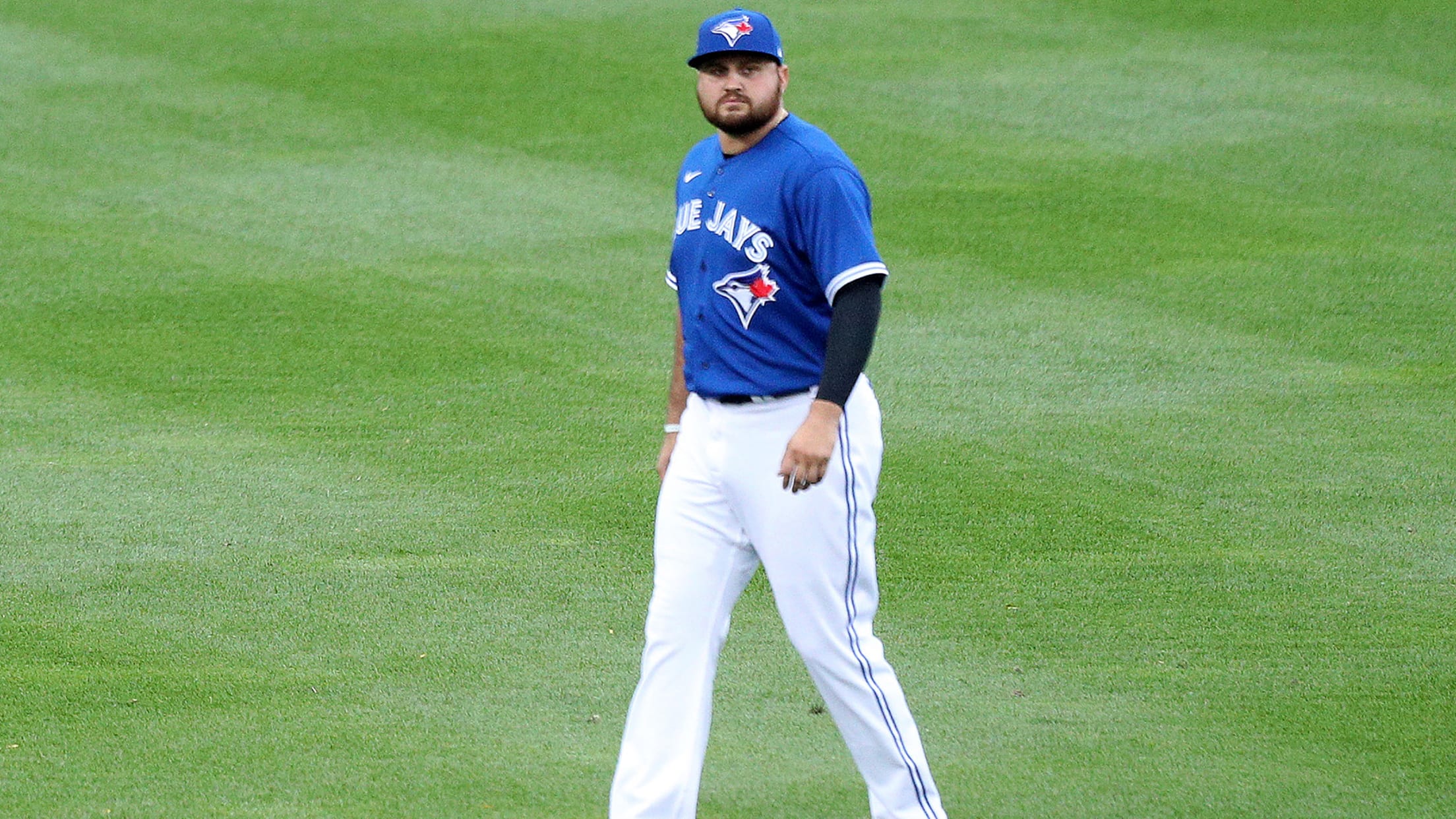 The Blue Jays placed first baseman Rowdy Tellez on the 10-day injured list with a right knee strain, the club announced just prior to their series finale against the Yankees at Sahlen Field in Buffalo, N.Y., on Wednesday. Tellez injured his knee tracking a fly ball into right-field foul territory
Weekend return possible for Bichette, Giles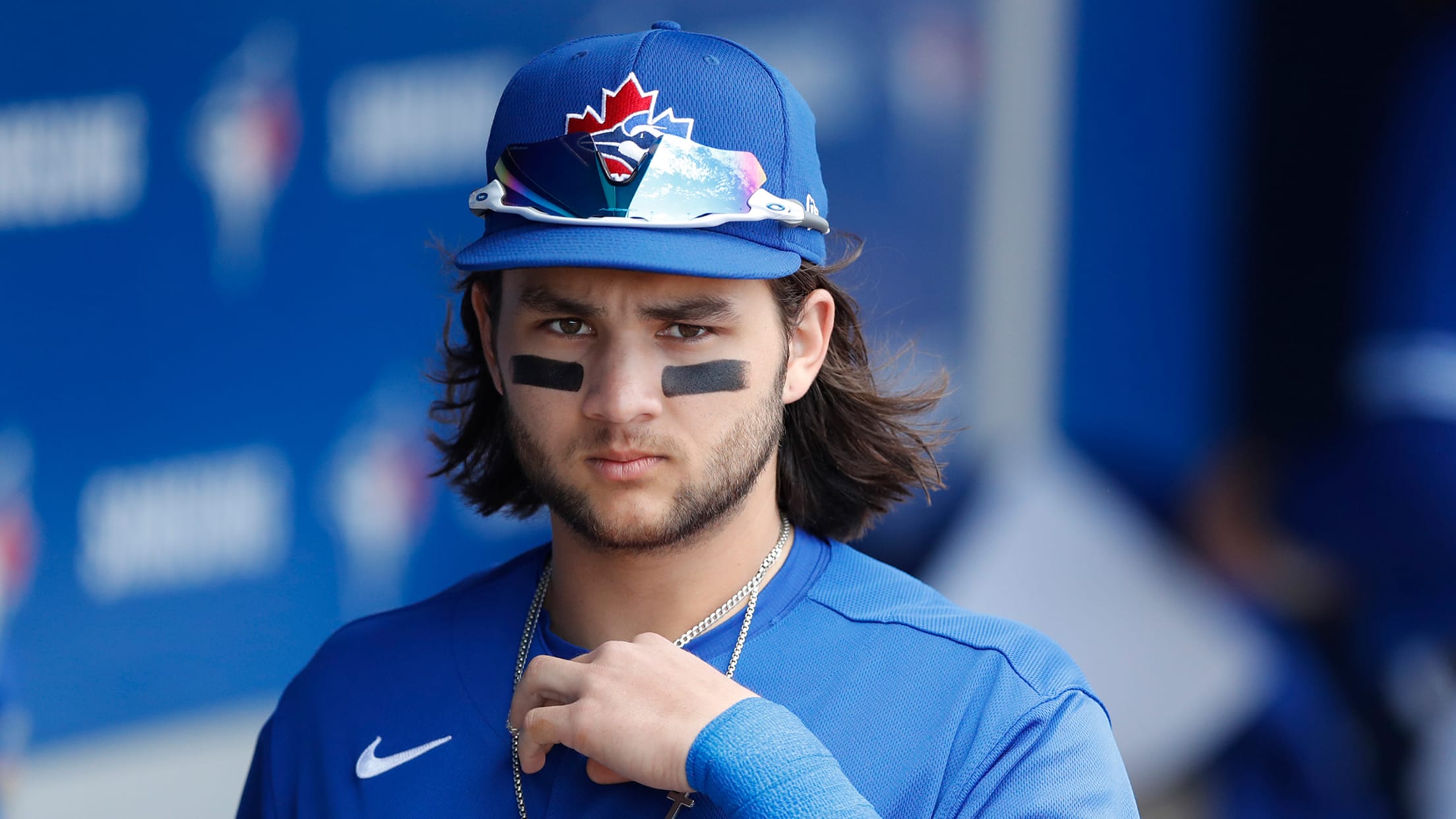 Blue Jays infielder Bo Bichette (right knee sprain) took five at-bats as a DH in a simulated game at Toronto's alternate training site in Rochester, N.Y., on Monday. Manager Charlie Montoyo said that Bichette felt good and lined a few balls back up the middle, but his next challenge will
Hernández on 10-day IL with oblique strain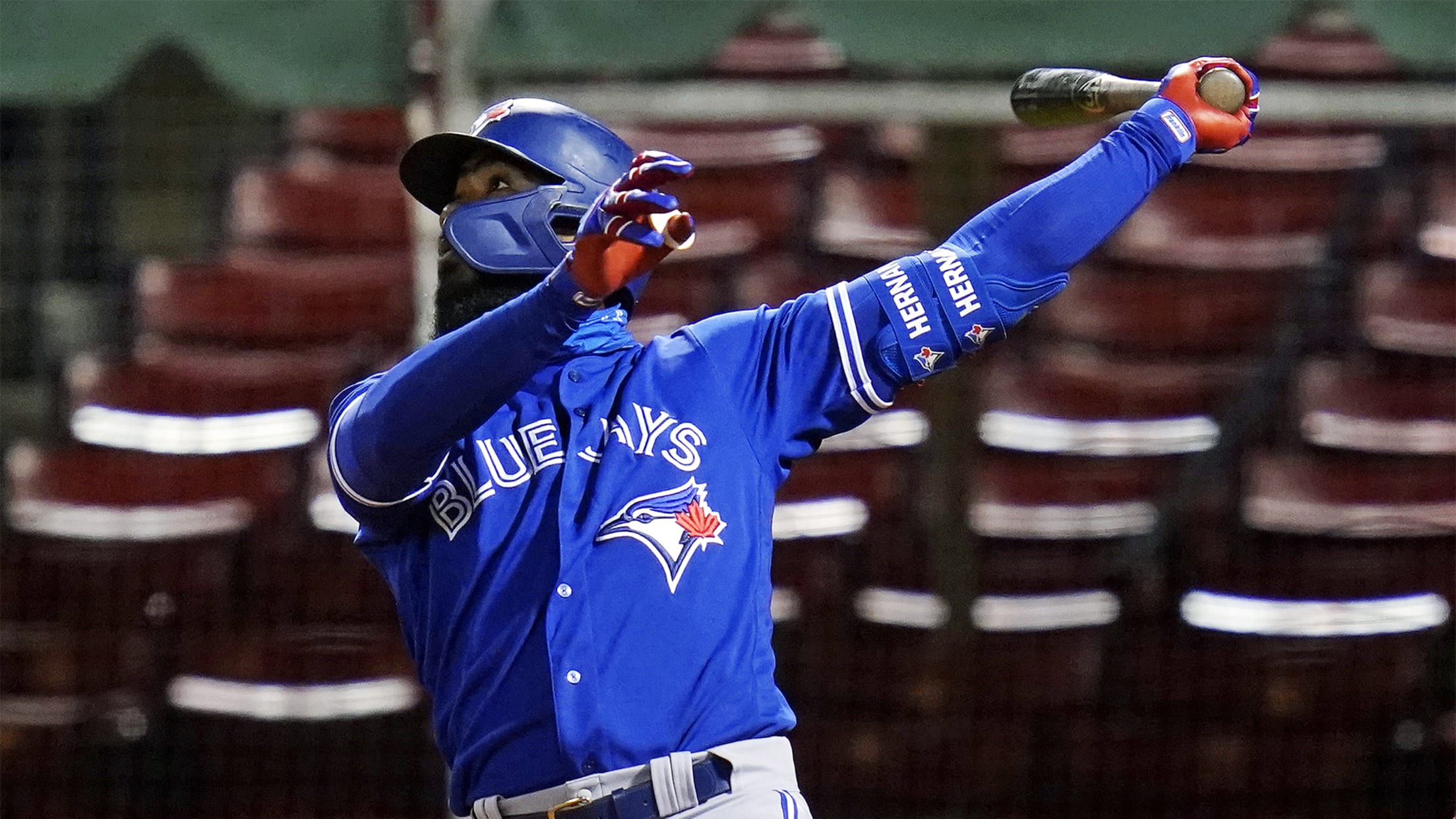 The Blue Jays placed their breakout star, Teoscar Hernández, on the 10-day IL on Monday with a left oblique strain, another blow to a club that's already weathered many in this 2020 playoff race. Hernández was held out of the lineup on Sunday and Monday as the Blue Jays awaited
Loss to 'pen may be fixed by another's return
As Romano (middle finger) hits IL, Giles progresses from right forearm strain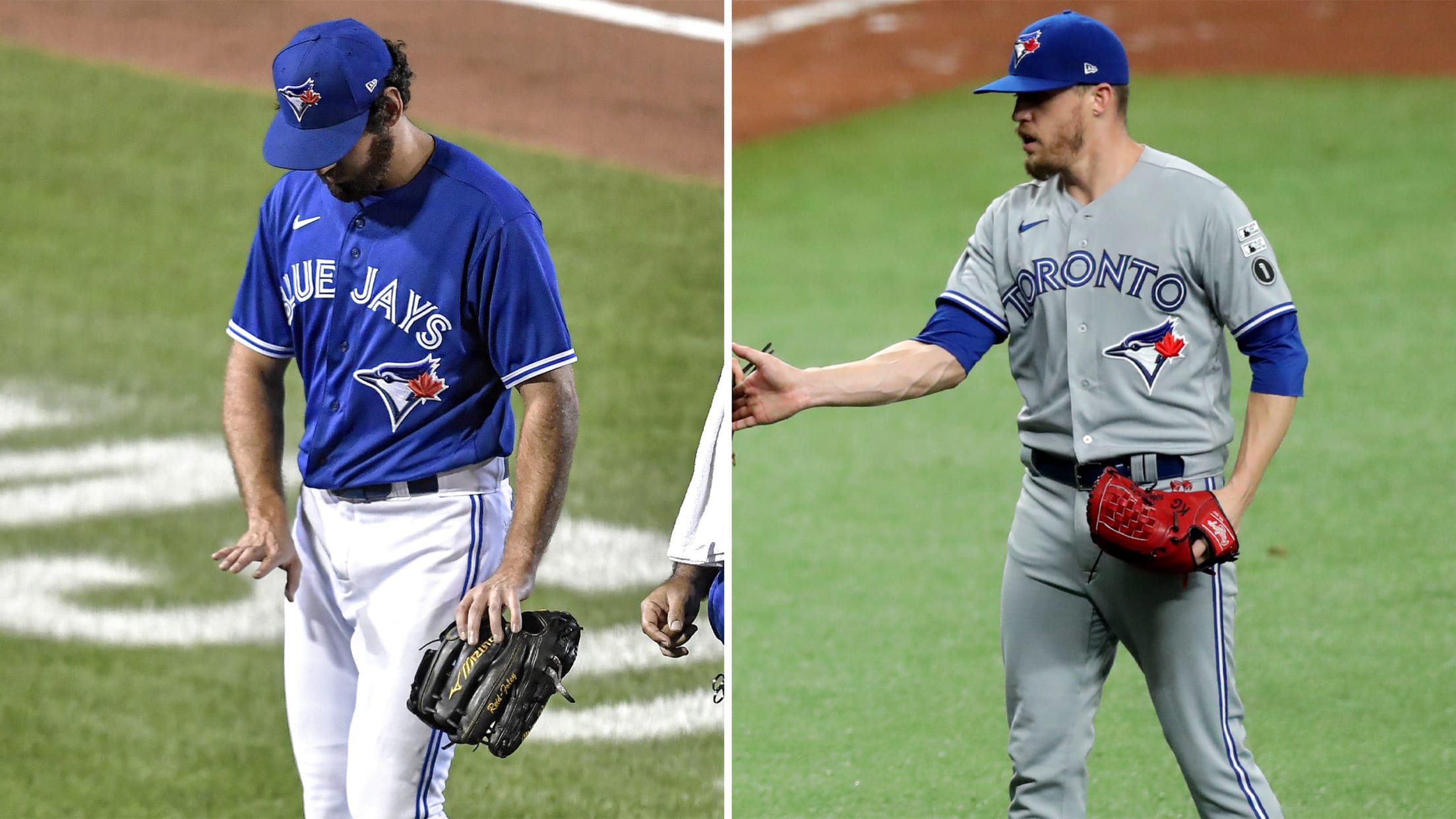 TORONTO -- The Blue Jays placed reliever Jordan Romano on the 10-day injured list on Saturday after the bullpen's breakout star was forced to leave Friday night's win over the Orioles with a right middle finger injury. Romano underwent an MRI Saturday morning after some initial testing Friday night, and
Romano exits with right middle finger injury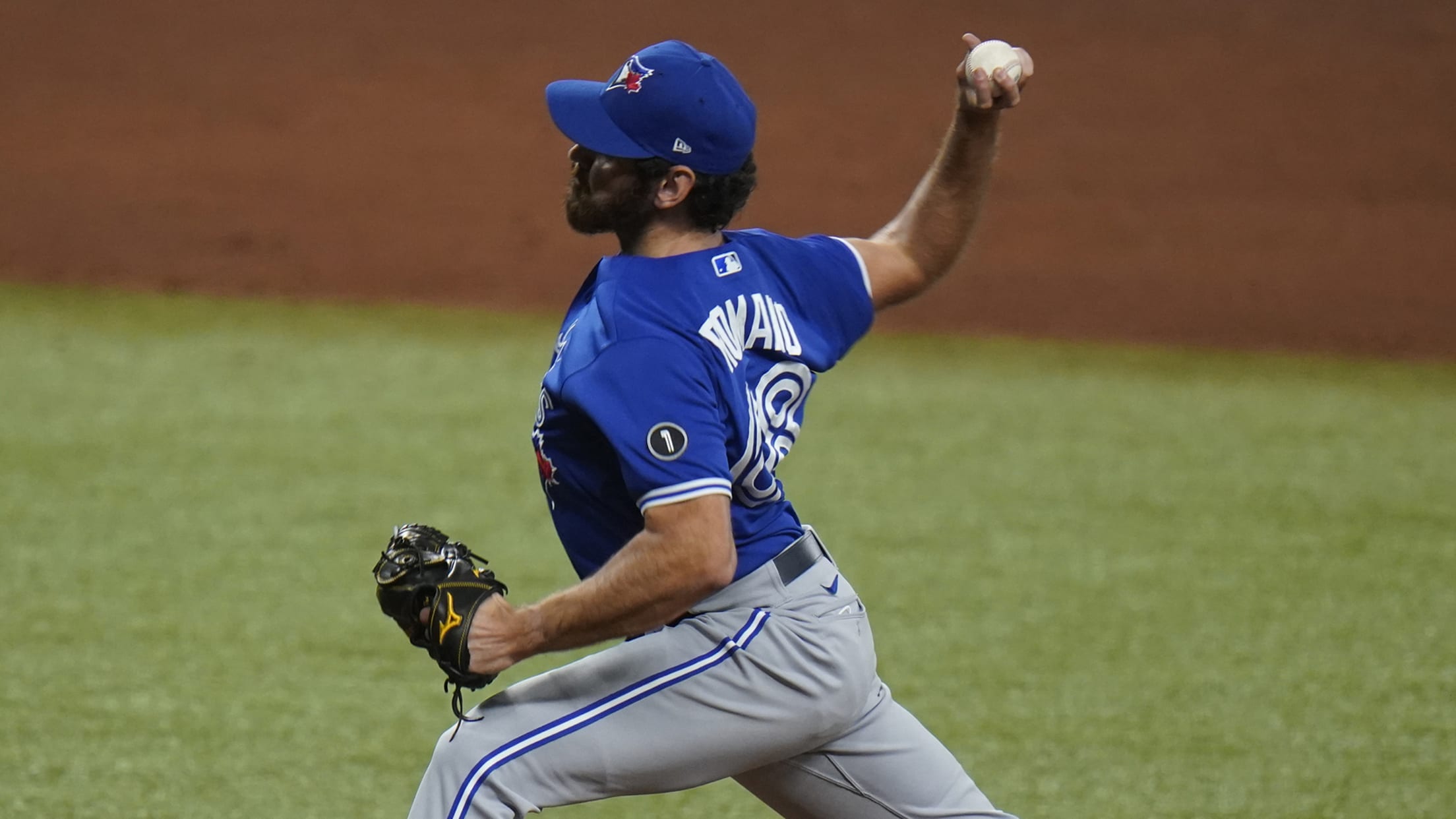 Casting a shadow over Friday's thrilling 5-4 walk-off win over the Orioles was a potentially major loss for the Blue Jays, as reliever Jordan Romano was forced to leave the game with a right middle finger injury. Romano, who surrendered the game-tying home run to Renato Núñez in the eighth
Shaw day to day after exiting early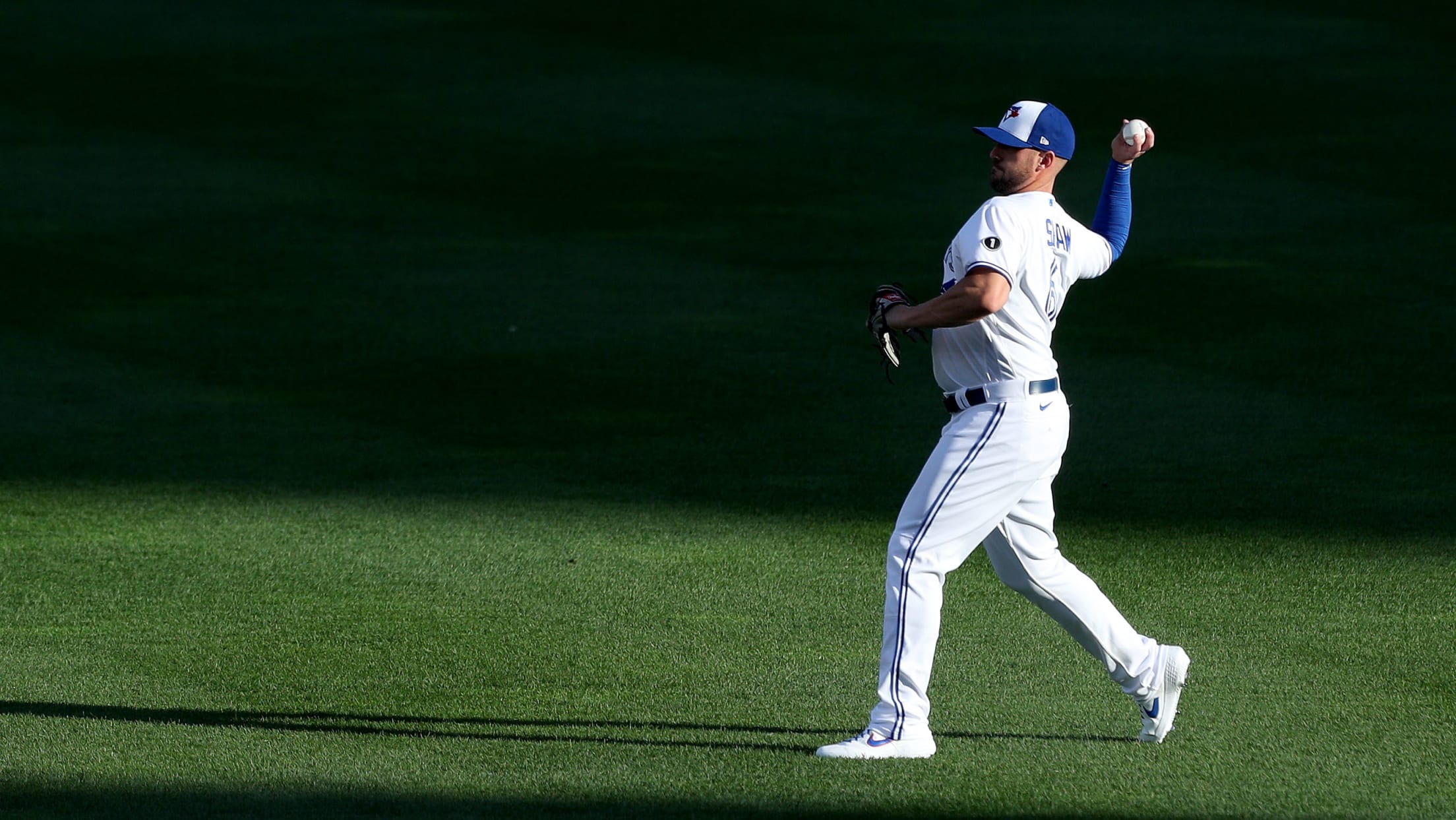 Blue Jays third baseman Travis Shaw was removed from Tuesday's 9-7 loss to the Red Sox at Sahlen Field in Buffalo, N.Y., between the second and third innings with right knee discomfort, the club announced. Shaw had popped out in his only at-bat of the game, though the issue was
Blue Jays rally on Grichuk (day to day) HR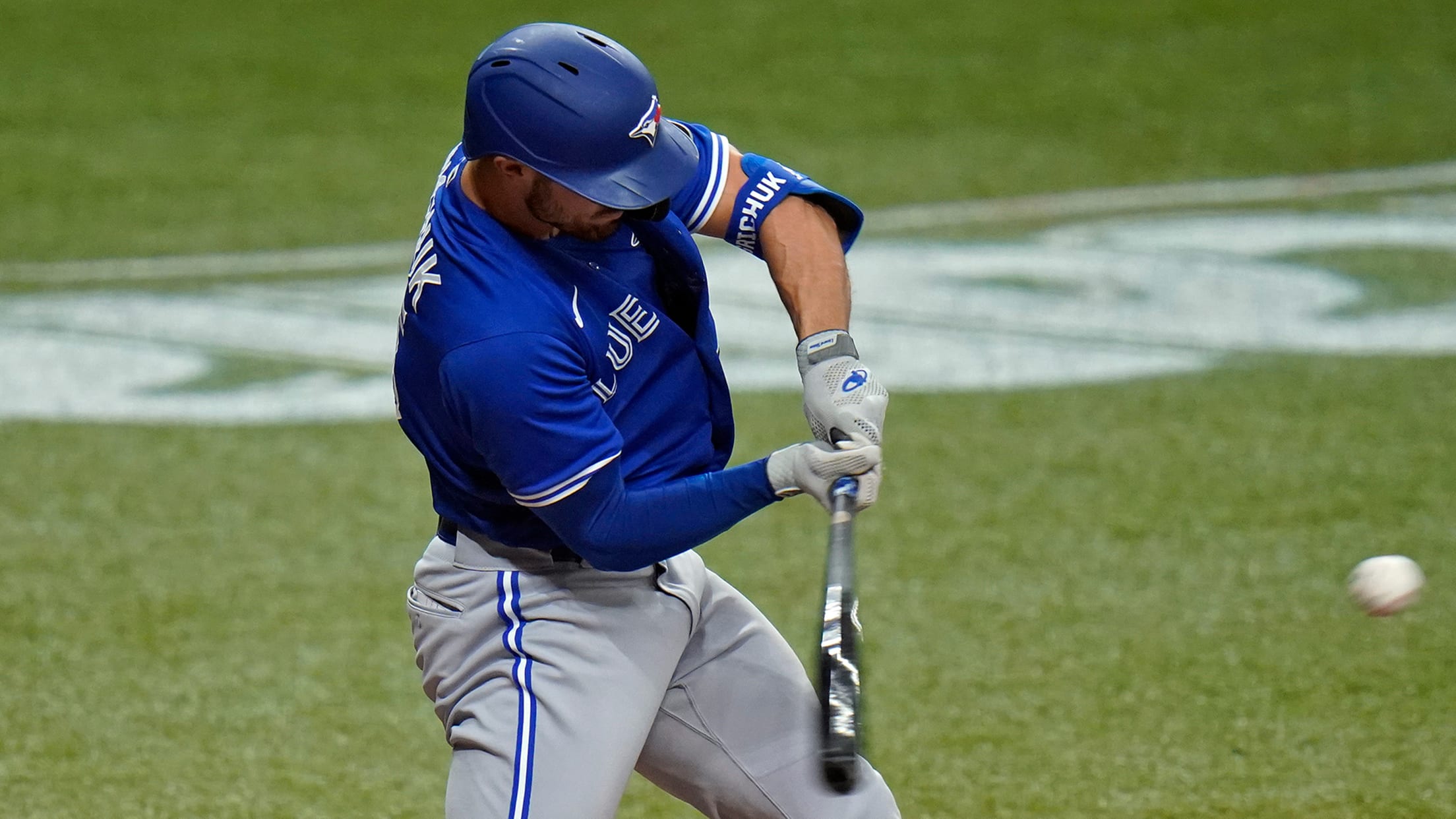 Randal Grichuk's three-run homer in the seventh inning helped the Blue Jays defeat the Rays, 6-4, on Monday afternoon in St. Petersburg. Toronto split the four-game series and improved its record to 14-13. There is still a good chance that the Blue Jays will play in the postseason, but don't
Thornton's injury another blow to rotation
Righty exits vs. Rays after one inning with elbow inflammation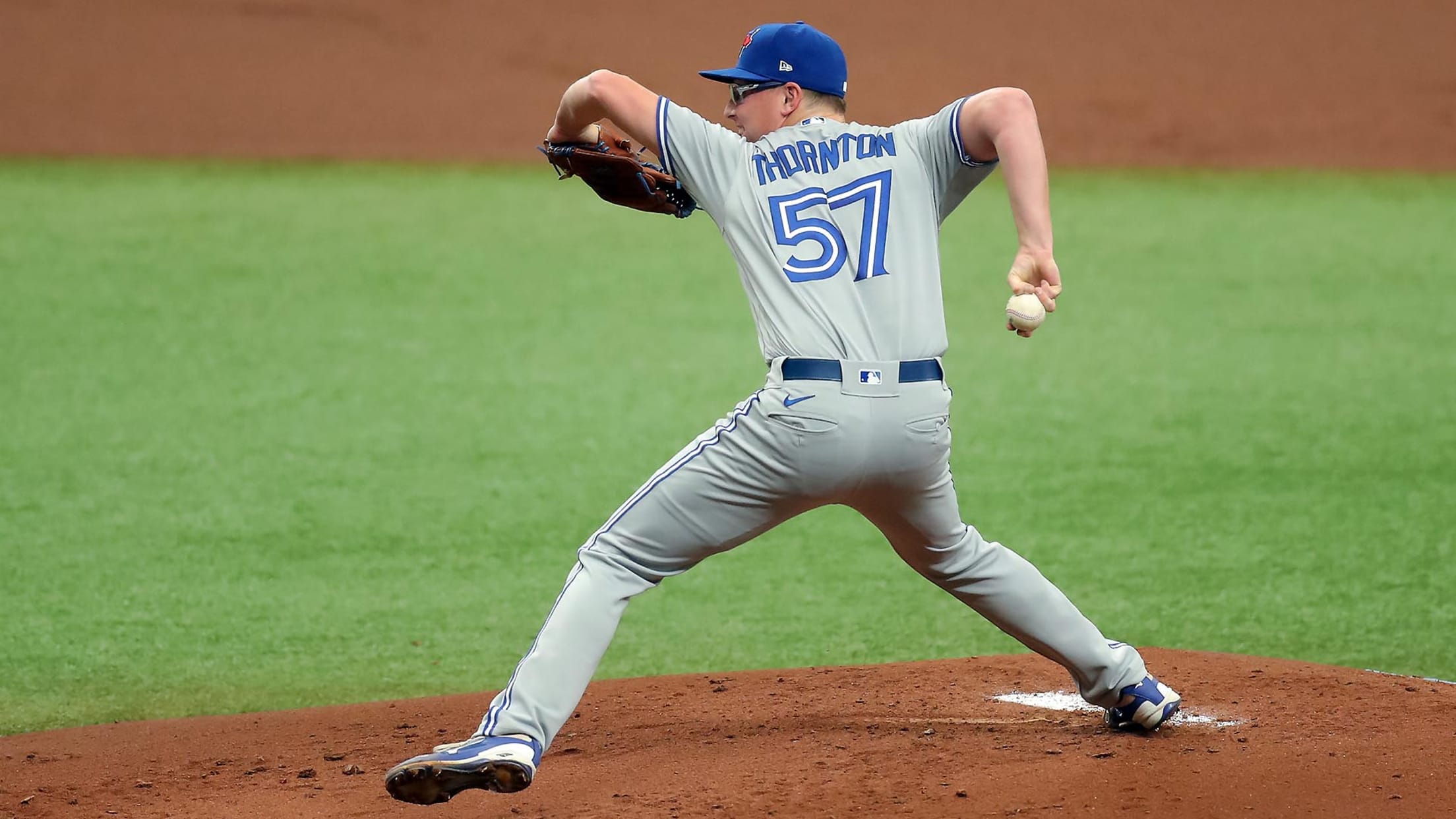 The news went from bad to worse for the Blue Jays on Sunday afternoon, as Trent Thornton was removed from his start against the Rays with right elbow inflammation. A day later, the club placed Thornton on the 10-day injured list and recalled left-hander Travis Bergen. This is the same
Shoemaker to IL with shoulder inflammation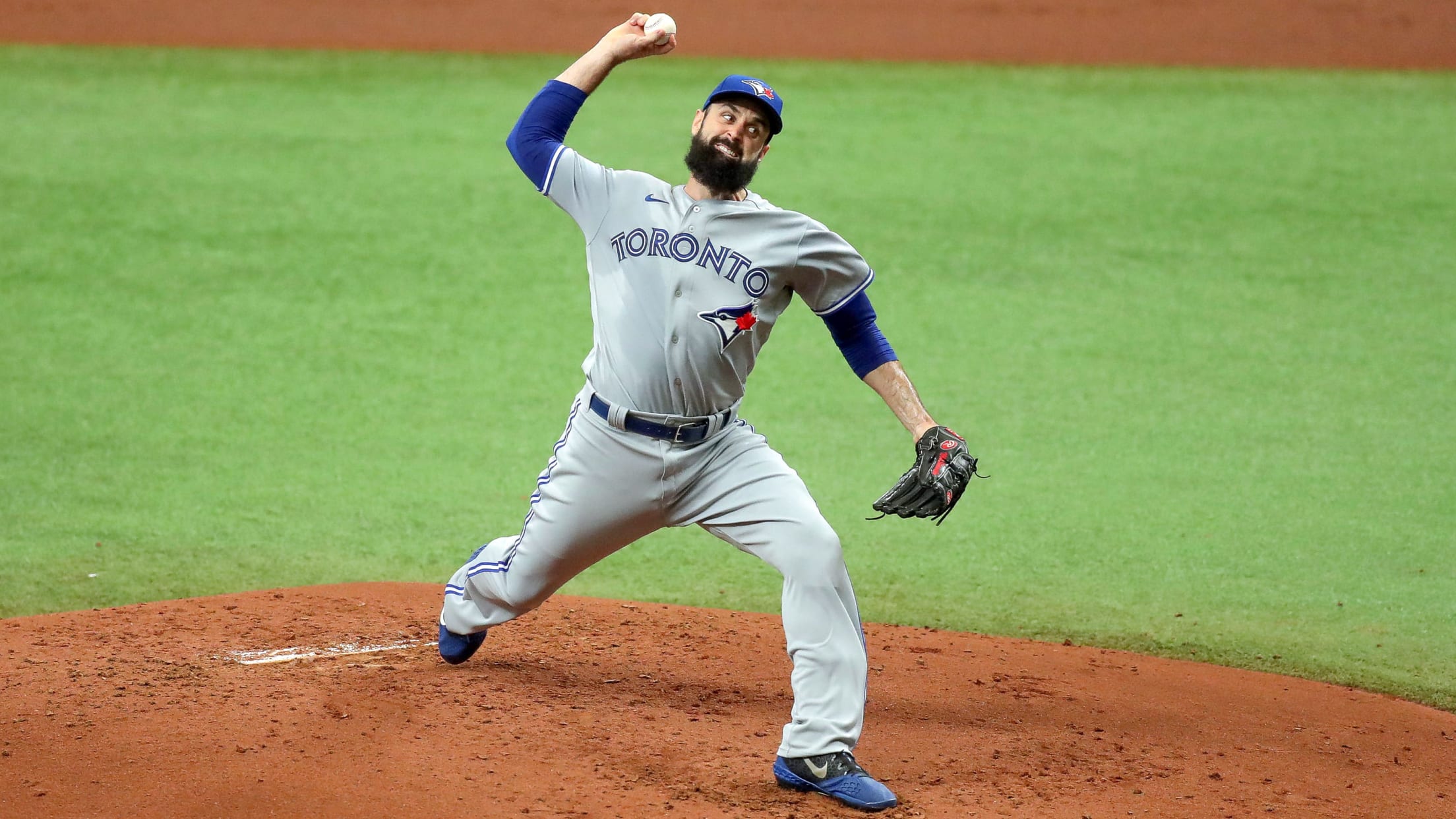 The Blue Jays were dealt another blow on Sunday as right-hander Matt Shoemaker was placed on the 10-day injured list with right shoulder inflammation. This news came just an hour prior to the first pitch of Toronto's 5-4 loss to the Rays in St. Petersburg, and not long after, Sunday
Pearson's possible role, roster moves, more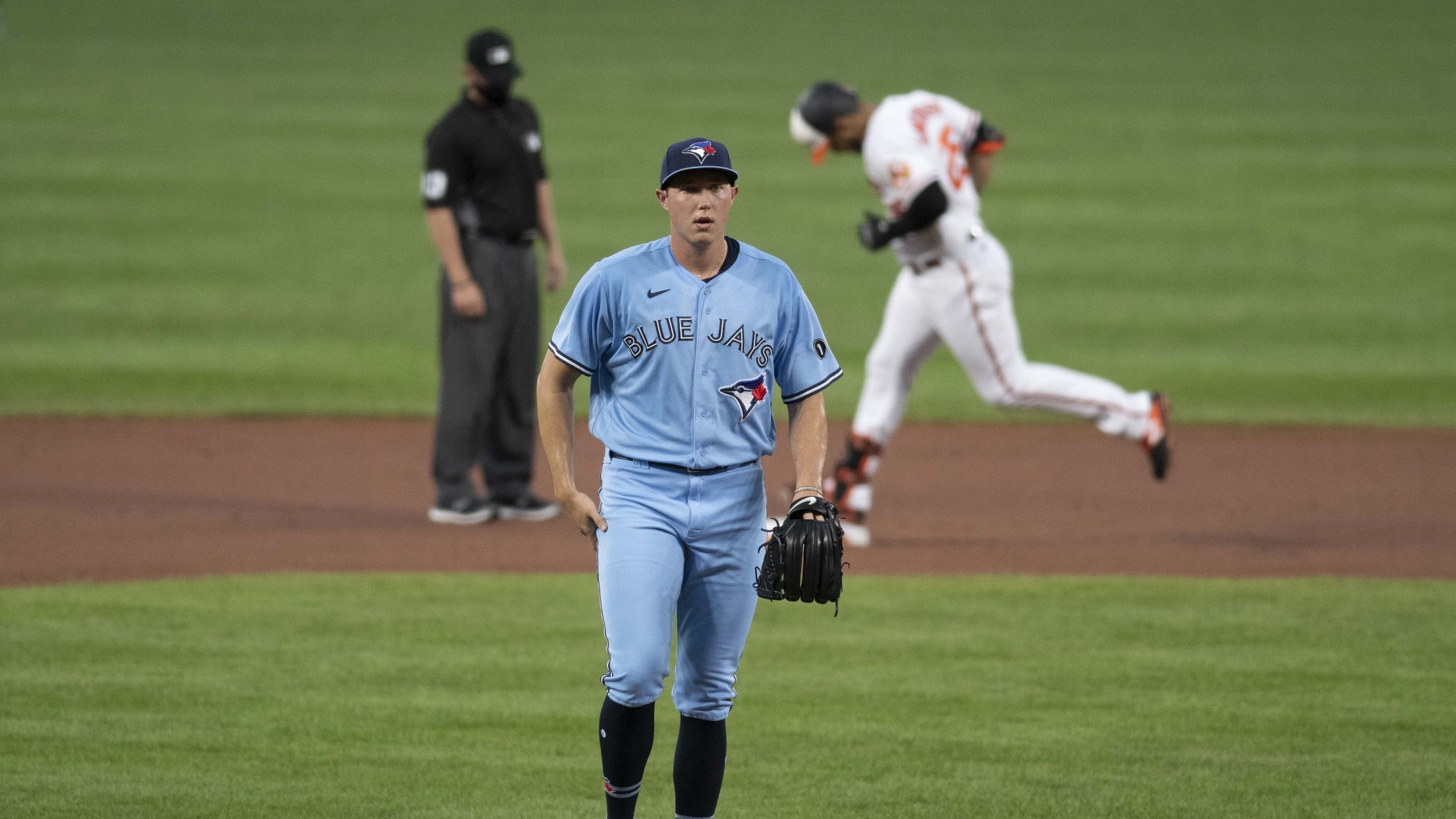 The Blue Jays are still evaluating the right elbow of No. 1 prospect Nate Pearson, and his upcoming diagnosis is one of the most important factors in a possible postseason run. Pearson hit the 10-day injured list with elbow tightness on Wednesday after a string of appearances where he looked
Tight elbow sends Blue Jays' Pearson to IL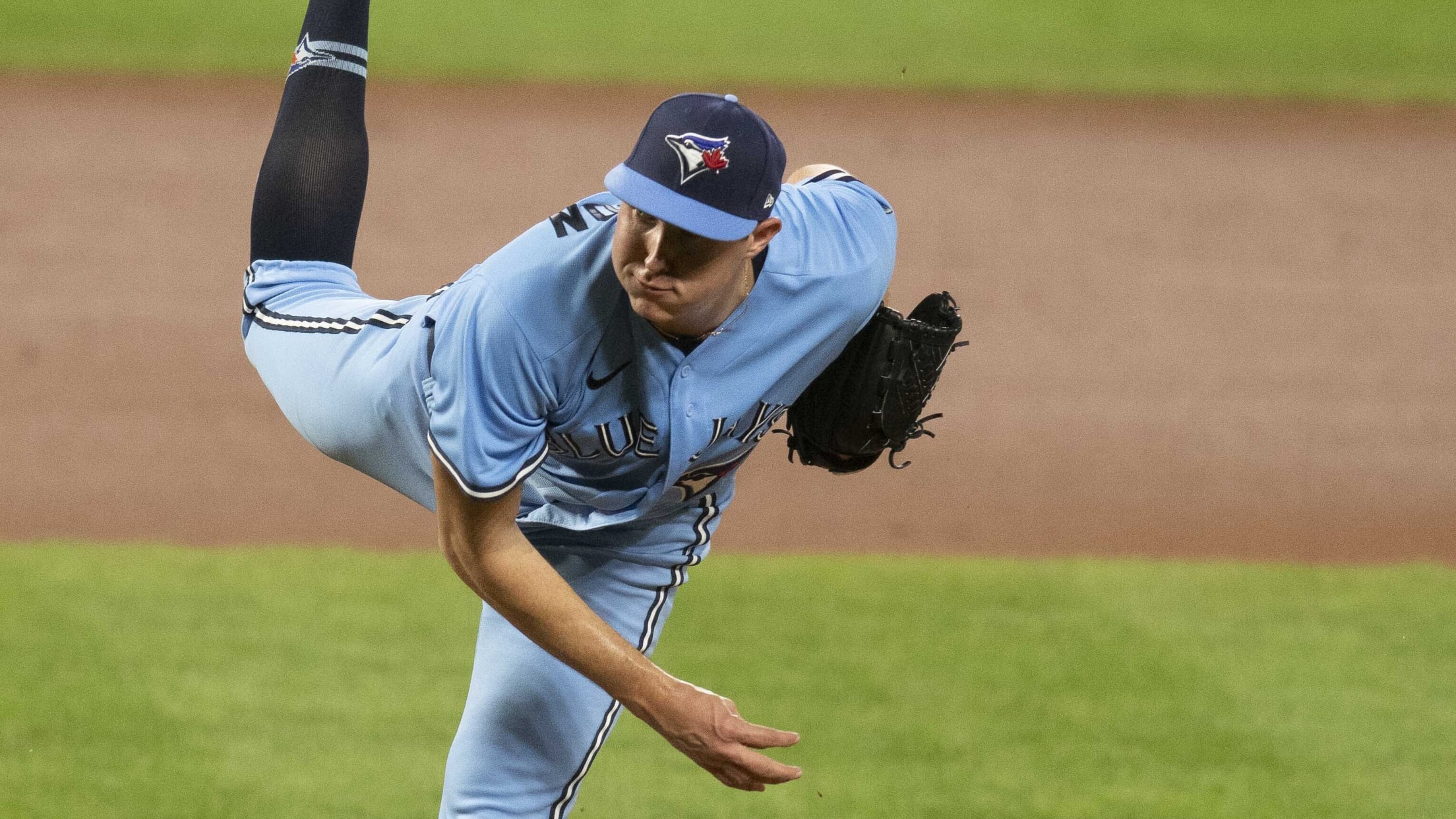 The Blue Jays on Wednesday placed Nate Pearson on the injured list with a sore right elbow, a major blow that comes just after Pearson struggled with his control on Tuesday night against the Orioles. Pearson, Toronto's No. 1 prospect, hadn't experienced this tightness before, manager Charlie Montoyo said early
Bo Bichette (knee) placed on injured list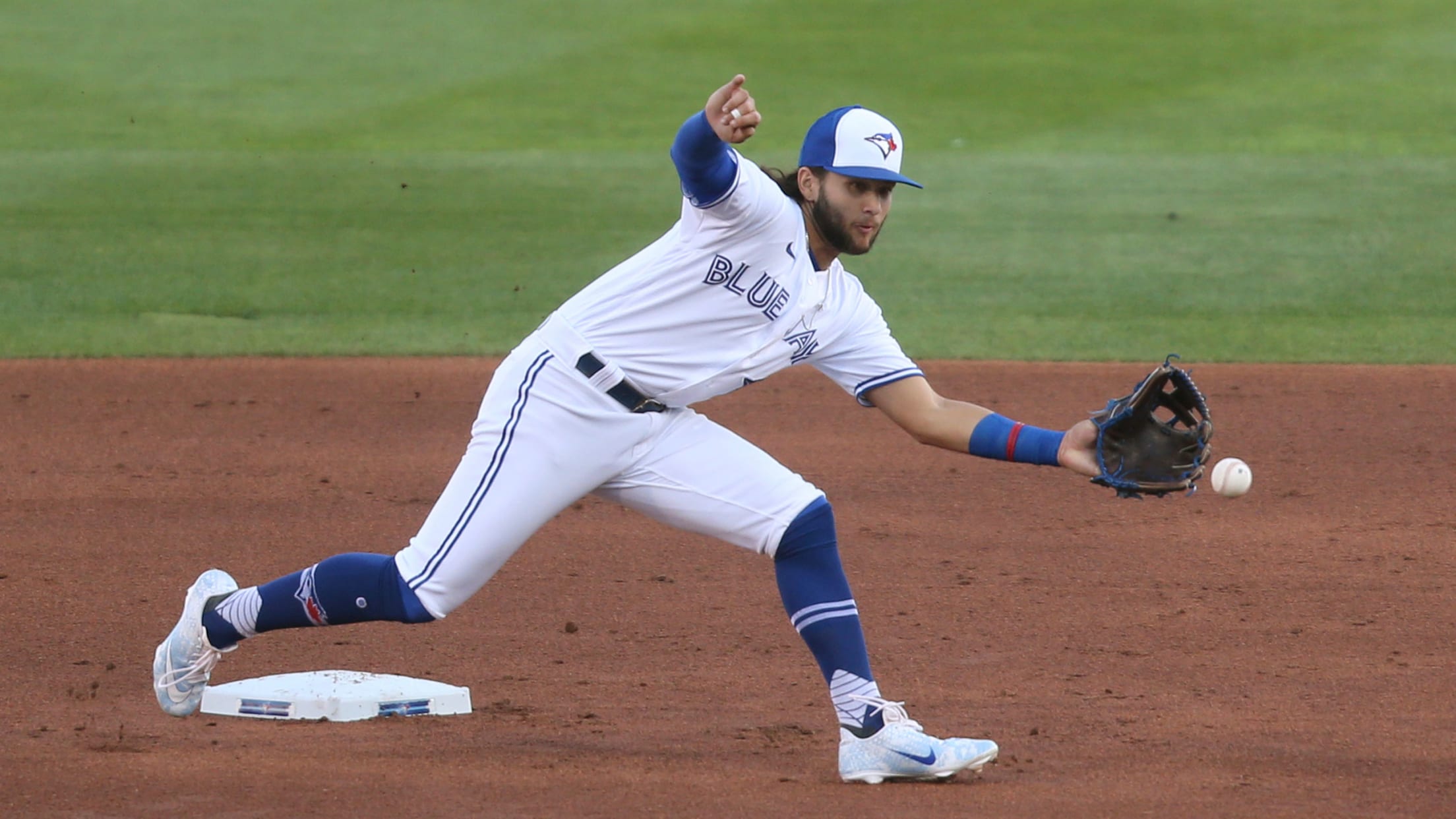 The Blue Jays were dealt a serious blow on Sunday as star shortstop Bo Bichette was placed on the 10-day injured list with a right knee sprain. Bichette was held out of the lineup in Game 1 of Sunday's doubleheader against the Rays, which started with the resumption of Saturday's
Bichette day to day with tight left hamstring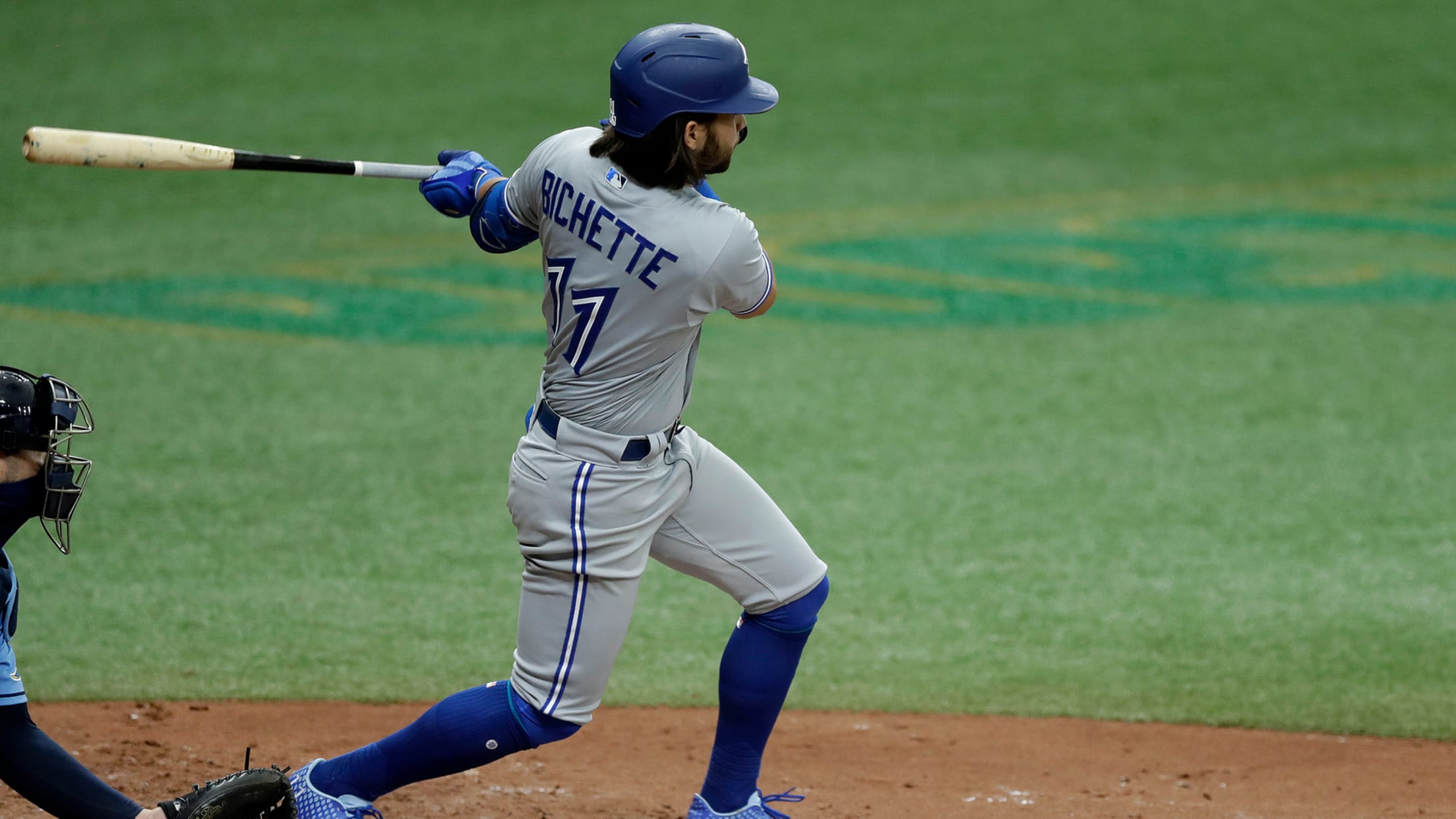 Bo Bichette was scratched from the Blue Jays' lineup just prior to first pitch against the Nationals on Monday due to left hamstring tightness, the club announced. Bichette had been penciled into his regular leadoff spot before the late news. In his place, Teoscar Hernández was moved up to the
Ken Giles (forearm strain) lands on IL
Roark excited for Buffalo; Espinal having 'best week of [his] life'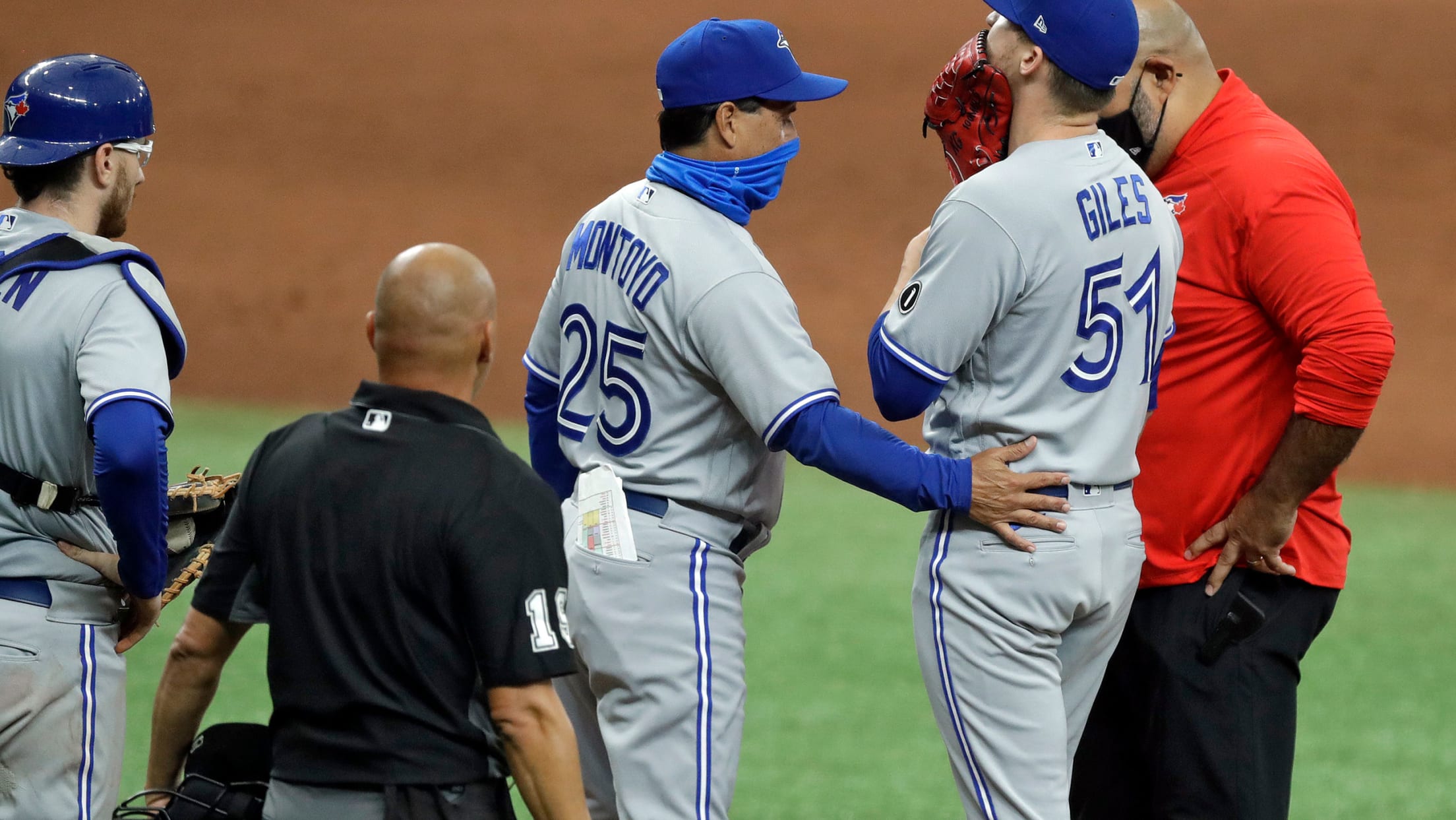 The Blue Jays placed closer Ken Giles on the 10-day injured list with a right forearm strain Monday after he left Sunday's game against Tampa Bay early. The club is still awaiting MRI results, but it was clear Giles wasn't right as he pitched the ninth inning against the Rays.
Grichuk, Giles exit early from finale vs. Rays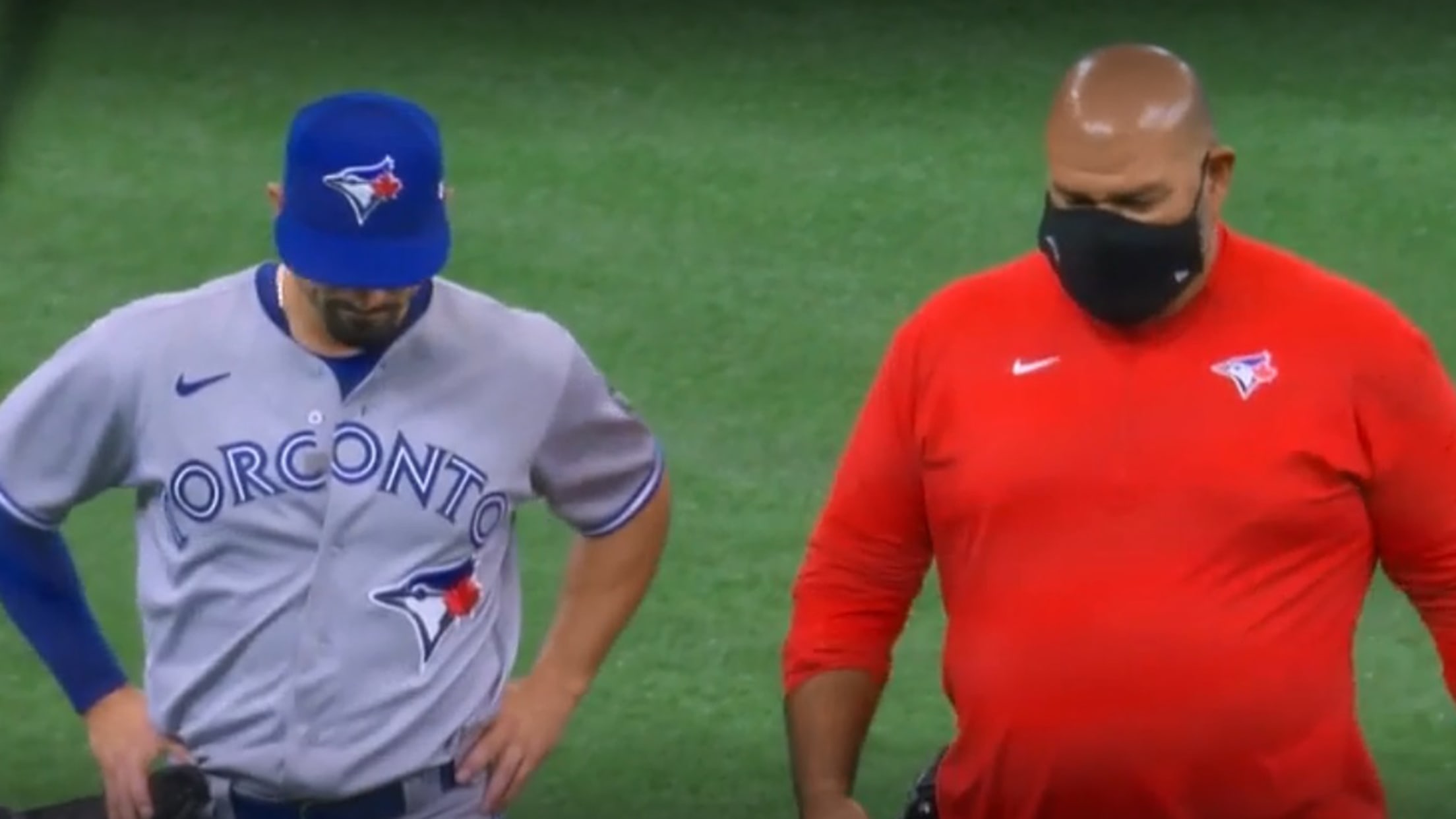 The Blue Jays endured a pair of early exits in Sunday's 6-5, 10-inning loss to the Rays at Tropicana Field. Center fielder Randal Grichuk was removed in the sixth inning after experiencing discomfort in his right SI joint while tracking down a ball at the wall, and closer Ken Giles
Smoak's 'veteran voice' helps Bo (concussion)
Rookie shortstop still experiencing symptoms, content to take time to recover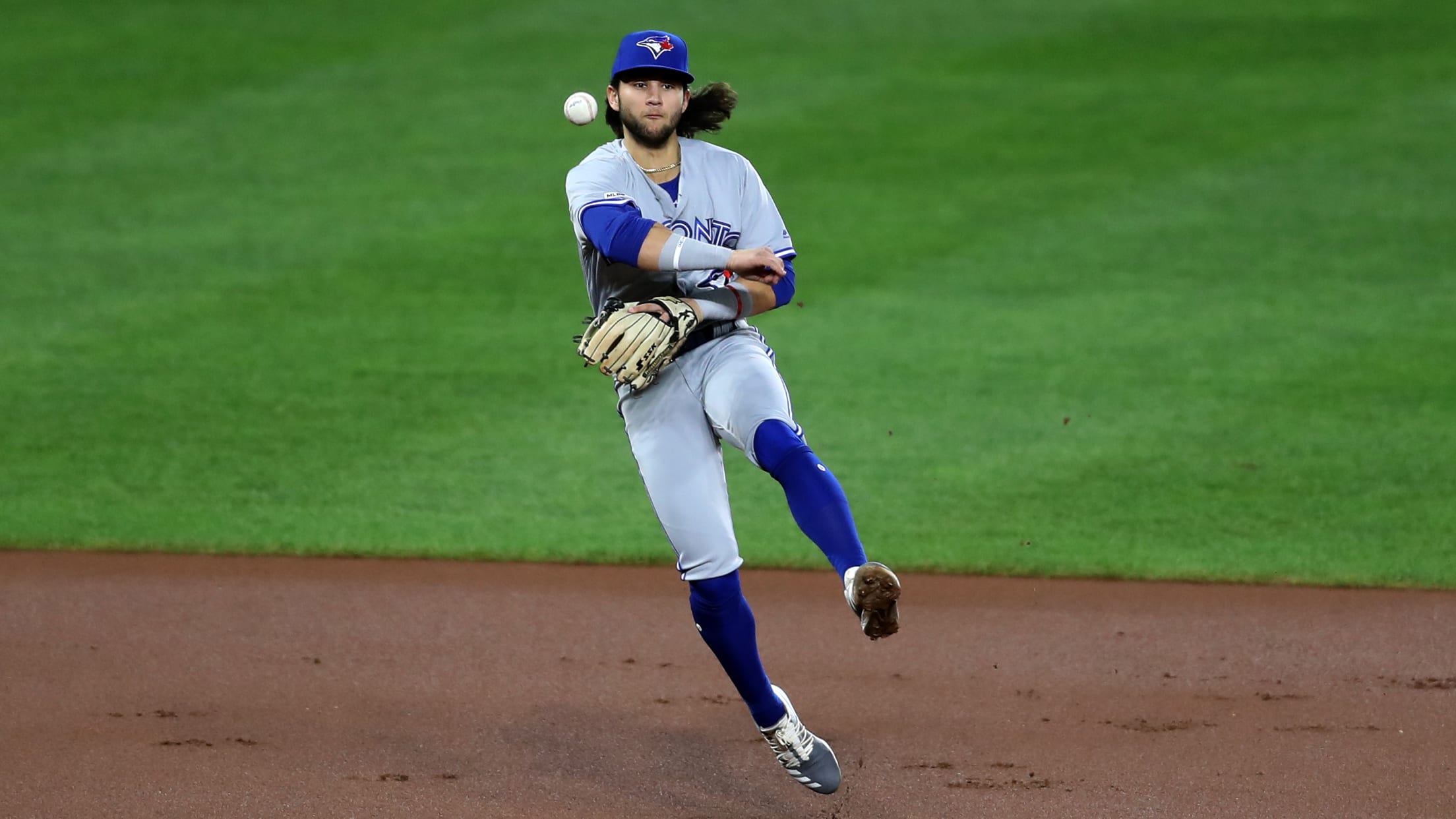 NEW YORK -- On Saturday morning in New York, Bo Bichette shed some light on the concussion that he sustained after being hit on the helmet by a pitch earlier in the week and the process that has immediately followed. The Blue Jays' rookie shortstop is still experiencing symptoms and
Vlad Jr. back in lineup day after injuring ribs
Gurriel started in the outfield for the first time since return from IL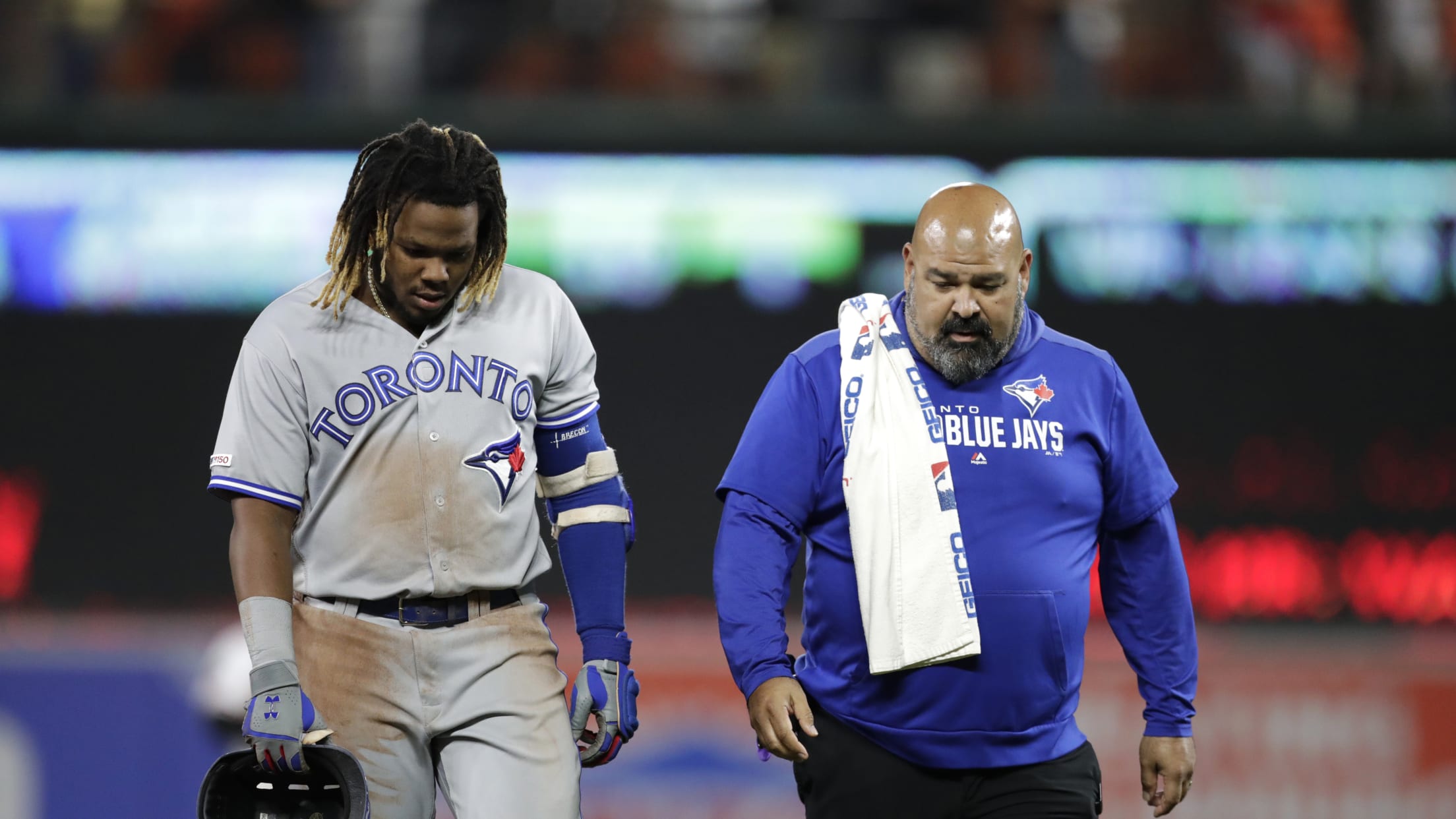 BALTIMORE -- Blue Jays manager Charlie Montoyo has made it his priority this season to mentor his "Baby Birds," almost all of whom are getting their first taste of September baseball. Part of the program, he said, is learning how to play while not feeling 100 percent. That's part of
Mayza has Tommy John surgery, out until 2021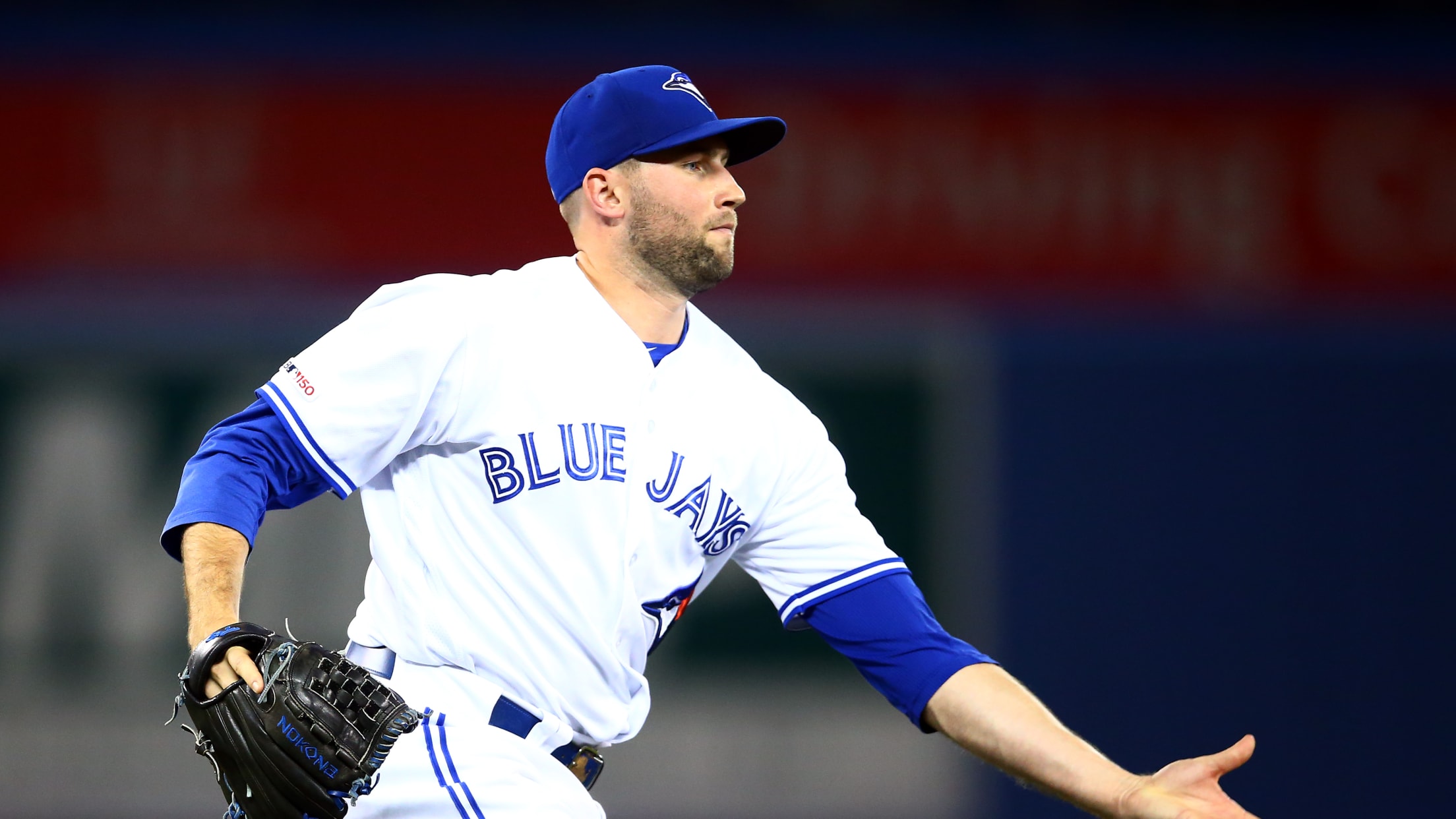 BALTIMORE -- As scheduled, Blue Jays reliever Tim Mayza underwent Tommy John reconstructive surgery on the ulnar collateral ligament in his left elbow on Wednesday afternoon in Dallas with Dr. Keith Meister. What wasn't expected was the additional information the operation revealed, especially given its rarity. Mayza was found to
Vlad Jr. exits with rib injury after slide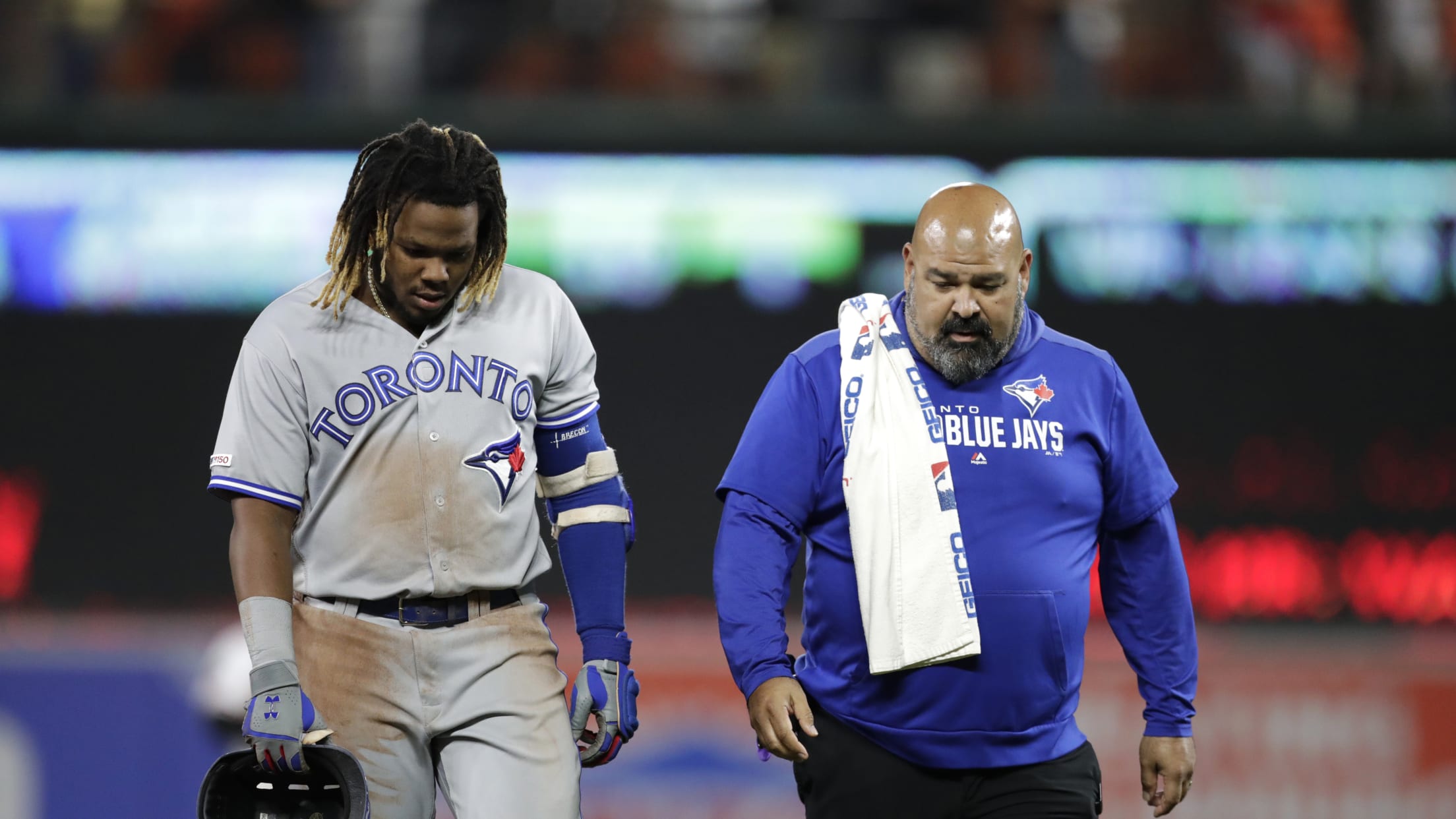 BALTIMORE -- A gnarly slide into second base forced Blue Jays rookie sensation Vladimir Guerrero Jr. to exit Wednesday's 11-10 win over the Orioles at Camden Yards with a left rib injury. The club does not yet know the extent of Guerrero's ailment, but the 20-year-old had the left side
Gurriel Jr. placed on IL with left quad strain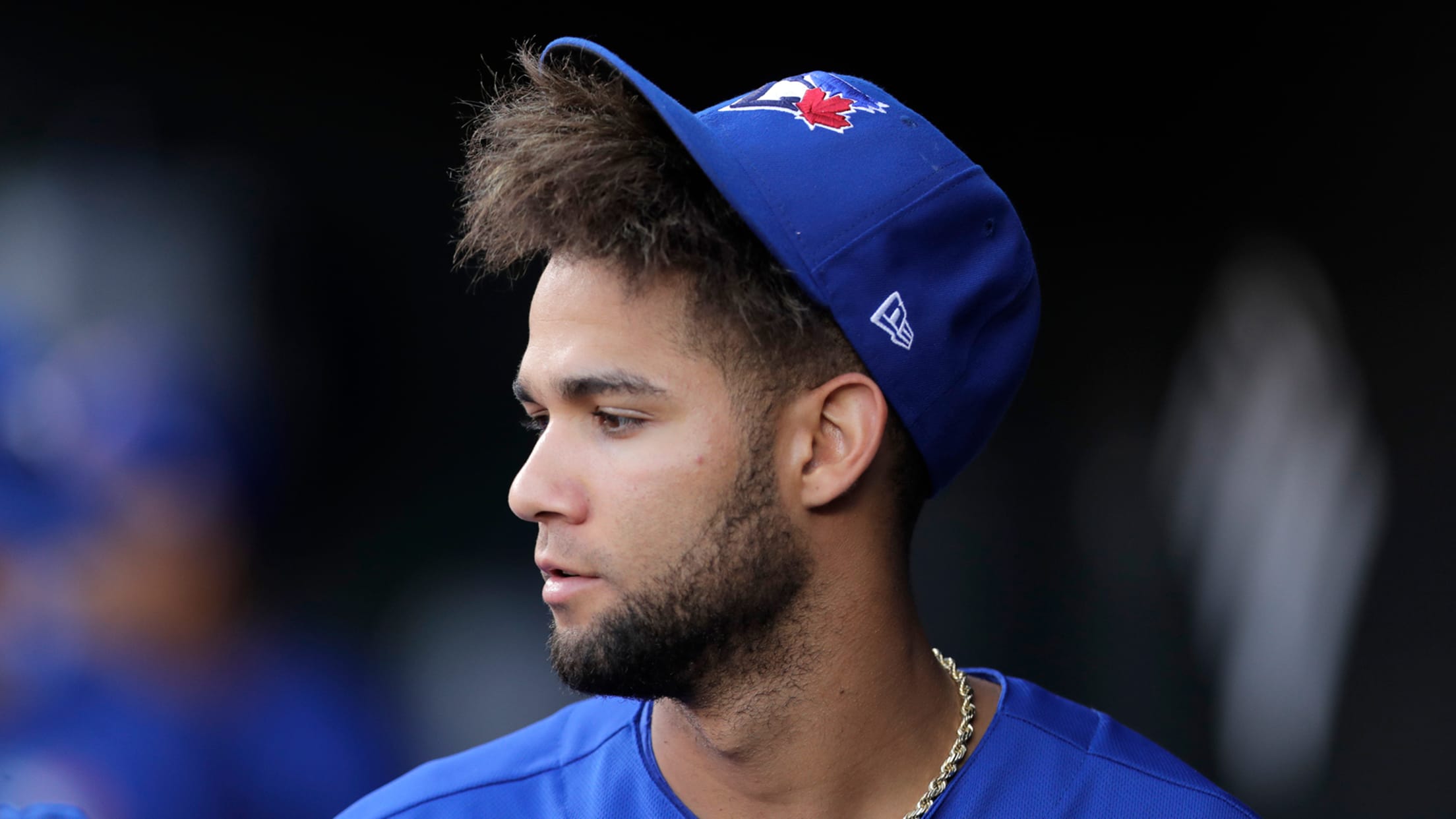 TORONTO -- Among the memorable moments of the Blue Jays' 12-6 loss to the Yankees on Thursday night was a lowlight in the bottom of the ninth inning. Running down the first-base line to leg out a leadoff infield single, outfielder Lourdes Gurriel Jr. clutched his left quadriceps and fell
Grichuk out Friday after foul ball to face
Outfielder avoids serious injury; Kingham recalled, McKinney optioned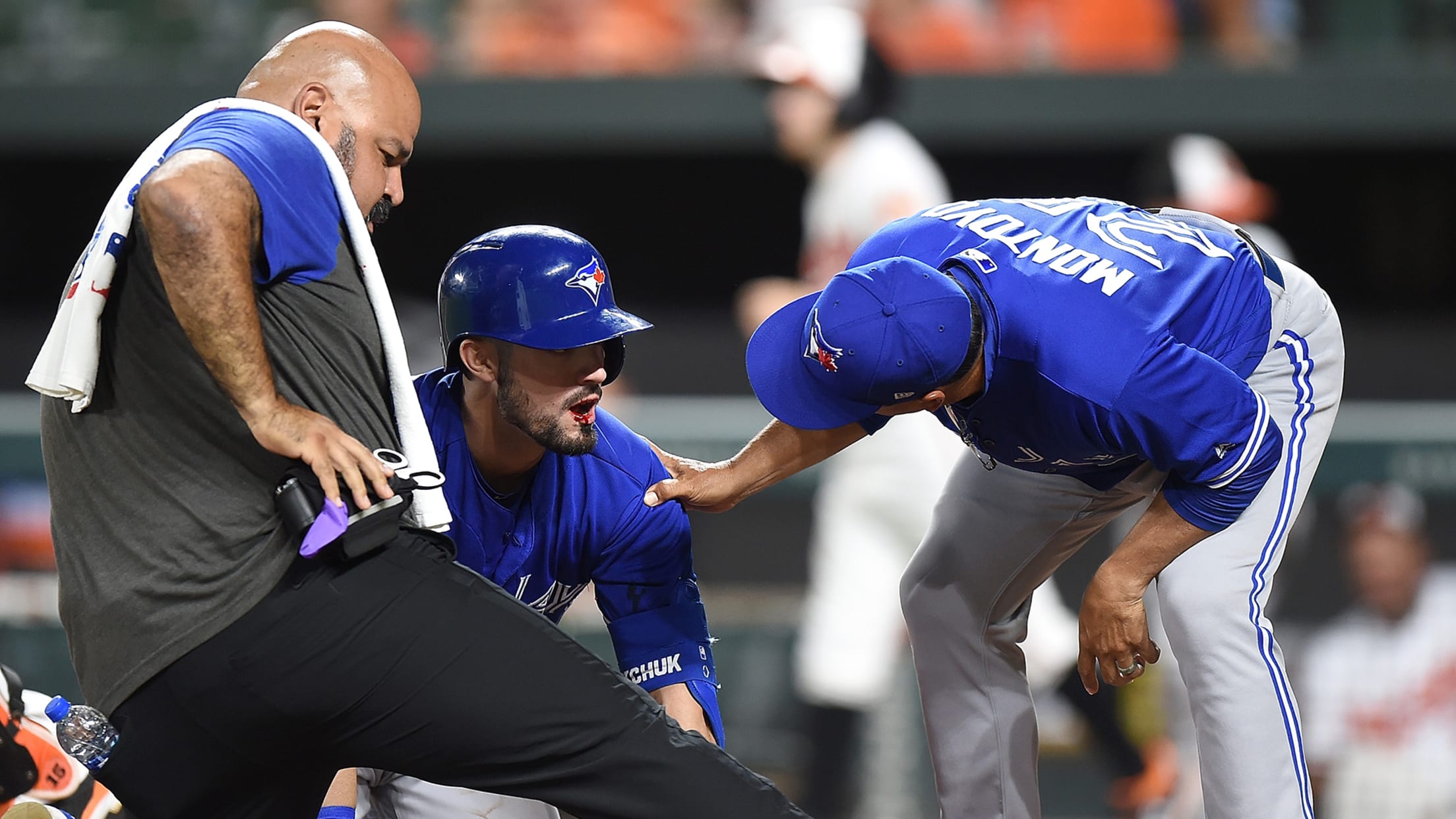 BALTIMORE -- Busted lip and all, Randal Grichuk wanted to play on Friday. But Blue Jays manager Charlie Montoyo and his training staff opted for caution and held the outfielder on the sidelines for the second game of a four-game series in Baltimore. All things considered, it's an incredibly fortunate