The Toronto Blue Jays have selected INF Joe Panik to the 40-man roster. RHP Yennsy Diaz has been placed on the 60-day injured list (right lat strain). Panik, 29, batted .381 with a triple, two home runs and five RBI in 10 Spring Training contests. The 6-1, 200 lb. left-handed
Team Toronto Fund created
Blue Jays, Leafs, Raptors, TFC, and Argos team together to create special assistance fund for event staff
As COVID-19 has brought the Toronto sports landscape and entire GTA community unforeseen challenges, team presidents Mark Shapiro of the Blue Jays, Brendan Shanahan of the Maple Leafs, Masai Ujiri of the Raptors, and Bill Manning of TFC and the Argonauts have teamed up and are personally contributing and leading
Blue Jays share Rogers Centre extended netting plan 
The Toronto Blue Jays today announce the plan to extend the protective netting at Rogers Centre, as part of the club's commitment to improve fan safety while preserving the live baseball experience. The extended netting will be installed before Opening Day (Thursday, March 26). The new protective netting will be
Blue Jays sign LHP Marc Rzepczynski
The Toronto Blue Jays have agreed to terms with LHP Marc Rzepczynski on a Minor League contract with an invite to Major League Spring Training.
Rzepczynski*, 34, made 45 relief appearances for the Triple-A Reno Aces last season while going 2-4 with a 5.04 ERA. The left-hander last pitched
Sales now open for Jays Care's half-million-dollar Opening Weekend 50/50 jackpot
One Blue Jays fan will win a minimum $500,000 50/50 jackpot during Opening Weekend presented by TD; after giving away an MLB-record $538,897 jackpot last year, Jays Care is introducing more ways for fans to win with four Blue Jays Early Bird prizes
Jays Care Foundation, the charitable arm of the Toronto Blue Jays, is excited to announce the launch of sales for the 2020 Opening Weekend 50/50 jackpot, with a guaranteed minimum prize of $500,000. New in 2020, fans will also be eligible to win four exclusive Blue Jays Early Bird prizes.
Blue Jays statement on the passing of Tony Fernandez
"The Toronto Blue Jays are deeply saddened by the passing of Tony Fernandez today, one of our club's most celebrated and respected players. Enshrined forever in Blue Jays history on the Level of Excellence, Tony left an equally indelible mark in the hearts of a generation of Blue Jays fans
Blue Jays statement on Reese McGuire
The Toronto Blue Jays are aware of the recent police incident involving catcher Reese McGuire. He has been in communication with the Blue Jays and we are working to gather more information. Out of respect for the legal process, neither he nor the club will comment any further at this
Blue Jays Spring Training invite
The Toronto Blue Jays have agreed to terms with RHP Jake Petricka on a Minor League contract with an invite to Major League Spring Training. Petricka, 31, made six appearances for the Milwaukee Brewers last season, posting a 3.38 ERA and a 1.50 WHIP. The 6-5, 200 lb. right-hander also
Blue Jays sign RHP Rafael Dolis
The Toronto Blue Jays have agreed to terms with RHP Rafael Dolis on a one-year contract (US $1,000,000) with a club option for the 2021 season. To make room on the 40-man roster, INF Breyvic Valera has been designated for assignment. Dolis, 32, spent his 2019 season in the Japanese
Gil Kim to join Major League coaching staff
The Toronto Blue Jays have announced that Gil Kim has been promoted to the Major League coaching staff. Gil will retain his title as Director of Player Development but will be in uniform with the Major League Team over the course of the season. His focus will be to add
Blue Jays Announce 2020 Minor League Appointments
The Toronto Blue Jays have announced the following appointments to their High Performance and Player Development departments for 2020: The Field Managers for the upcoming Minor League season will be Ken Huckaby (Buffalo-AAA), Cesar Martin (New Hampshire-AA), Donnie Murphy (Dunedin-High A), Luis Hurtado (Lansing-Low A), Brent Lavallee (Vancouver-Short-Season), Jose Mayorga
Blue Jays announce 2020 promotions & events schedule
The 2020 schedule features giveaways or special events at more than 50 home games; single-game tickets and offers go on sale beginning January 23
The Toronto Blue Jays today released its 2020 Promotions & Events Schedule, which contains eagerly anticipated collectible items, with an emphasis on player bobbleheads and jerseys; the return of many signature events that Blue Jays fans have come to know and love, like Canada Day presented by Honda and Pride
Blue Jays Spring Training invitees
The Toronto Blue Jays have agreed to terms with the following free agents on Minor League contracts with invites to 2020 Major League Spring Training: C Patrick Cantwell, RHP Ryan Dull, C Caleb Joseph, INF Joe Panik and INF Rubén Tejada. Cantwell, 29, signed a Minor League deal with the
Blue Jays unveil #NEWBLUE alternate uniform
New Blue is an original colour – inspired by the baby blues of the past, reimagined into a modern alternate uniform
The Toronto Blue Jays today unveil New Blue: a new alternate uniform launching for the 2020 season. An original classic, New Blue is reminiscent of beloved Blue Jays teams and players of the past and reimagined into a modern alternate uniform. The new alternate option can be worn for both
Blue Jays agree to terms with three players
The TorontoBlue Jays have agreed to terms on 2020 contracts with INFBrandon Drury (US $2,050,000), RHP Ken Giles (US $9,600,000), and RHP Matt Shoemaker (US $4,200,000). The Blue Jays have no remaining arbitration-eligible players on the roster. Drury, 27, hit .218 (91-for-418) with 21 doubles, one triple, 15 home runs
Shane Farrell named Amateur Scouting Director
The Toronto Blue Jays today announce that Shane Farrell has been hired as Amateur Scouting Director. Farrell was previously a West Coast Crosschecker with the Chicago Cubs. He joined the Cubs' front office in 2012 as an Amateur Scouting Assistant before becoming an Area Scout in 2017. Originally from Westlake,
Blue Jays sign INF Travis Shaw
The Toronto Blue Jays have agreed to terms with free agent INF Travis Shaw on a one-year contract (US $4,000,000). To make room on the 40-man roster, INF Richard Ureña has been designated for assignment. Toronto's 40-man roster now stands at 40. Shaw, 29, slashed .157/.281/.270 over 86 games for
Blue Jays sign RHP Shun Yamaguchi 
The Toronto Blue Jays have agreed to terms with RHP Shun Yamaguchi on a two-year contract (US $6,350,000). Yamaguchi had been posted by the Yomiuri Giants of Nippon Professional Baseball. Yamaguchi, 32, pitched 170.0 innings with a 2.91 ERA, 60 walks, and 188 strikeouts over 26 starts for the Yomiuri
Blue Jays Sign LHP Hyun-Jin Ryu
The Toronto Blue Jays have agreed to terms with free agent LHP Hyun-Jin Ryu on a four-year contract (US $80,000,000). Ryu, 32, led the Majors with a 2.32 ERA last season and finished second in National League Cy Young voting, going 14-5 while pitching 182.2 innings for the Los Angeles
Blue Jays announce more than 60 players and alumni attending Winter Fest on January 18 & 19 
Bo Bichette, Vladimir Guerrero Jr., Randal Grichuk, Roberto Alomar, George Bell, and many more headline the two-day event presented by TD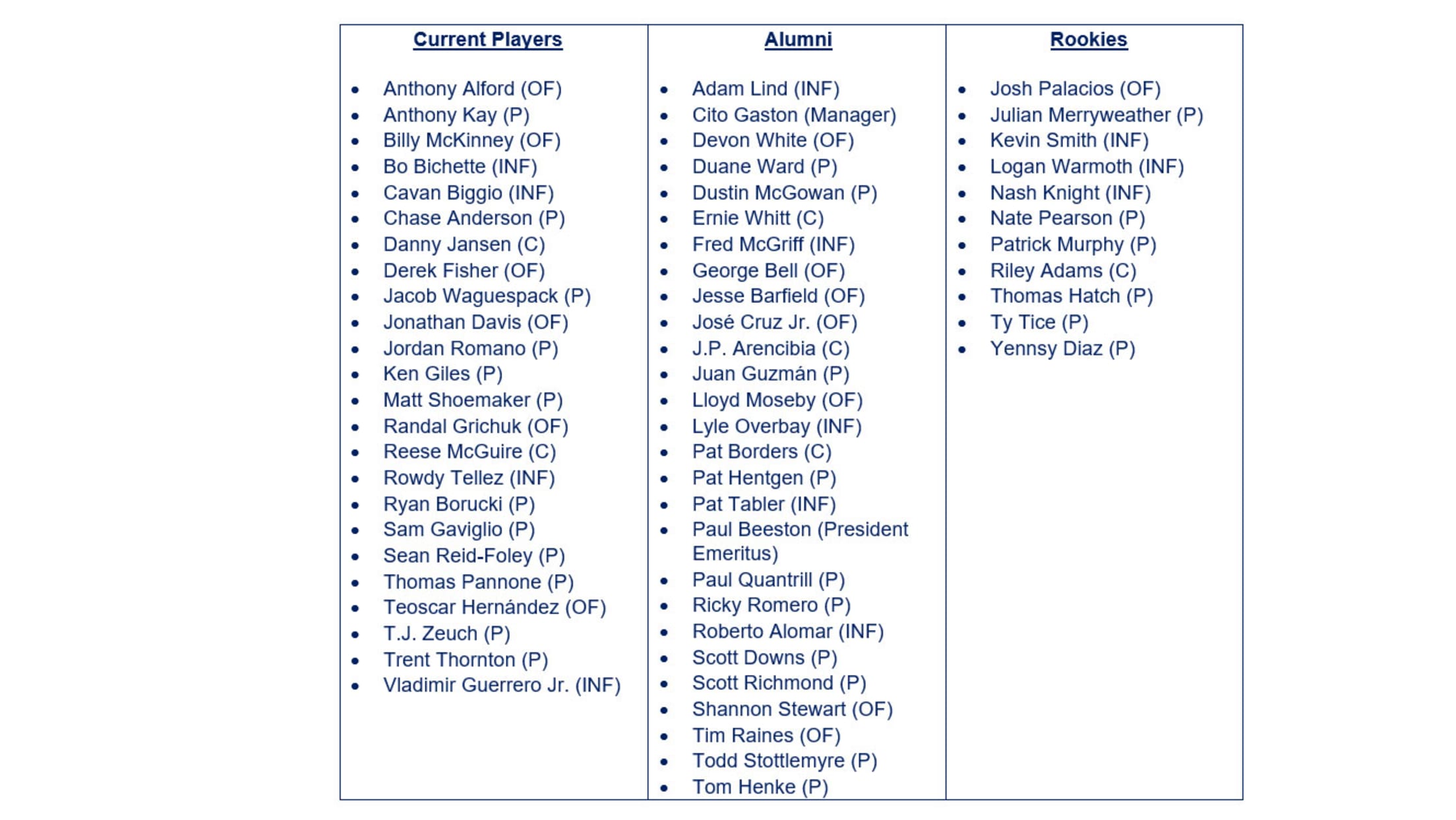 Santa Claus is not the only one coming to town this winter! More than 60 Blue Jays players, alumni, rookies, coaches, and Front Office staff are making their long-awaited return to Toronto on Saturday, Jan. 18 and Sunday, Jan. 19 for Winter Fest presented by TD. The third-annual event gives
Blue Jays sign RHP Tanner Roark 
The Toronto Blue Jays have agreed to terms with free agent RHP Tanner Roark on a two-year contract (US $24,000,000). Roark, 33, pitched for the Cincinnati Reds and Oakland Athletics last season, combining for a 10-10 record and a 4.35 ERA across 165.1 innings of work. He has made at
Jose Ministral named Blue Jays head athletic trainer
The Toronto Blue Jays have announced that Jose Ministral has been promoted to Head Athletic Trainer. Ministral had been Major League Assistant Athletic Trainer over the past two seasons. He is entering his eighth campaign with the organization, joining the Blue Jays in 2013 as Assistant Athletic Training Coordinator. Ministral
2019 Toronto BBWAA Award winners
The Toronto Chapter of the BBWAA have announced their annual award winners highlighted by the selection of OF Lourdes Gurriel Jr., who earned both the Neil MacCarl Award as player of the year and the Most Improved Player Award. Also recognized were RHP Ken Giles, who earned the Pitcher of
Blue Jays sign RHP Anthony Bass
The TORONTO BLUE JAYS have agreed to terms with RHP ANTHONY BASS on a one-year contract (US $1,500,000). BASS, 32, went 2-4 with a 3.56 ERA and 43 strikeouts across 48.0 innings pitched for Seattle last season. The 6-2, 200 lb. right-hander was signed by the Mariners to a Major
The TORONTO BLUE JAYS have non-tendered the following players:
C Luke Maile
RHP Derek Law
RHP Jason Adam All other unsigned players on the 40-man roster have been tendered a contract for 2020. Media Contacts Richard Griffin,

[email protected]

, 416.341.1691 Ryan Brown,

[email protected]

, 416.341.1064 Adam Felton,

[email protected]

, 416.341.3878