Injuries & Moves: Soler returns to lineup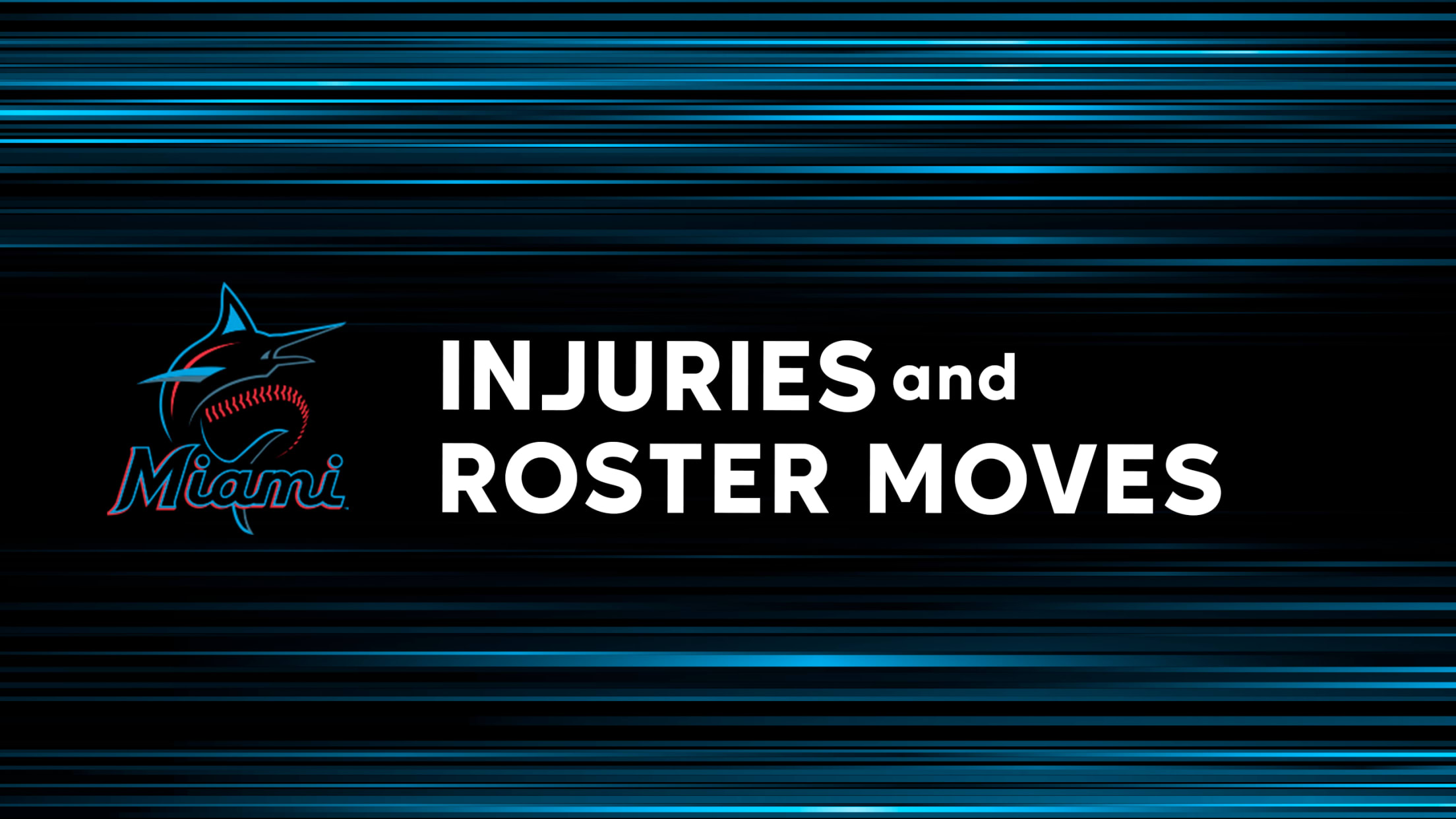 Keep track of the Marlins' recent transactions and injury updates throughout the season.
Marlins' Meyer placed on Minor League IL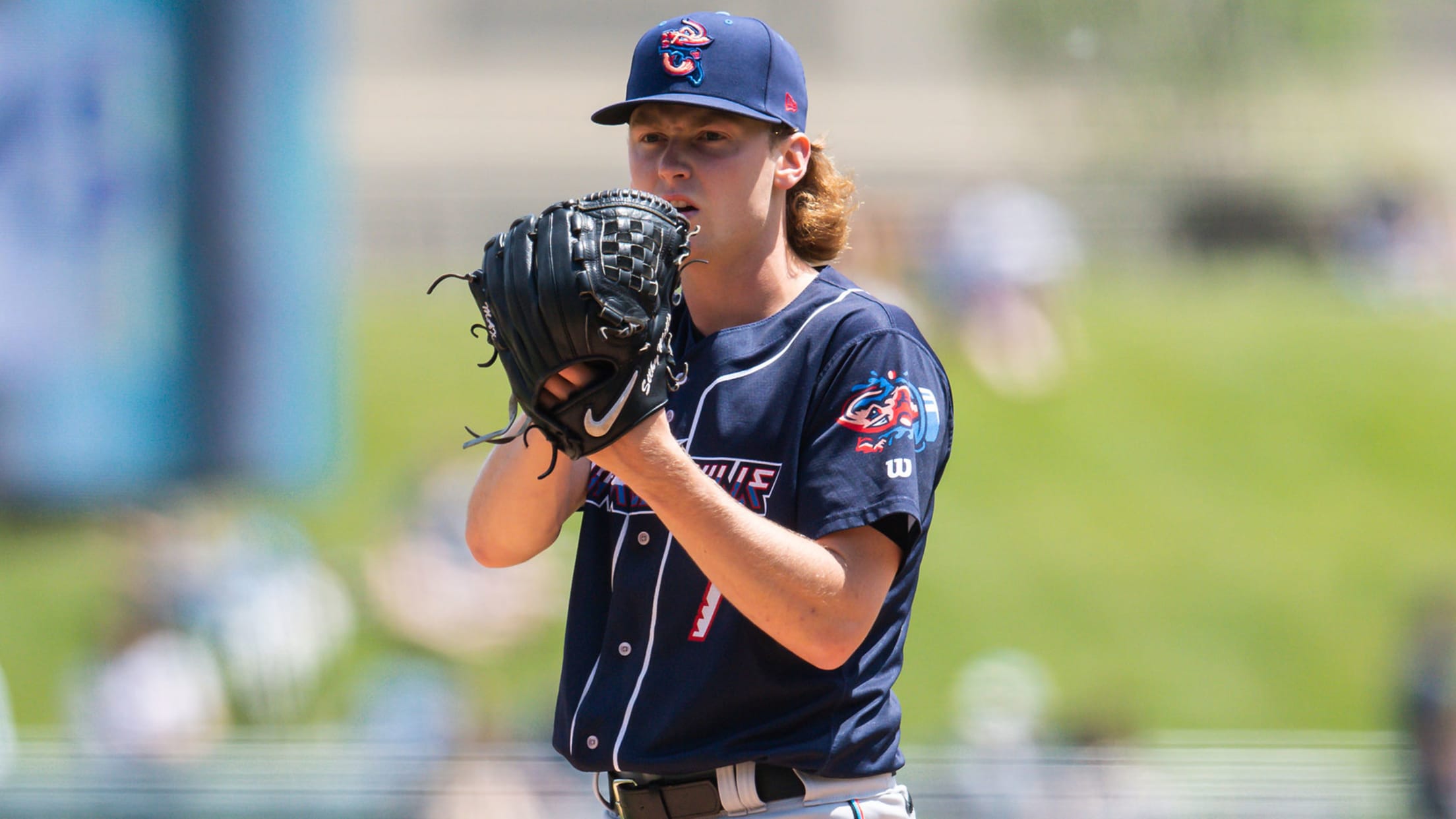 Marlins right-handed pitching prospect Max Meyer, MLB Pipeline's No. 31 overall prospect, was placed on the Minor League seven-day injured list with ulnar nerve irritation on Thursday. The club does not expect Meyer, whose IL move was retroactive to Wednesday, to miss much time. The ulnar nerve controls nearly all
After Luzardo's injury, what are the Marlins' options?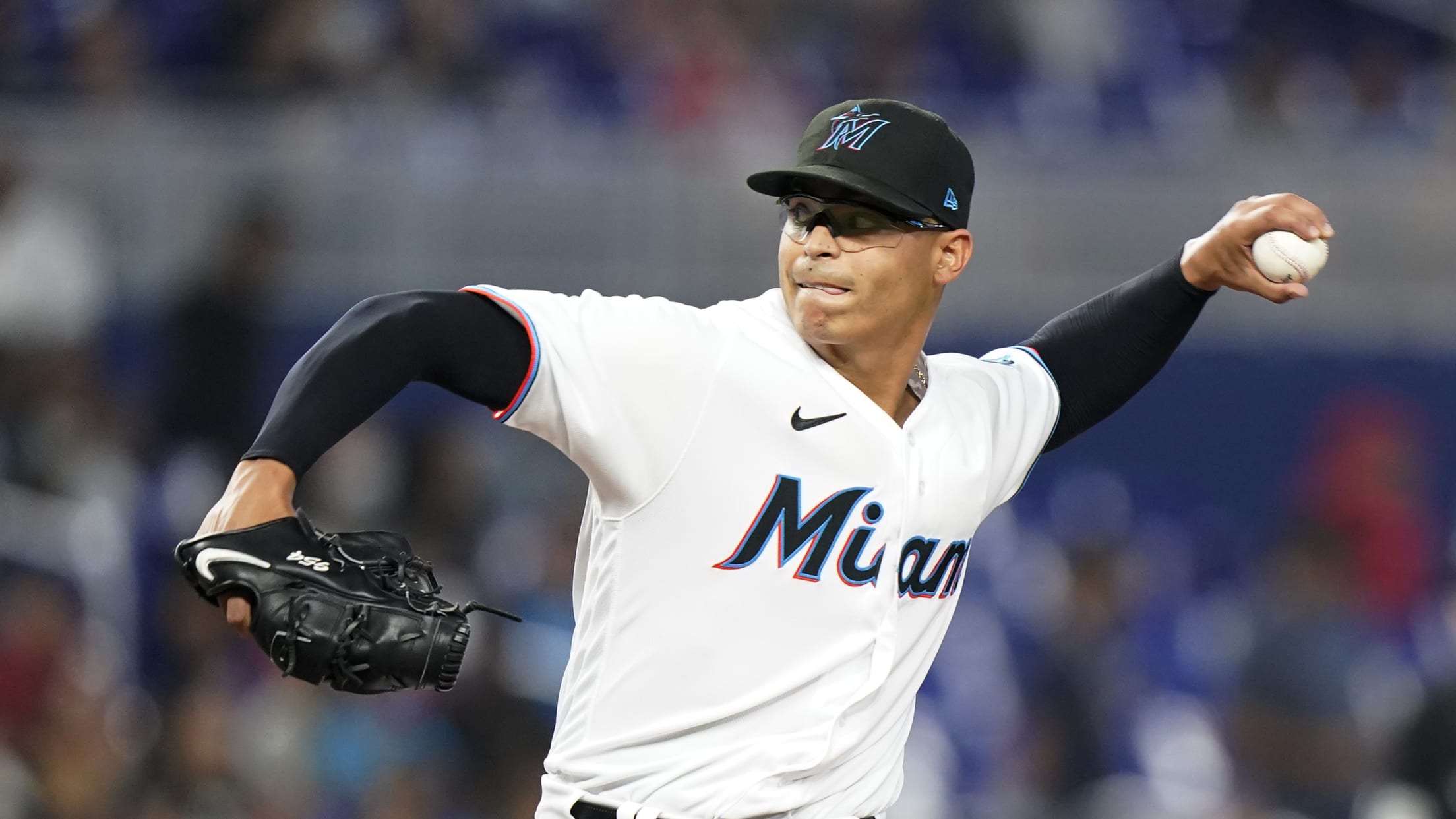 MIAMI -- Hours before losing 7-3 on Sunday afternoon to the Brewers at loanDepot park, the Marlins placed left-hander Jesús Luzardo on the 15-day injured list with a left forearm strain (retroactive to May 12). Until this point, Miami had avoided an injury to its rotation, which entered the series
Marlins No. 2 prospect Cabrera on MiLB IL (biceps)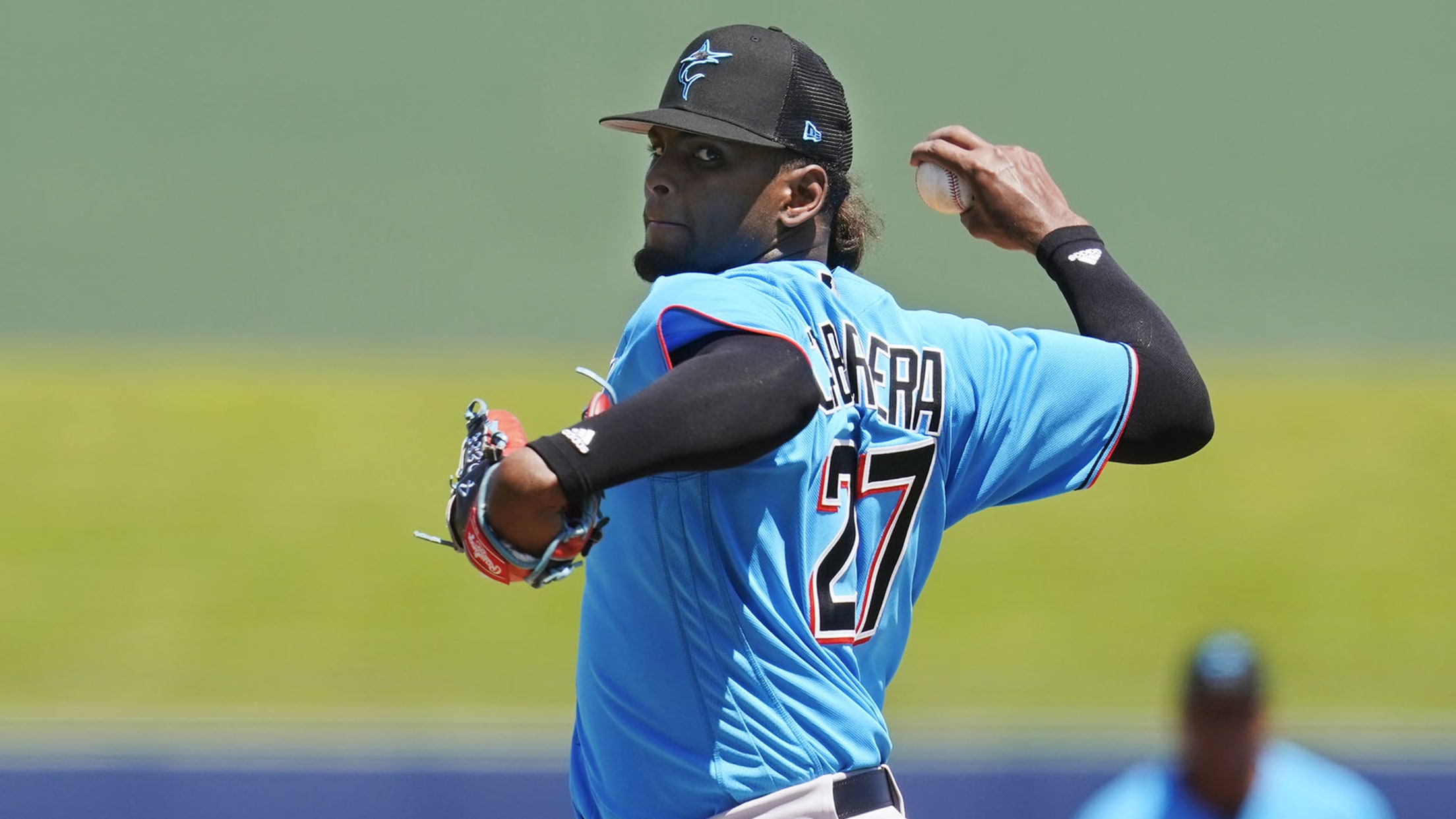 SAN FRANCISCO -- Edward Cabrera, the Marlins' No. 2 prospect and MLB Pipeline's No. 34 overall prospect, has been placed on the seven-day Minor League injured list. "He's going to start throwing again on Monday, but we just shut him down for a couple days," general manager Kim Ng said.
Hernandez hit by liner, suffers forearm bruise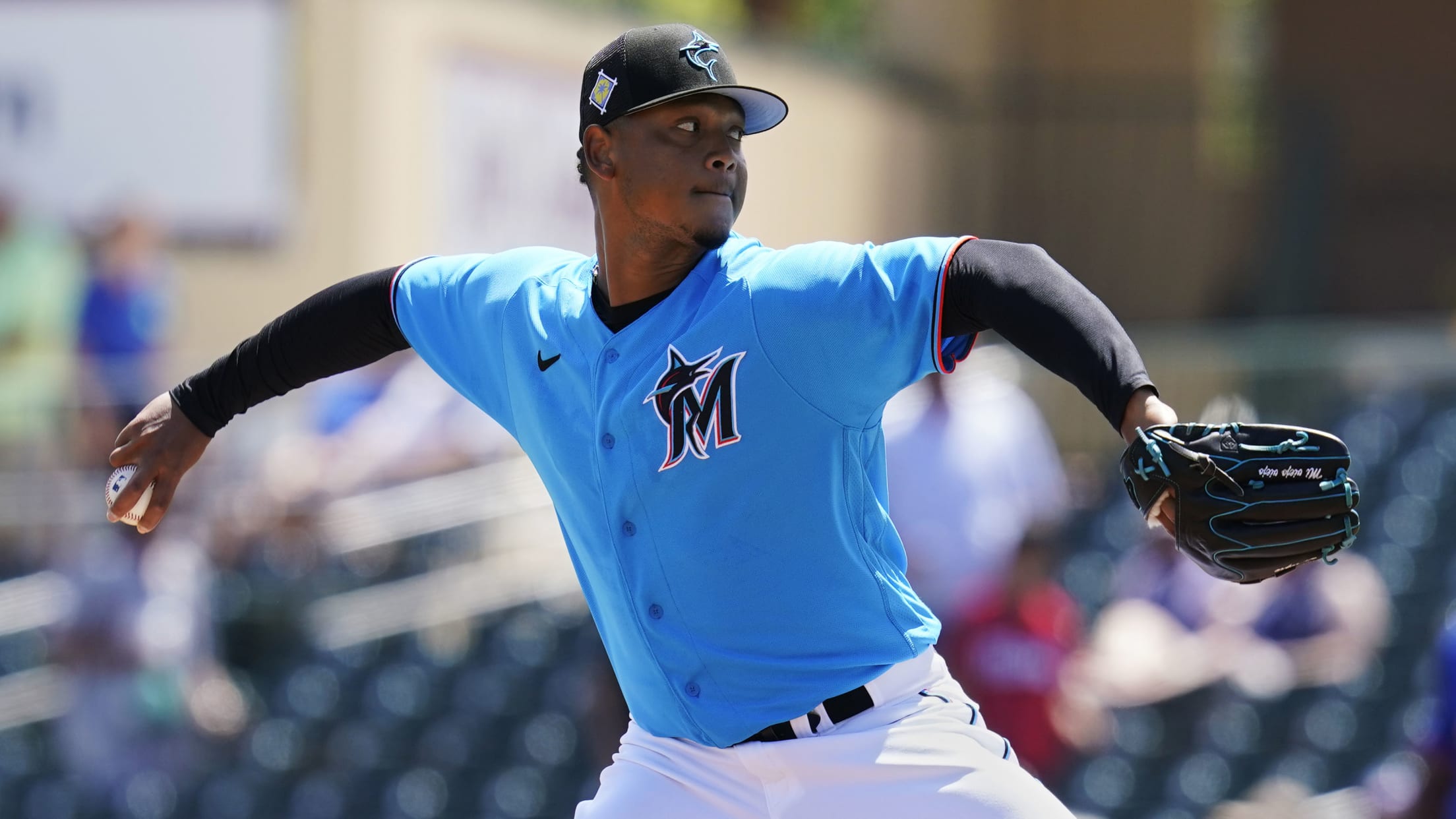 JUPITER, Fla. -- It didn't look good when a comebacker struck Marlins starting pitcher Elieser Hernandez during the first inning of Tuesday's Grapefruit League finale at Roger Dean Chevrolet Stadium. Luckily, it seems Hernandez dodged a serious injury, as he was diagnosed with a right forearm contusion. Cardinals outfielder Tyler
Floro dealing with soreness, ramp-up delayed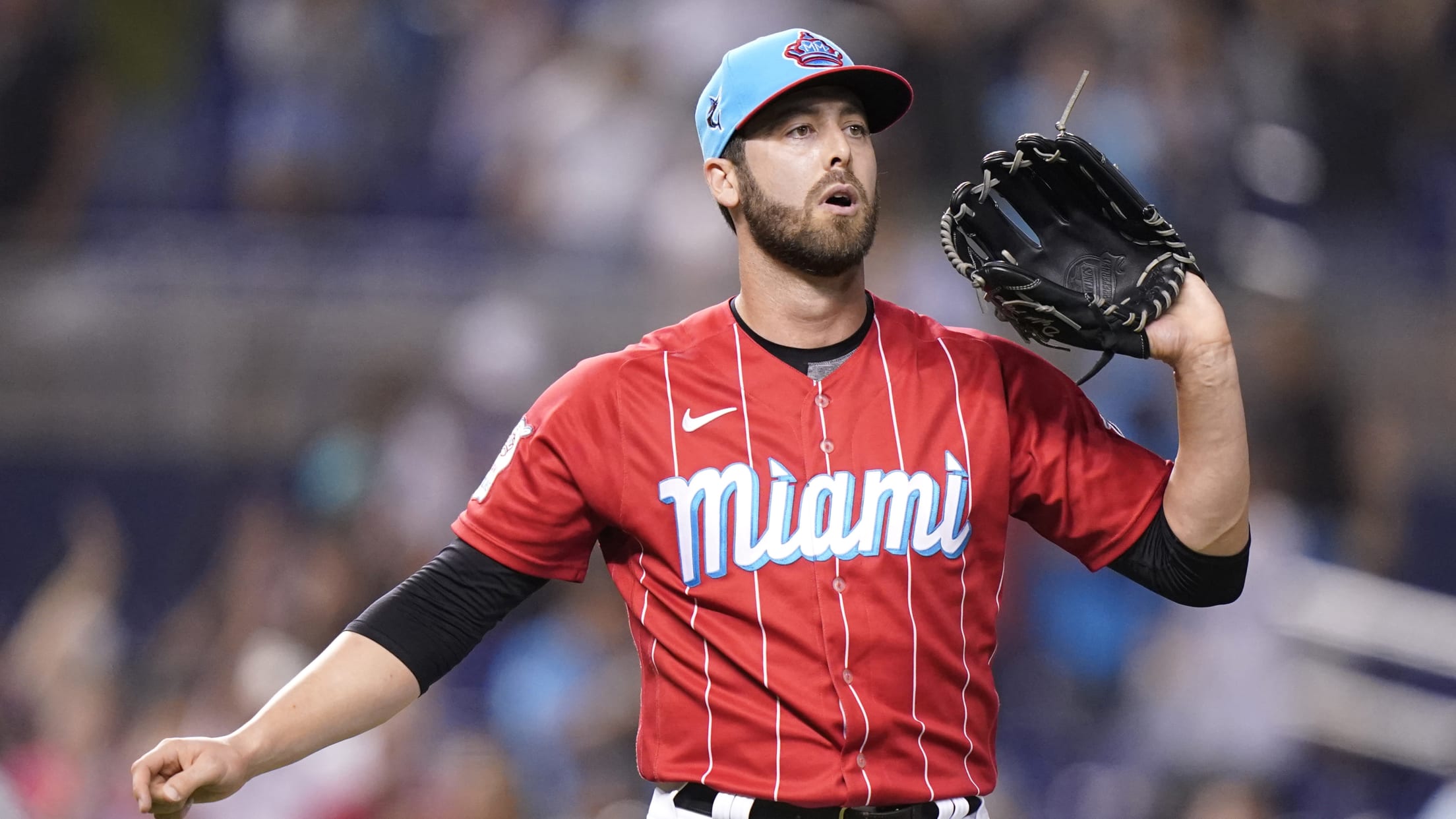 JUPITER, Fla. -- Marlins late-inning reliever Dylan Floro has been dealing with some soreness, which has prevented him from getting in a Grapefruit League game. Whether the 31-year-old righty will be ready for Opening Day on April 8 in San Francisco depends on his ability to ramp up in time.
Sánchez 4 weeks away from throwing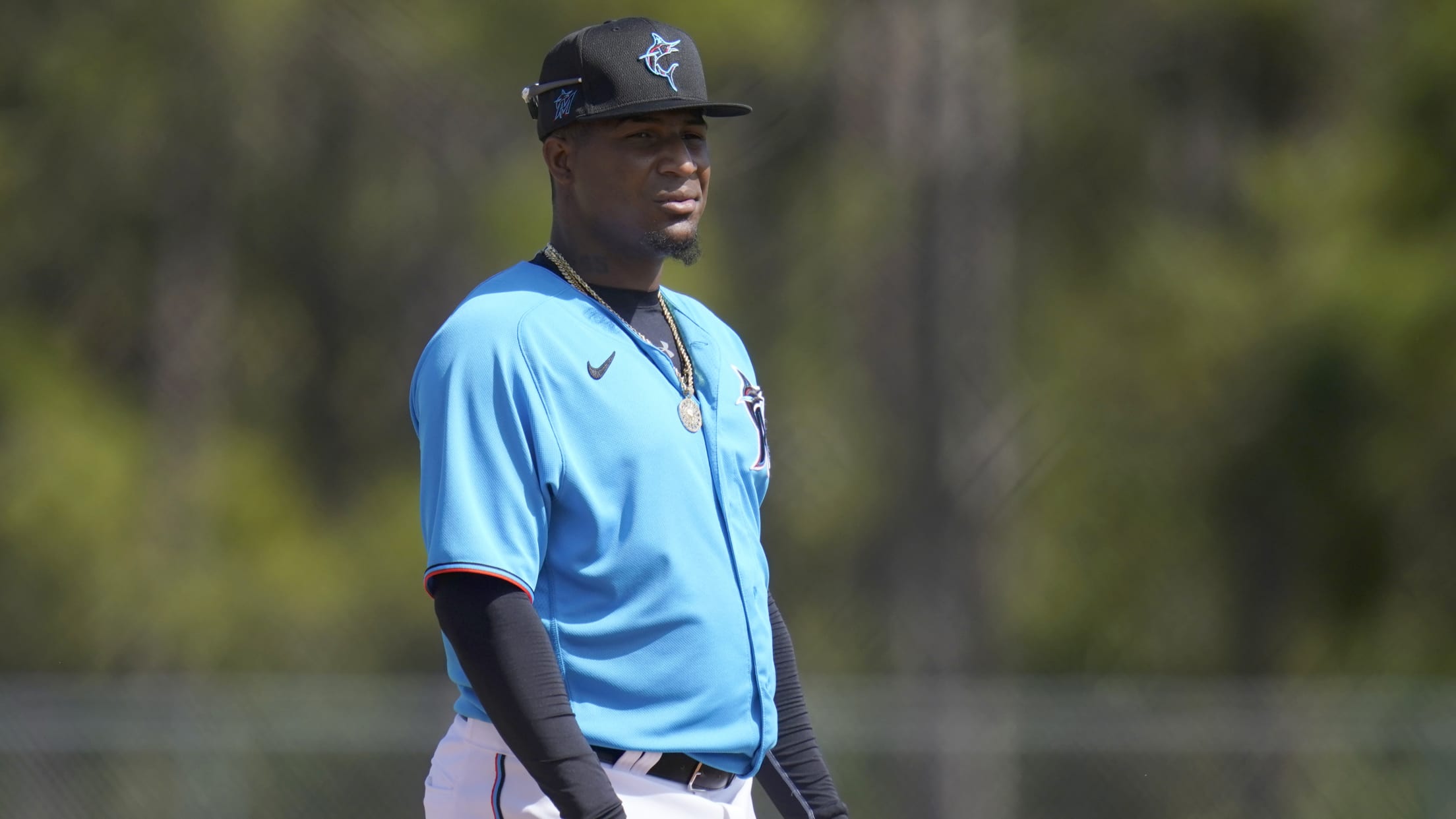 JUPITER, Fla. -- Marlins right-hander Sixto Sánchez has another four weeks before he can begin a throwing a program, MLB Pipeline's No. 58 overall prospect told a small group of reporters on Wednesday. Optioned to Triple-A Jacksonville by the Marlins on Tuesday, Sánchez will continue to rehab his right shoulder,
Sixto shut down; Marlins 'to monitor the situation'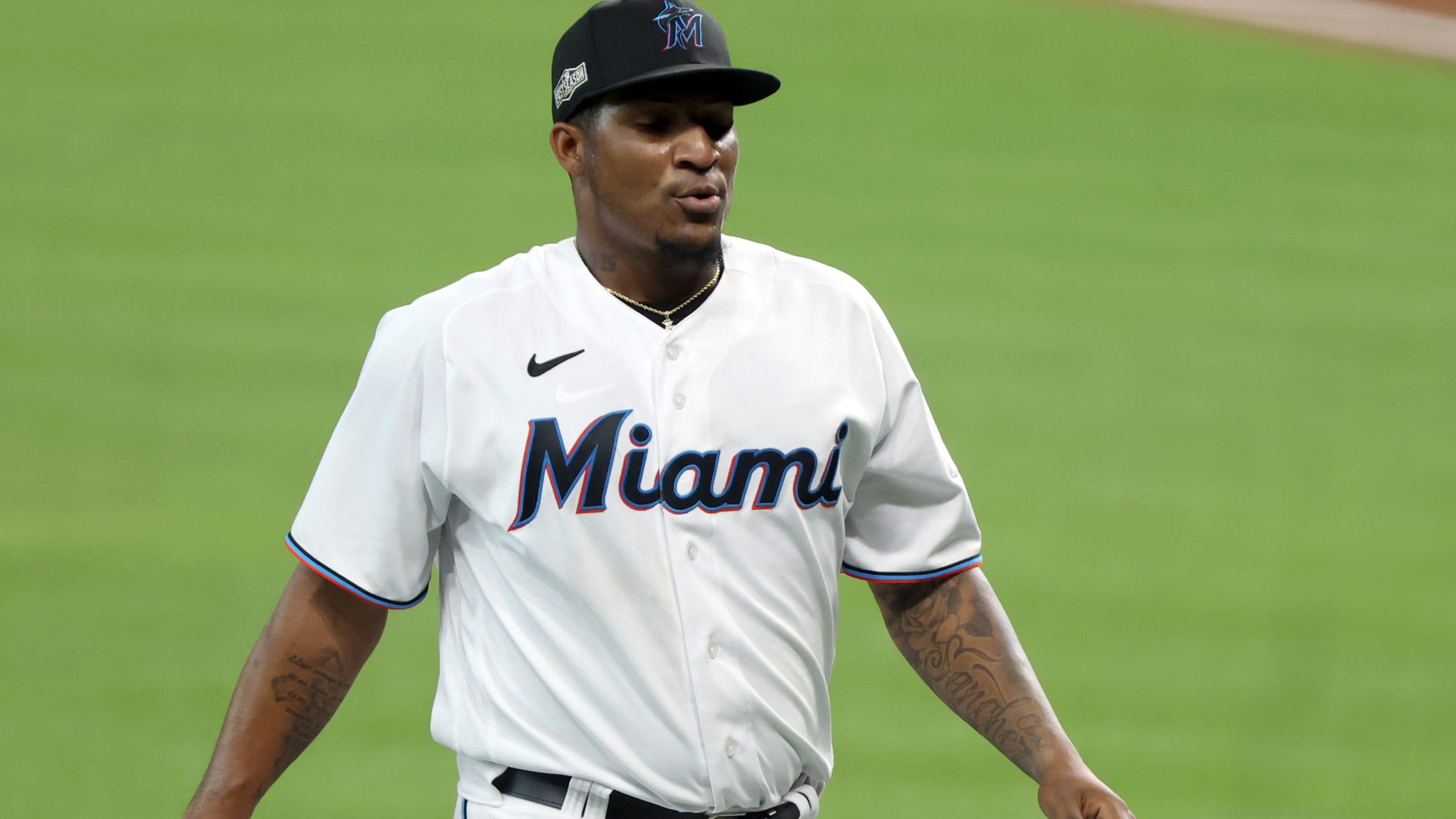 JUPITER, Fla. -- Marlins right-hander Sixto Sánchez has been shut down from throwing, general manager Kim Ng announced on Monday morning. MLB Pipeline's No. 41-ranked prospect underwent an MRI after experiencing discomfort in his right shoulder, which he had surgery on last July 20 to repair a capsular tear and
Expect a 'new version' of Sixto in 2022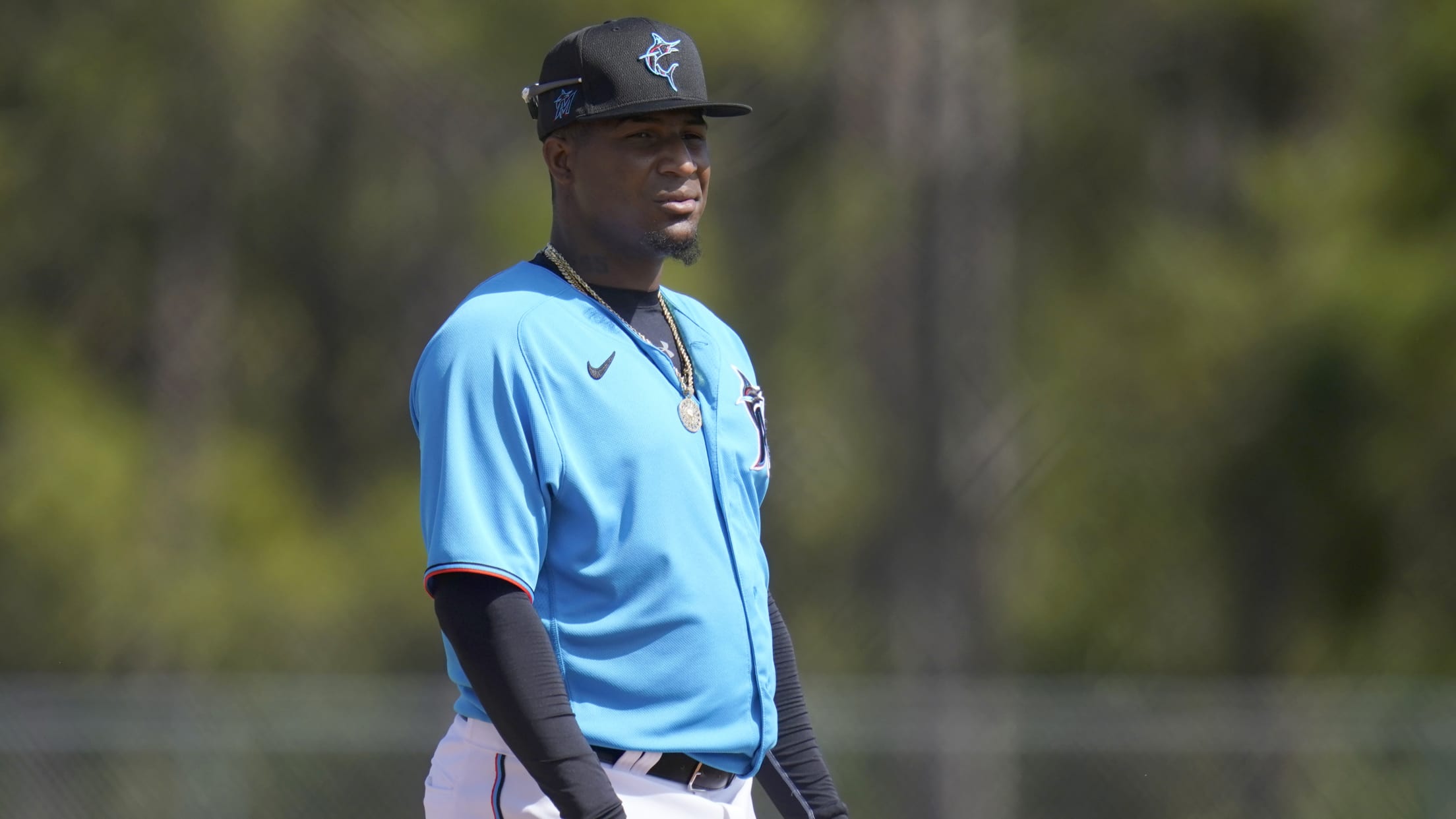 MIAMI -- Right-hander Sixto Sánchez provided an update on his rehab in a video posted on the Marlins' YouTube channel on Sunday. Speaking to Kyle Sielaff of the Marlins Radio Network, MLB Pipeline's No. 41 overall prospect addressed his injury-filled 2021 for the first time. Sánchez, who has been rehabbing
Pablo progressing, hopes to pitch again in '21
WASHINGTON -- Marlins right-hander Pablo López's wish is to return to the big league mound before the season comes to an end. He will continue the rehab process to achieve that with his second bullpen session -- 25-30 pitches -- on Tuesday in Jupiter, Fla. "We all feel safe enough
Anderson discusses shoulder injury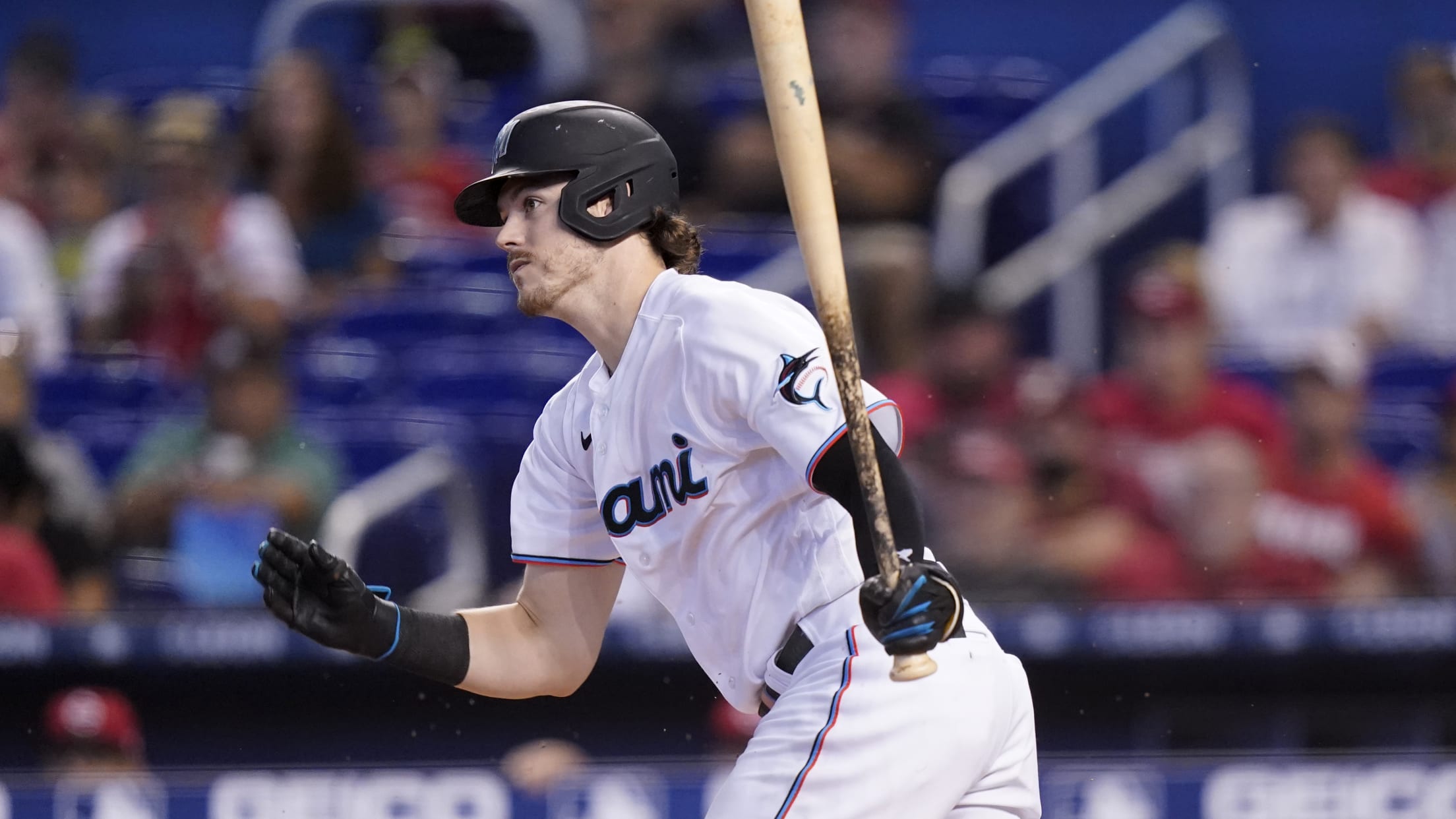 MIAMI -- Marlins third baseman Brian Anderson remains in a holding pattern as he waits to see what the next course of action will be for his left shoulder. Due to Labor Day weekend, Anderson and the Marlins are waiting on different doctors' opinions. He previously spent time this season
Anderson (shoulder) seeking more opinions
Third baseman on IL with left shoulder subluxation for second time in 2021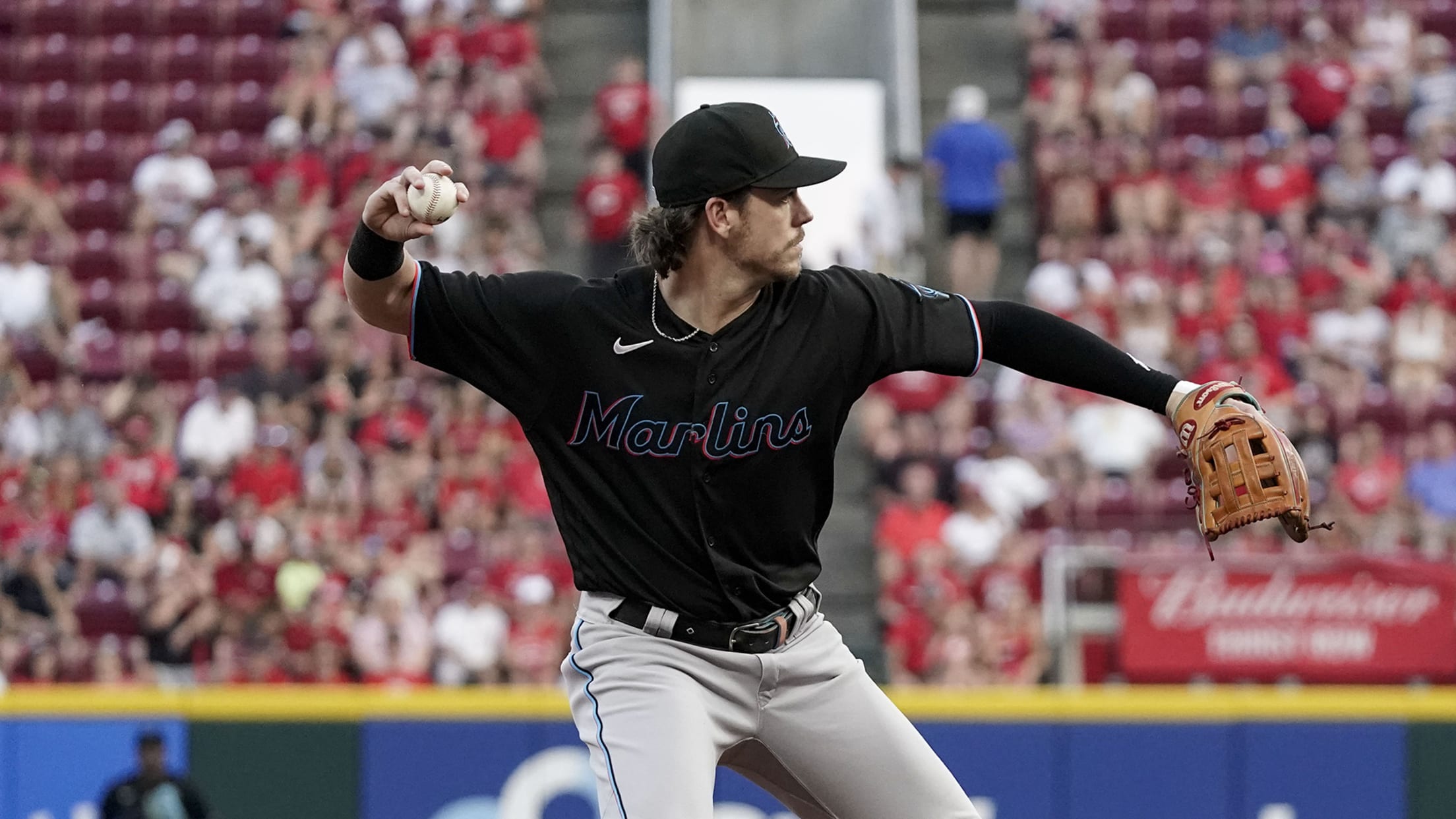 MIAMI -- Marlins third baseman Brian Anderson will get more opinions on his left shoulder as he and the club decide what route to take, said manager Don Mattingly. Anderson, who was placed on the 10-day injured list with a left shoulder subluxation -- the same injury that landed him
Berti concussed, needs stitches after HBP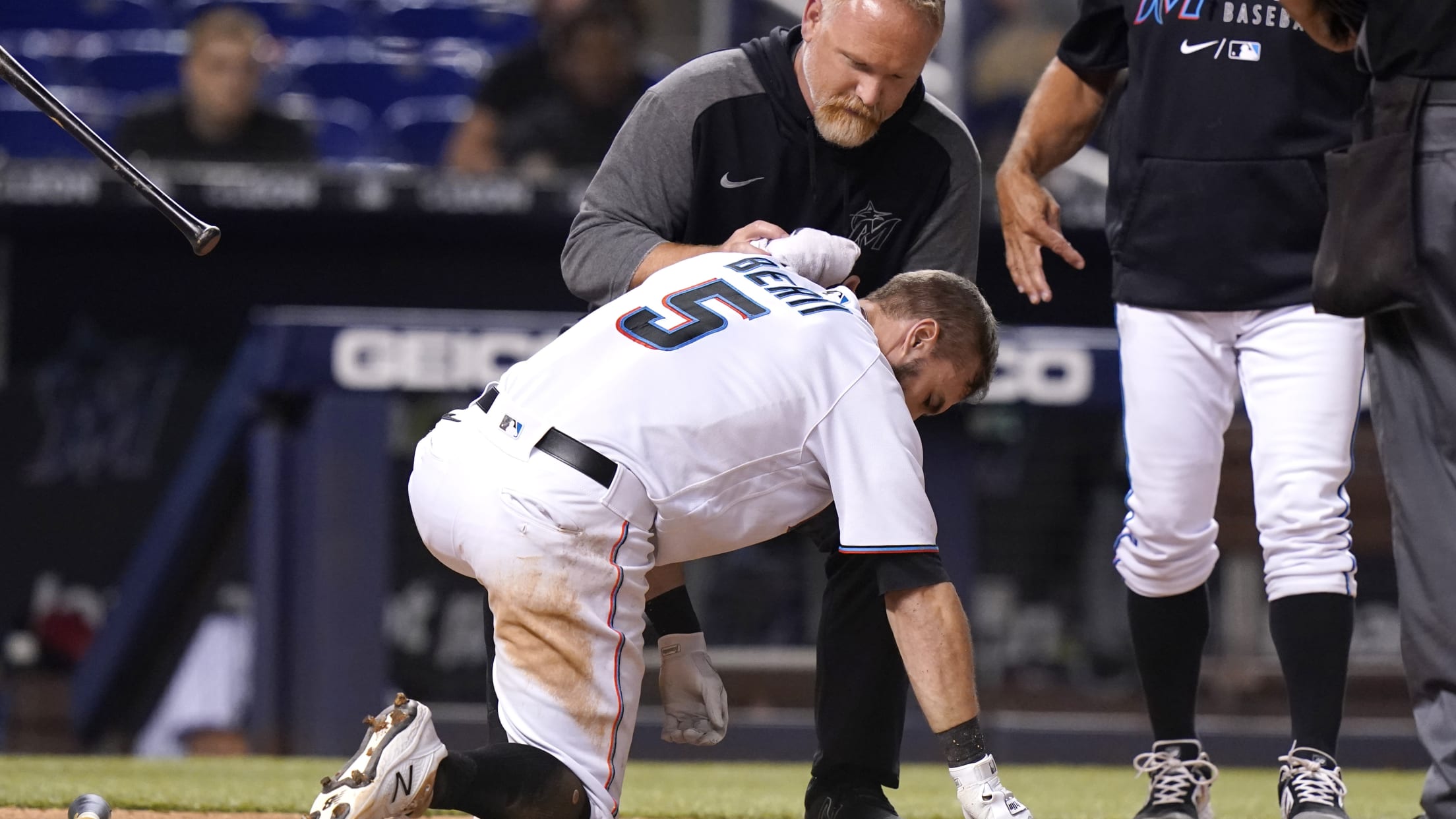 MIAMI -- Jon Berti was diagnosed with a concussion and sustained a laceration on the back of his head that required three stitches after being struck by a pitch in Thursday night's 3-2 Marlins loss to the Padres at loanDepot park. Berti turned away from the 85.2 mph slider from
Jazz (shoulder) progress 'encouraging'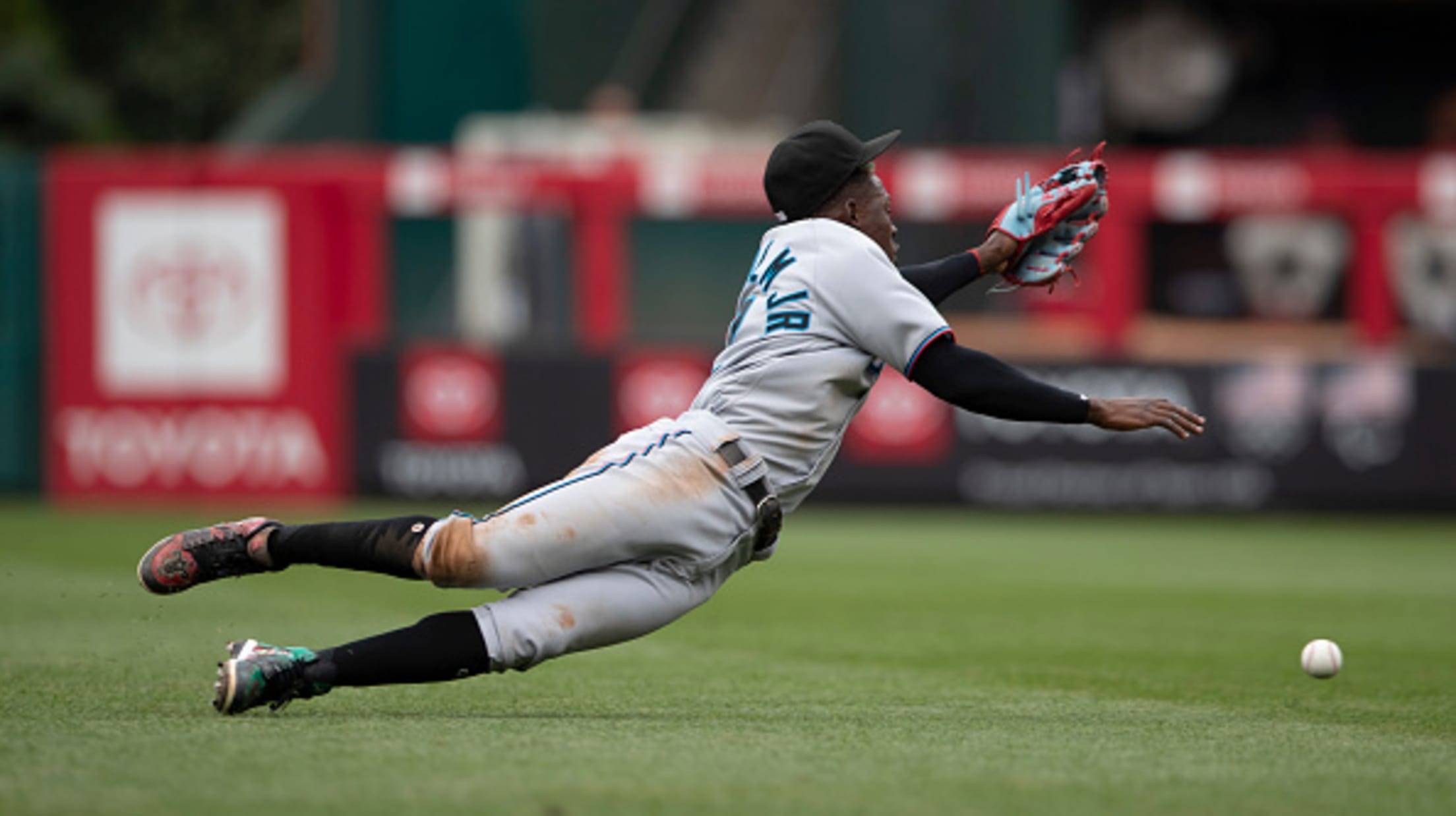 MIAMI -- The Marlins returned home after a tough road trip to an encouraging sight: Jazz Chisholm Jr. playing catch and taking grounders prior to Thursday night's series opener against the Padres at loanDepot park. Chisholm, who went on the injured list on Monday after sustaining a left shoulder bone
Sixto (shoulder surgery) looking to 2022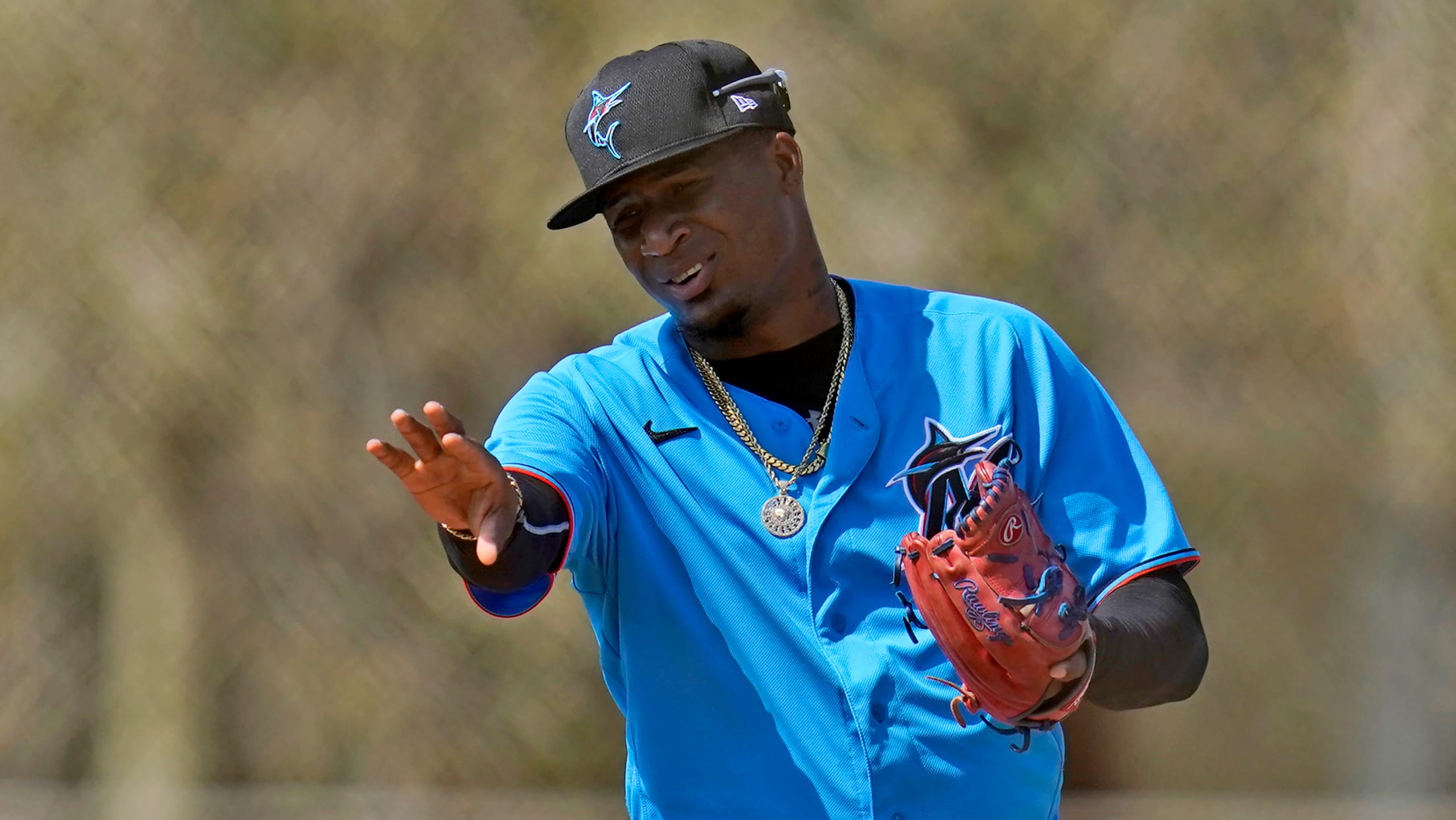 WASHINGTON -- Marlins top prospect Sixto Sánchez underwent surgery on Tuesday to repair a capsular tear and clean out the back side of his right shoulder, general manager Kim Ng revealed prior to Wednesday's road trip finale against the Nationals. Dr. Neal ElAttrache performed the procedure in Los Angeles. "We're
Tough opener in DC leads to long team chat
Jazz, Cooper both placed on IL after MRIs confirmed their diagnoses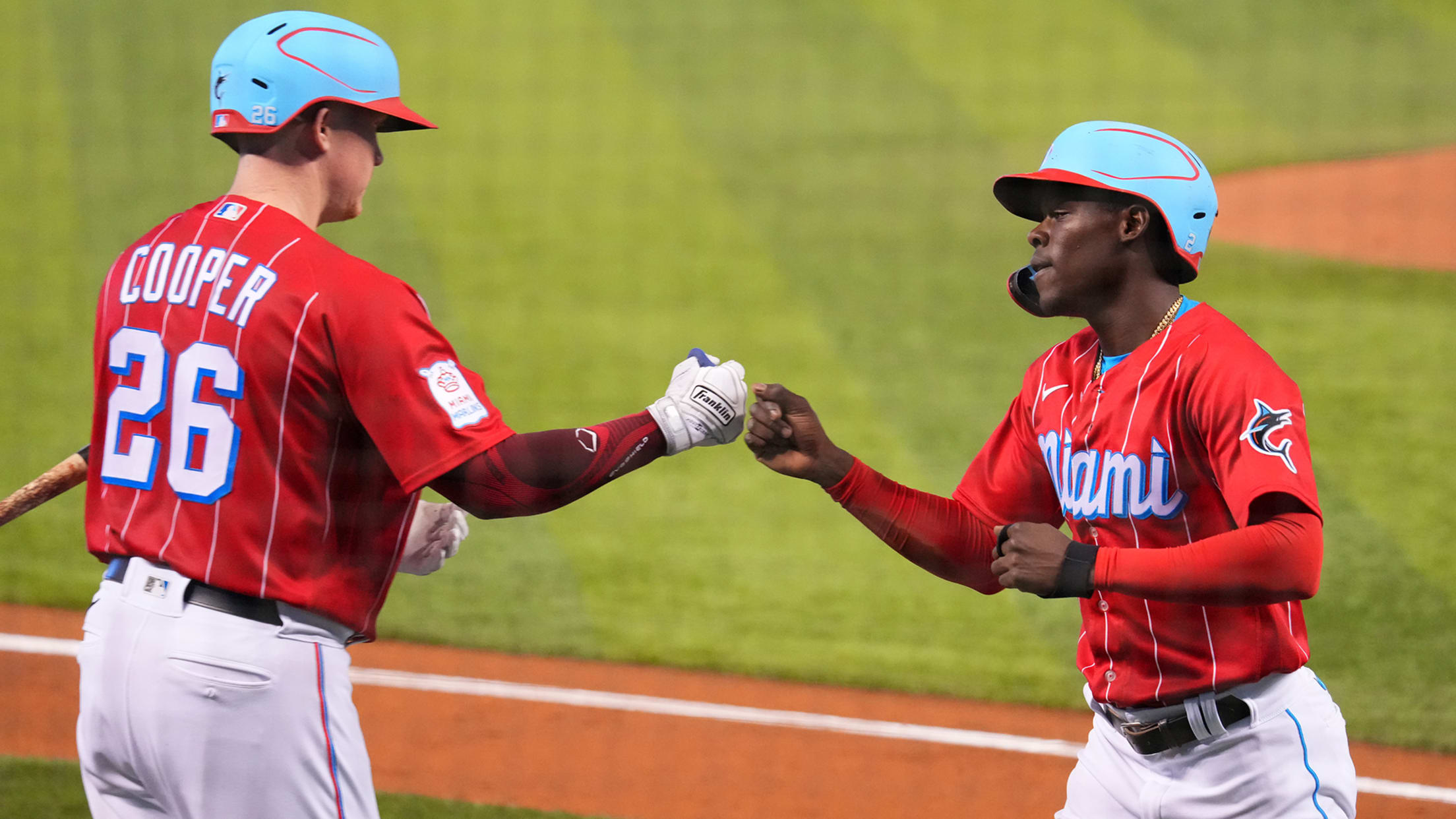 WASHINGTON -- Hours after MRIs confirmed the initial diagnoses for Jazz Chisholm Jr. (left shoulder bone bruise/contusion) and Garrett Cooper (left elbow sprain), both of whom were placed on the 10-day injured list, the Marlins were handed their most lopsided defeat of the season in an 18-1 loss to the
Chisholm hurt as injuries mount for Marlins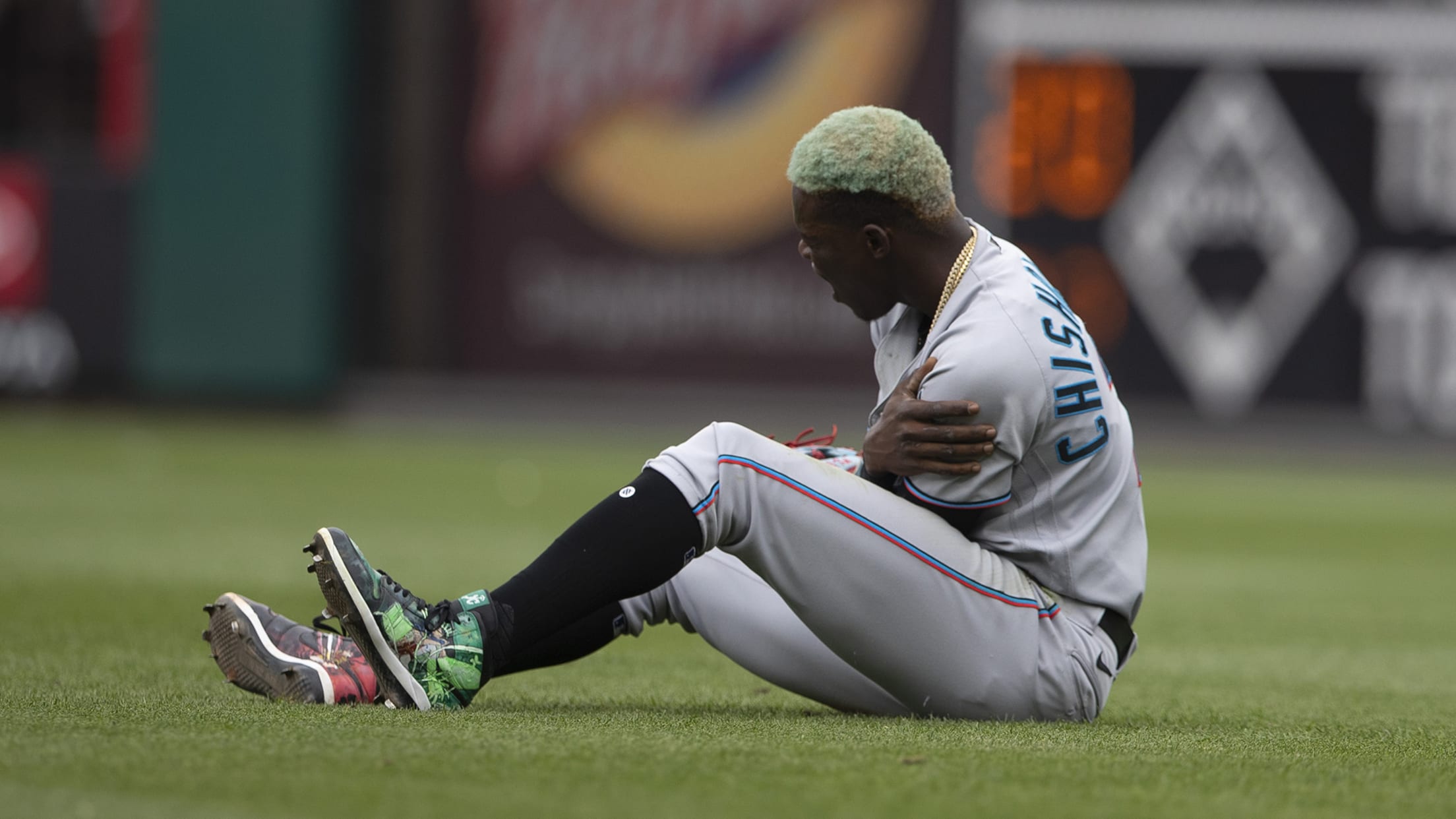 PHILADELPHIA -- Marlins manager Don Mattingly had an optimistic outlook entering the second half of the 2021 season. Sure, the Marlins came out of the All-Star break in last place in the National League East, but they were only nine games back of the first-place Mets in a division that
Top Miami prospect needs shoulder surgery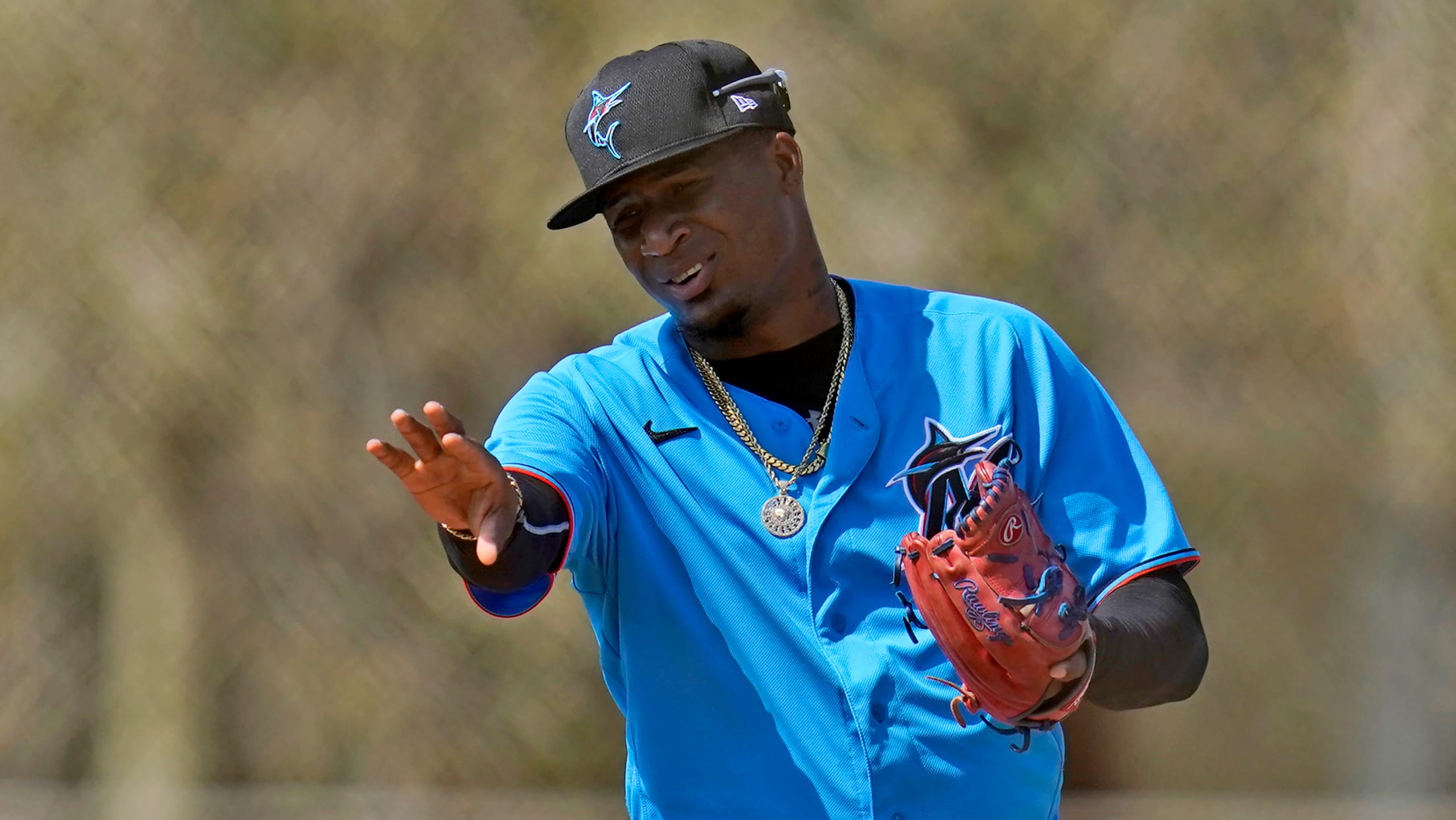 MIAMI -- The Marlins hope top prospect Sixto Sánchez will be able to pick up a baseball again three months after undergoing season-ending arthroscopic shoulder surgery, general manager Kim Ng said Tuesday. A date has not been set for the procedure. Late last week, Sánchez experienced soreness as he increased
After Marlins lose Poteet, options are limited
Right-hander exits with MCL sprain as Marlins fall to Pirates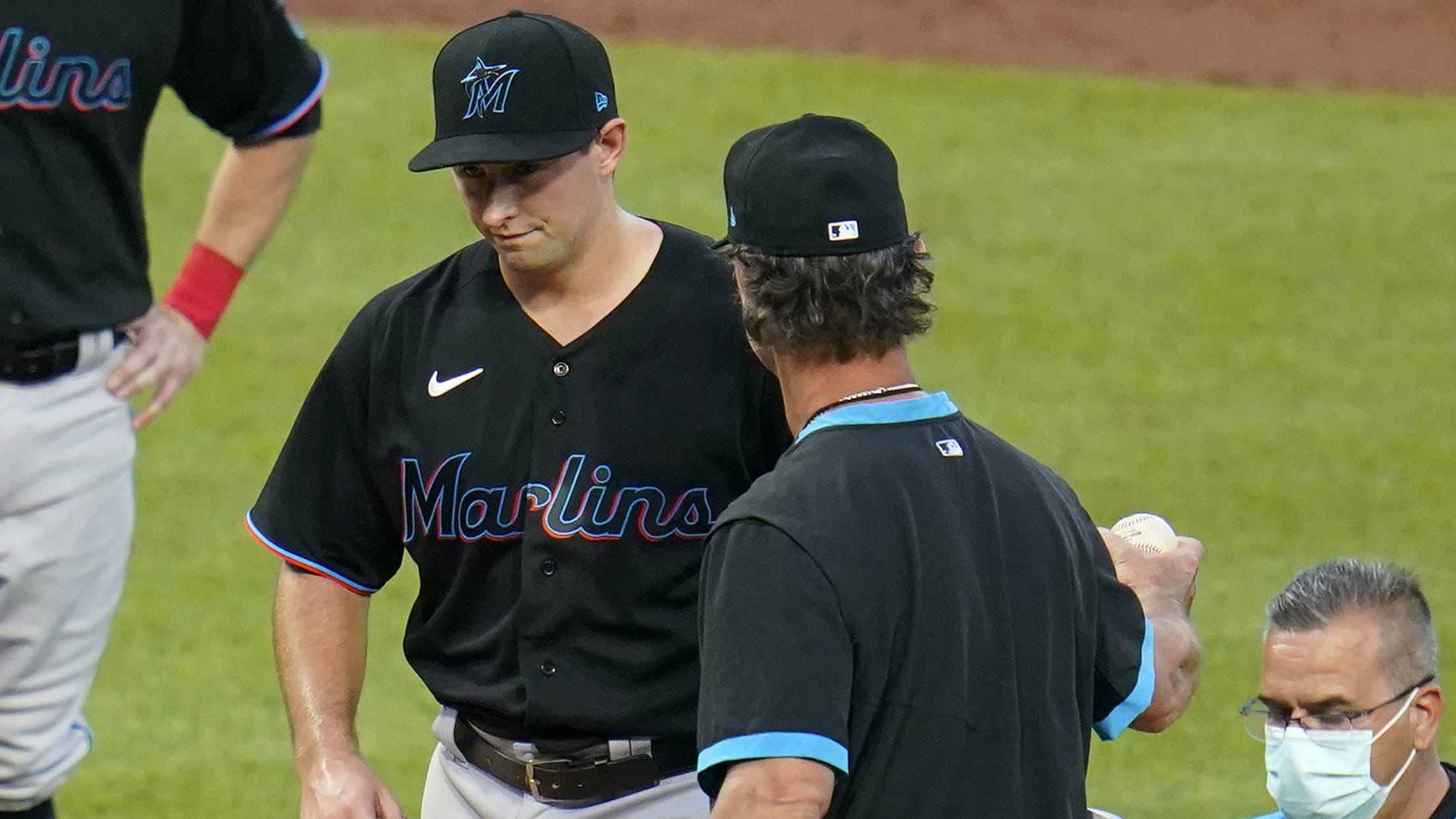 PITTSBURGH -- During the Marlins' last road trip, they bought into the "staying afloat" mantra with the promise of imminent reinforcements. On May 27 in the ensuing homestand finale, Miami did that and more with the chance to reach .500 -- only to lose the left side of its infield
Hernandez (right quad) exits in loss to Bucs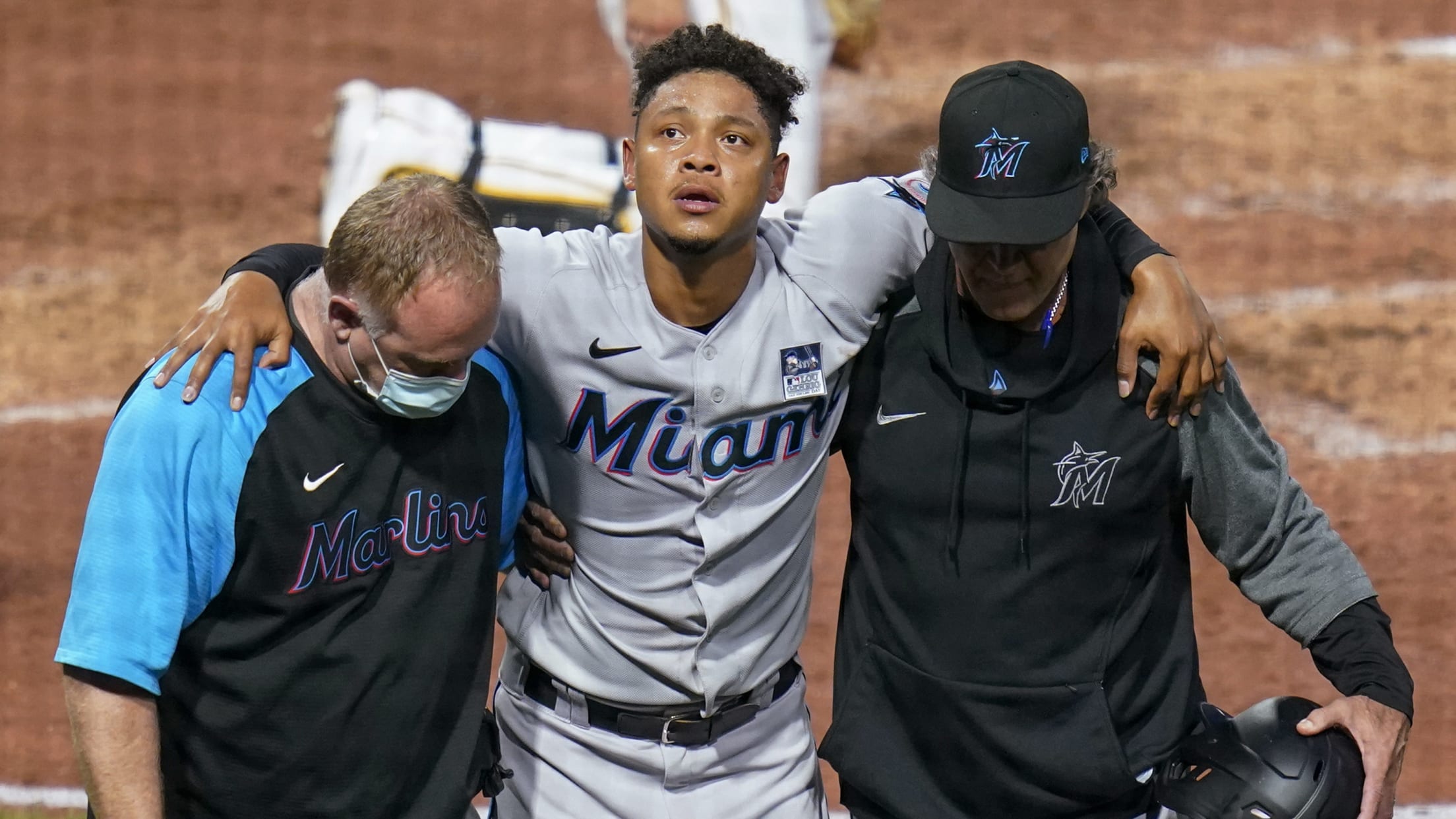 PITTSBURGH -- Not only were the Marlins unable to snap a season-long skid, but they also lost right-hander Elieser Hernandez to a right quad strain in a 5-3 defeat to the Pirates on Thursday night at PNC Park. Miami dropped its sixth in a row after setup man Dylan Floro
With Rojas on IL, Marlins have options at SS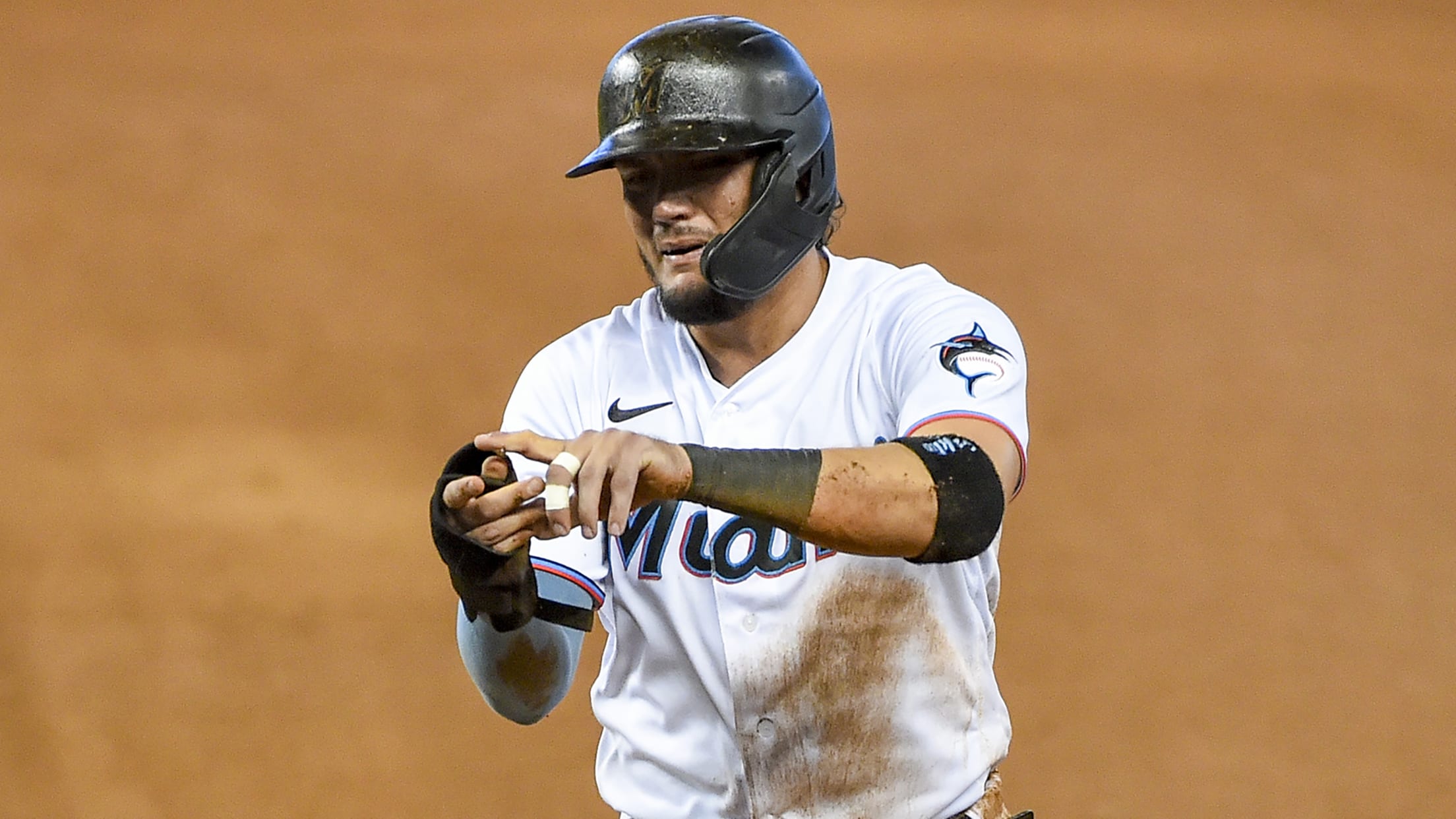 While the Marlins await the severity of Miguel Rojas' left index finger dislocation and monitor Jazz Chisholm Jr.'s right ankle, they could internally fill the shortstop position in multiple ways. Rojas, who injured himself sliding head-first back to the first-base bag while getting picked off in the eighth inning of
Rojas dislocates finger on slide vs. Phillies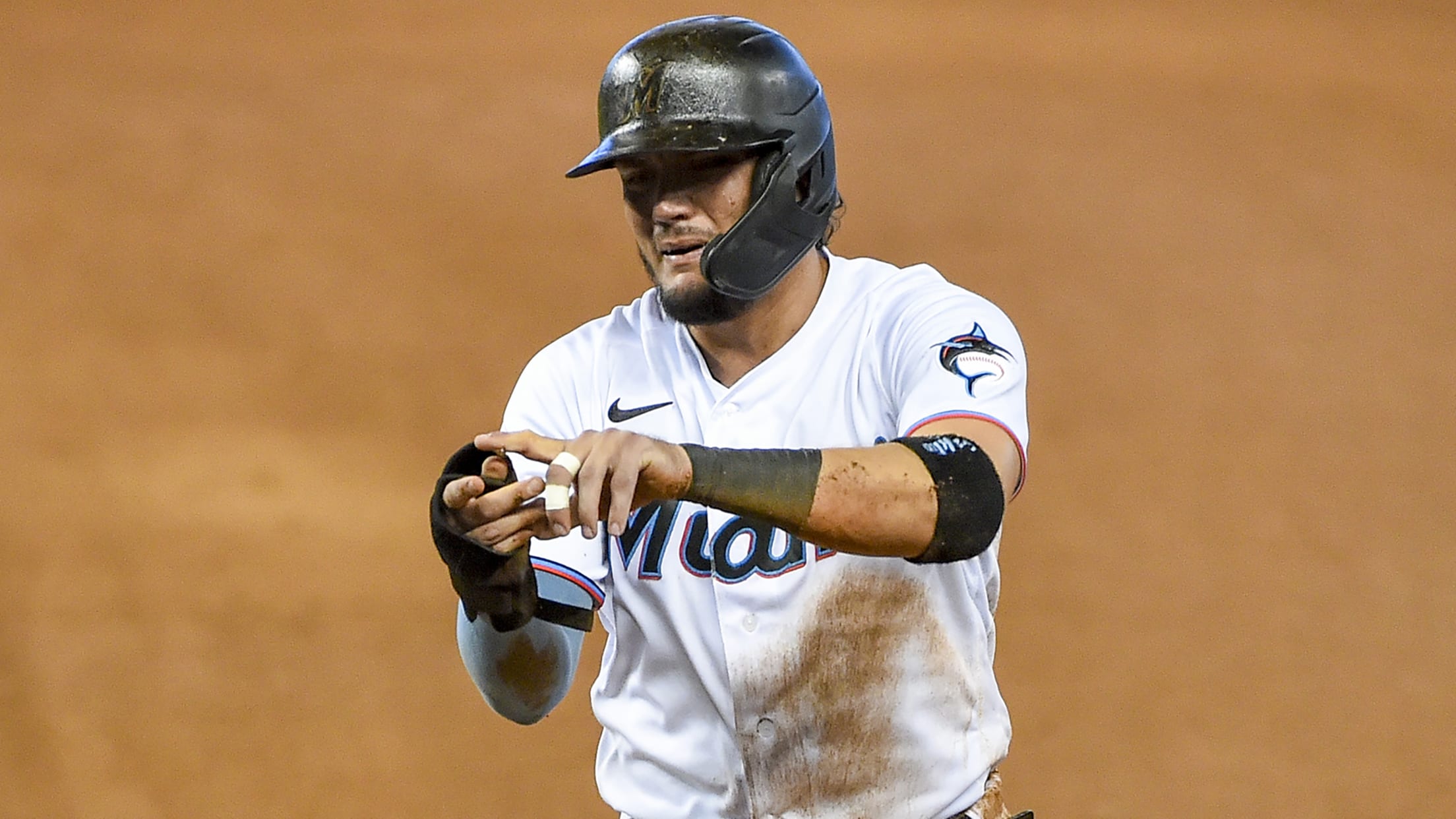 The Marlins could be getting one key bat back this weekend, but it appears they may have lost another. Shortstop Miguel Rojas dislocated his left pointer finger as he slid head-first back to the first-base bag while getting picked off in the eighth inning of Thursday's 3-2 loss to the
Anderson to 10-day IL; Jazz sprains ankle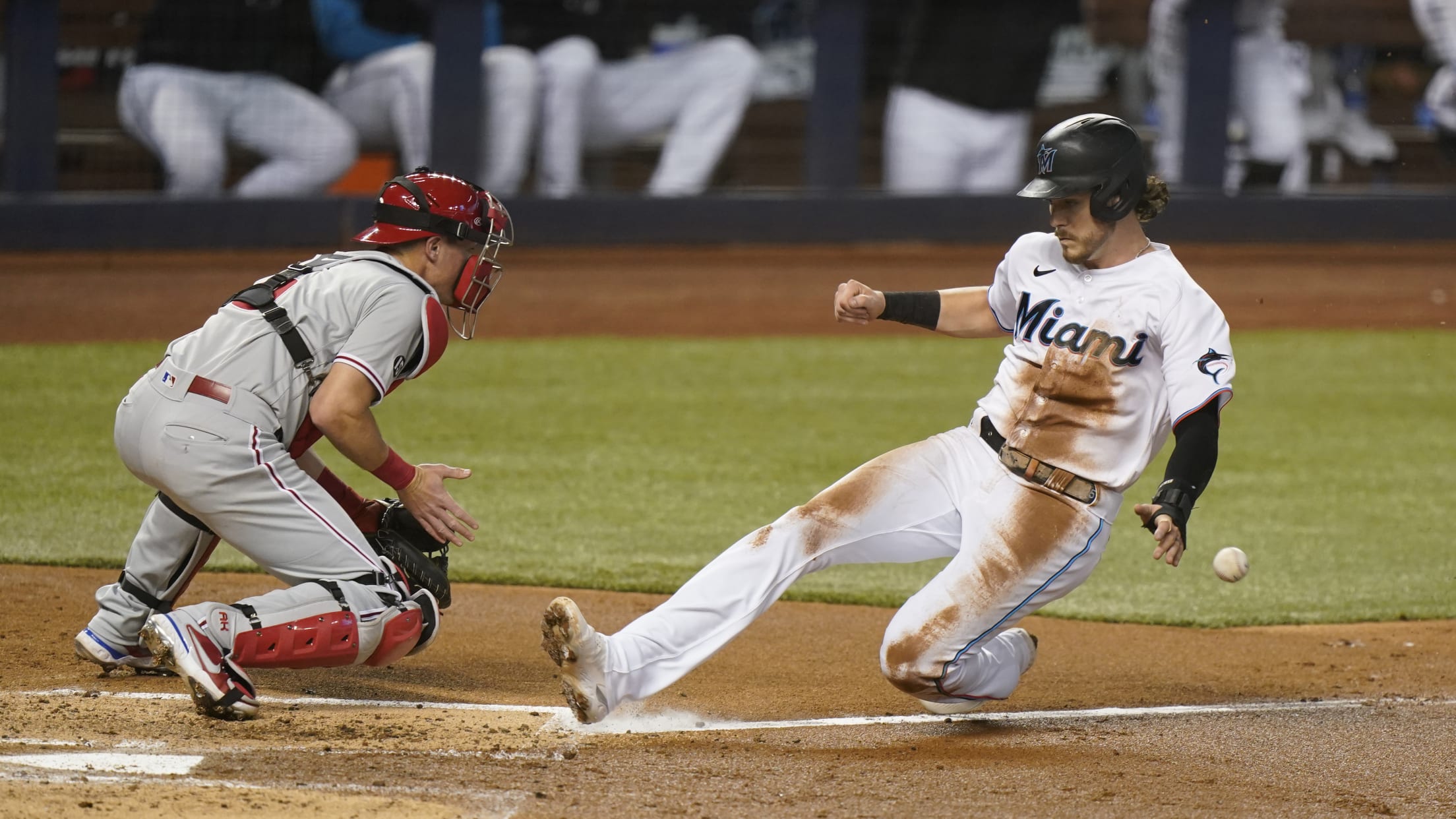 MIAMI -- For the second time this season, the Marlins will need to find ways to replace third baseman Brian Anderson, who landed on the injured list with left shoulder subluxation prior to Tuesday's 2-0 loss to the Phillies at loanDepot park. General manager Kim Ng said Anderson will miss
'We battle': Marlins wrestle injuries, Phils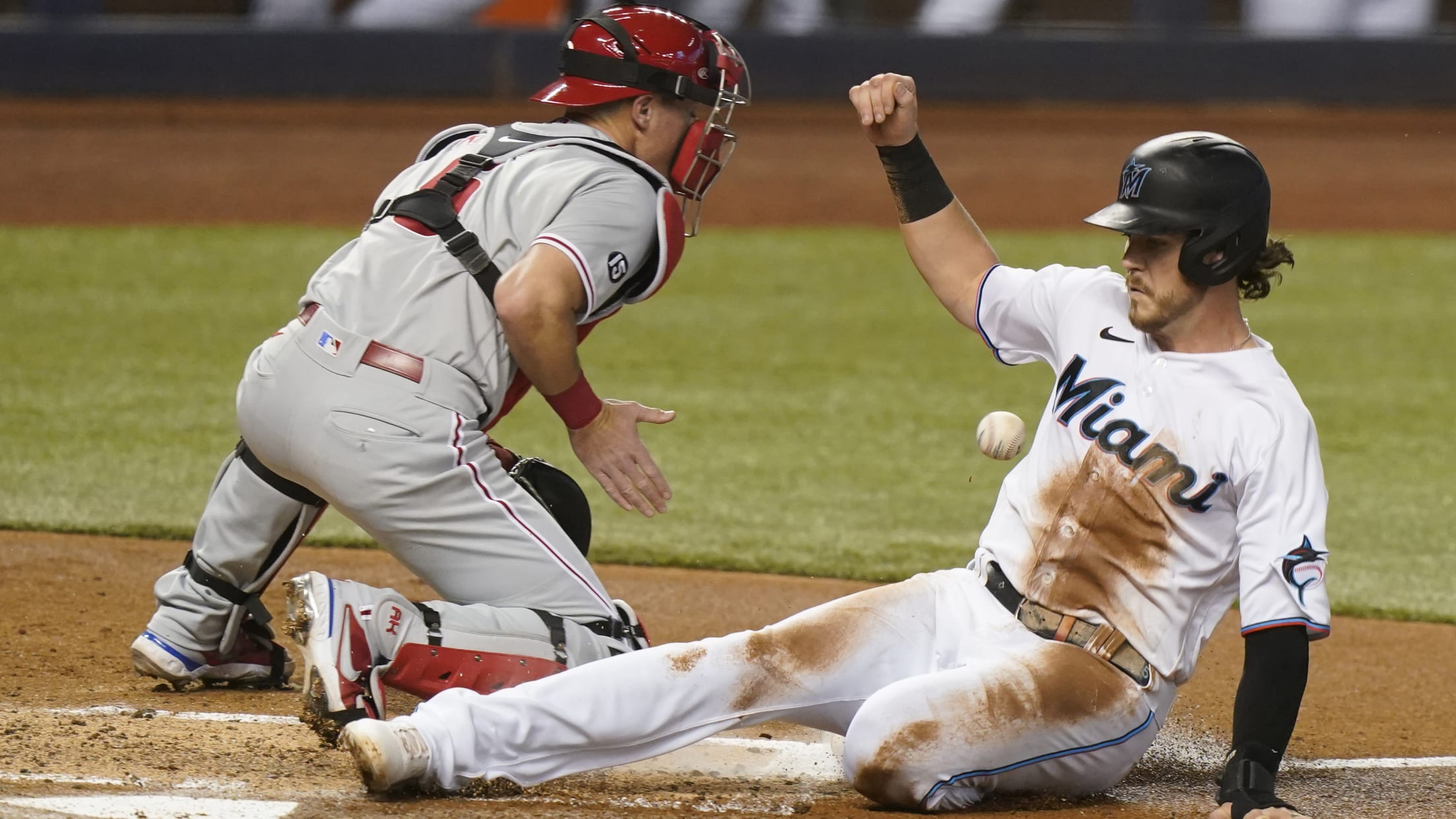 MIAMI -- Though the Marlins opened their four-game series with a 9-6 win over the Phillies on Monday night at loanDepot park, it might have come at a cost, as third baseman Brian Anderson exited with left shoulder soreness and shortstop Miguel Rojas left after being hit by a pitch.
Isan Díaz up; Chisholm goes on IL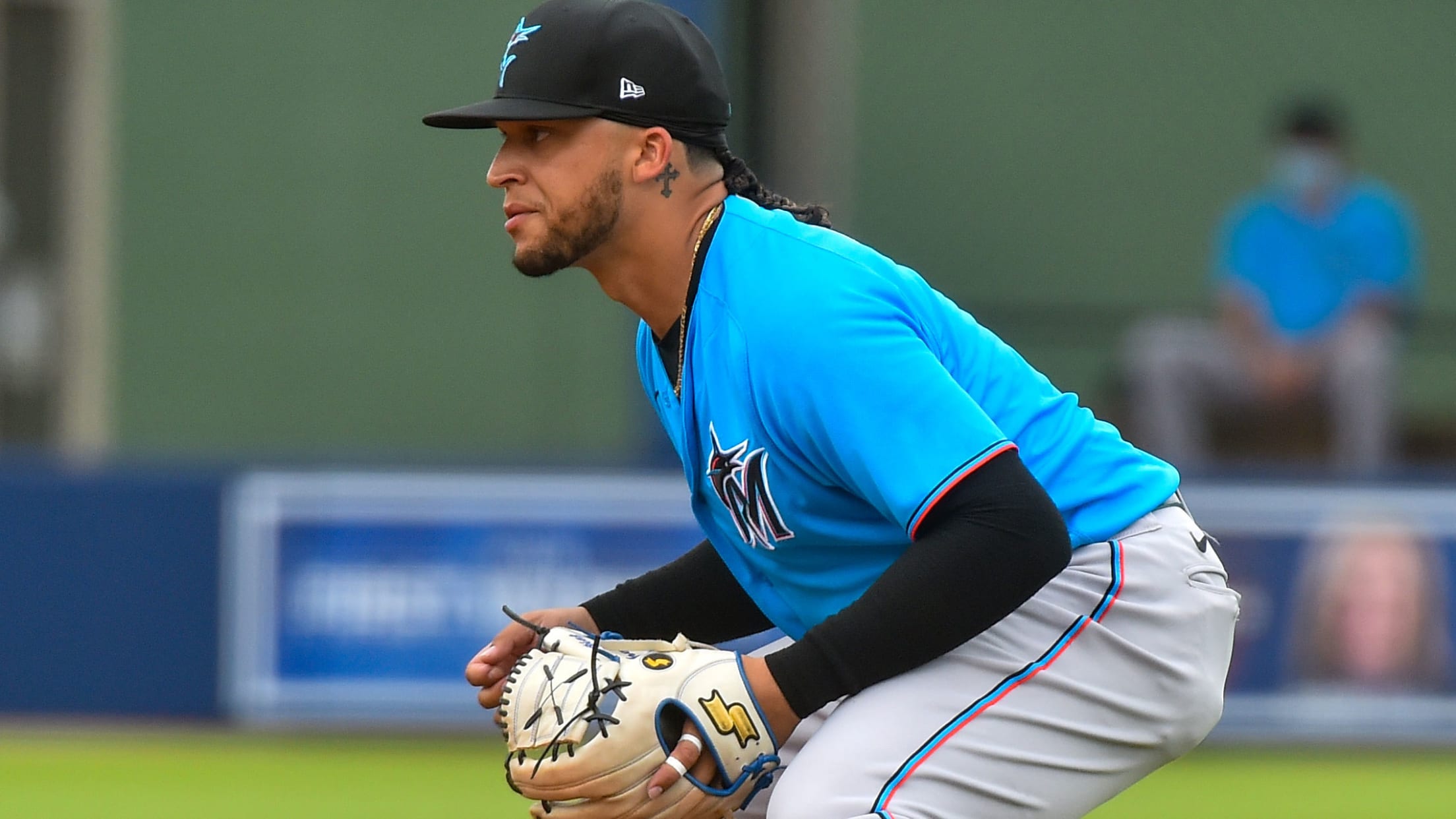 When the Marlins announced rookie Jazz Chisholm Jr. as their second baseman ahead of the 2021 season, the organization told Isan Díaz to continue getting better, stay positive and be patient. After all, something could happen for him to receive the call back to the Majors. The Marlins on Wednesday