Bryce's heroics earn him 2022 NLCS MVP Award
Phillies' star delivers 3 game-winning knocks: 'There's no moment that's too big for him'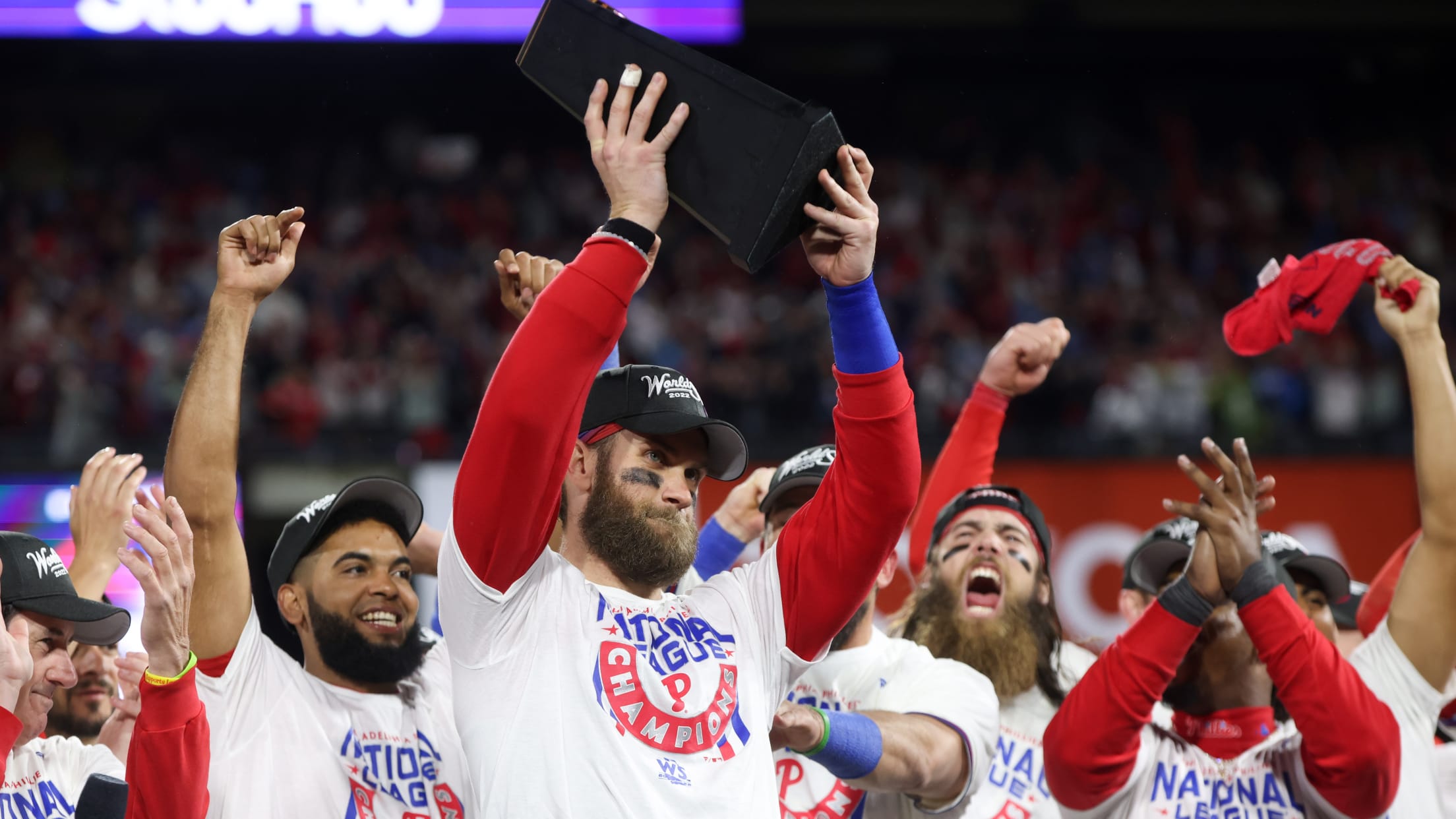 PHILADELPHIA -- Bryce Harper's teammates tossed out many labels for the Phillies' superstar following his National League Championship Series-clinching home run on Sunday at Citizens Bank Park. The Showman. MV3. The ultimate bro. A dude. They can add NLCS Most Valuable Player to the list.
Hoskins headed to WS for 1st time in career
Longest-tenured Philly position player reflects on Phils' 2022 postseason run so far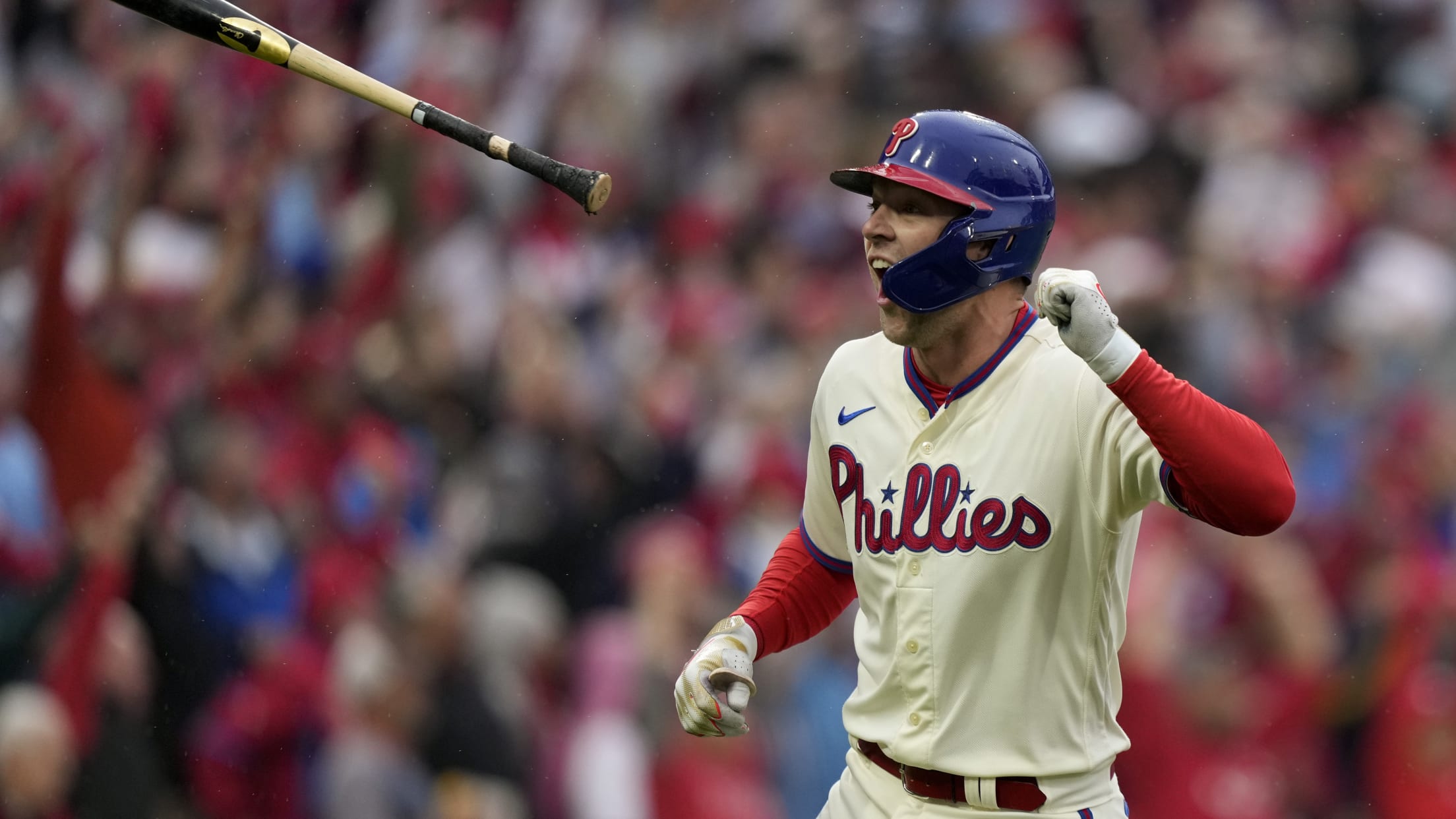 PHILADELPHIA -- Ryan Howard. Jimmy Rollins. Chase Utley. Jayson Werth. Matt Stairs. From the moment first baseman Rhys Hoskins became a Phillie, he heard the names and he saw the photos. Those legends had left quite the legacy as members of the 2008 World Series-winning ballclub.
Watch Harper's epic HR again and again, from multiple angles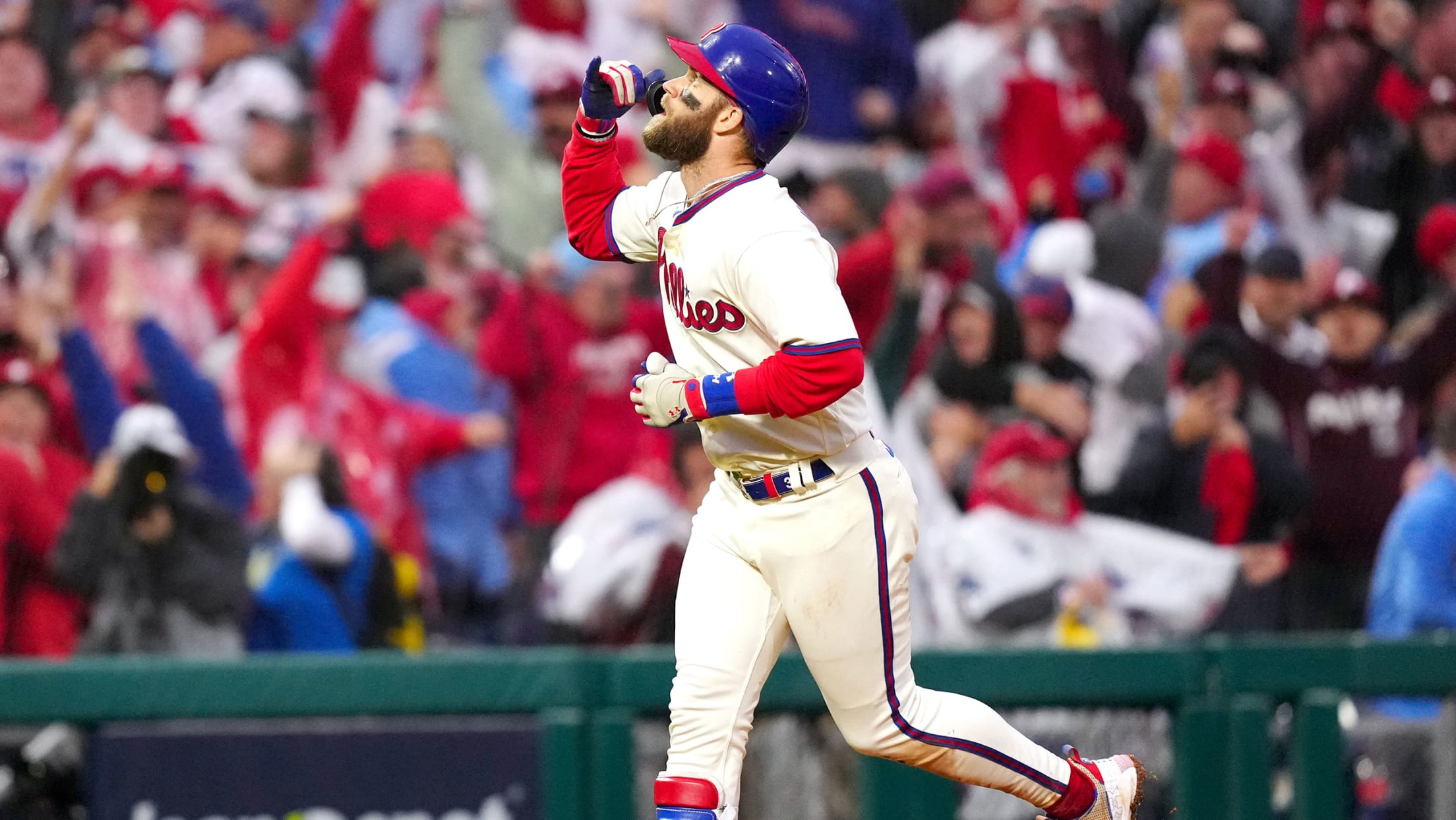 Bryce Harper's go-ahead home run in the eighth inning of NLCS Game 5 that secured a 4-3 win over the Padres and an NL pennant is most definitely playing on a loop in Phillies fans' households right at this moment (and probably until the World Series begins on Friday). Well,
'Big-Game Wheels' having a postseason to remember
Wheeler adds to impressive 2022 playoffs numbers with six-plus innings in Game 5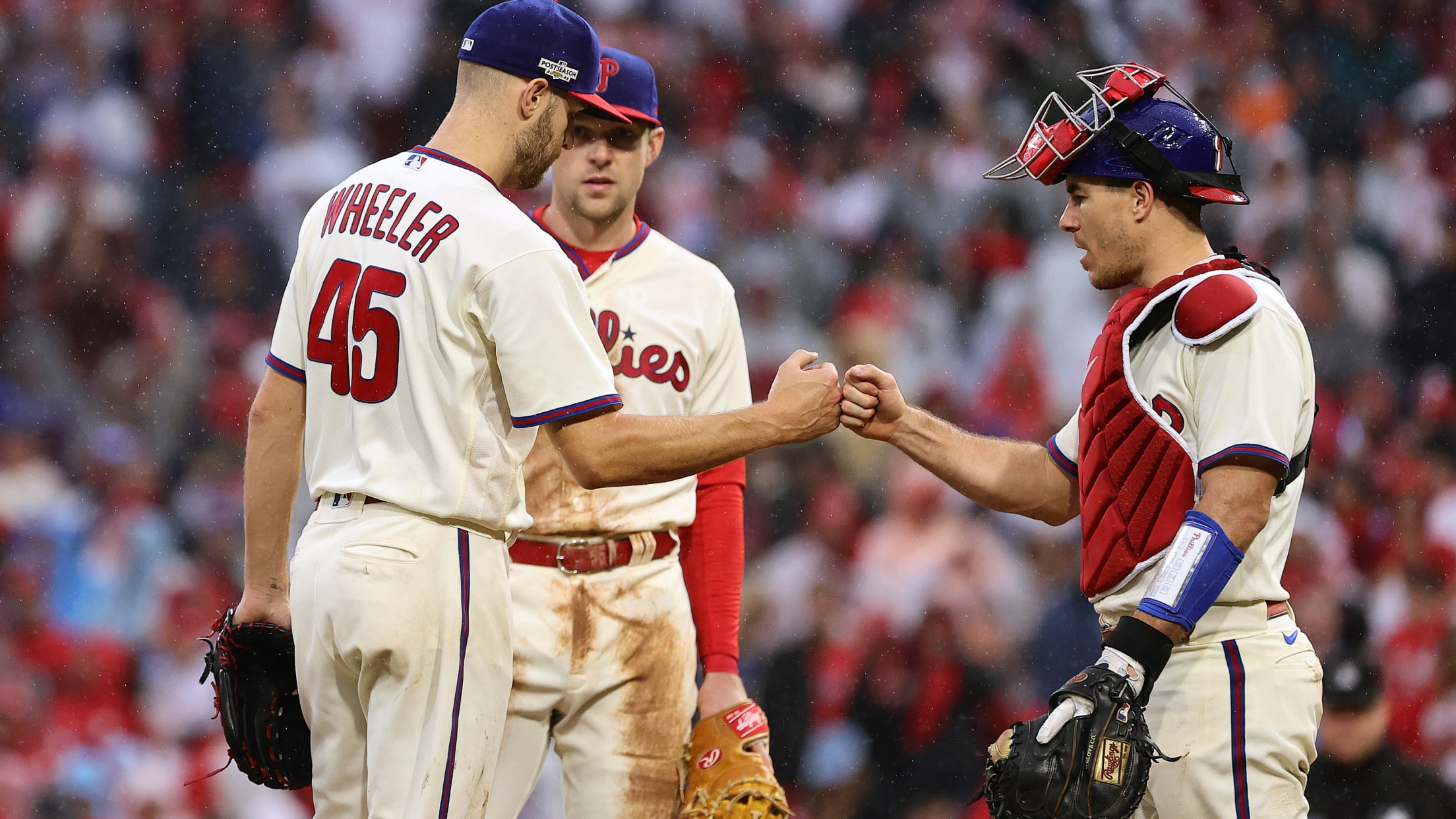 PHILADELPHIA -- When Zack Wheeler felt some discomfort in his right forearm in mid-August, he didn't want to go on the injured list, let alone miss a full month of the stretch run. After all, the Phillies were in the midst of a tight National League Wild Card race, and
Harper sends Phils to World Series with biggest HR of career
Philly's 'showman' goes yard in 8th to turn 1-run deficit into club's 1st pennant since '09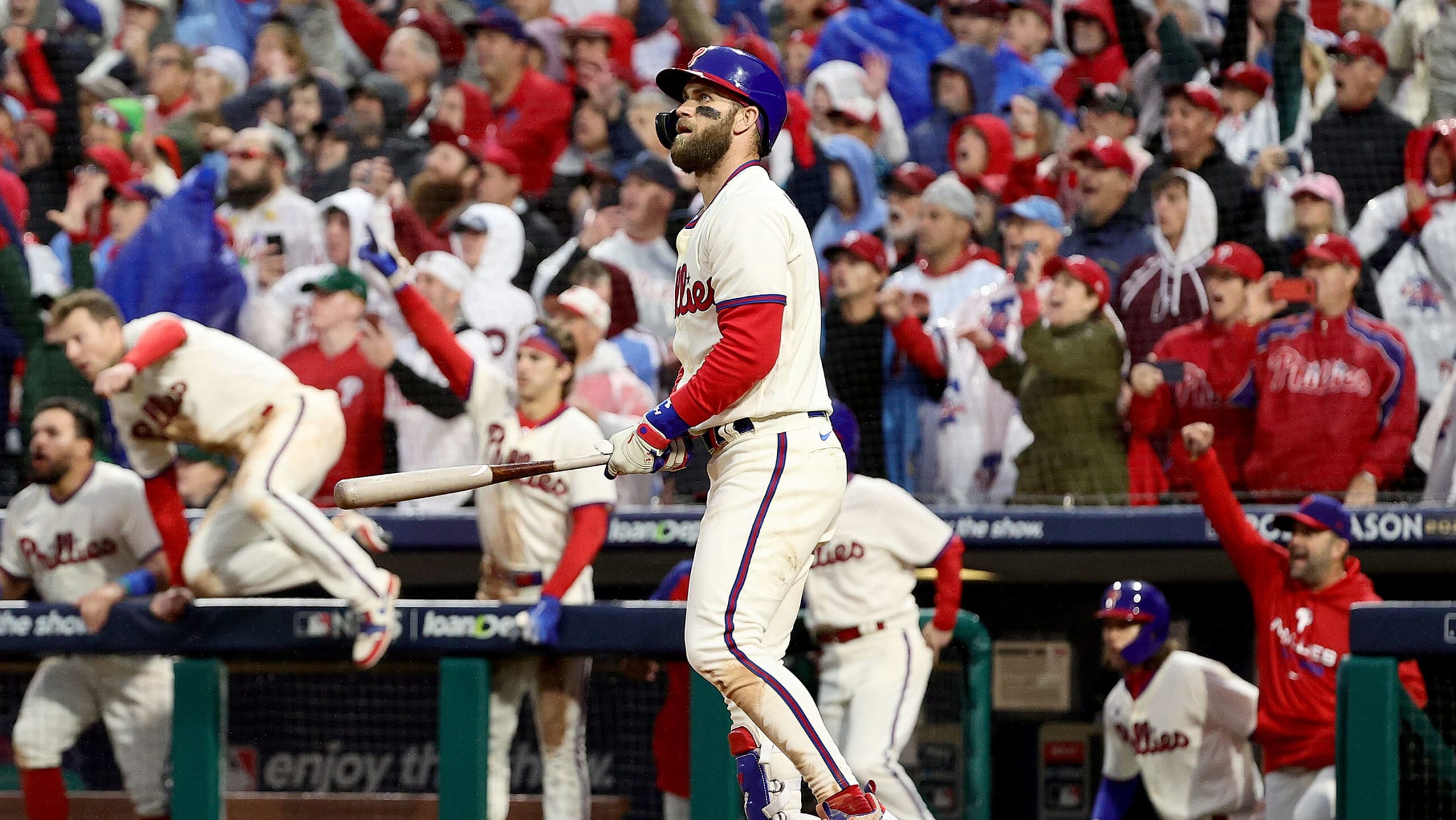 PHILADELPHIA -- Nick Castellanos squeezed the final out into his glove and thrust his arms in the air. That is how the Phillies' party started Sunday evening at Citizens Bank Park. They beat the Padres, 4-3, in Game 5 of the National League Championship Series at Citizens Bank Park to
Game 5 turns with Hader viewing from bullpen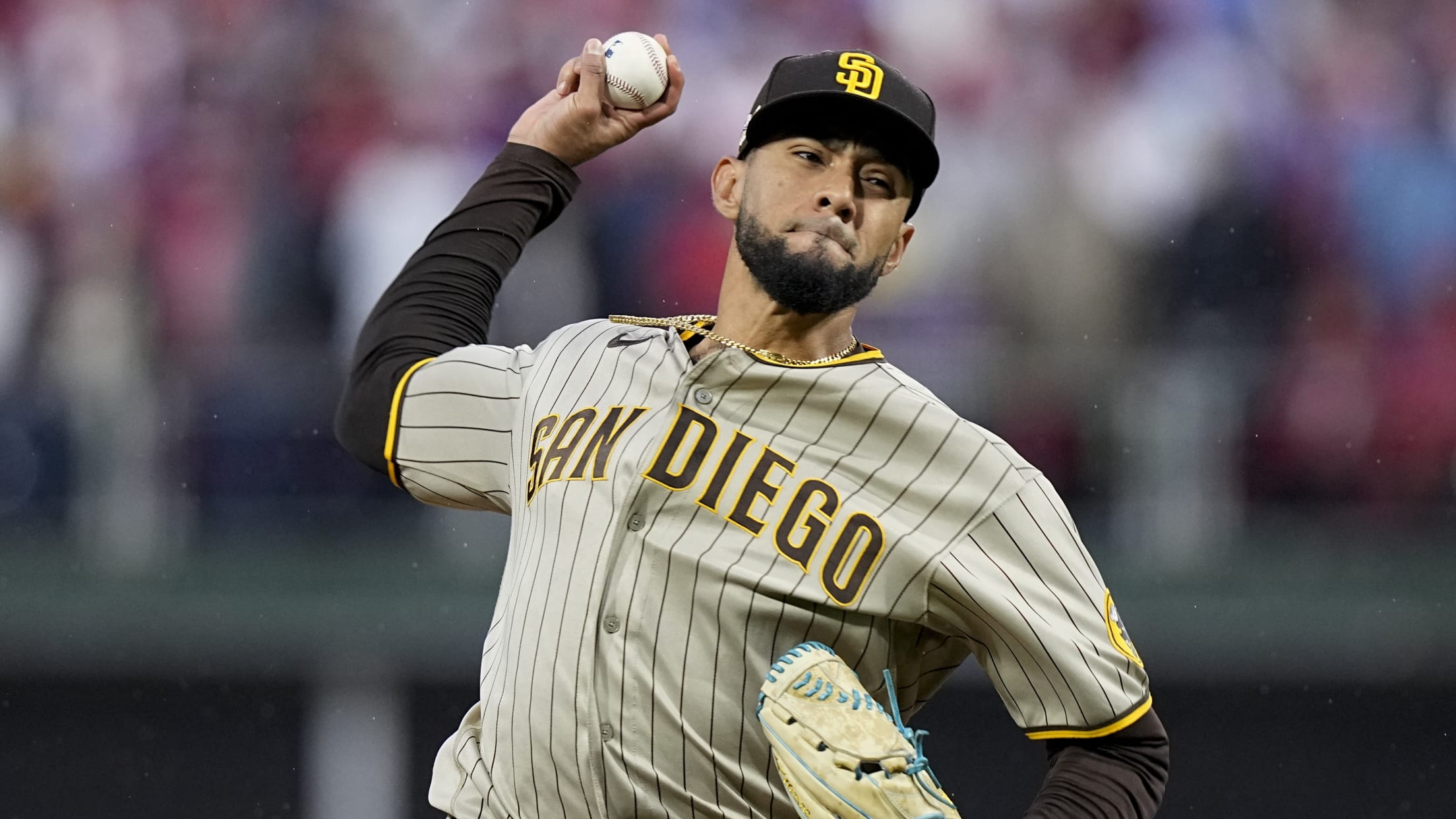 PHILADELPHIA – The Padres coveted Josh Hader for years. General manager A.J. Preller tried to acquire Hader on multiple occasions, but the asking price was always sky high for one of the best closers in baseball. This August, the Brewers finally lowered their ask for the three-time Trevor Hoffman reliever
'Great year for us': Padres fall short in NLCS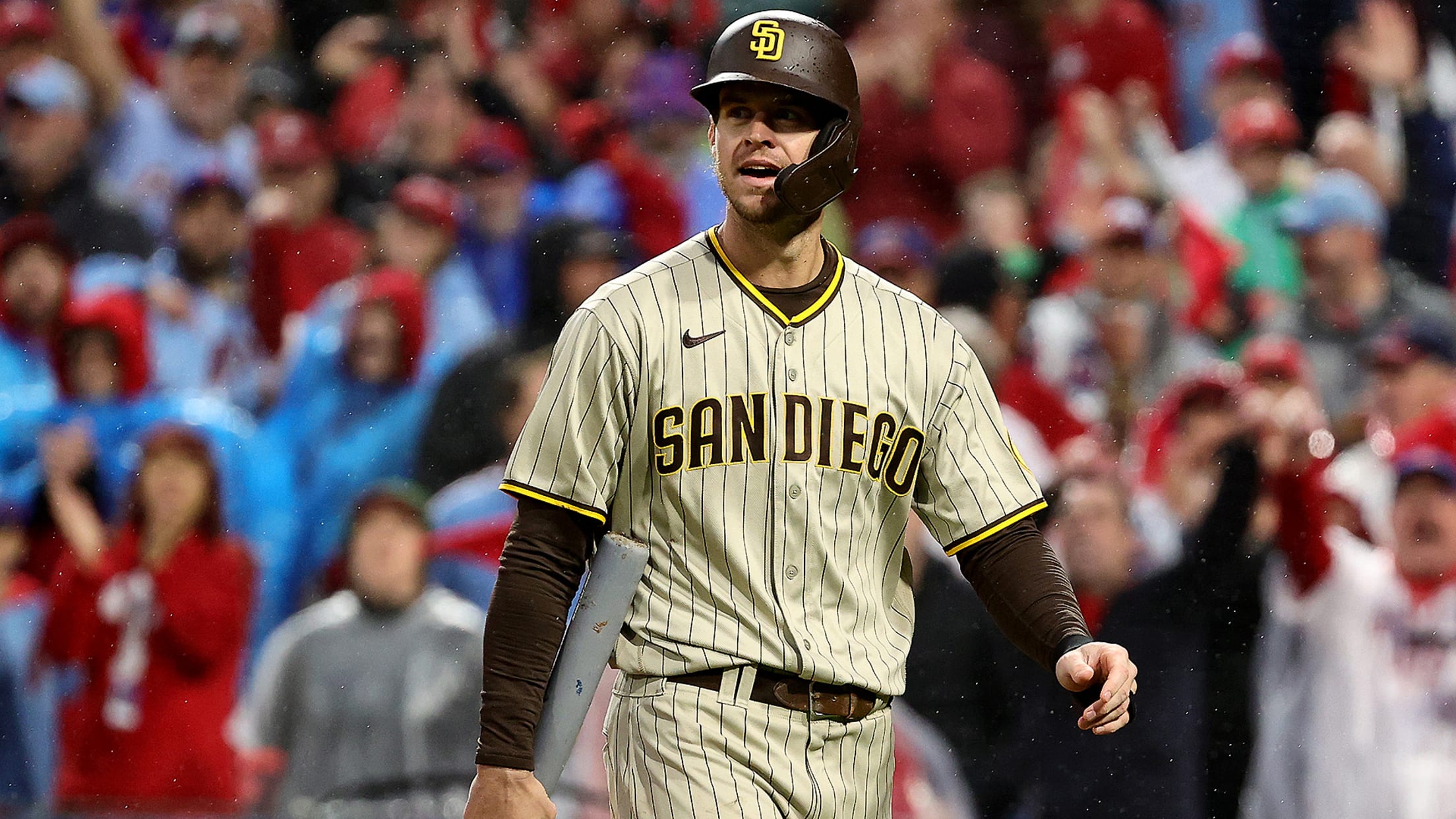 PHILADELPHIA -- Say this about the 2022 Padres: They went for it. They made perhaps the biggest Trade Deadline splash in the sport's history. They slayed some dragons in October, beating the 101-win Mets, then upsetting the rival Dodgers. They advanced further than all but two teams in the franchise's
Incoming! Darvish hit by throw to mound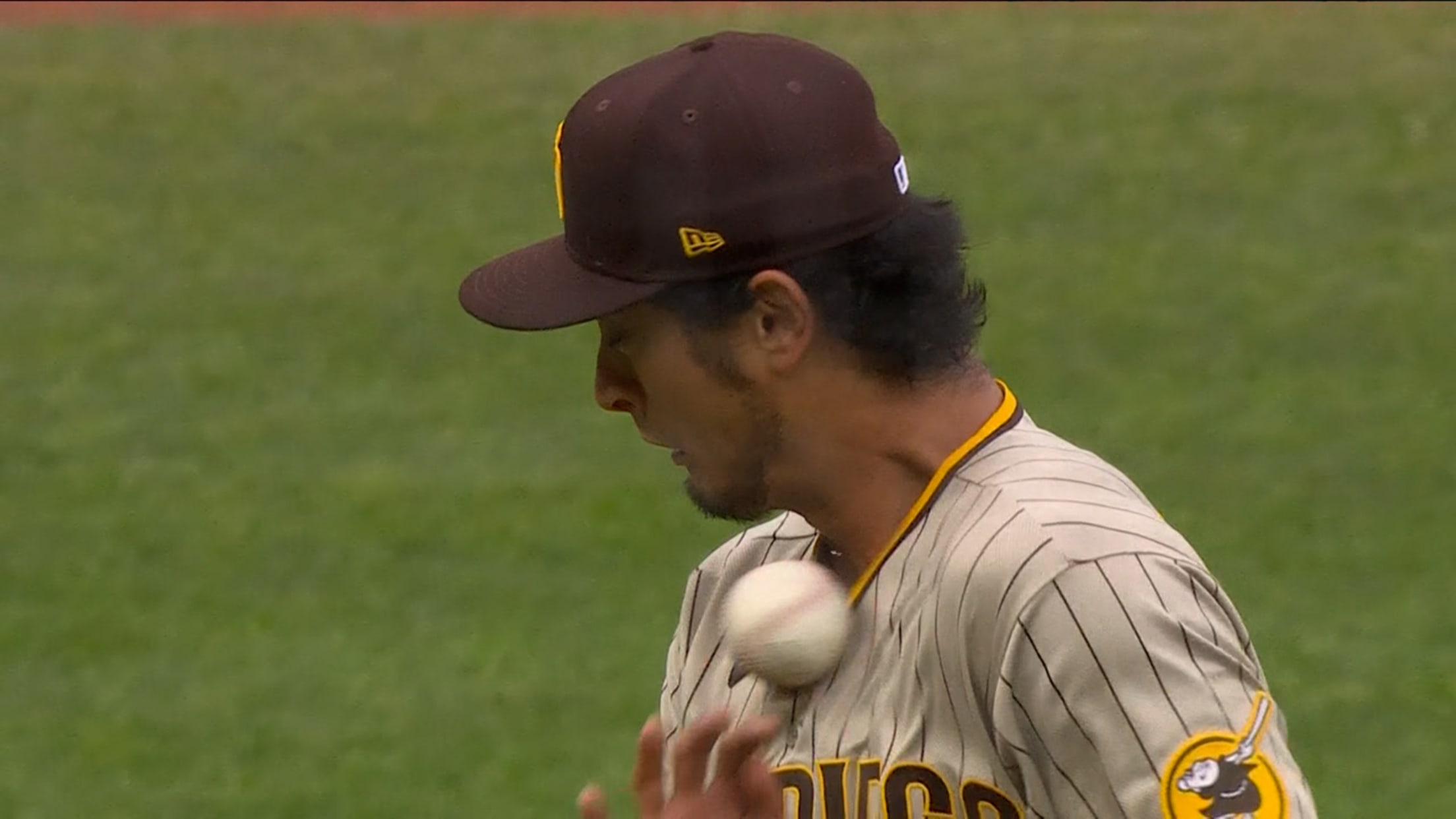 Heads up, Yu! Padres starting pitcher Yu Darvish was caught off guard in the first inning on Sunday afternoon during the Phillies' 4-3 victory in Game 5 of the NLCS, getting hit in the left shoulder when catcher Austin Nola threw the ball back to the mound after Darvish issued
LIVE on FS1: Padres-Phillies Game 5 FAQ, lineups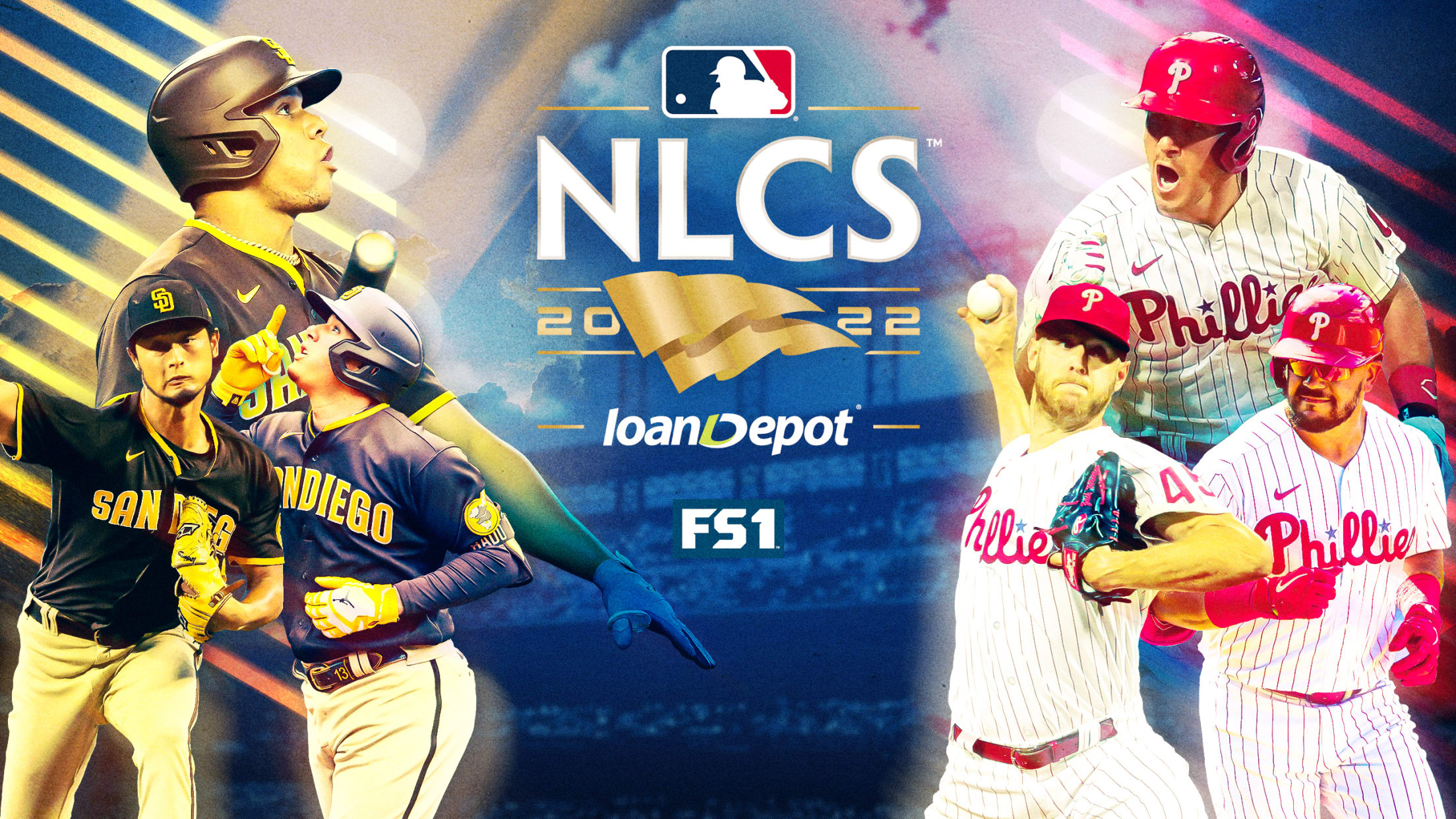 PHILADELPHIA -- For the first time since 2009, the Phillies sit one win away from a National League pennant following their 10-6 victory over the Padres in Game 4 of the NL Championship Series on Saturday night at Citizens Bank Park. In all best-of-seven postseason series, teams that take a
Fightin' Phils (4 HRs) crush way to cusp of World Series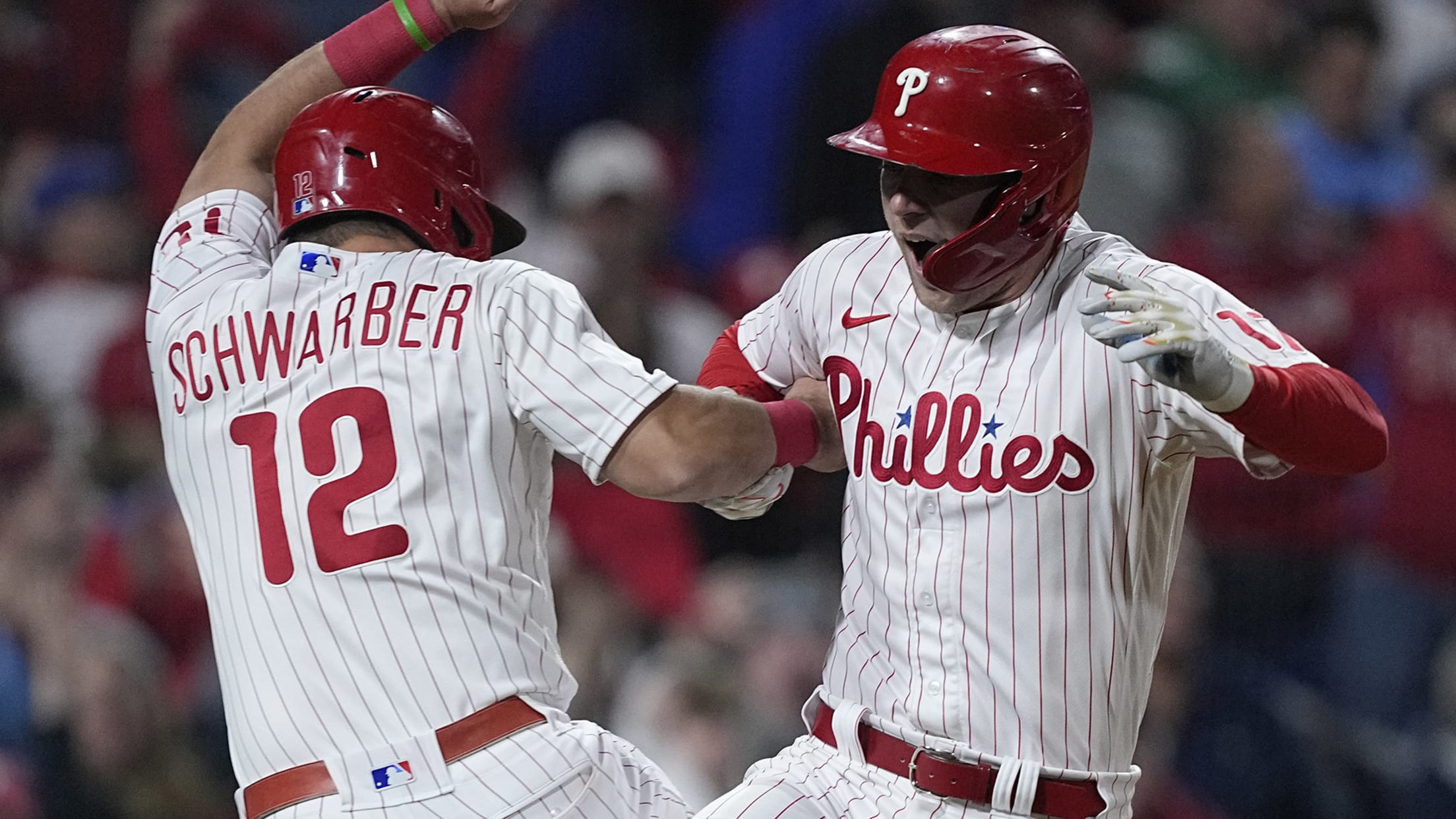 PHILADELPHIA -- Something special is happening here. Rhys Hoskins is having the postseason of his dreams. Bryce Harper is putting together one of the best playoff runs in Phillies history. Kyle Schwarber is crushing tape-measure home runs from coast to coast. The Phils are winning in October, even when nothing
The key storylines for today's NLCS, ALCS games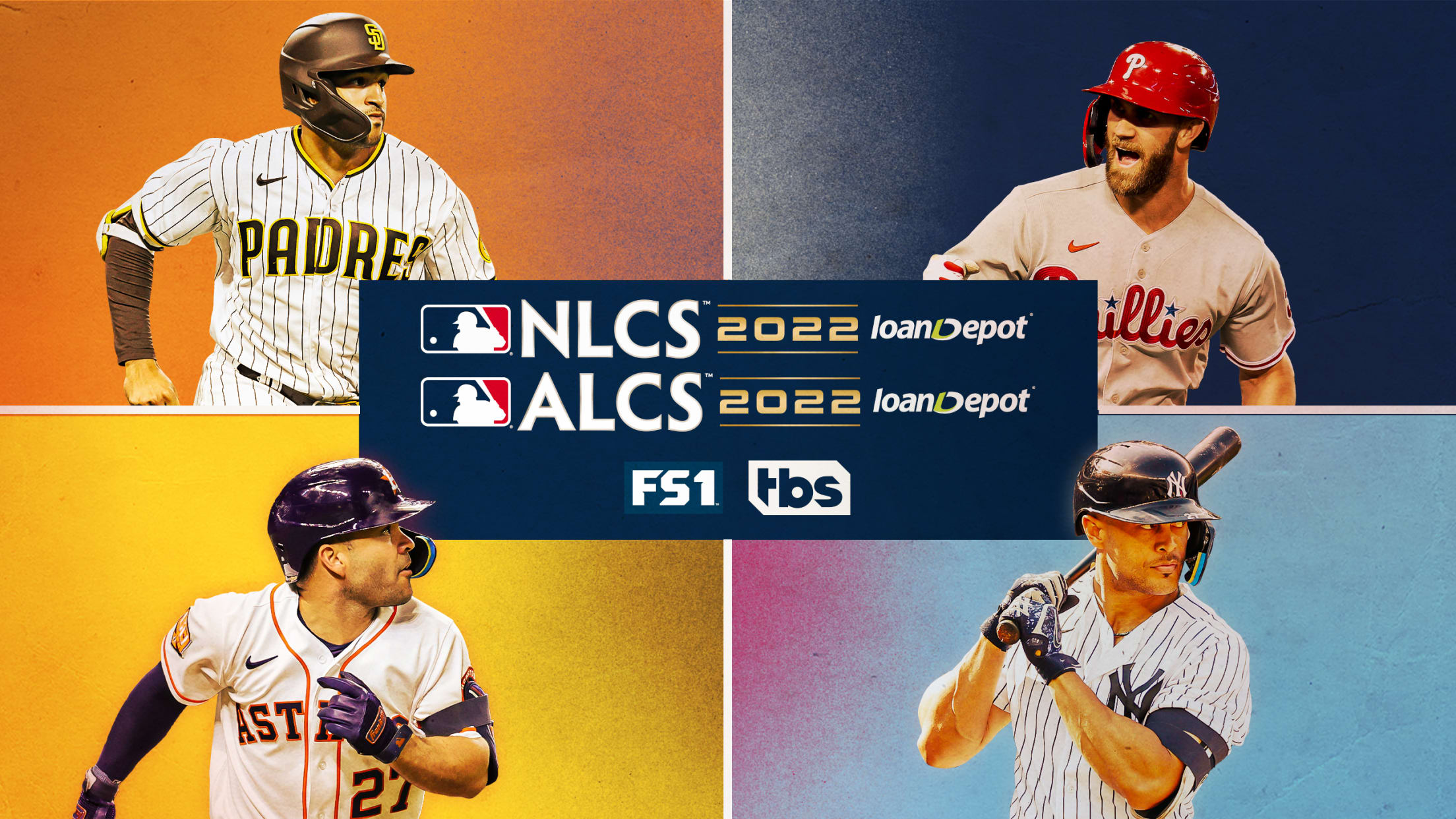 Is Sunday going to be the last day with multiple Major League Baseball games until next March? If the Yankees can't extend their ALCS with the Astros or the Padres can't do the same against the Phillies in the NLCS, it will be. It's not dark yet, folks … but
Fan lineup for Sunday's NLCS Game 5 at Citizens Bank Park
Sunday, Oct. 2: Philadelphia Phillies vs. San Diego Padres, 2:37 p.m. ET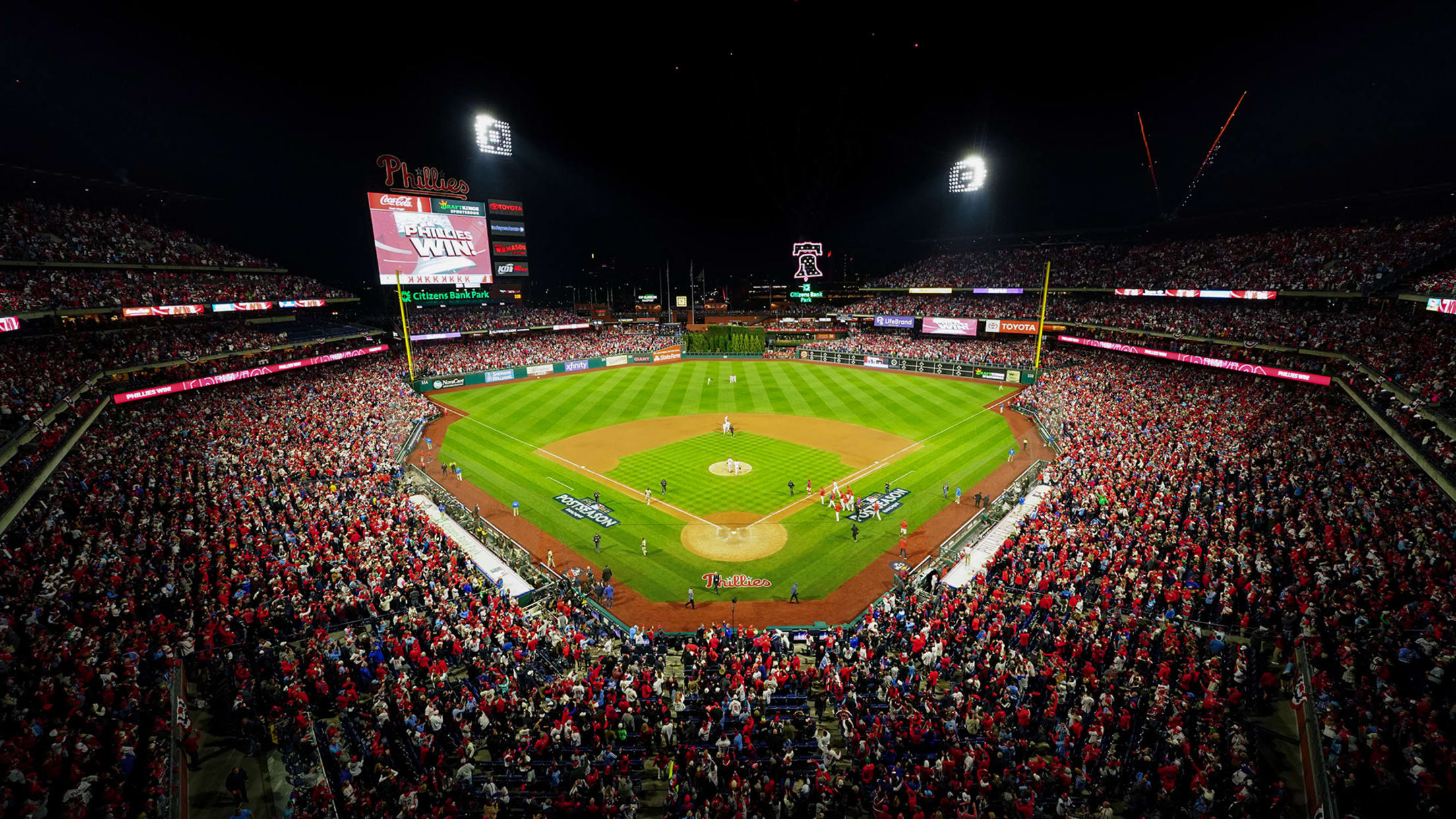 Travel Advisory Due to multiple events in the sports complex, fans are strongly encouraged to arrive to the ballpark early or take public transportation, as well as allow for extra travel time. 11:30 a.m. Phillies Postseason Block Party on Citizens Bank Way (no game ticket required). This two-and-a-half-hour pregame event
Here's how the Padres can get back in NLCS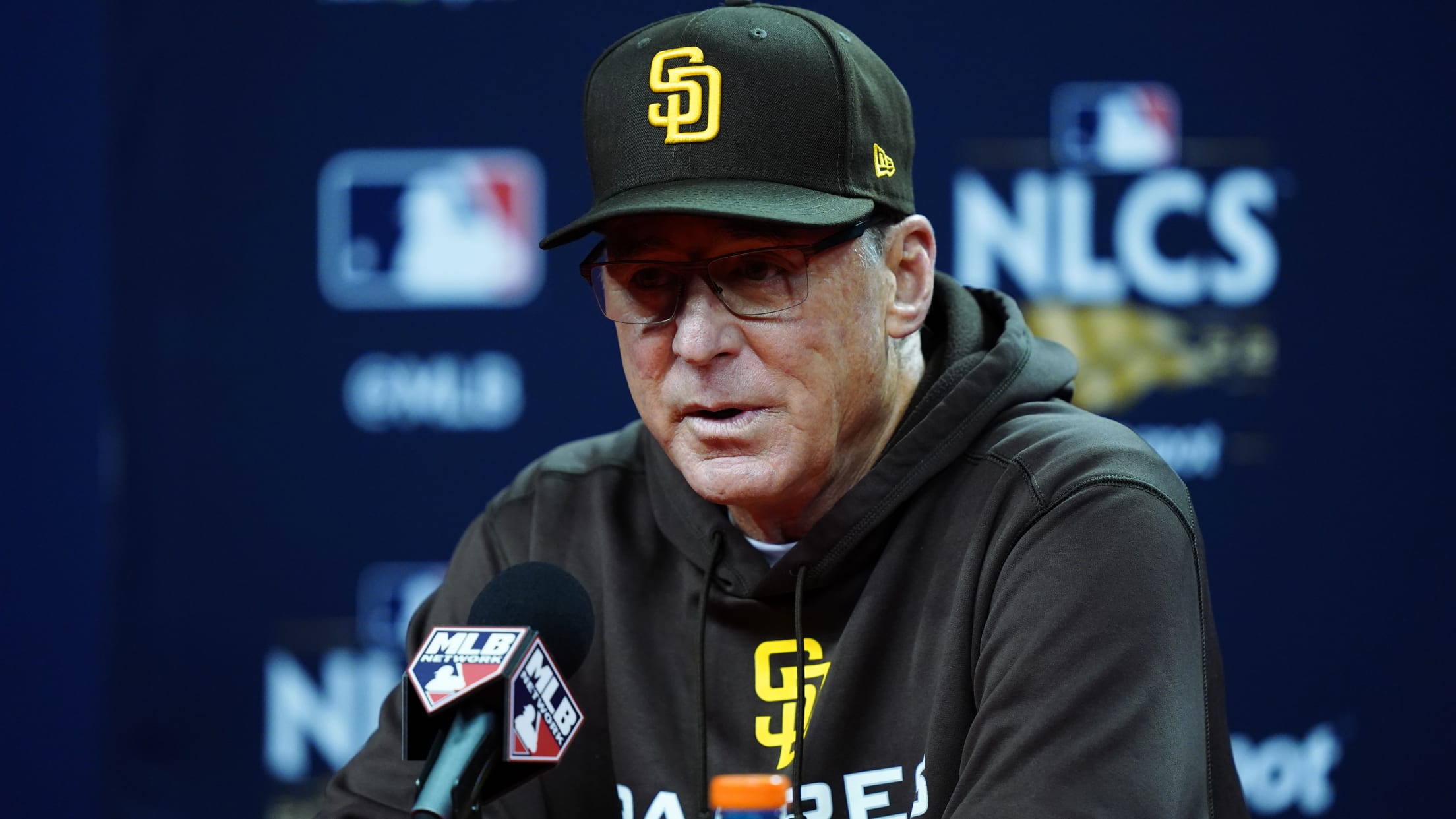 PHILADELPHIA -- The Padres have thrived when counted out this postseason. Most people didn't have them beating the Mets in the National League Wild Card Series. Even fewer had them getting past the NL Division Series and the Dodgers, who dominated San Diego during the regular season. But now, the
Harper's vision for Phillies on the verge of reality
Two-time NL MVP dreamed of taking club to World Series when he signed monster deal in 2019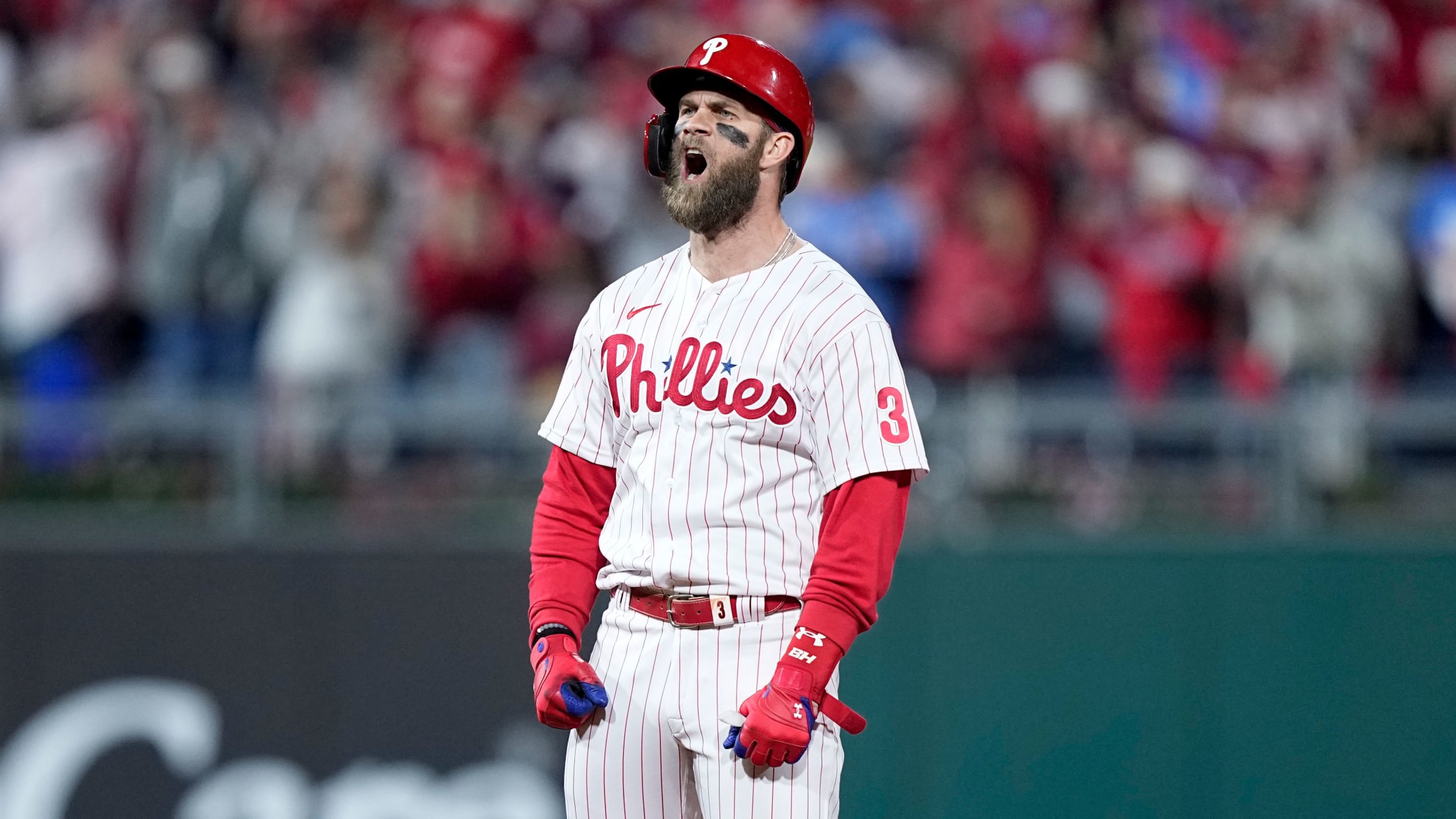 PHILADELPHIA -- "You're always remembered for winning, and what better place to do it than Philly? This place is somewhere where fans and blue-collar people thrive on winning and thrive on being a family." -- Bryce Harper (March 2, 2019) Nearly four years ago, Harper made the life-altering decision to
The key to Hader's dominance this postseason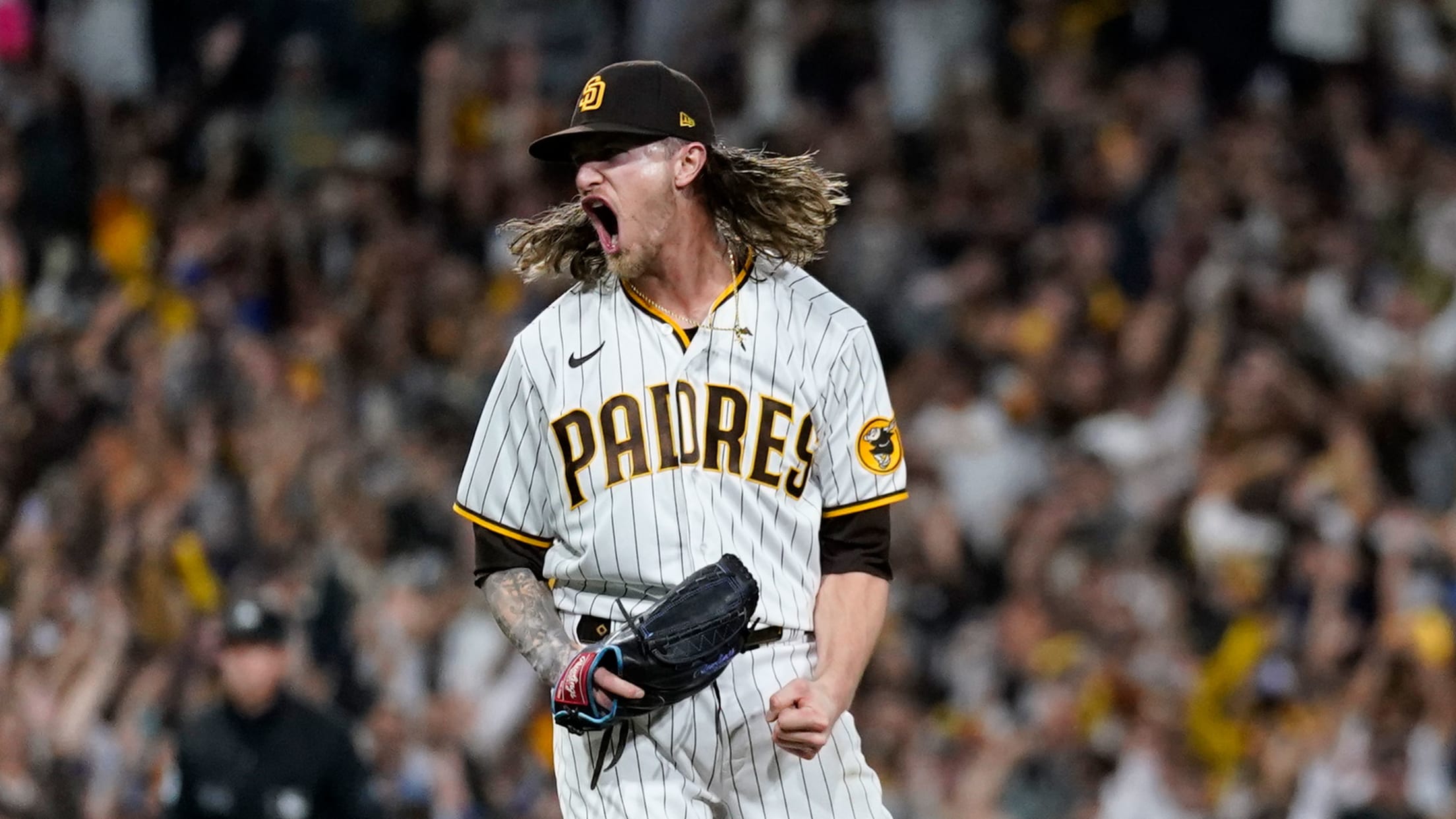 The Padres need to find a way to get the ball back into Josh Hader's hands. Hader has found his fastball, and it's made him the postseason's most dominant closer. The left-hander has closed out five of San Diego's six postseason wins -- earning the save in four of them
Padres' pitching struggles push them to edge of elimination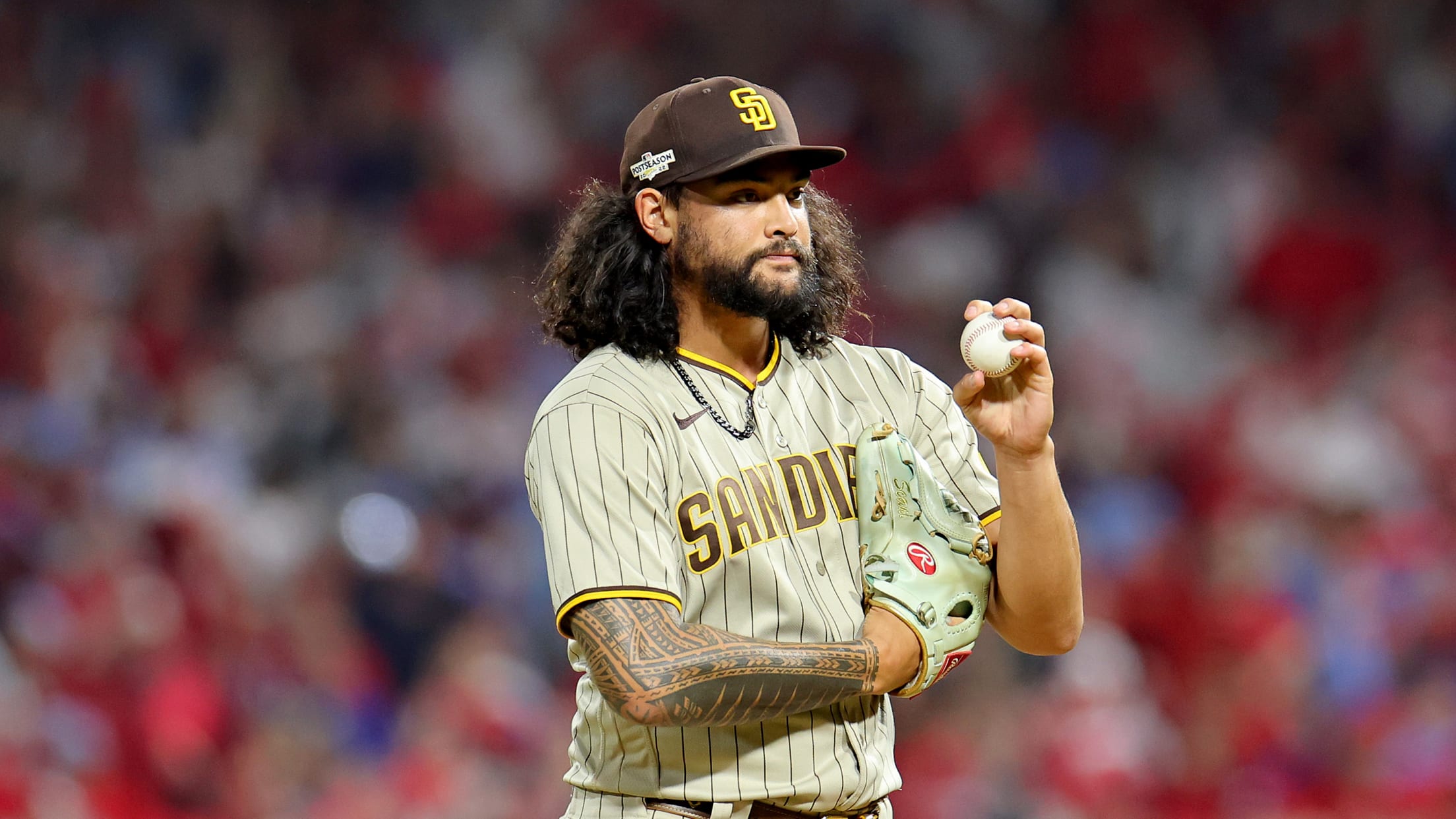 PHILADELPHIA -- A week ago, in the aftermath of their National League Division Series victory over the Dodgers, the Padres set about mapping out plans for Philadelphia. Pitching-wise, at least, the NLCS seemed fairly straightforward. With one caveat: Game 4 would be a challenge.
Trust in Phils' top 2 hitters pays off with huge Game 4 showing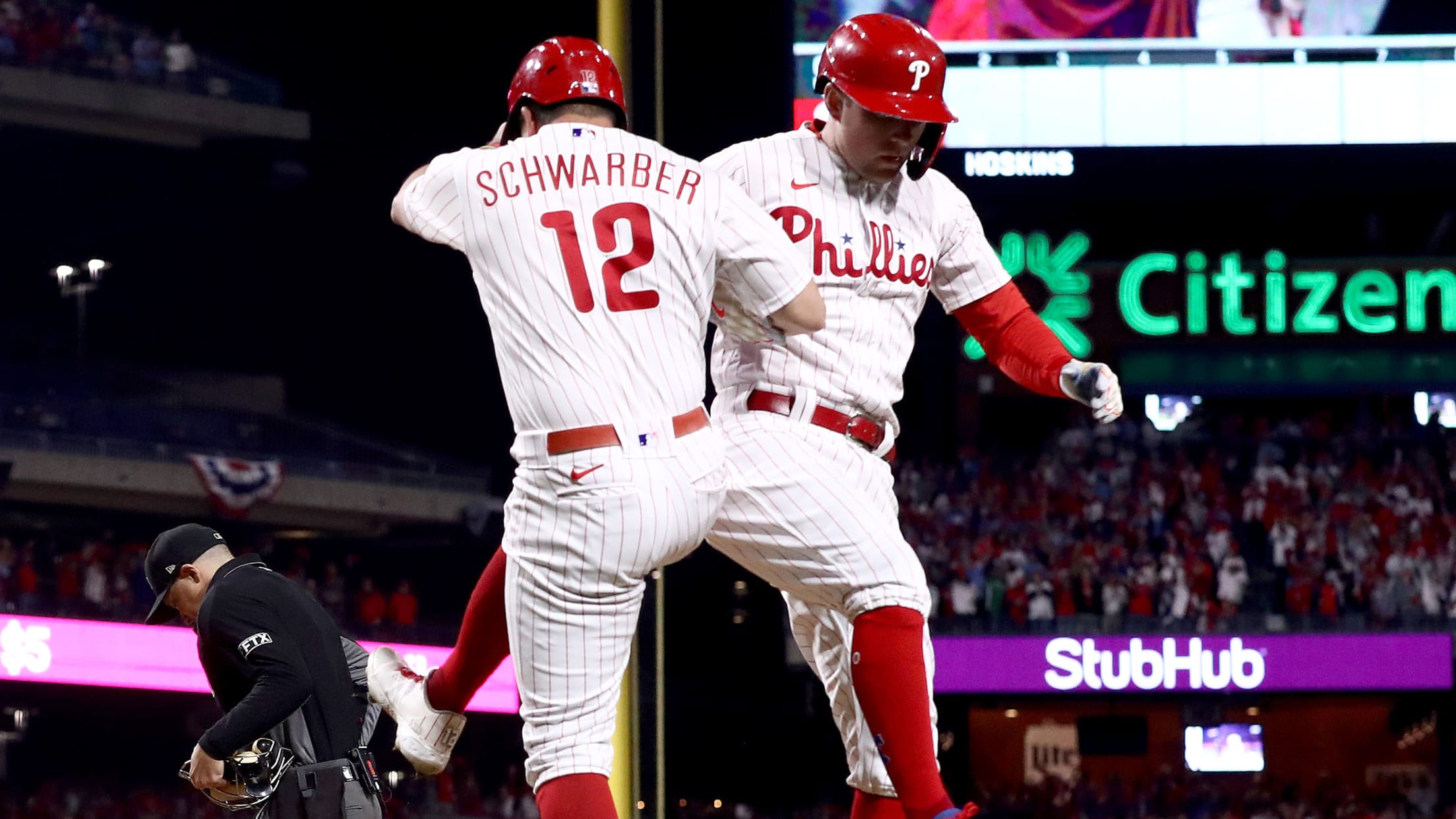 PHILADELPHIA -- On the eve of the Phillies' first home postseason game in 11 years, manager Rob Thomson was asked if he would consider moving the slumping duo of Kyle Schwarber and Rhys Hoskins down in the order. "No," Thomson said prior to Game 3 of the National League Division
Moved by fan's story, Stott offers kind gesture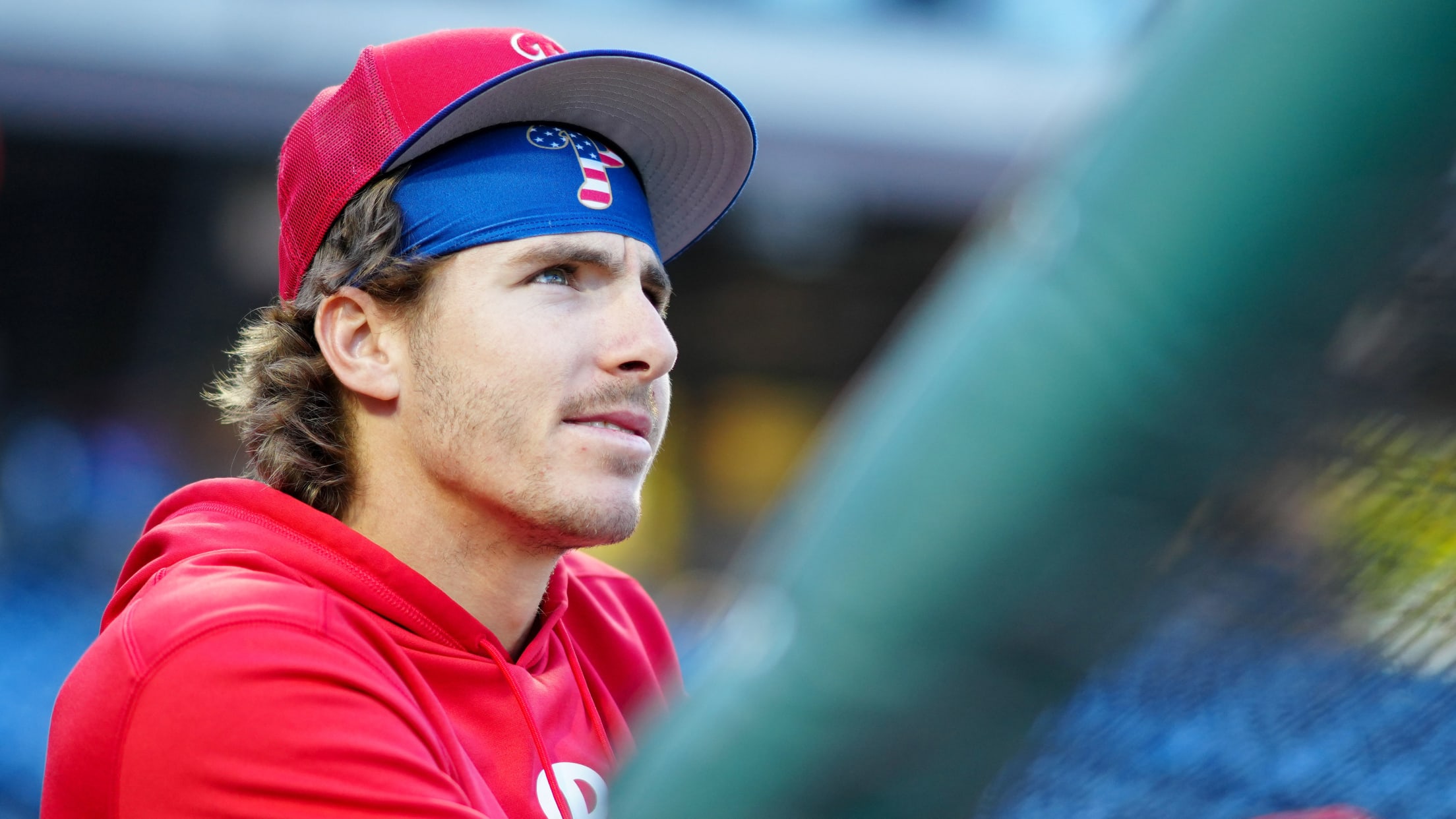 PHILADELPHIA -- Baseball is a game for fathers and sons. Look no further than what Phillies fan Geoff Crawley did this week, flying cross country from Washington, D.C., to San Diego to watch Games 1-2 of the National League Championship Series because it was more cost effective than acquiring tickets
Padres-Phillies Game 4 lineups, FAQ (LIVE, FOX)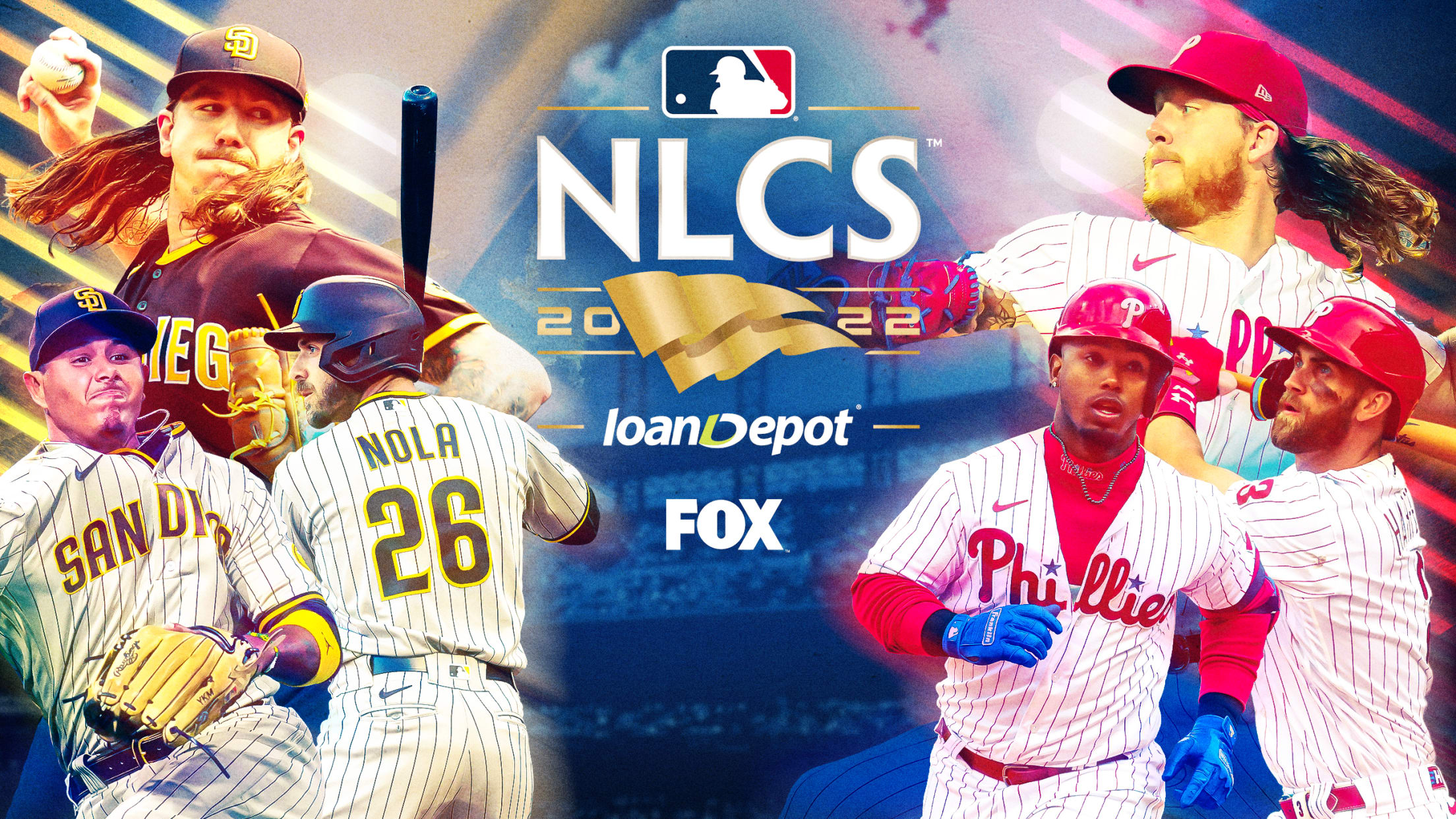 PHILADELPHIA -- The Phillies hadn't hosted a National League Championship Series game since 2010, and they made sure to take full advantage with a 4-2 win in a pivotal Game 3 at Citizens Bank Park on Friday.
Check-swing call sums up Padres' frustrating Game 3 loss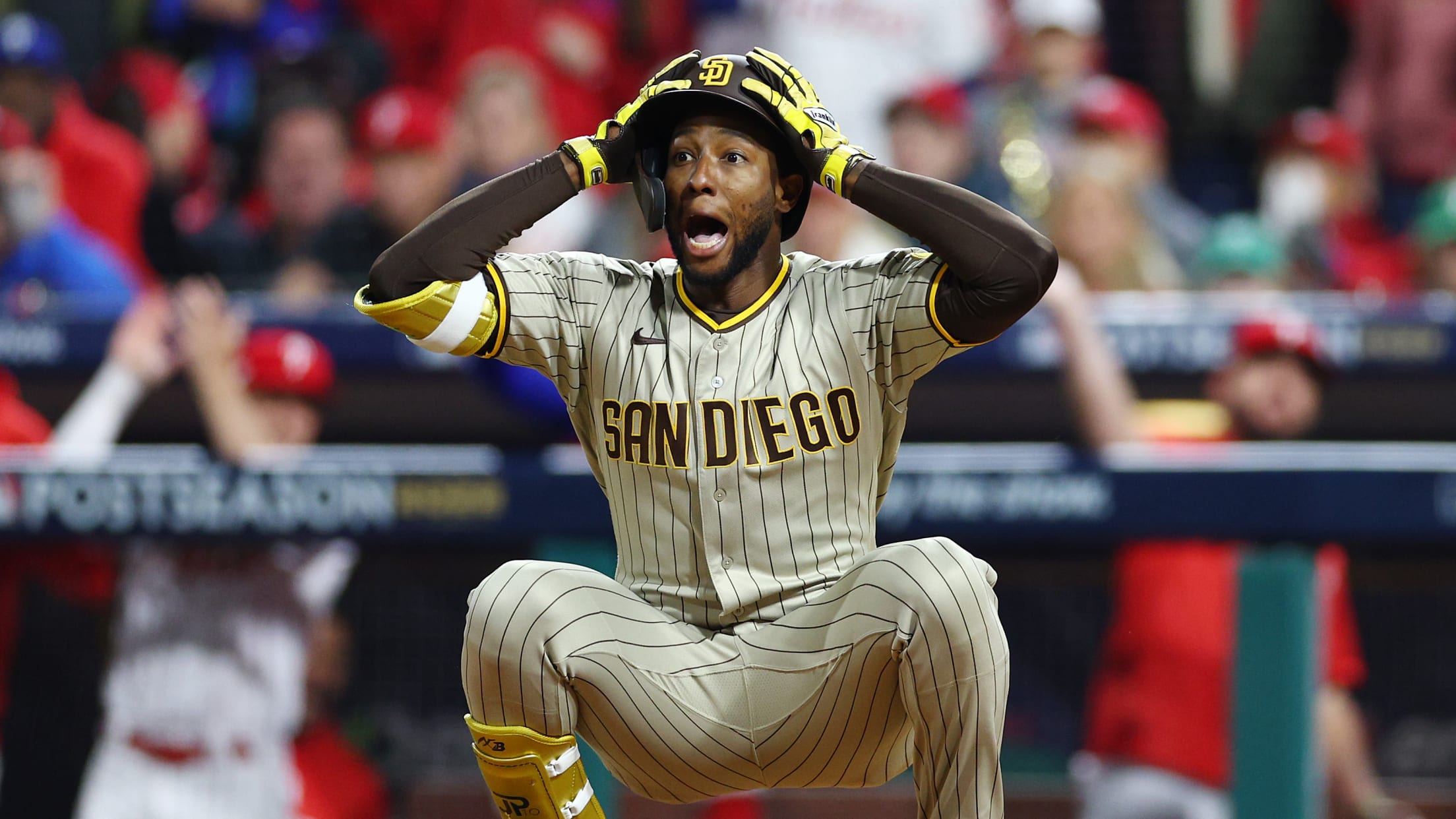 PHILADELPHIA -- The Padres were threatening. Trailing by two runs in the ninth, Josh Bell opened the inning with a single and Jurickson Profar had worked a full count against Phillies closer Seranthony Domínguez. After Profar had fouled off one tough full-count pitch, Domínguez threw a fastball that was closer
How SD might deploy Clev, key arms in G4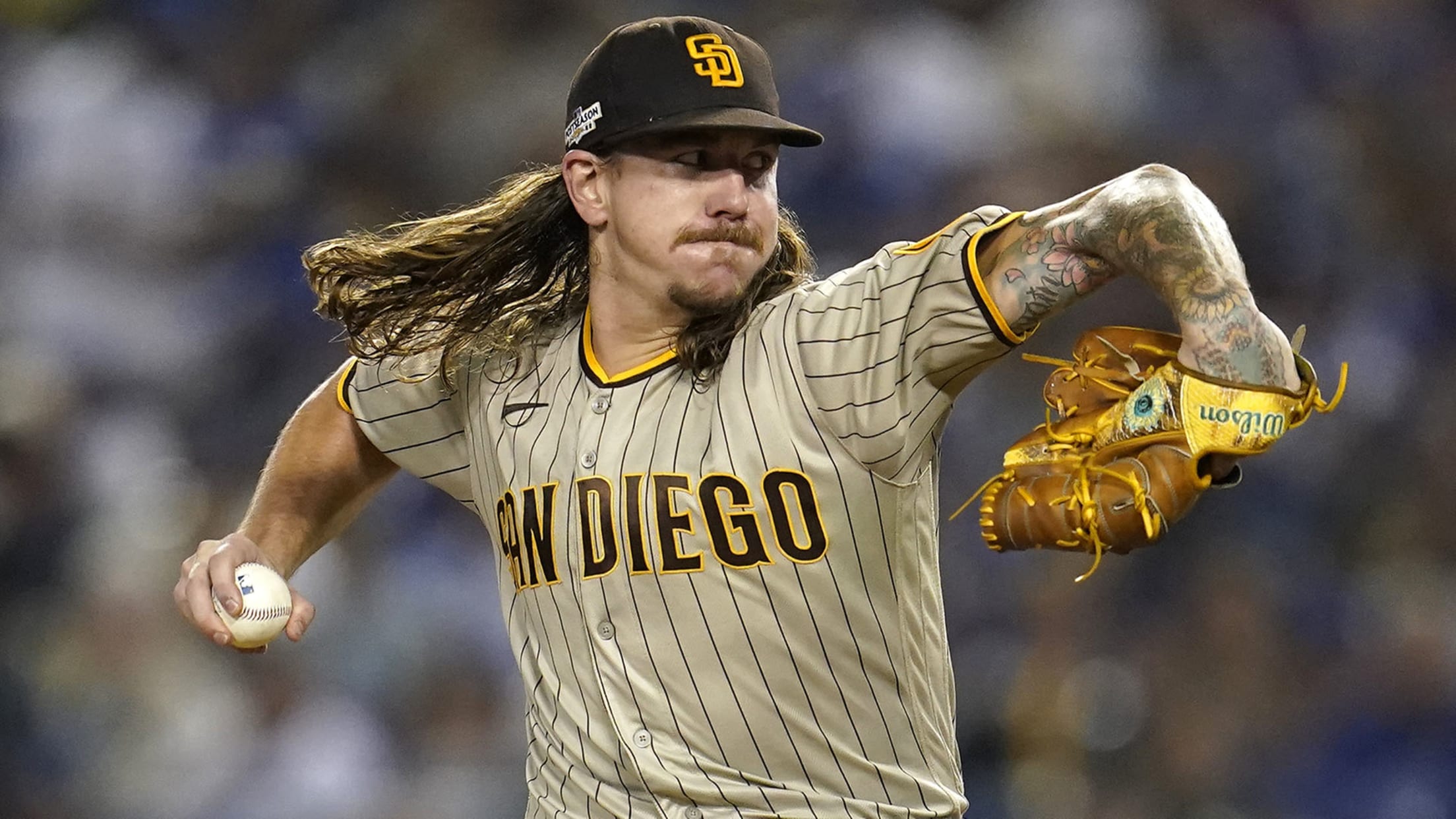 PHILADELPHIA -- Trailing two games to one in the National League Championship Series, the Padres will turn to right-hander Mike Clevinger for Game 4 on Saturday night in Philadelphia. But for how long, exactly? "I'm going to go until Bob comes and tells me I can't go anymore," Clevinger said.
Domínguez's 6-out save nails down Phillies' tense Game 3 win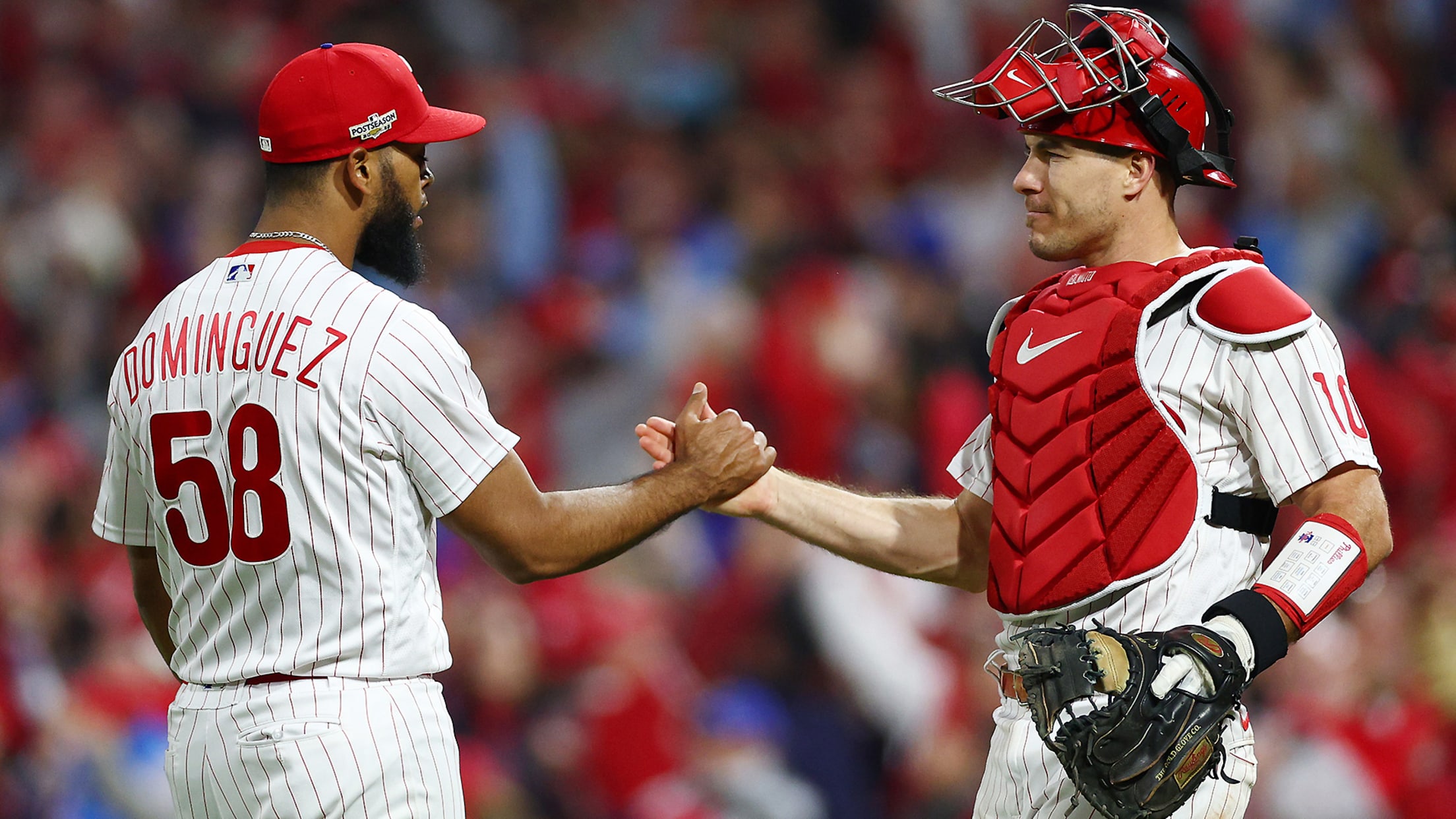 PHILADELPHIA -- Seranthony Domínguez exited the Phillies' bullpen with a runner on first and no outs in the eighth inning Friday night at Citizens Bank Park.
Friars' tide turns after missed chances in 6th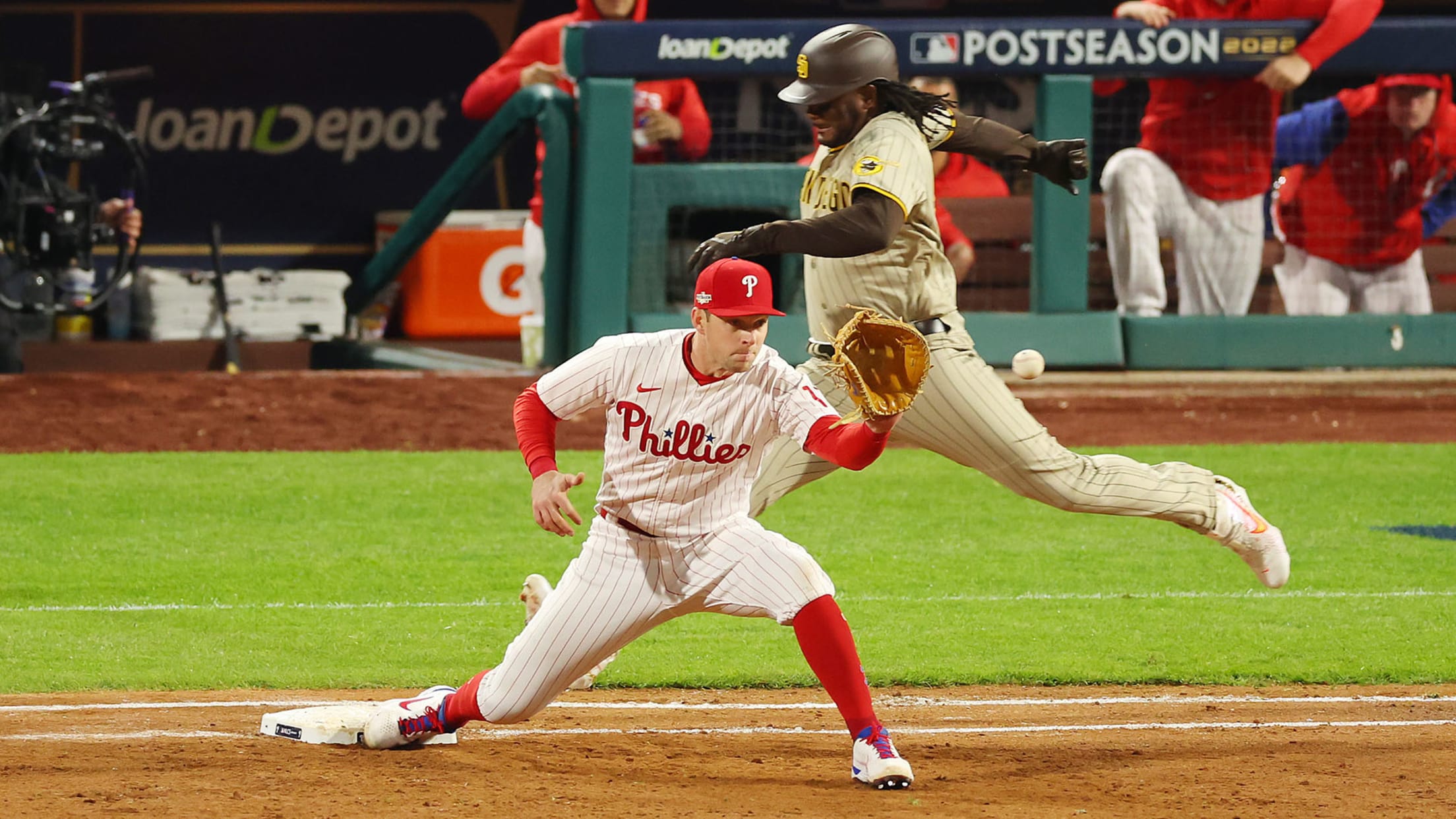 PHILADELPHIA -- Throughout the postseason, San Diego has seen just how much one inning can swing a game and, potentially, a series. The Padres used a five-run seventh inning to get past the Dodgers in Game 4 of the National League Division Series. They also erupted for five runs in
Segura does it all -- and flexes -- to delight of Philly fans
Second baseman shakes off miscues to hit game-winner, make amazing grab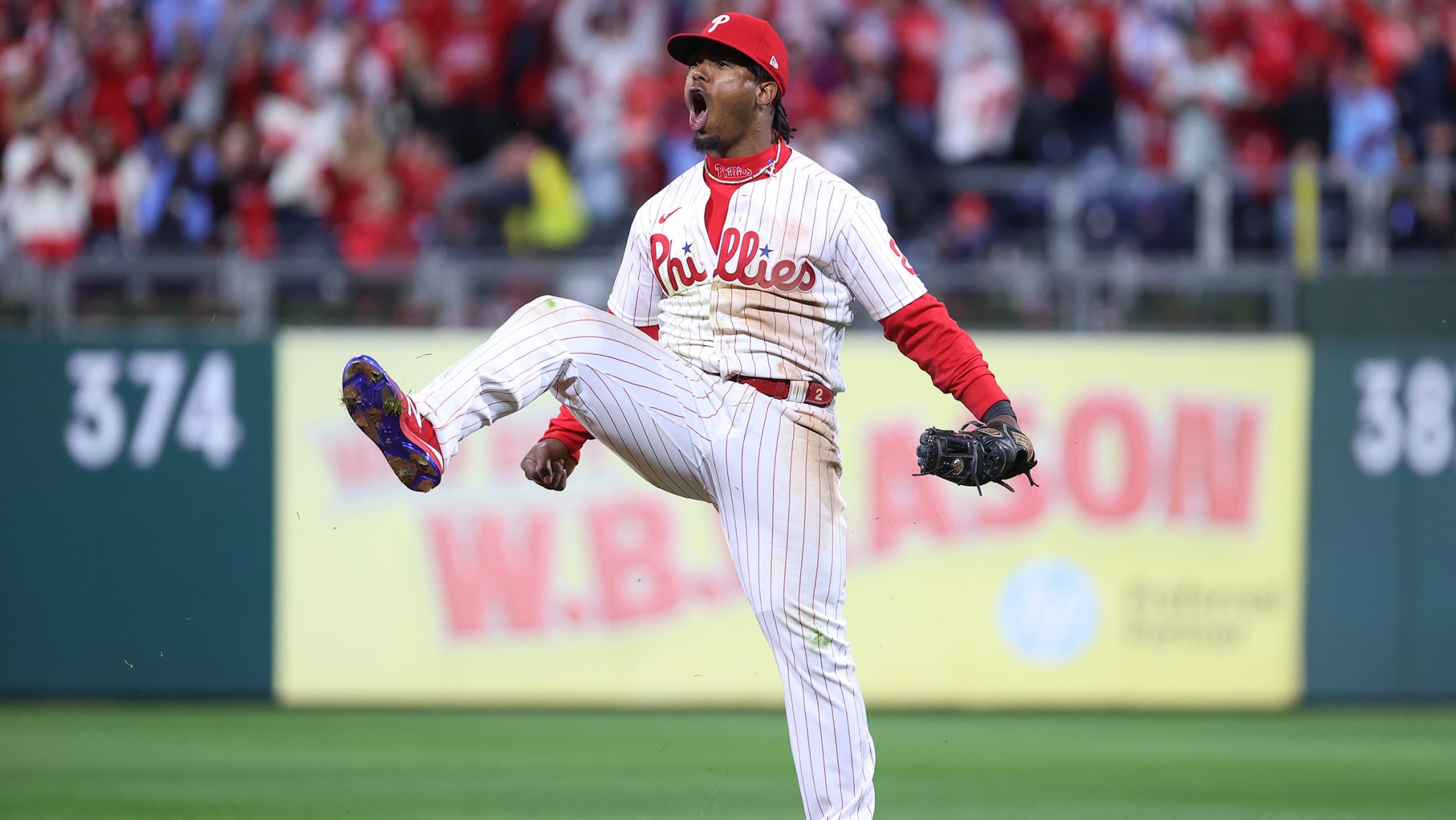 PHILADELPHIA -- Good luck deciding who was more hyped up to close out the top of the seventh inning on Friday night: Phillies second baseman Jean Segura or the sellout crowd of 45,279 at Citizens Bank Park. Following his second stellar defensive play -- this one a diving stop into
How Suárez's quick hook sets up G4 plan for Phils
Left-hander Falter to make first postseason appearance as Saturday night's starter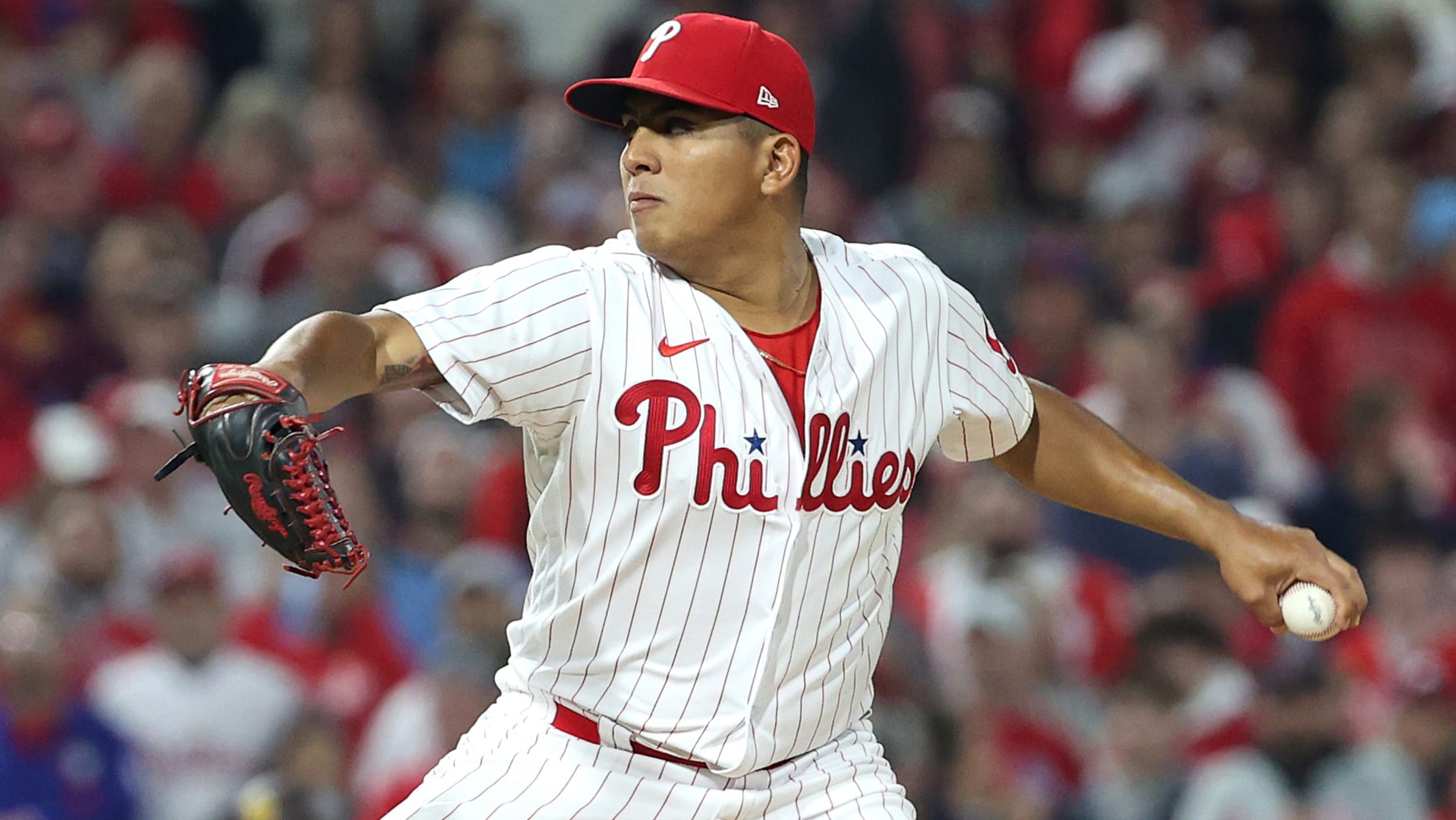 PHILADELPHIA -- It's hard to blame Phillies fans if they shuddered a bit when Ranger Suárez got the hook after throwing just 68 pitches in Game 3 of the National League Championship Series on Friday night at Citizens Bank Park. Sixty-eight. That's the same number of pitches Aaron Nola had