'Ace in the hole': Max's 1st save caps NLDS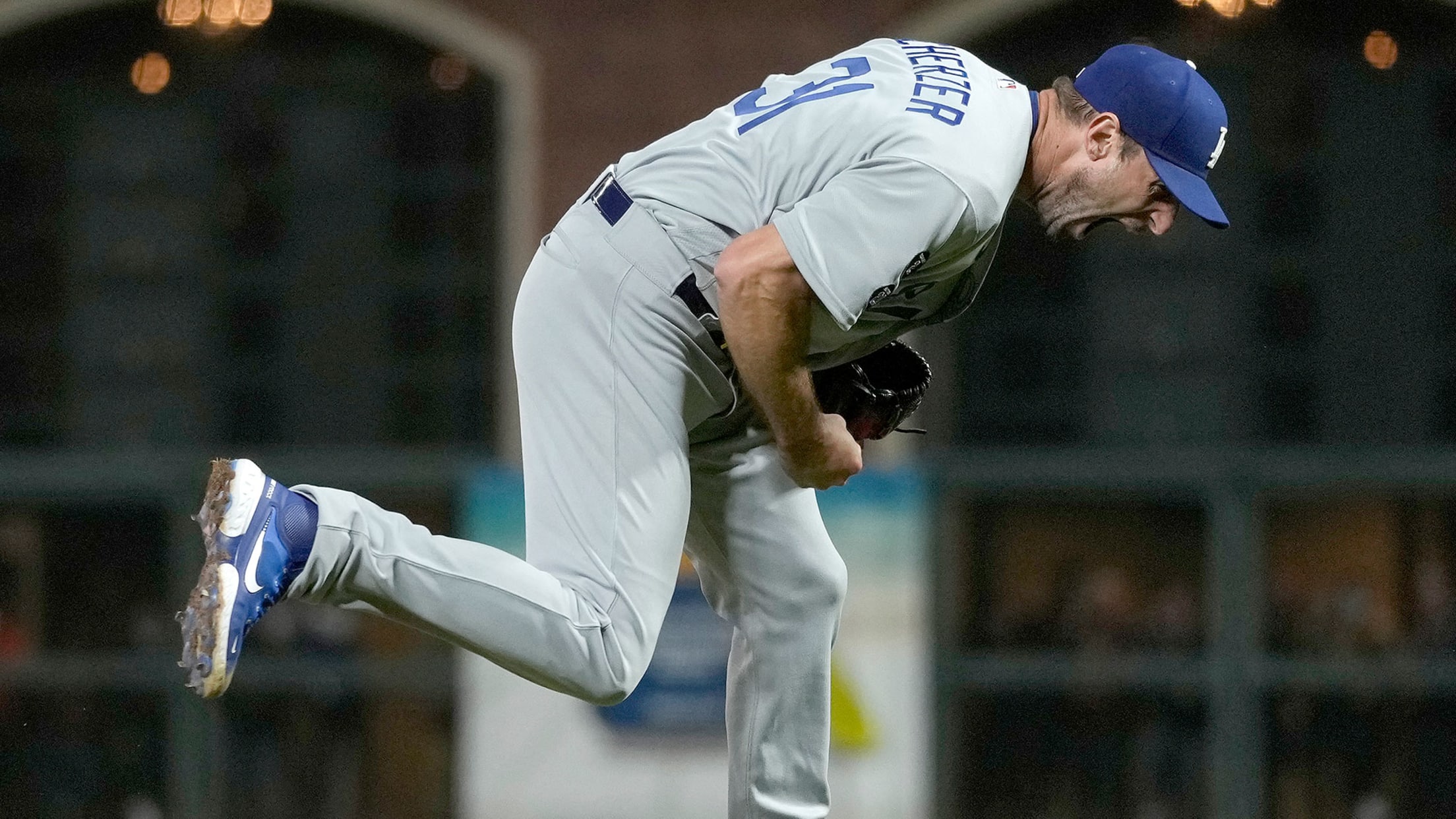 SAN FRANCISCO -- For the most important inning of the most important game of their season, the Dodgers had one card left to play in their Game 5 pitching gamble. It was a good one: Max Scherzer. "Knowing you have an ace in the hole," manager Dave Roberts would say
Dodgers finally overtake Giants, reach NLCS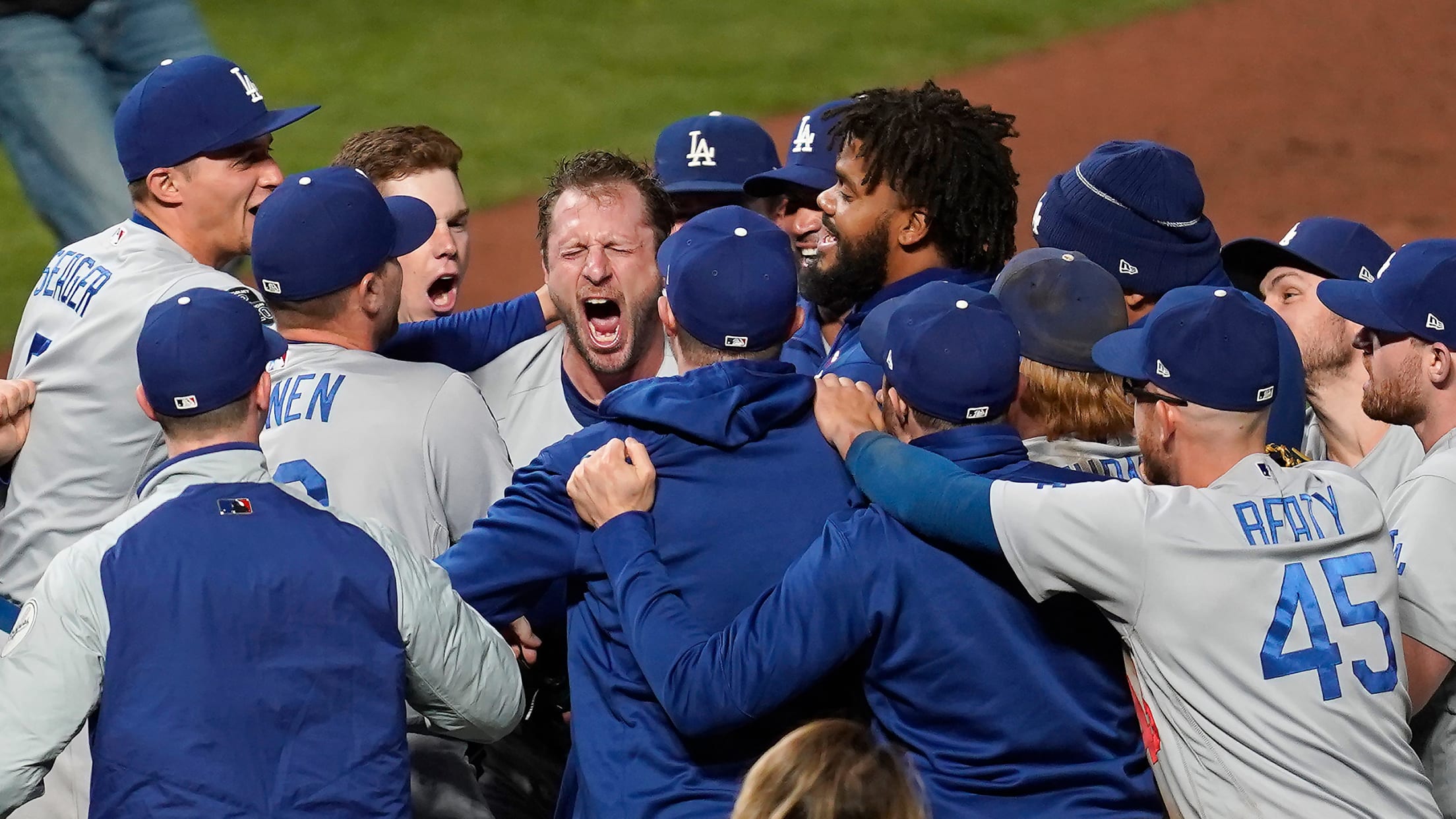 SAN FRANCISCO -- Cody Bellinger raised his right hand and pointed it directly at the visiting dugout. He knew he had squared up a Camilo Doval slider well enough to send it past the shift and into the outfield. Once he stepped on first base, Bellinger pounded his chest multiple
Top 10 performers from the postseason so far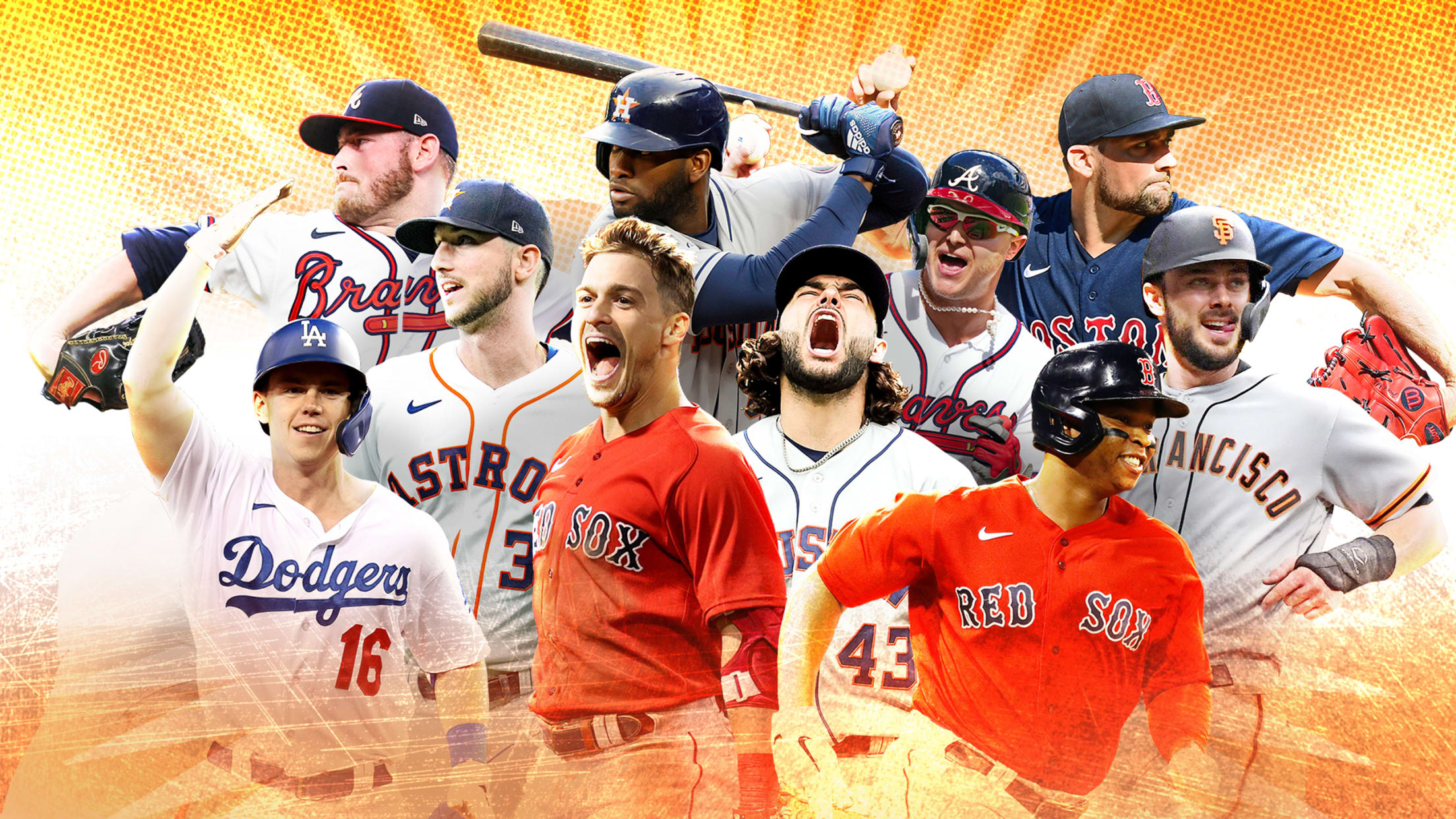 Wednesday is a rare -- and, to be honest, unwelcome -- October day without baseball. It's a day to rest, reflect and, if you've been staying up as late as I have for the last week, maybe catch up on a little sleep. And it's as good a time as
Magical Giants season sees crushing end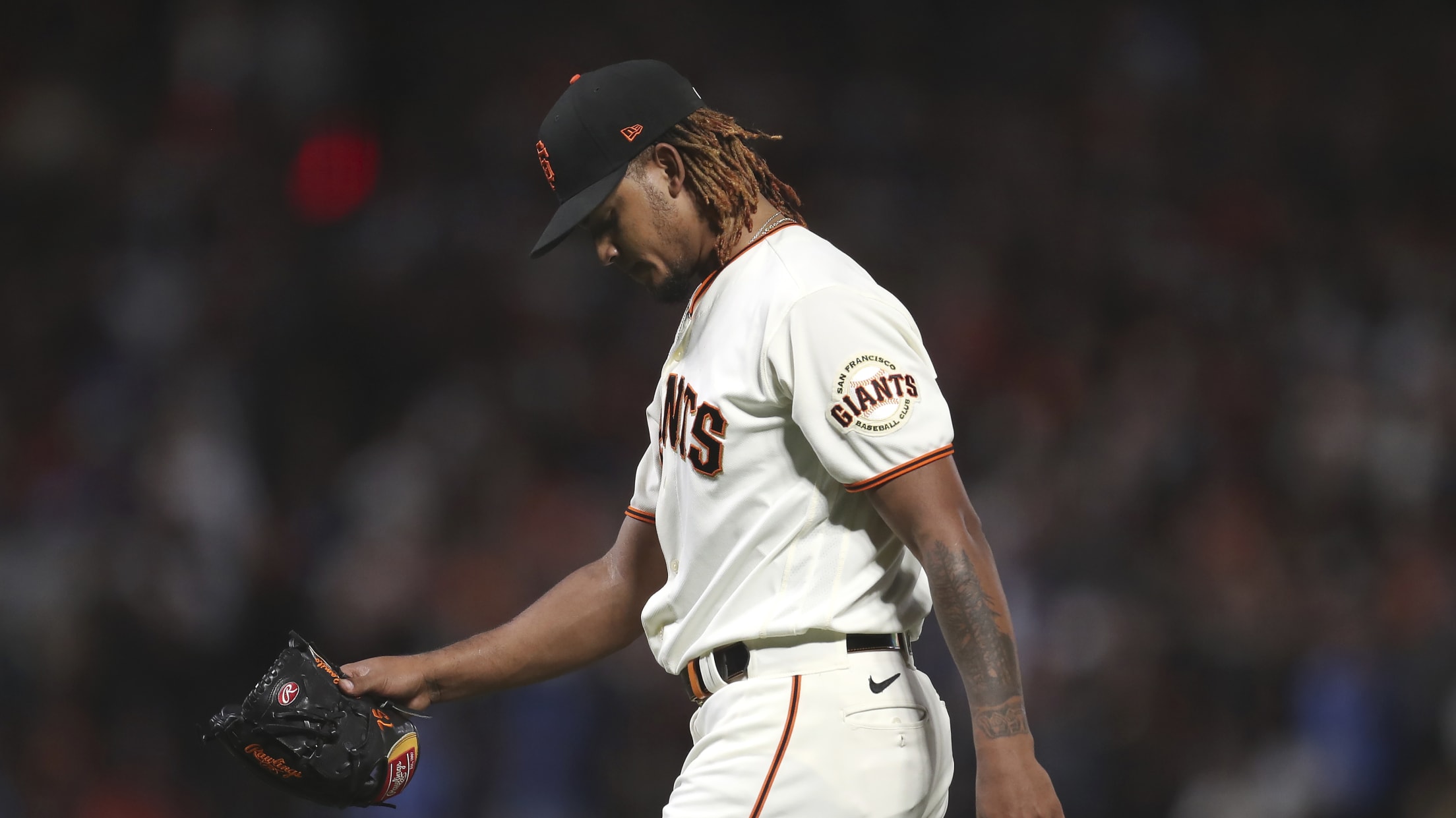 SAN FRANCISCO -- The Giants outlasted the Dodgers in a division race for the ages. But they couldn't hold off their archrivals when it mattered most. Cody Bellinger delivered a go-ahead single off rookie reliever Camilo Doval in the ninth inning to lift the Dodgers to a 2-1 win in
Doval has 'bright future' despite G5 setback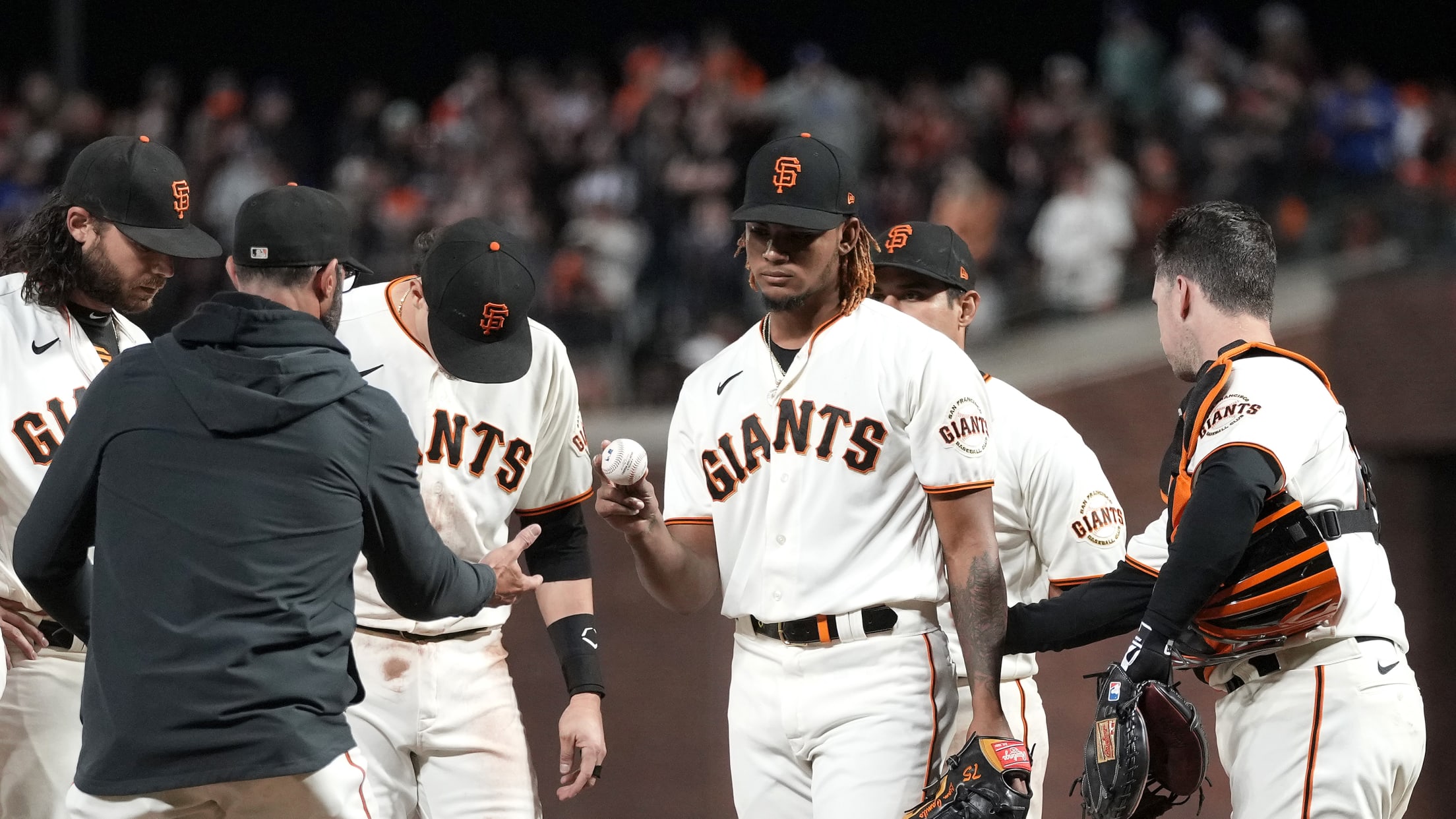 SAN FRANCISCO -- Camilo Doval stood on the grass behind home plate as Justin Turner scored. He flailed his right arm, the universal sign of frustration. He had surrendered the go-ahead run in an eventual 2-1 loss to the Dodgers in Game 5 of the National League Division Series on
Ruf smashes longest homer of postseason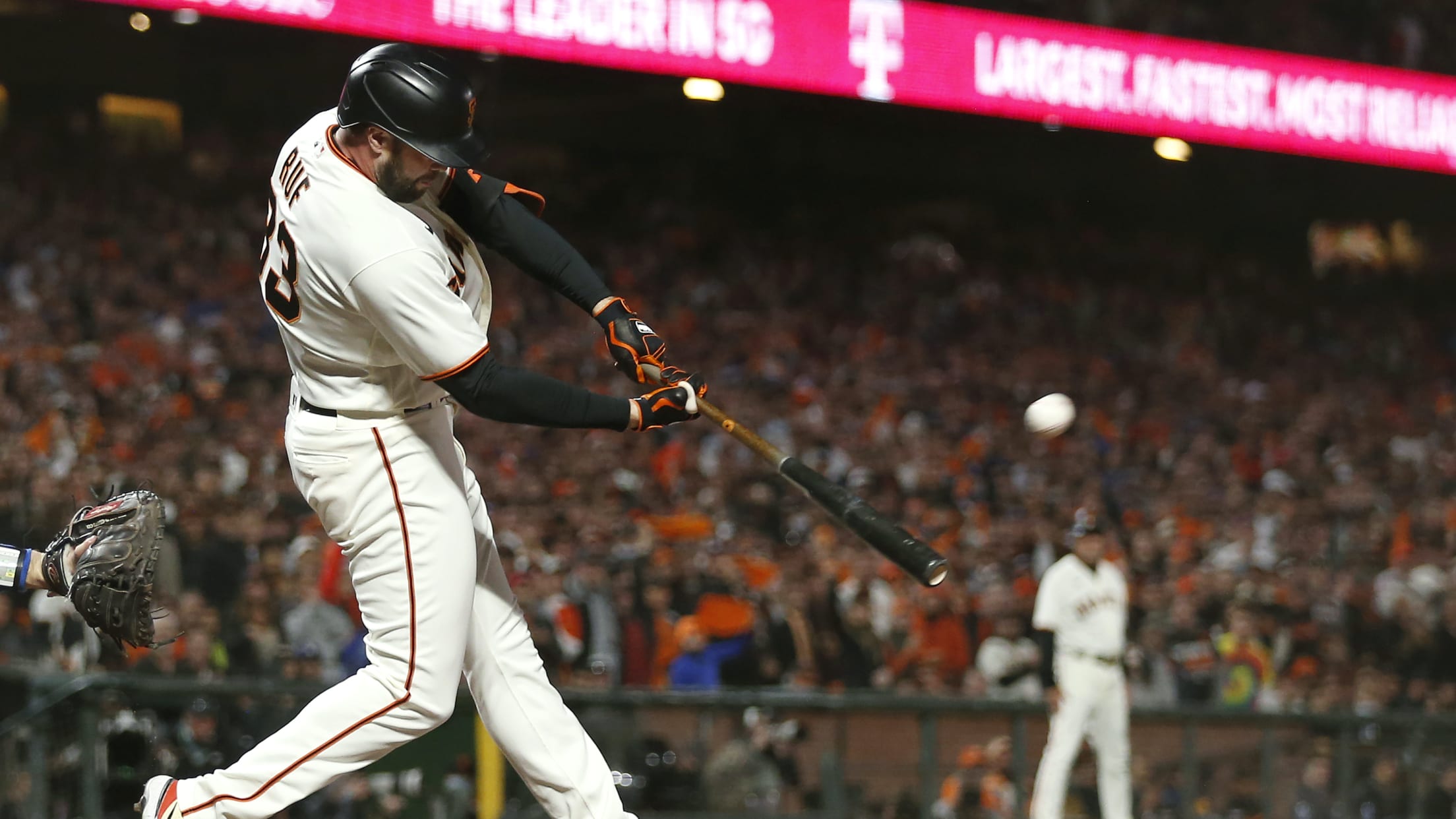 SAN FRANCISCO -- The Giants dropped a heartbreaker in Game 5 of the National League Division Series on Thursday night at Oracle Park, but Darin Ruf's first career postseason hit was a big one -- in its importance and, frankly, its distance. With the Giants trailing by one run in
Betts (4 hits, SB) fuels LA: 'He's a superstar'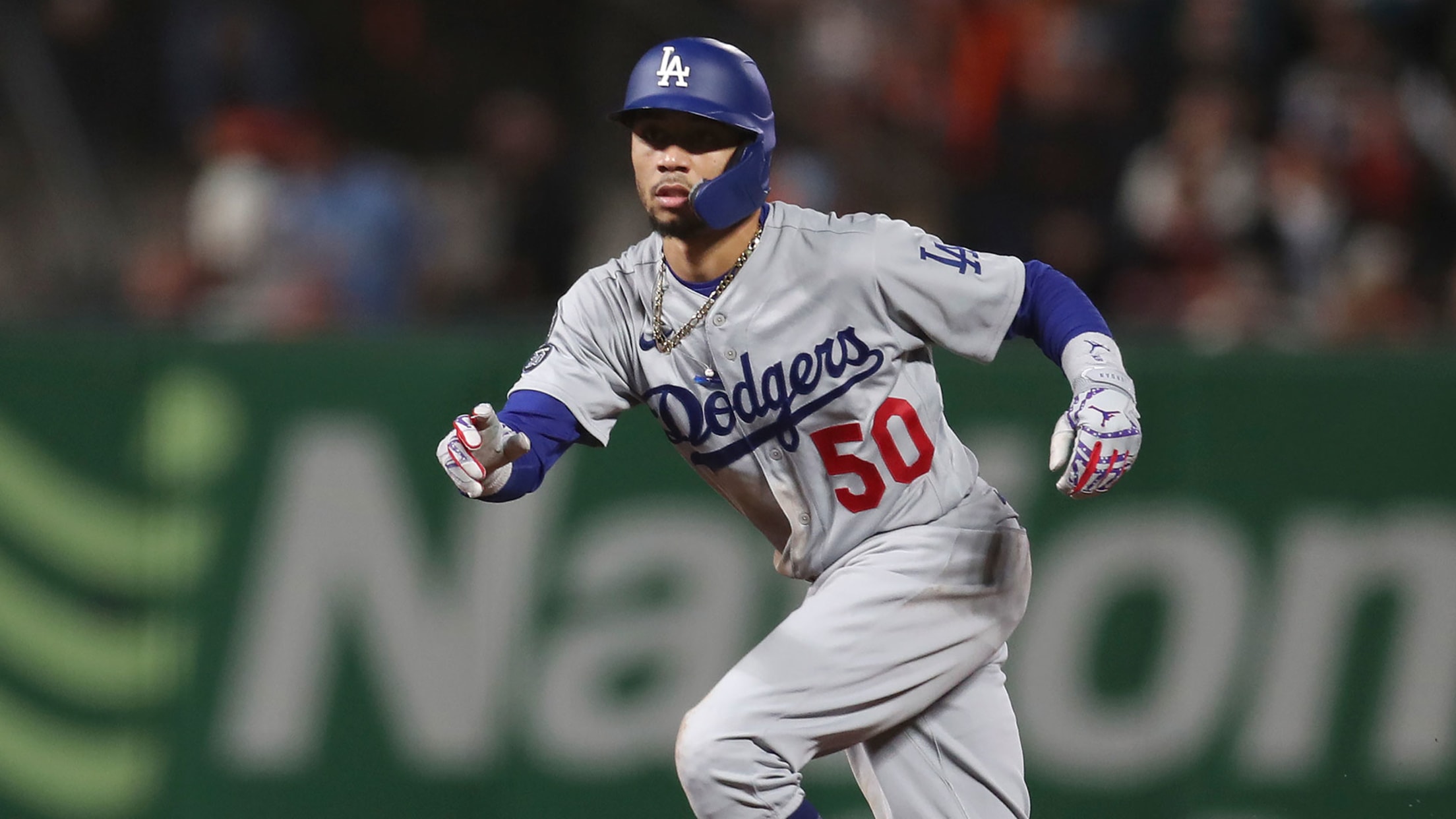 SAN FRANCISCO -- If you were looking for perspective Thursday night, you'd have spotted it in Mookie Betts, with his no-big-deal jog in from Oracle Park's right field after the Dodgers secured a 2-1 win over the Giants in Game 5 of the National League Division Series. In the grand
Flores on NLDS-ending K: 'Don't think I went'
First-base ump rings up Giants infielder on check swing vs. Scherzer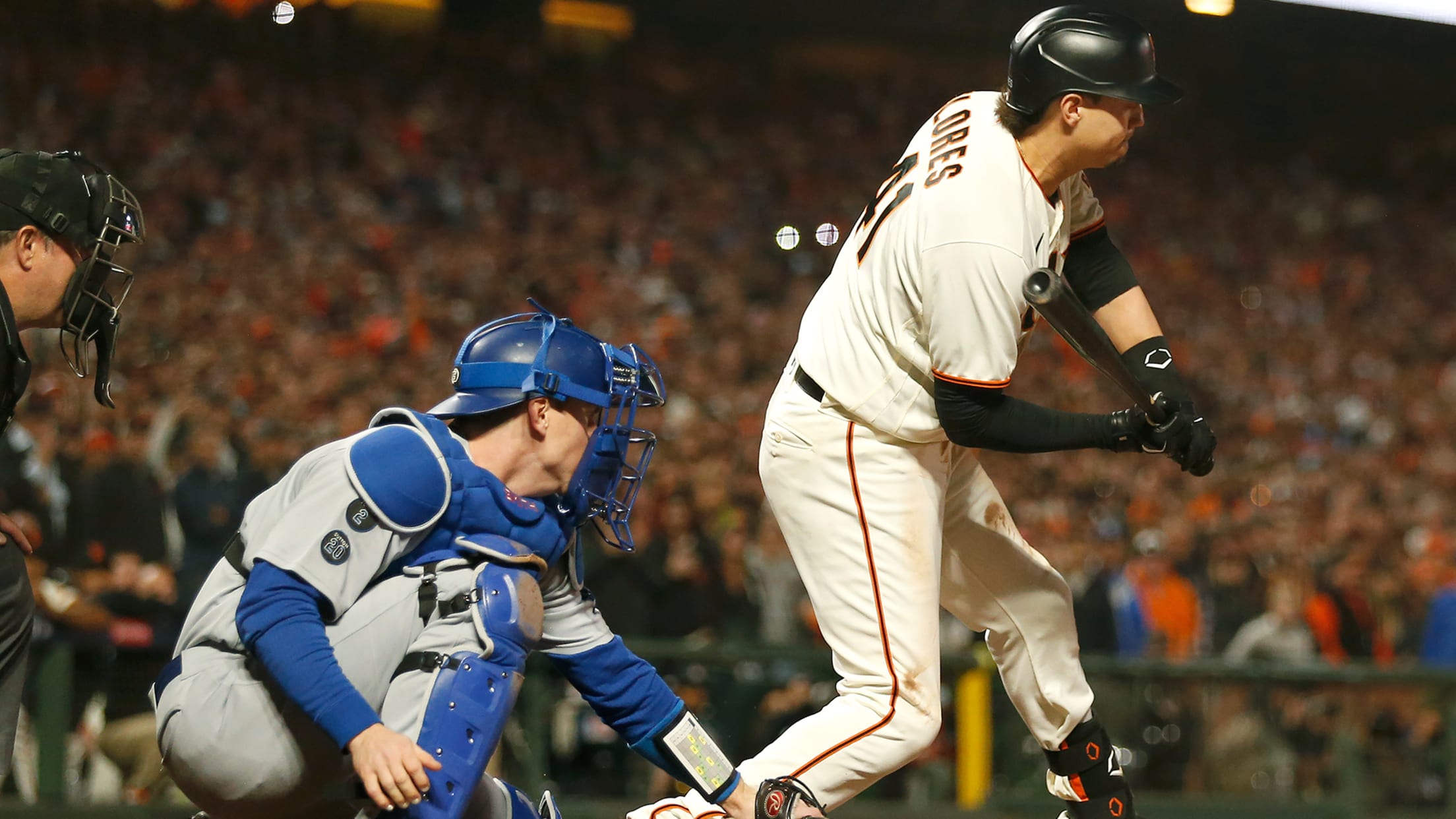 SAN FRANCISCO -- A controversial check-swing call helped the Giants clinch the National League West title by the slimmest of margins. Another controversial check-swing call ultimately ended their season. The Dodgers eliminated the Giants with a 2-1 win in the decisive Game 5 of the National League Division Series on
Webb among elite after pair of NLDS gems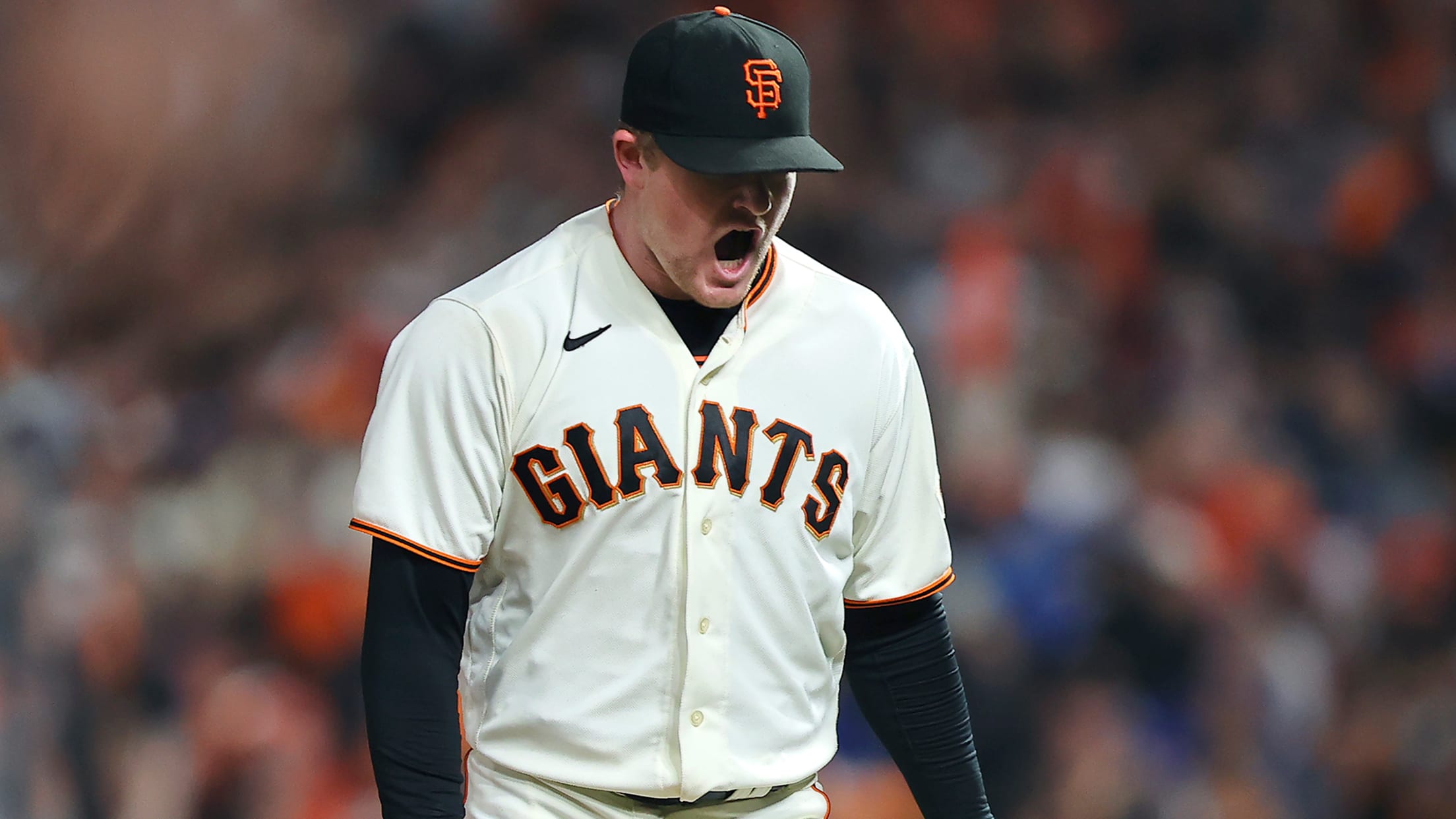 SAN FRANCISCO -- When Logan Webb started Game 162 of the regular season, it was the biggest start of his career -- until it wasn't. That outing was soon usurped by Game 1 of the National League Division Series, then by Game 5. On three occasions, the Giants handed Webb
Belli, Betts, Webb, Max: Amazing G5 facts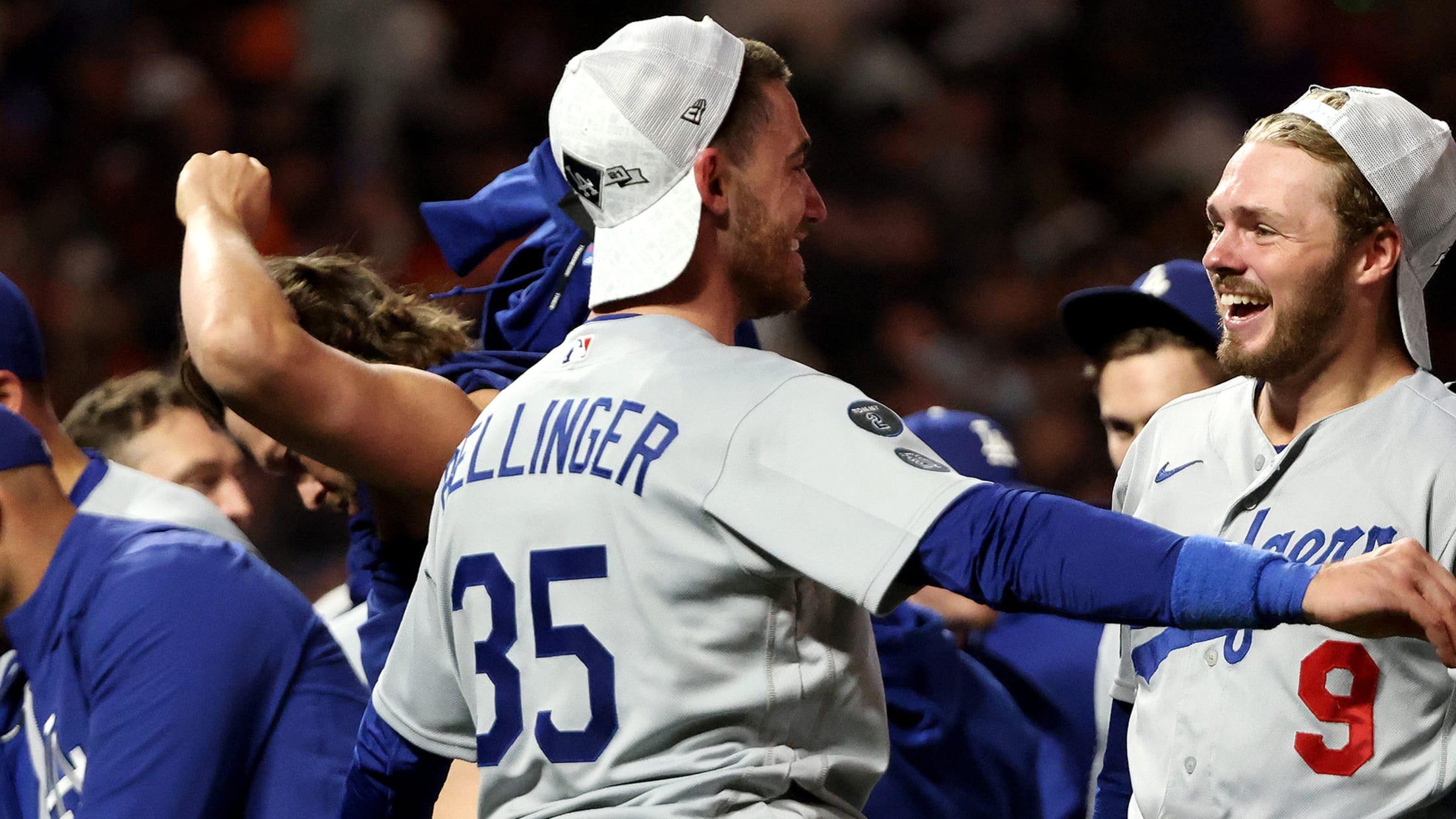 In a postseason series featuring teams that combined for the most regular-season wins in playoff history, the Dodgers defeated the Giants by a razor-thin, one-run margin in Game 5 of the National League Division Series to advance to the NL Championship Series. The series was rife with wild stats, which
Knebel opens Game 5 for LA; Giants counter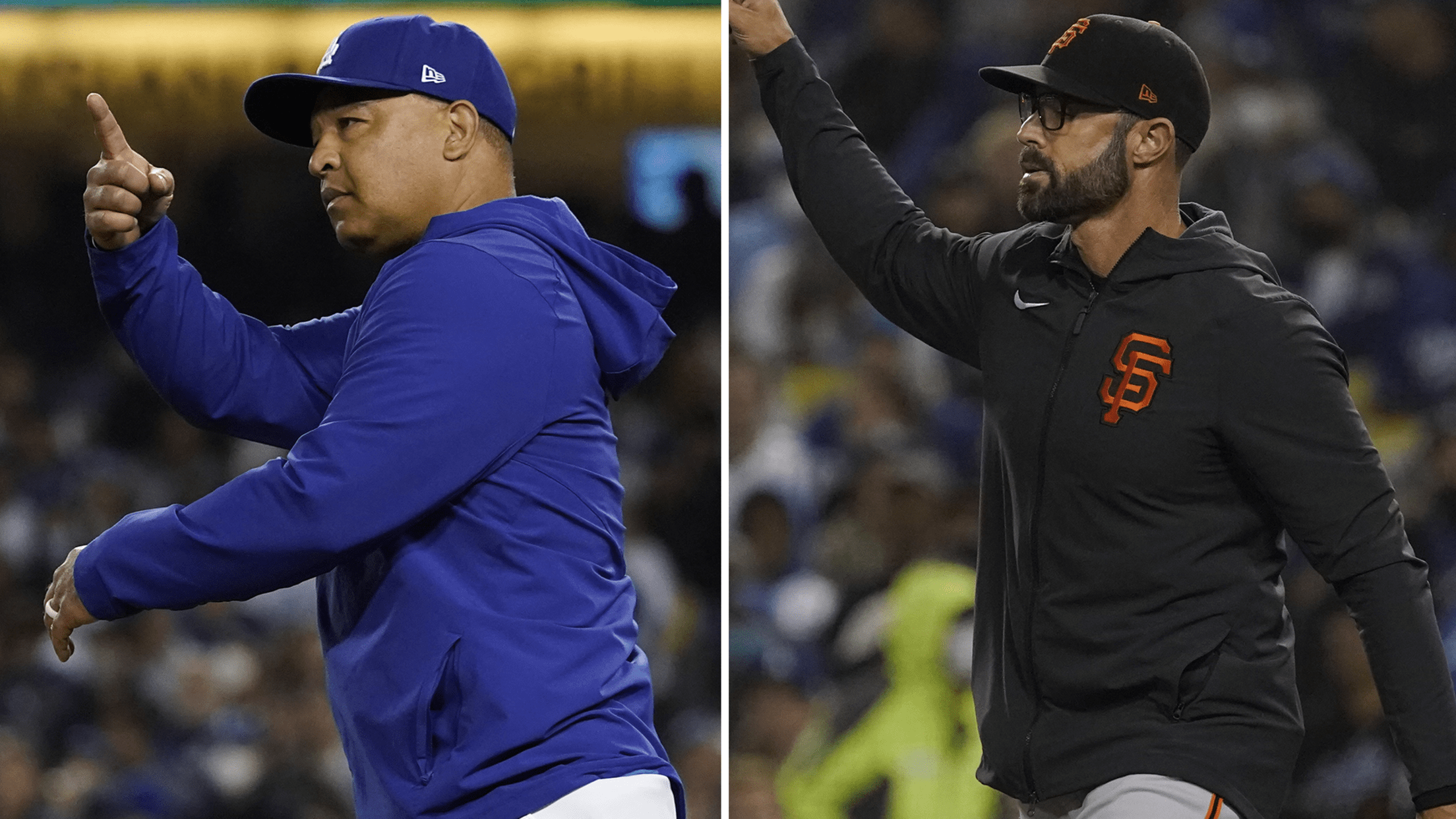 SAN FRANCISCO -- In a surprise move just hours before first pitch, the Dodgers announced on Thursday that they were starting right-hander Corey Knebel in Game 5 of the NL Division Series against the Giants, and not left-hander Julio Urías as was originally planned. The decision is definitely a shocker,
Dodgers-Giants Game 5 FAQ (Live on TBS)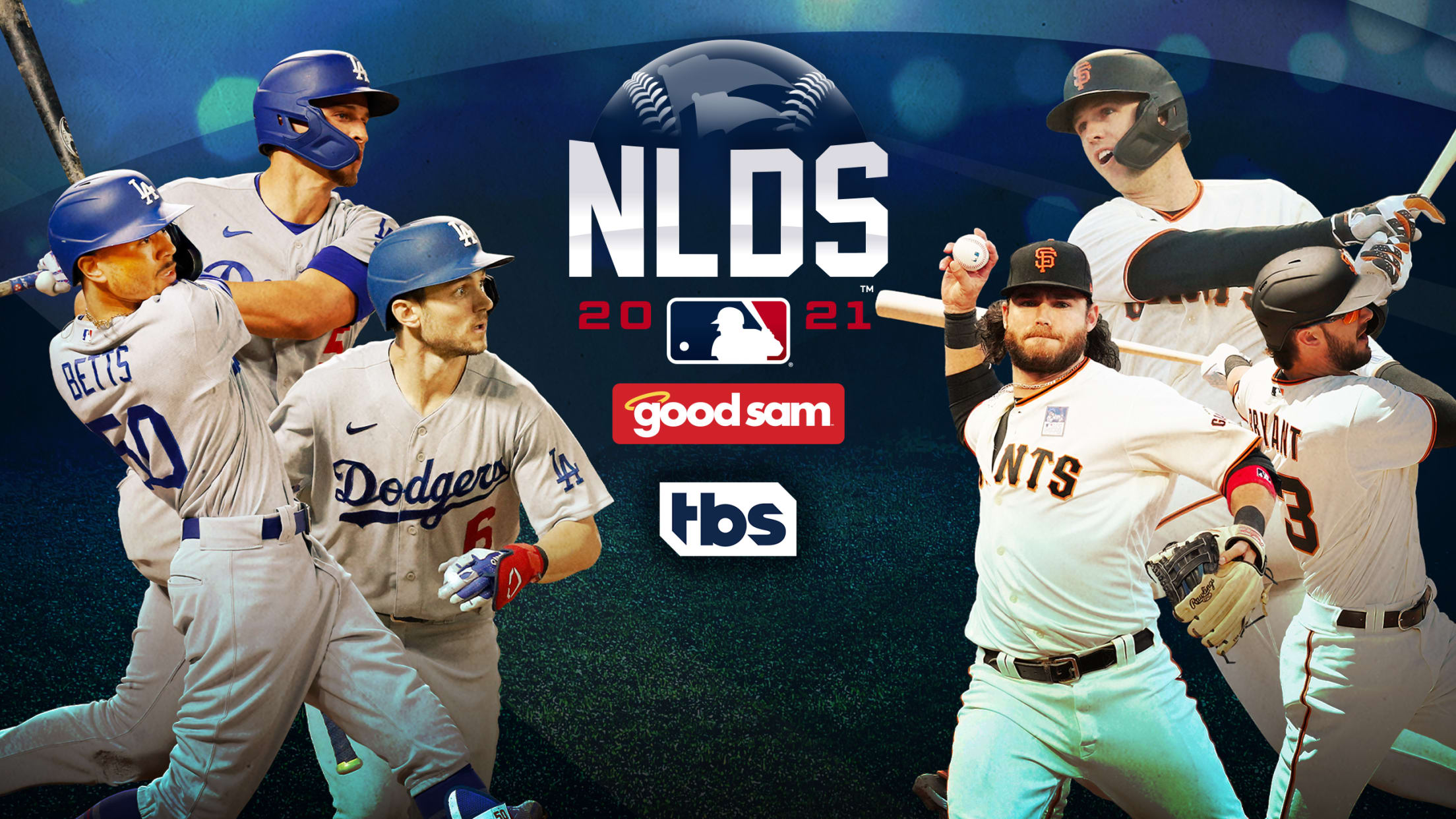 LOS ANGELES -- After 23 intense games between the Dodgers and Giants this season, it's fitting that the epic battle between the teams with the two best records in MLB will come down to the third winner-take-all game between the two rivals. The two previous elimination games were part of
'Great friends' Webb, Gausman integral to G5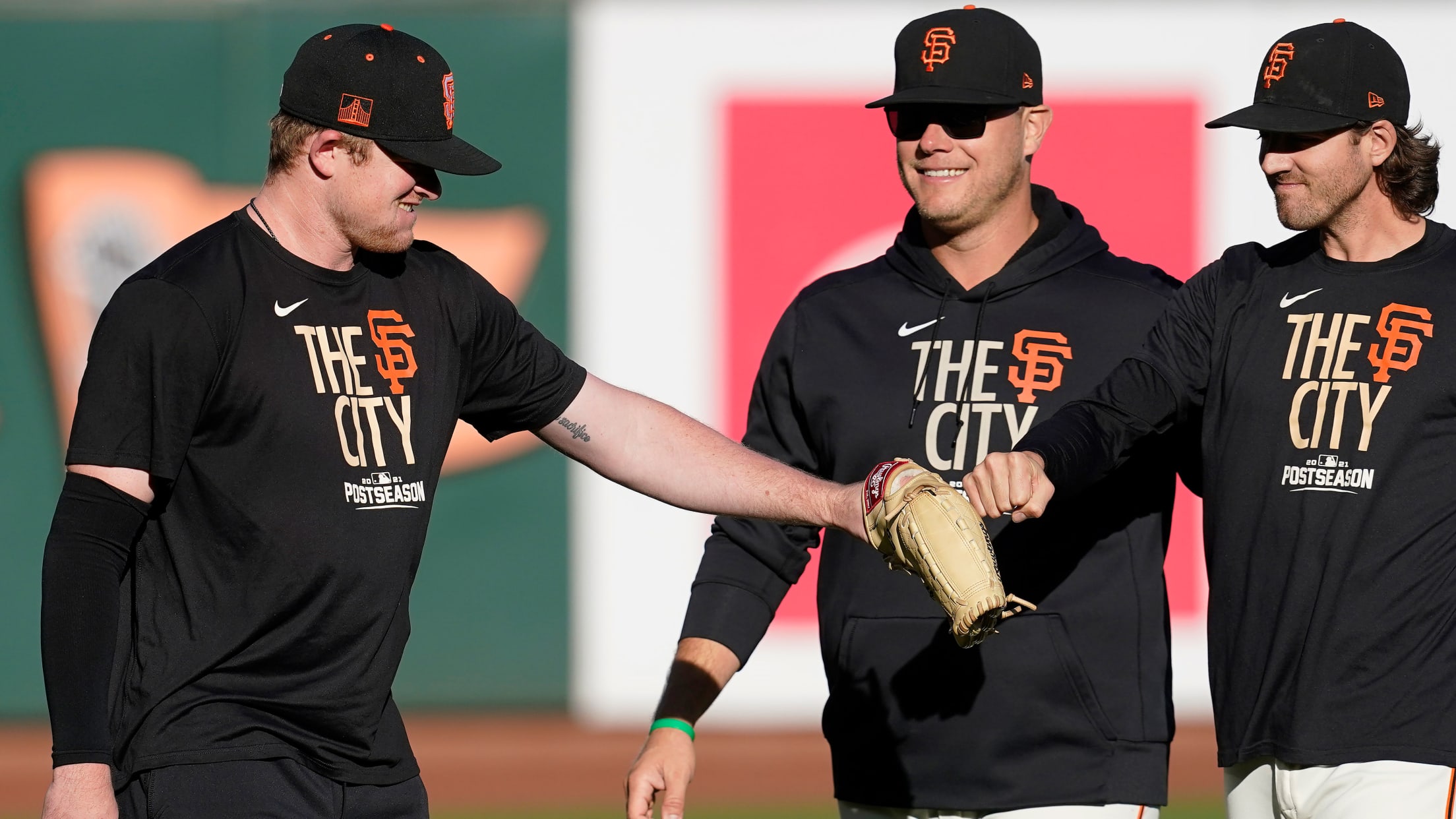 SAN FRANCISCO -- They're locker mates, catch partners, co-owners of a fantasy football team, and now, the two pitchers the Giants could lean on the most with their season on the line. Logan Webb and Kevin Gausman have developed a close friendship while emerging as San Francisco's top two starters
5 keys to historic Dodgers-Giants Game 5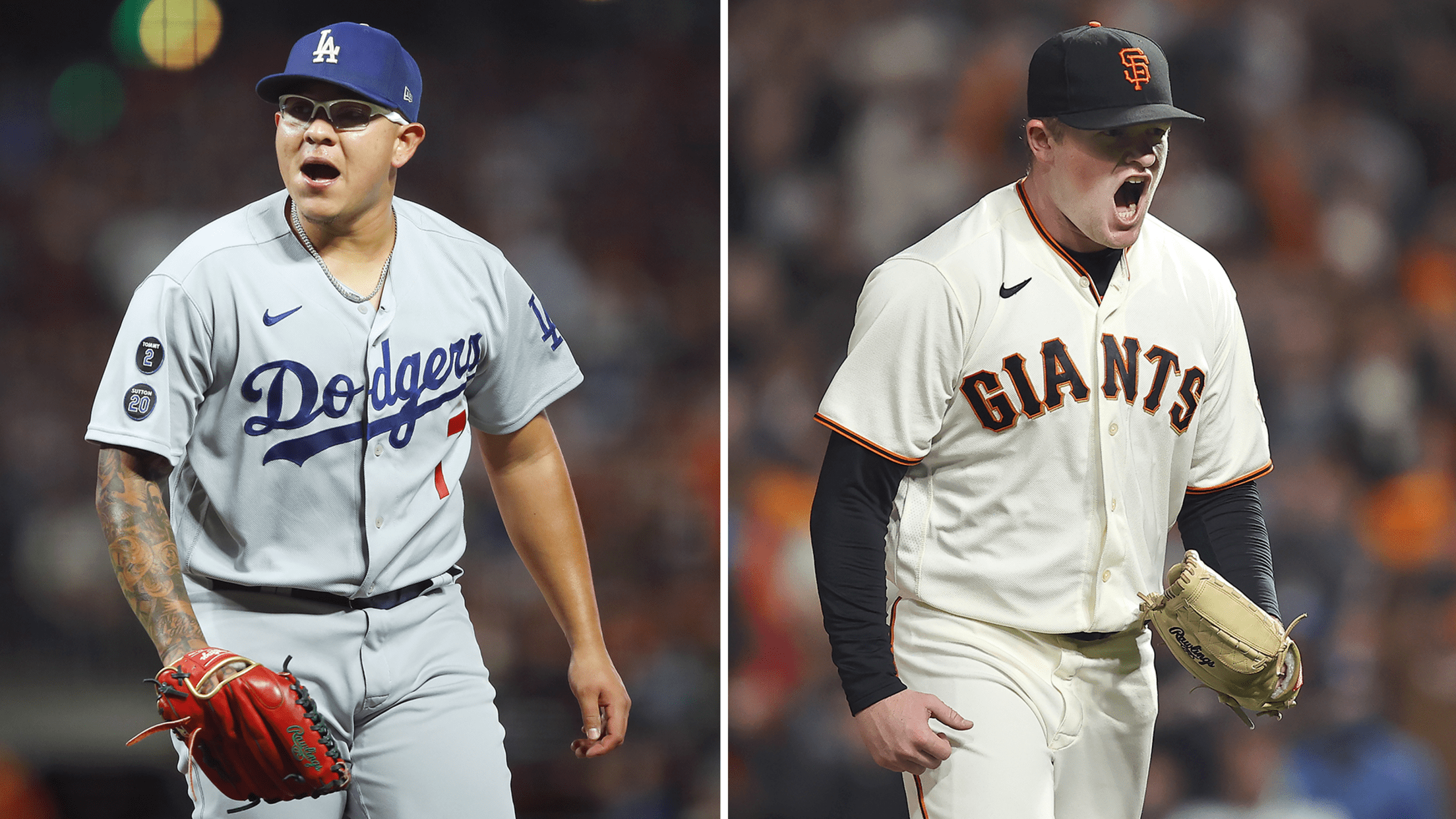 SAN FRANCISCO -- Of course it was going to end like this. The Giants and Dodgers staged an NL West race for the ages, then split four games in the National League Division Series, setting up a winner-take-all showdown at Oracle Park on Thursday night.
5 reasons NLDS Game 5 will be epic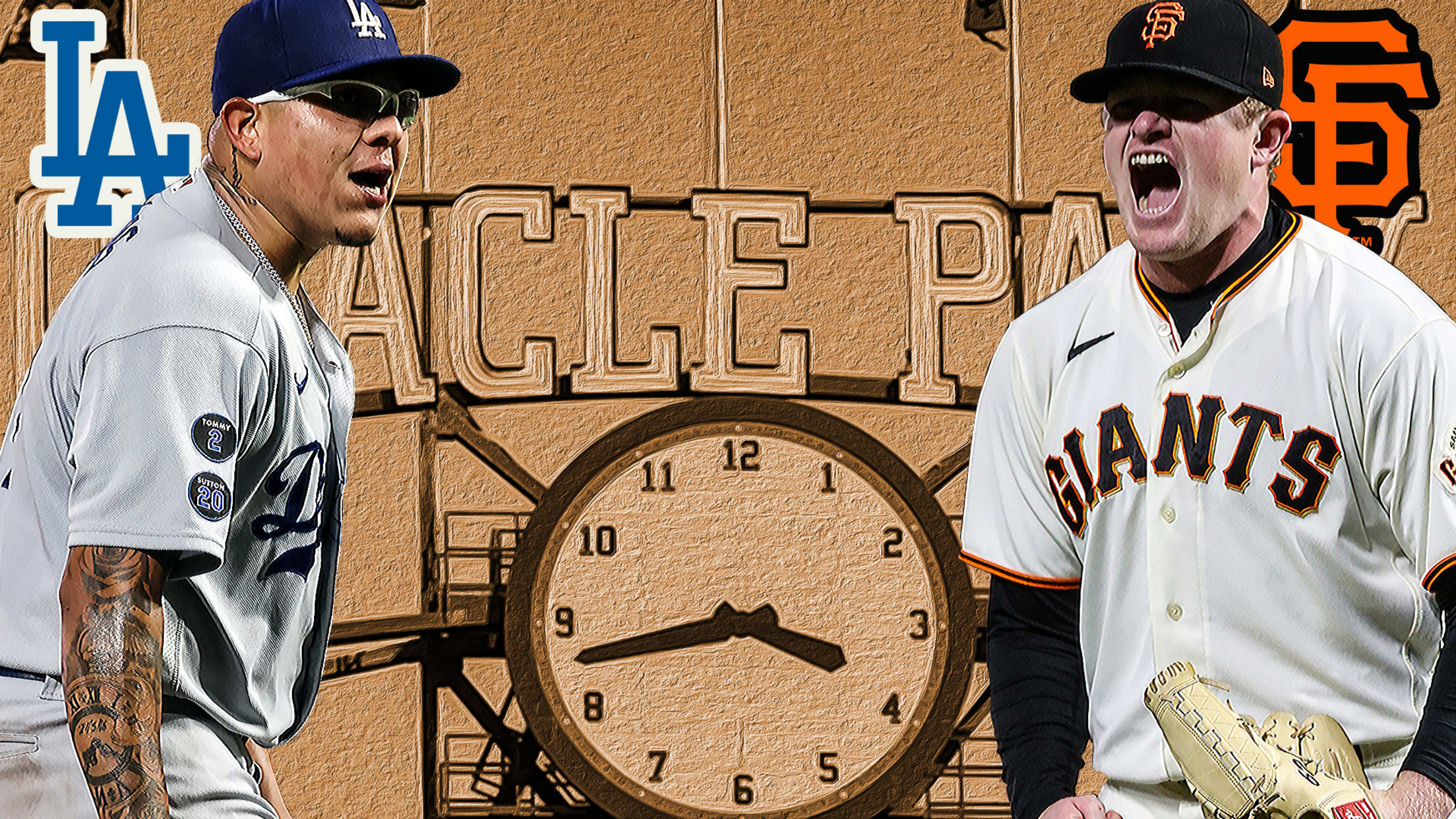 As if a historic rivalry series between the Dodgers and Giants wasn't already enough of a treat in and of itself, on Thursday, we get the most thrilling conclusion possible: a winner-take-all game between the teams. They entered with 213 combined regular-season wins, the most of any postseason series all-time.
Wearing any glove, Bryant a key for Game 5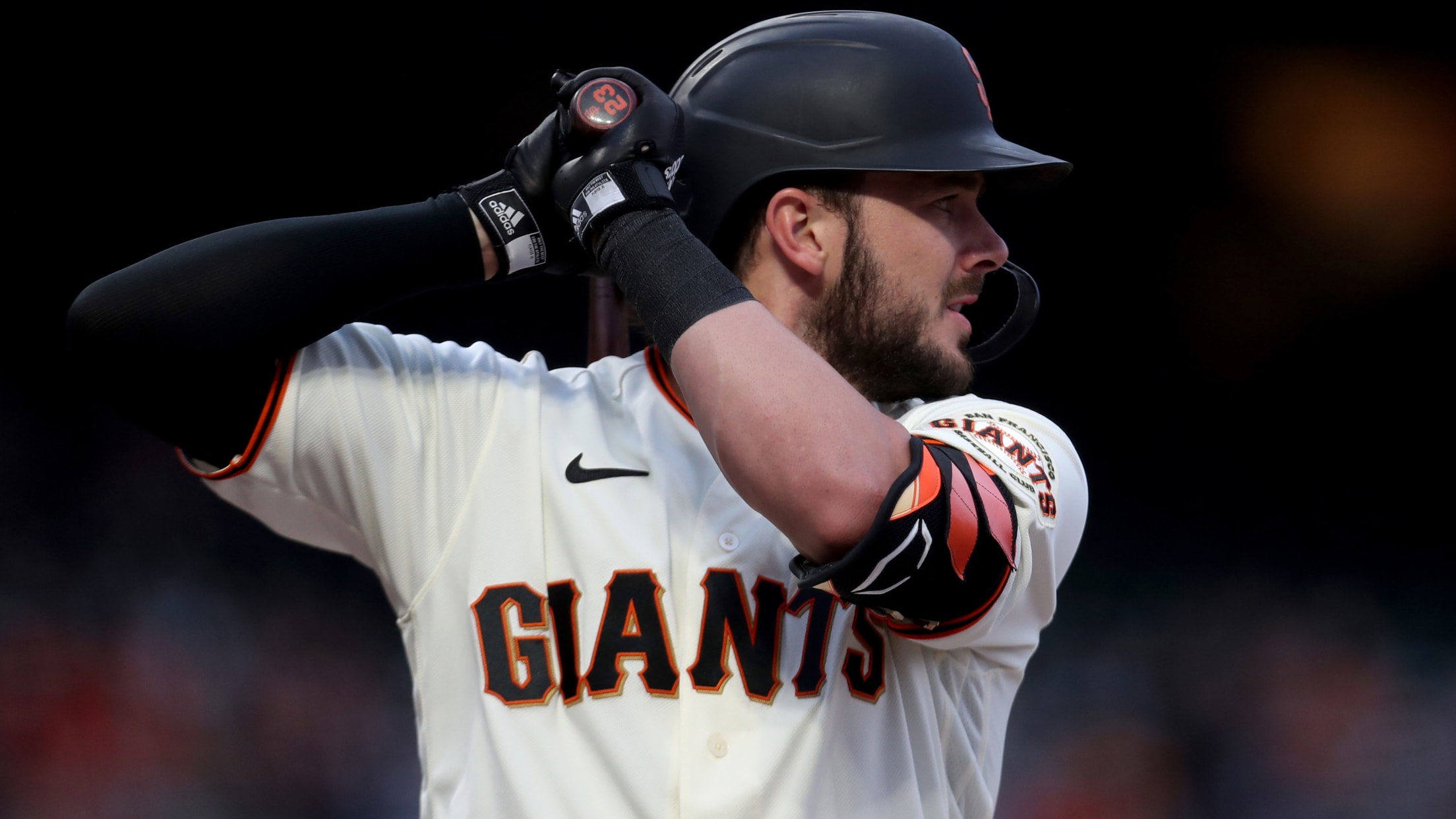 SAN FRANCISCO -- The Giants' Kris Bryant loves how a sport based on exact proportions -- 90 feet, base to base -- fosters irregularities, even when those affect him. Bryant had been a fixture with the Cubs, but at the Trade Deadline, he found himself shipped west. Since arriving in
Urías confident facing pressure of G5 in SF
Dodgers lefty aims to continue career year past NLDS winner-take-all finale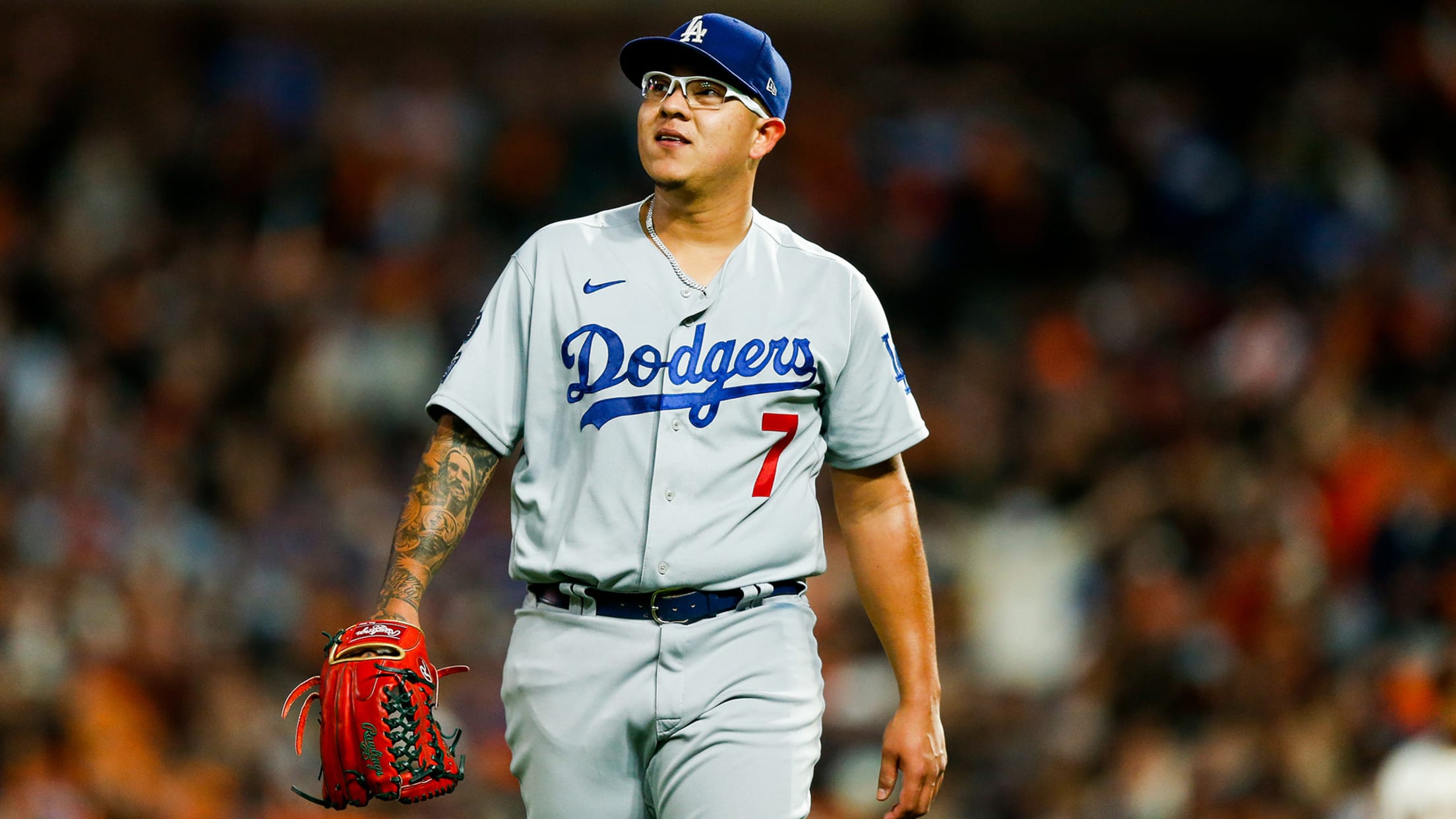 SAN FRANCISCO -- The past two times the Dodgers have clinched a postseason series, it's been left-hander Julio Urías on the mound recording the final out. His championship-sealing strikeout of Willy Adames in Game 6 of the 2020 World Series will forever live in Dodgers history. If Los Angeles wins
Will Mad Max emerge from 'pen in Game 5?
Roberts demurs, cites 'good arms that are fresh' vs. Giants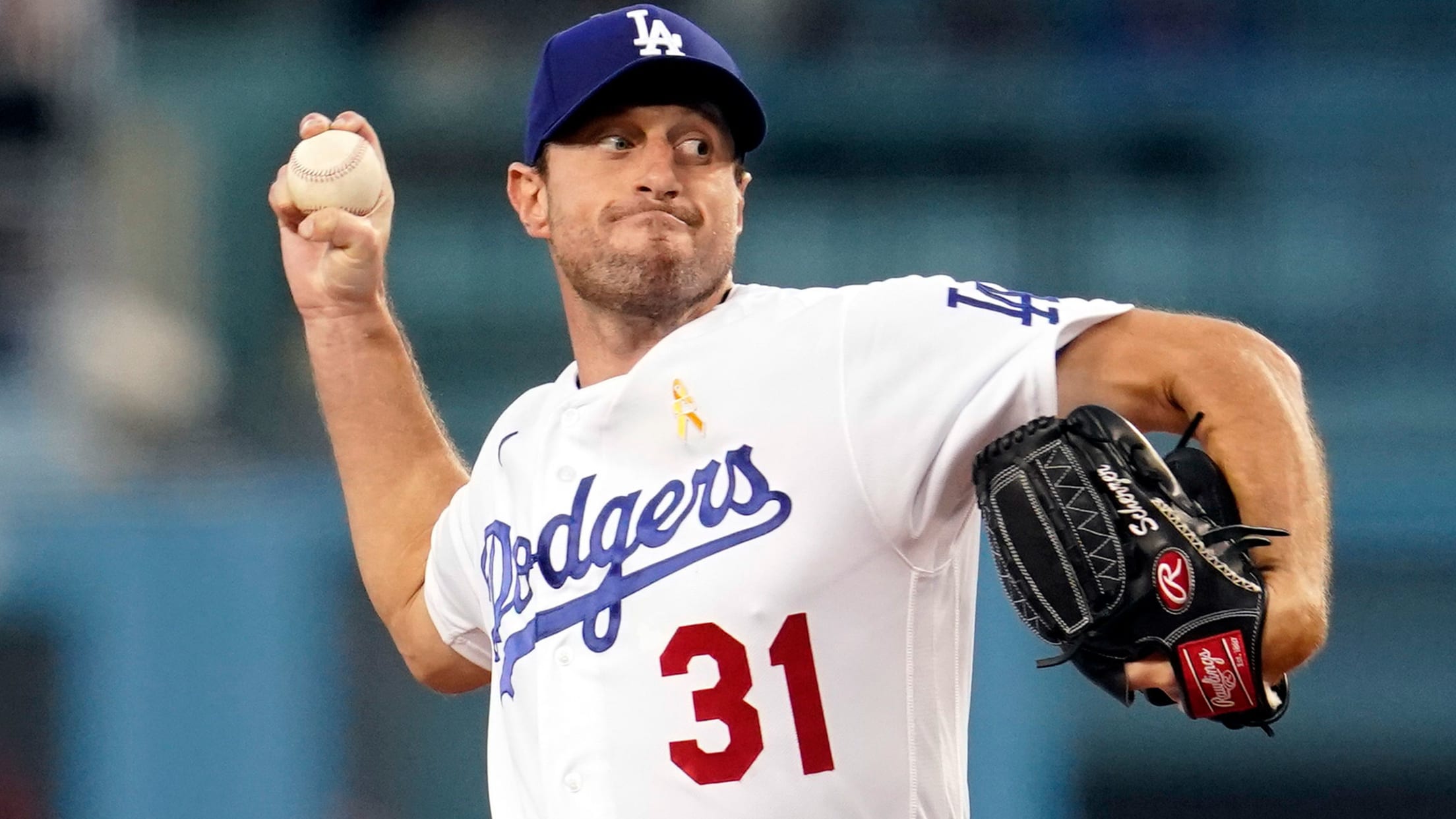 SAN FRANCISCO -- In a winner-take-all scenario, any preconceived notion of normalcy flies out of the window. A game plan is sacred -- until it isn't. With the Dodgers facing elimination in Game 5 of the National League Division Series as they travel back to San Francisco, there is one
Roundtable: NLDS G5 shaping up as classic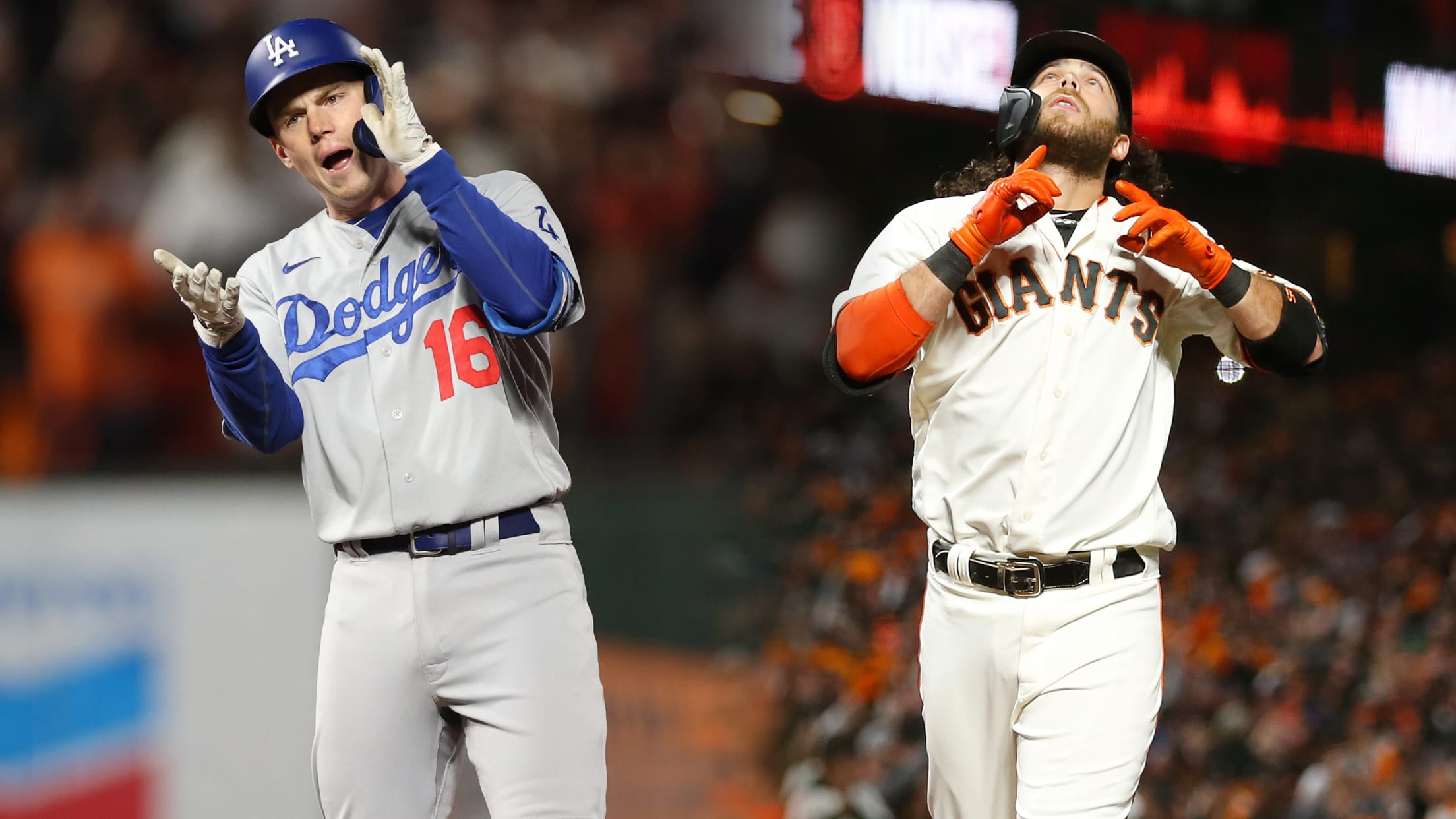 This is all subjective, of course, but it's fair to ask the question -- has there been a more anticipated Game 5 of a Division Series than the pending showdown Thursday between the Dodgers and Giants? Our unofficial research says no. One team will advance to meet the Braves in
Lux earns longer look: 'He's going to play'
Starting in CF, 23-year-old reaches base 4 times to help Dodgers extend NLDS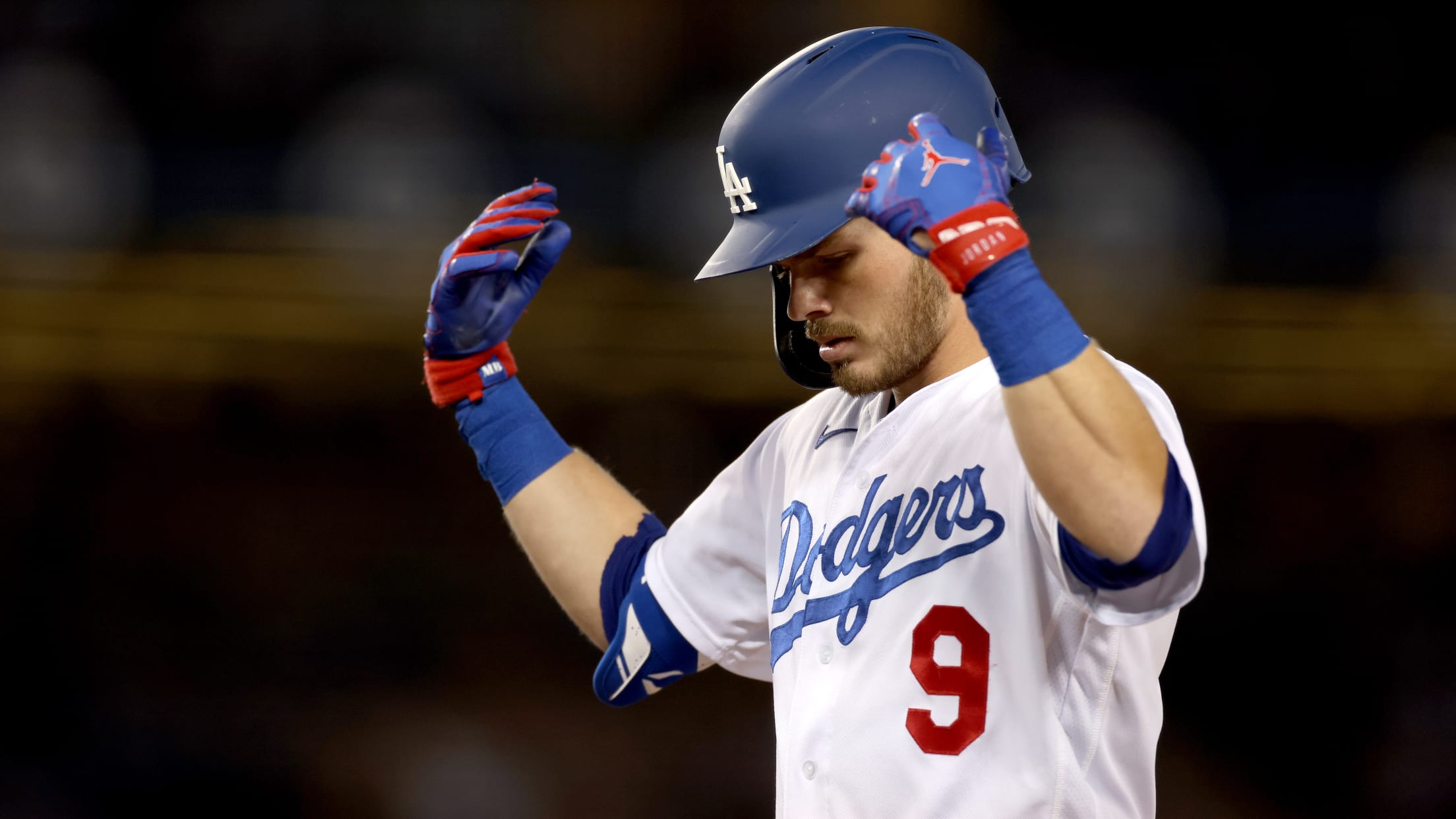 LOS ANGELES -- All the fun facts about the Dodgers' Gavin Lux and his always-on-base performance Tuesday night centered on his youth, which he could not hide behind his postseason beard. Making his first start of the series, Lux singled twice, walked twice and confirmed manager Dave Roberts' lineup hunch
All SF arms to be 'up and ready' for Game 5
Despite using 8 pitchers in NLDS Game 4, Giants set for all-hands-on-deck approach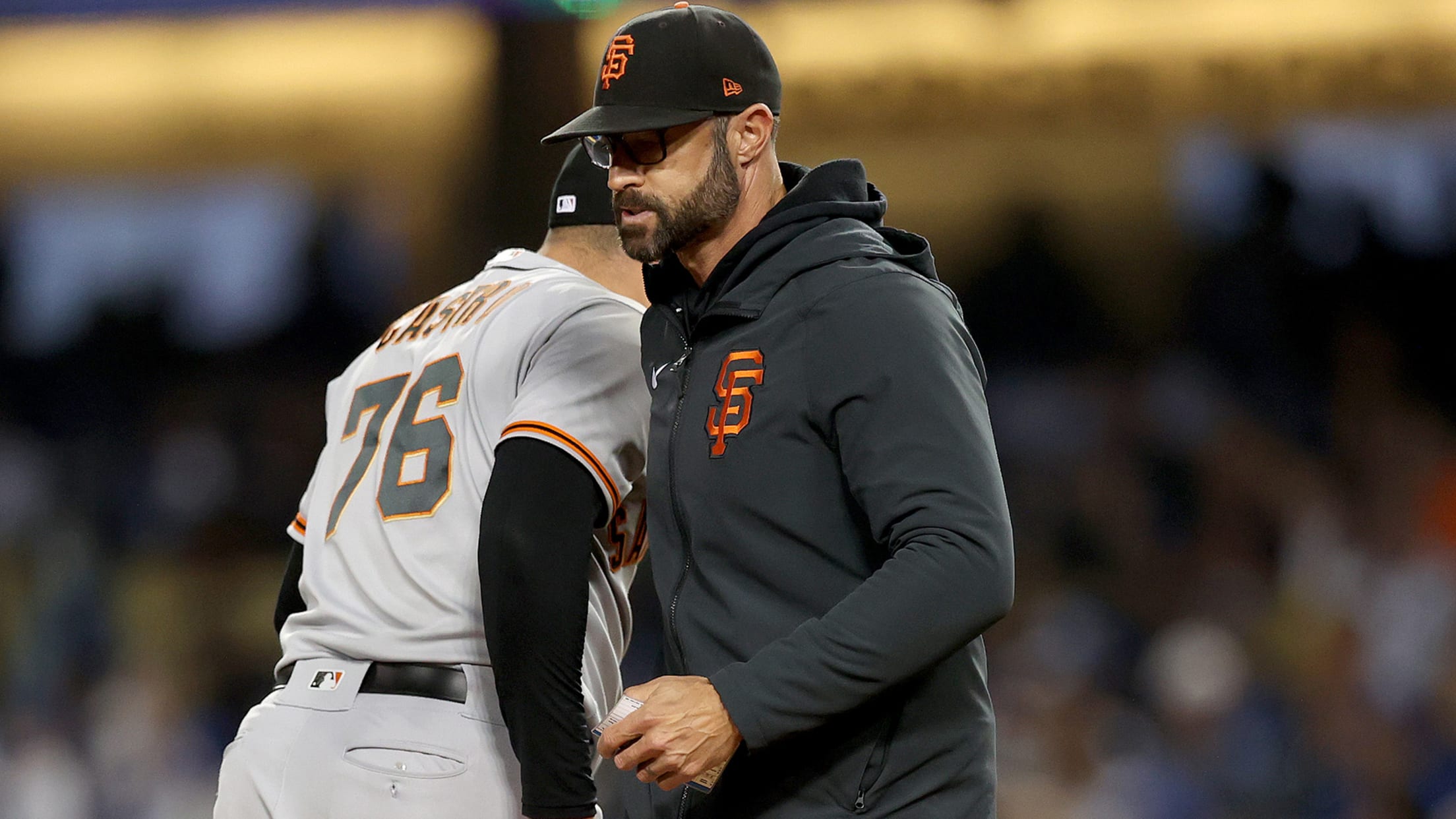 LOS ANGELES -- Mookie Betts' second-inning single had only just snuck under Brandon Crawford's glove when Gabe Kapler was off the top step of the visiting dugout. The Giants' manager walked toward the Dodger Stadium mound, raised his left arm and pointed his index finger at the right-field bullpen. It
Giants pushed to decisive Game 5 by rivals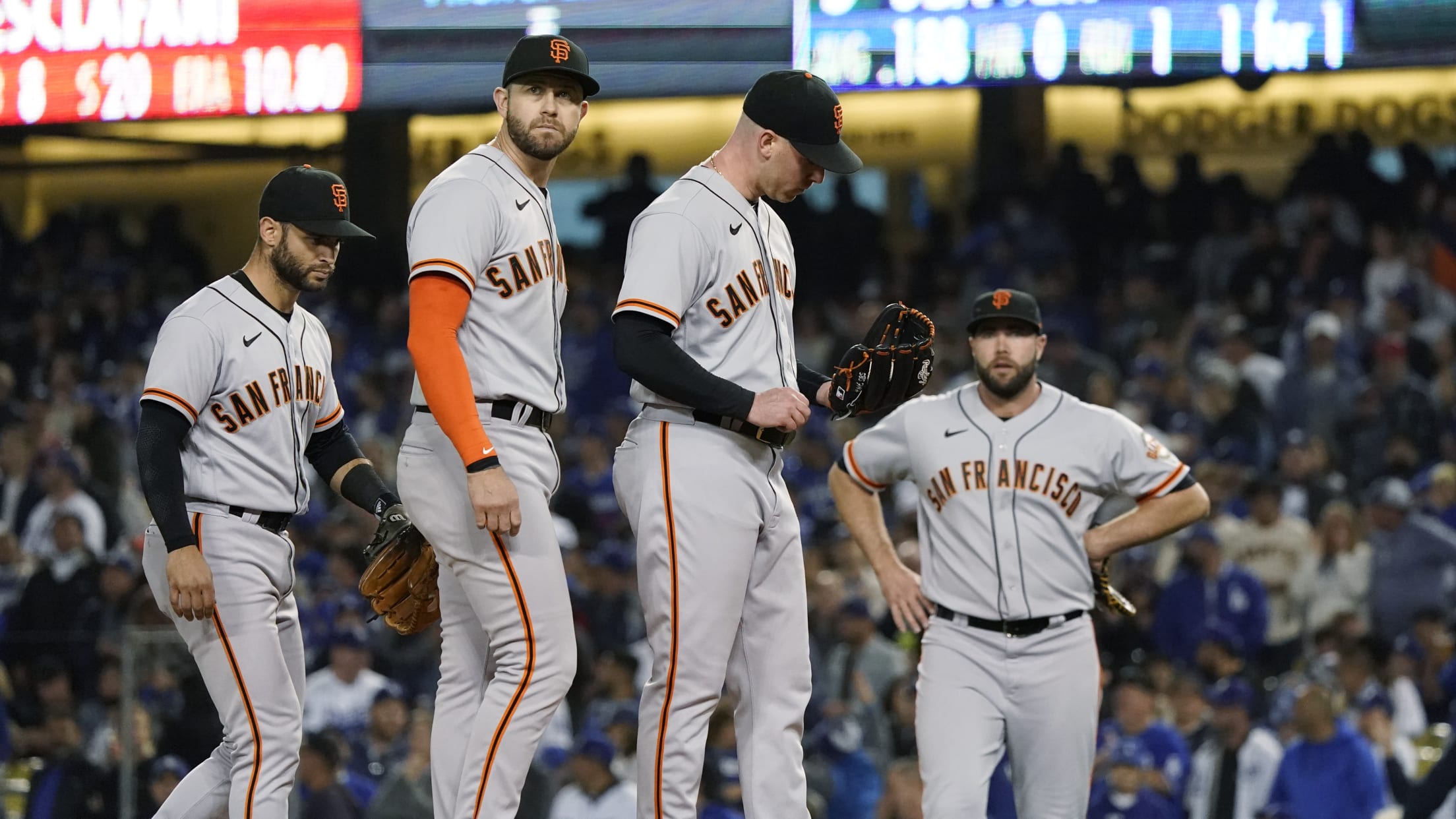 LOS ANGELES -- The Giants and Dodgers' epic battle for the National League West came down to the final day of the regular season. Fittingly, their historic matchup in the NL Division Series will come down to the wire as well. The Giants couldn't close out the Dodgers following a
'Only show in town': LA stars rise, force G5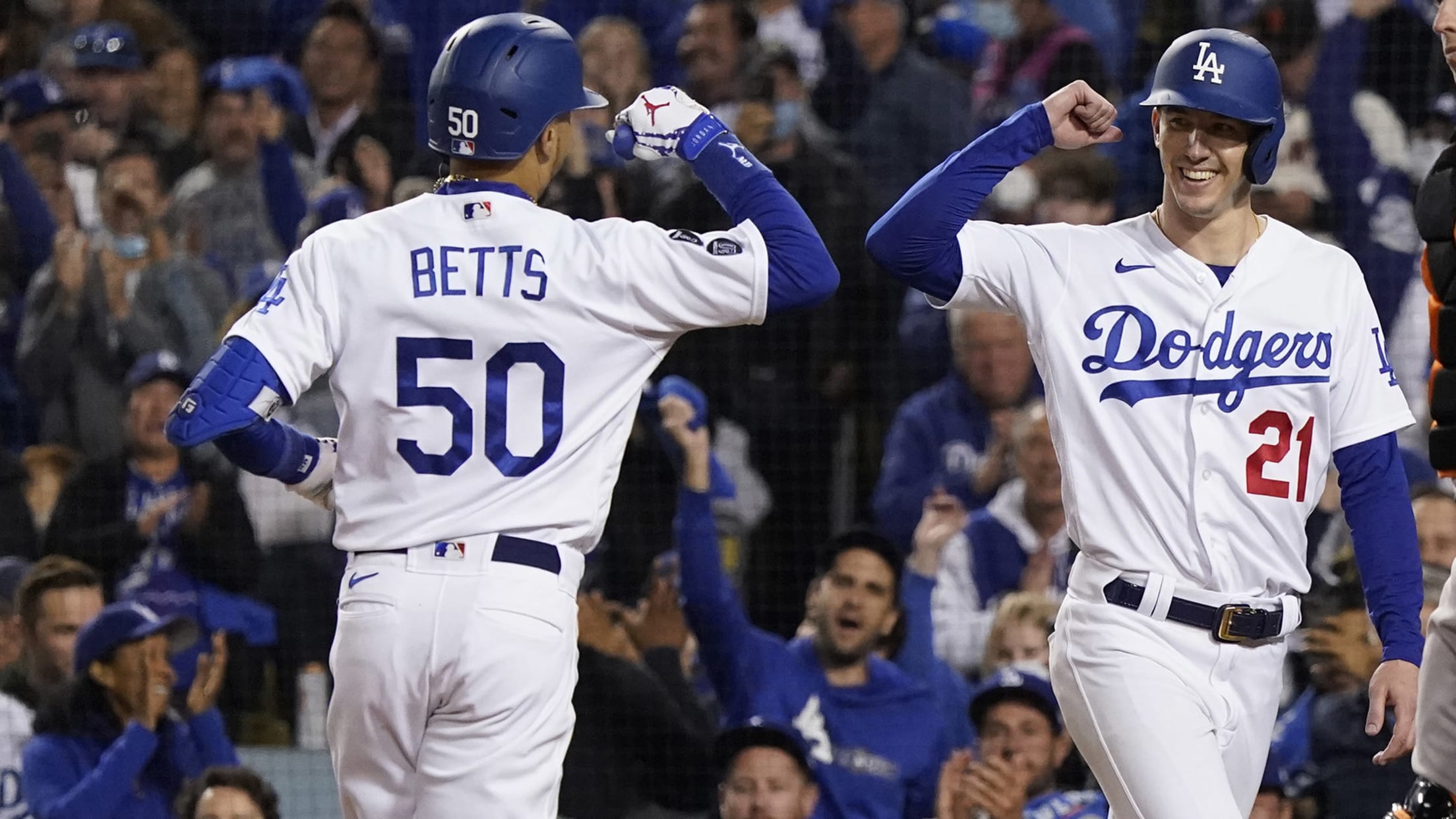 LOS ANGELES -- The National League West race between the Dodgers and Giants was one for the ages. Los Angeles tied a franchise record with 106 wins, but still finished behind San Francisco, which set a franchise record of its own with 107 victories. It marked the first time a
Short rest no issue for big-game Buehler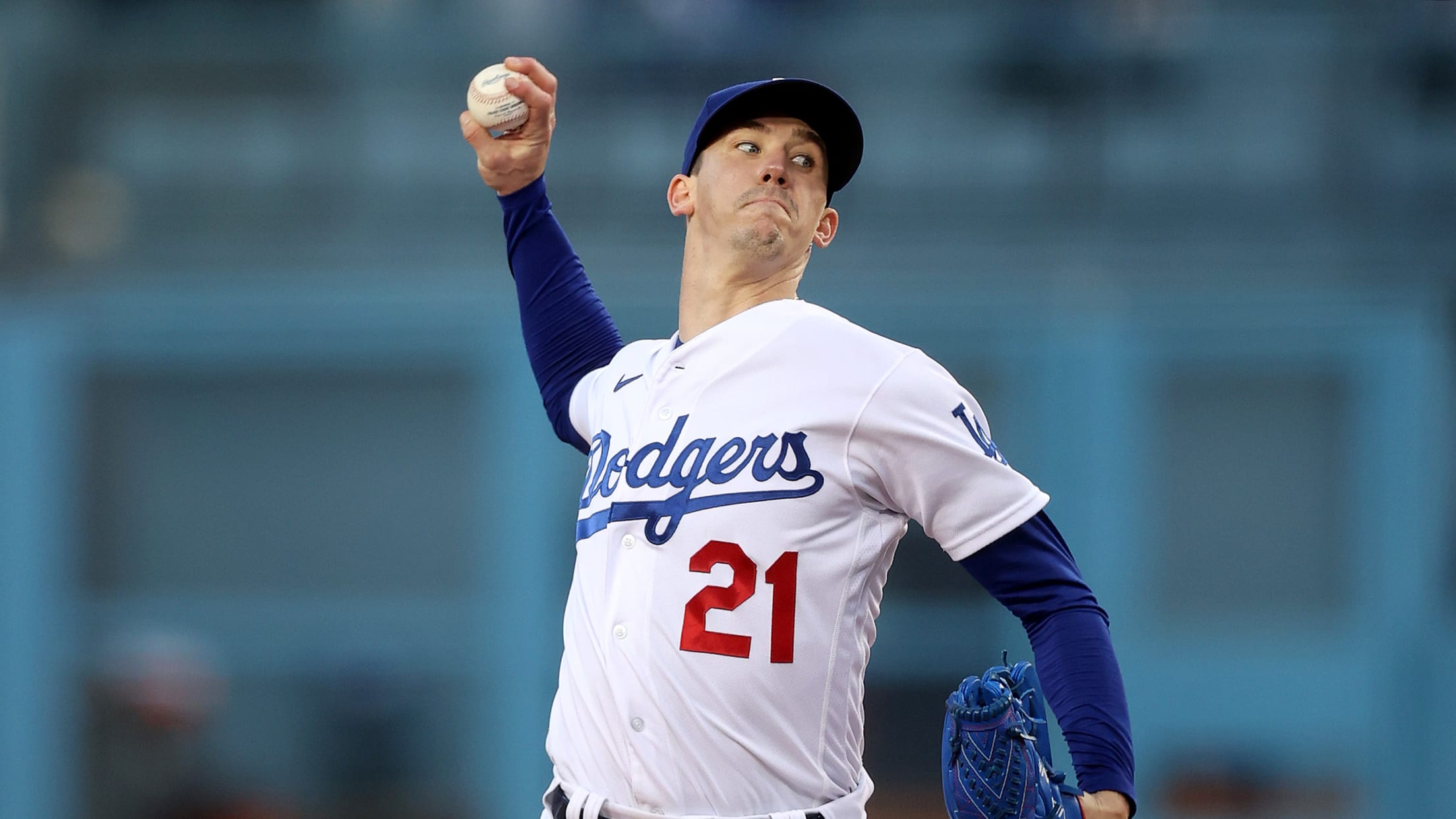 LOS ANGELES -- Walker Buehler wanted Game 4 of the National League Division Series. He made that clear as early as Game 2, when the right-hander approached manager Dave Roberts and the club's coaching staff with the idea. When the Dodgers dropped Game 3 to fall behind, 2 games to
Buehler gets G4, his first start on 3 days' rest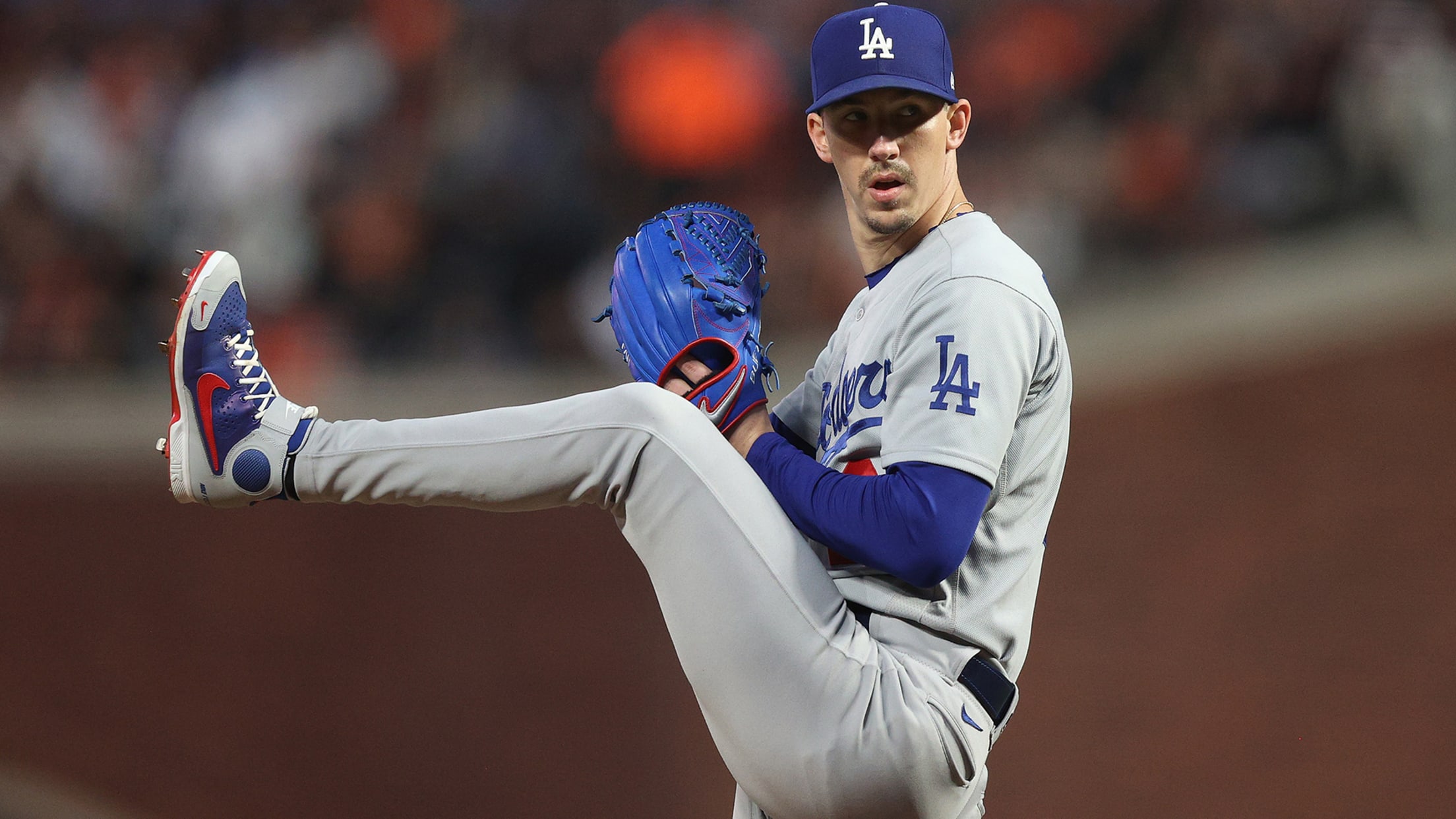 LOS ANGELES -- When Dodgers manager Dave Roberts said "everything's on the table" for Tuesday's Game 4 of the National League Division Series, he indicated that could include an appearance from Walker Buehler, who started Game 1 and would be pitching on three days' rest. Following a 1-0 loss to