Orioles announce return of Summer Slugger and launch of Digital Kids Corner
Resources include educational materials, crafts, and family-friendly activities
With nearly 39 million students currently learning at home in the United States and Canada, the Orioles today announced the early return of the Summer Slugger program and the launch of the Digital Kids' Corner. These tools aim to keep students mentally active and engaged while at home by providing
Orioles Roster Moves 3/19/2020
This afternoon, the Orioles made the following roster moves:
Optioned RHP David Hess, INF/OF Ryan Mountcastle, OF Cedric Mullins, and INF Ramón Urías to Triple-A Norfolk.
Orioles announce ticket policies for suspended Spring Training games
The Orioles tonight announced ticket holders who purchased tickets directly through the Baltimore Orioles will automatically be refunded for all canceled 2020 Spring Training games. Refund Policy for 2020 Spring Training Games at Ed Smith Stadium
Season Plan Members will be automatically refunded for game tickets and parking purchased
Orioles statement on Trey Mancini
Trey Mancini underwent successful surgery today to remove a malignant tumor from his colon. The tumor was discovered last week during a colonoscopy. Lab results and the timetable for Trey's recovery will not be known until next week. In the interim, Trey and his family continue to appreciate the respect
Statement from the Baltimore Orioles
The Orioles organization is fully supportive of Major League Baseball's decision to suspend Spring Training games and to delay the start of the 2020 regular season by at least two weeks. The health and safety of our players, fans, staff, and partners will always be our top priority. We will
Orioles' economic impact in Sarasota tops $436 million since 2015
Sarasota County Government's annual report has found that the Orioles have generated more than $436 million in cumulative economic impact in Sarasota since 2015, the first year comprehensive data on the team's impact became available. The county's analysis measures the total tourism impact created by the Orioles, combined with the
Orioles roster moves 3/1/20
This afternoon, the Orioles made the following roster moves:
Reassigned INF Rylan Bannon, INF Malquin Canelo, LHP Zac Lowther, INF Mason McCoy, and LHP Alexander Wells to minor league camp. The Orioles have 64 players remaining in Major League camp.
Brett Hollander to join Orioles broadcast team
The Orioles today announced that BRETT HOLLANDER, former host of the Brett Hollander Show on WBAL Radio, will join the Orioles broadcast team in 2020, appearing on both MASN and the Orioles Radio Network throughout the season. Hollander joins the broadcast team following the conclusion of his agreement with WBAL
Orioles to play New York Mets in exhibition game at United States Naval Academy
The Orioles today announced that the club will play the New York Mets in an exhibition game on Tuesday, March 24 at Terwilliger Brothers Field at Max Bishop Stadium on the grounds of the United States Naval Academy in Annapolis, Md. Prior to the game, players and staff from both
Orioles Announce 2020 Broadcast Team
Orioles expand talent lineup to include veteran local broadcasters and new perspectives; Diverse team will appear across Orioles platforms in mix of roles
The Orioles today announced the broadcast team for the 2020 season, including on-air talent for the Mid-Atlantic Sports Network (MASN) and the Orioles Radio Network. The lineup features the return of several veteran broadcasters, the addition of local sports personalities, and the introduction of new talent to Baltimore. The 2020
5th Annual 'Athletes & Artists Play for Kids' Weekend Returns to Ed Smith Stadium March 5-8
'Nashville's Music Row Comes to the Ballpark' charity event returns on March 7; Proceeds will benefit the Orioles Charitable Foundation's Music & Arts Education Scholarship
The Orioles today announced that the fifth annual "Athletes & Artists Play for Kids" charity weekend will take place at Ed Smith Stadium from March 5-8, 2020. The weekend, which will celebrate current country hits, combines song and sport to support arts education and girls' empowerment, and will feature the
Orioles name Anthony Verni vice president of corporate partnerships
The Orioles today announced that ANTHONY VERNI has joined the organization as Vice President, Corporate Partnerships. Verni will oversee day-to-day operations of the Orioles' Corporate Partnerships department, including sponsorship, advertising sales, and partnership marketing. He will report to T.J. BRIGHTMAN, Senior Vice President, Chief Revenue Officer. Verni officially joined the
Orioles to join local middle school students as part of Orioles health and fitness challenge
Current Orioles players RHP SHAWN ARMSTRONG and LHP PAUL FRY will visit Sarasota Middle School (4826 Ashton Rd, Sarasota, FL 34233) on Wednesday, February 19, from approximately 1:20 p.m. to 2:15 p.m. to participate in a physical education class as part of the Orioles Health & Fitness Challenge. Launched in
Orioles invite guest instructors to Spring Training
The Orioles today announced that six former players have been invited to serve as guest instructors at Spring Training in Sarasota, Fla. INF MIKE BORDICK, INF/OF JEFF CONINE, INF J.J. HARDY, RHP BEN McDONALD, LHP SCOTT McGREGOR, and INF BRIAN ROBERTS will all serve as guest instructors during select portions
Orioles announce spring training events and promotions
Family-friendly schedule features unique promotions and the club's fifth annual Sarasota Springfest
The Orioles invite fans of all ages to celebrate the club's 10th anniversary at Ed Smith Stadium with a variety of events and promotions throughout the 2020 Spring Training season. Again this year, fans are invited to watch Orioles practice at Ed Smith Stadium from the first pitchers and catchers
Orioles announce Minor League staff additions
The Orioles today announced remaining personnel hires in the minor leagues for the 2020 season. The list includes naming a new Minor League Strength and Conditioning Coordinator, Player Performance Facilitator, and Education Coordinator, as well as naming a Strength and Conditioning Coach at each of the eight minor league affiliates.
Orioles roster moves, 2/11/2020
This afternoon, the Orioles made the following roster moves:
Claimed INF Ramón Urías (Uoo-REE-ahs) off waivers from the St. Louis Cardinals.
INF Pat Valaika has cleared waivers and been outrighted to Triple-A Norfolk.
Orioles announce 2020 promotions schedule
Individual game ticket sales begin Thursday, February 6, at 10:00 a.m.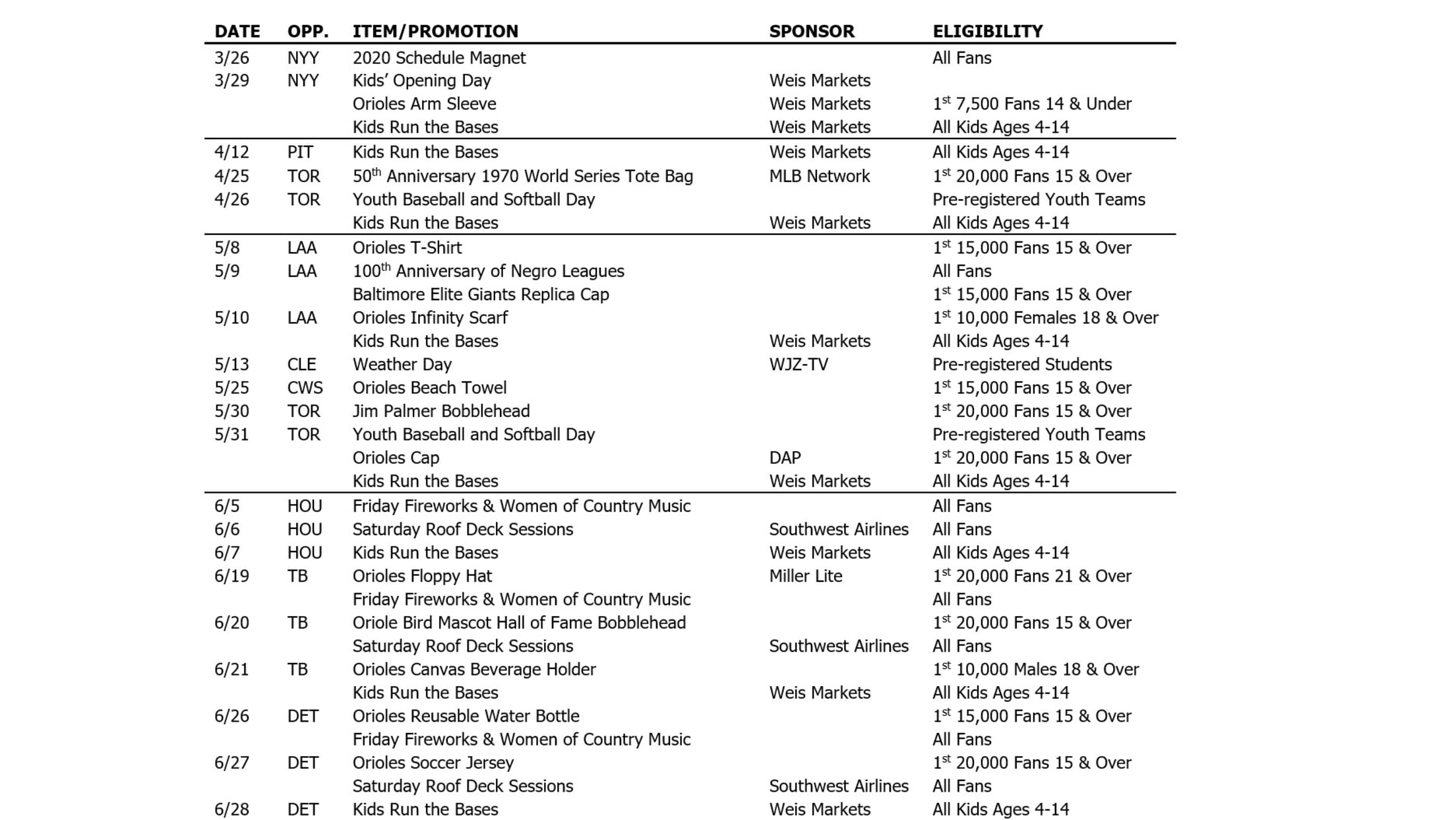 The Orioles today announced their 2020 promotional schedule, highlighted by an extensive slate of unique giveaway items, events, and returning favorites to Oriole Park at Camden Yards. The wide variety of promotions features family-friendly activities and entertainment to appeal to Birdland's diverse fan base, as well as the return of
Orioles roster moves, 1/31/2020
This afternoon, the Orioles made the following roster moves:
Claimed RHP Travis Lakins (LAY-kinz) off waivers from the Chicago Cubs.
Designated INF/OF Stevie Wilkerson for assignment.
Orioles equipment truck embarks on 1,000-mile journey to Ed Smith Stadium
Earlier today, the Von Paris Moving & Storage truck carrying Orioles equipment departed from Oriole Park to Ed Smith Stadium in Sarasota, signaling the approach of Spring Training. The truck will travel 1,000 miles before arriving at the Orioles' Spring Training home, where pitchers and catchers are scheduled to report
Orioles announce Spring Training non-roster invitees
The Orioles today announced that they have invited 23 non-roster players to Major League Spring Training in Sarasota, Fla. The list includes six left-handed pitchers, six right-handed pitchers, four catchers, five infielders, and two outfielders. A complete list of the Orioles' non-roster invitees for 2020 Spring Training is below: PITCHERS
Orioles announce Birdland Caravan to be held February 7-9
Weekend-long tour designed to take the Oriole Park experience directly to fans throughout the region
The Orioles announced that the club's 'Birdland Caravan,' a three-day winter tour, will take place from Friday, February 7, through Sunday, February 9, at multiple locations throughout the region. The weekend-long celebration of baseball will include meet-and-greets and happy hours with current and former Orioles players, top prospects, broadcasters, members
2020 Orioles Spring Training credential applications now available 
Media credential applications for Orioles Spring Training games and workouts at Ed Smith Stadium are now available through Major League Baseball's online credentialing system at credentials.mlb.com. Full Spring Training credentials are available only for media that cover the Orioles on-site in Sarasota for the entire duration of Spring Training. The
Orioles roster moves 1/10/20
Today, the Orioles made the following roster moves:
Claimed INF Richard Ureña (ur-AY-nyuh) off waivers from the Toronto Blue Jays.
Designated INF Pat Valaika (vuh-LAY-kah) for assignment.
Orioles Spring Training tickets on sale Saturday, January 11 at 10 a.m.
Orioles to celebrate 10th anniversary at Ed Smith Stadium this spring
Individual tickets for all 17 of the Orioles' 2020 Spring Training games at Ed Smith Stadium will go on sale Saturday, January 11, at 10:00 a.m. ET. It is recommended that fans purchase tickets online at Orioles.com/Spring. The Orioles will offer a special online 36-hour presale from Thursday, January 9,