Top farm systems: Right-handed pitchers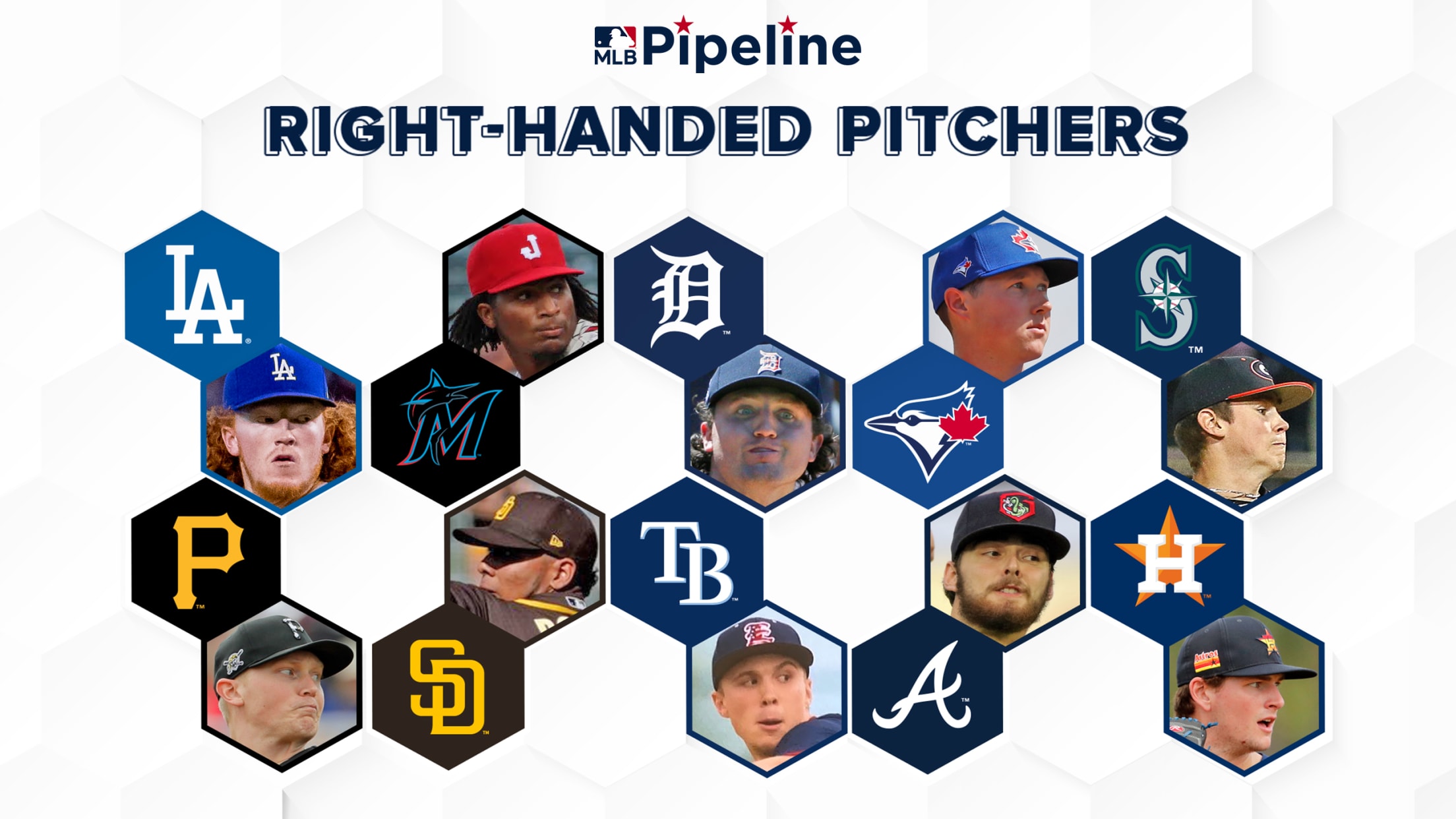 The time has come to put a wrap on our series taking a closer look at how all 30 farm systems stack up when ranked by position. We've already looked at left-handed pitchers, middle infielders, corner infielders and catchers, leaving us with just right-handers left to tackle. Below are our
No. 3 Padres prospect Patiño keeps aiming high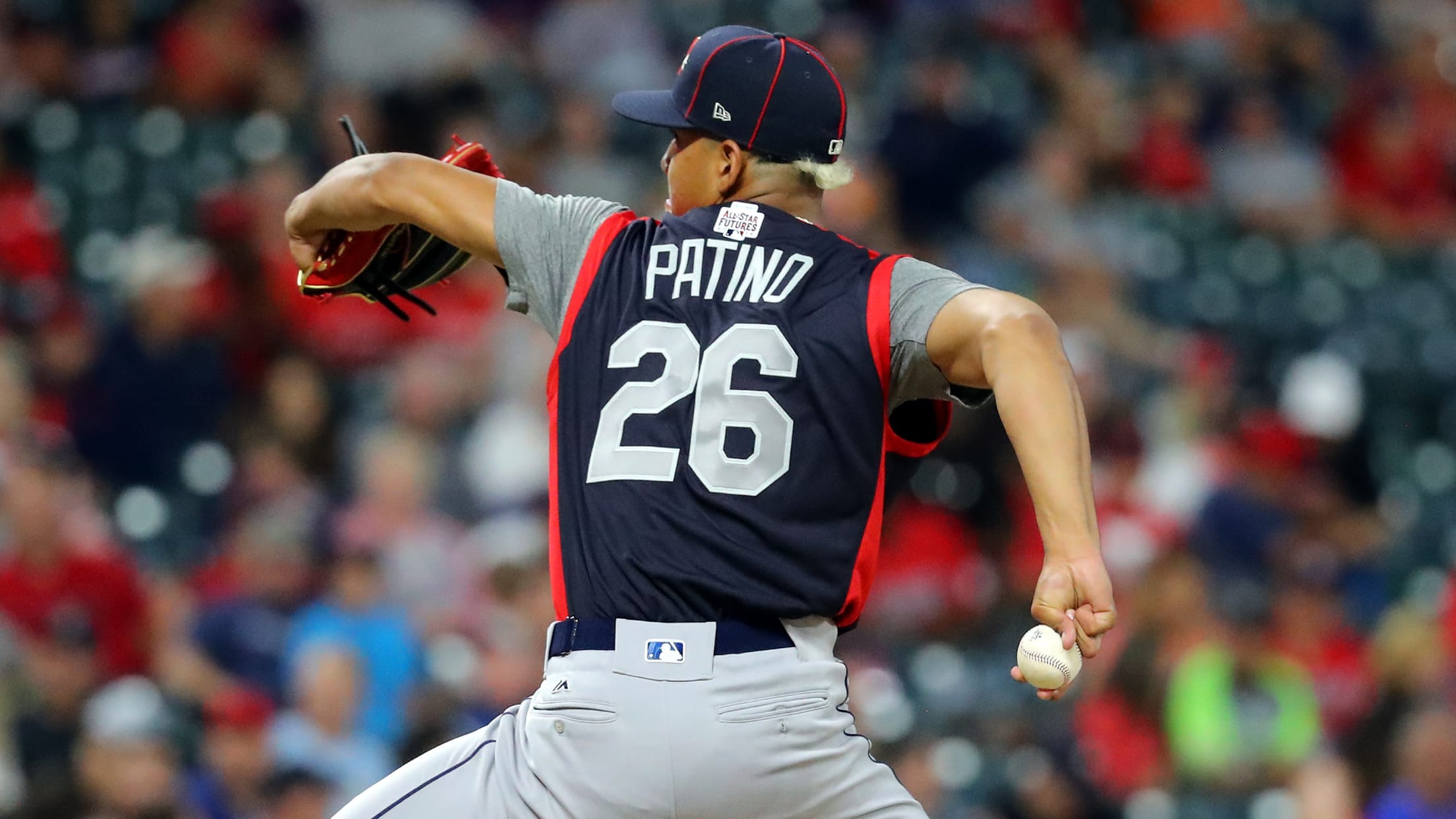 Prized Padres prospect Luis Patiño found a way to use baseball's hiatus to continue his development. After his first big league Spring Training was canceled in mid-March as a result of the coronavirus pandemic, the 20-year-old right-hander from Barranquilla, Colombia traveled to Miami, where he trained with his fellow countryman
Padres' top pitching prospects waiting for call
Will expanded roster, shortened season create spots for Gore, Patiño?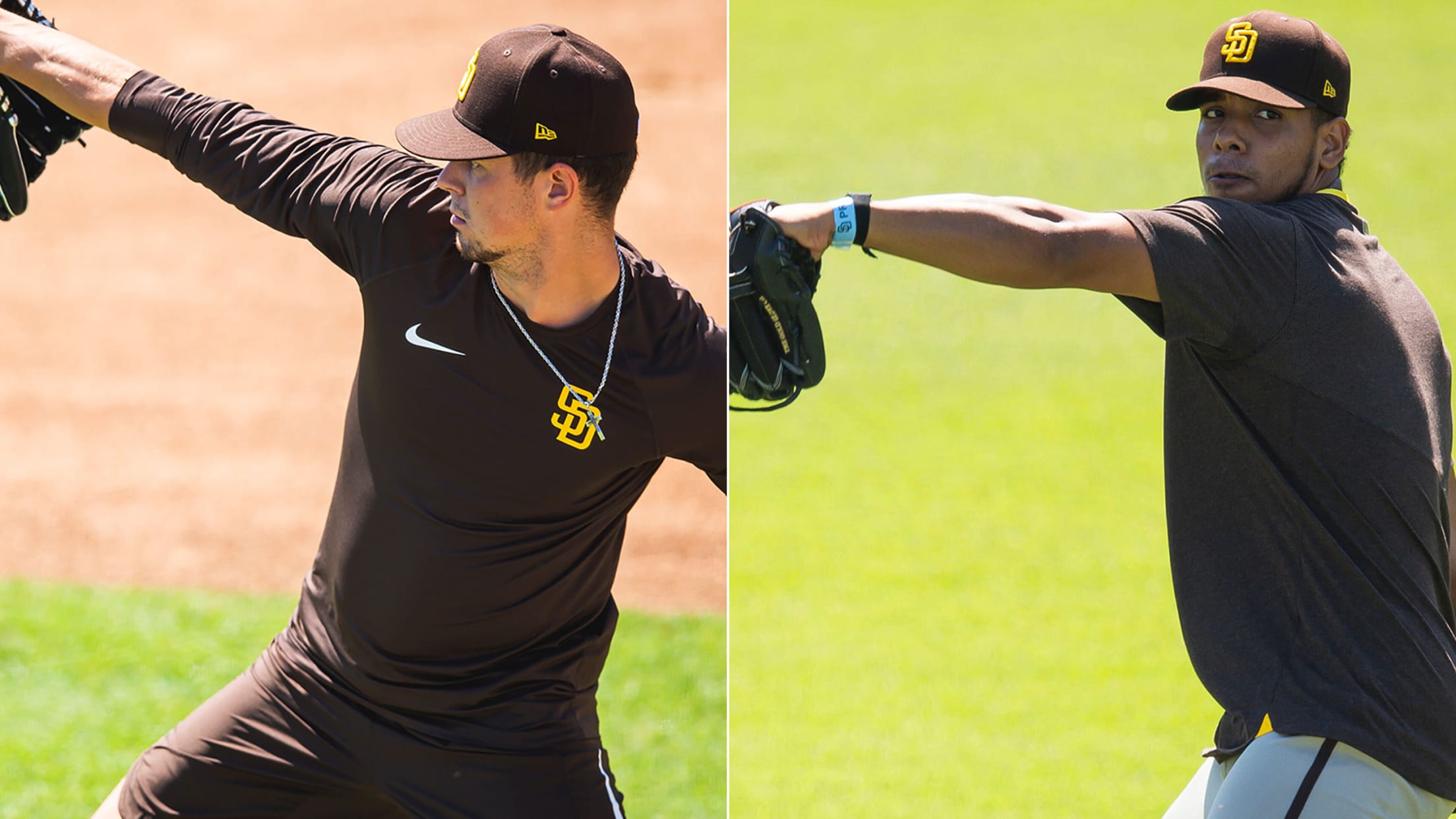 SAN DIEGO -- If the 2020 baseball season had lived up to its annual "marathon" metaphor, MacKenzie Gore and Luis Patiño would've spent the first few miles on the sideline. The Padres pitching prospects were always destined to open the season in the Minor Leagues, where they would've been given
Top farm systems: Left-handed pitchers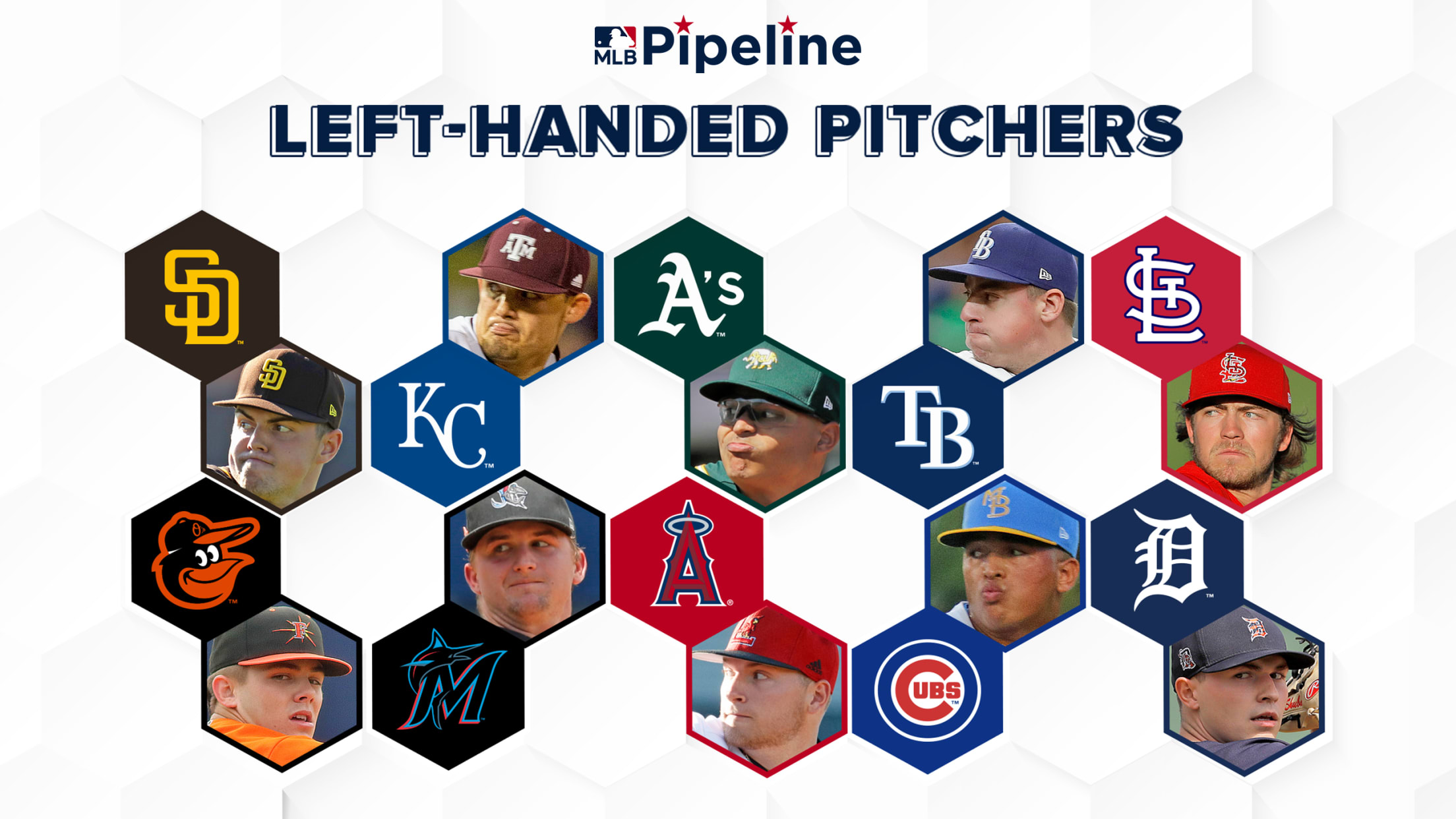 After beginning our deeper dive into all 30 farm systems by ranking the top organizations at catcher, corner infield and middle infield, MLB Pipeline closed out last week with a look at the 10 best systems based on outfield talent. That now brings us to pitchers -- left-handers, specifically, before
We have a deal! Padres, A's make a trade
San Diego lands speedy infielder Jorge Mateo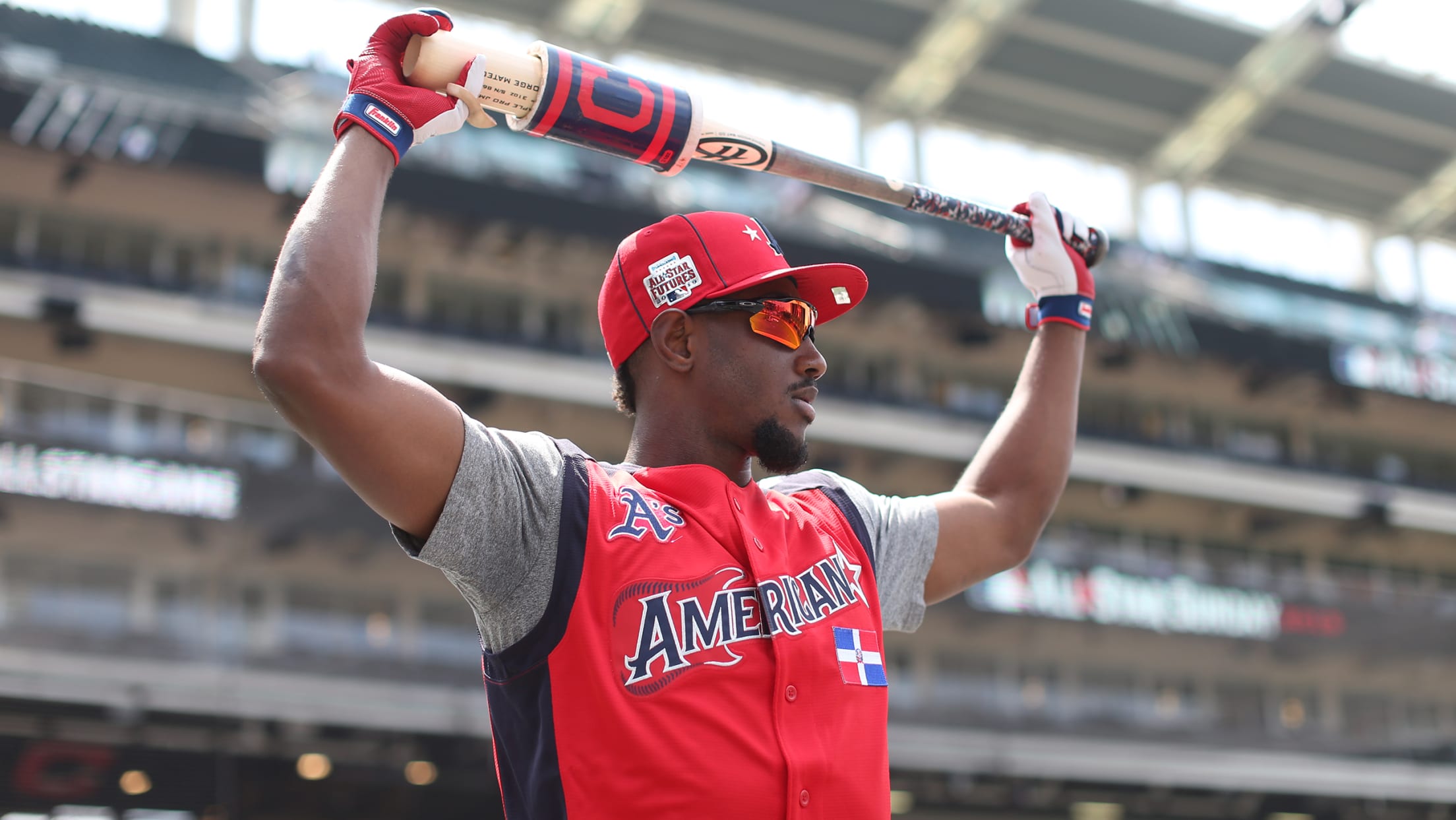 SAN DIEGO -- Baseball is back, and evidently Hot Stove season is, too. On Tuesday, the Padres and A's completed the first trade since the roster freeze was lifted last week, swinging a deal that sends infielder Jorge Mateo to San Diego in exchange for a player to be named
Inbox: Will top prospects be brought up early?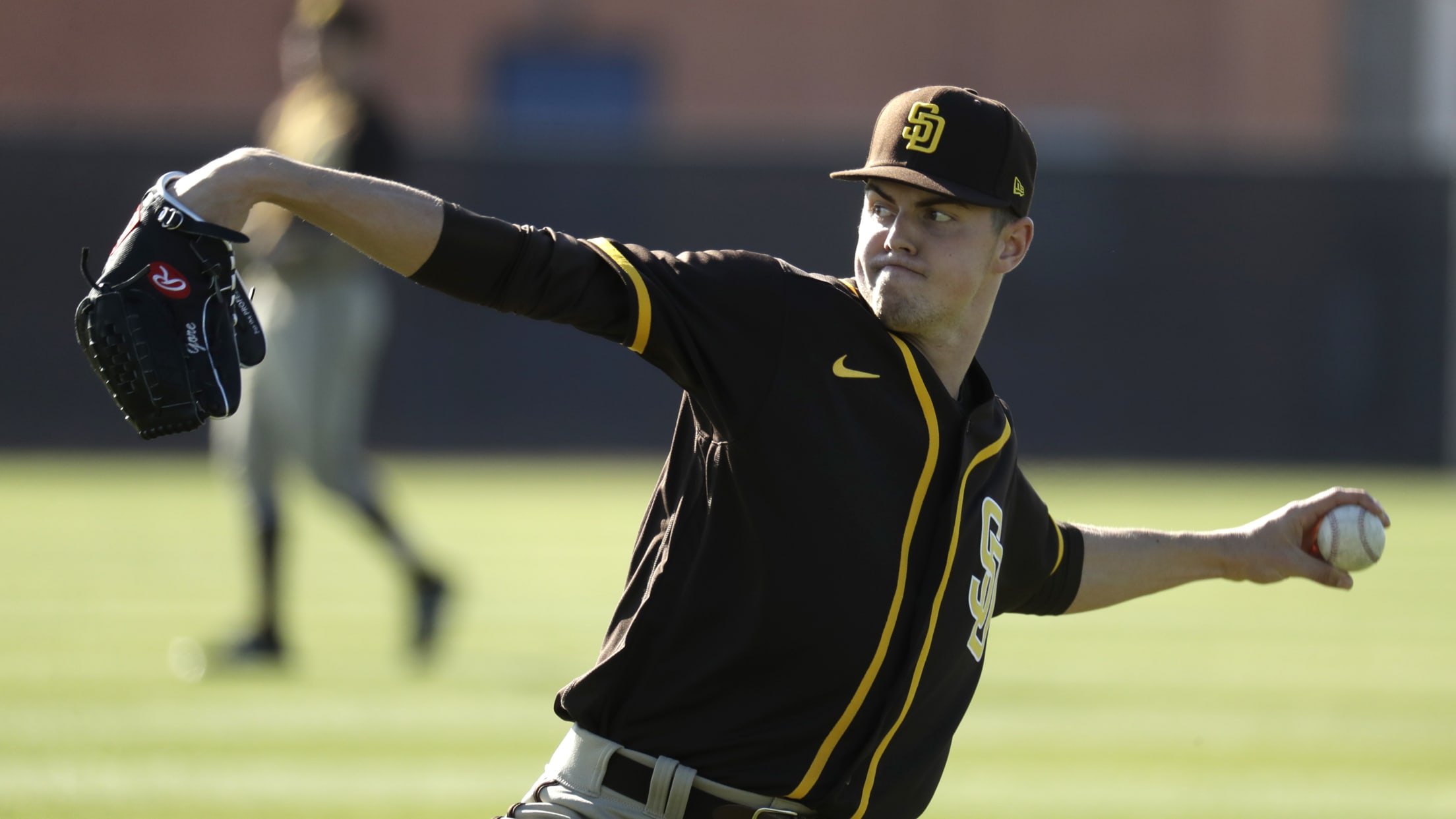 SAN DIEGO -- It's been a while since our last Padres Inbox. But with a 2020 season on the horizon -- a season with newly unveiled rules for rosters and game action -- now is as good a time as any to take questions. Of course, there are still plenty
Everything to know about Padres' 2020 Draft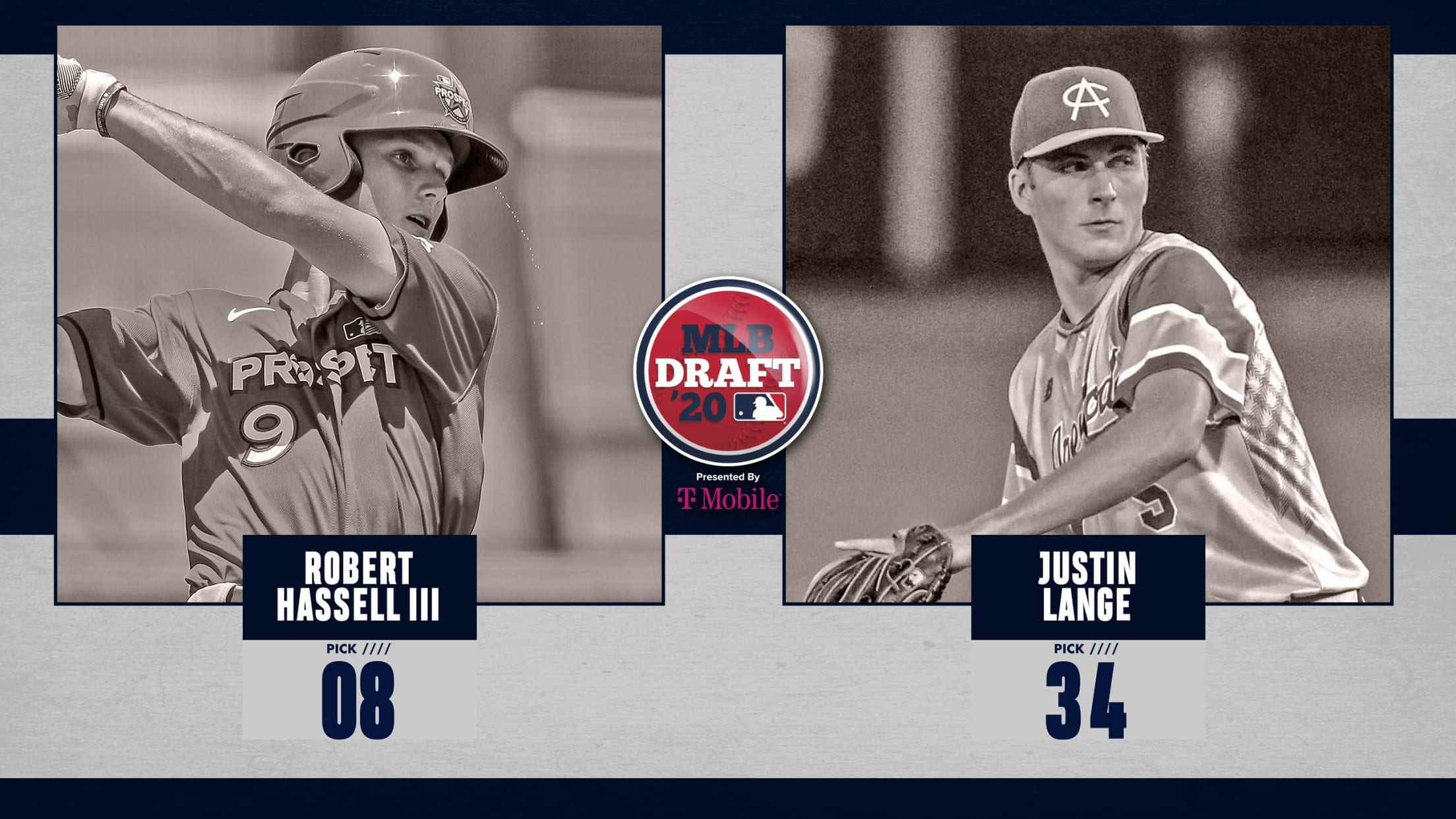 SAN DIEGO -- The Padres' Draft came together like a six-piece puzzle. They gambled early on high schoolers with upside, while pooling money for a mid-round splash. In the third round, general manager A.J. Preller struck, landing right-hander Cole Wilcox -- a first-round talent -- at No. 80 overall. •
Padres bet on upside with Draft selections
San Diego picks four high schoolers, plus two college righties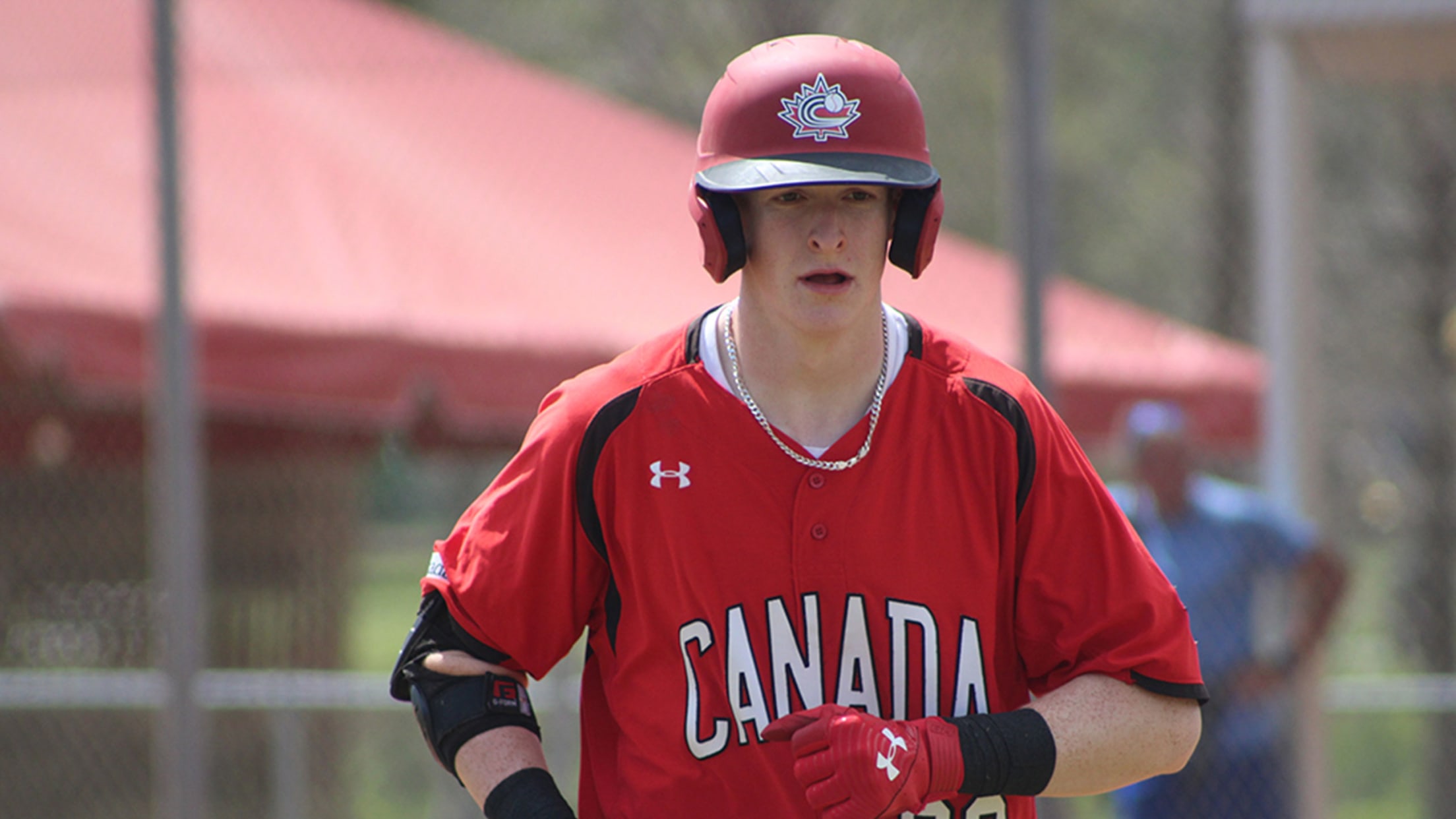 SAN DIEGO -- The Padres had six selections in the 2020 Draft, but they're confident they made the most of them. "Any time you get a little mixture of guys that are 'now' guys and guys that have upside down the road, I think it's a very good blend," said
Padres draft high school OF Hassell at No. 8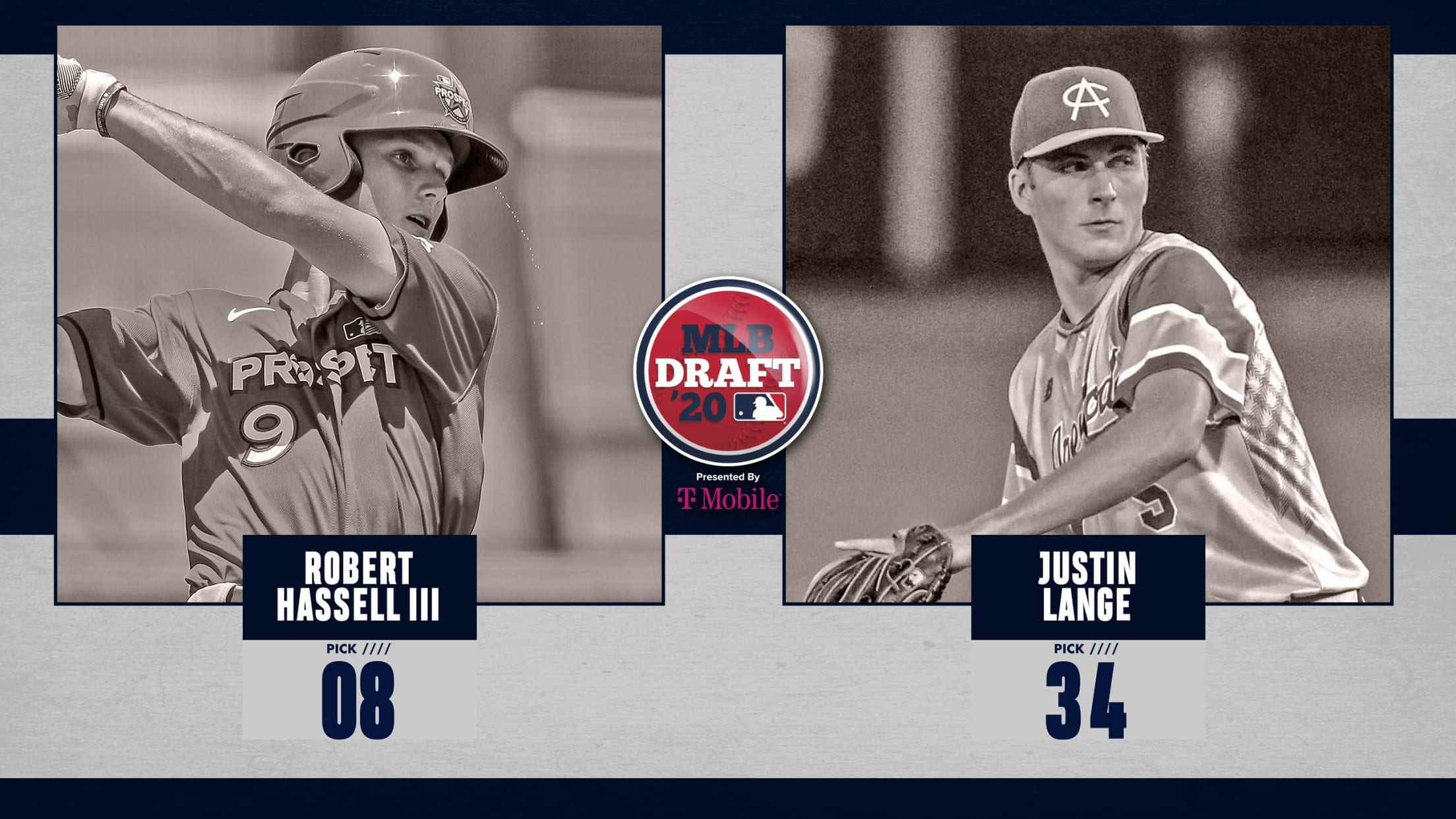 SAN DIEGO -- Surprises piled up during a wild first hour of the MLB Draft on Wednesday, but the Padres remained unmoved. General manager A.J. Preller had made plans to select sweet-swinging outfielder Robert Hassell at No. 8 overall. And he stuck to his plan. A left-handed hitter from Independence
Padres go back to back with high school picks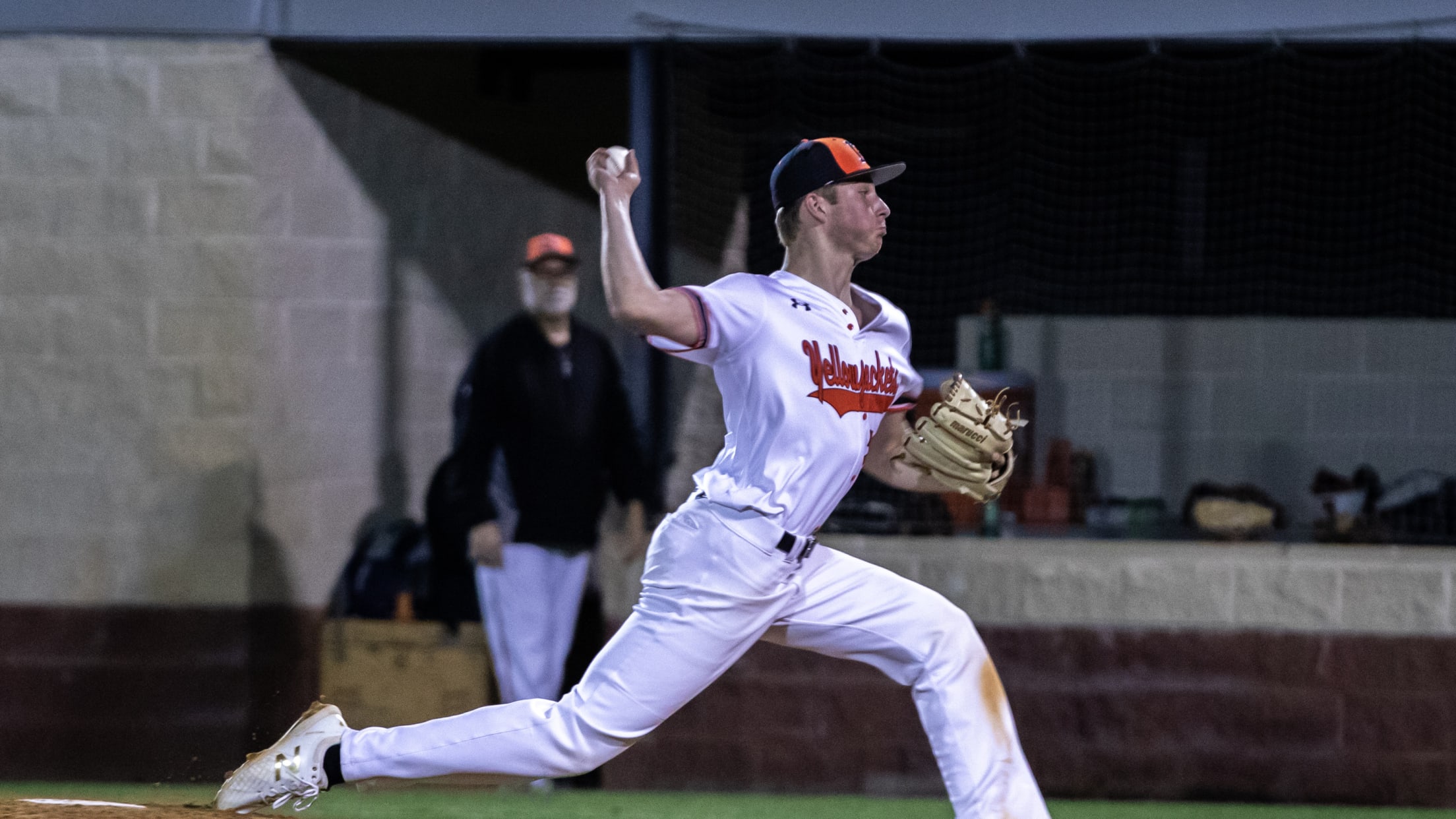 SAN DIEGO -- A.J. Preller isn't buying it. The notion that it's riskier than usual to select a high school prospect in this year's MLB Draft? Nah. Not if your scouts have done their homework, Preller says.
What is Padres' plan with the No. 8 pick?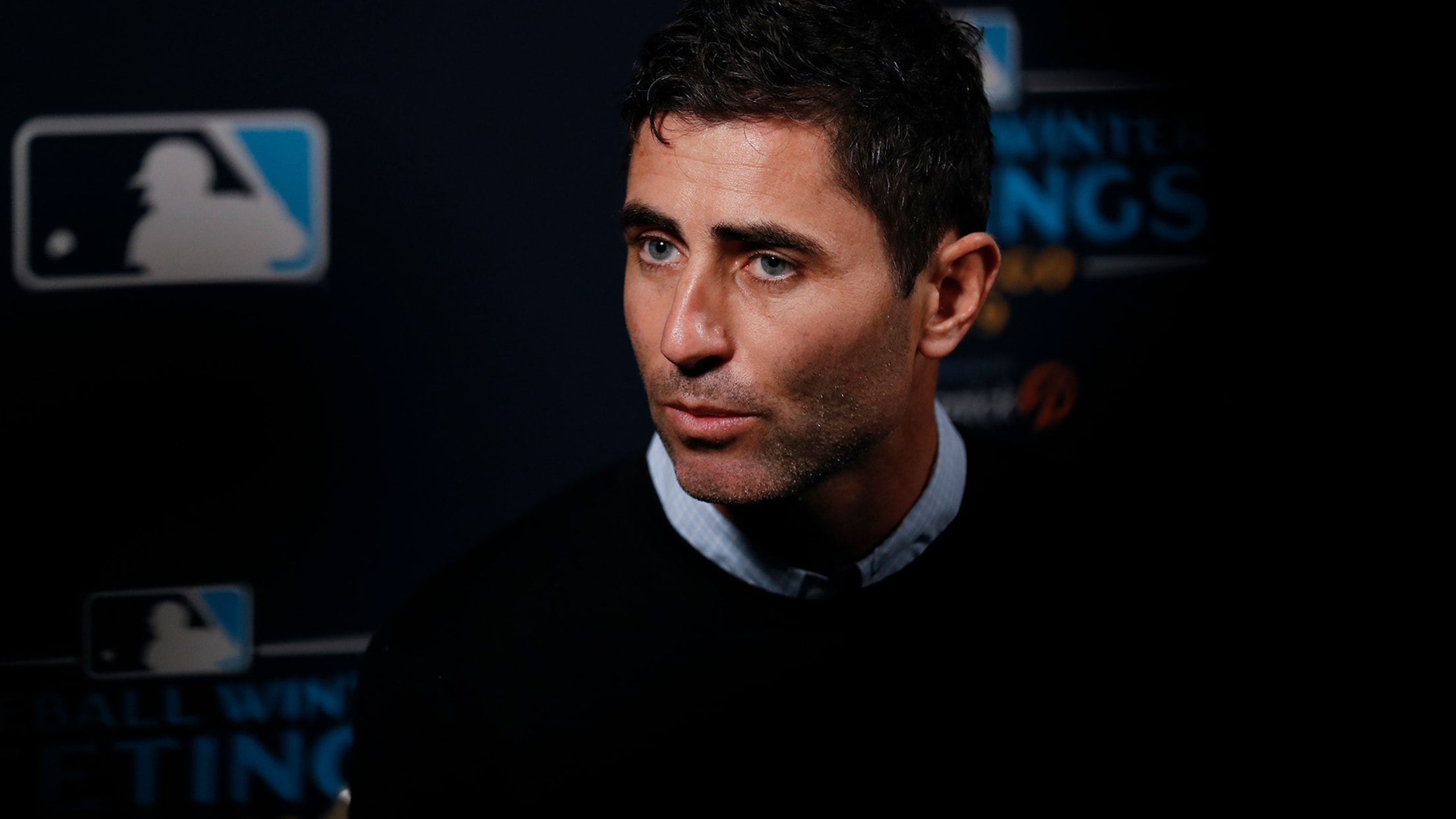 SAN DIEGO -- At his post-Draft press conference each June, Padres general manager A.J. Preller always offers a reminder of the extensive work that goes into every Draft. "The scouting season is a year-round thing," Preller said recently, echoing his annual truism. "The preparation for a Draft is really a
SD's top 5 international prospects of all time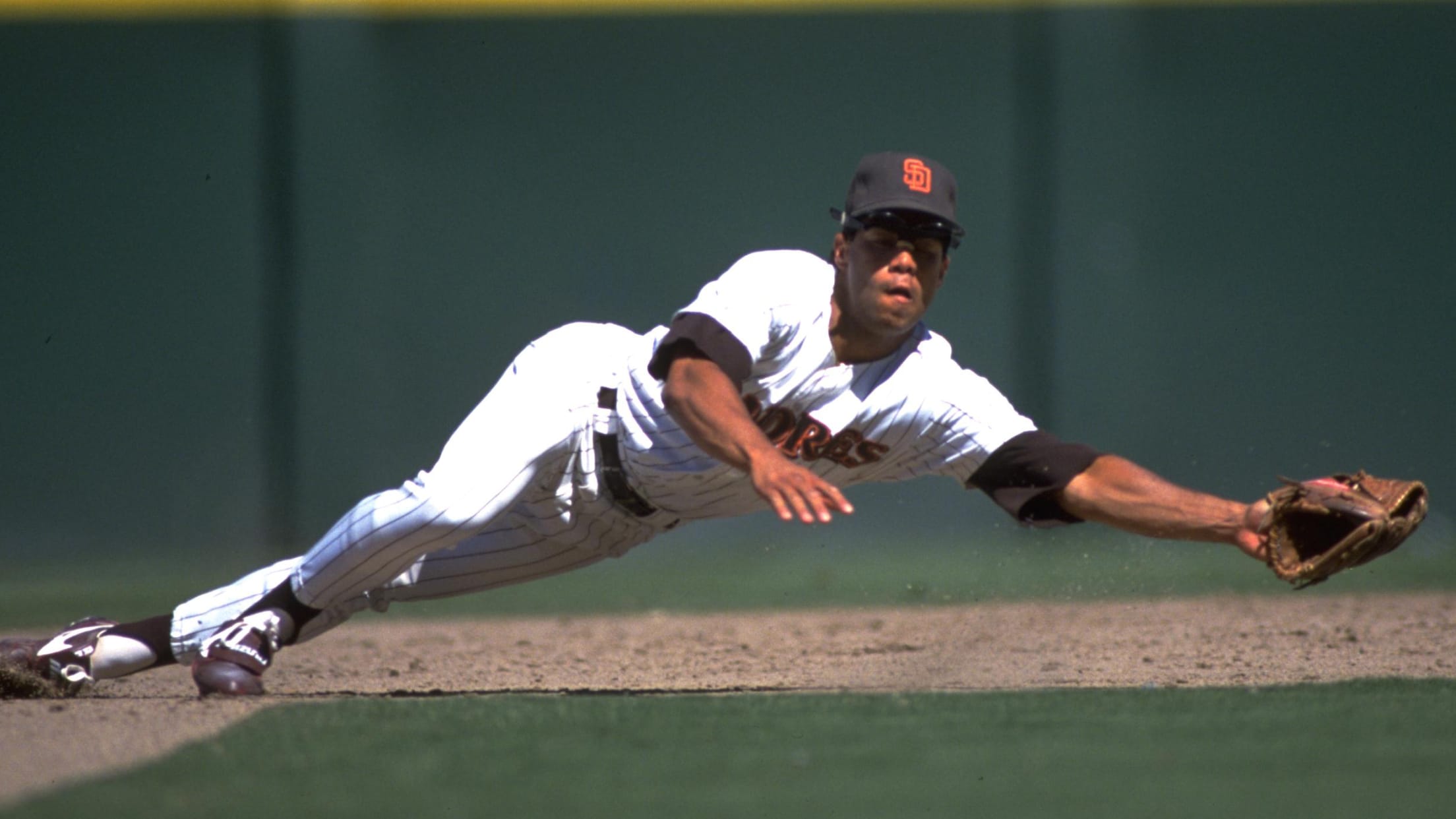 SAN DIEGO -- With one of the youngest rosters in baseball and one of the sport's top farm systems, the Padres envision a bright future for themselves. That bright future, in no uncertain terms, is linked to their international signings. Prospect Luis Patiño could soon emerge as a front-of-the-rotation option.
30 prospects we'll be talking about in 2022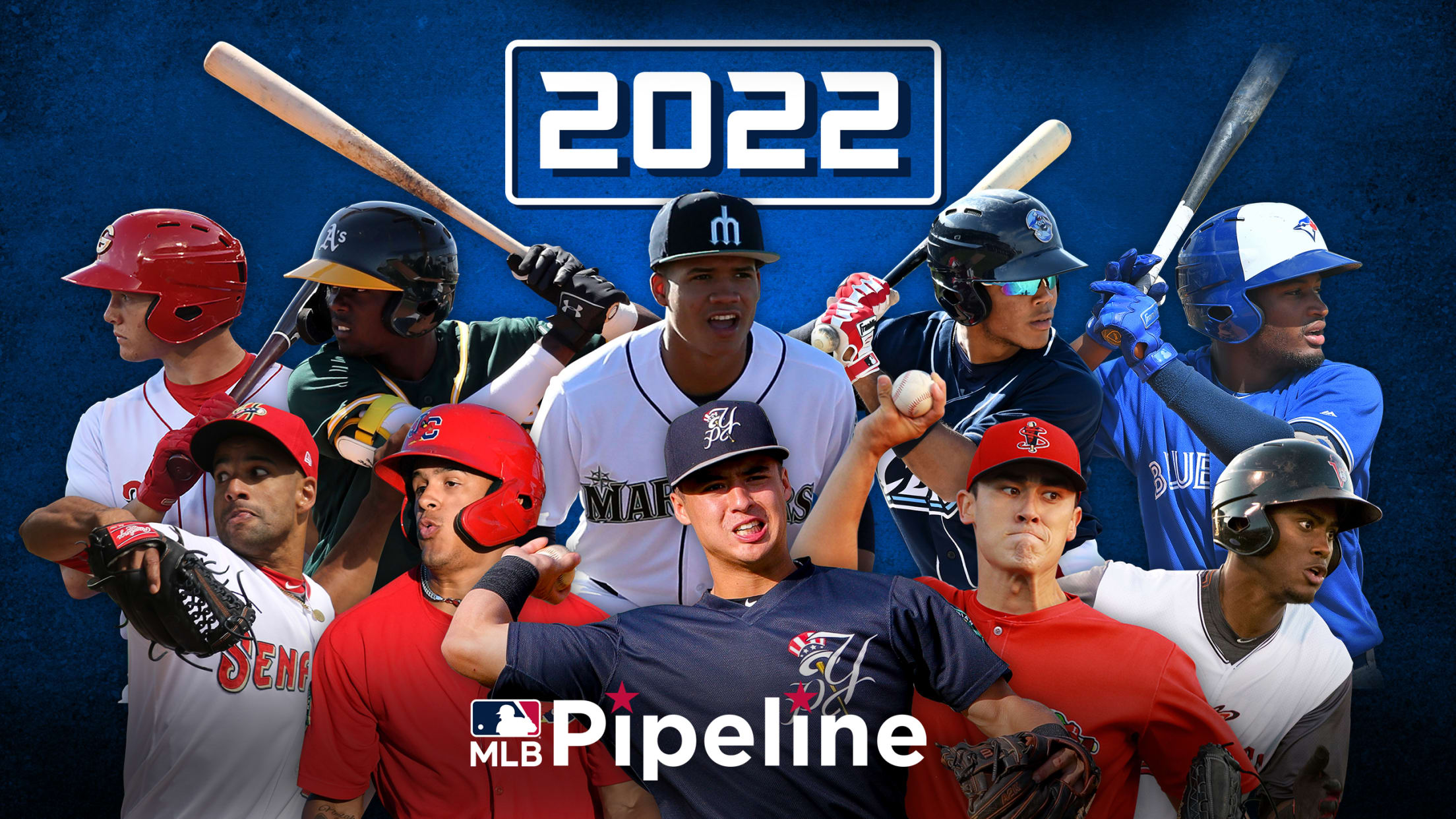 Right now, all baseball fans can do is look ahead to the future. We decided to take that to the extreme by looking two years down the road at which prospects we expect to be big names in 2022. The fact that 14 of the Top 20 players on MLB
Q&A with Padres prospect CJ Abrams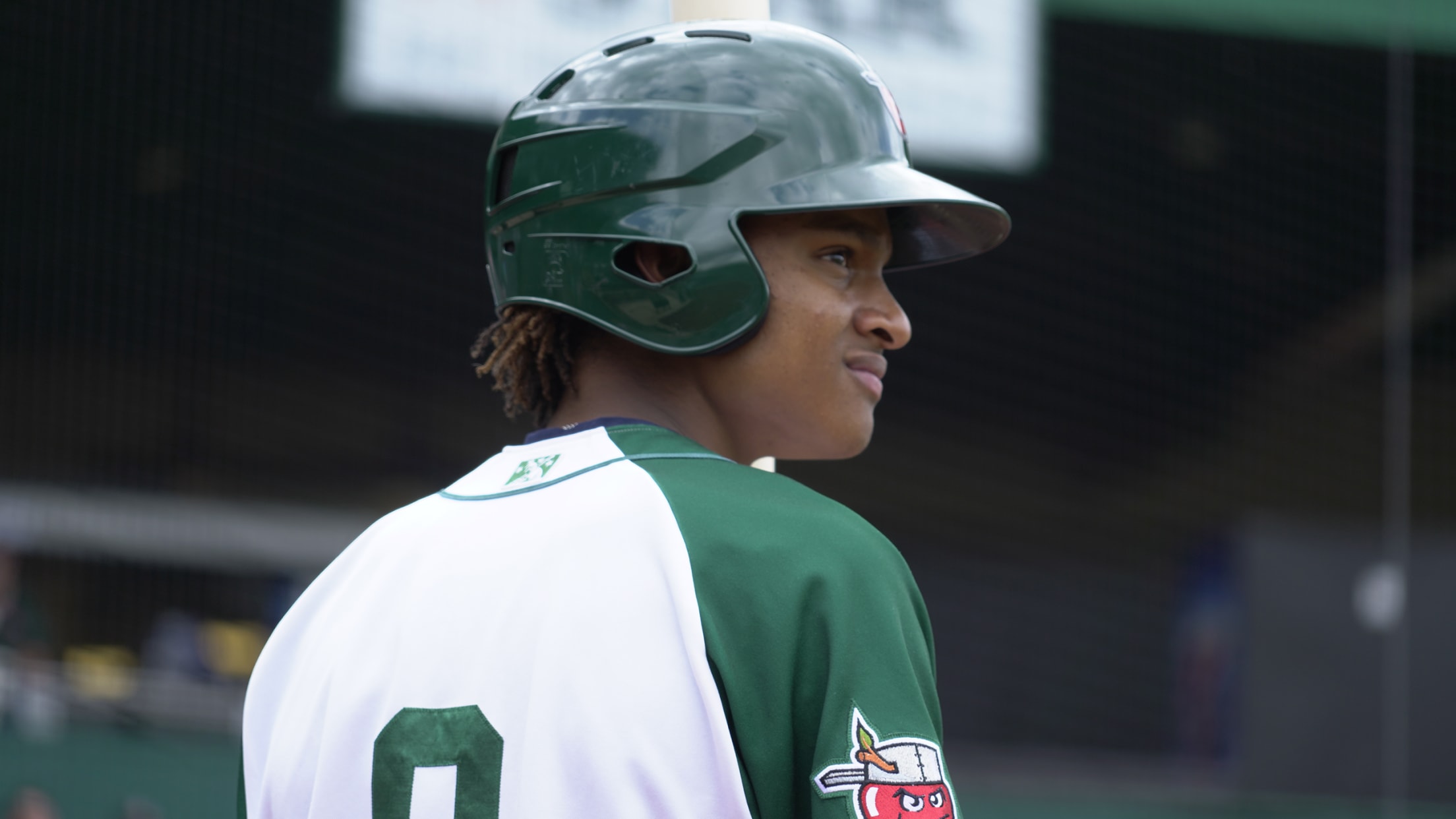 PEORIA, Ariz. -- CJ Abrams was the Padres' first round pick in the 2019 Draft, taken No. 6 overall out of the Georgia high school ranks. He hit .401/.442/.662 with 14 steals over 32 games in the Rookie-level Arizona League, earning a late bump up to Class A Fort Wayne
Here's a look at the Padres' farm entering 2020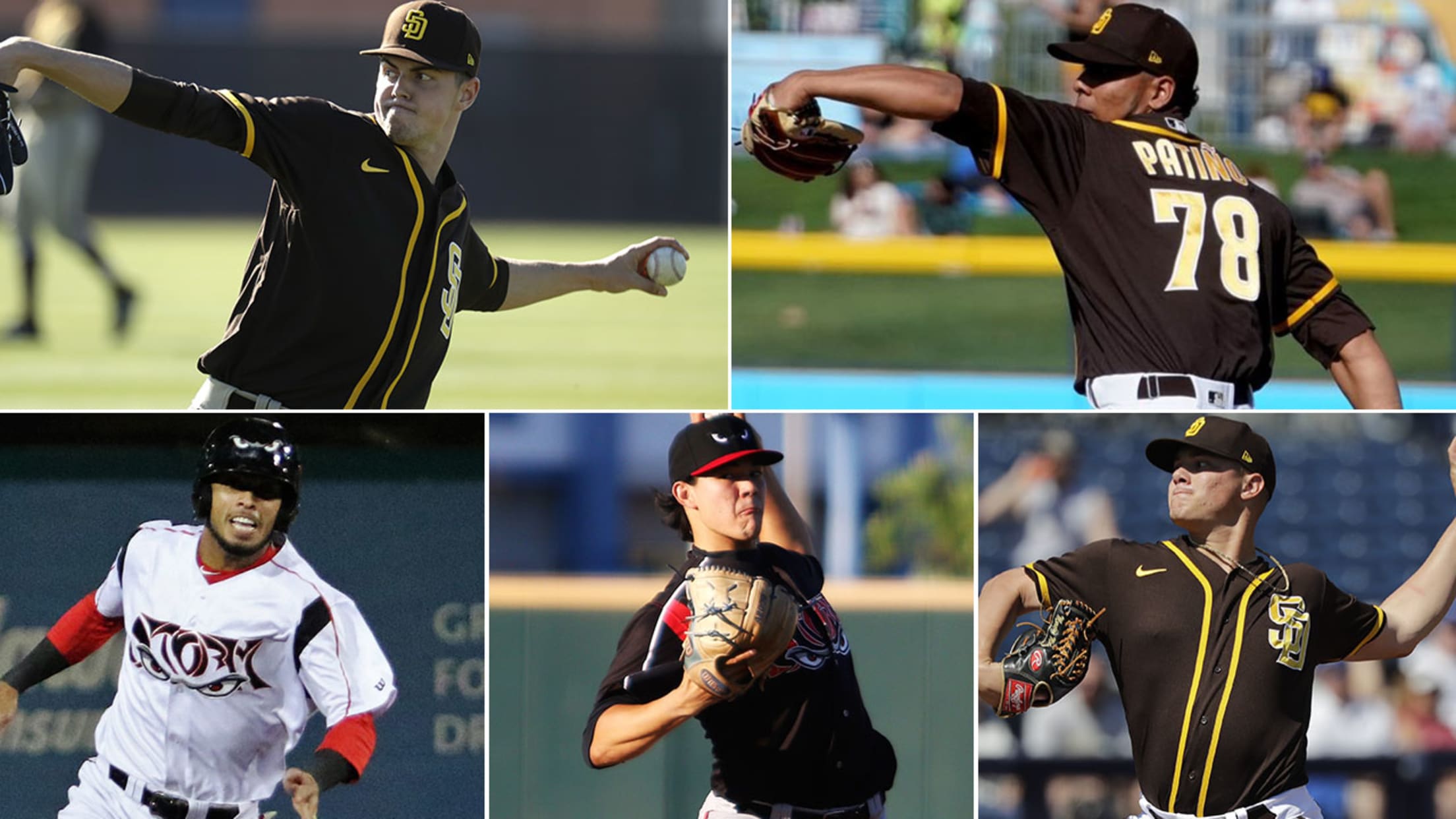 PEORIA, Ariz. -- From 2018 to 2019, the Padres improved by just four games at the big league level while generally getting credit for having baseball's best farm system. Exhibit A, of course, was Fernando Tatis Jr., who finished third in National League Rookie of the Year Award voting in
Padres' farm system ranked Majors' second-best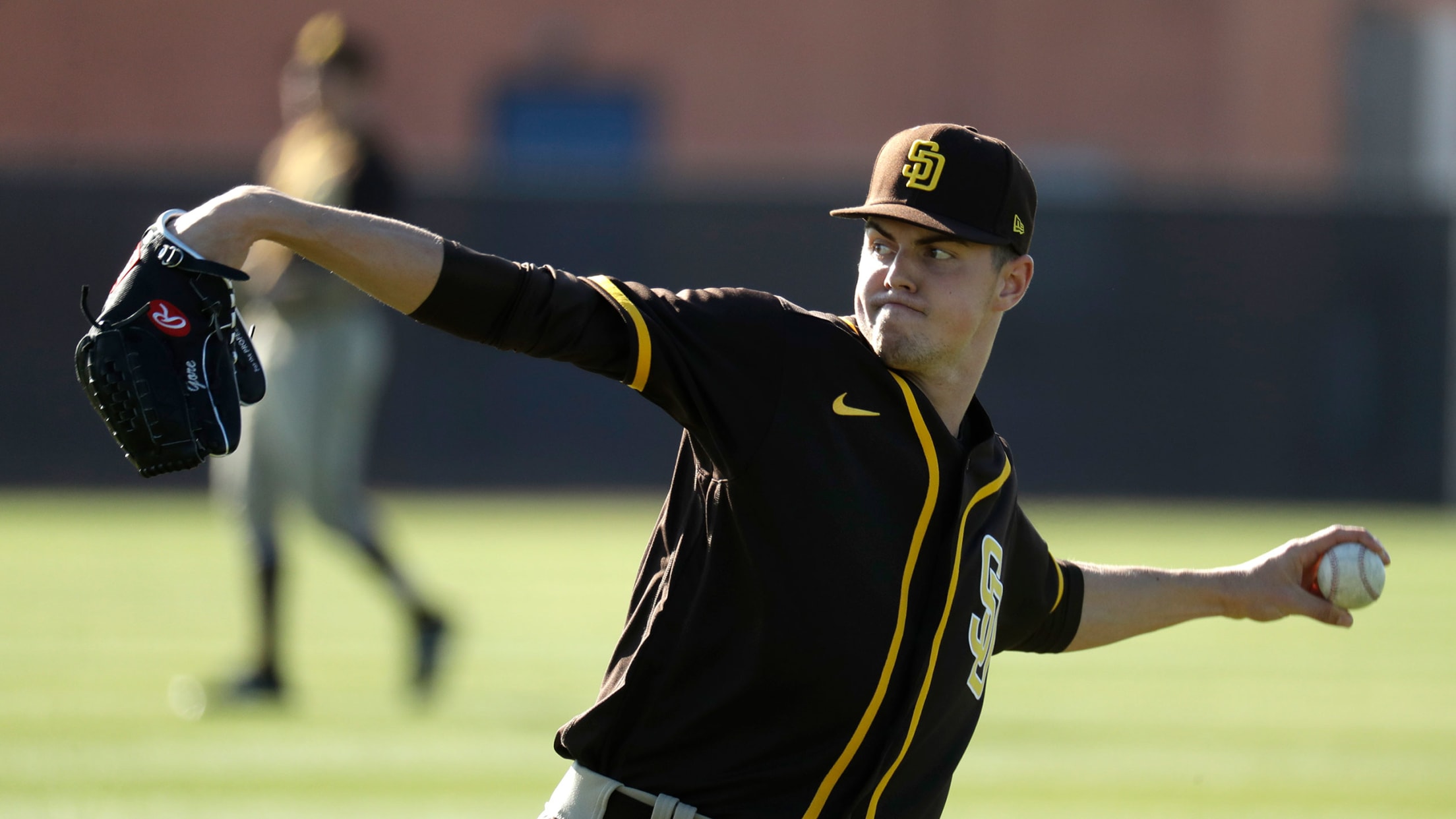 PEORIA, Ariz. -- Within the past year, Fernando Tatis Jr. and Chris Paddack have graduated from the Padres' vaunted farm system and become stars. Cal Quantrill, Andres Muñoz, Francisco Mejía and Josh Naylor also left their prospect status and became important big league pieces. Without their status as prospects, the
4 things we learned from Friars' roster cuts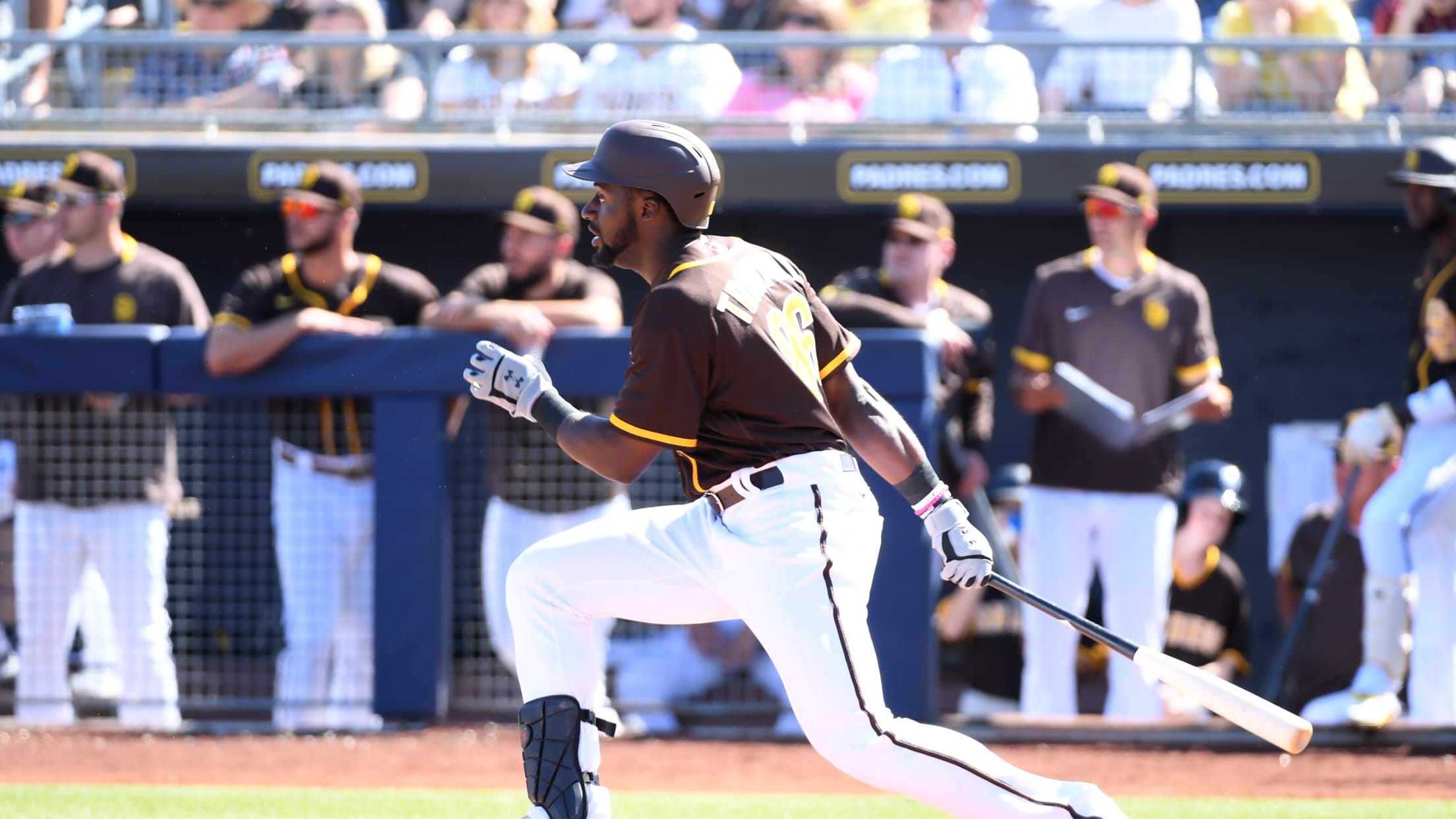 PEORIA, Ariz. -- The Padres made their first round of roster cuts on Sunday morning, sending 12 players to Minor League camp, including prospects Luis Campusano, Owen Miller and Gabriel Arias. A quick rundown on the moves: • Outfielders Edward Olivares and Jorge Oña were optioned to Minor League camp.
8 tosses, 4 pitches, 1 confident Gore in debut
'Tired of the sim games,' top pitching prospect records 1-2-3 inning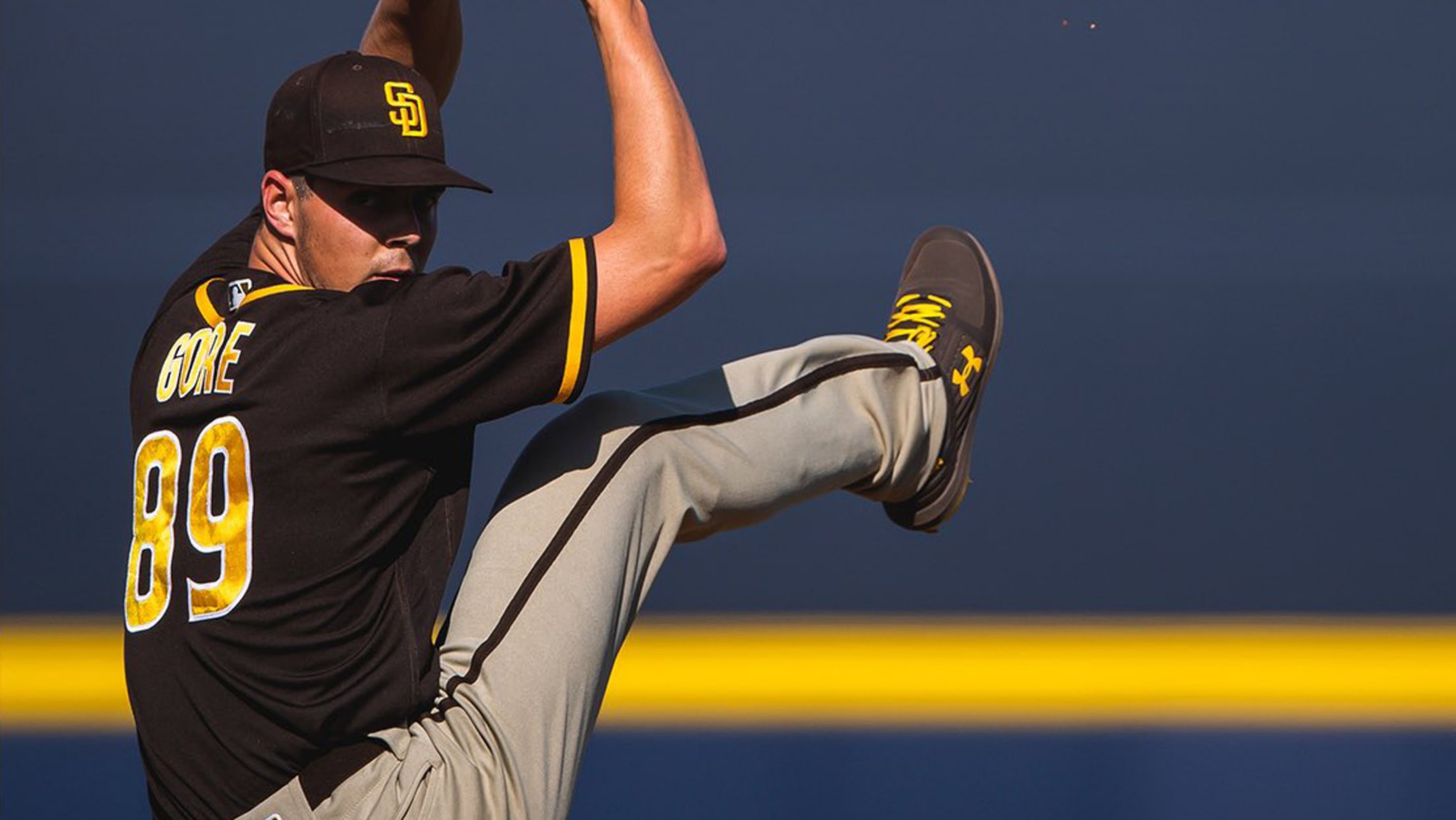 PEORIA, Ariz. -- After all the buildup, MacKenzie Gore's first outing in a Padres uniform was done after just eight pitches. Gore, MLB Pipeline's top-ranked pitching prospect, wouldn't have wanted it any other way. "Eight pitches is great," he said afterward, shooting down the notion that he might have preferred
Here are the Padres' 2020 Top 30 Prospects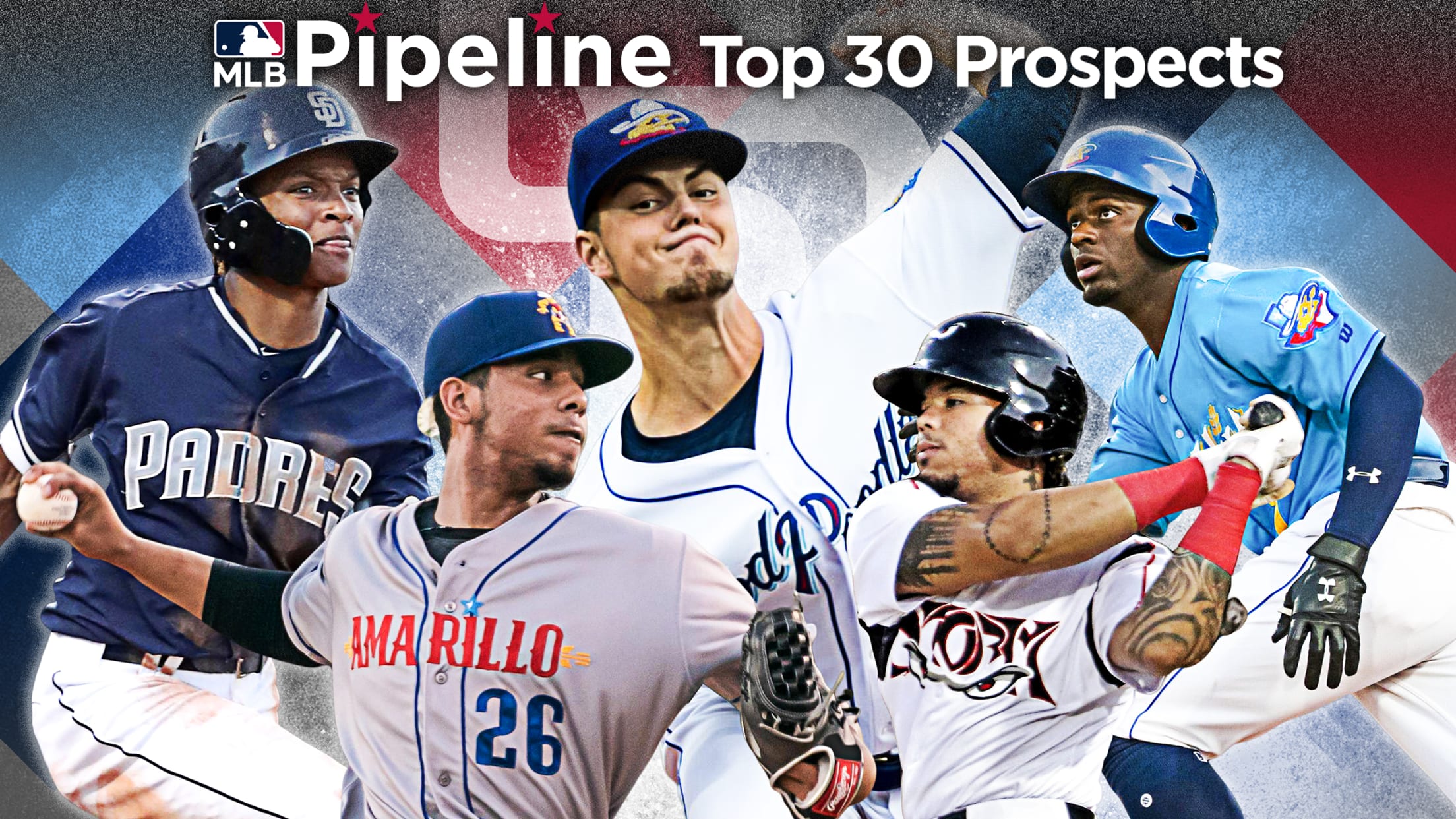 PEORIA, Ariz. -- Much has been said and written about the depth of the Padres' farm system over the past few years. But there might not be a better indication of its overall strength than this: Within the past year, Chris Paddack and Fernando Tatis Jr. have graduated and become
Notes: Patiño debuts; Yates sharp; Naylor out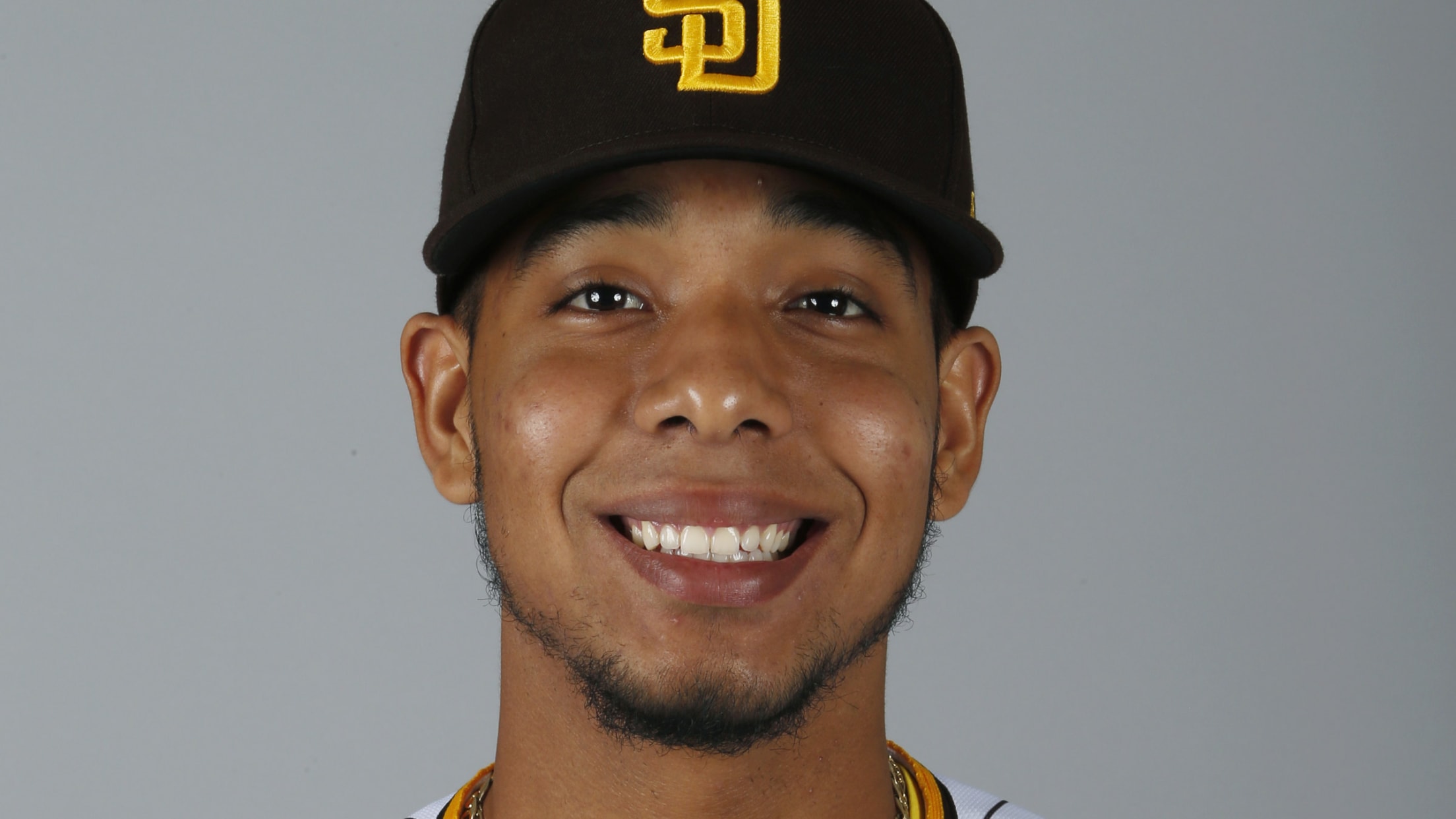 PEORIA, Ariz. -- In between his two strikeouts, Luis Patiño looked like a 20-year-old prospect facing big league hitters for the first time. His command was erratic, and he allowed three runs on three hits in the Padres' 9-7 loss to the Royals on Wednesday afternoon. Two of those hits
Notes: Pitching prospect debuts, Myers on a roll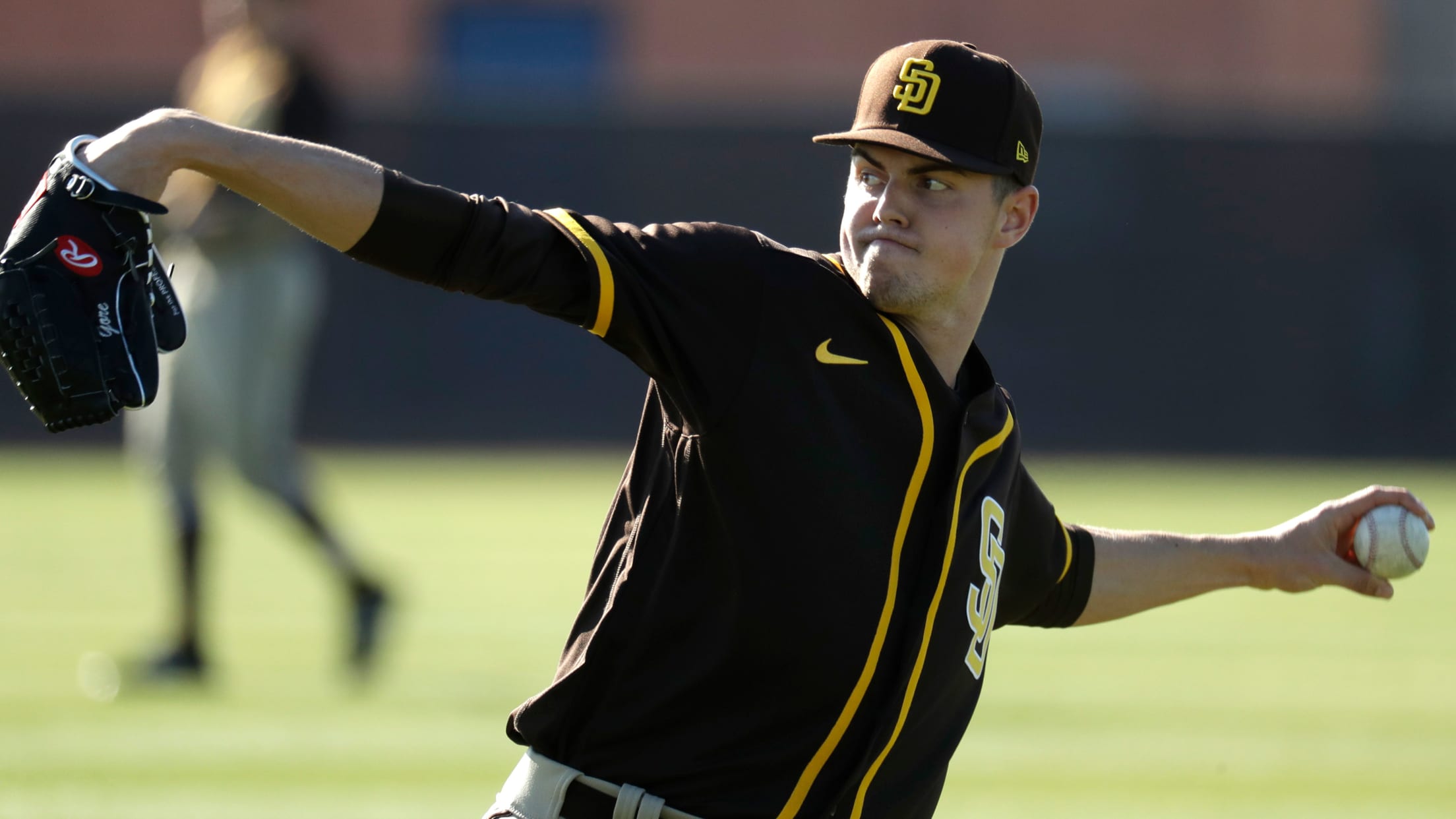 PEORIA, Ariz. -- The Padres have spent the past few years dreaming on pitching prospects Luis Patiño and MacKenzie Gore. This week, it's finally time to see how their stuff plays against big league hitters. Patiño is slated for his spring debut on Wednesday against the Royals, with Gore set
Morejon turns 21, gifts SD with strong outing
Grisham impresses in batting cage; Dozier gets first hit as a Padre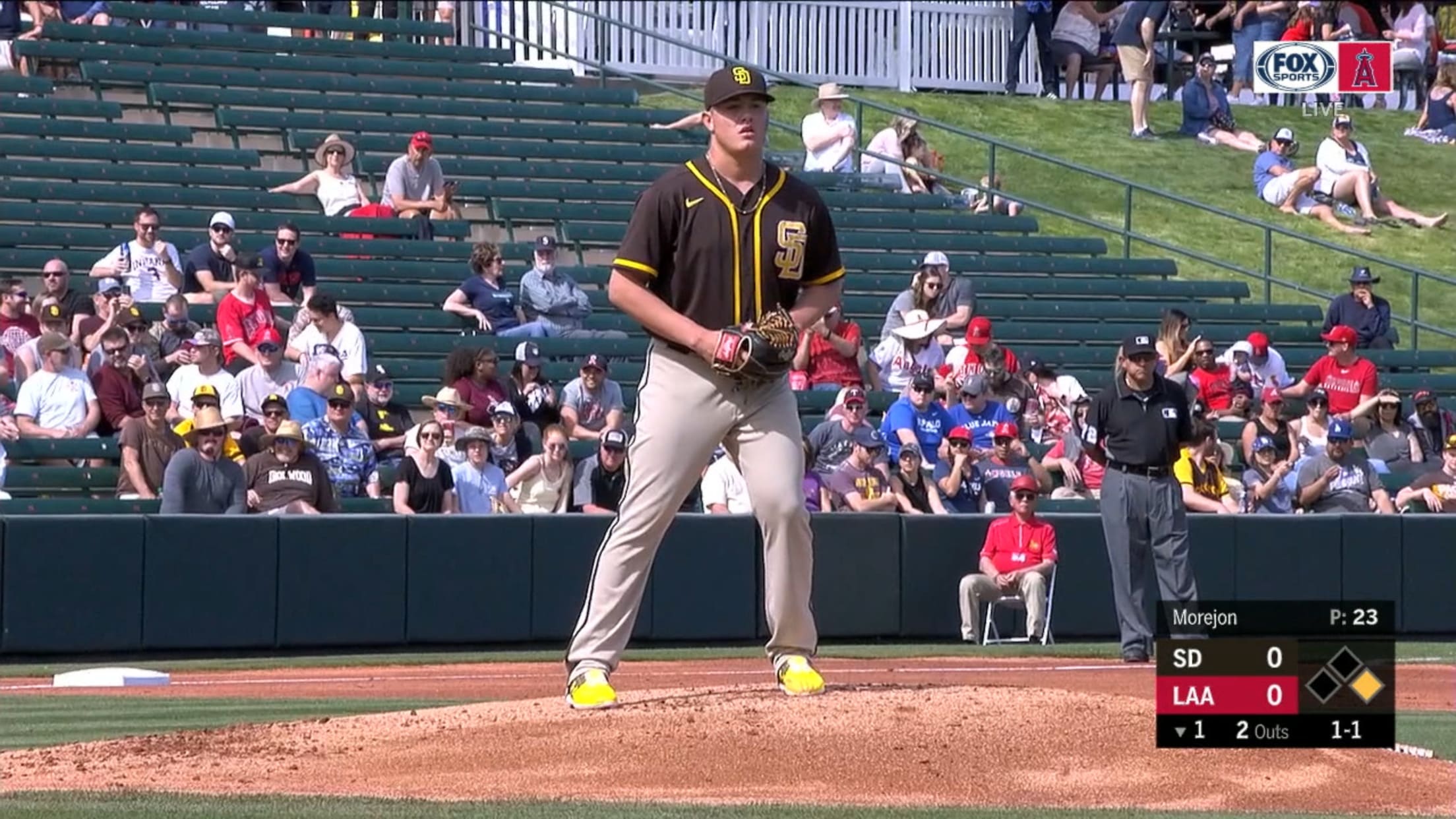 TEMPE, Ariz. -- Lots of people have fun on their 21st birthday. Few have as much fun as Adrian Morejon did on Thursday afternoon in Tempe. San Diego's No. 6 prospect made his first start of the spring in the Padres' 1-0 victory over the Angels at Tempe Diablo Stadium.
Padres keep Gore, Patiño at ambling pace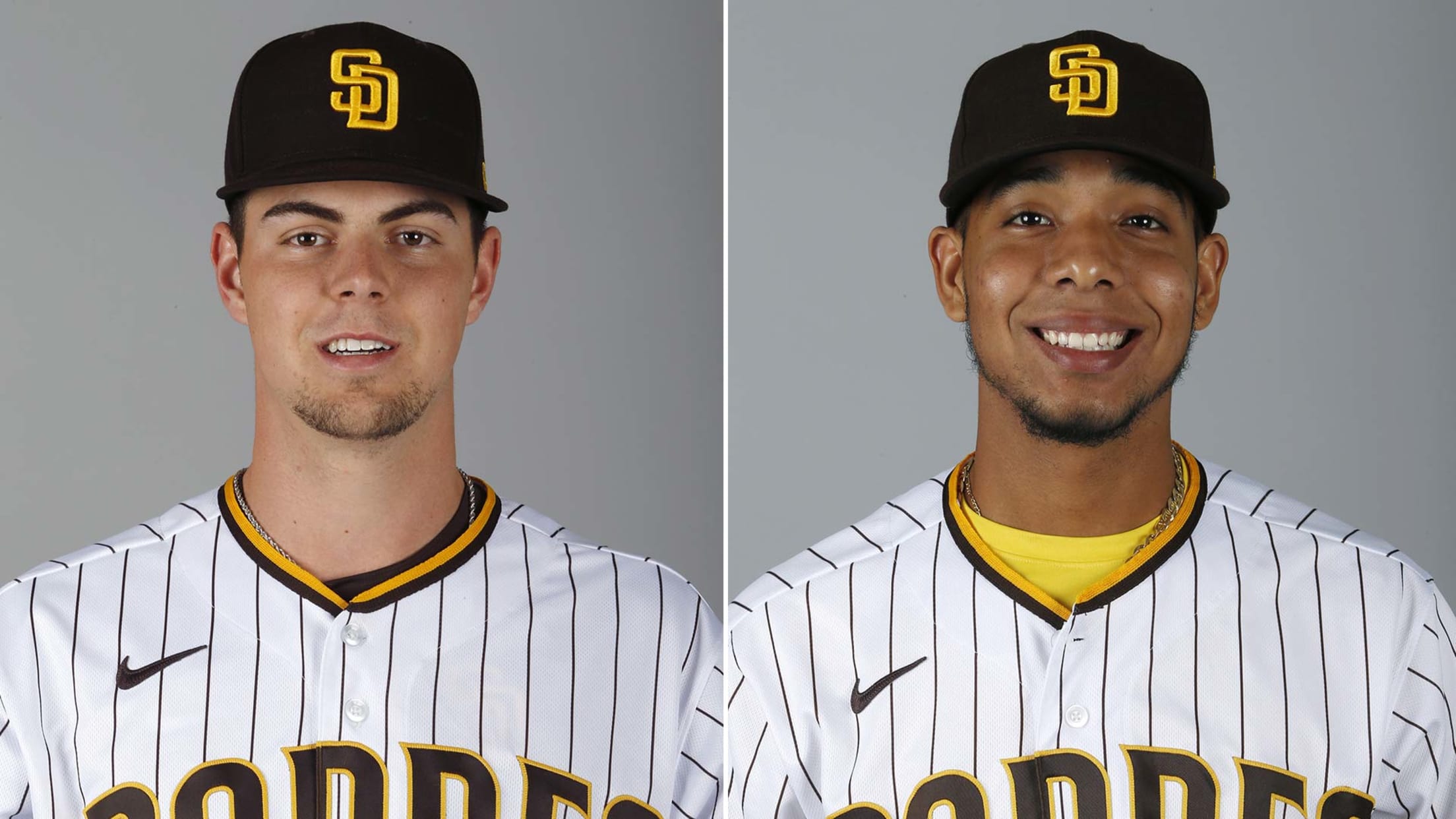 PEORIA, Ariz. -- The Padres -- like their entire fan base -- are eager to see MacKenzie Gore and Luis Patiño in action against big league hitters this spring. They also know it wouldn't be prudent to rush things with their top two pitching prospects. Gore and Patiño are in
Notes: Baez gets another shot at starter role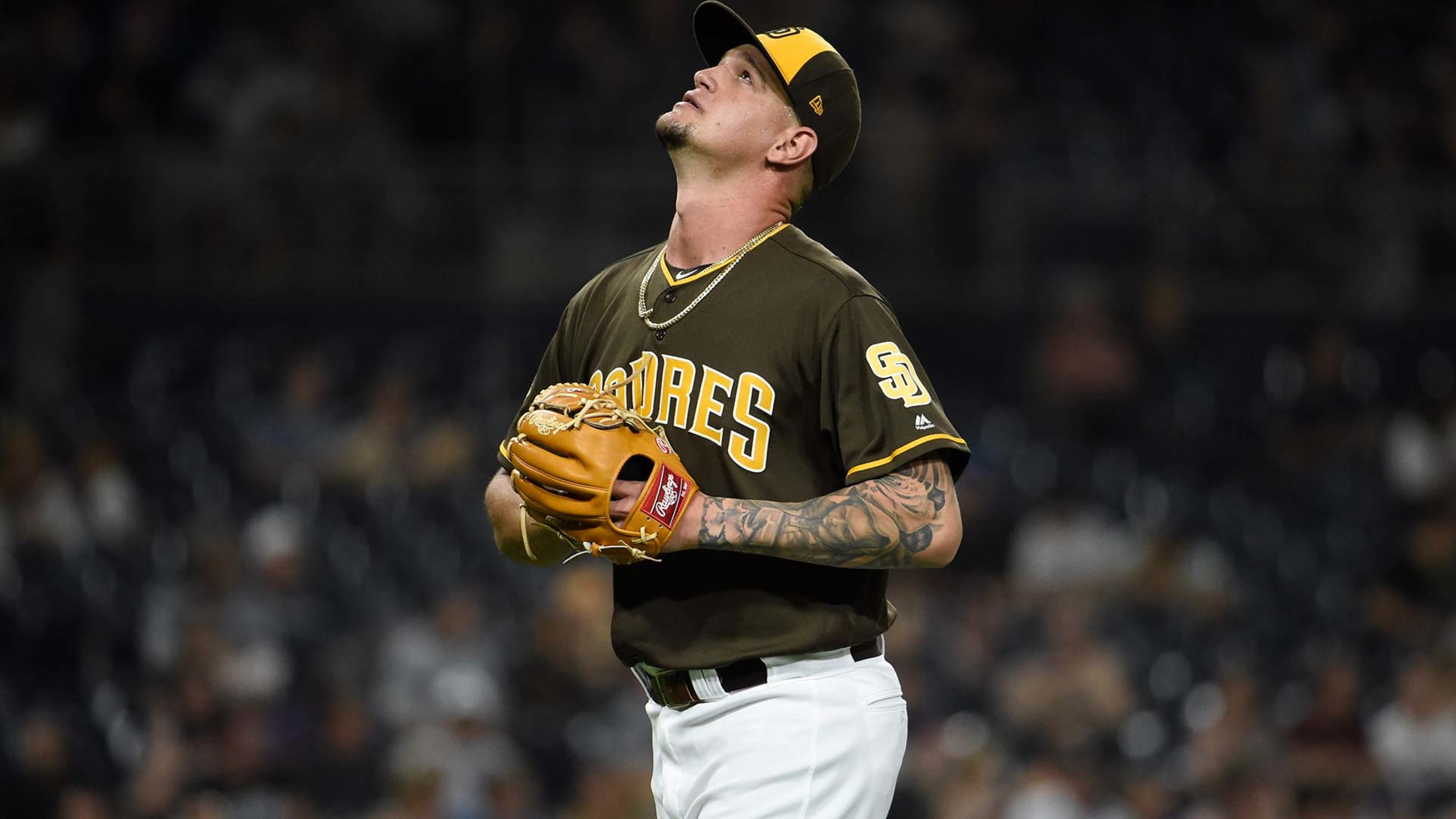 PEORIA, Ariz. -- Michel Baez has proven it already: He's a big league pitcher. Baez, the team's No. 8 prospect per MLB Pipeline, joined the Padres last July and posted a 3.03 ERA in the bullpen down the stretch. He allowed 7.6 hits per nine innings, and his fastball-changeup combo
Notes: Gore 'nasty' vs. Tatis; Quantrill gets nod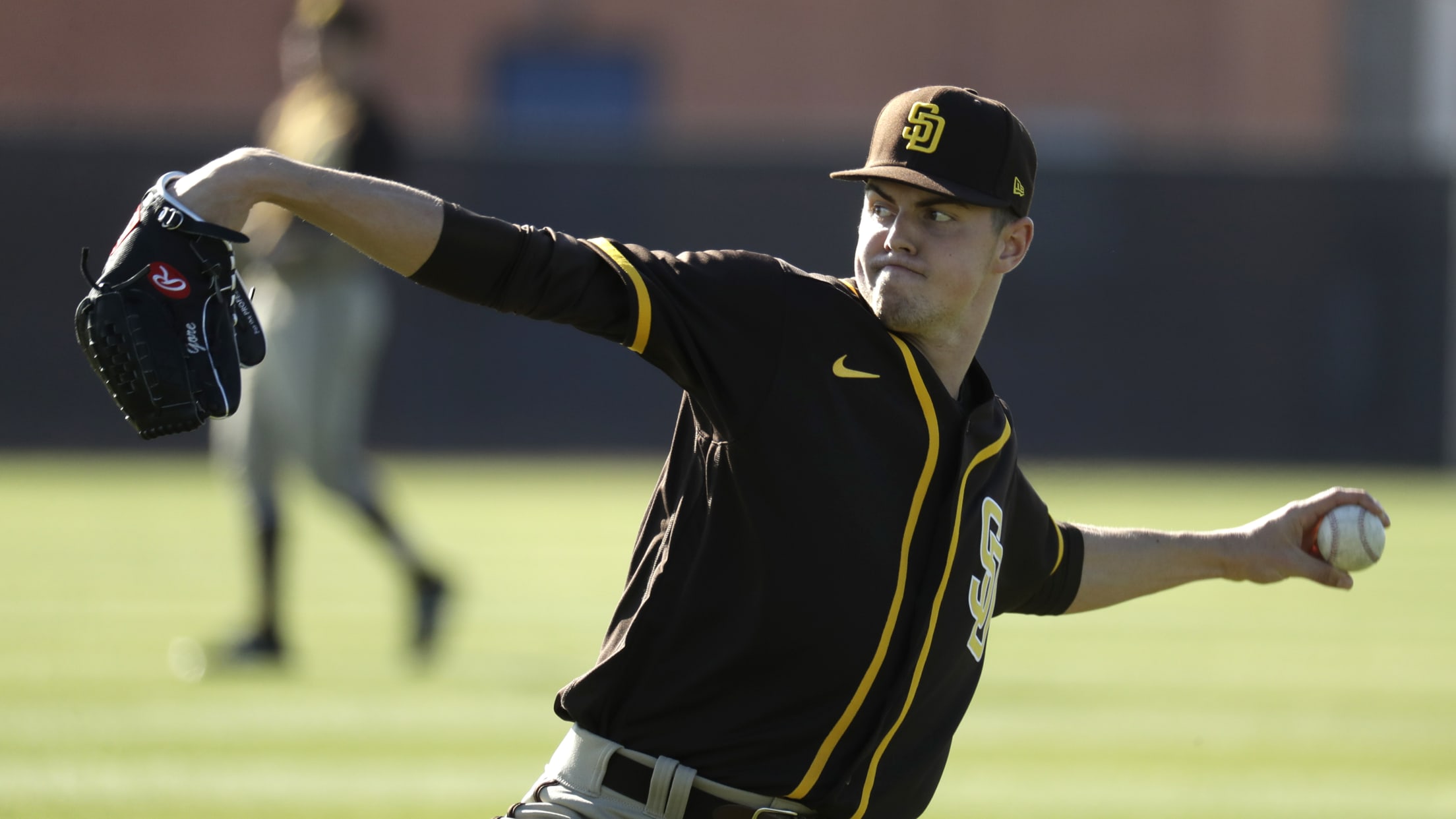 PEORIA, Ariz. -- The Padres aren't exactly easing MacKenzie Gore into his first big league camp. The lineup for Gore's second live batting practice session of Spring Training on Wednesday: Manny Machado, Jurickson Profar, Greg Garcia and Fernando Tatis Jr. -- a quartet of certifiable big leaguers, including a pair