Injuries & Moves: Harper out for 5th straight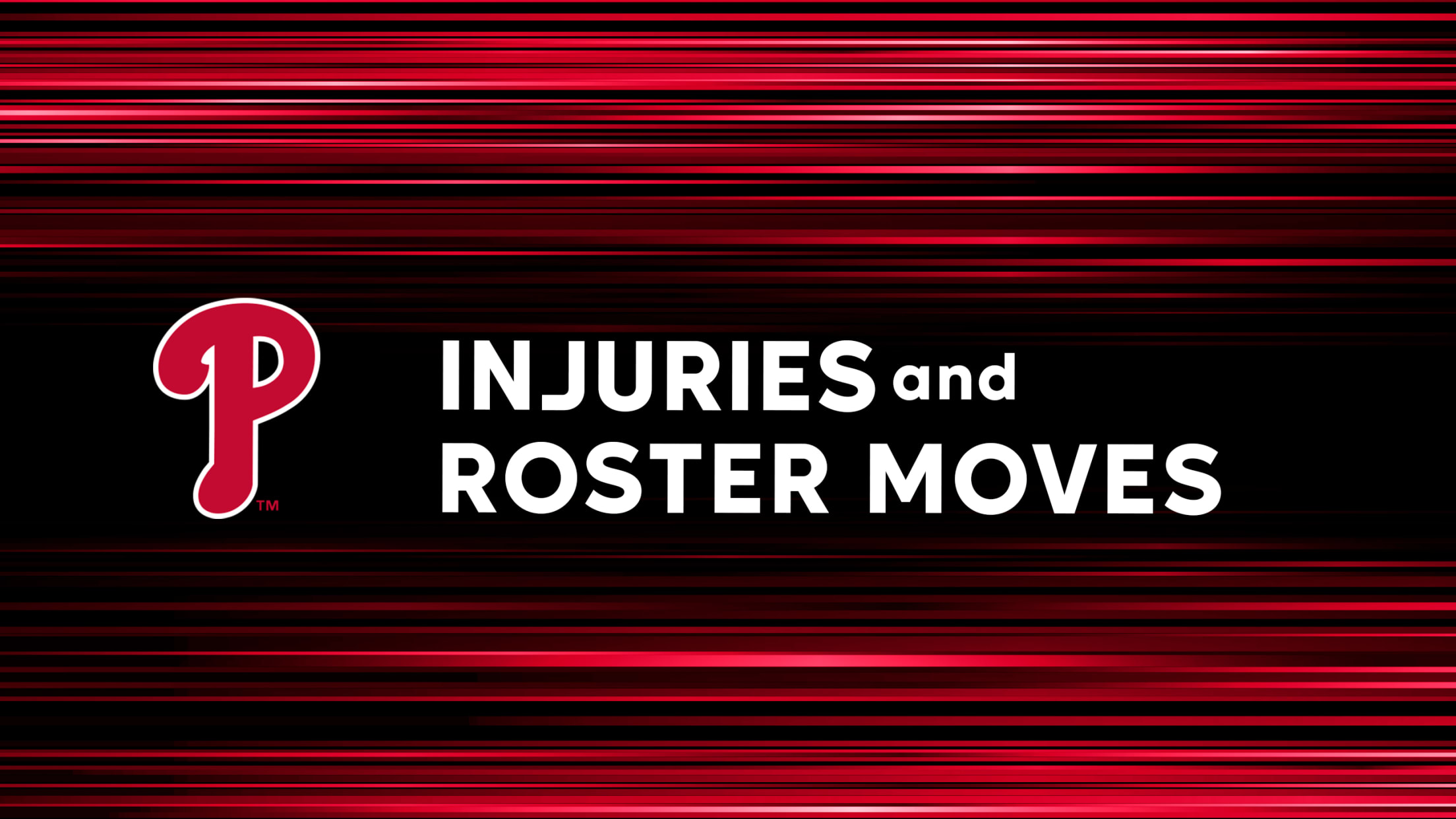 Keep track of the Phillies' recent transactions and injury updates throughout the season.
Harper patient after PRP injection: 'I want to be out there'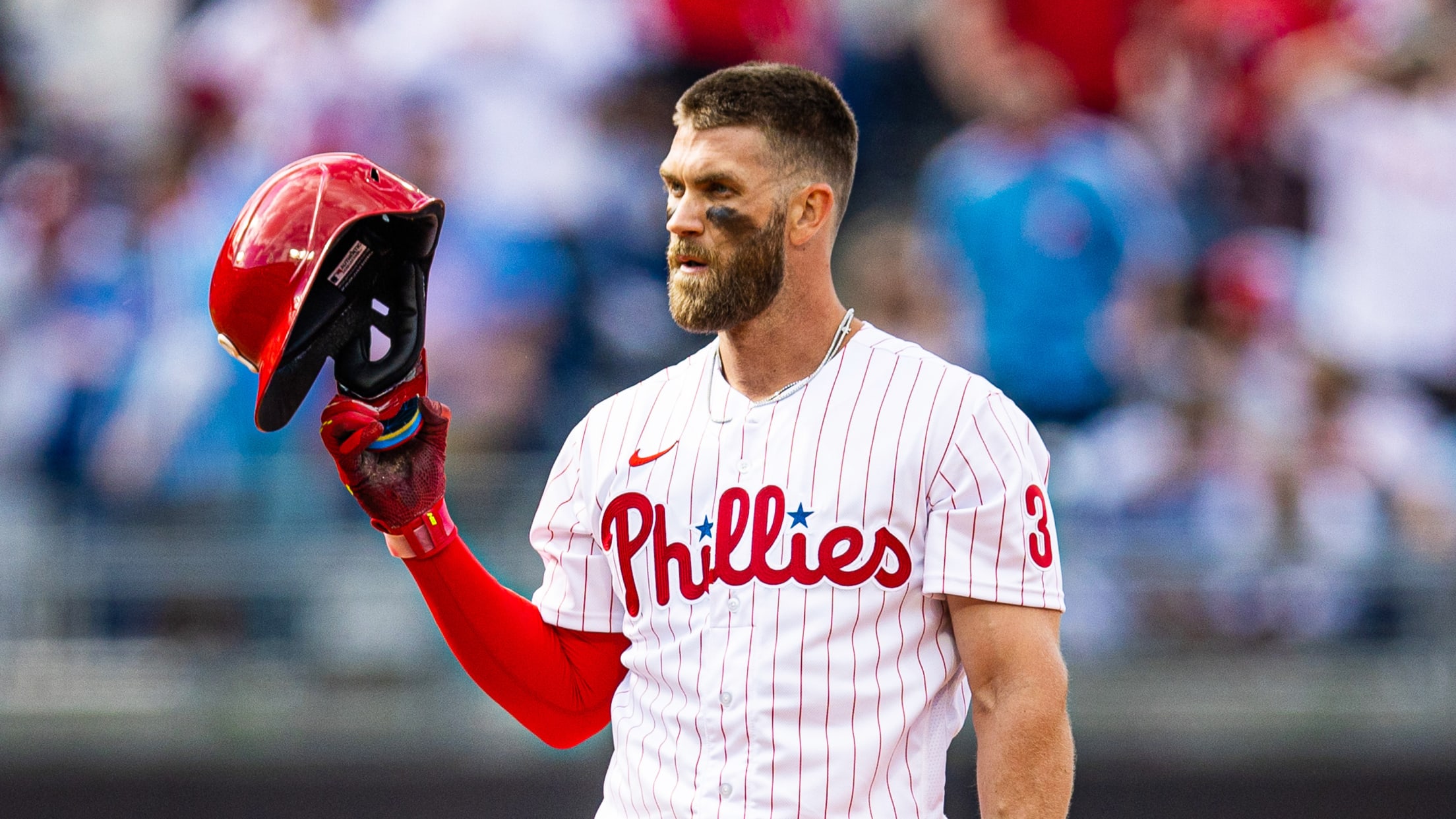 PHILADELPHIA -- If you paid attention at all to Bryce Harper's injured right elbow the past few weeks, then you know the platelet-rich plasma injection he received Sunday in Los Angeles is not a magical cure. He remains more than a month away from playing right field again. "We're just
Bryce can't throw, but can still DH. This HR proves it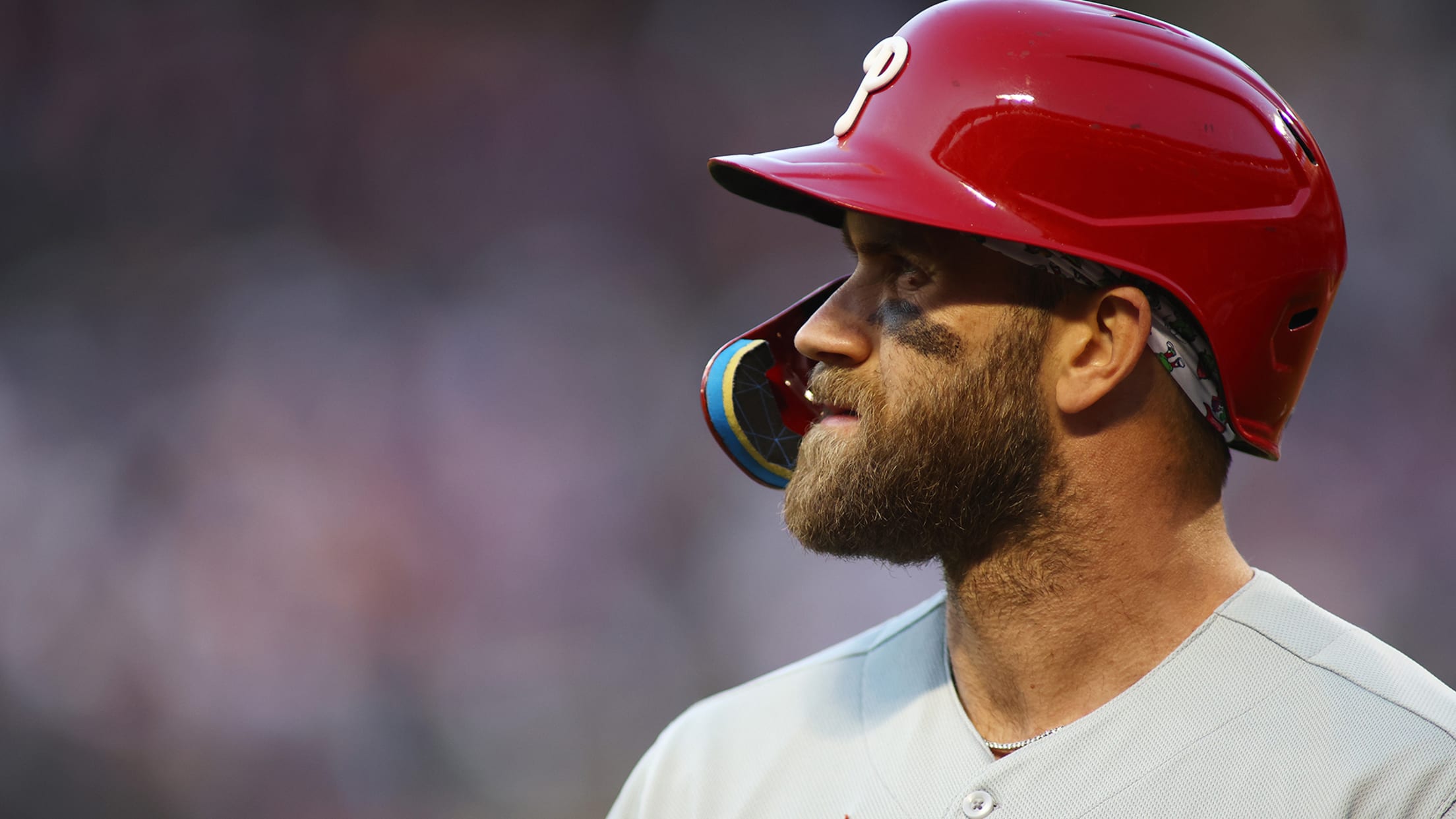 LOS ANGELES -- Phillies superstar Bryce Harper has been diagnosed with a small tear in his right ulnar collateral ligament and will be unable to throw for four weeks, according to manager Joe Girardi. Harper will have a platelet-rich plasma (PRP) injection Sunday, which will take him out of the
Harper (right elbow) remains in holding pattern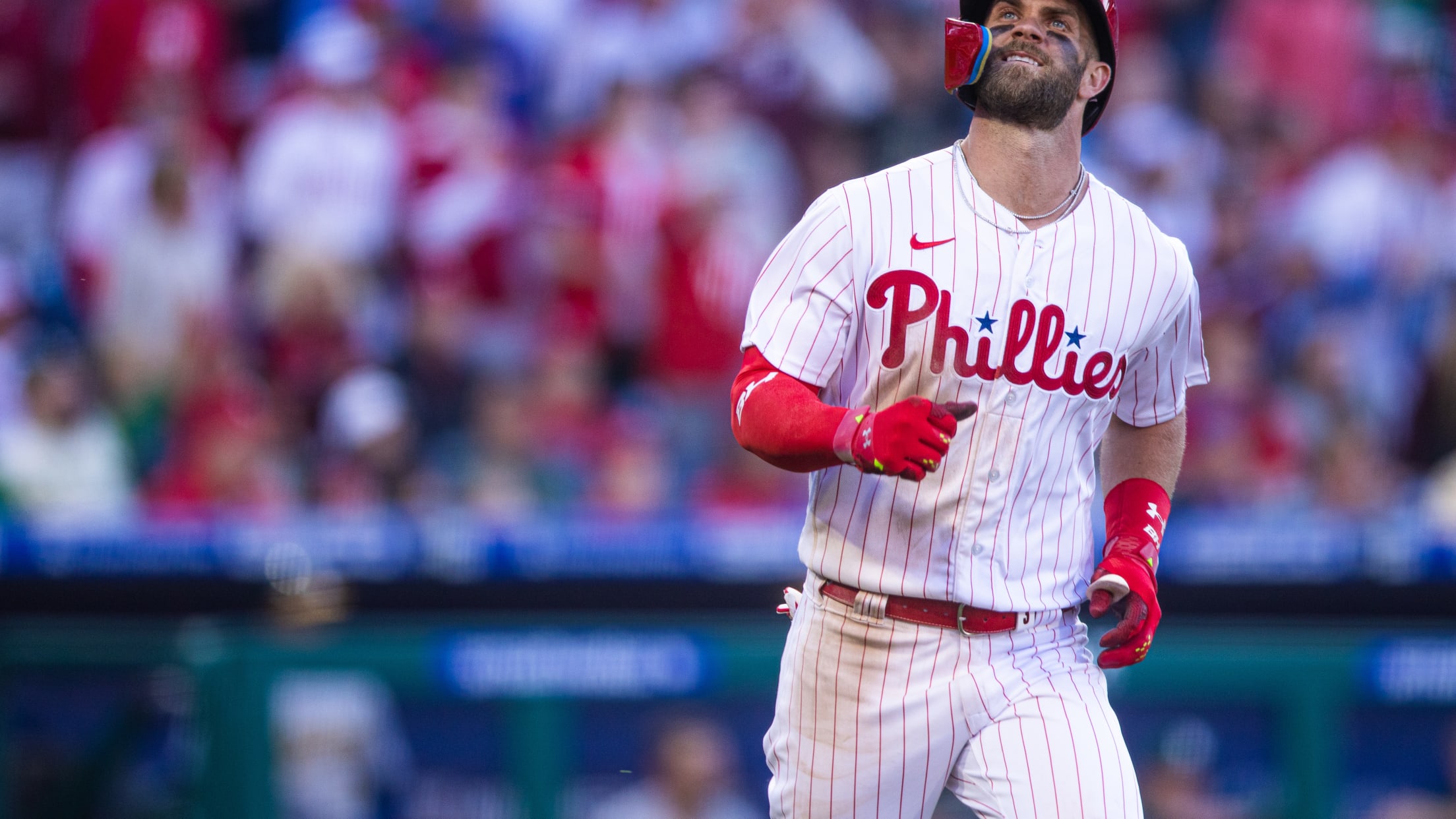 PHILADELPHIA -- Bryce Harper's strained right elbow needs more time to heal. How much more? Nobody knows. Harper, who sustained the injury while making a throw to home plate against the Mets on April 11, was examined by a team doctor before Tuesday night's 6-4 loss to the Rangers at
Harper (elbow) on pregame catch: 'It just felt achy'
Phillies slugger will continue to DH, but he won't play right field until at least May 3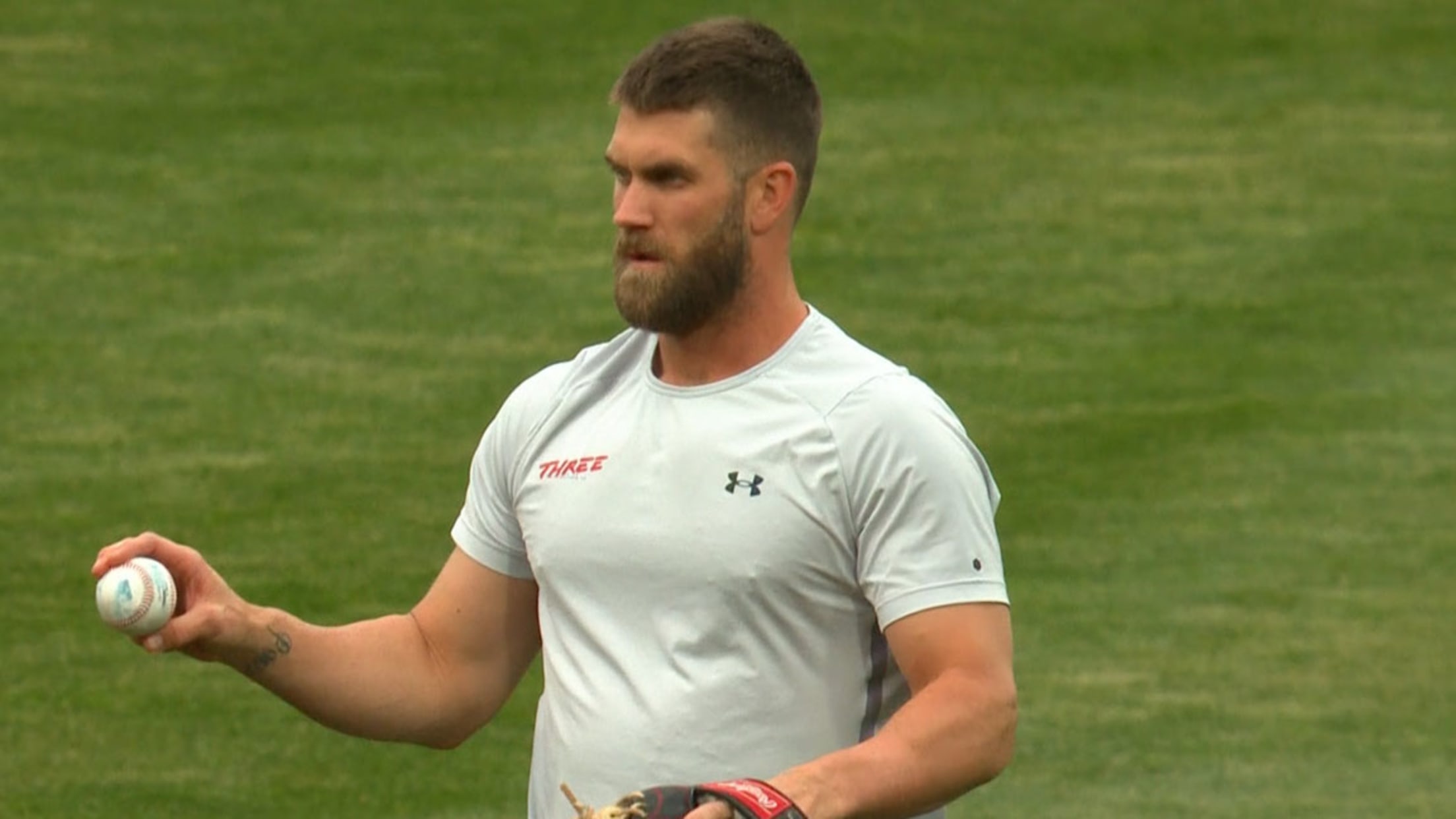 PHILADELPHIA -- Bryce Harper played catch from a short distance for only a few minutes on Tuesday at Citizens Bank Park.
Harper to remain DH as elbow pain lingers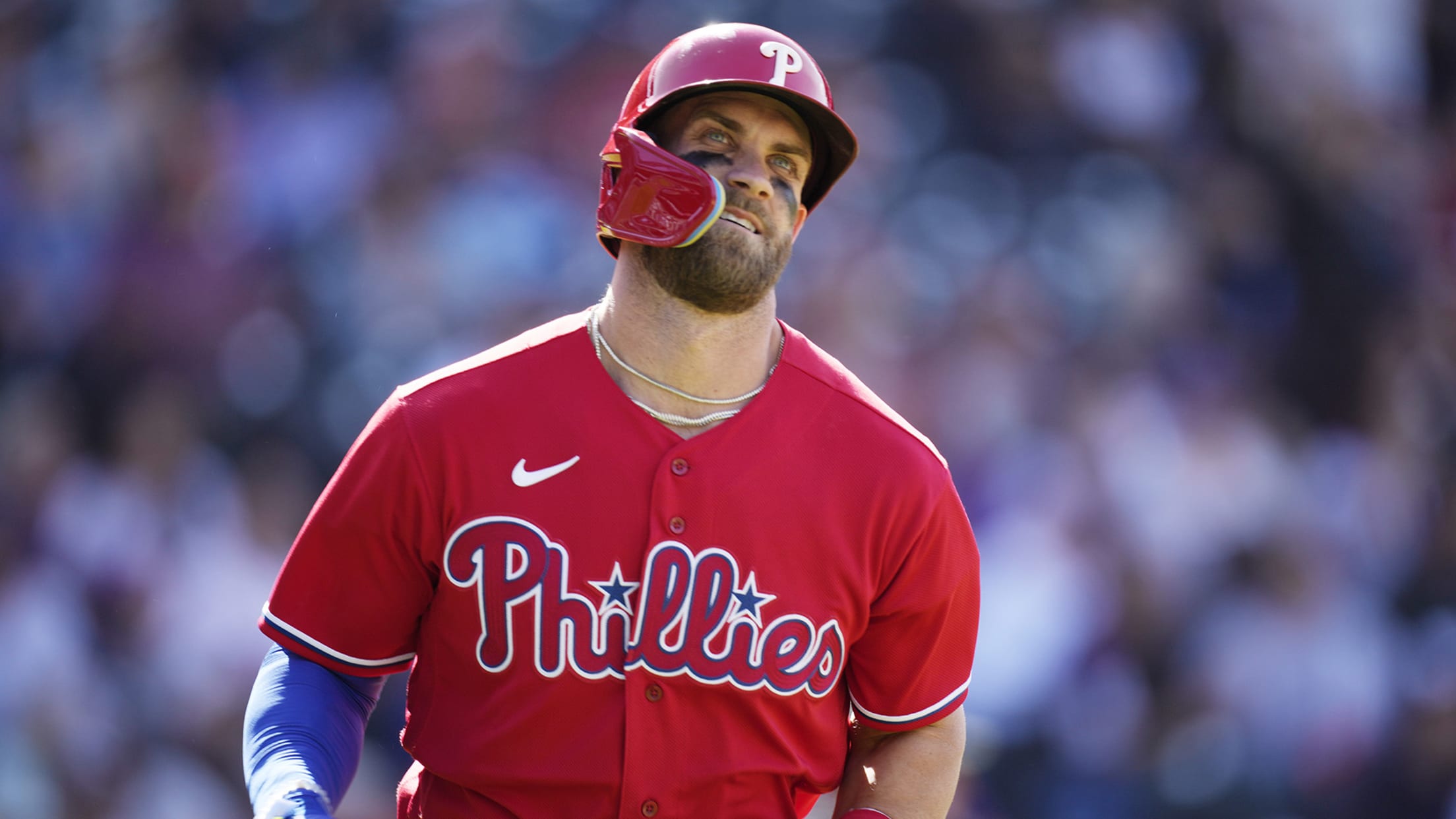 PHILADELPHIA -- For now, Bryce Harper is the Phillies' full-time designated hitter. An MRI exam on Thursday revealed a mild strain in the flexor tendon in his right elbow, which is his throwing arm. Harper said he plans to test the elbow on Tuesday, but in the meantime he will
Moniak breaks hand, will miss Opening Day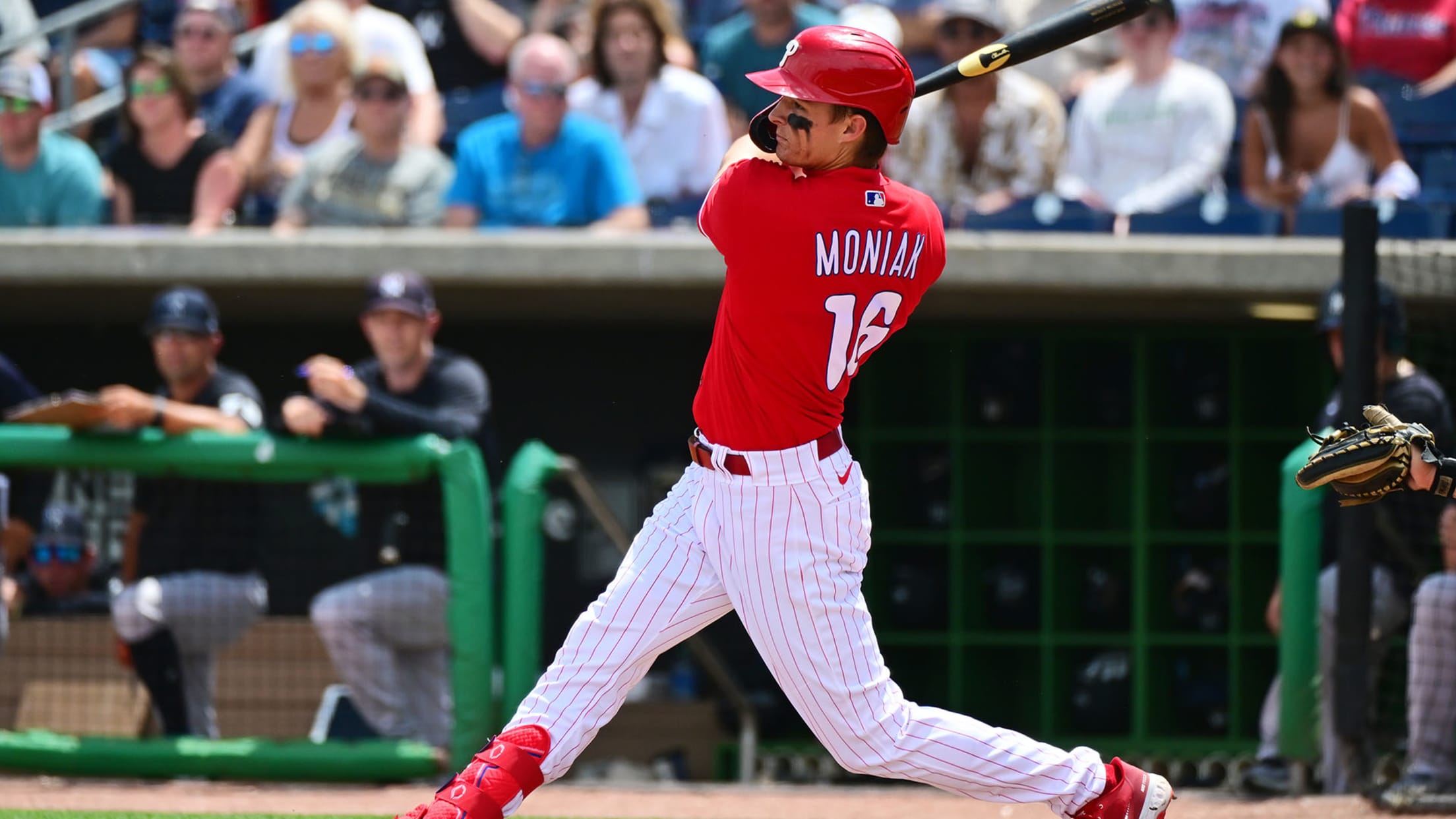 PHILADELPHIA -- Mickey Moniak spoke excitedly earlier this week about making his first Opening Day roster for the Phillies. But he suffered a hairline fracture in his right hand in Wednesday's Grapefruit League finale against the Rays at Tropicana Field in St. Petersburg, Fla., a source told MLB.com on Thursday,
'My heart hurts': Bradley (oblique) back on IL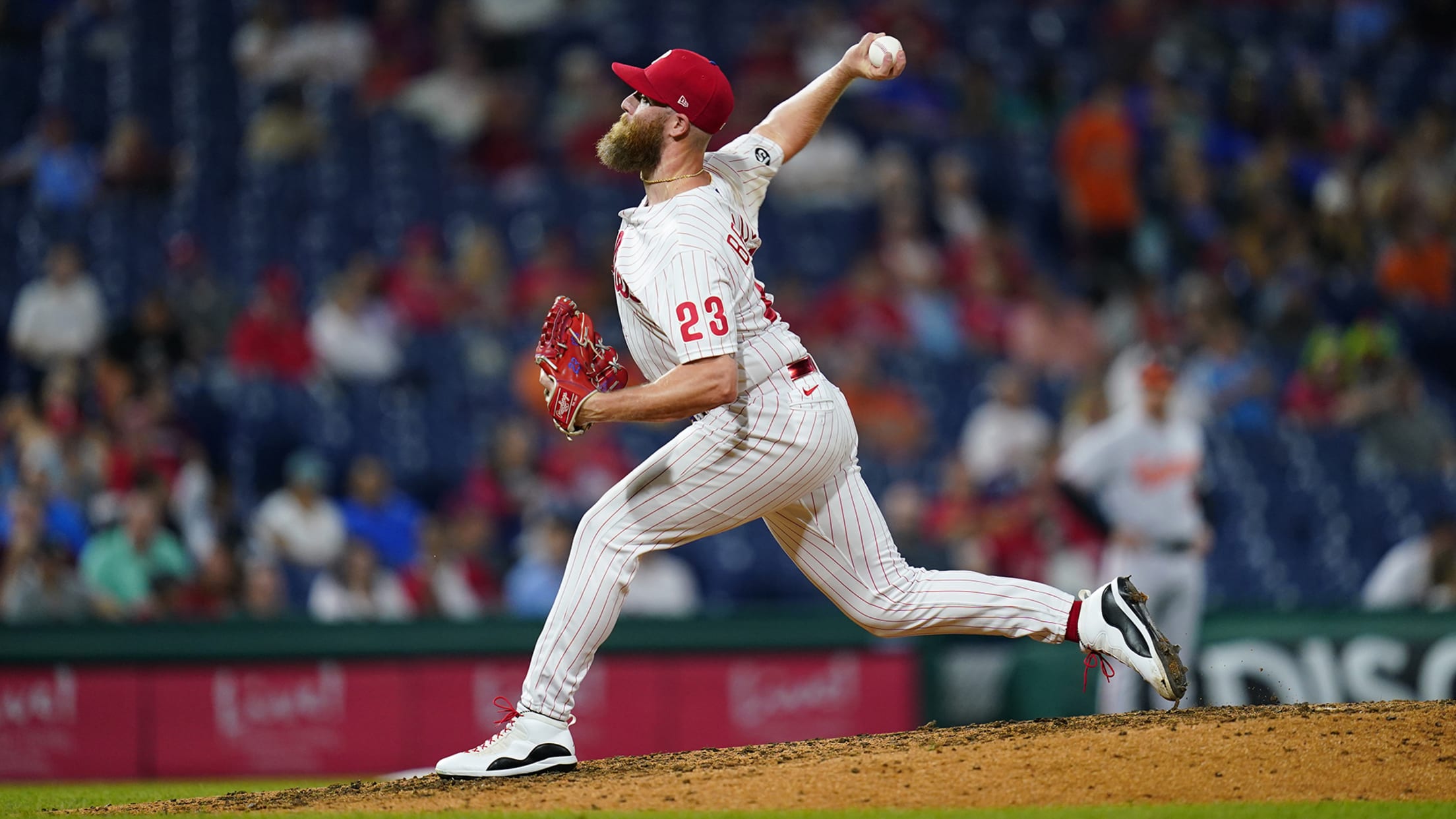 PHILADELPHIA -- If Archie Bradley pitches again for the Phillies, it will be in the postseason. If the Phillies make the postseason. If his strained left oblique heals quickly enough. The Phillies placed Bradley on the 10-day injured list on Saturday with a similar injury to the one that sidelined
Notes: Seranthony update; J.T. not ready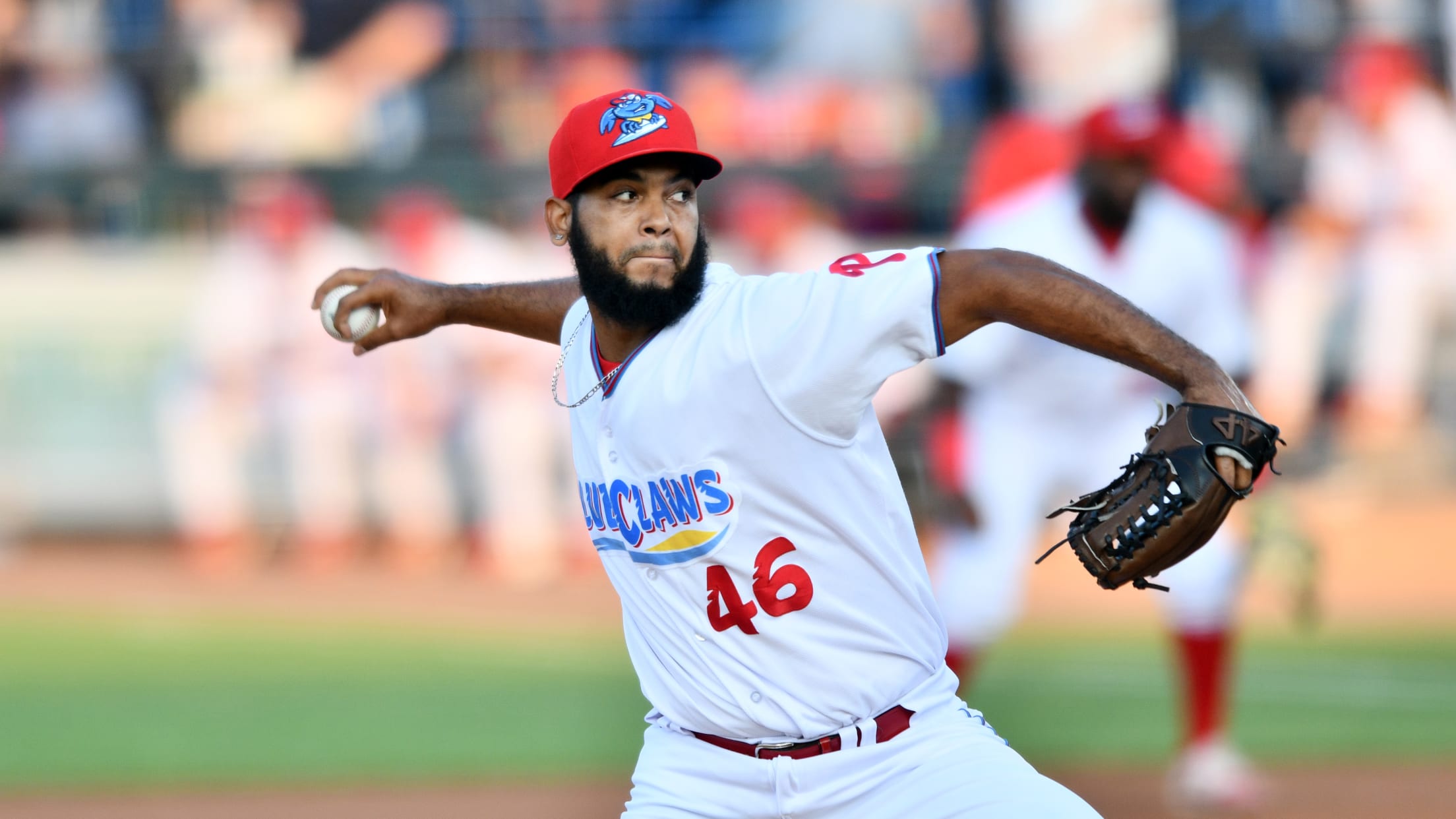 WASHINGTON -- Seranthony Domínguez's 2021 return to the Phillies' bullpen always seemed to be ambitious. But maybe, just maybe, he could recover quickly from Tommy John surgery and help the Phillies in September. But as Domínguez's rehabilitation clock expires on Wednesday, he will continue to pitch at Triple-A Lehigh Valley.
Hoskins out for season; Eflin scratched
Slugger to have abdominal surgery; righty activated, but knee flares up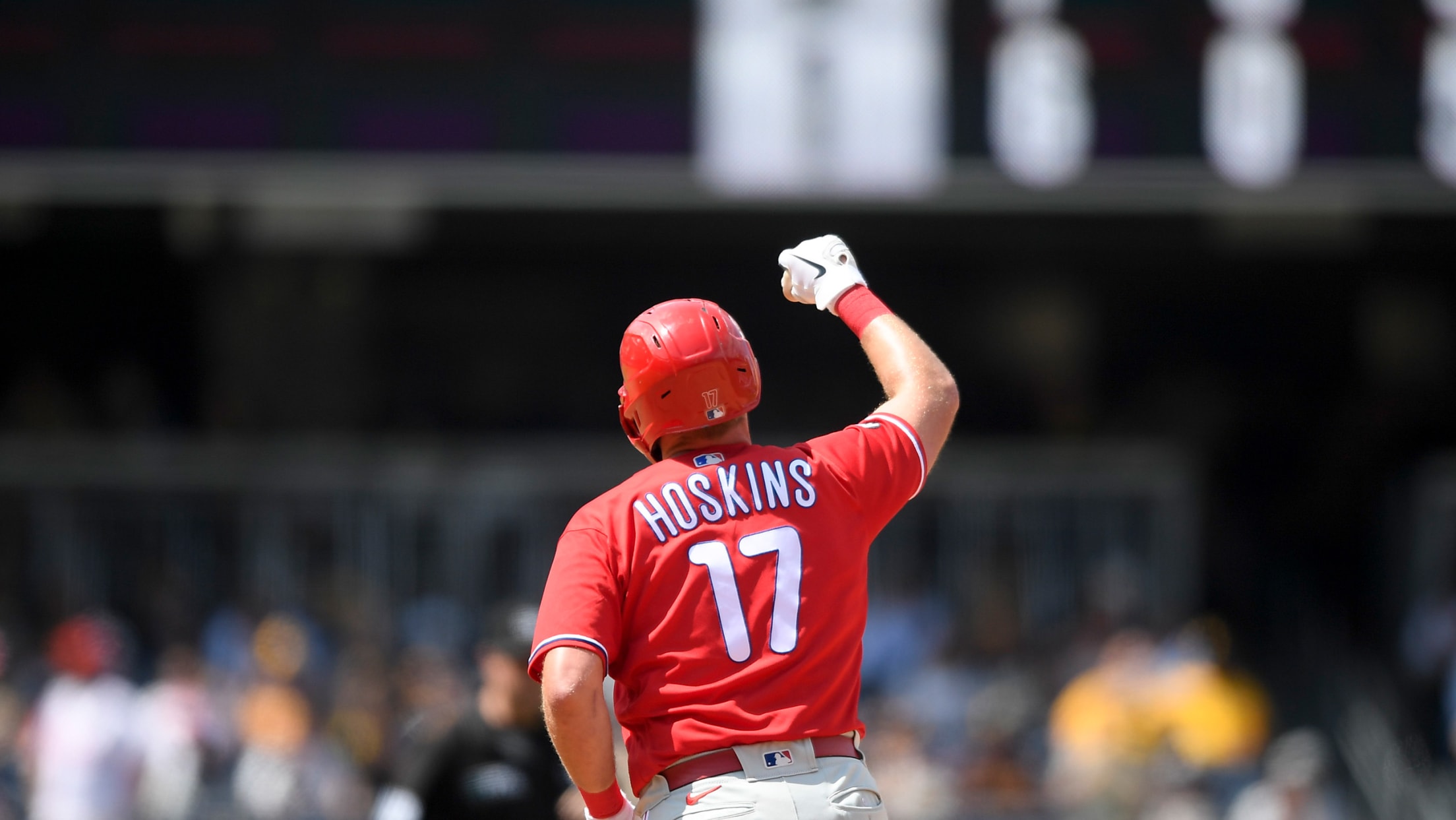 PHILADELPHIA – Rhys Hoskins' season is finished with 36 games to play. And nobody knows when Zach Eflin will pitch again. The Phillies suffered two significant blows to their postseason chances on Thursday. Hoskins said he will have season-ending surgery as early as next week to repair a tear in
Notes: Hoskins close; Kennedy steely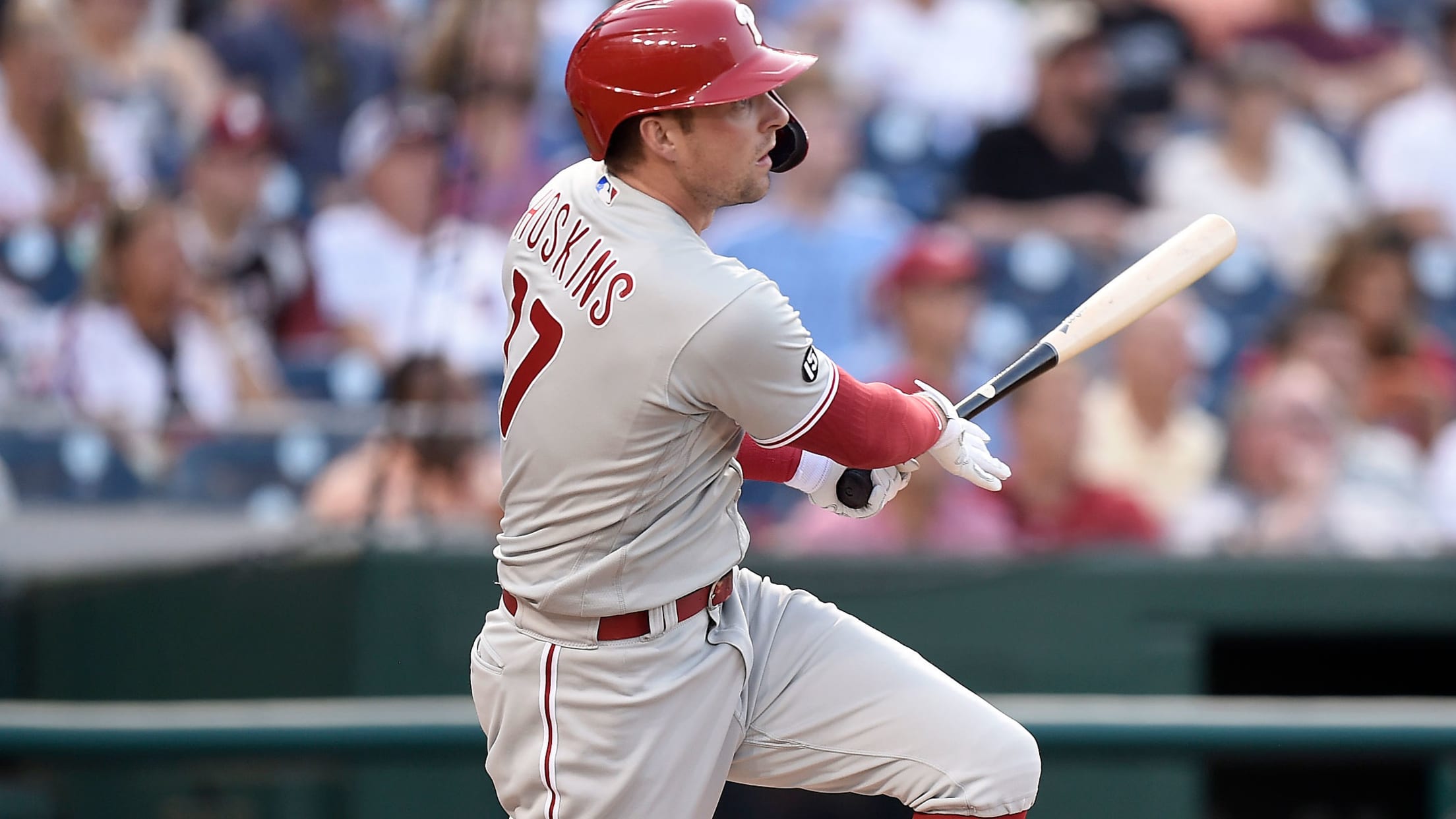 SAN DIEGO -- Phillies first baseman Rhys Hoskins has continued to make progress from a left groin strain that has sidelined him since Aug. 10. Hoskins had pregame workouts Friday and Saturday at Petco Park. Although he was not activated to face the Padres on Saturday, Hoskins said he had
Hoskins 'better every day,' eyes road return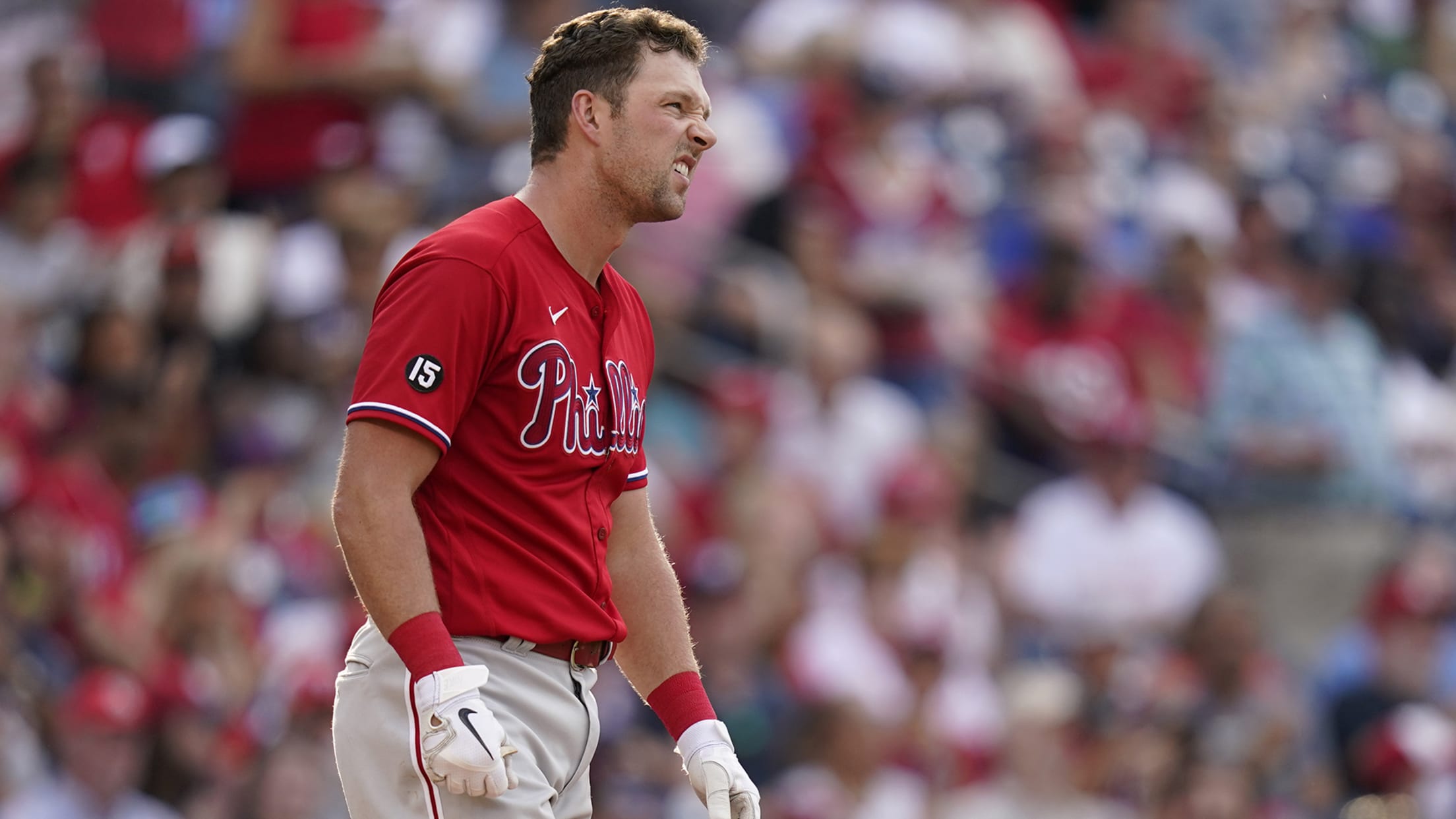 PHILADELPHIA -- Rhys Hoskins might say that hitting home runs is more fun than cheering for them, but he certainly had some fun reactions to his teammates' homers last weekend in a sweep against the Mets. "We've got such a cool view of these homers," he said Saturday at Citizens
J.T. avoids concussion after foul balls to mask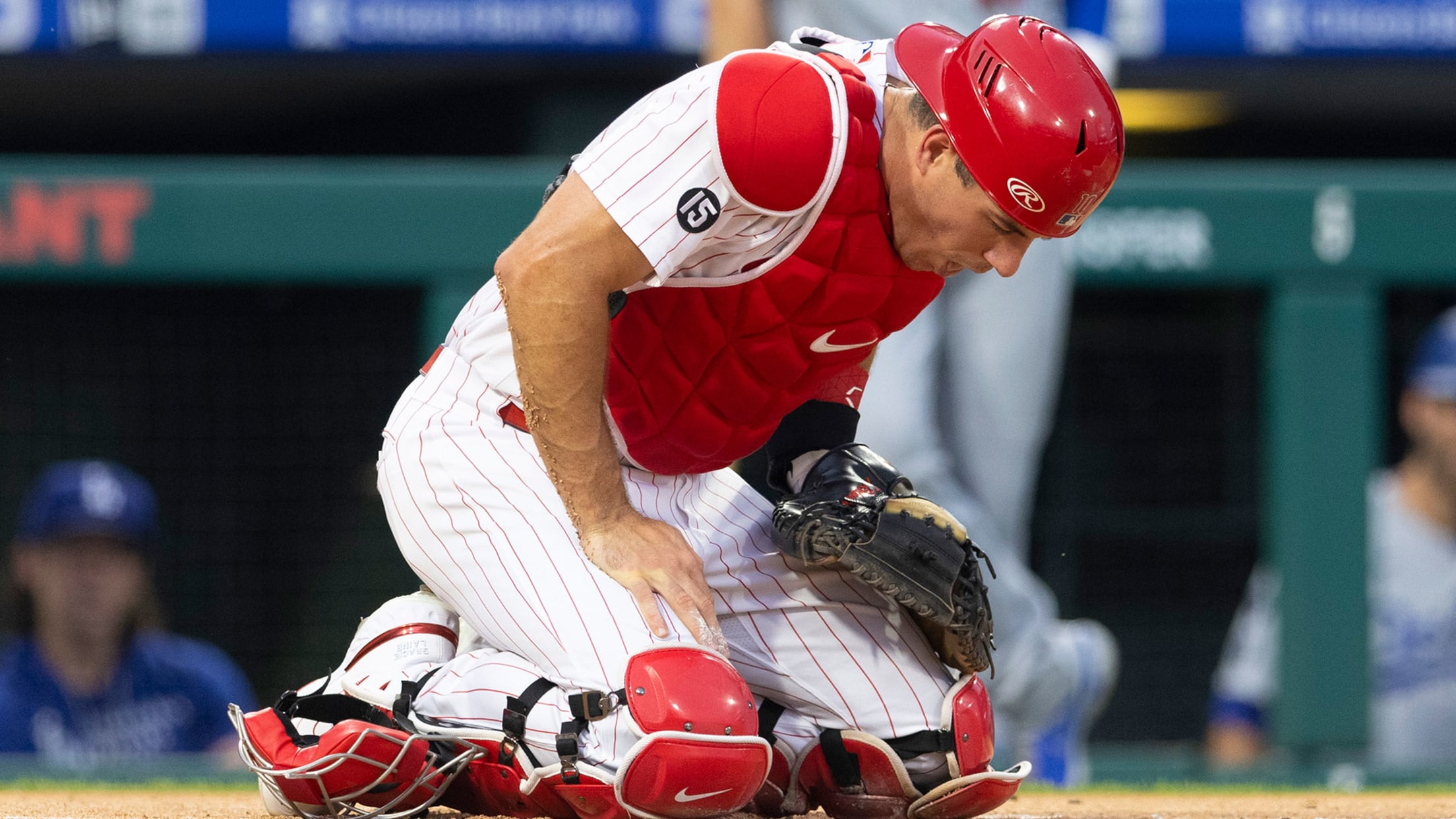 PHILADELPHIA -- J.T. Realmuto and the Phillies got fortunate news on Thursday, when tests revealed he did not suffer a concussion on Wednesday. It means Realmuto avoided the seven-day concussion injured list. He was available to play in Thursday's series finale against the Dodgers at Citizens Bank Park, although he
Alvarado (left shoulder) to 10-day IL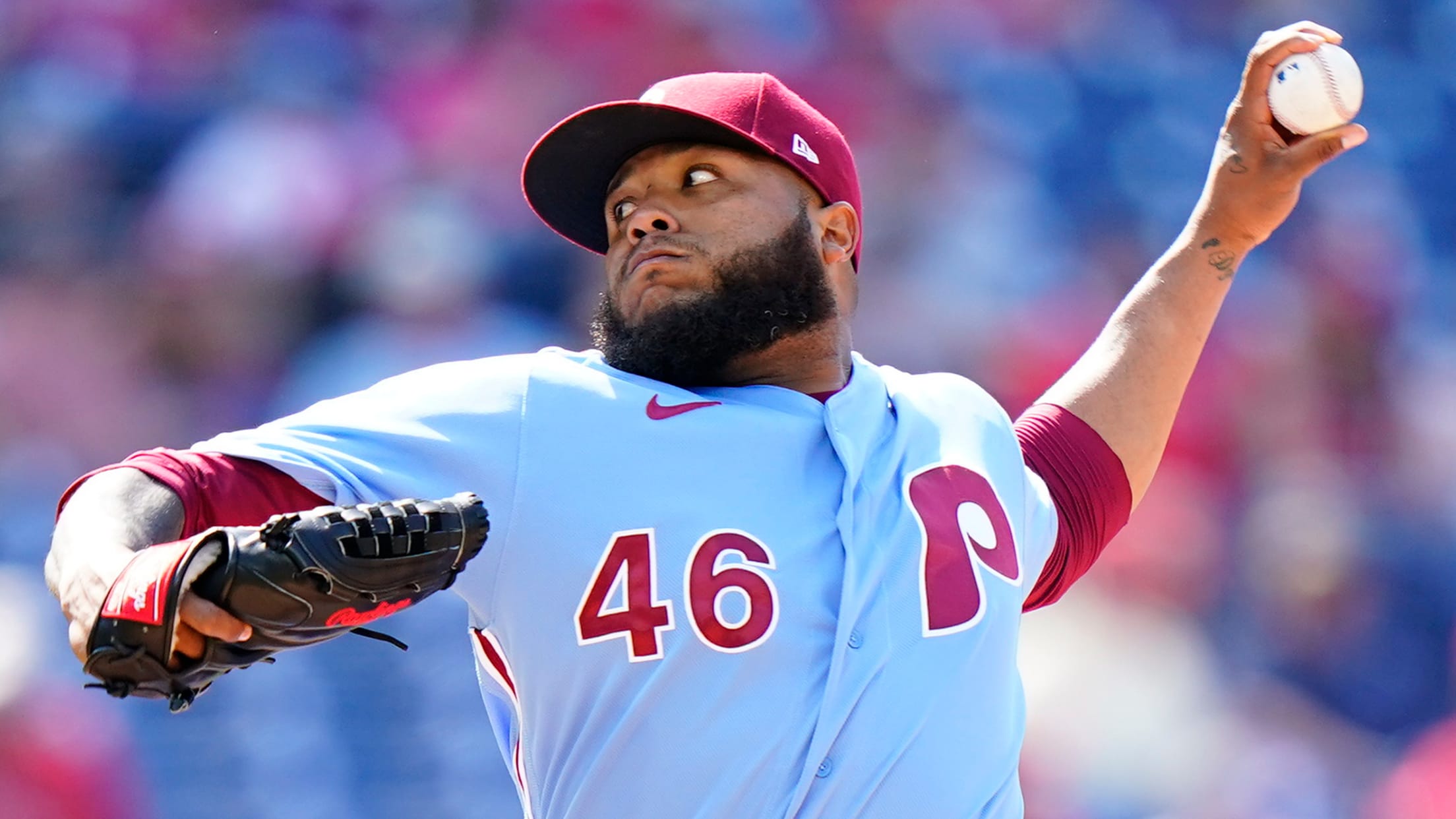 PHILADELPHIA -- The Phillies are shorthanded in the bullpen again. They placed left-hander José Alvarado on the 10-day injured list on Wednesday with an impingement in his left shoulder (retroactive to Aug. 8). Alvarado said he is hopeful he can rejoin the team when he is first eligible to be
McCutchen (knee) to IL: 'Nothing alarming'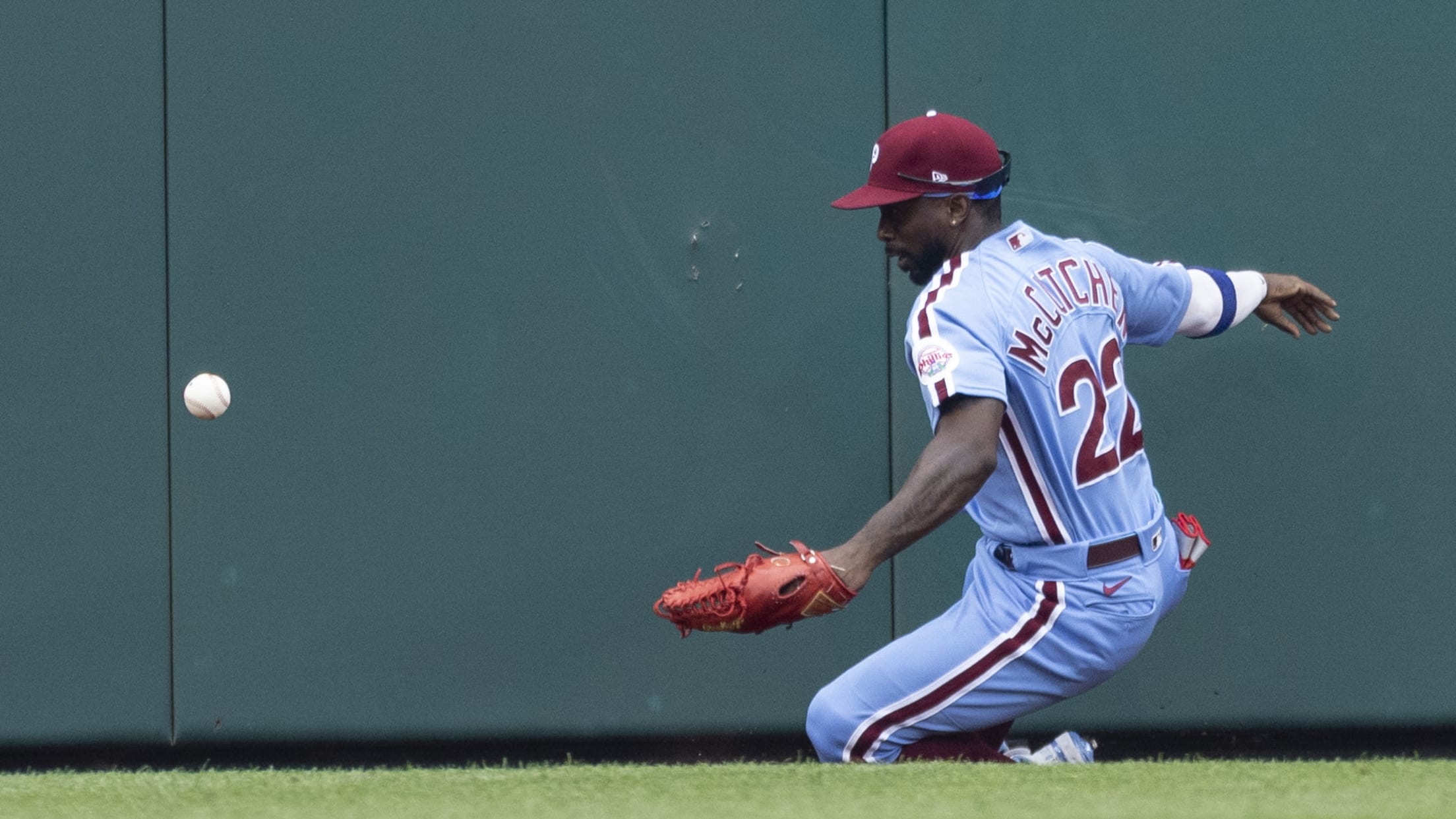 WASHINGTON -- Though the Phillies hope to get Rhys Hoskins back at some point during their four-game series at Nationals Park, they'll be without Andrew McCutchen a bit longer. While manager Joe Girardi said there was "nothing alarming" on the MRI results on McCutchen's left knee, the club placed him
With Eflin out, Phils still seek rotation help
Philadelphia looking for boost after Anderson trade falls through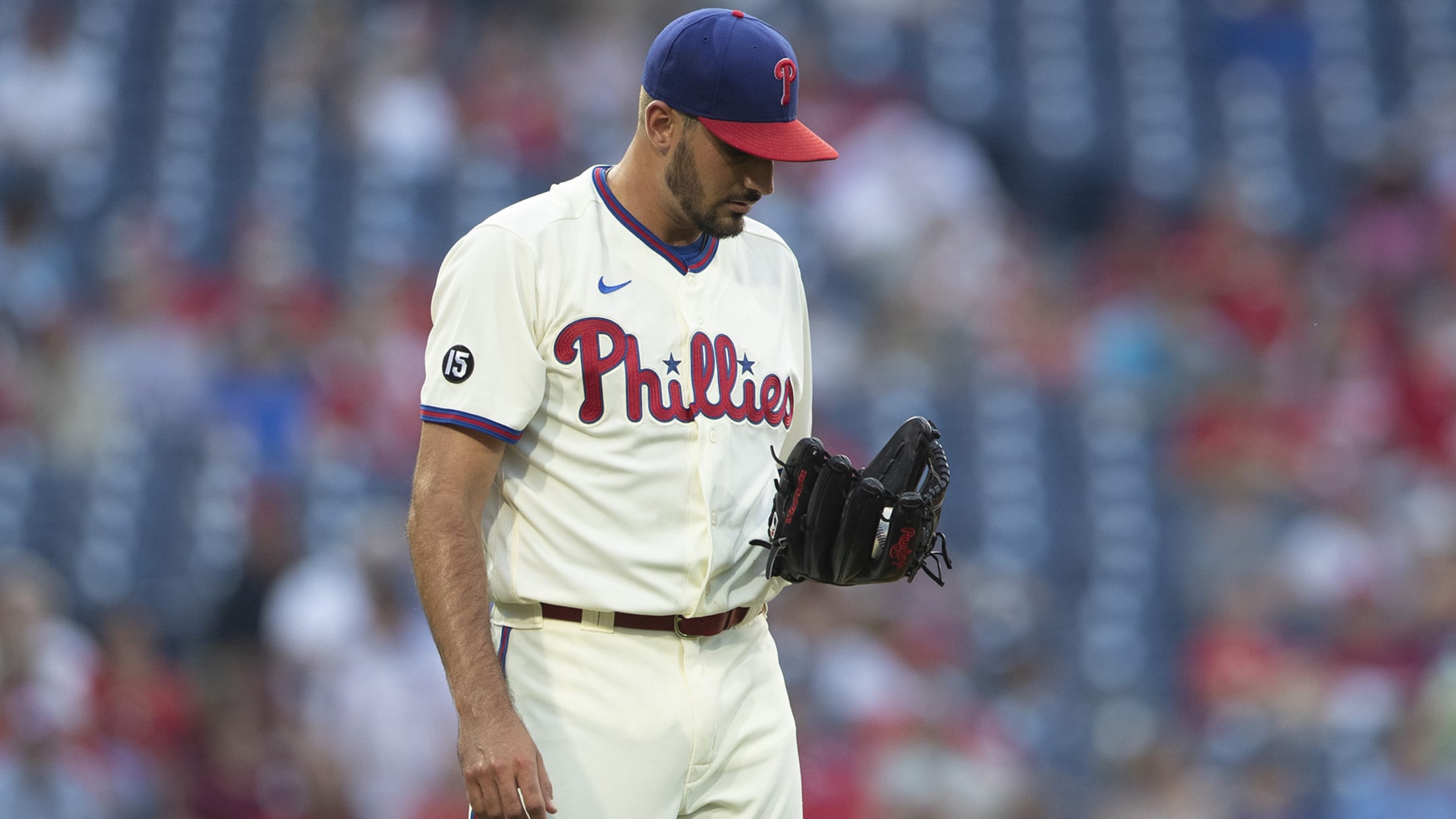 PHILADELPHIA -- The Phillies need somebody to replace Tyler Anderson in their rotation, even though they never really had him in the first place. The Phillies and Pirates agreed to an Anderson trade on Tuesday, but the Bucs pivoted and sent the left-hander to the Mariners because they had concerns
Domínguez's potential return; Eflin, Vinny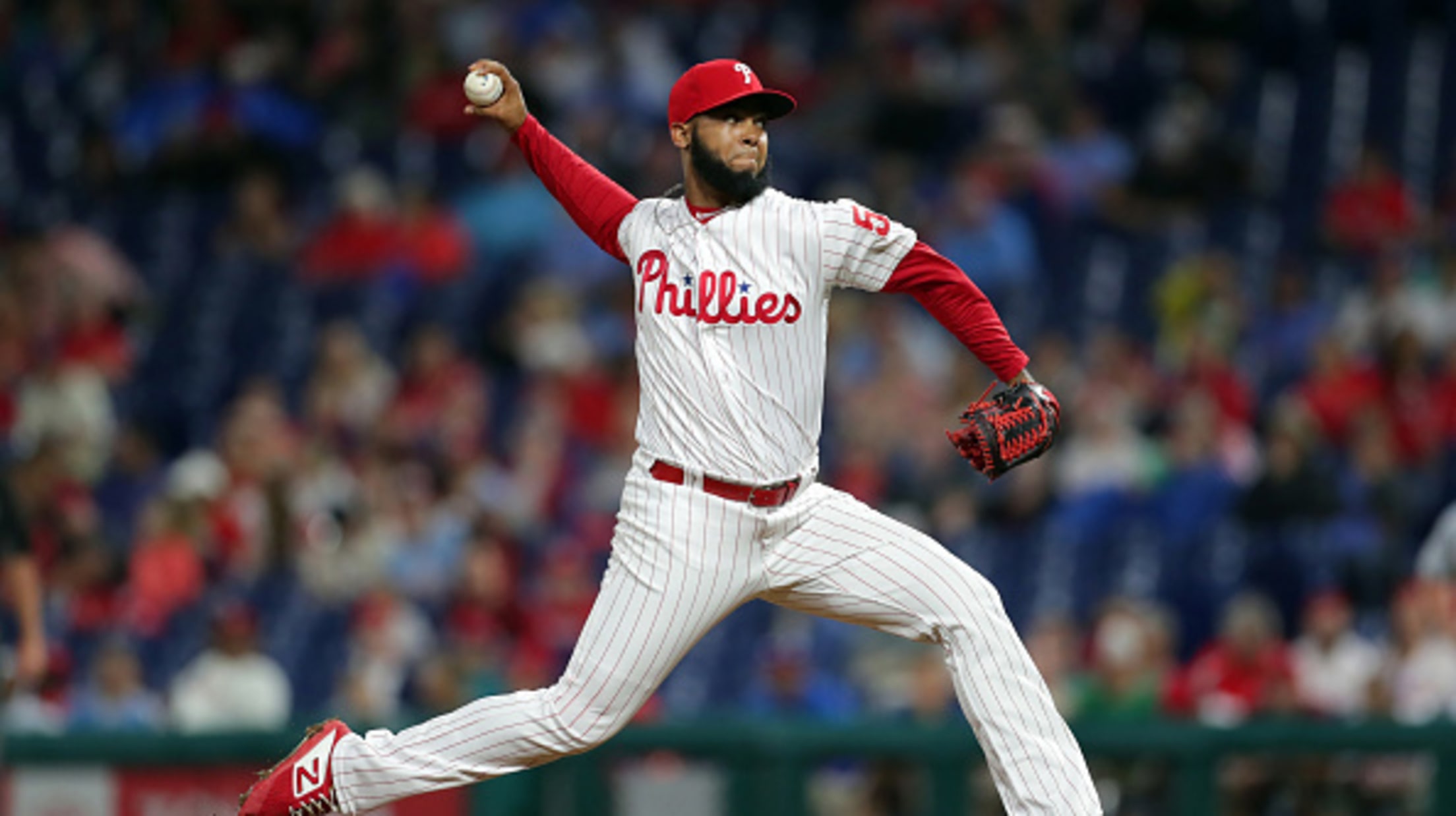 PHILADELPHIA -- Seranthony Domínguez last threw a pitch for the Phillies on June 5, 2019. He had Tommy John surgery on his right elbow on July 30, 2020. Domínguez said Monday afternoon that he might be pitching for Philadelphia by late August or early September. He threw a simulated game
Eflin (right knee) to IL; 2 on COVID-19 IL
NEW YORK -- Phillies right-hander Zach Eflin considered the options before the Phillies placed him on the 10-day injured list on Tuesday with patellar tendinitis in his right knee. "Should I kind of push through it the next 13-14 starts?" he said at Yankee Stadium. "Or try to nip it
Kingery out for season after shoulder surgery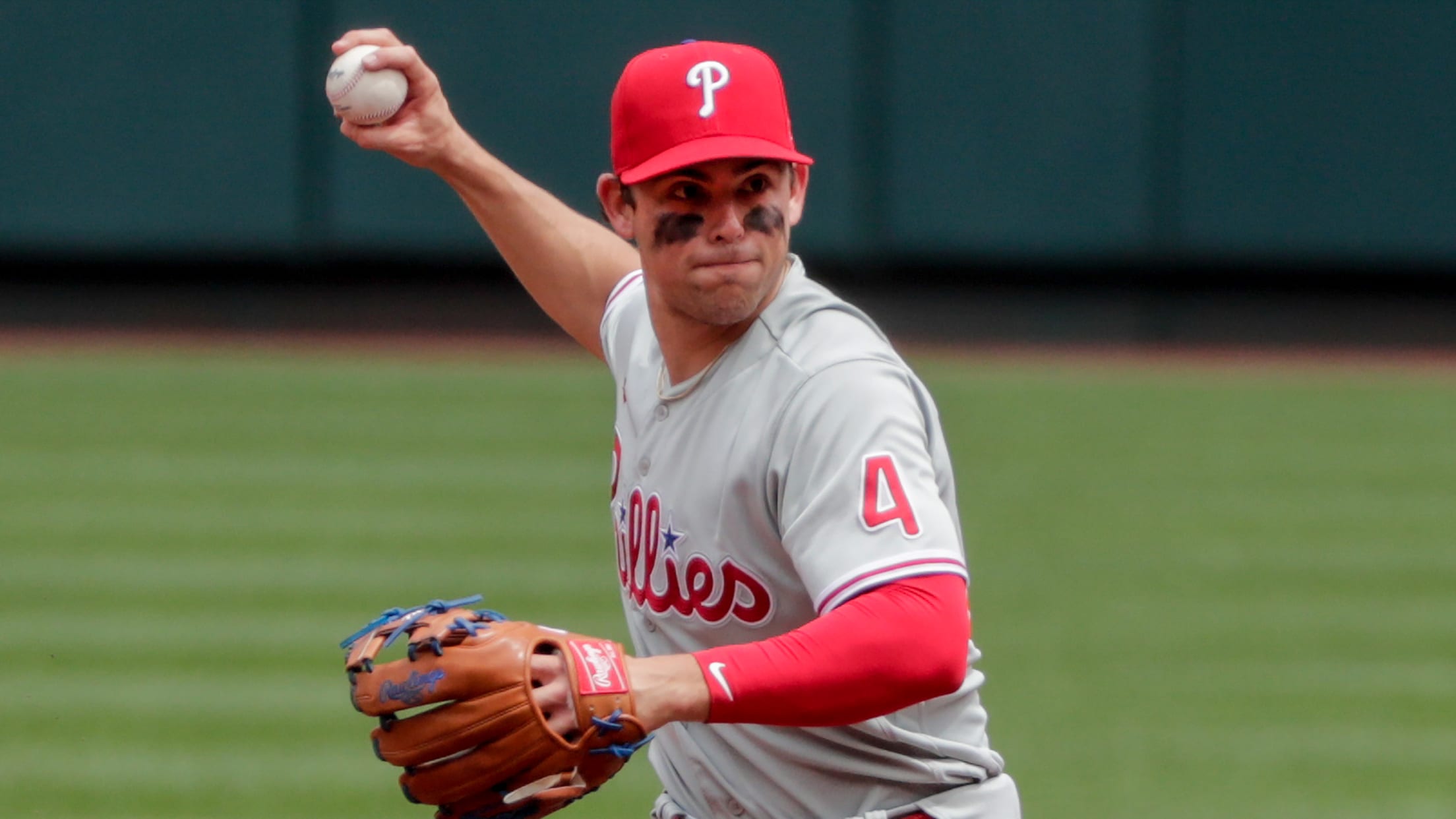 PHILADELPHIA -- Scott Kingery's 2022 can only be better than his 2021. Kingery had season-ending surgery on Tuesday to repair a torn labrum in his right shoulder. The Phillies hope that he will be ready to play by Spring Training in February or March, but it is too early to
Nola joins Bohm, 2 others on COVID IL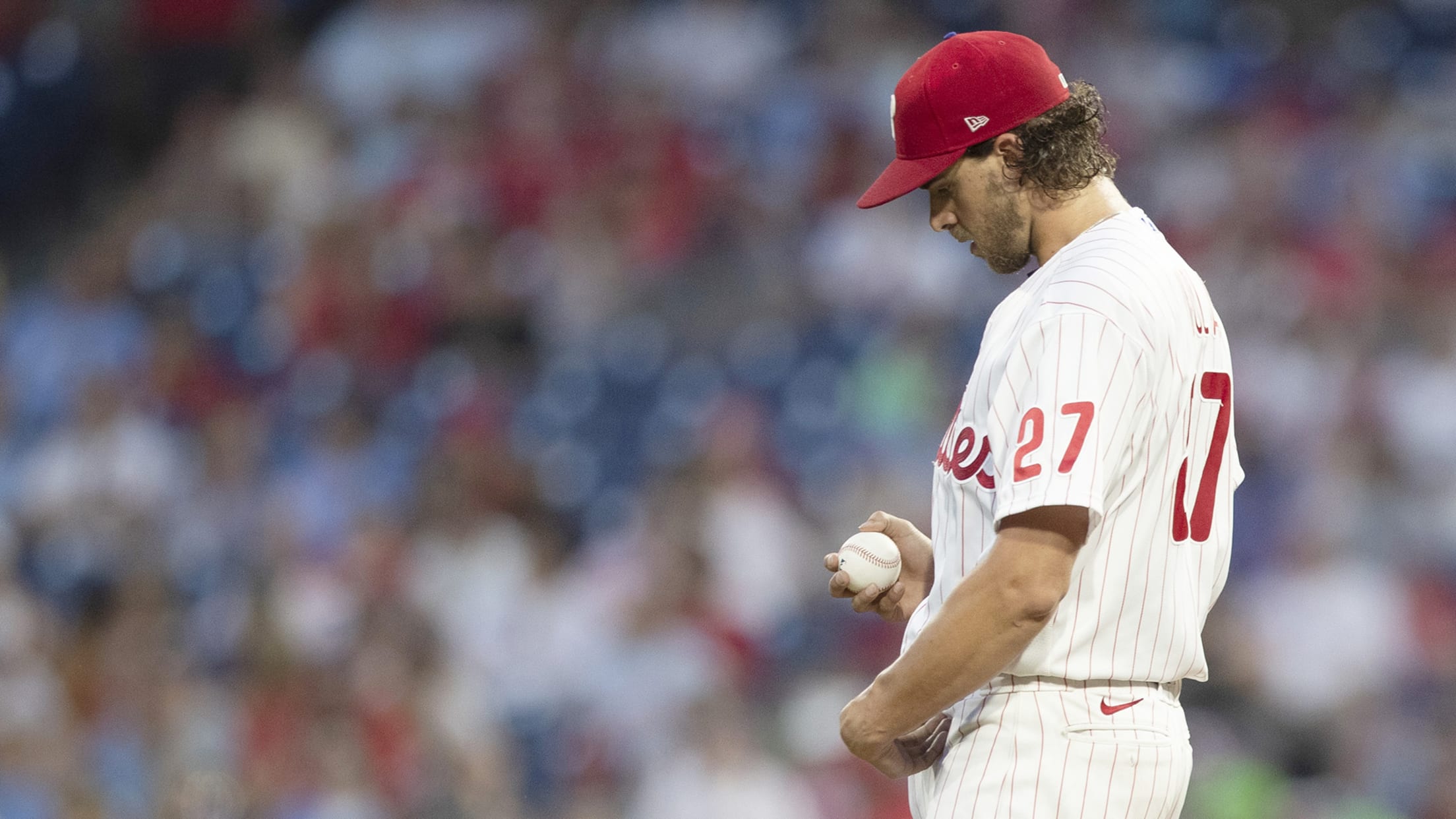 The Phillies are trying to get to .500 and make a run at the Mets in the National League East, but on Sunday they placed four players on the COVID-19 injured list, including the scheduled starter for the series finale against the Red Sox, Aaron Nola. Third baseman Alec Bohm
Segura to injured list; Harper day to day
LOS ANGELES -- Bryce Harper should be back in the Phillies' lineup on Friday. Jean Segura might not be back until July. The Phillies cannot afford to lose either player for even a day, but neither of them were in Wednesday night's lineup against the Dodgers at Dodger Stadium. Both
Bryce, Segura injuries overshadow loss in LA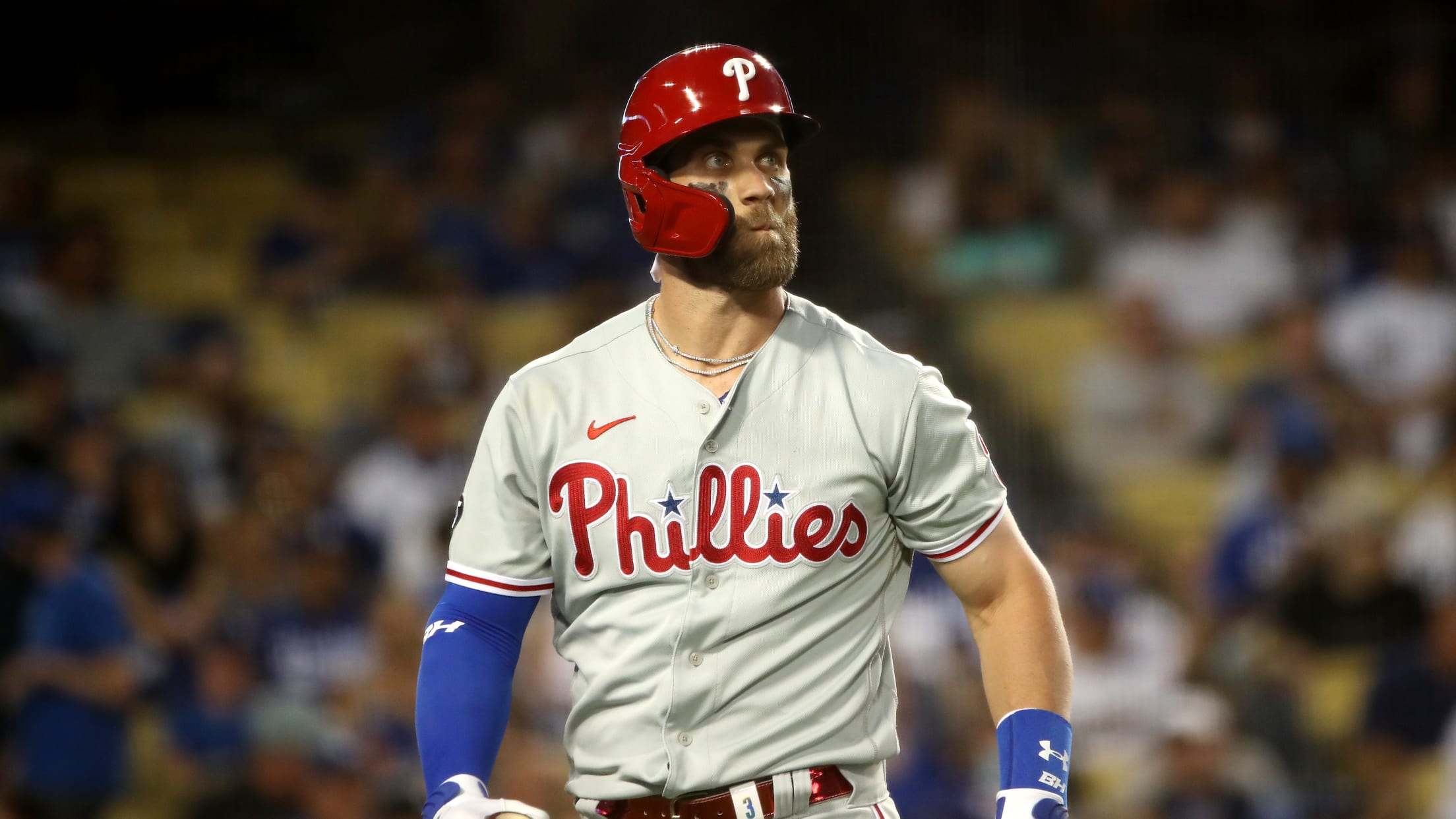 LOS ANGELES -- The Phillies are shorthanded again, and at the worst possible time. They not only watched Mookie Betts hit a go-ahead home run in the seventh inning and a two-out single to score an insurance run in the eighth in Tuesday night's 5-3 loss to the Dodgers at
Roman Quinn (left Achilles) out for season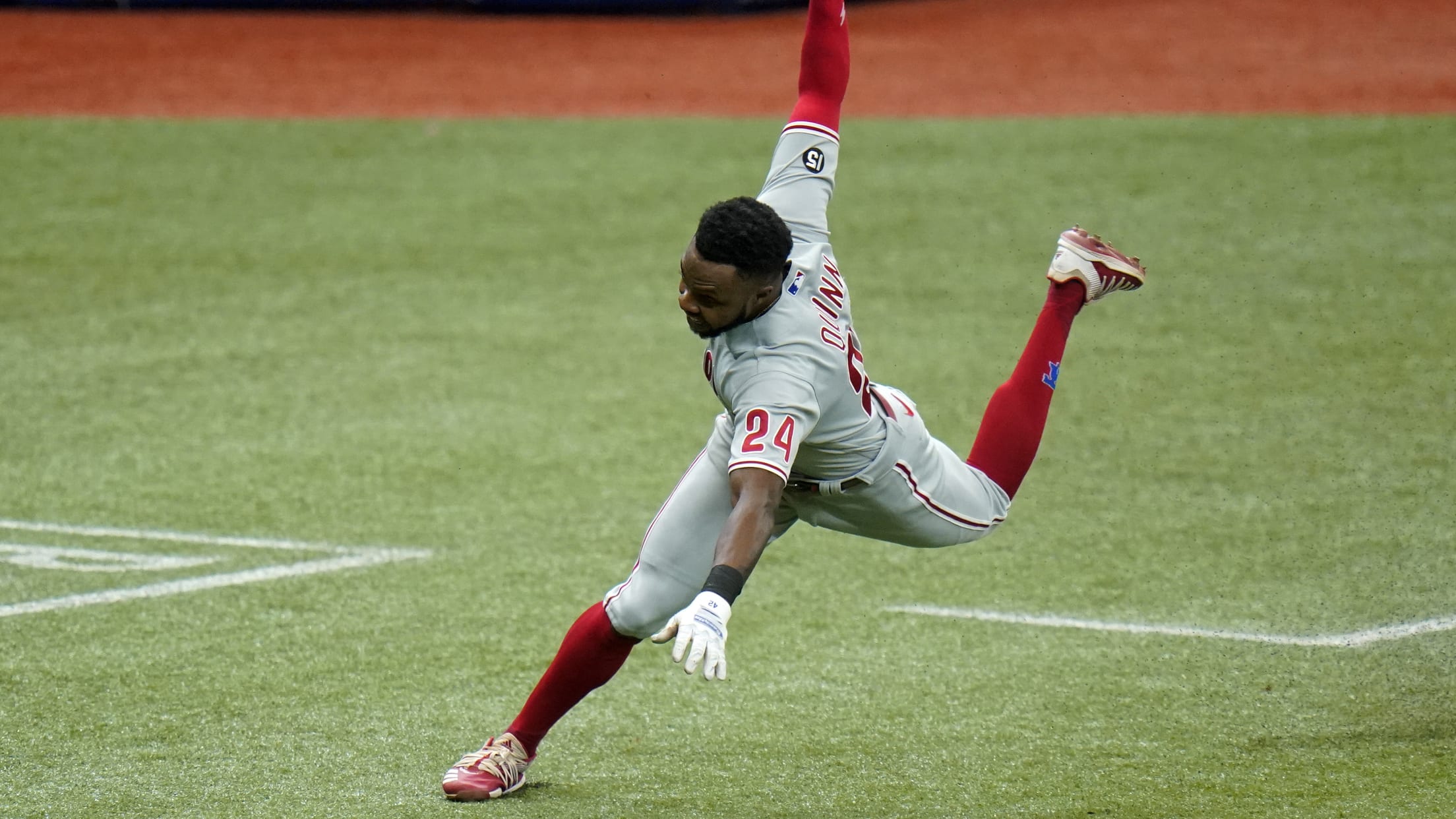 Somehow, some way, Roman Quinn still scored. Quinn suffered a season-ending left Achilles injury trying to score in the fifth inning of Saturday's 5-3 loss to the Rays at Tropicana Field. He collapsed to the turf after he rounded third, but he got up and hopped the final few feet
Harper to injured list with bruised wrist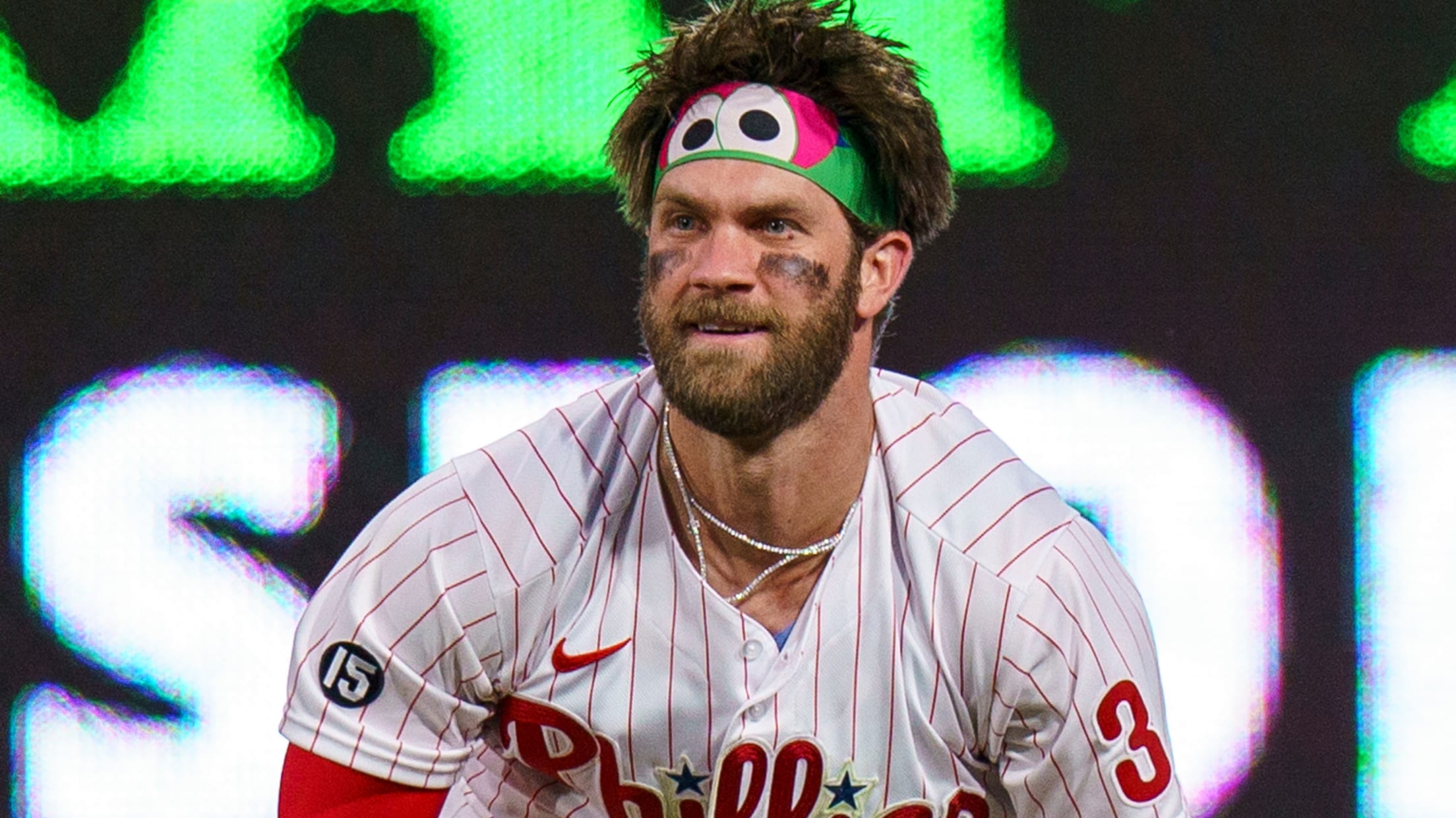 The Phillies insisted this week that Bryce Harper did not play Sunday and Monday simply because they wanted to give him a couple days off. It had nothing to do with injury concerns, manager Joe Girardi said. But the Phillies on Tuesday placed Harper on the 10-day injured list with
Realmuto (hand bruise) to IL; Pivetta returns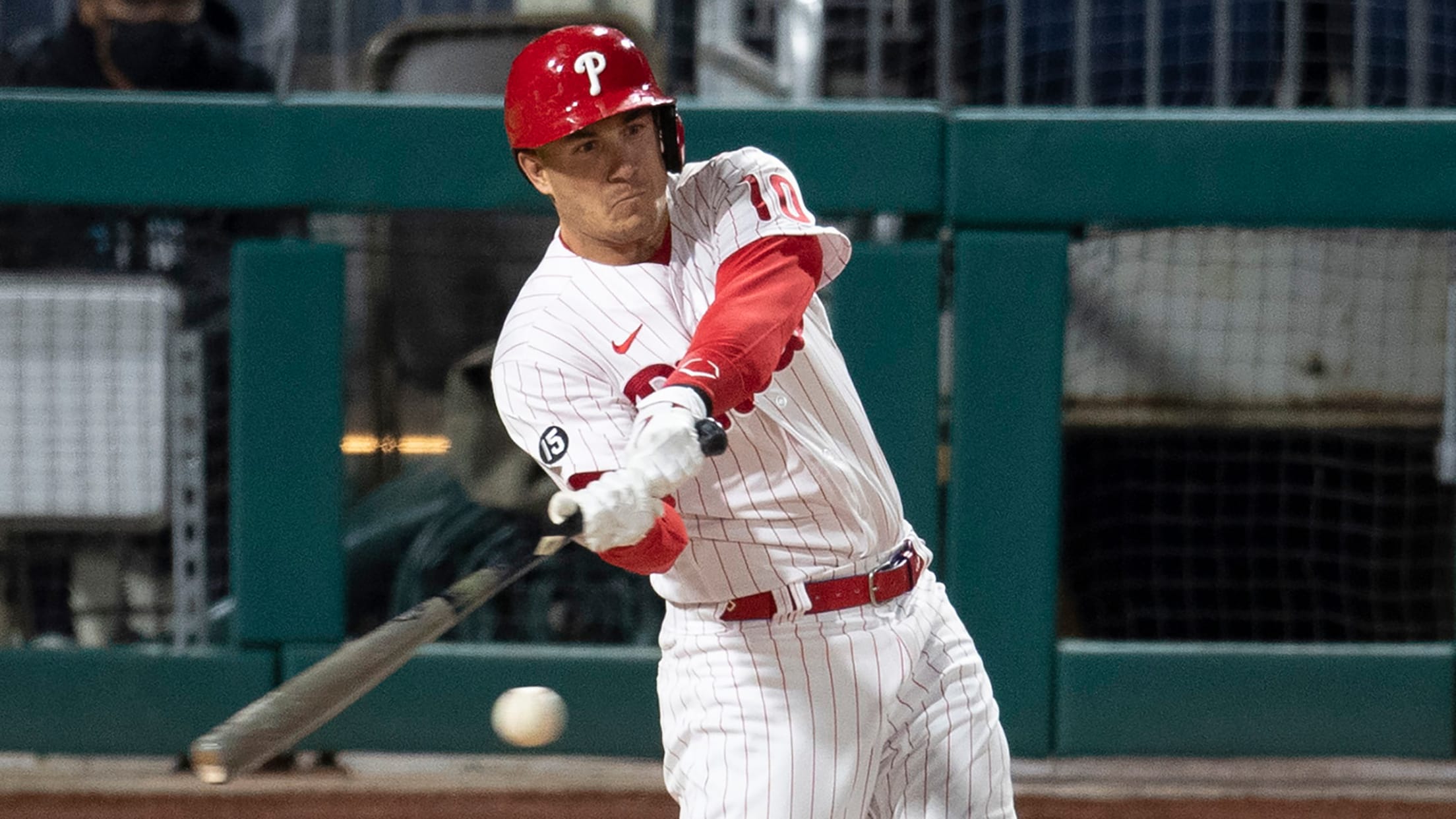 PHILADELPHIA -- The Phillies kept waiting for J.T. Realmuto's bruised left hand to heal enough to avoid a trip to the injured list. It never happened. They finally placed him on the 10-day IL on Friday. It is retroactive to Tuesday, meaning Realmuto cannot return to action until the May