Avila: Tigers are prepared for MLB Draft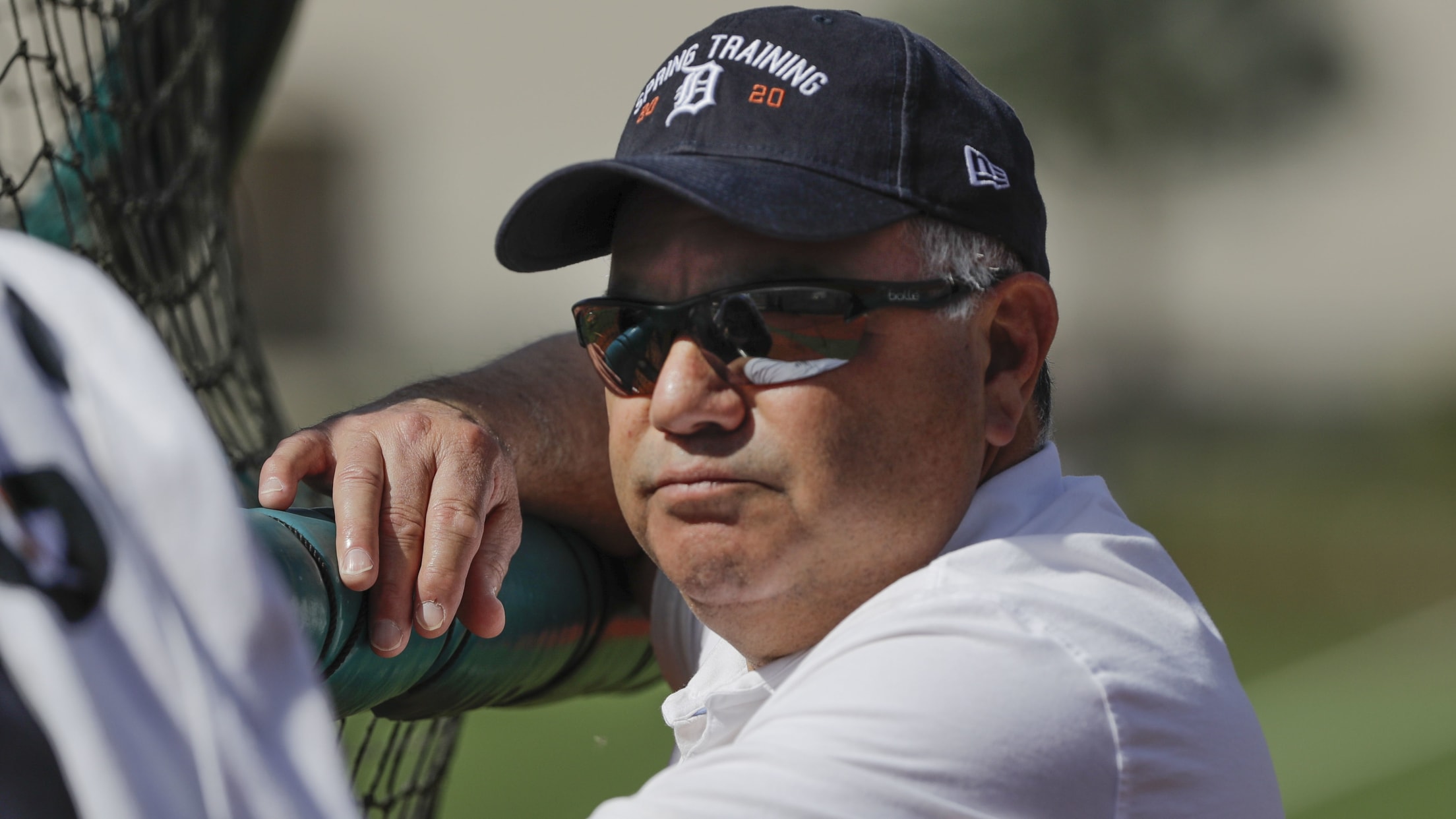 DETROIT -- Whatever form the MLB Draft takes, whenever it takes place, the Tigers say they're ready. With Detroit set to select first overall, the question has come up multiple times since Major League Baseball suspended Spring Training and delayed the start of the regular season in response to the
4 things we learned from Tigers' Spring Training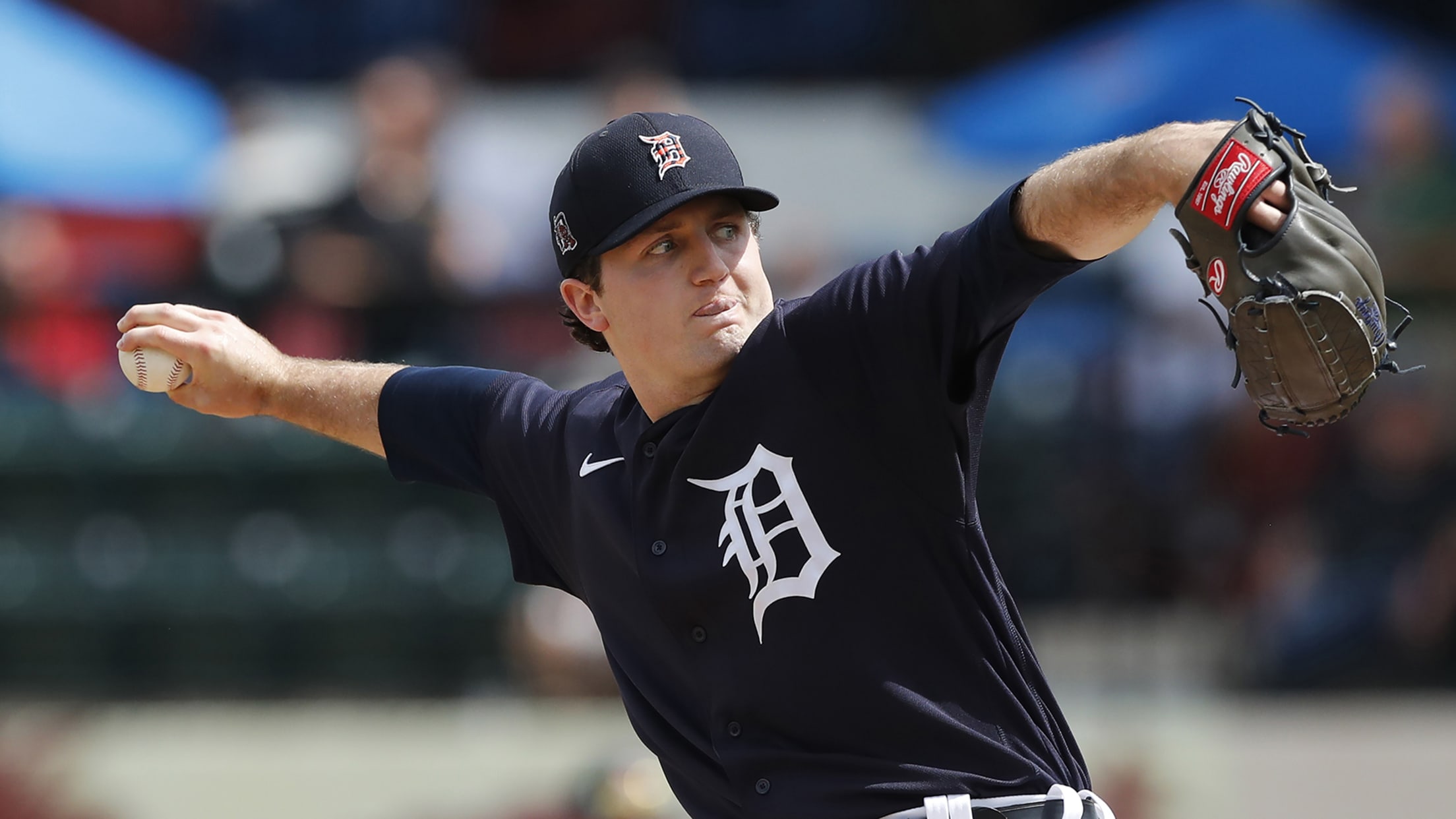 LAKELAND, Fla. -- Spring Training ended a couple weeks early for the Tigers, and Opening Day remains up in the air as baseball and the world address the coronavirus pandemic. But with about a month together in Tigertown, manager Ron Gardenhire and general manager Al Avila were able to learn
Q&A with Tigers prospect Riley Greene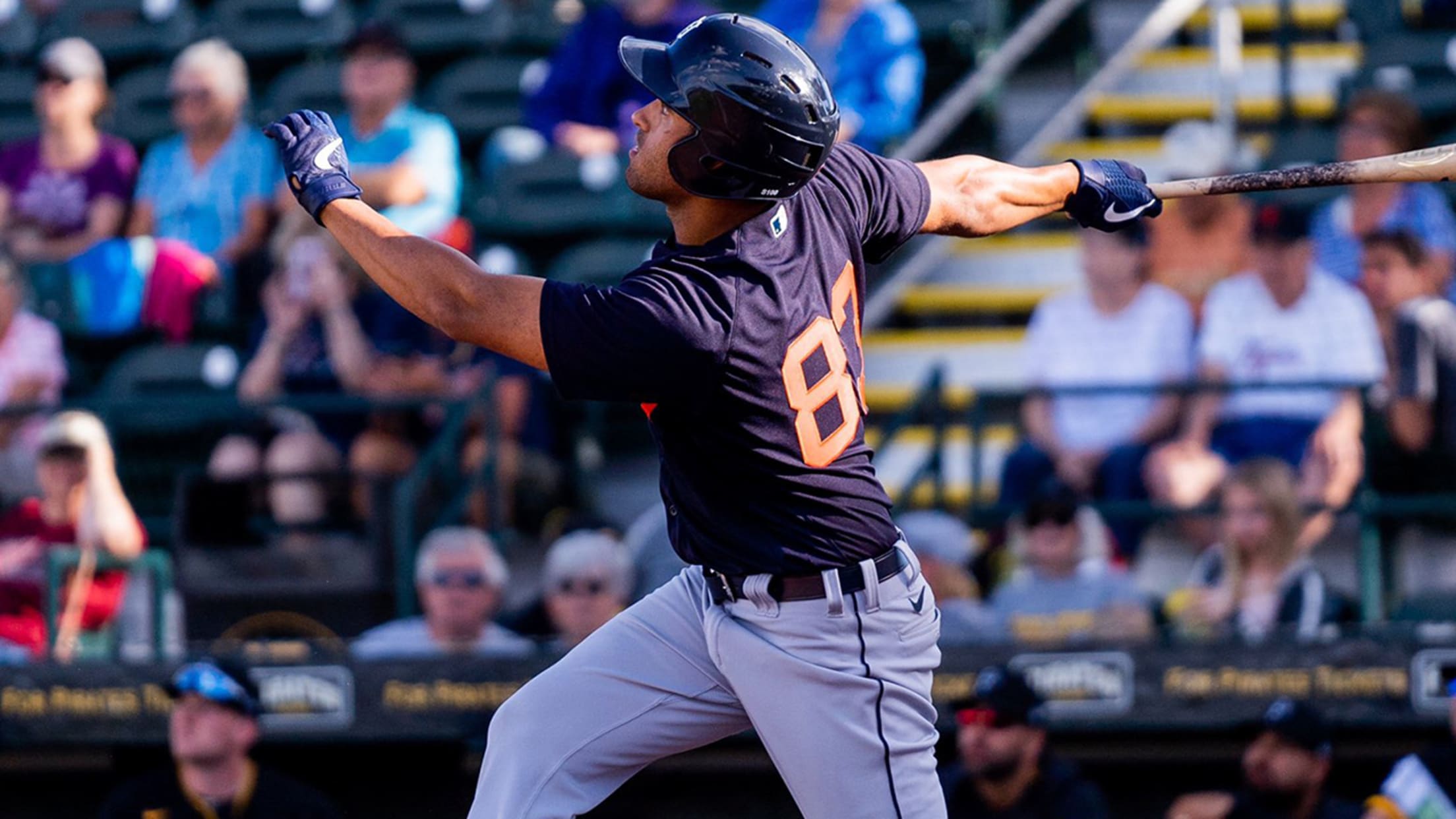 LAKELAND, Fla. -- The consensus best high school hitter in the 2019 Draft, Riley Greene went fifth overall to the Tigers and signed for $6,180,700, a franchise record for a position player. He homered twice in his first pro game and finished his summer as an 18-year-old in low Class
Tigers prospect report from Spring Training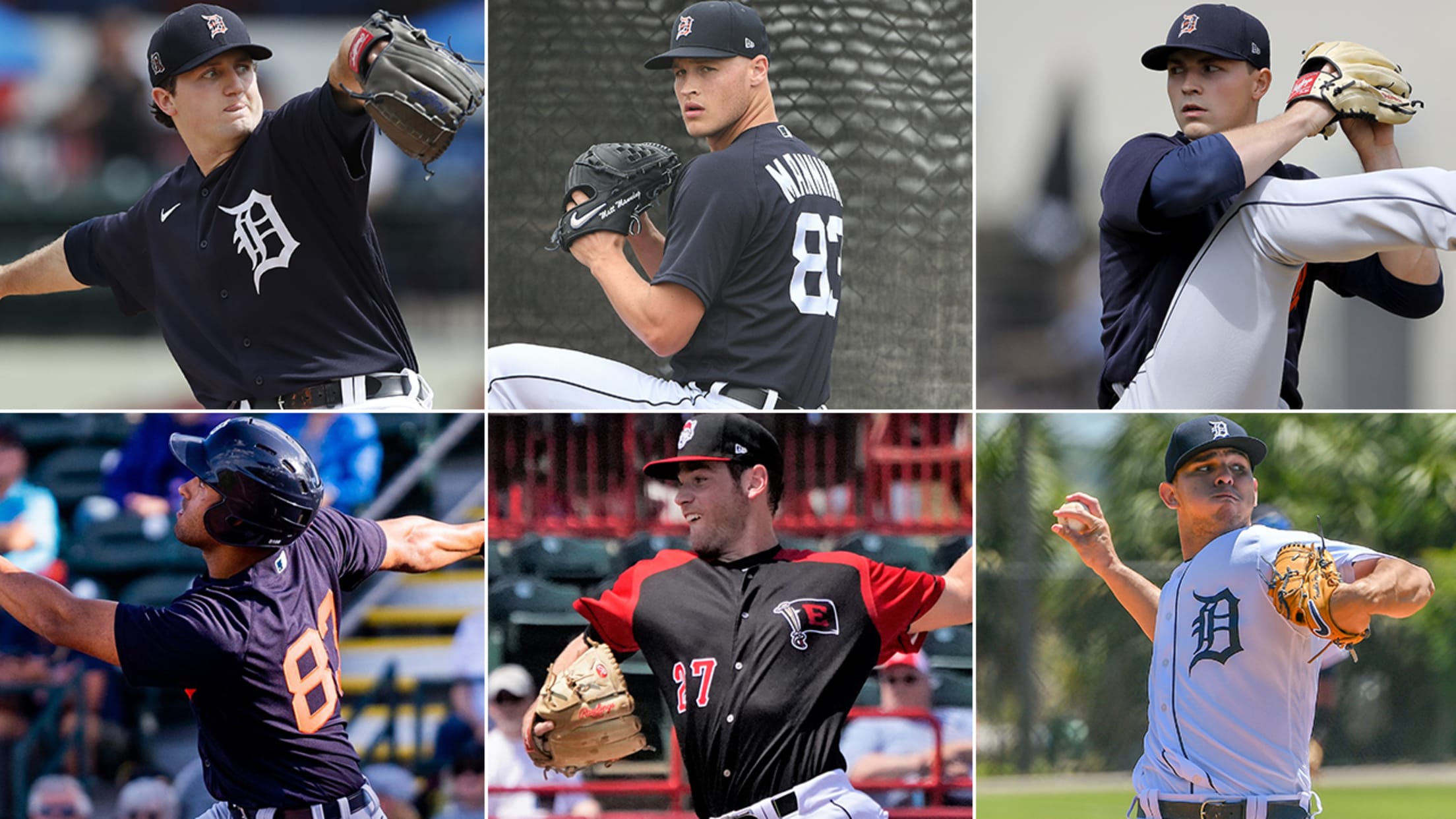 LAKELAND, Fla. -- The last three seasons have not been kind to the Tigers, who have lost 310 games and finished a cumulative 118 1/2 games out of first place in the American League Central. They have MLB's worst winning percentage (.361) during that time, the product of the third-worst
Despite cuts, Tigers prospects closing in on bigs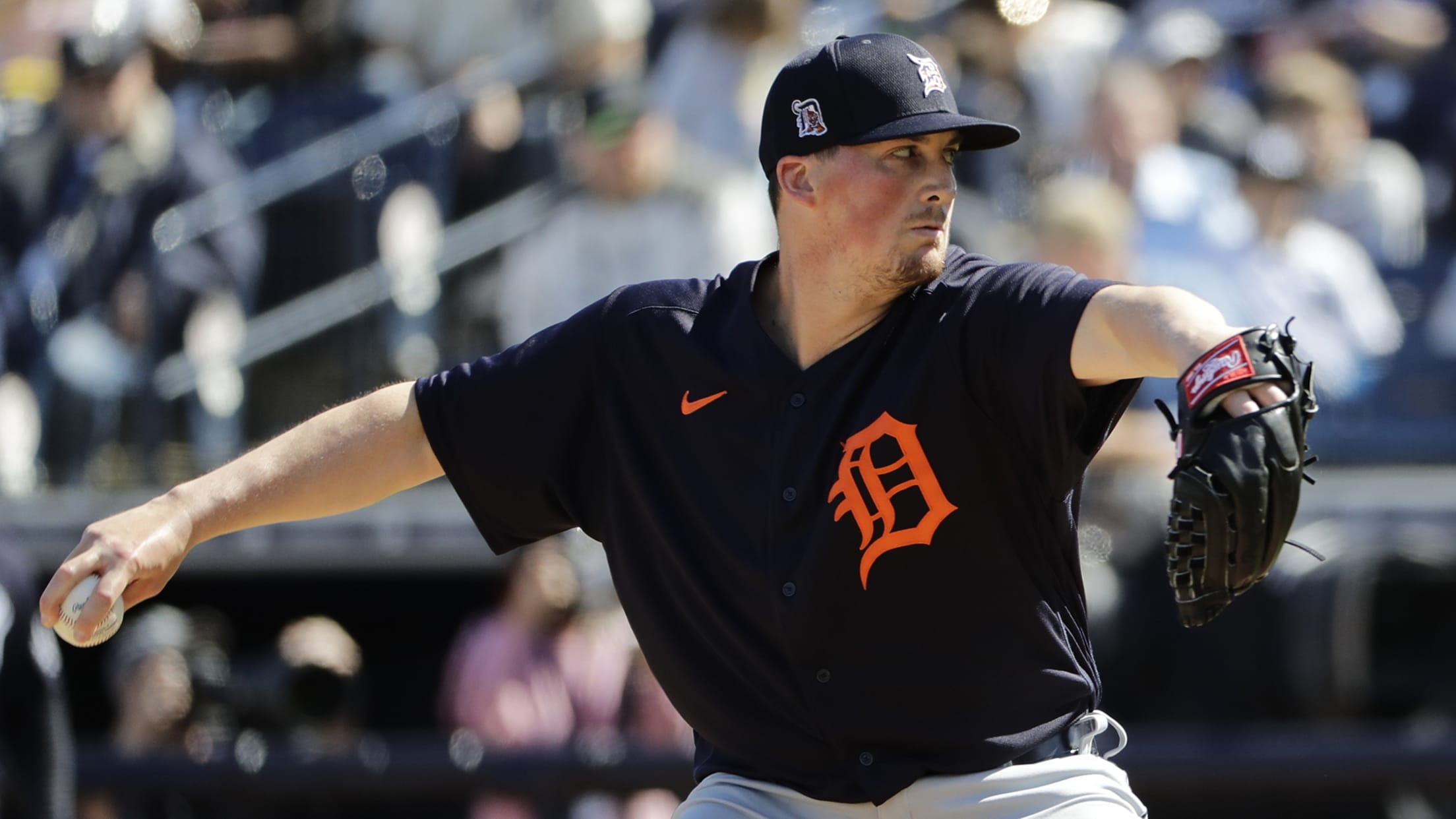 LAKELAND, Fla. -- For several Tigers prospects, their time in Major League camp ended on Tuesday with the first significant batch of roster cuts. But the baker's dozen roster cuts gave some hint on who could be an option to get to Detroit soon and how far others have to
Notes: Mize delivers; Faedo, Manning struggle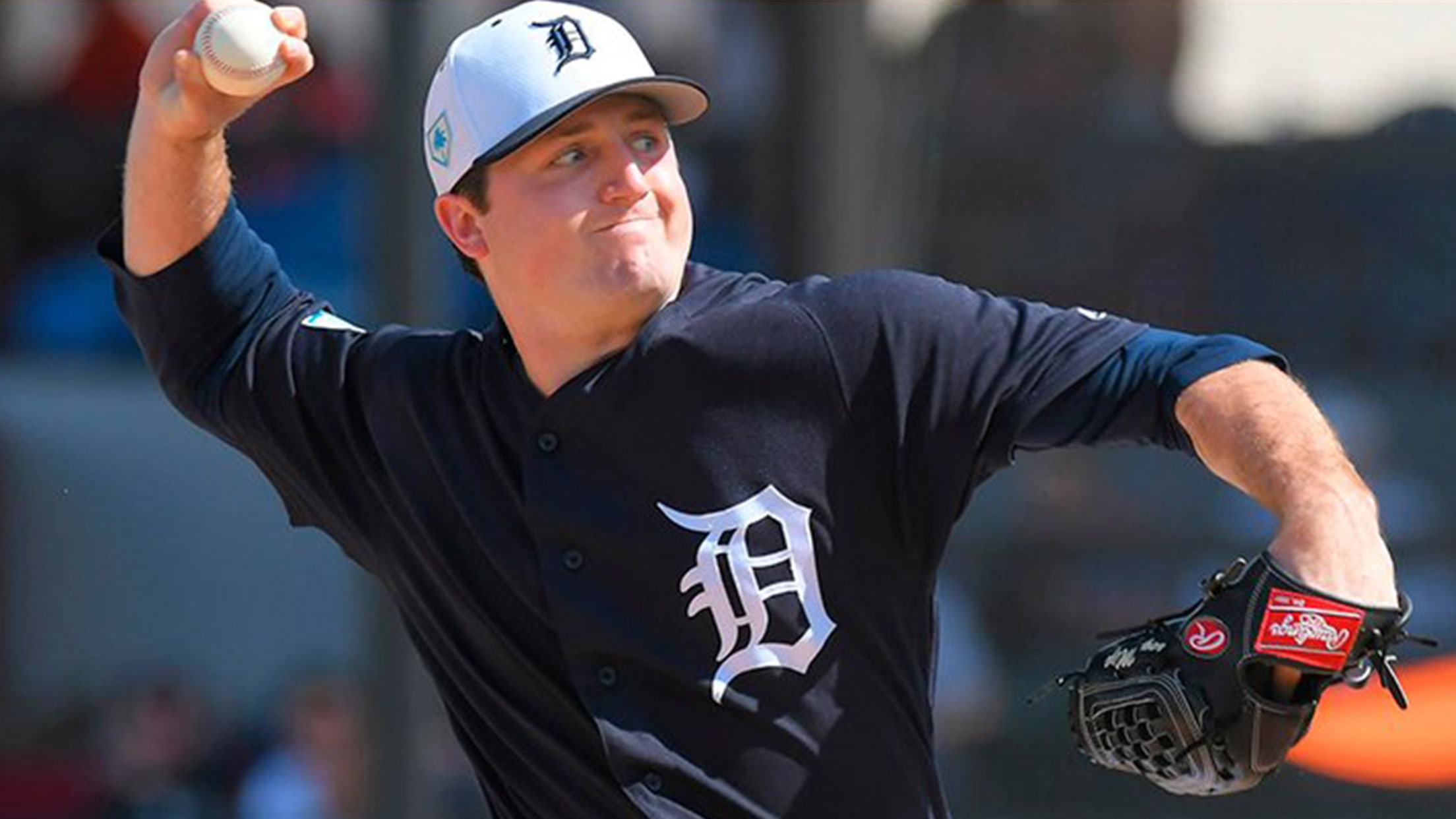 LAKELAND, Fla. -- Casey Mize grew up as a Yankees fan in Alabama, with Derek Jeter being his favorite player. So simply having a chance to pitch against the Bronx Bombers on Thursday was a big deal. Then he got the starting assignment, pitching opposite another former top overall MLB
Skubal not phoning it in: 'Every throw is valuable'
No. 4 prospect making big impression on Gardenhire, teammates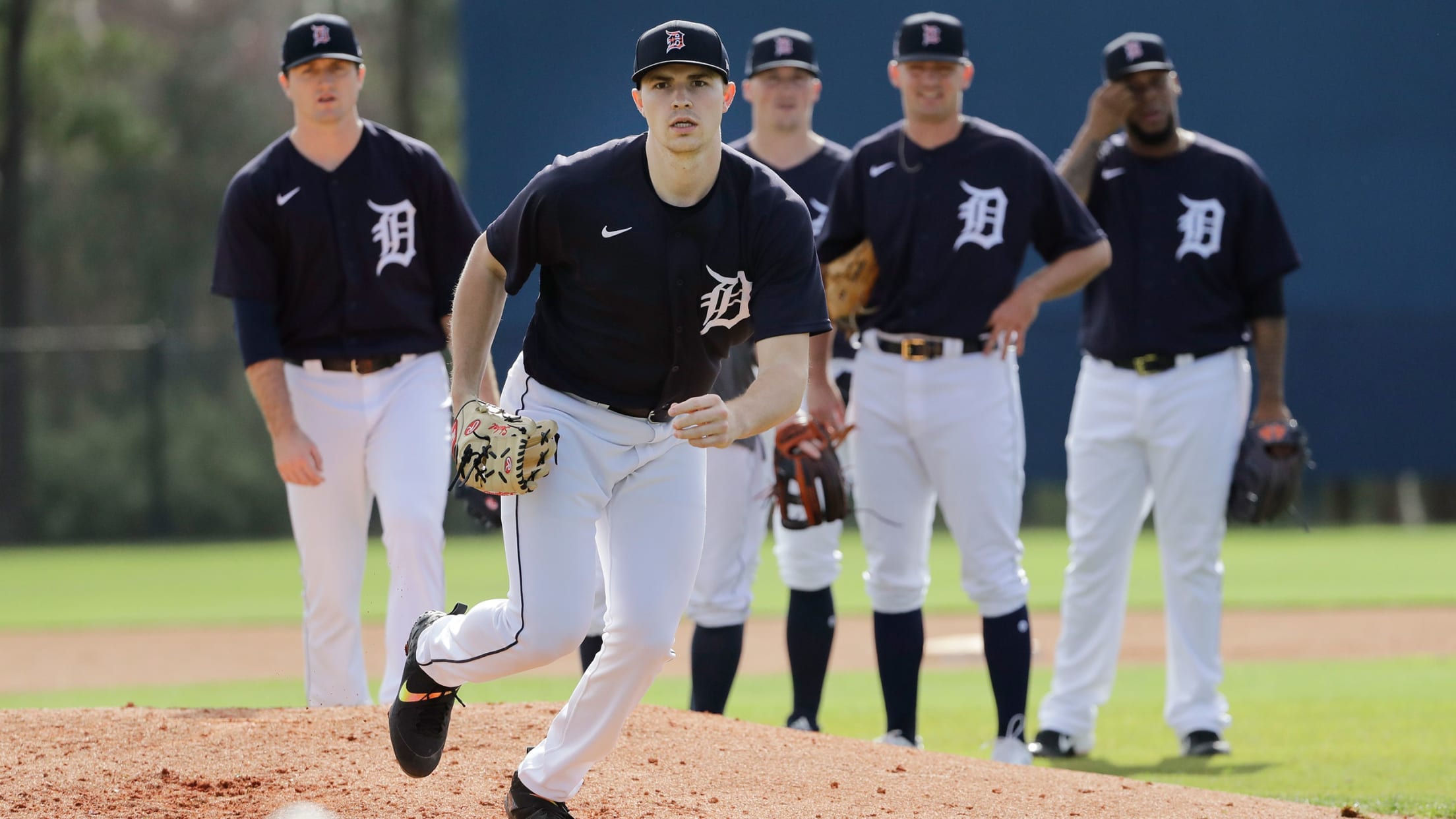 LAKELAND, Fla. -- Every time Tarik Skubal pitches in a game, he goes to his phone later. It's not for text messages or games. It's to take notes. It's the Tigers prospect's equivalent of the J.D. Martinez notebook.
Notes: Mize, Faedo K's vs. Blue Jays; Jones out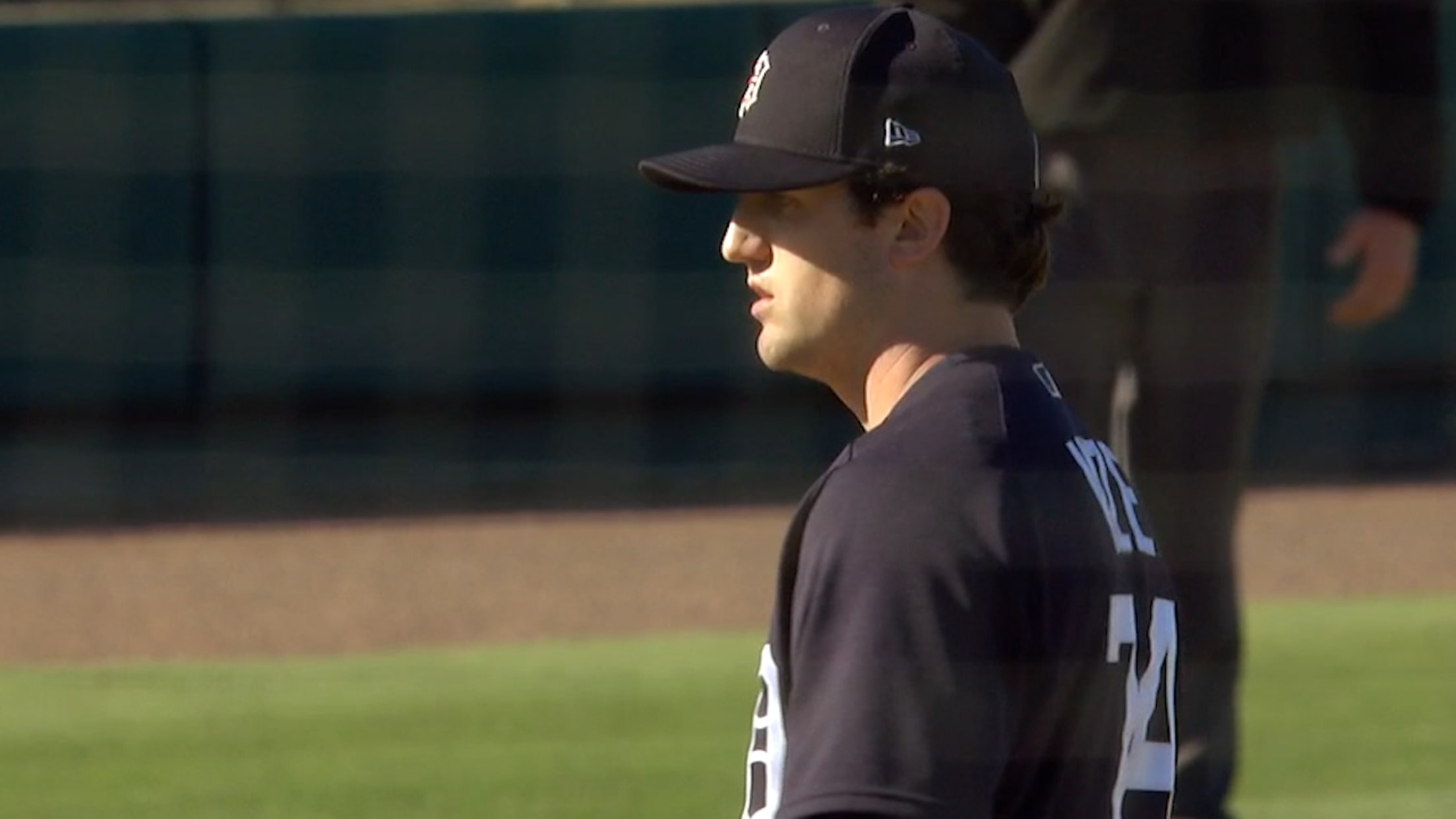 LAKELAND, Fla. -- The Tigers' No. 1 prospect Casey Mize shook hands with Christopher Ilitch as the team's chairman/CEO made his way through Detroit's clubhouse on Friday morning -- and then Mize made an even bigger impression on the mound at Publix Field at Joker Marchant Stadium on Friday afternoon.
Filthiest secondary pitches among top prospects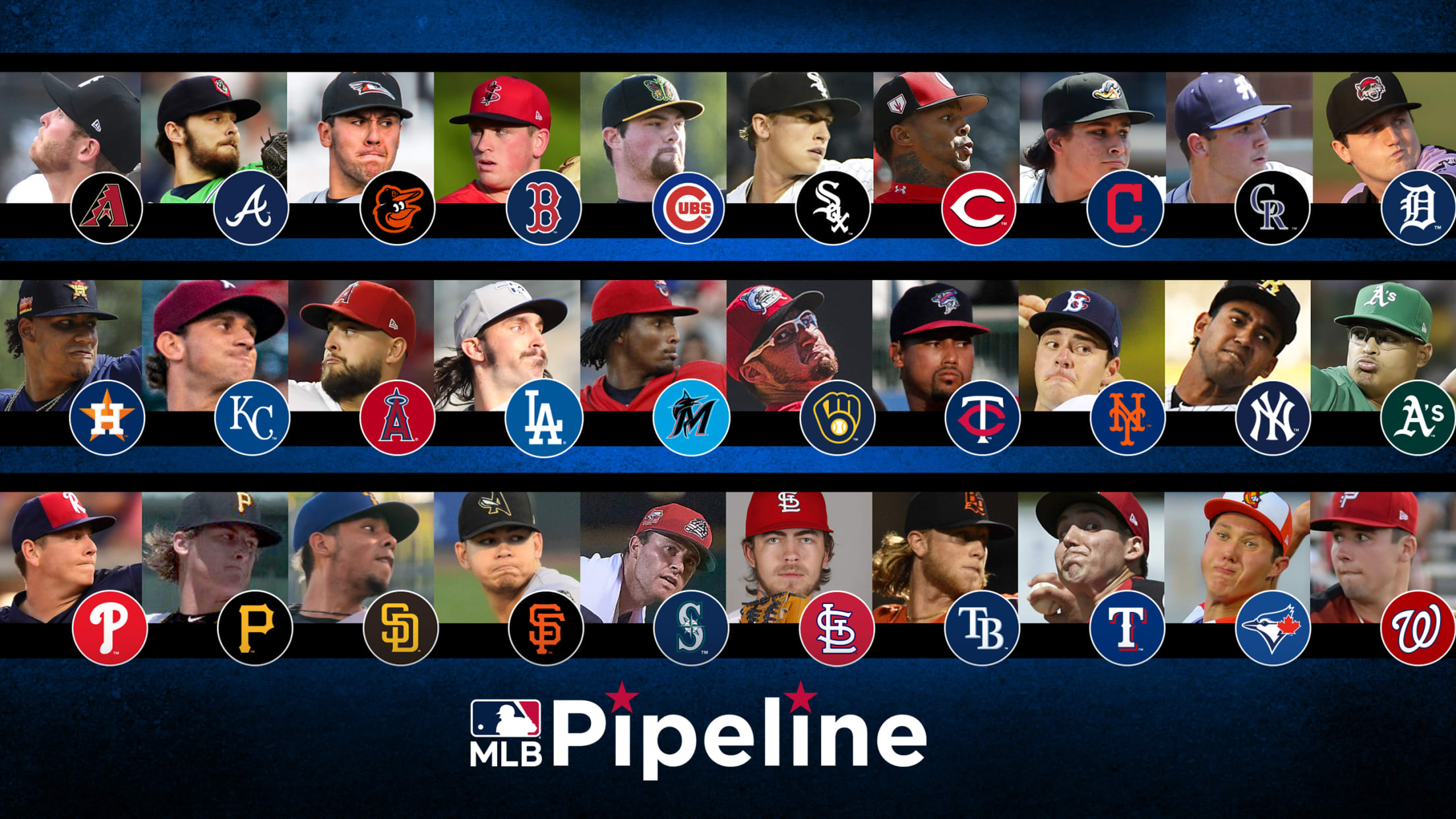 Feel to spin. Deception. Missing bats. Generating weak contact. These are all terms used in describing pitchers' secondary stuff. Whether it's a curveball, slider, changeup or occasionally something like a splitter or cutter, these are the offerings a pitcher often uses to put away hitters. And a lot of pitching
Notes: Greene homers again; Perez returns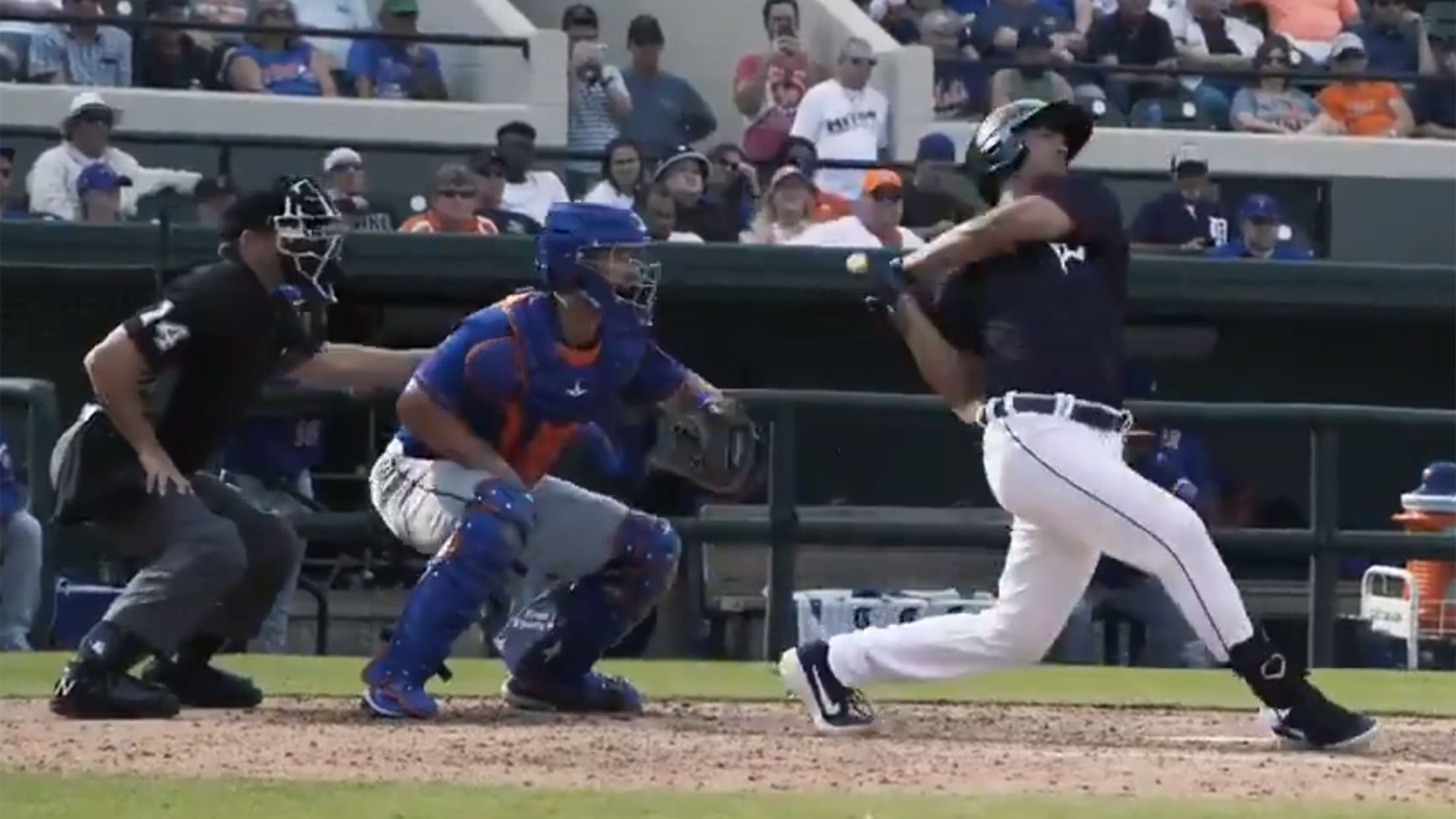 LAKELAND, Fla. -- Riley Greene grew up in Orlando watching Miguel Cabrera slug baseballs and Tim Tebow throw footballs. On Tuesday, he shared a field with both of them. He got to high-five one of them. Then he got to match them. As Cabrera crossed home plate on his first
Greene makes Tigers debut look easy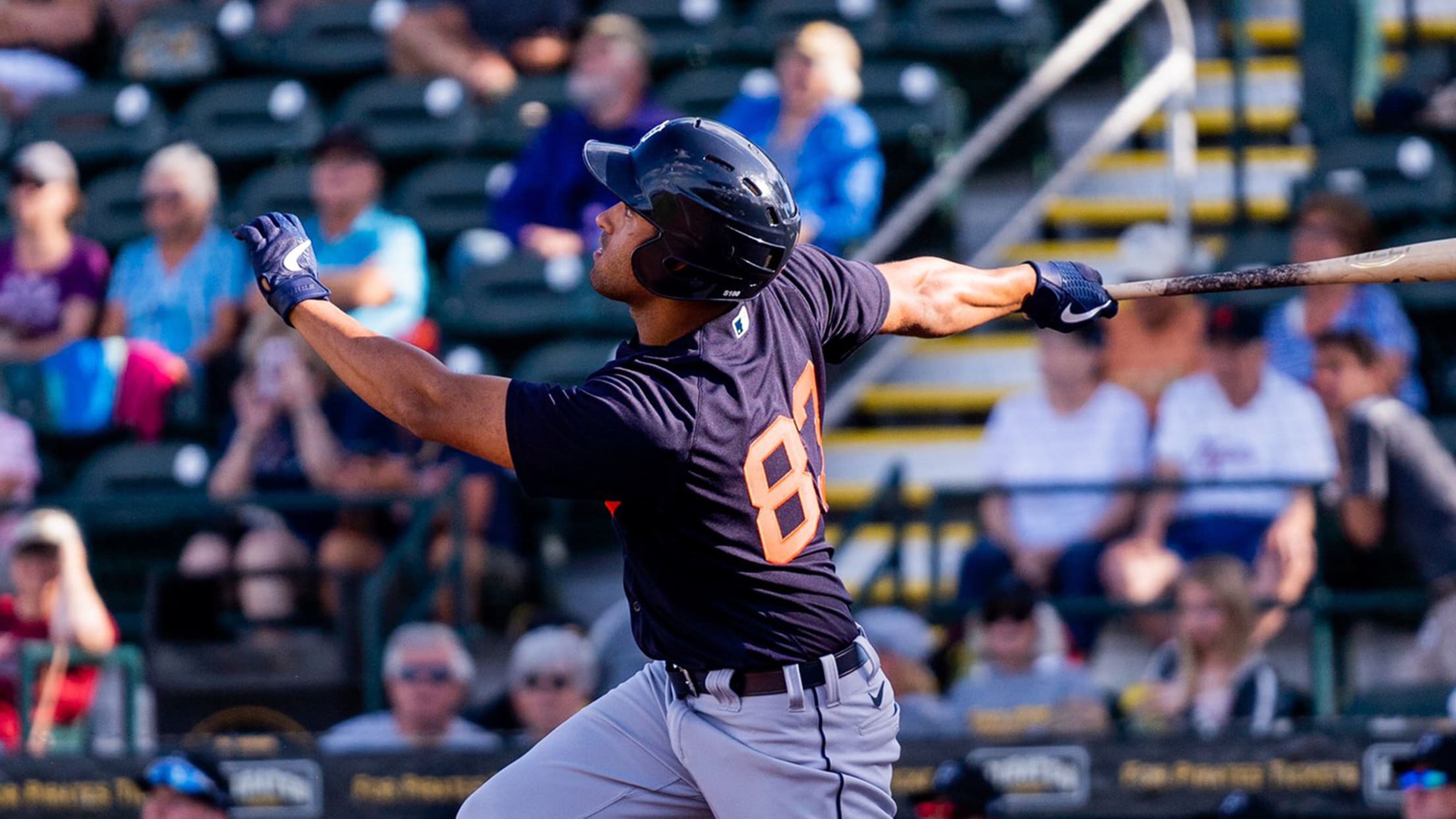 BRADENTON, Fla. -- Riley Greene was worried about winning a high school state title at this point a year ago. On Sunday, he was stepping into the batter's box against a Major League lefty. In neither case did Greene get rattled. For that matter, at no point did Greene look
Mize has grit, 'devastating' splitter in debut
Top prospect headlines split-squad action; fellow young stars Faedo, Manning also shine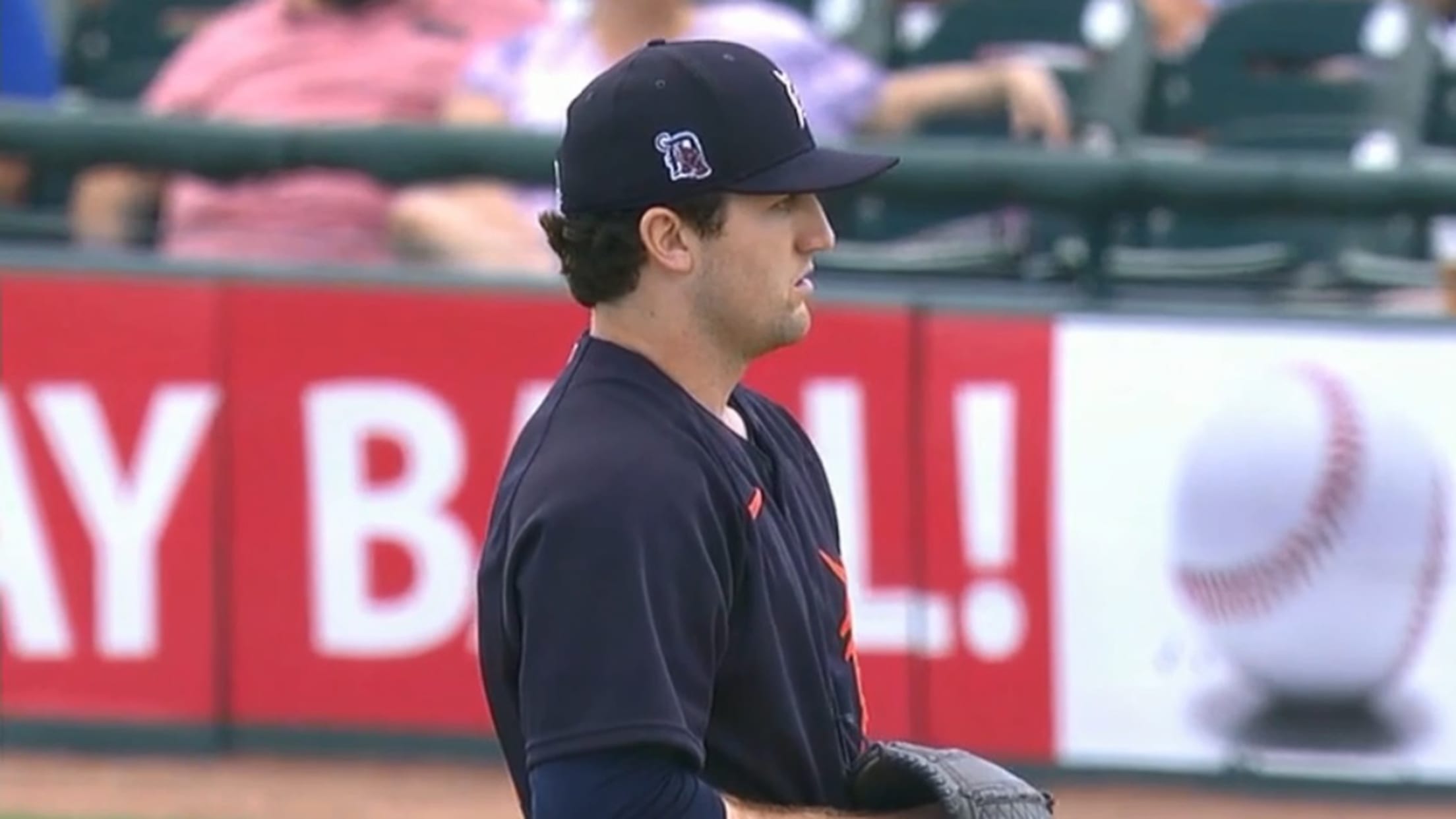 BRADENTON, Fla. -- Casey Mize not only was staring at a 6-foot-6 catcher as Grayson Greiner walked to the mound, he was staring at a potential hook. Mize's first four batters Sunday churned out back-to-back doubles, a nine-pitch walk and a tough-luck bloop single that fell where a shortstop would
Prospect Greene putting in work on back fields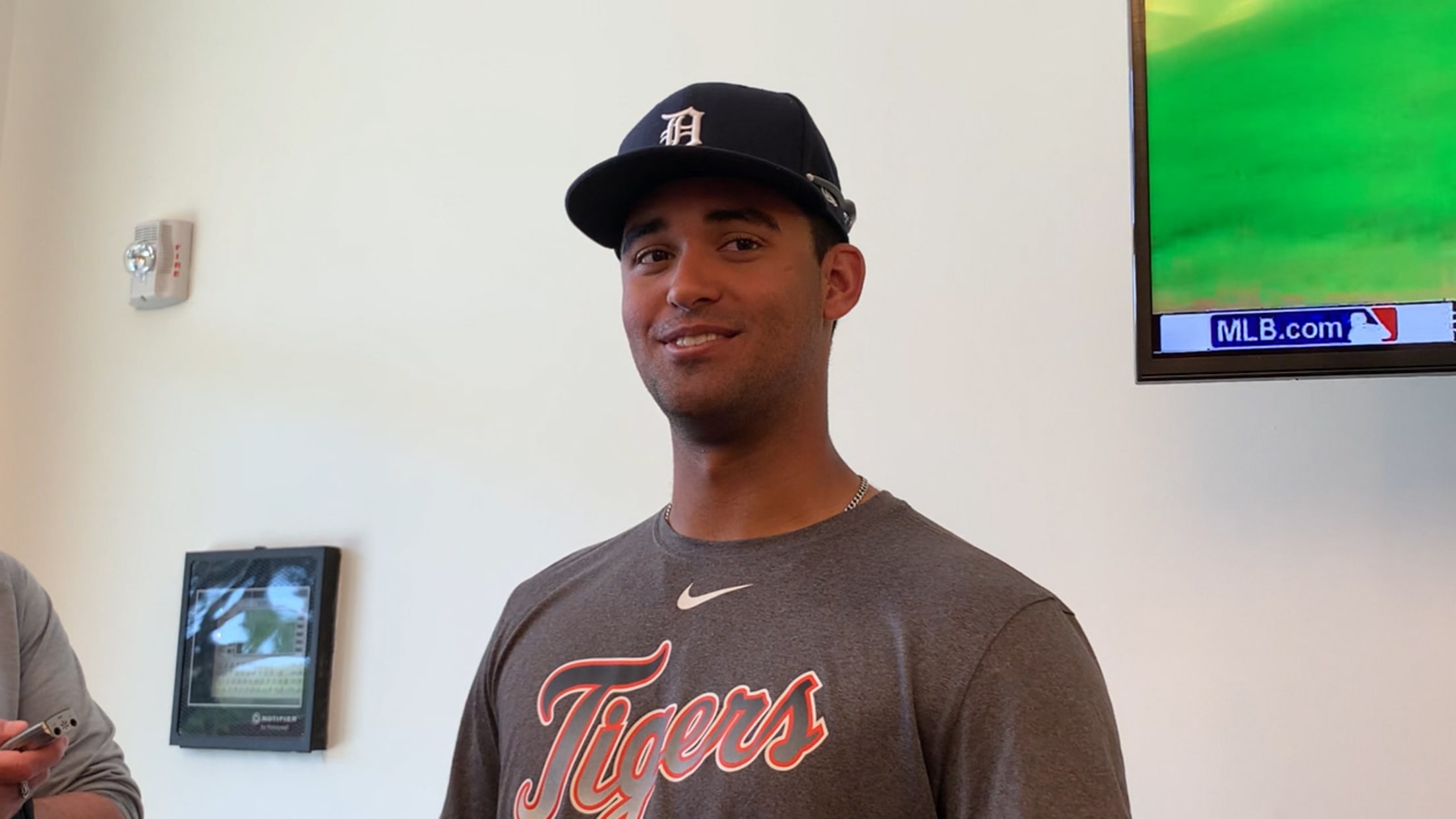 LAKELAND, Fla. -- While Tigers fans get a glimpse of their top pitching prospects on the mound at Joker Marchant Stadium, the best hope for the next great Detroit hitter quietly goes to work on the back fields and in the hitting cages at Tigertown. It's a long way from
Skubal (5 K's) impresses skipper in spring start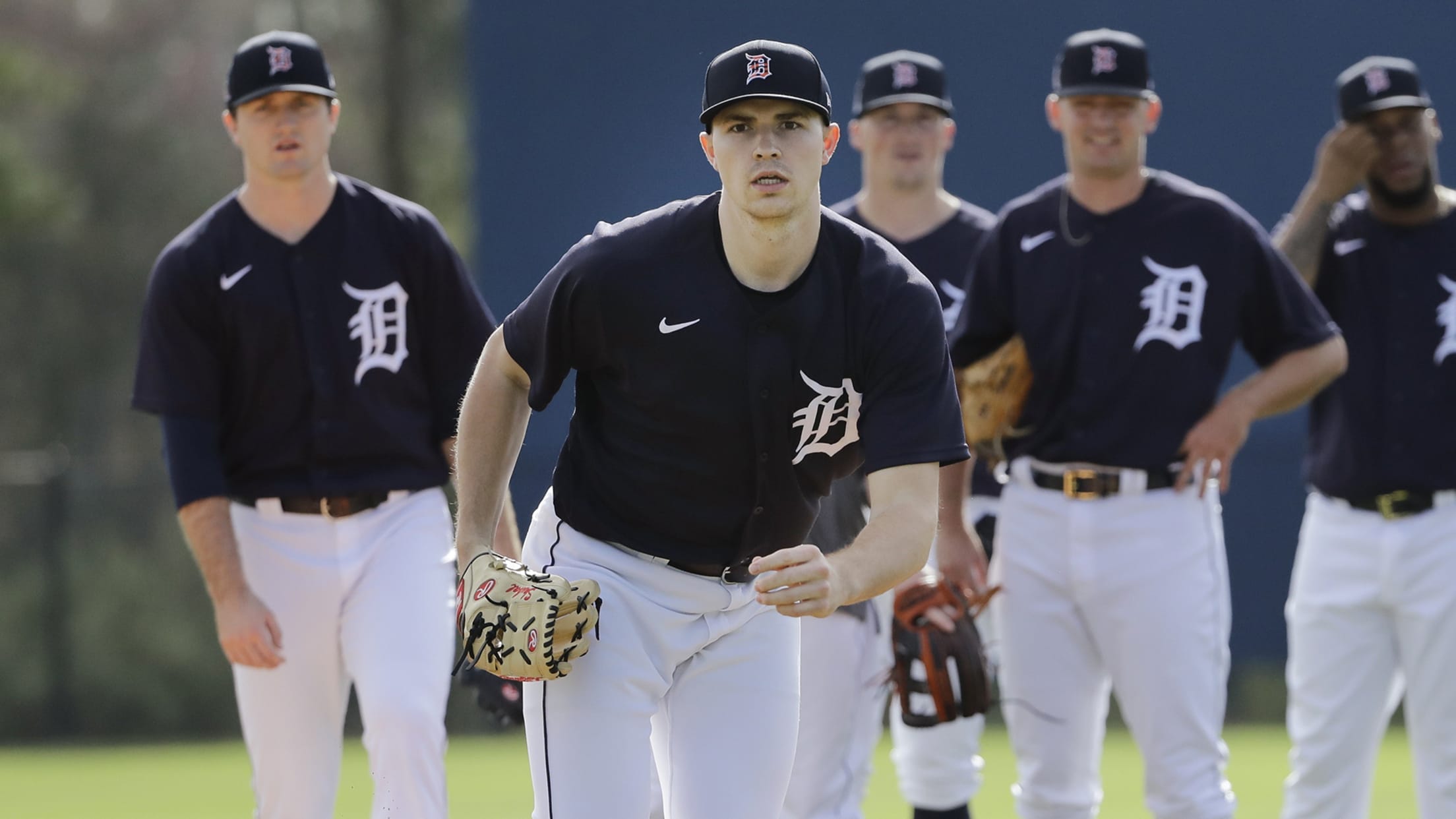 LAKELAND, Fla. -- Lefty prospect Tarik Skubal was an all-conference pitcher at the University of Seattle and a Top 100 MLB Draft prospect two years ago. He's MLB Pipeline's 46th-ranked prospect overall. In that respect, Skubal should be expected to pitch well against a college team, including an NAIA title
Mize, fellow Tigers prospects, wow during BP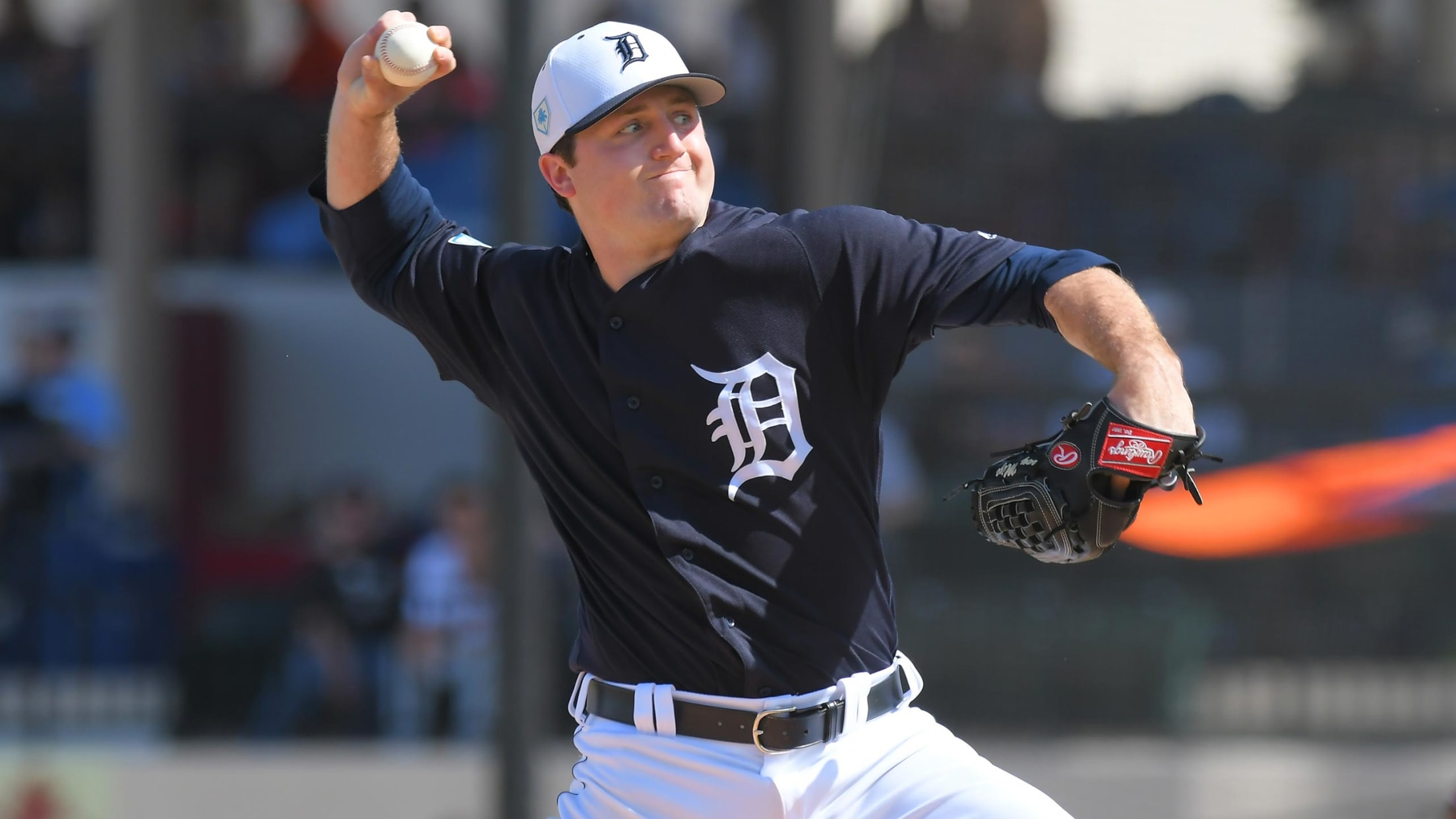 LAKELAND, Fla. -- Cameron Maybin had heard about the Tigers' collection of pitching prospects before he signed last week. He didn't know the names until he was introduced to Tarik Skubal for a round of batting practice Monday morning on the back fields at Tigertown. "Oh, that was the left-hander,"
Mize arrives at Tigers camp 'really confident'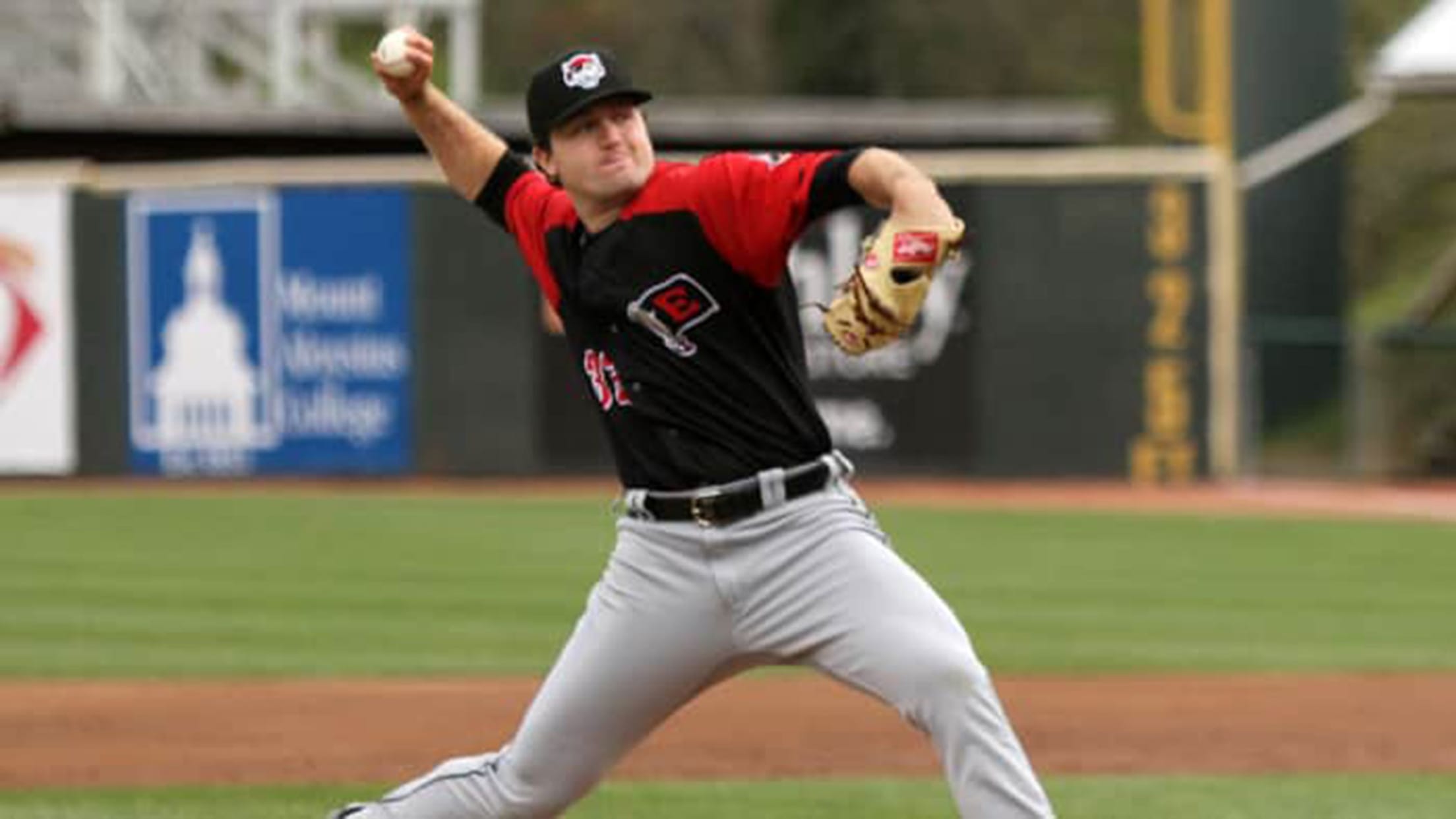 LAKELAND, Fla. -- For the second consecutive year, Casey Mize begins his season wearing a Tigers uniform here as part of Major League camp. By season's end, he could be wearing the Olde English D again for his big league debut. Ideally, those will be the bookends of a full,
Perez feels healthy, cautiously optimistic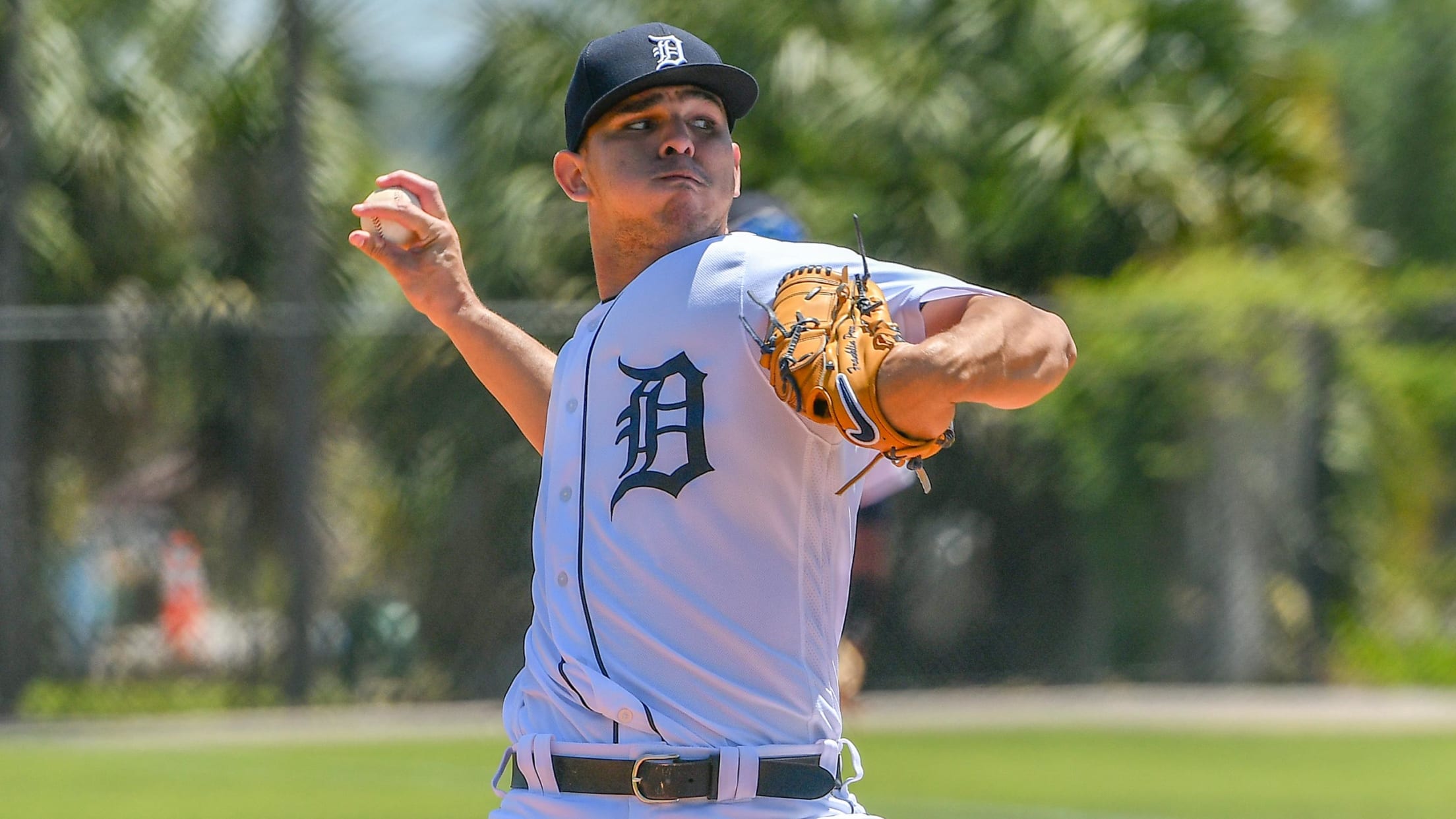 LAKELAND, Fla. -- The wind whipping across Florida on Friday morning led Tigers pitchers to throw their mound sessions indoors. Off in the far corner of the cages, a young right-hander had a good amount of attention as he fired fastballs to his catcher. And as Franklin Perez talked about
Spring should provide glimpse of Tigers' future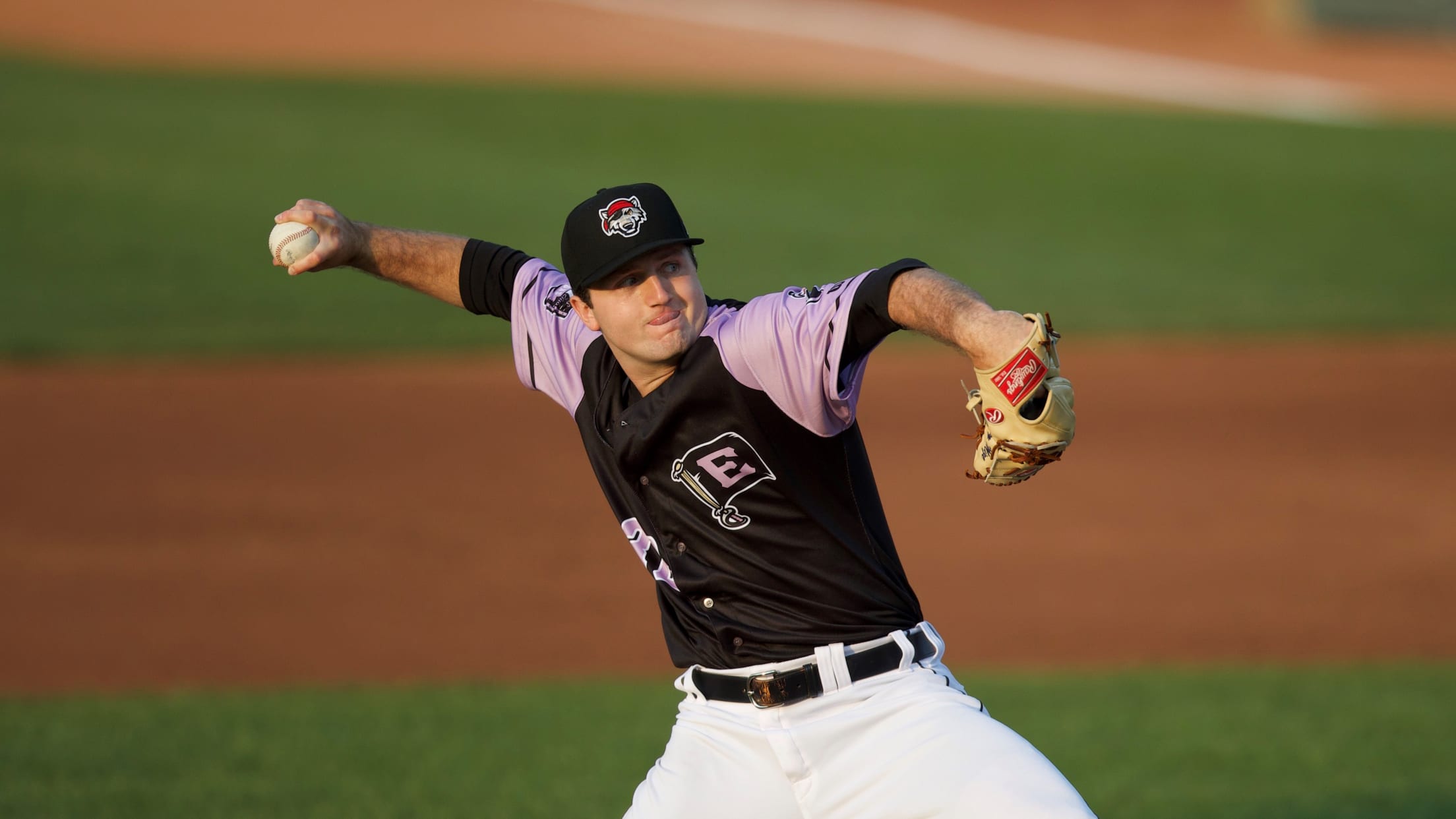 DETROIT -- Spring Training always provides a glimpse into the future, from the warm sunshine in Florida to the crack of the bat and the pop of the mitt on the field. When the Tigers take the field in Lakeland later this month, though, the big vision will be of
Mize, Manning among Tigers' non-roster invites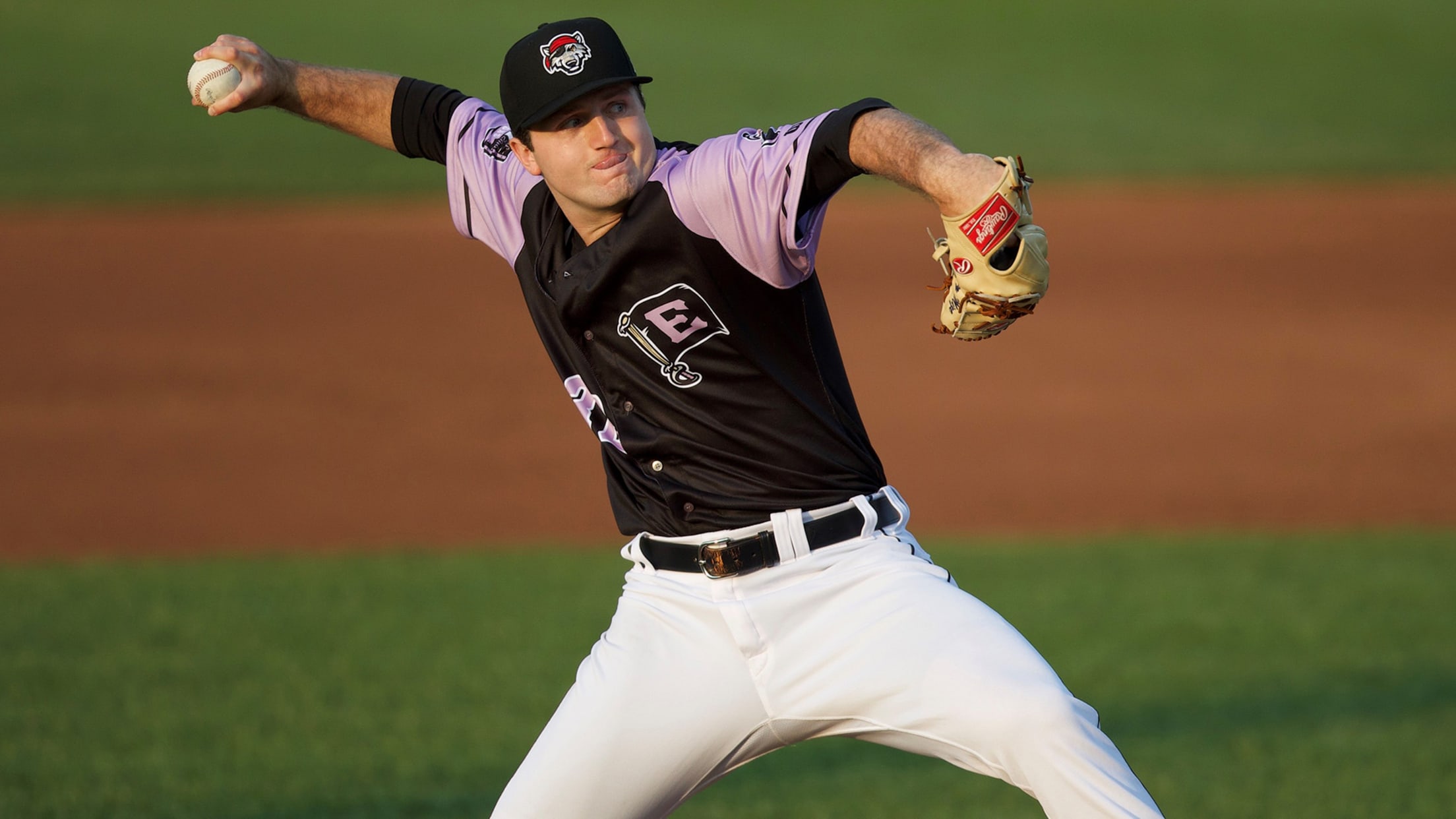 DETROIT -- The Tigers' rotation of the future will be on display next month, wearing the Old English "D" on the mound in Lakeland, Fla. Top pitching prospects Casey Mize, Matt Manning and Tarik Skubal will join Alex Faedo and Joey Wentz among the non-roster invites to Spring Training. •
Tigers farm system update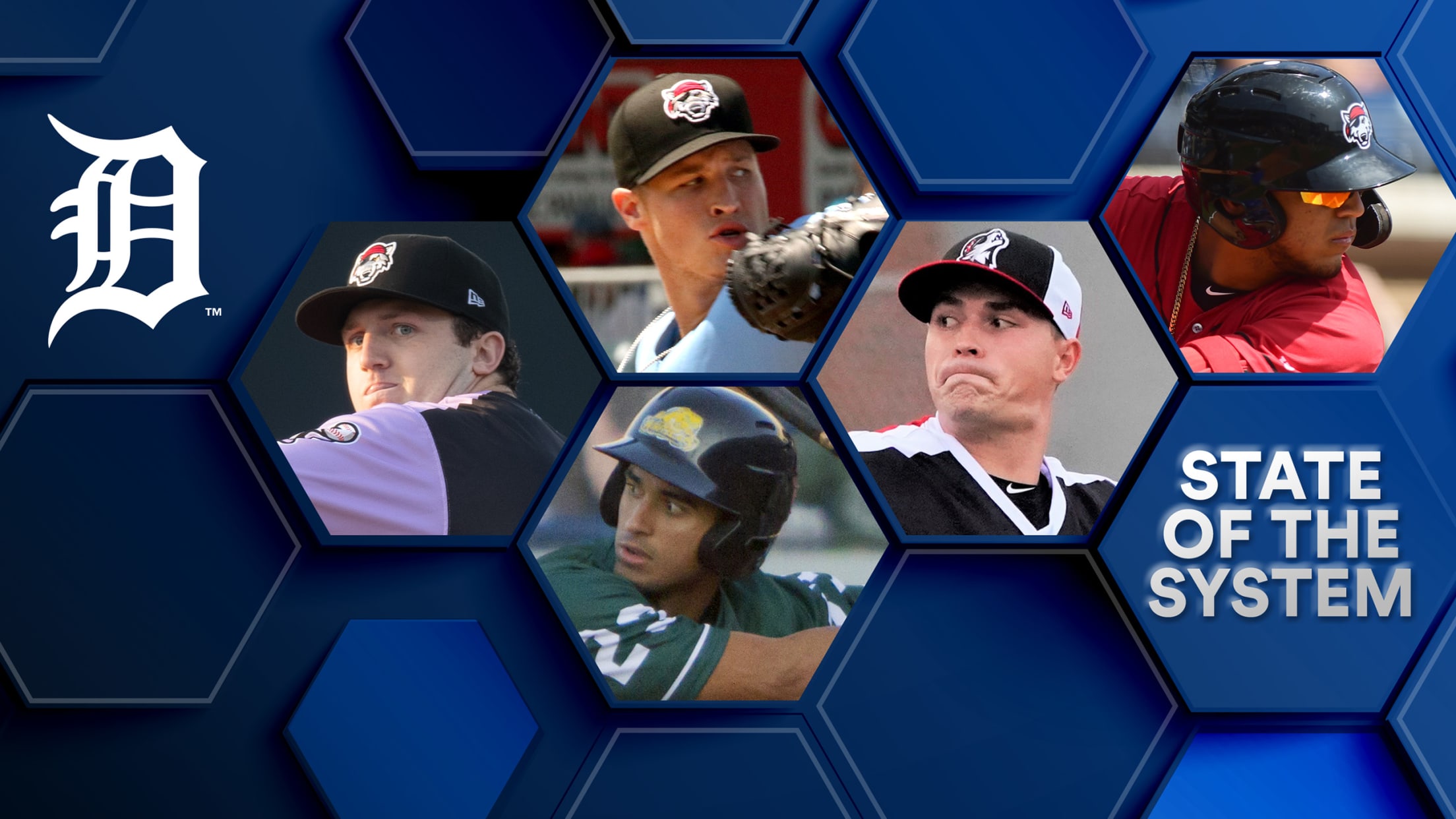 The Tigers were Major League Baseball's worst team in 2019, losing 114 games en route to the second worst finish in franchise history. But even though it was a painful season for the team and its fans, the outcome was understandable -- perhaps even necessary -- for an organization in
Tigers protect 6 prospects from Rule 5 Draft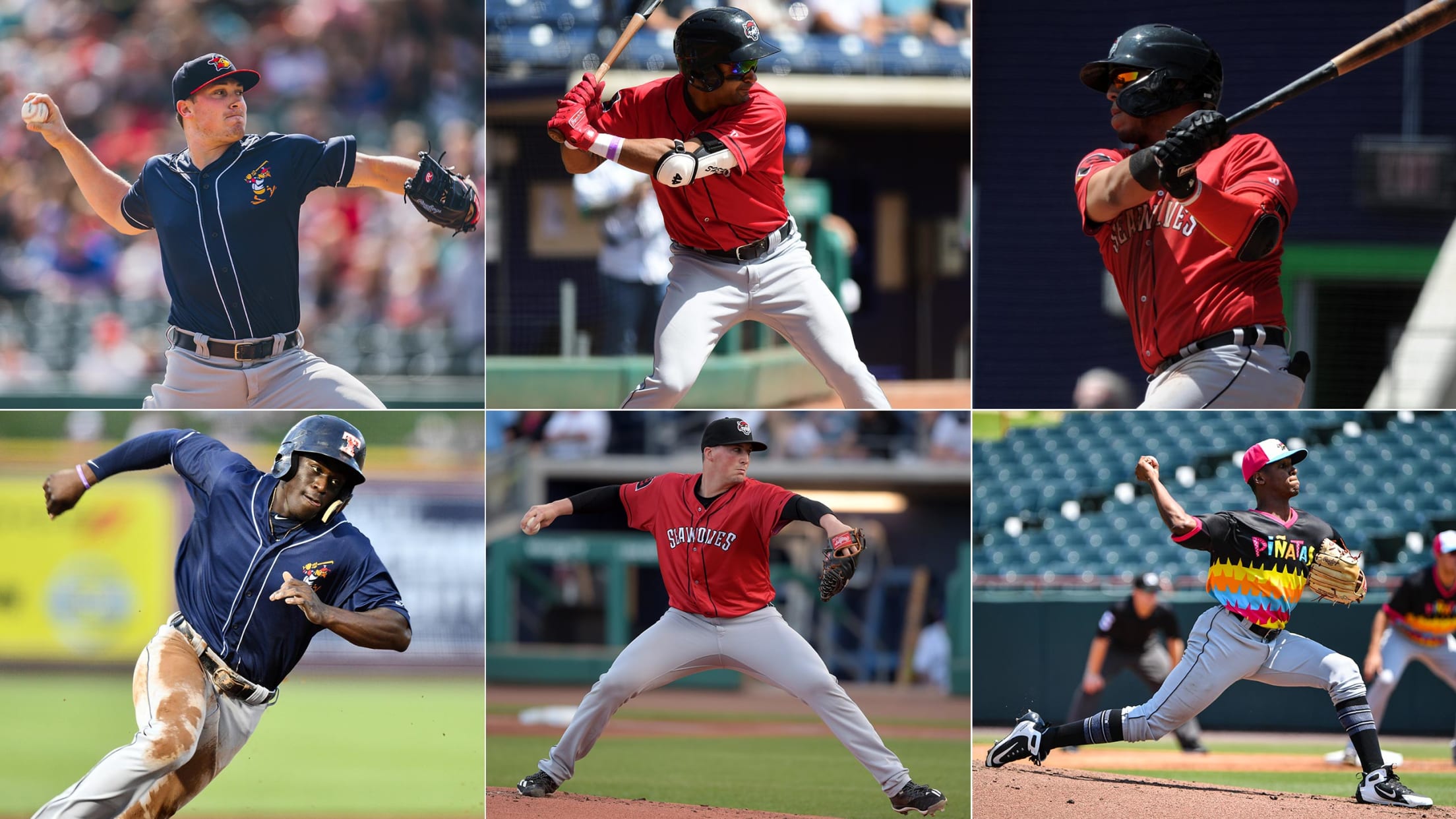 DETROIT -- Former Tigers first-round picks Beau Burrows and Derek Hill will get their long-awaited chance to make an impression in big league camp. More importantly for the club's sake, they won't be plucked by another organization. The Tigers made a half-dozen additions to their 40-man roster on Wednesday to
Tigers facing 40-man roster decisions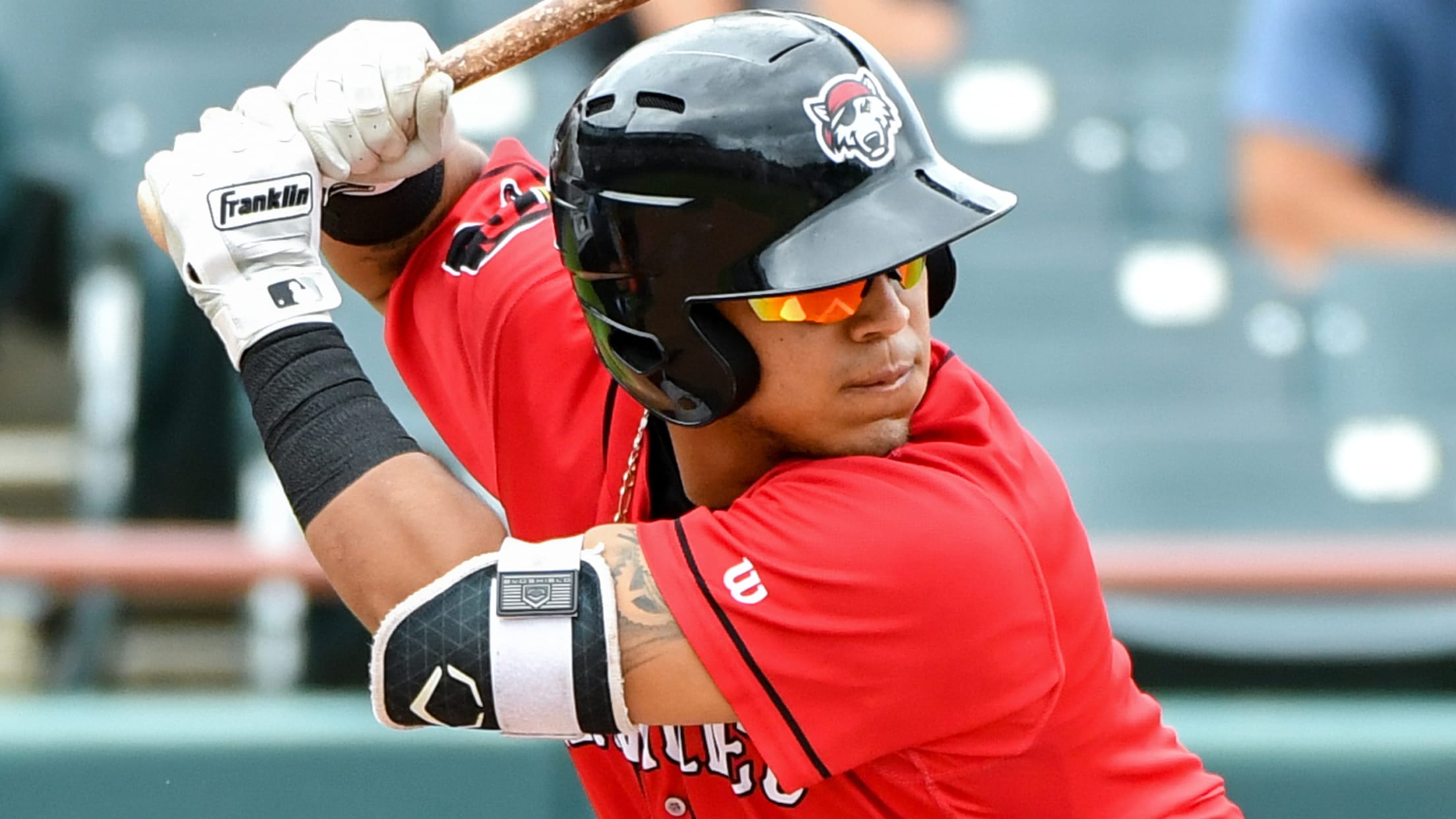 DETROIT -- Eight months ago, Tigers general manager Al Avila was talking about cuts and additions near the end of Spring Training. He was talking about Opening Day rosters and Minor League assignments, but he was also thinking down the road. "Eventually, this will be an organization -- and you
Erie establishes scholarship honoring Numata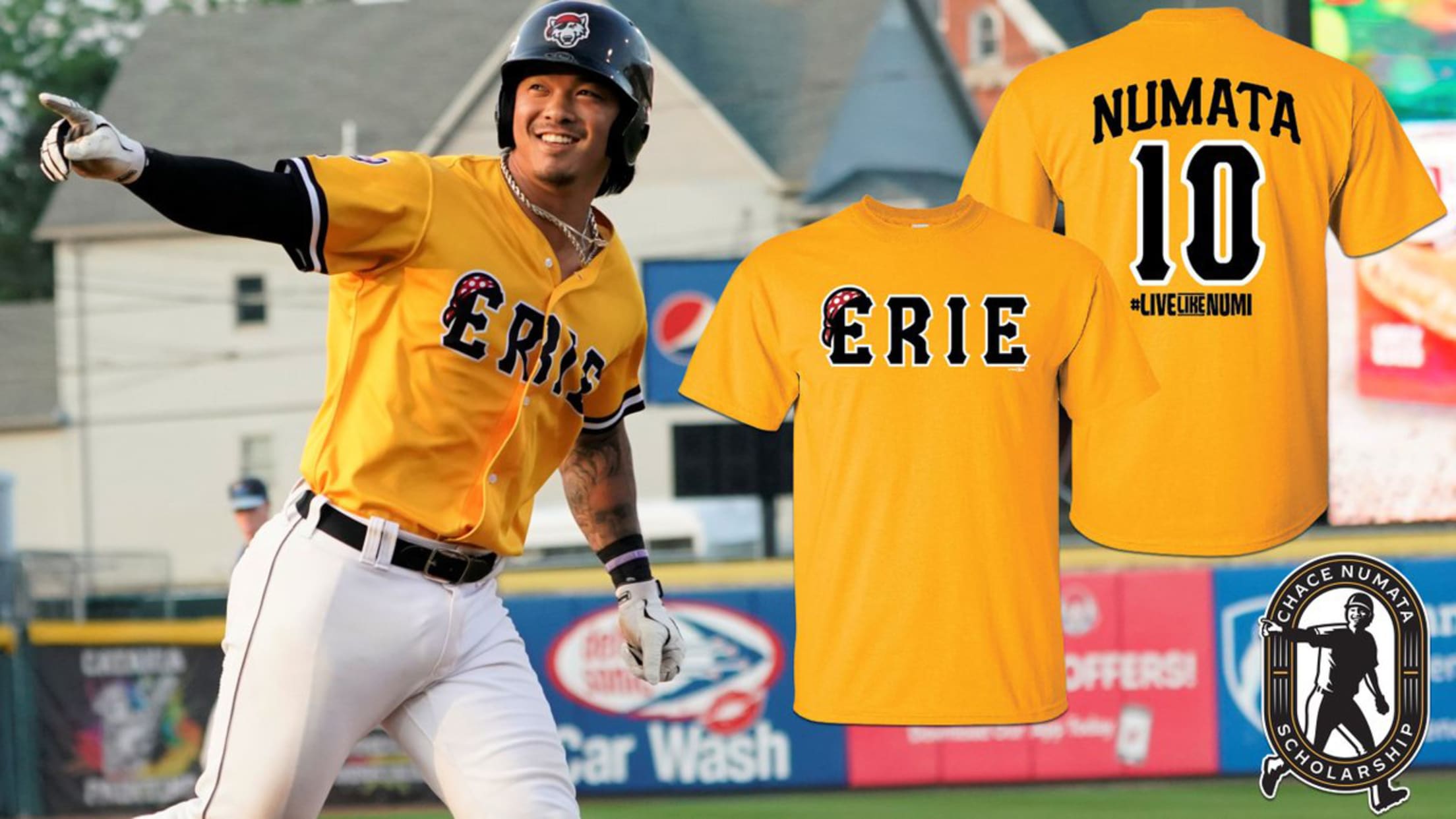 While the Erie SeaWolves continue to cope with the tragic death of catcher Chace Numata, the Tigers' Double-A affiliate has established a scholarship to honor his life. The Chace Numata Scholarship will help Erie-area baseball and softball student-athletes pursue a college education. The SeaWolves Community Fund will award at least
Ramirez back with Tigers on Minor League deal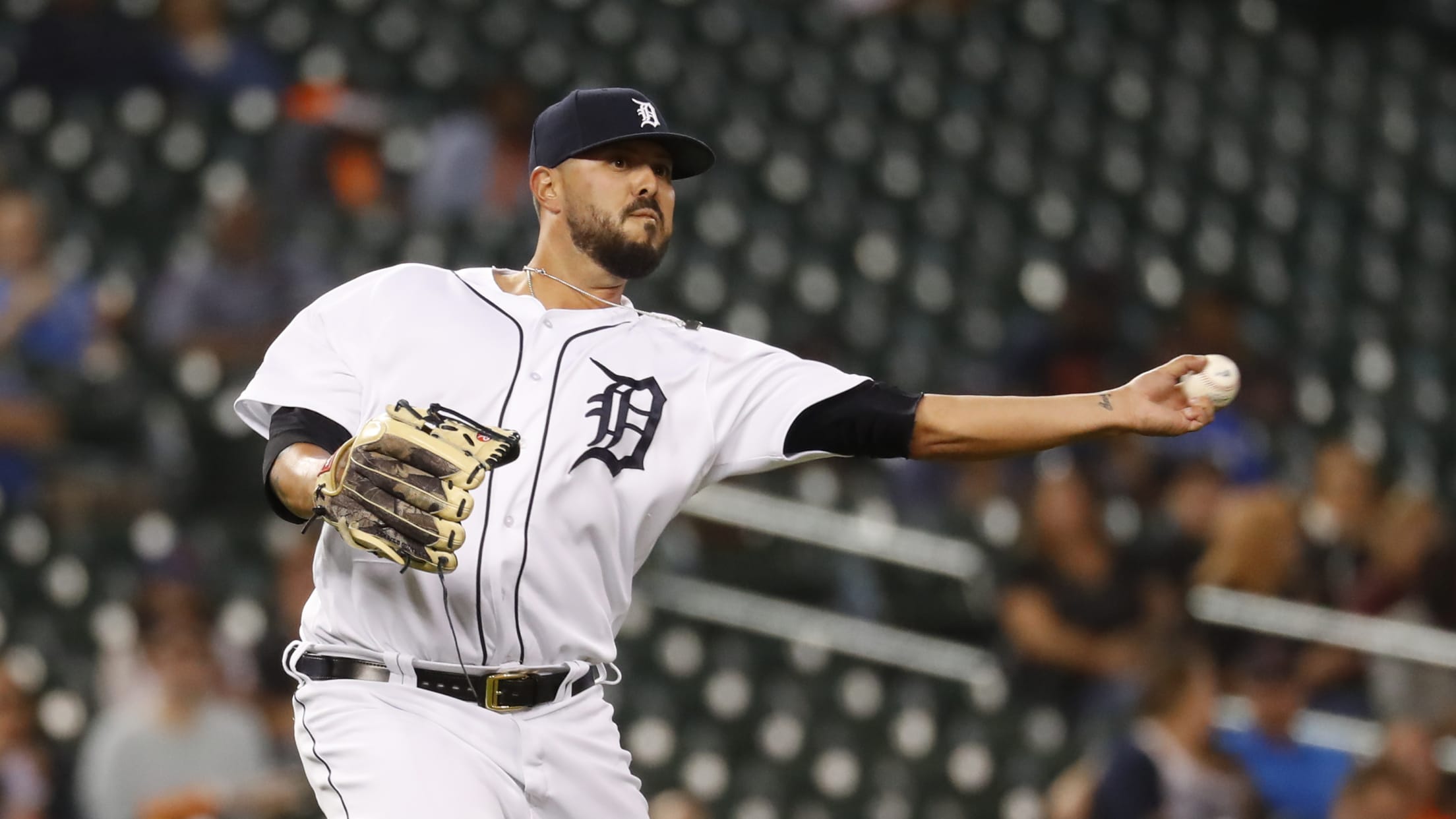 DETROIT -- Two weeks after the Tigers seemingly parted ways with Nick Ramirez, they brought the lefty reliever back into their farm system. The team announced Thursday it re-signed Ramirez to a Minor League contract, bringing a potentially valuable bullpen arm back into the fold. The Tigers held onto right-handed
Tigers Arizona Fall League updates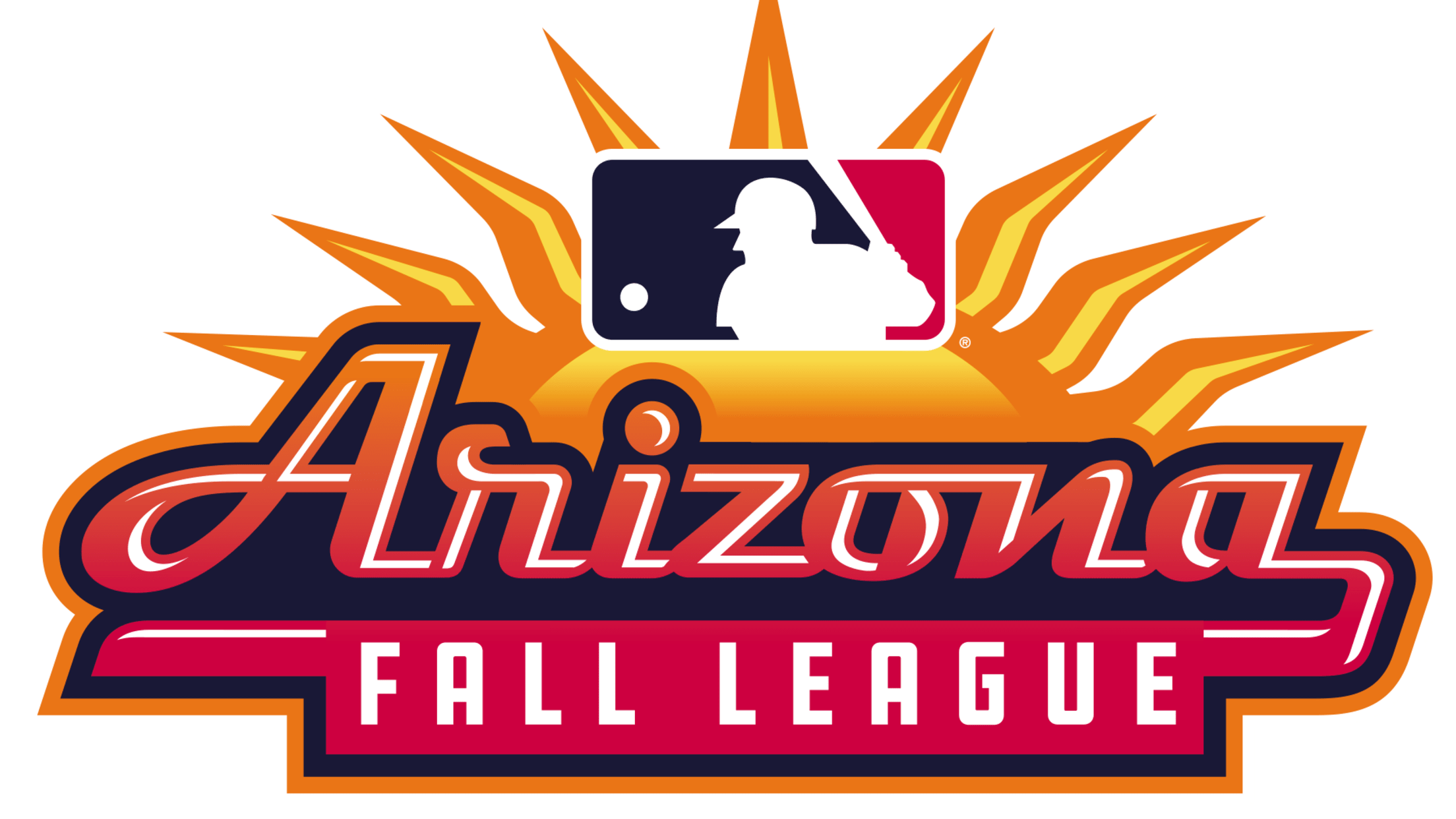 Six Tigers prospects are playing for the Mesa Solar Sox in the 2019 Arizona Fall League: Right-hander Anthony Castro (No. 20), outfielder Derek Hill (No. 28), right-hander Alex Lange (No. 30), outfielder Jose Azocar, right-hander Billy Lescher and left-hander Trent Szkutnik. Third baseman Isaac Paredes (No. 5) was removed from