Eloy raves about 'crazy' Classic atmosphere
After repping DR, Jiménez praises intense international rivalries, shifts focus to spring camp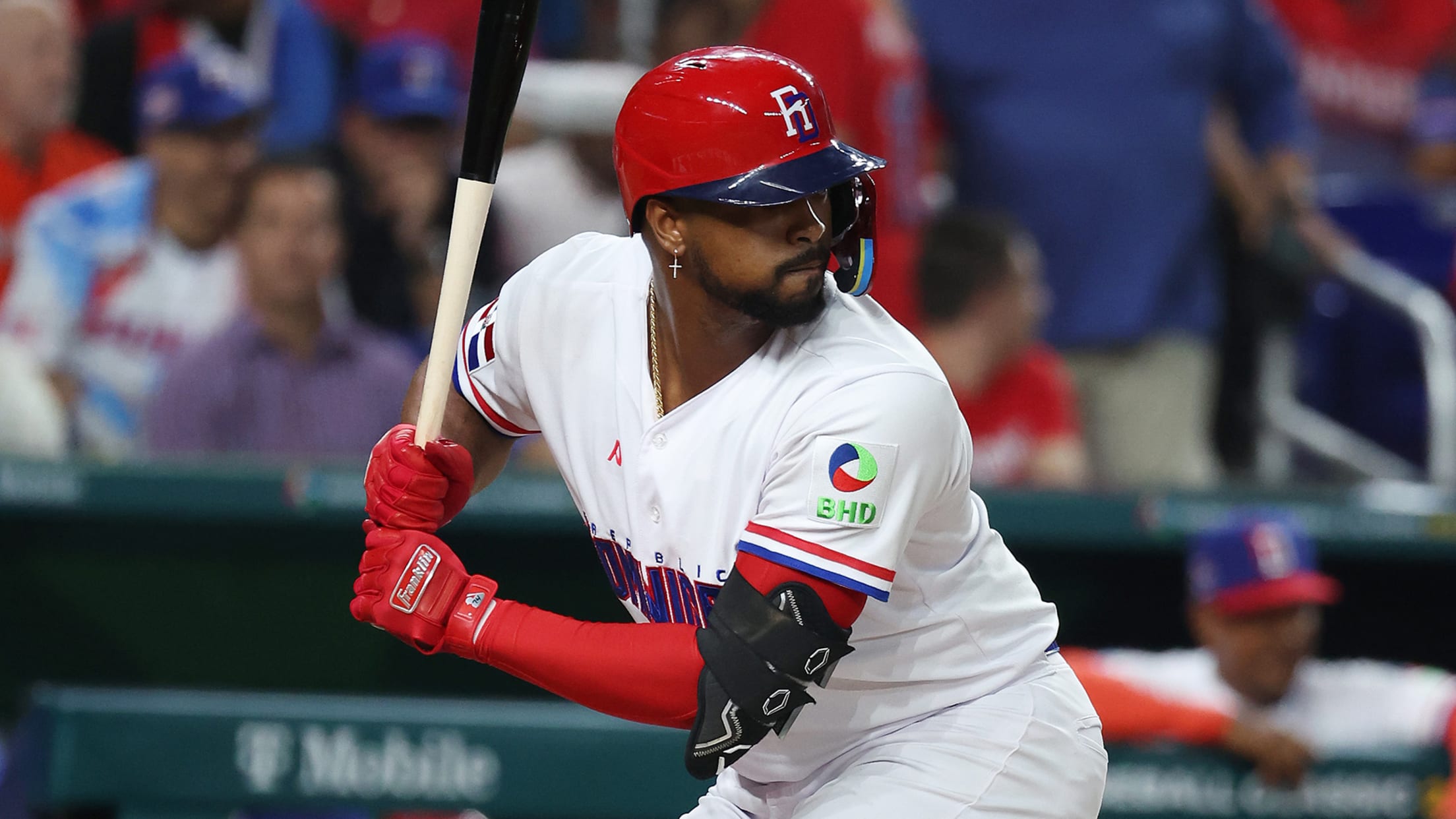 GLENDALE, Ariz. -- Eloy Jiménez could have received a day or two to relax and recover following his competition for the Dominican Republic in the 2023 World Baseball Classic. But there was Jiménez hitting cleanup and at designated hitter for the White Sox in Friday afternoon's 4-4 tie with the
Devers back from Classic, ready for 3B reps
Red Sox star was in DH role for Dominican Republic: 'The games were very, very intense'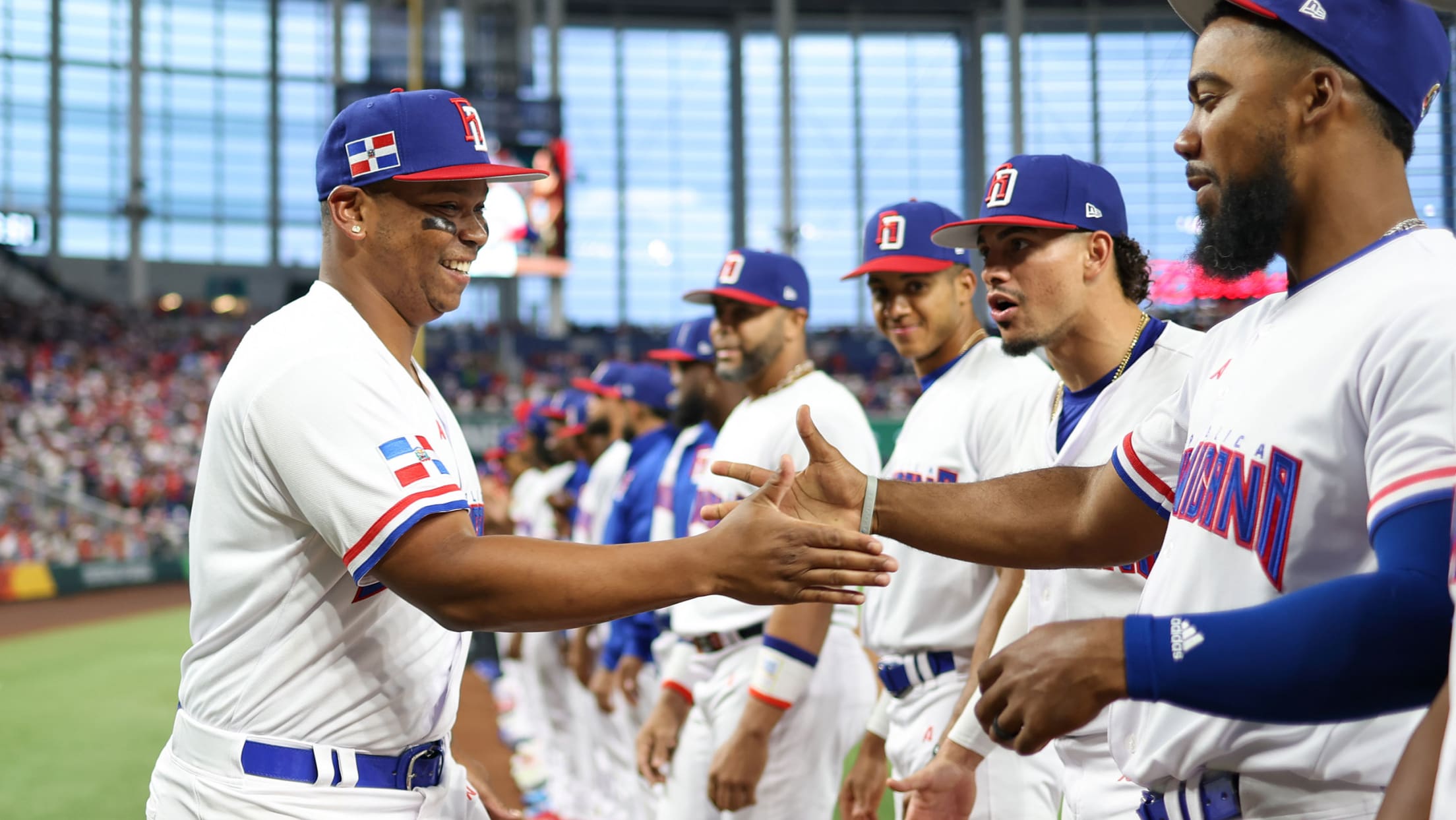 FORT MYERS, Fla. -- Rafael Devers, despite a disappointing performance in the World Baseball Classic from an individual and a team standpoint, was all smiles upon returning to Red Sox camp on Friday. Representing the Dominican Republic on an international stage for the first time is something Devers will never
Back and blasting: Peña homers twice in return from Classic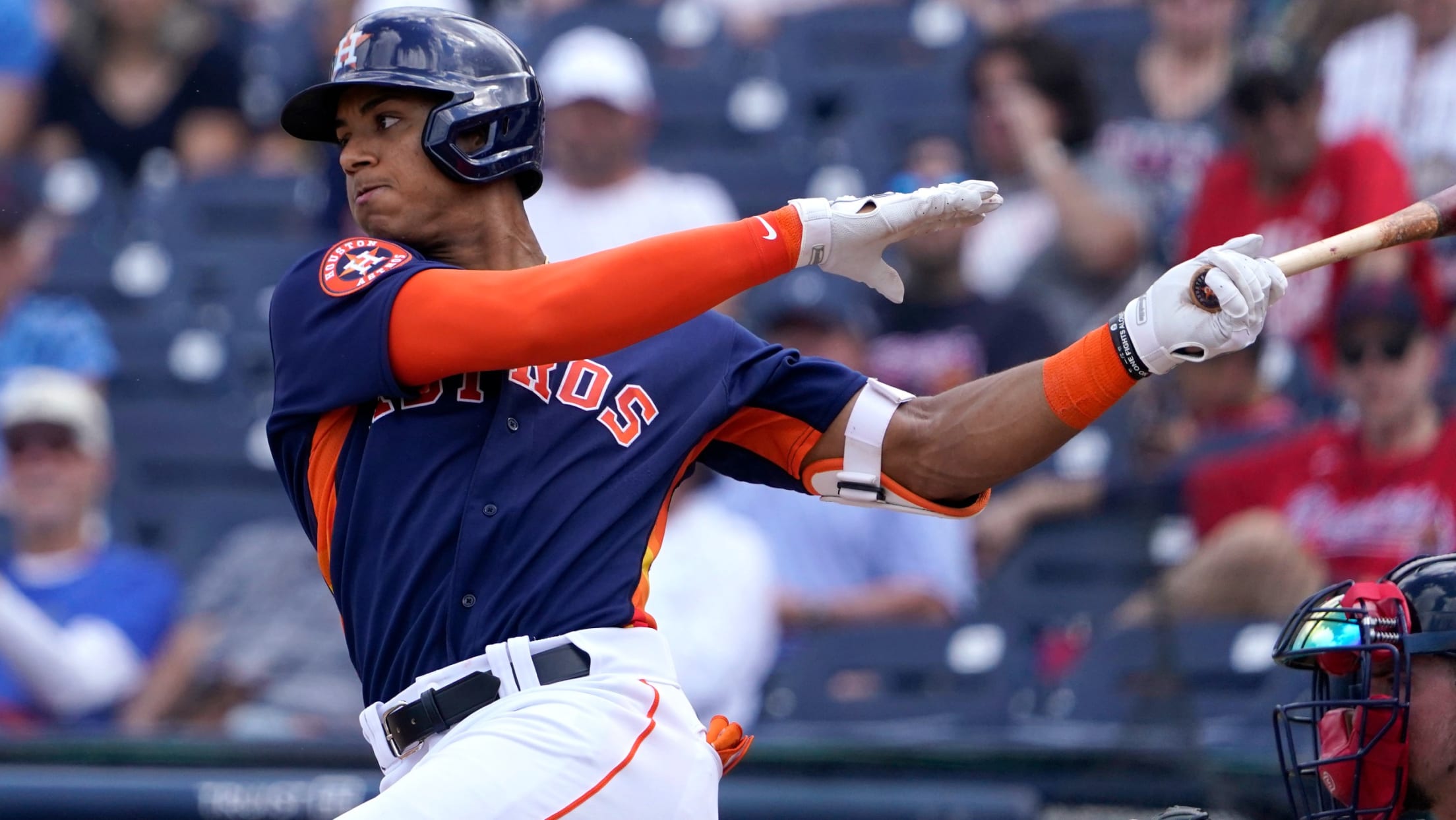 WEST PALM BEACH, Fla. -- If you couldn't tell, Jeremy Peña has been playing a little bit. The Astros' shortstop made that abundantly clear on Friday, when he homered twice in Houston's 11-7 loss to the Nationals at The Ballpark of the Palm Beaches in his first game back from
What's next for Marlins who competed for D.R. in Classic?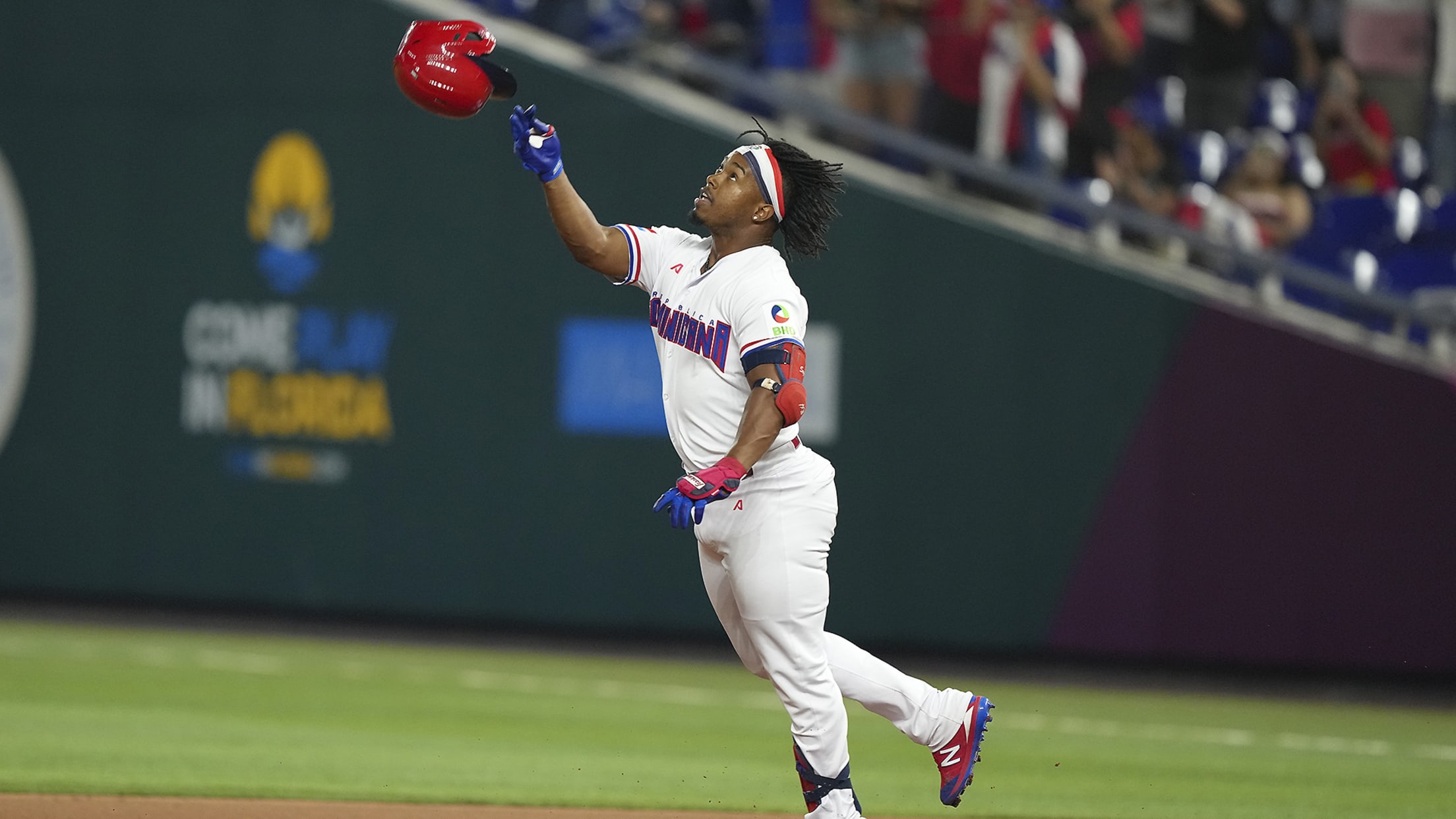 JUPITER, Fla. -- The Marlins welcomed back three key pieces to their 2023 roster Friday morning: ace Sandy Alcantara, third baseman Jean Segura and right-hander Johnny Cueto. The trio competed for the Dominican Republic, which was considered one of the favorites at the World Baseball Classic, in Pool D at
Puerto Rico ousts D.R., but mood subdued after Díaz injury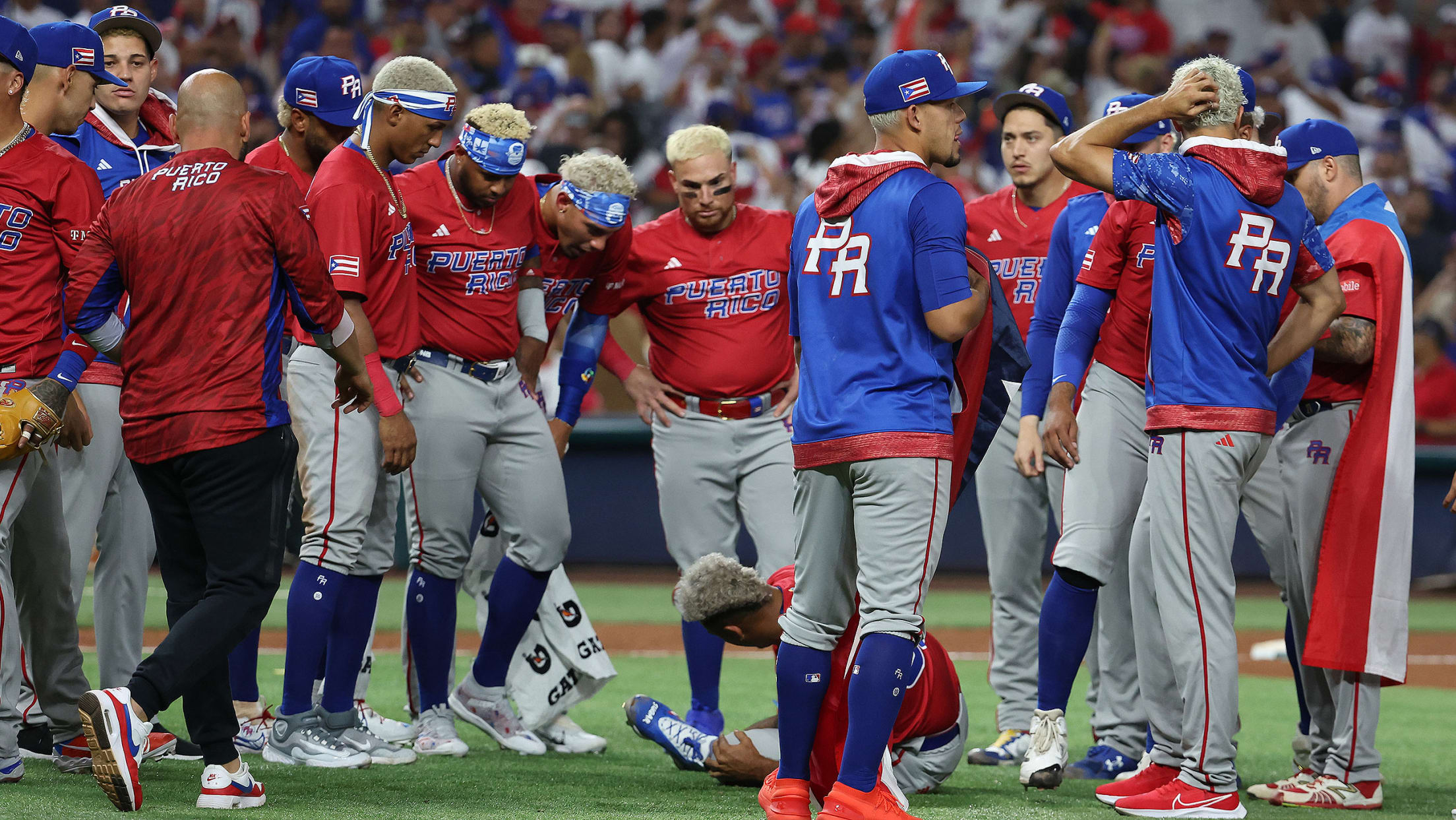 MIAMI -- The spectacle began 90 minutes before first pitch. As the gates opened, a sea of Puerto Ricans and Dominicans filled loanDepot park. "Dominicana! Dominicana!" chanted the loud Dominican crowd, banging on drums and playing güira, a popular percussion instrument that originates from the island. "Puerto Rico! Puerto Rico!"
Dominican Republic firing on all cylinders just in time for Puerto Rico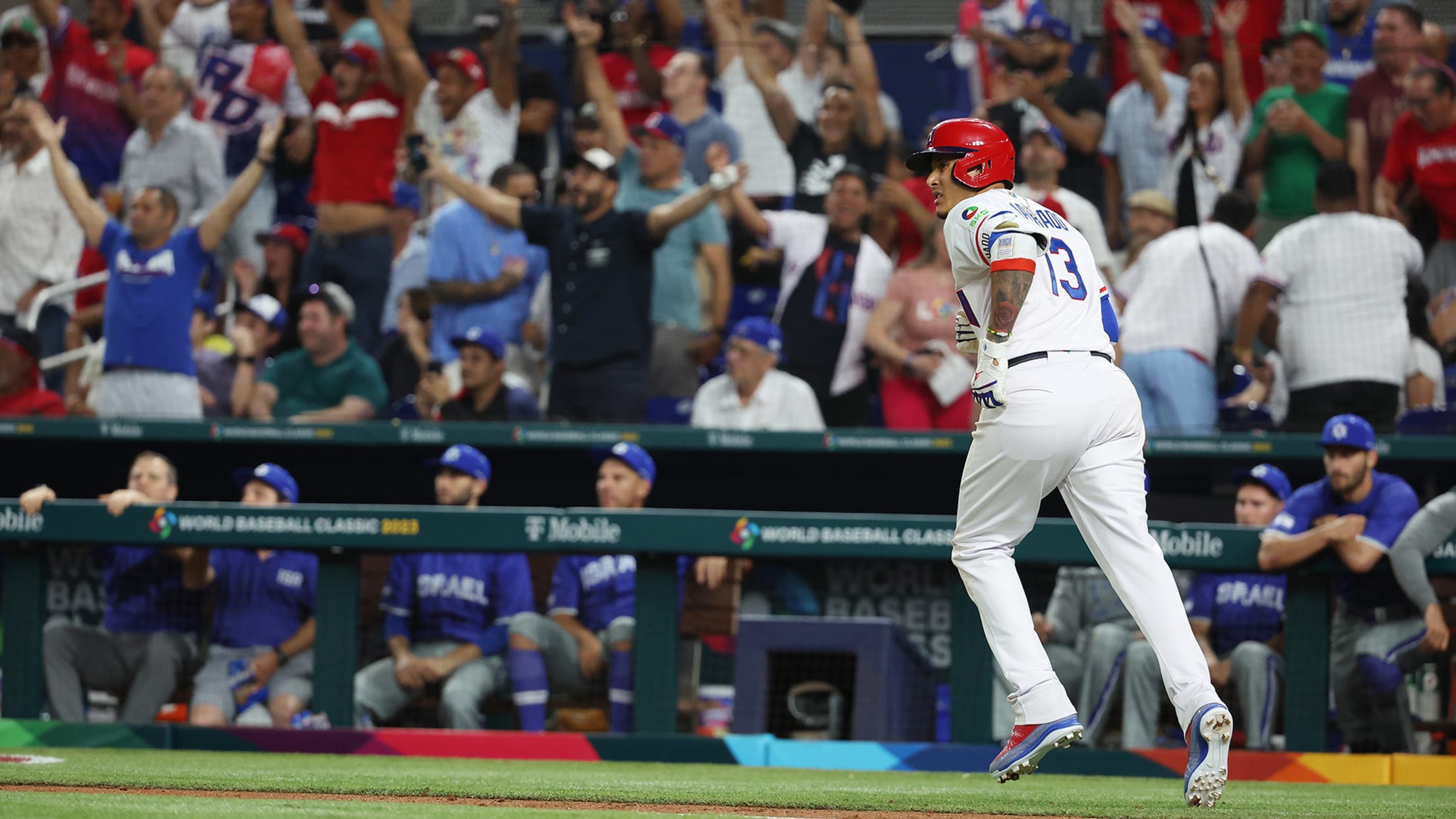 MIAMI – With a lineup that has Juan Soto, Manny Machado, Rafael Devers and countless other superstars, it's easy to fall in love with the offense the Dominican Republic features in this World Baseball Classic. And while that offense may just be starting to click on all cylinders, it's actually
Soto, Machado power Dominicans past Nicaragua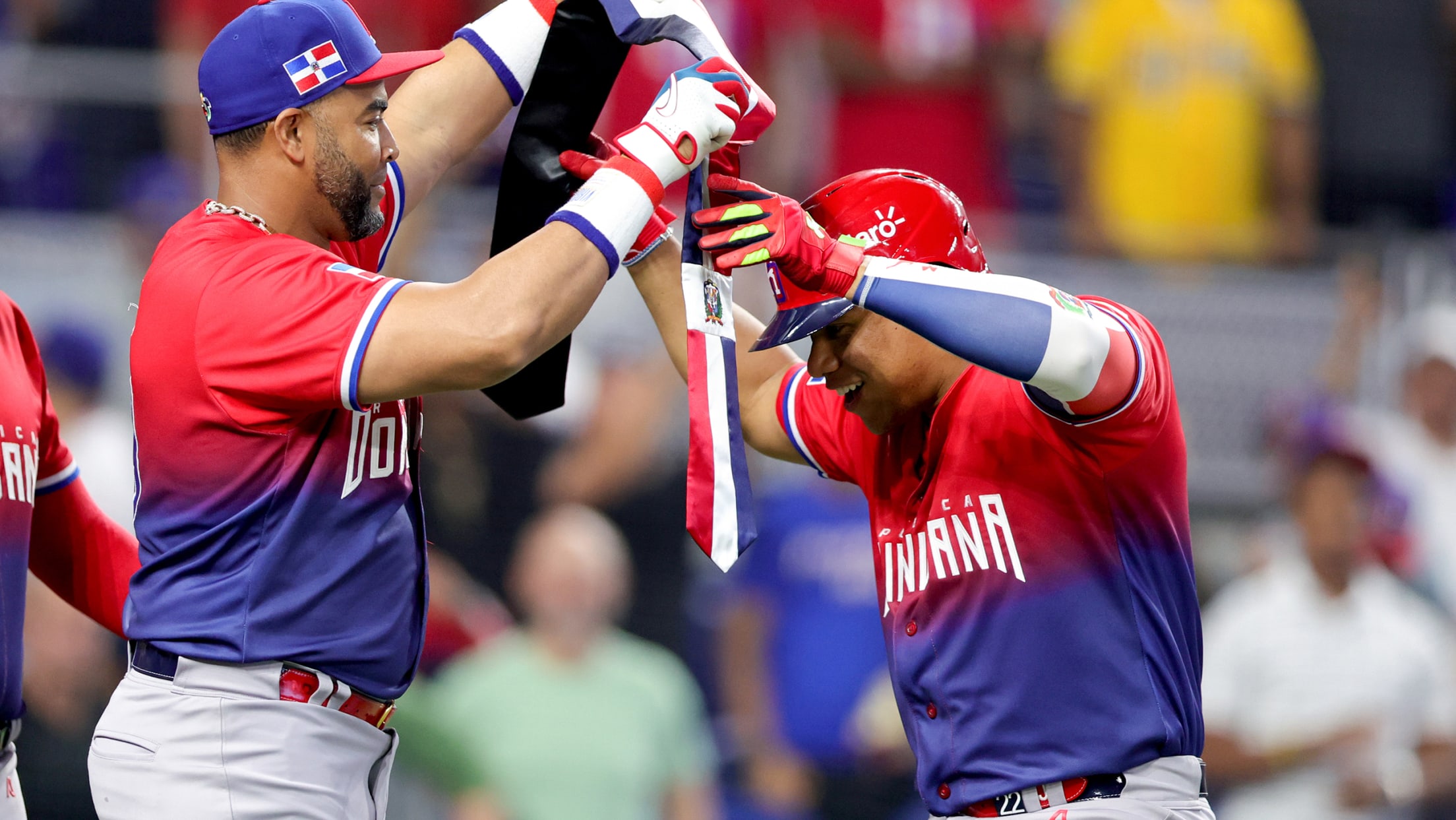 MIAMI -- Juan Soto has hit leadoff twice in his Major League career. But with his country, the Dominican Republic, needing a spark, manager Rodney Linares penciled Soto in as the new leadoff hitter. Once again, Soto proved that there's virtually nothing he can't do inside the batter's box, turning
Blue Jays' added bullpen depth opens new avenues for Garcia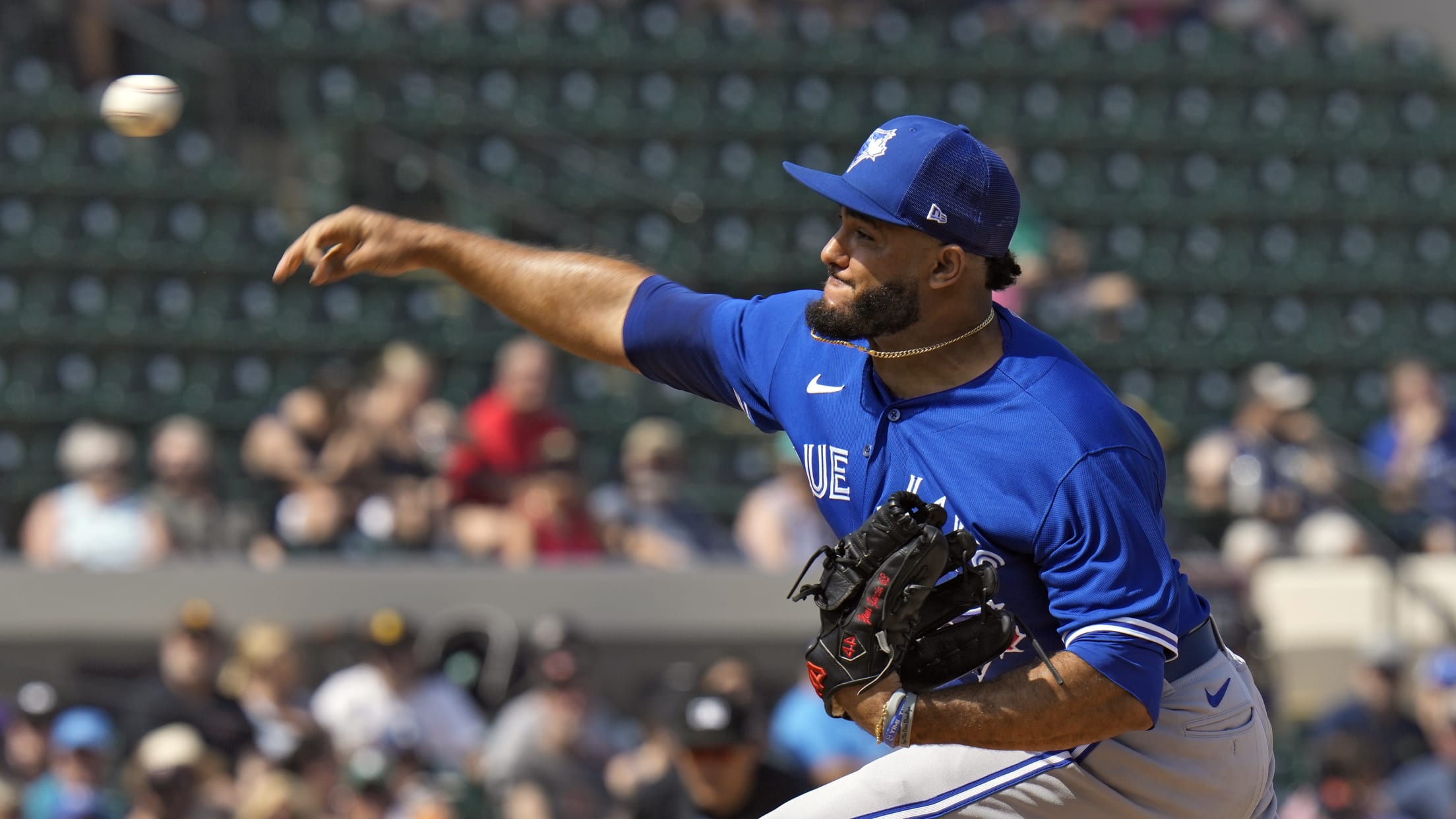 CLEARWATER, Fla. -- As the Blue Jays trudged through the heart of their Spring Training schedule this weekend in Dunedin and Clearwater, one of the club's most impressive performances came 300 miles across the state in Miami. Yimi Garcia, pitching in front of a roaring crowd of 35,890 at the
In clash of titans, Venezuela finally gets Classic win vs. D.R.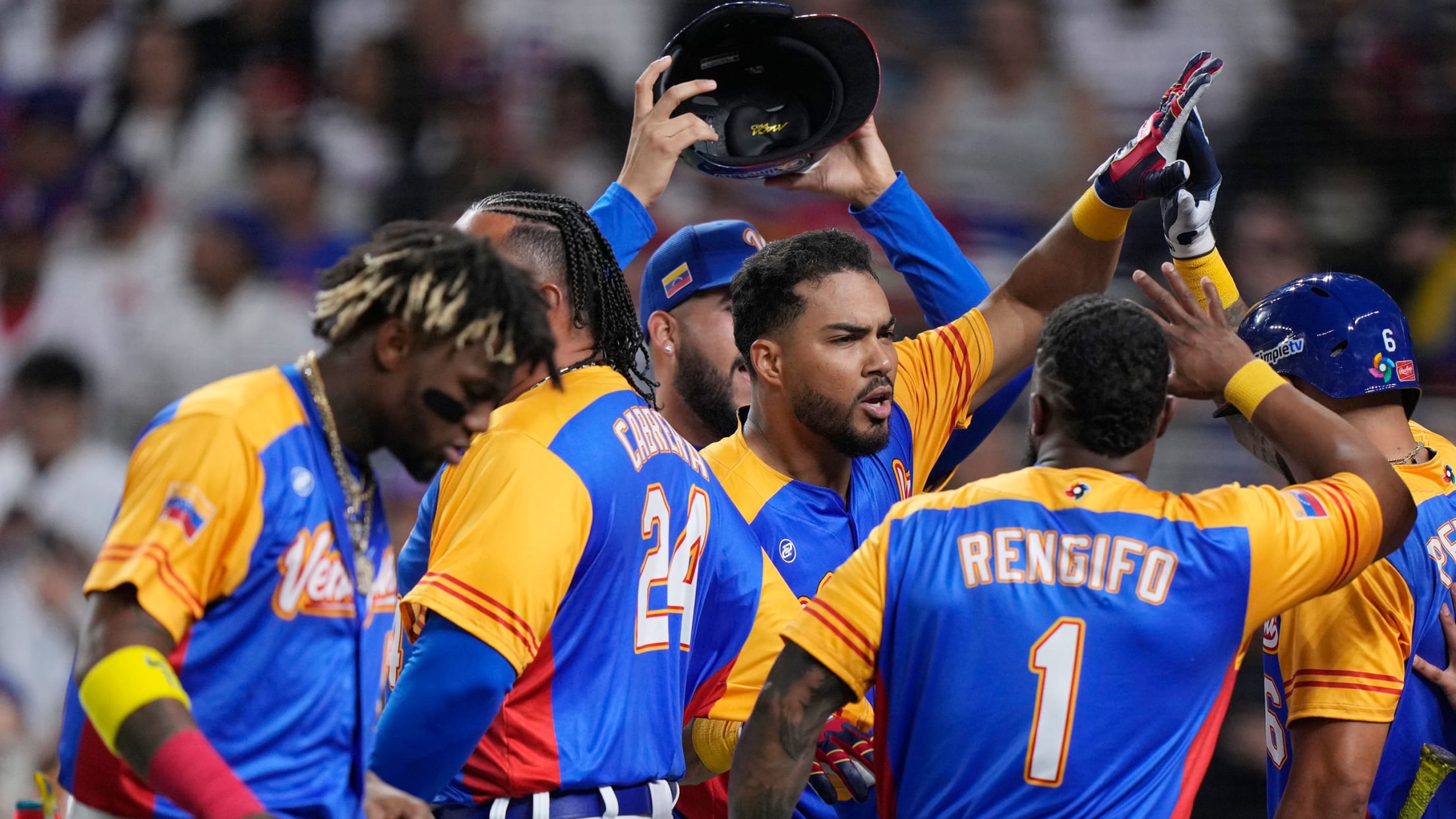 MIAMI -- At least a few eardrums probably burst. The decibel levels were out of this world. And yet, it was one of the most jubilantly raucous nights that loanDepot park has seen. It was better than an All-Star Game. It was the World Baseball Classic, and it was Venezuela's
Soto expected to be full-go in Classic play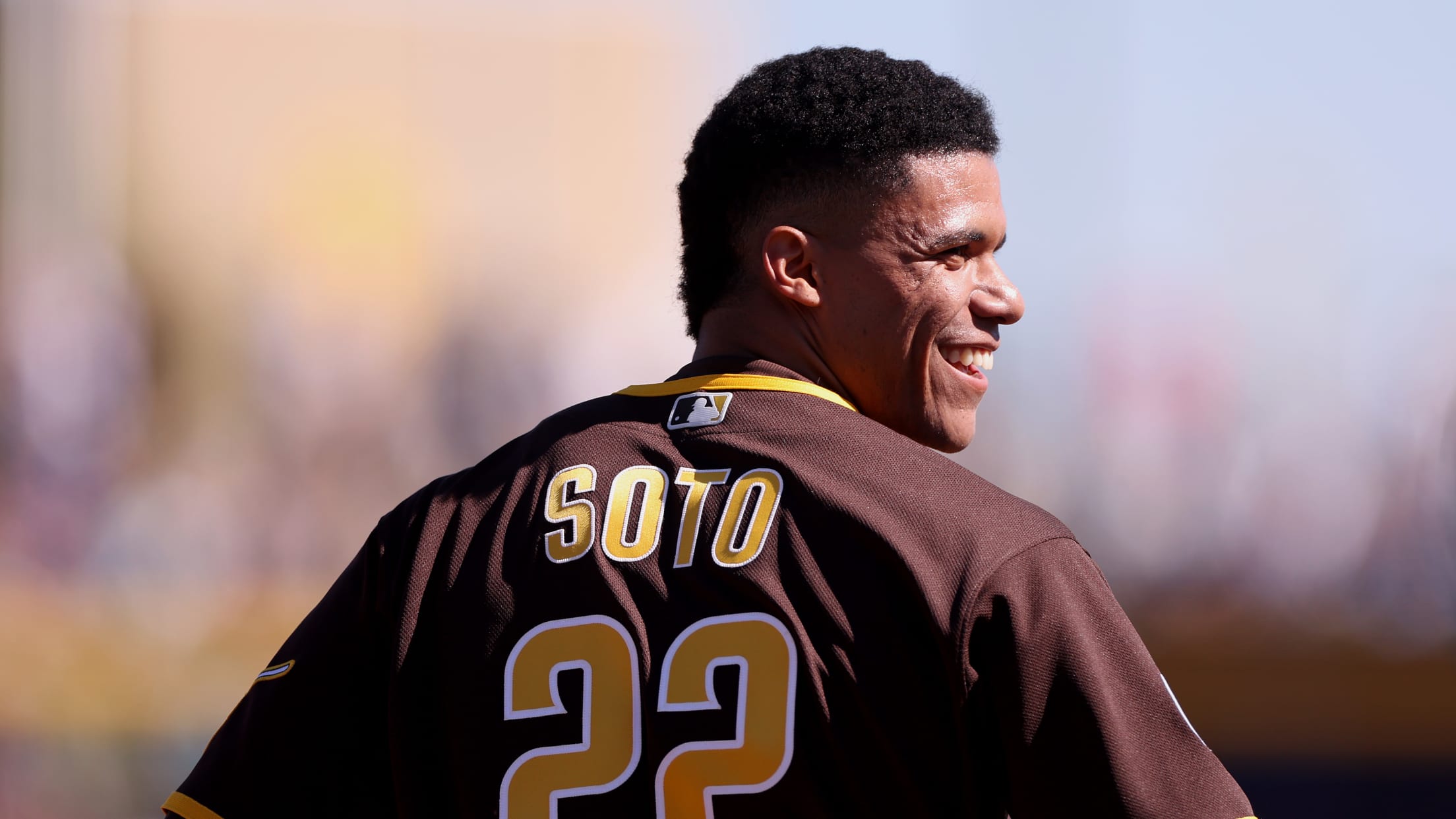 SURPRISE, Ariz. -- A loaded Team Dominican Republic just got more impressive. Juan Soto left Padres camp Thursday night to join the Dominican Republic for the World Baseball Classic, giving the Pool D favorite another big bat in a lineup that also includes San Diego teammates Manny Machado and Nelson
Alcantara hosts Team D.R., Big Papi before Classic: 'Time to give it our all'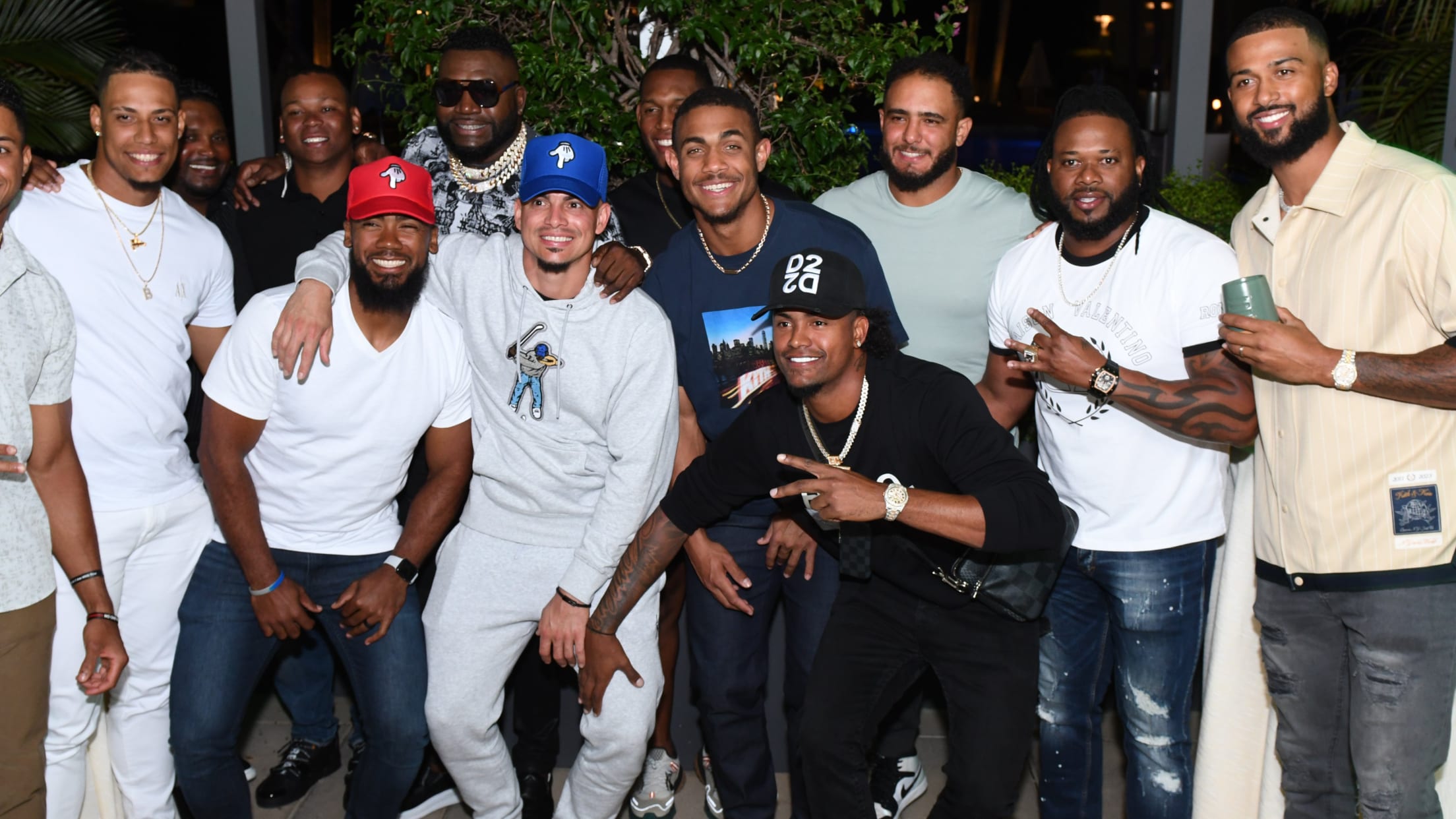 MIAMI -- Once it was announced that Miami was going to host Pool D in the World Baseball Classic, Marlins right-hander Sandy Alcantara knew he wanted to welcome his Dominican Republic teammates to the city he now calls home.
As Classic dreams come true, Alcantara looks to Dominican heroes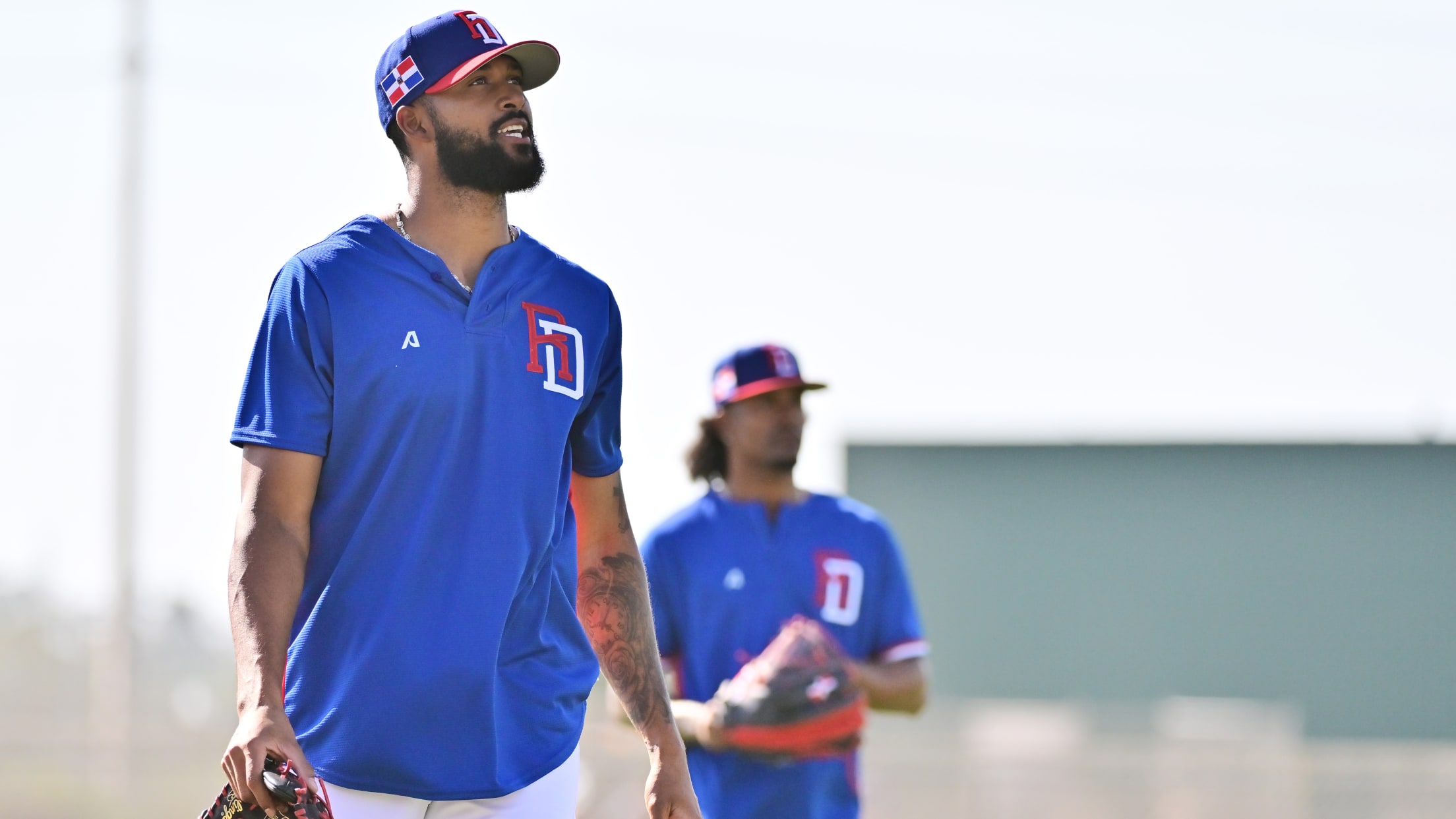 Sandy Alcantara sat in his home in the Dominican Republic and cheered just like everyone around him as Fernando Rodney recorded the last out against Puerto Rico, giving the baseball-loving country its first World Baseball Classic title in 2013.
Hungry, dancing D.R. squad set to show Plátano Power to the world
FORT MYERS, Fla. – It's no secret that the Dominican Republic has one of the most stacked rosters the World Baseball Classic has seen since its inception in 2006. And the baseball world is about to get a taste of what the island nation and all its "Plátano Power" has
J-Rod departs for Classic: 'A dream becoming a reality'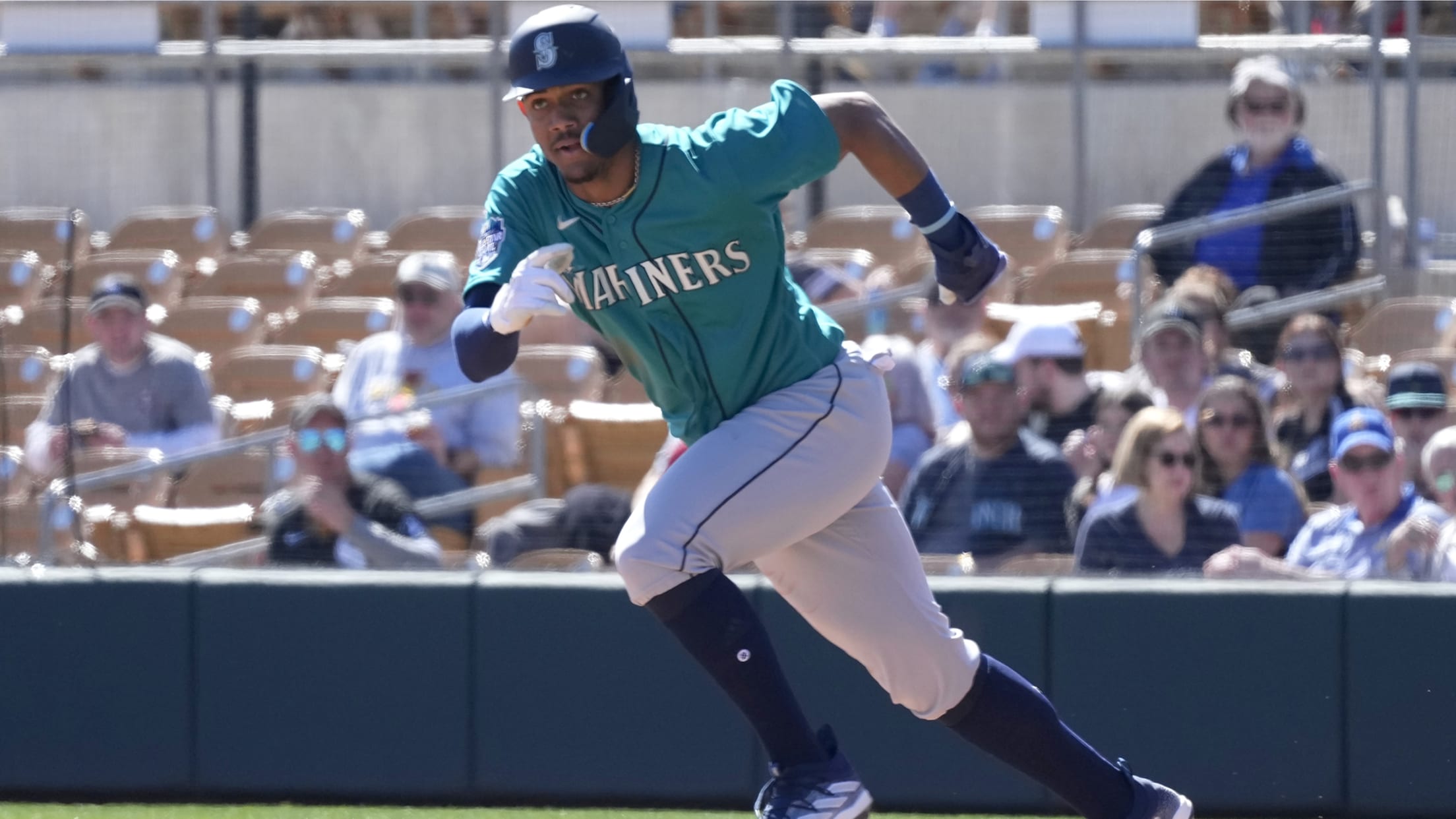 PEORIA, Ariz. -- On a brutally hot day last July at Nationals Park, one of the Mariners' faces of yesteryear approached the one who is becoming that of the present, and chatted about their homeland and their paths to the Majors. Ahead of a doubleheader between Washington and Seattle, Nelson
Soto (calf) delayed as Team D.R. meets in Miami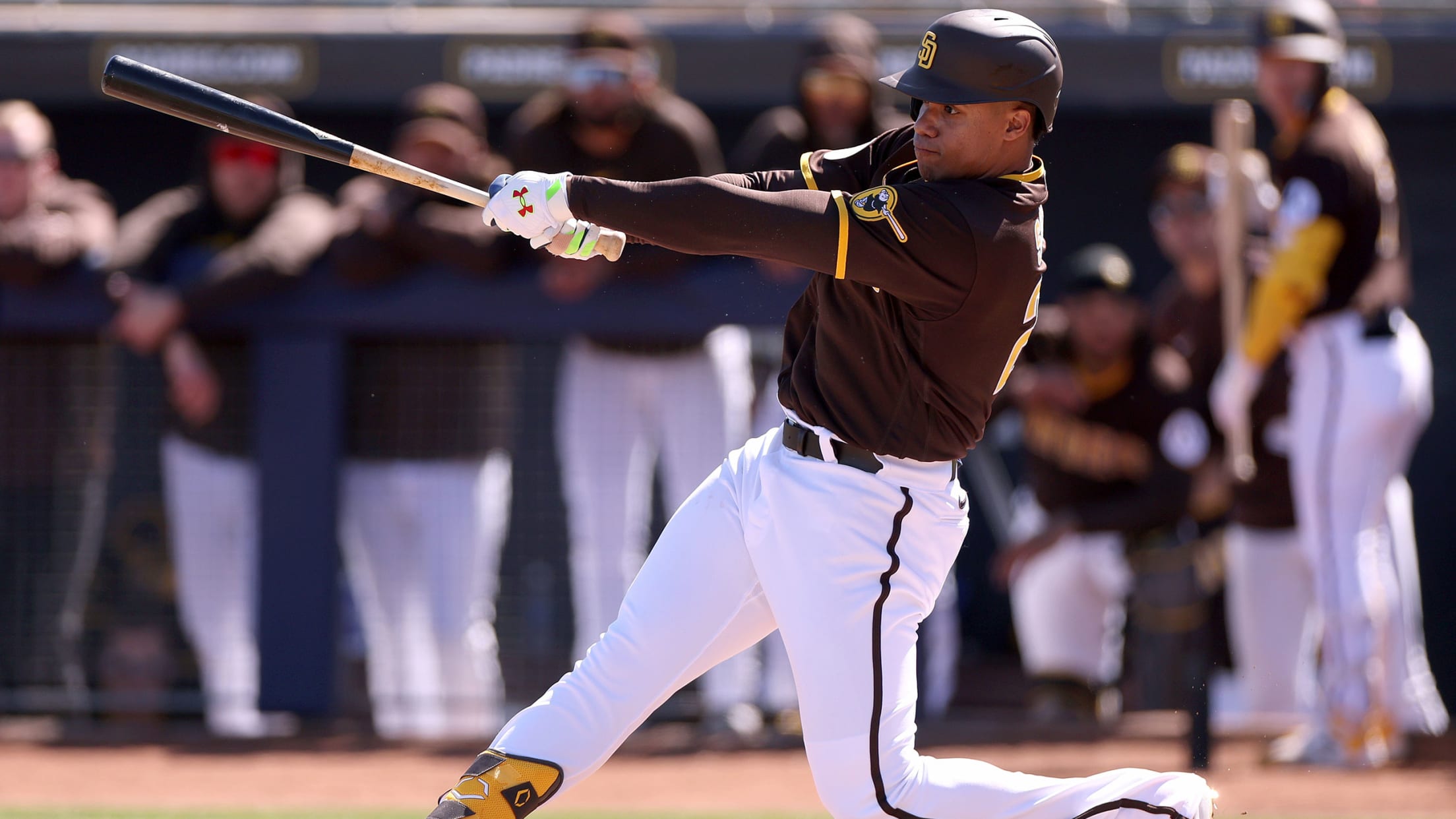 PEORIA, Ariz. -- Manny Machado rolled into Padres camp briefly on Monday morning, said hi to a few teammates and coaches, then departed for a flight to join the Dominican Republic team in Miami ahead of the World Baseball Classic. Not joining Machado? Superstar teammate Juan Soto, who stayed behind
World's stars align as Classic rosters announced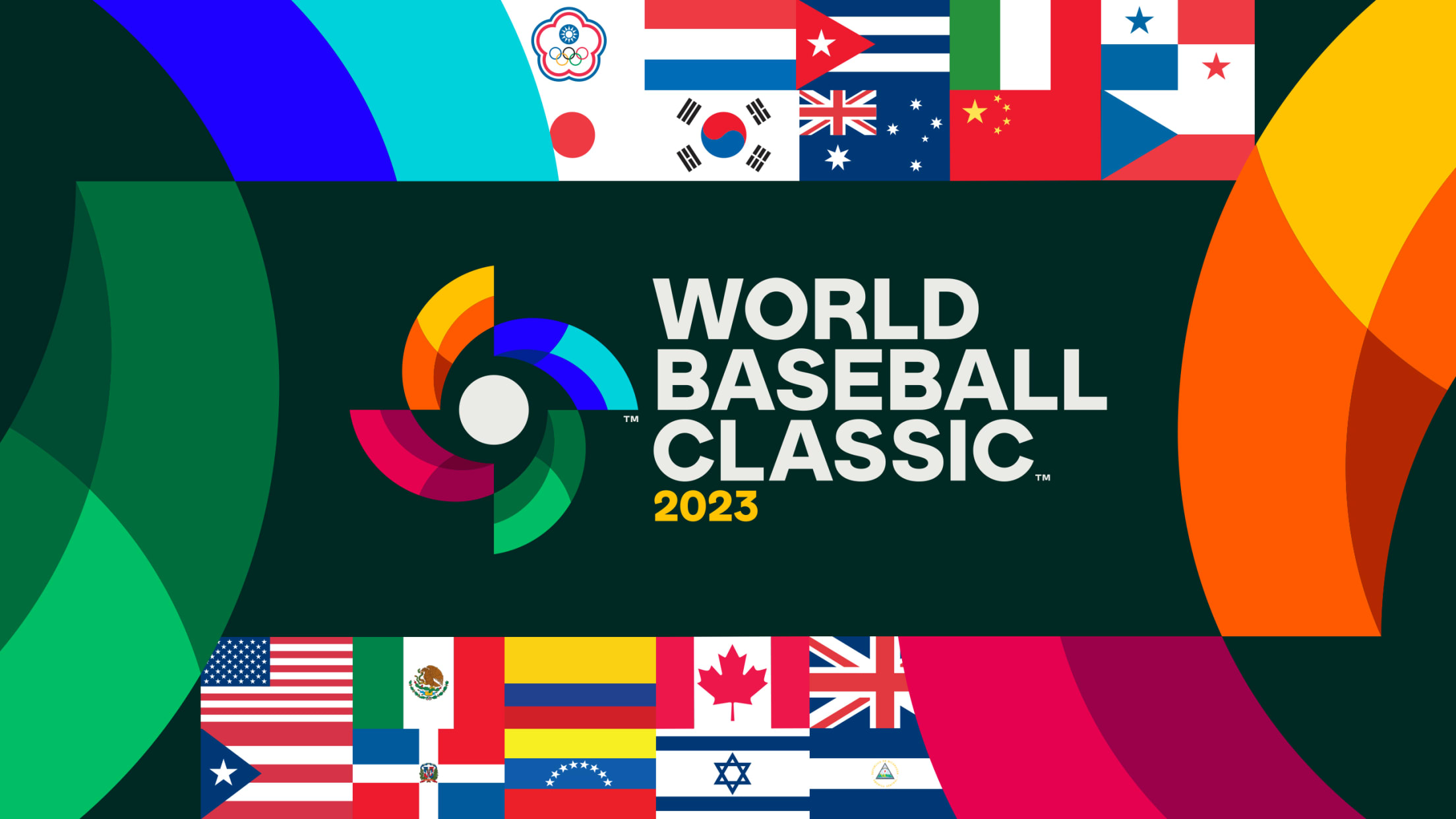 It's nearly here. After a six-year wait, the World Baseball Classic has returned, and it's bigger than ever. That's not hyperbole, either: The tournament field has been expanded to 20 teams, with three first-time participants in Great Britain, the Czech Republic and Nicaragua hoping for a Cinderella run. But they'll
Adames hyped for Classic: 'It's like the World Series in spring'
Shortstop departs Brewers camp to join Team Dominican Republic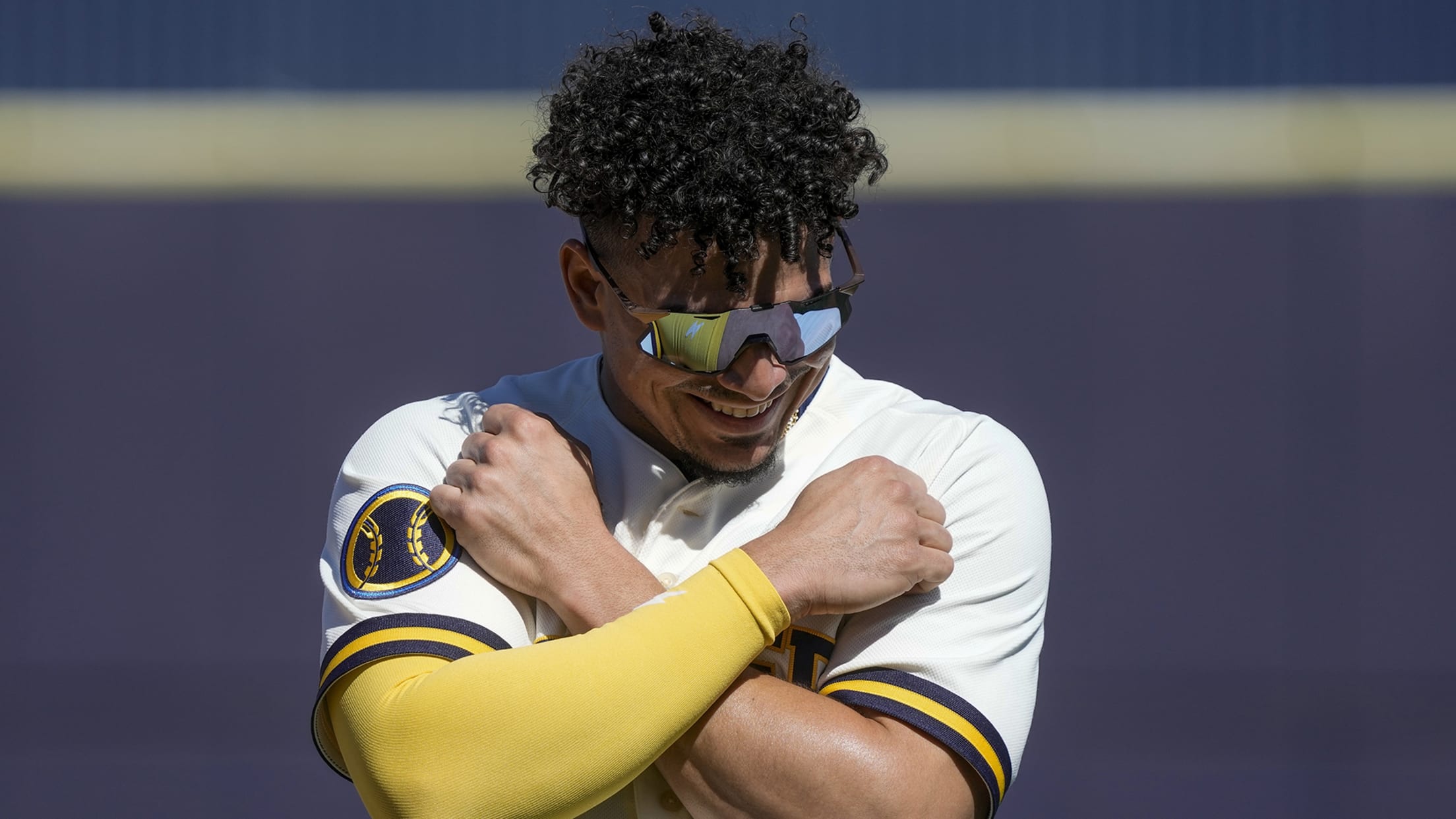 PHOENIX -- Energy has never been a problem for Willy Adames, so he figures he'll have no problem trading the relaxed routine of Spring Training for the high intensity of the World Baseball Classic. "I feel like the crowd is going to help," said Adames, who took two at-bats in
Vlad thankful for teammates' support in decision to skip Classic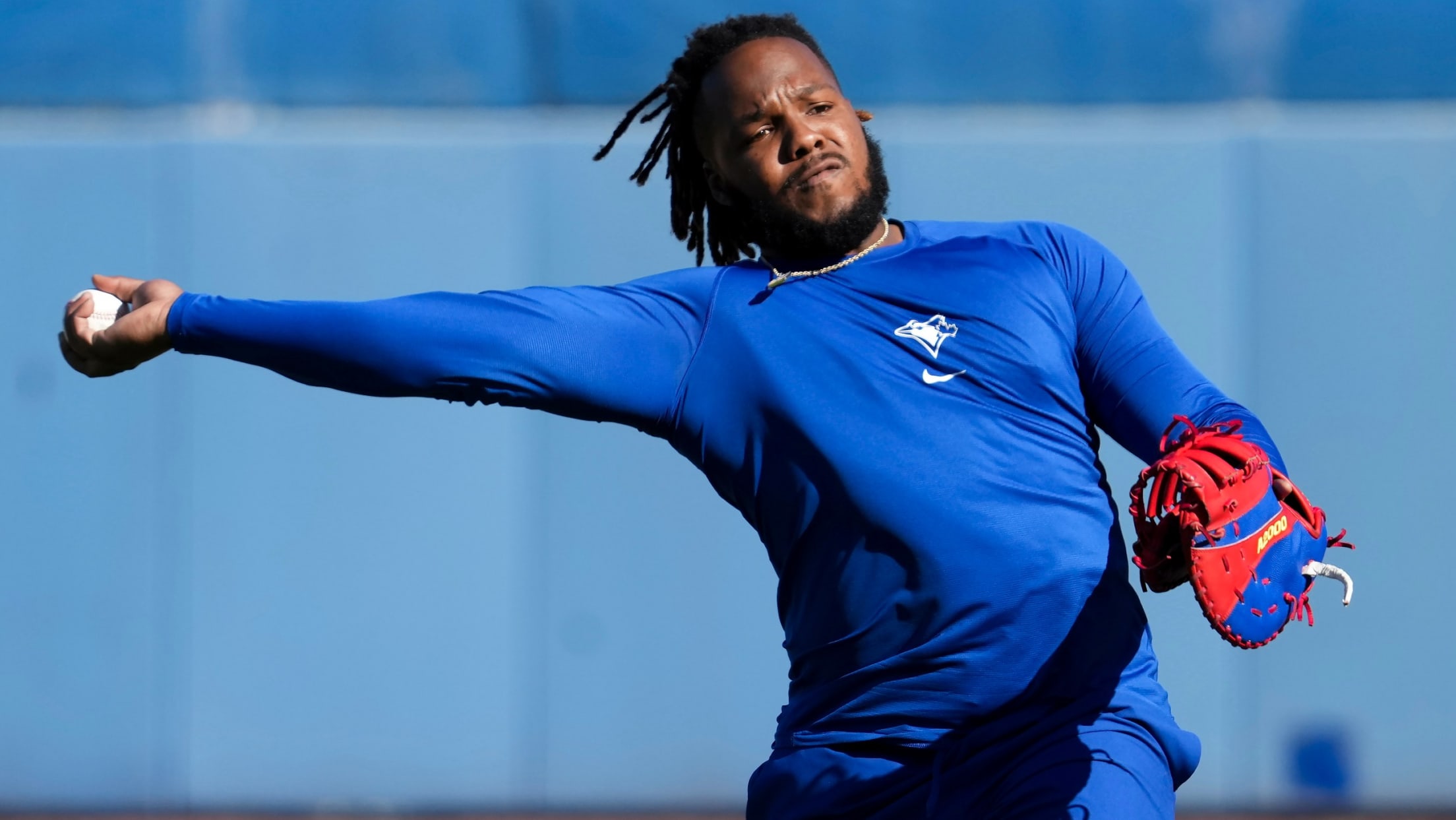 DUNEDIN, Fla. -- Vladimir Guerrero Jr. plans on working through his right knee discomfort slowly. Guerrero said on Sunday that he feels better every day, and he is thankful that the injury wasn't serious. "Obviously it's nothing serious," Guerrero said, through an interpreter, ahead of the Blue Jays' 16-4 win
Guerrero withdraws from World Baseball Classic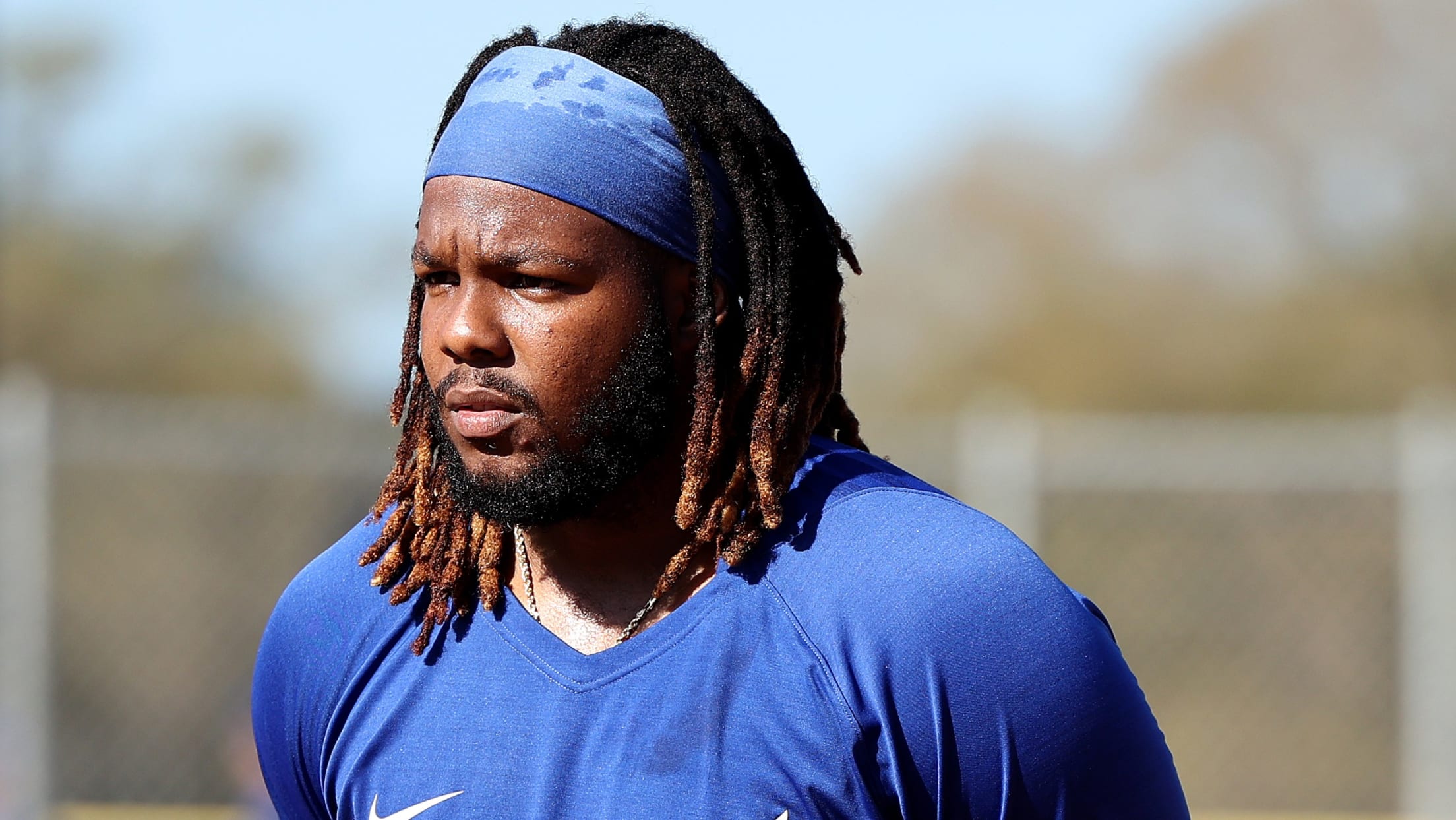 LAKELAND, Fla -- Vladimir Guerrero Jr. has withdrawn from the World Baseball Classic, where he'd been expected to star on a stacked roster for the Dominican Republic, the Blue Jays announced Saturday. Guerrero is dealing with right knee discomfort after leaving a Spring Training game Friday in Dunedin, Fla., and
Donning GM hat for Classic, Cruz recruits loaded DR roster
Righty-hitting slugger balancing tournament duties with Padres spring camp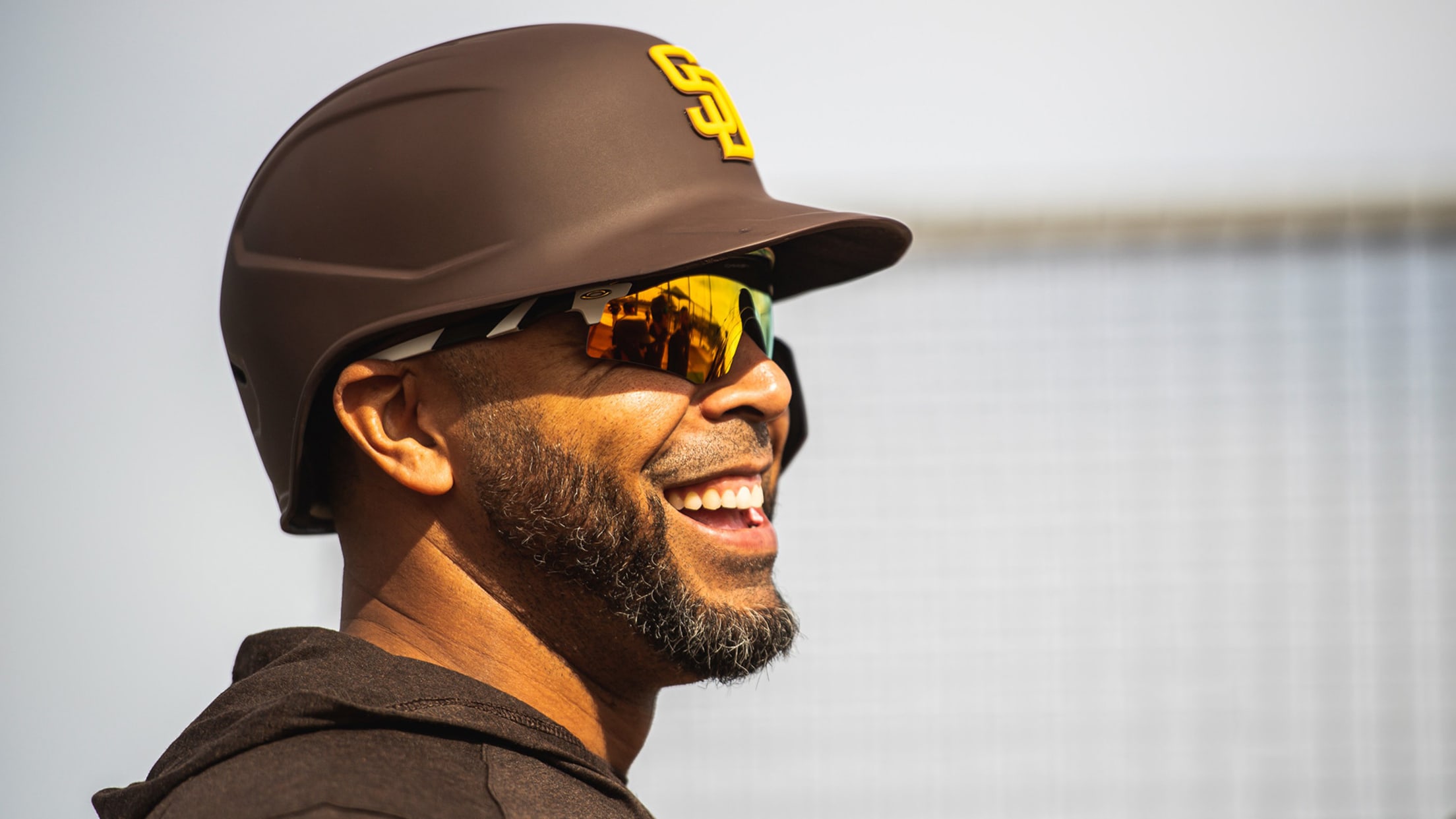 PEORIA, Ariz. -- Last July, after months of ruminating, Nelson Cruz finally accepted the offer to become general manager for the Dominican Republic ahead of the World Baseball Classic. He wasted no time recruiting. Juan Soto, then Cruz's teammate in Washington, was perhaps his very first target. "He was telling
The history of baseball in the Dominican Republic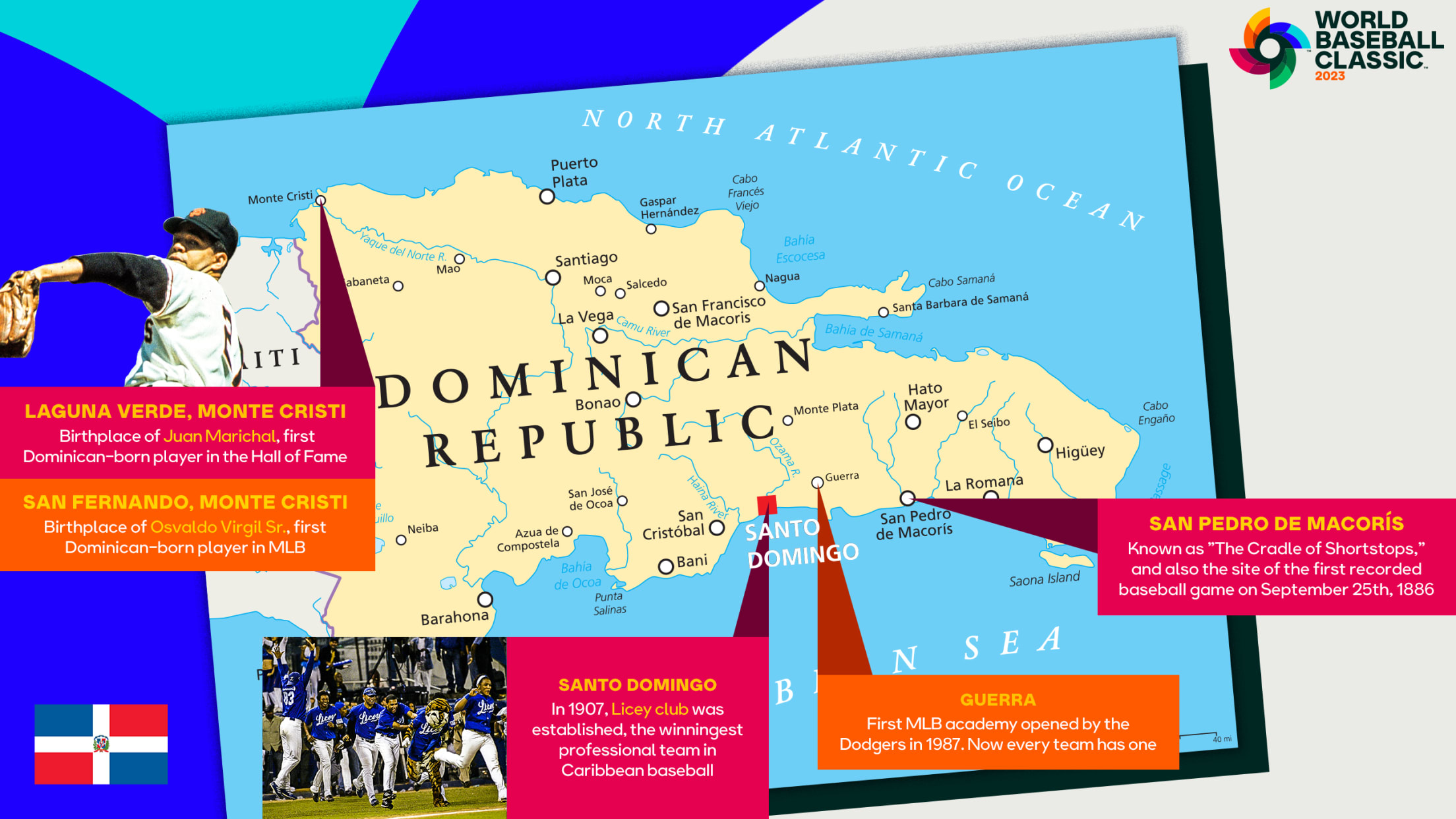 As the Dominican Republic once again heads to the World Baseball Classic with one of the most talented squads in the tournament, the country's undeniable impact on the game's present is the continuation of a rich tradition that took root in the late 1800s. Baseball was introduced to the Dominican
Tick-tock: Doval adjusting to pitch timer in camp
Giants reliever looks forward to representing Dominican Republic in World Baseball Classic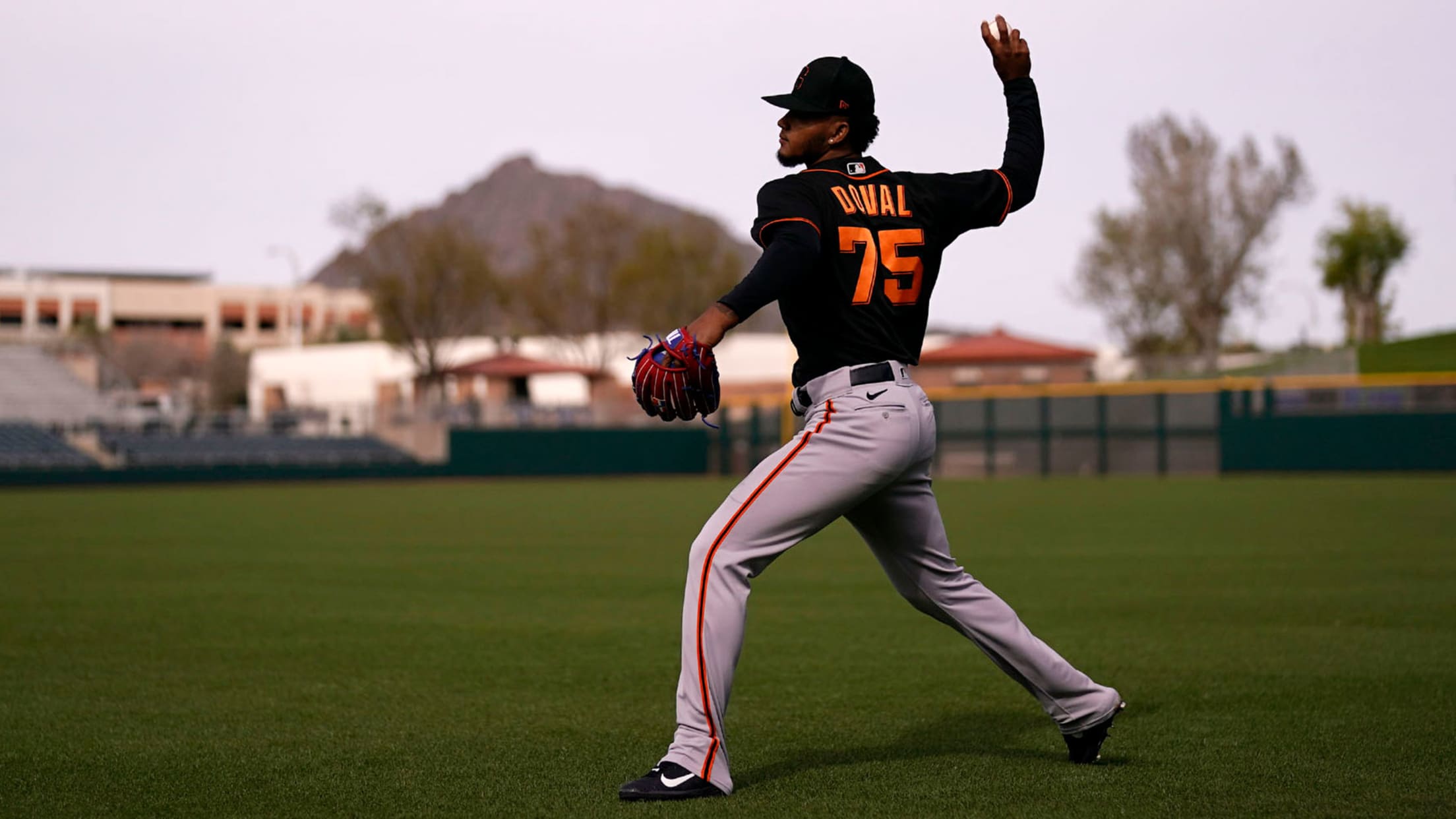 SCOTTSDALE, Ariz. -- Under manager Gabe Kapler, the Giants have made "push the pace" one of the three main components of their organizational pitching philosophy. That mantra will take on even greater importance now that Major League Baseball is introducing a pitch timer that will force pitchers to release the
Bednar to help star-studded Team USA defend title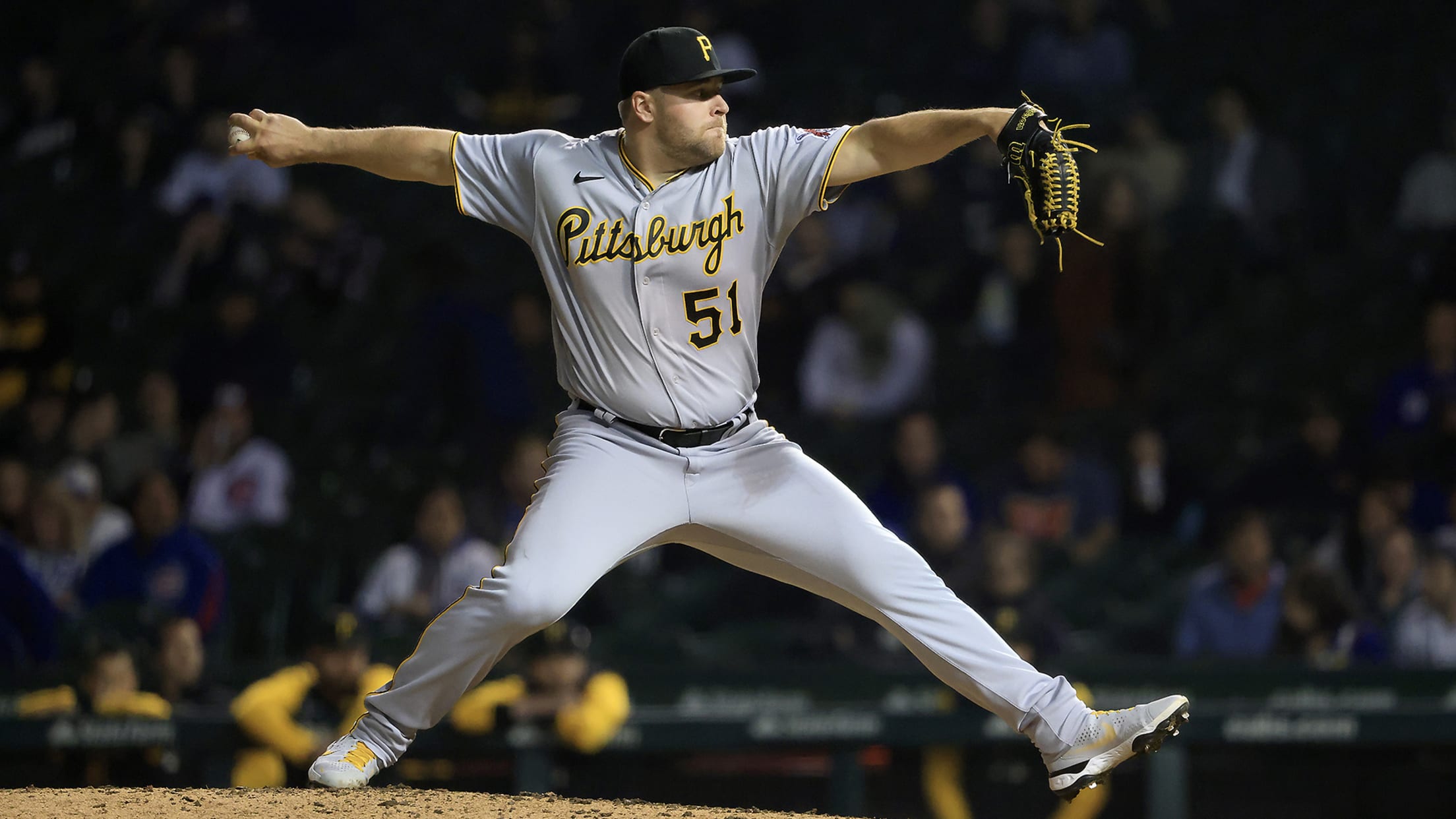 This story was excerpted from Justice delos Santos' Pirates Beat newsletter. To read the full newsletter, click here. And subscribe to get it regularly in your inbox.
Filled with stars, Team D.R. has sights on Classic title
'Right now, I don't think I'd make the team,' GM Nelson Cruz said.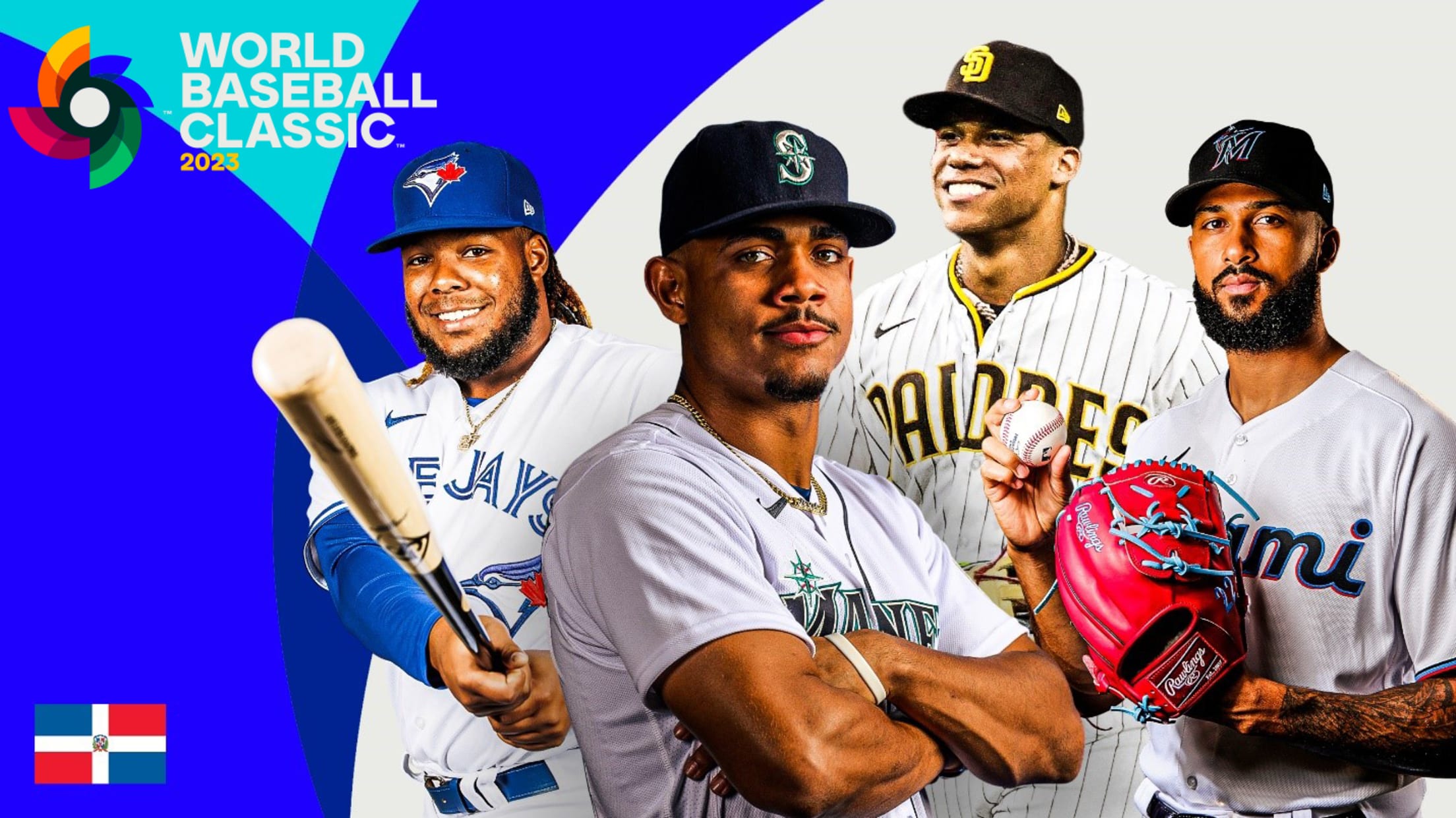 "I don't remember who was talking about it, maybe it was Juan Soto who said he saw the NBA Olympic team where they had so many stars," Dominican Republic general manager Nelson Cruz told me in a phone call. "And it was like a Dream Team. That's basically what we
Soto, Sandy, Manny, Vlad -- that's just start of stacked D.R. squad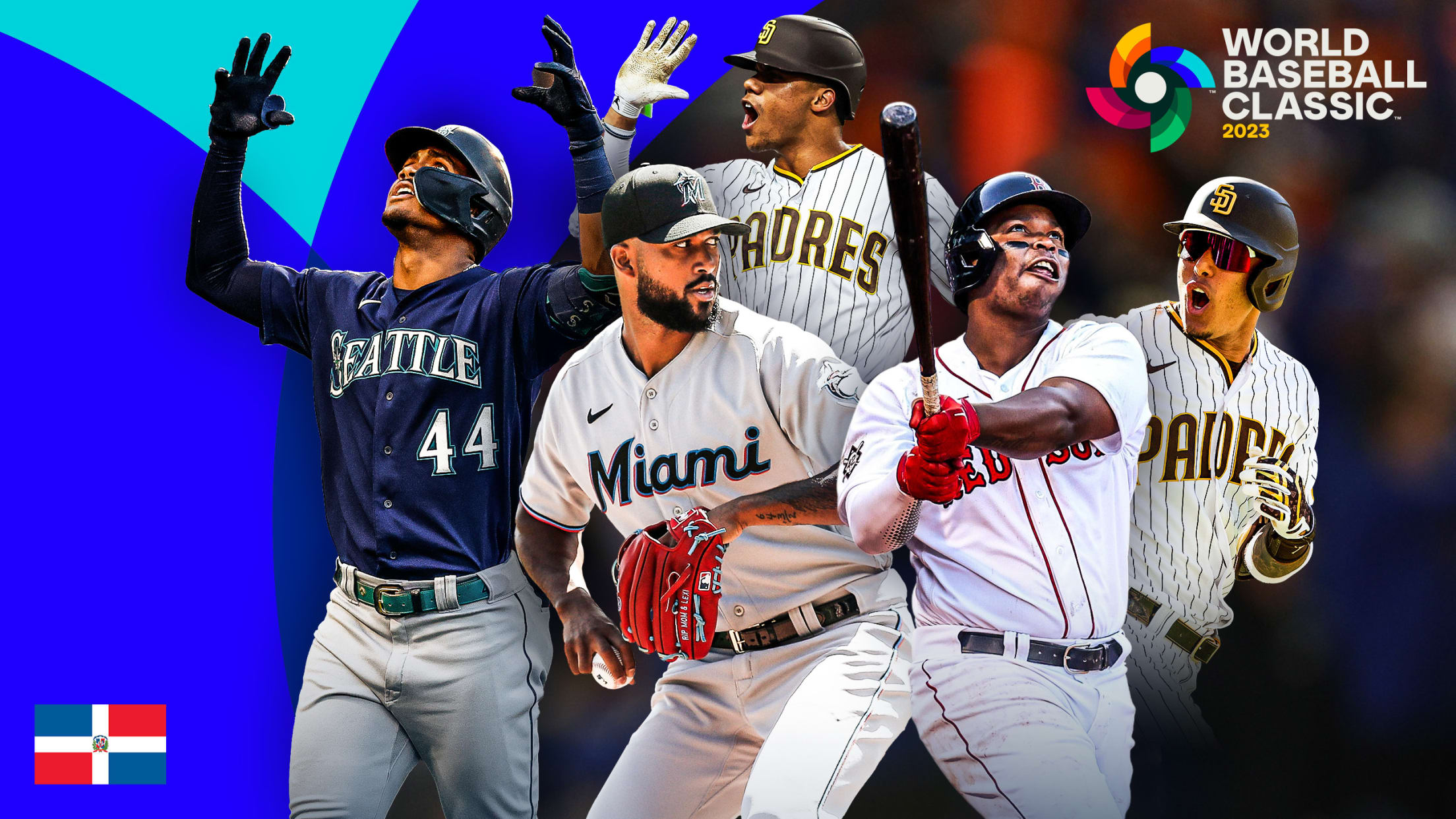 For months, there have been whispers and rumors of all the stars who could appear on Team Dominican Republic's World Baseball Classic roster. From a Cy Young Award winner to the reigning AL Rookie of the Year to, well, a handful of some of the best players on the planet.