Paddack touched up in tough start vs. LA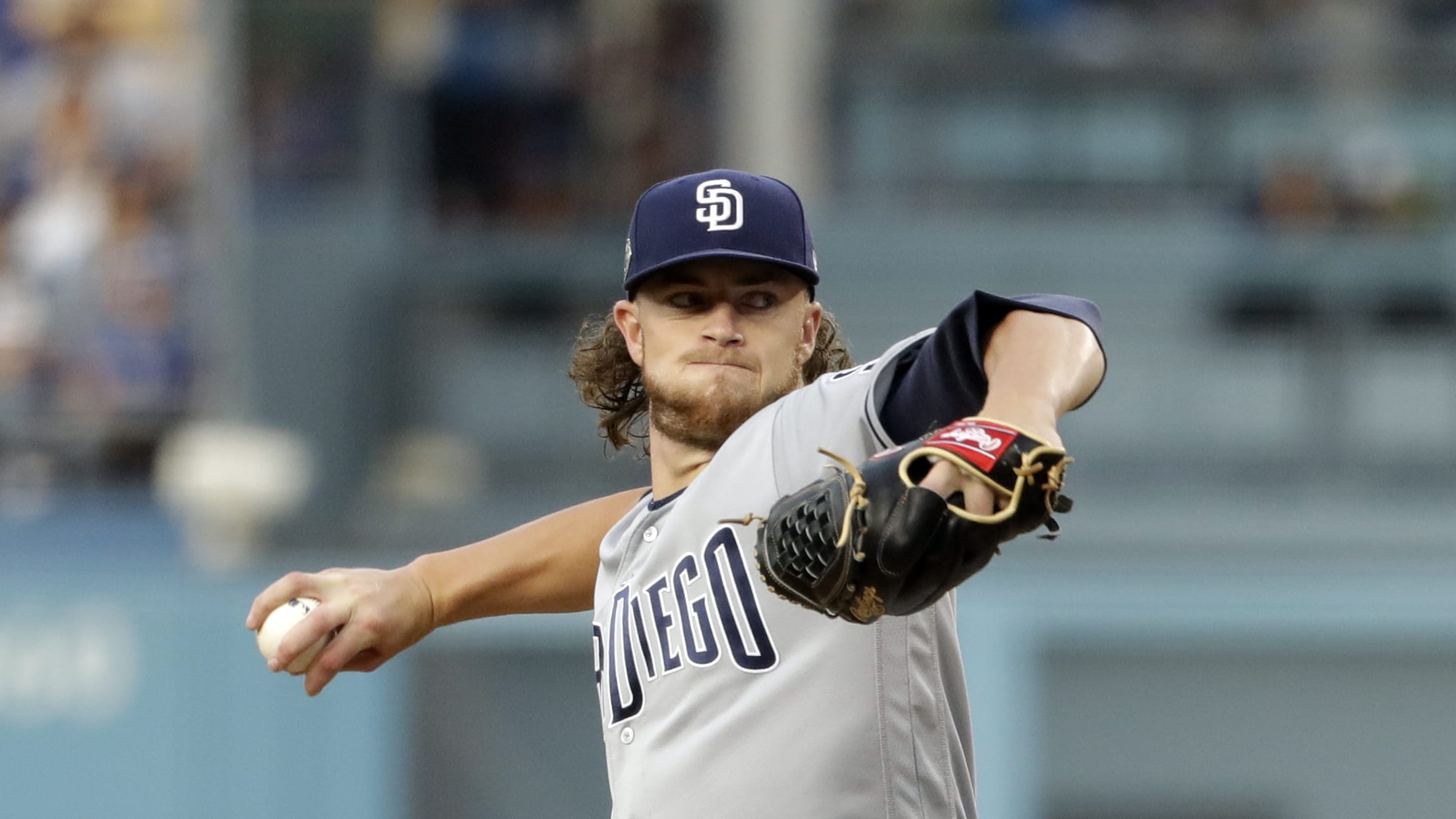 LOS ANGELES -- Chris Paddack is human after all. In his first seven big league starts, the Padres rookie right-hander burst onto the scene with ace-like stuff and swagger to match it. He allowed eight runs in those seven starts, and he spoke unabashedly about his desire to win awards
LOS ANGELES -- Chris Paddack is human after all.
In his first seven big league starts, the Padres rookie right-hander burst onto the scene with ace-like stuff and swagger to match it. He allowed eight runs in those seven starts, and he spoke unabashedly about his desire to win awards and dominate opponents.
But Paddack crashed down to earth on Tuesday night in Los Angeles. He surrendered six runs and lasted just 4 2/3 innings. Among Paddack's 92 pitches, the Dodgers had more hits (five) than swings and misses (four).
"Credit to their offense tonight," Paddack said. "Credit to the Dodgers. That's a great team over there, and they beat me."
In the process, the Padres dropped the opener of their two-game series at Dodger Stadium, 6-3. Franmil Reyes and Manny Machado combined for five hits, and both went deep. But Paddack -- who hadn't allowed more than three runs in any previous start -- surrendered a pair of two-run homers in the third inning.
After a Machado error, Joc Pederson smashed a 1-0 fastball into the right-field seats. Three batters later, Cody Bellinger destroyed a 2-2 changeup to left. Only three of the runs against Paddack were earned.
But the Dodgers -- with their patient lineup full of left-handed hitters -- clearly posed a challenge that Paddack hadn't seen before. They fouled off pitches and worked deep counts, and when Paddack made mistakes, they made him pay. It didn't help that Paddack's command, which is generally elite, was spotty on Tuesday night.
"He wasn't going to go through the year unscathed," said Padres manager Andy Green. "I know he wanted this one. It just was one of those days where he's had better stuff and better command. … He knows the big leagues is tough."
• Machado homers off Kershaw -- this time, L.A.
When the Dodgers came to San Diego two weekends ago, Paddack acknowledged his disappointment that the series didn't fall during his turn in the rotation. The Padres dropped two of three. After losing Tuesday's opener, they trail their division rivals by five games. The race they'd dreamed about might never materialize.
The Dodgers, of course, are six-time defending division champions, and they've won consecutive National League pennants. The Padres want to tilt that balance of power. A promising core of young players like Paddack should go a long way. But there's still a gap to close if the Padres want to contend. Tuesday offered a stark reminder of that.
"I'm going to learn from this," said Paddack.
Even with Tuesday's rocky outing, Paddack's ERA sits at 1.99 and his .145 batting average against leads the Majors.
"He'll be fine," said Padres catcher Austin Hedges. "He'll go out and shove like he always does. Even if he goes out and pitches against the Dodgers again, I bet he'd go dominate. He learns. He works. I expect him to dominate."
Paddack expressed some frustration at his 90-pitch limit, which the Padres implemented this year in order to limit his workload. He threw 92 pitches on Tuesday, because his battle with Bellinger lasted a few extra pitches. But when Bellinger bounced an RBI groundout to second base, Paddack's night was over.
It wasn't a disaster, by any stretch. Paddack fell victim to some rough batted-ball luck in each of his final three innings. Still, by his lofty standards, it clearly wasn't good enough. In Paddack's eyes, his next outing -- Monday against the D-backs -- can't come soon enough.
"It'll be fun to watch my next start, that's all I've really got to say," Paddack said. "I've got some homework to do."