Please check back for 2022 in-season dates.
In-Season tours run April through October.
There will be no tours on Holidays, Sundays or days of a weekday afternoon game. There will also be no tours in the event of special ballpark activities (such as concerts, festivals, etc.).
Daily Tour Highlights:
Field/Warning Track, Bullpens, Pop's Plaza, Pittsburgh Baseball Club Level, Luxury Suites, Press Box and Tour Theater.
Out of an abundance of caution, the Pirates Clubhouse, Batting Cages and both Dugouts will not be included on the tour in order to prioritize safety for the players and staff, at this time.
All areas are subject to change without notice.
TOUR DETAILS
Daily and Group tours last approximately 90 minutes in length and go on rain or shine.
This is a walking tour (approximately 1.5. miles), so we suggest wearing comfortable footwear. All Guests must stay with the group at all times.
Tours are wheelchair and stroller accessible. Wheelchairs are available for your use during the tour. We ask that you make arrangements with PNC Park staff at least 24 hours in advance by calling 412-325-4700.
PNC Park is now cashless therefore we only accept Credit cards, debit cards or gift cards (gift cards will only be accepted for tour ticket purchases.
All tickets are non-exchangeable and non-refundable.
If you would like to speak with our Tour personnel, please call the PNC Park Hotline at 412-325-4700 or e-mail us at [email protected].
TICKETS
Tickets can be purchased in advance or on the day of the Tour (unless otherwise noted on a particular date). Tour sizes are currently limited so it's highly recommended to purchase tour tickets in advance.
Daily Tour Prices:
Adults: $12 per person
Seniors (55+): $10 per person
Children (ages 6 to 14): $10 per person
Children (ages 5 and under): FREE
Please use the button below to check times for available walk-up dates and times.
Pregame Tours are currently not available for the 2021 Season.
GROUPS (25-250 PEOPLE)
Group tours are available Monday-Saturday on game days as well as Monday-Friday on non-game days, with some exceptions.
Groups of 25 or more receive the group discount of $7 per person, with a waiver for children's groups of 1 chaperone free per 12 students.
Schools and Organizations of more than 50 persons will be divided into smaller groups to accommodate everyone on the Tour.
Groups must make a reservation and pay in full 10 days in advance of the scheduled tour date, or it may be subject to cancellation.
Bus parking will be free along General Robinson St. or North Shore Dr.
To check availability and/or make a reservation, call 412-325-4700 or email [email protected]
LUNCH PROGRAM
The lunch program previously offered will be suspended for the 2021 season.
If you would like to speak with our Tour personnel, please call the PNC Park Hotline at 412-325-4700 or e-mail us at [email protected].
ACCESSIBILITY INFORMATION
All PNC Park Tours are accessible for all Guests.
If a group consist of any individuals with special needs (regardless of size), please call to discuss private tour options.
PNC Park provides complimentary wheelchairs for guests who may have difficulty walking on the tour. We request advance notice of 72 hours.
If you or anyone in your group requires assistance for a hearing impairment, please contact us 72 hours prior to the tour date and time.
For any of the above requests or accommodations please contact the Pirates Tour Department at 412-325-4700.
PARKING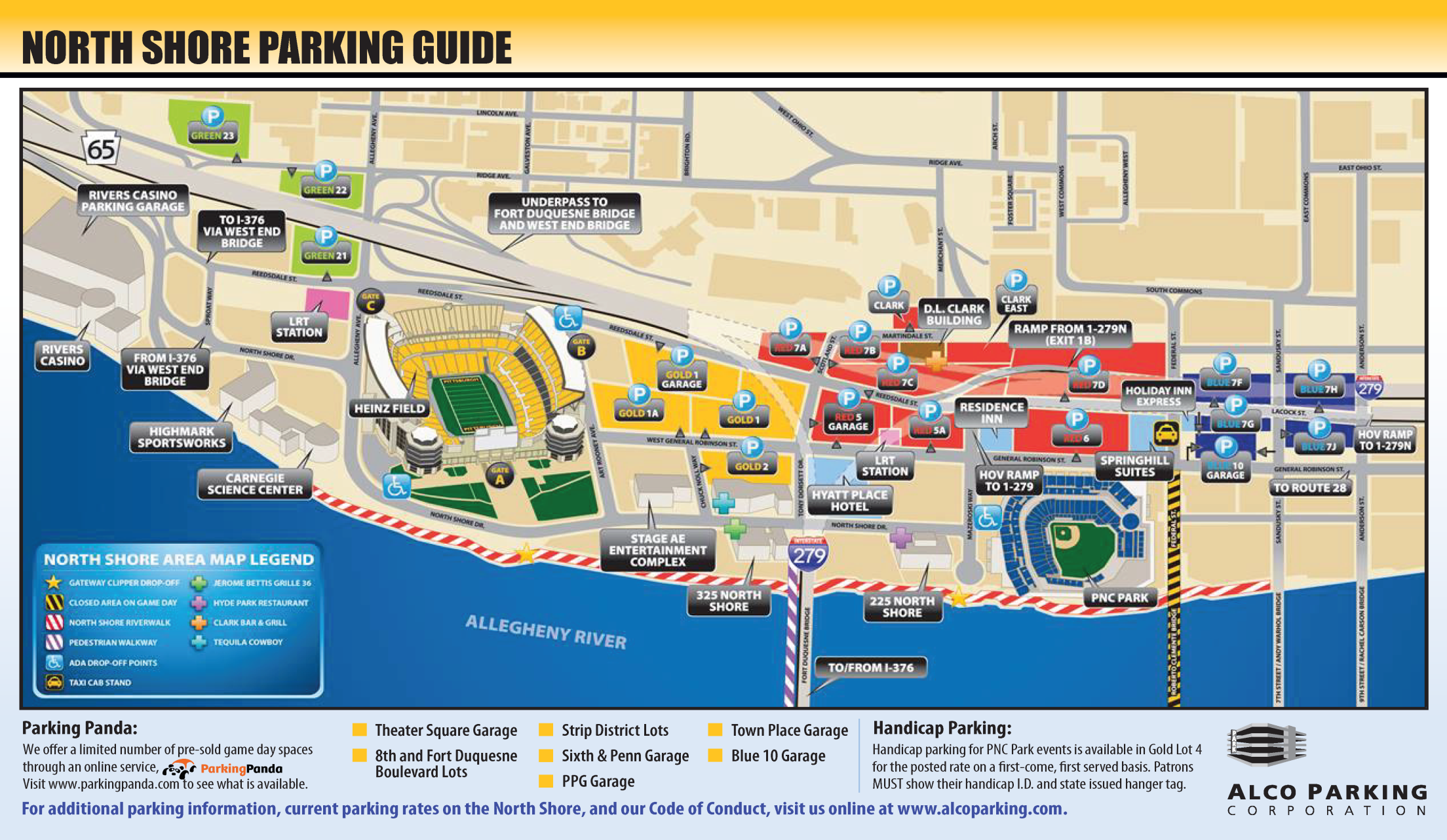 The Pirates have teamed up with Waze, a community-based traffic and navigation app, to provide you with the most efficient routes to and from the ballpark. Waze is the only GPS program that (thanks to our partnership) has PNC Park parking lots, traffic patterns, and street closures incorporated, providing fans with accurate directions to your specific lot with real-time traffic alerts. Download the free app from Apple's App store and Google Play.
PNC Park
115 Federal Street
Pittsburgh, PA 15212
412-325-4700 or 412-321-BUCS
FAQ