PNC PARK OFF-SEASON TOURS

For the 2021 off-season, we will continue to work on updating this page as any COVID-19 protocols change for this time of year.
Some of the attractions you may visit during this comprehensive Tour include:
Pirates Bullpen/Warning Track
Pittsburgh Baseball Club Level
Press Box
Tour Theater
Luxury Suite
World Series Suites
All areas are subject to change without notice.
TOUR DETAILS
Daily and Group tours last approximately 90 minutes in length and go on rain or shine.
This is a walking tour (approximately 1.5. miles), so we suggest wearing comfortable footwear. All Guests must stay with the group at all times.
Tours are wheelchair and stroller accessible. Wheelchairs are available for your use during the tour, please make arrangements with PNC Park staff at least 24 hours in advance by calling 412-325-4700.
PNC Park is cashless therefore we only accept Credit cards, debit cards or gift cards.
All tickets are non-exchangeable and non-refundable.
If you would like to speak with our Tour personnel, please call the PNC Park Hotline at 412-325-4700 or e-mail us at [email protected].
TICKETS
Tickets can be purchased in advance or on the day of the Tour (unless otherwise noted on a particular date). Walk-Ups are accepted on specifically scheduled tour dates. Tour sizes are currently limited so it's highly recommended to purchase tour tickets in advance.
PRICING:
Adults: $12
Seniors (55+): $10
Children/Students (ages 6 to 14): $10
Children (5 and under): FREE
Groups (15 or more): $7
Visa, Mastercard, Discover and American Express cards are accepted.
GROUP TOURS
Group tours will be offered for any group with 25 to 250 people. Schools and organizations with more than 50 people will be divided into smaller groups to ensure all members of the group enjoy the tour. The maximum number per group is 250 people.
Offered: Monday through Friday by appointment only (9am to 4pm - last tour of the day cannot be scheduled to start later than 2:30 p.m.), 1st Saturday of the month at 10am or 12pm and the following Saturdays: October 16, November 6, November 13, December 4, December 18
Children's groups of 15 or more receive the group discount rate of $7 per person, with a waiver for one (1) chaperone per 12 students.
There are no refunds for cancellations made within 48 hours of the tour date and time, however the tour can be re-scheduled.
Payments can be made through a credit card or Business/School/Organization check. (no personal checks will be accepted).
Buses/Vans may drop-off on General Robinson Street or Mazeroski Way.
No drop-offs will be allowed on Federal Street.
For their convenience, buses may park on General Robinson Street or North Shore Drive (west side of PNC Park) for free. Private cars and vans will need to park in a pay lot anywhere surrounding PNC Park. For more information regarding parking surrounding PNC Park, please contact ALCO Parking Corporation at 412-323-4455 or visit alcoparking.com
Groups must make a reservation and be paid in full 10 days prior to the scheduled Tour or the Tour is subject to cancellation. You can call 412-325-4700 or email 

[email protected]

 to check availability and/or to make a reservation.
ACCESSIBILITY INFORMATION
All PNC Park Tours are accessible for all Guests.
If a group consists of any individuals with special needs (regardless of size), please call to discuss private tour options.
PNC Park provides complimentary wheelchairs for guests who may have difficulty walking on the tour. We request advance notice of 72 hours.
If you or anyone in your group requires assistance for a hearing impairment, please contact us 72 hours prior to the tour date and time.
For any of the above requests or accommodations please contact the Pirates Tour Department at 412-325-4700.
PARKING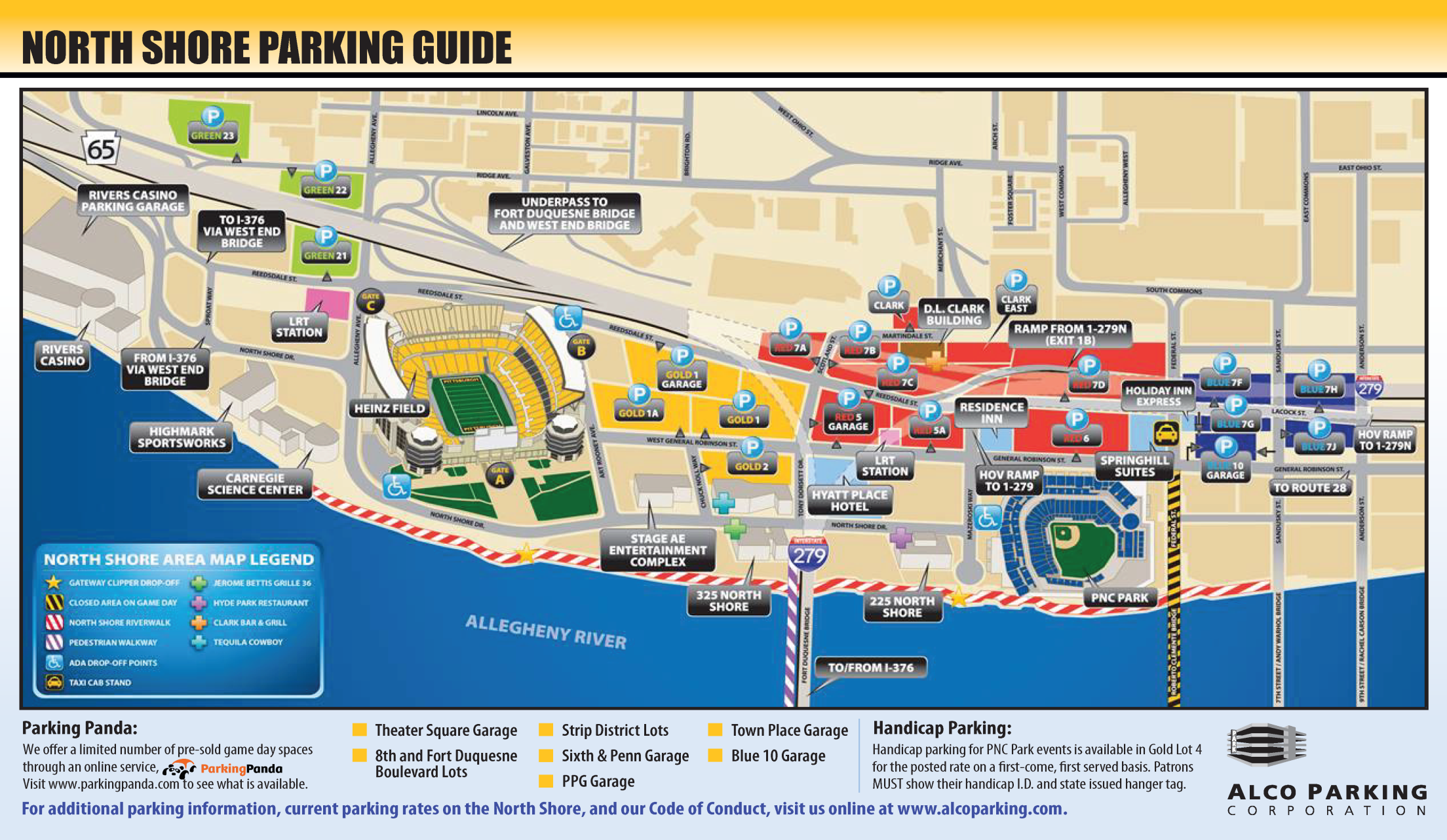 The Pirates have teamed up with Waze, a community-based traffic and navigation app, to provide you with the most efficient routes to and from the ballpark. Waze is the only GPS program that (thanks to our partnership) has PNC Park parking lots, traffic patterns, and street closures incorporated, providing fans with accurate directions to your specific lot with real-time traffic alerts. Download the free app from Apple's App store and Google Play.