1971 WORLD SERIES CHAMPIONS
Bucs heroes remember 1971 Series
By Ed Eagle
The year was 1971. Richard Nixon was in the Oval Office, Clint Eastwood introduced the world to "Dirty Harry" and Led Zeppelin IV was blaring through car stereos across the country. It was also the year in which the Pittsburgh Pirates entered the World Series against the Baltimore Orioles as heavy underdogs.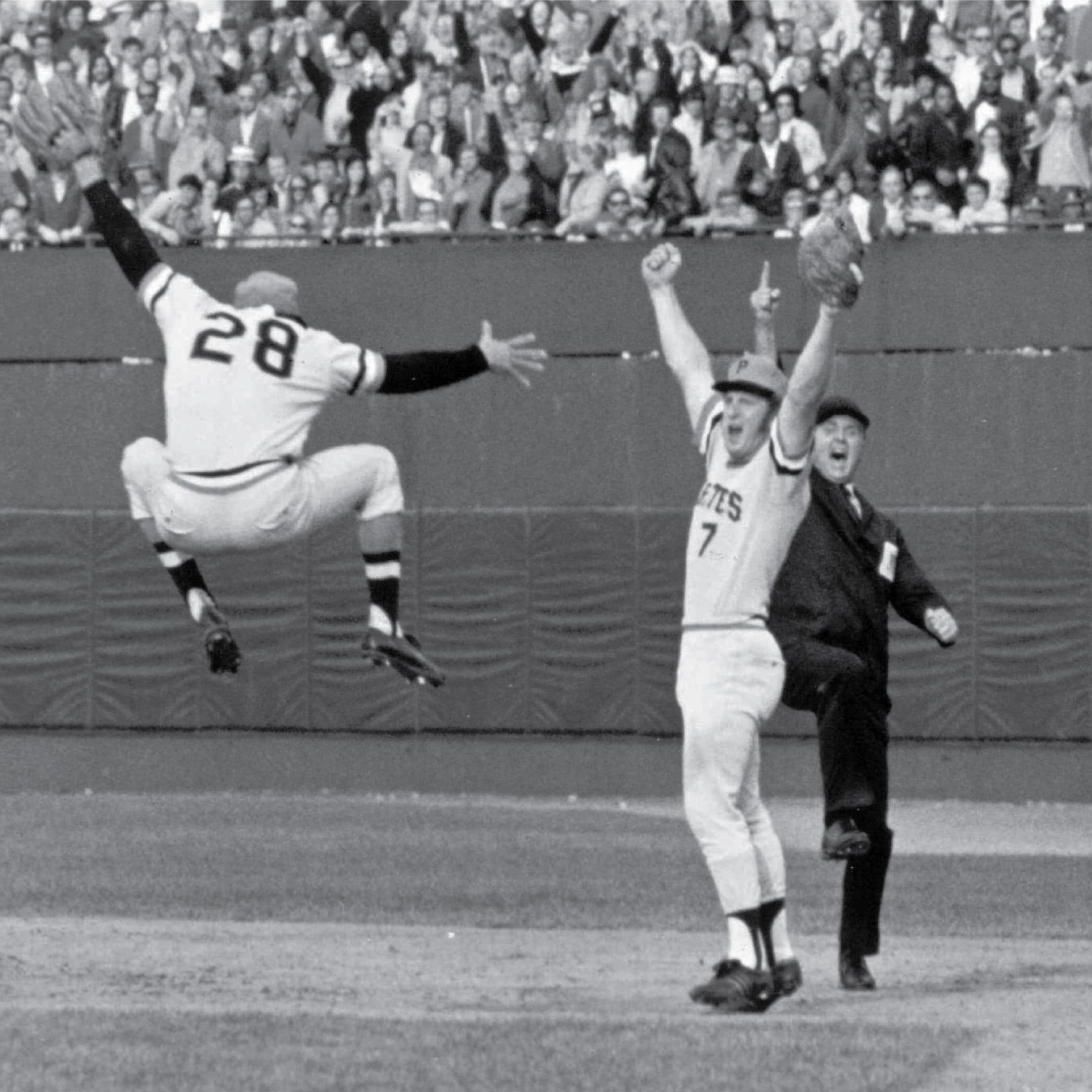 Despite compiling a 96-65 record, winning the National League East by seven games over the St. Louis Cardinals and dispatching of the San Francisco Giants in four games in the National League Championship Series, few of the so-called experts gave the Bucs much of a chance against the mighty Baltimore Orioles.
The O's were, after all, the defending World Champions and winners of 318 games over their previous three seasons, each of which ended with a World Series appearance. Indeed, Baltimore boasted a pitching staff that featured four 20-game winners and a lineup anchored by Hall of Famers Frank Robinson and Brooks Robinson.
The Pirates, though, pulled out the Series in seven games on the back of their own superstar, right fielder Roberto Clemente. The 37-year-old, who would pick up his 3,000th and final hit less than a year later, had always felt slighted by the national media because he had not played for one of the glamour teams of that era. He took it upon himself to shine brightly under the intense glare that accompanies the Fall Classic, hitting .414 with two home runs, while showing off his legendary cannon arm and running the bases like a man half his age.
What may have been lost during the passage of three decades since are the contributions of other lesser-known Bucs whose own heroics were key in the team's championship run. Guys like first baseman Bob Robertson, catcher Milt May, and pitchers Bruce Kison, Nellie Briles and Steve Blass left their marks on baseball history with their 1971 performances.
Robertson made his powerful presence felt in Game 3.
After the Orioles took control of the Series early on, winning the first two games in Baltimore by scores of 5-3 and 11-3, Pirates fans' hopes had faded as the Series headed to Three Rivers Stadium for Games 3, 4 and 5.
With his team clinging to a 2-1 lead in the seventh inning of Game 3, Robertson missed a bunt sign relayed in from manager Danny Murtaugh before connecting on a crucial three-run home run.
"The bunt sign was on, but I certainly didn't see it," said Robertson. "We had Clemente on second base and Willie Stargell on first, and the only thing I had in my mind in the on deck circle was to hit a ball as hard as I could possibly hit it to try to get us some runs because we were two games down.
"[Bunting] was the furthest thing from my mind. I don't even know if I even saw [third base coach] Frank Oceak, to be honest with you, because I was so focused on what I was trying to do. I certainly was not looking for a bunt sign. I don't know if I ever did bunt in the big leagues!"
It was not until Robertson touched 'em all and returned to the dugout that he realized his "mistake."
"I came around the bases, sat down on the bench and Bill Mazeroski came over to tell me the bunt sign was on.
"I happened to look down to Murtaugh. He had his cap down over his face and he was laughing."
Robertson's blast coupled with a complete game three-hitter by Blass gave the Pirates a 5-1 victory.
Game 4, the first night game in World Series history, featured two more unlikely heroes for the Pirates, both rookies. When starter Luke Walker was knocked around for three runs after just 2/3 of an inning, Murtaugh called on 21-year-old Bruce Kison to shut the door. Kison did just that, holding the powerful Orioles lineup scoreless over 6 1/3 innings.
While Kison did his part to keep the Orioles off the board, the Bucs' offense continued to chip away at the Orioles' lead.
In the seventh inning the Pirates jumped ahead to stay. Backup catcher Milt May came through with a pinch-hit single to center, scoring Robertson with the decisive run in the Bucs' 4-3 win, tying the Series a two games apiece.
May still remembers vividly the excitement of that crucial at-bat.
"I was in the bullpen and they called to tell me to come down and get ready to hit," said May. "I used a 35-ounce bat and I can remember picking it up and it felt too light because of the adrenaline. I grabbed one of Willie Stargell's bats, which was an ounce heavier and maybe a half-inch longer, and I actually used Willie's bat because mine felt so light.
"All of a sudden I was the hitter and before the first pitch I was concerned about being too jumpy up there. It was a ball and I took it. After the first pitch I calmed down and the next pitch I got the hit on."
For Kison, who would go on to win 115 games, his relief performance gave him the confidence that he could compete in the big leagues under the most intense conditions.
"Being able to contribute in championship play benefited me to know that yes, in fact, I did belong and could contribute to a World Championship club," said Kison. "I was able to show that I made a contribution and I belonged here."
In Game 5 it was yet another hero who led Pittsburgh to victory. Pirates hurler Nellie Briles, who had not started in two weeks, tossed a masterful two-hit shutout and even drove in a run of his own in a 4-0 win that gave the Pirates a 3-2 Series lead.
"Thinking about the game, I can remember almost all of it," recalls Briles. "I took great pride in knowing that it was the pivotal game with us heading back to Baltimore."
Briles believes he was just a pitch or two away from becoming just the second man in World Series history to toss a no-hitter.
"From the first pitch everything was working," said Briles, now a Vice President in the Pirates front office. "I couldn't have asked for more. I was throwing the ball well, had tremendous control and it almost felt like I could invent a pitch and throw it over.
"I really firmly believe that if Brooks Robinson hadn't gotten a two-out base hit in the top of the second, that it was one of those times where you have such command and good stuff that I would have had a shot at the no-hitter. The only other hit was a broken bat single by Boog Powell in the seventh."
The Orioles picked up an extra-inning win in Game 6 to set the stage for a Game 7 classic. Murtaugh once again called upon Blass as his man on the mound.
To say Blass was a little worried about the assignment would be an understatement.
"Before Game 6, I was sitting there just really happy that I had done so well in Game 3," said Blass. "I didn't feel like I needed to pitch anymore. But Murtaugh told me before the game that if we lost I was going in Game 7.
"There were a lot of people rooting for [Game 6 starter] Bob Moose that day but nobody more than I was. I already had my day in the sun and I was [satisfied]."
Blass was so nervous about his start that he decided to take a late night stroll around Baltimore to blow off some steam.
"I did not sleep that much that night," he said. "I probably slept a total of 45 minutes. It was the longest night of my life and I just wanted to get to the ballpark and get under way. The waiting to start that seventh game was the longest period of my life.
"I actually got up because I couldn't sleep and started walking the streets around four o'clock in the morning. There was a policeman that walked by and he kind of gave me a look to 'move along', like I was street person."
Despite his anxiety and insomnia, Blass was superb once again, limiting the O's to just one run on four hits to close out the Bucs' fourth World Championship. When shortstop Jackie Hernandez threw on to Robertson at first to end the game, Blass jumped high into the air and the into the arms of Robertson, forging an image in the minds of Pirates fans that still remains.
"You think about what you are going to do after the last out of a World Series when you are a kid," said Blass. "You almost choreograph it. Then when it happens you just go ballistic. It was just pure joy.
"I've seen pictures of that jump and I couldn't jump that high now if my life depended on it. And I would challenge Bob Robertson to catch me now with what I weigh."
Looking back at their accomplishments three decades later, these unlikely heroes of the 1971 World Series still radiate with great pride and fond memories.
"That team was pretty resilient," said Briles. "From day one of Spring Training, everybody pointed towards getting to the World Series. There was that kind of focus from the first day. So getting down two games was certainly something you didn't want to do, but there was no quit in anybody."
"We had a tremendous amount of pride in each individual's accomplishments," said Robertson. "We rooted for one another and we challenged one another. We had a tremendous amount of pride in our uniform, our city and ourselves."
For Blass, it is a piece of jewelry that symbolizes the dedication of his teammates.
"I look at my World Series ring now and realize that it is something you can't buy," said Blass. "You have to spend seven months with a group of guys that really believe in themselves and are able to carry it out through 200 games of being the best baseball team in the world for that particular year.
"All those things point you back to the people you went through that experience with. I wouldn't trade it for the world."