1979 WORLD SERIES CHAMPIONS
"We Are Fam-i-ly!"
By Abby Mendelson
With the Sister Sledge disco chestnut "We Are Fam-i-ly!" as their anthem, the never-say-die '79 Pirates battled through a grueling season, and a tough World Series, to reign as World Champions once again.
Following 1978's come-from-15-1/2-games-behind, only-to-lose-the-pennant-on-the-last-Saturday-of-the-season thriller, Manager Chuck Tanner's prescription was for everyone to have a career year at the same time. In 1979, that's what happened.
Hall-of-Famer and season co-MVP Willie Stargell smacked 32 homers, many of them game-winners. Rightfielder Dave parker hit .310 with 25 homers, second-baseman Phil Garner .293, shortstop Tim Foli .291, third-baseman (and four-time batting champ) Bill Madlock .328, centerfielder (and two-time steals champ) Omar Moreno .292 and stole a league-leading 77 bases.
Relief ace Kent Tekulve led the team -- and the league -- with 94 appearances. With Tanner making full use of his pitching staff, the '79 club was the only team in baseball history to take a World Series without boasting a 15-game winner.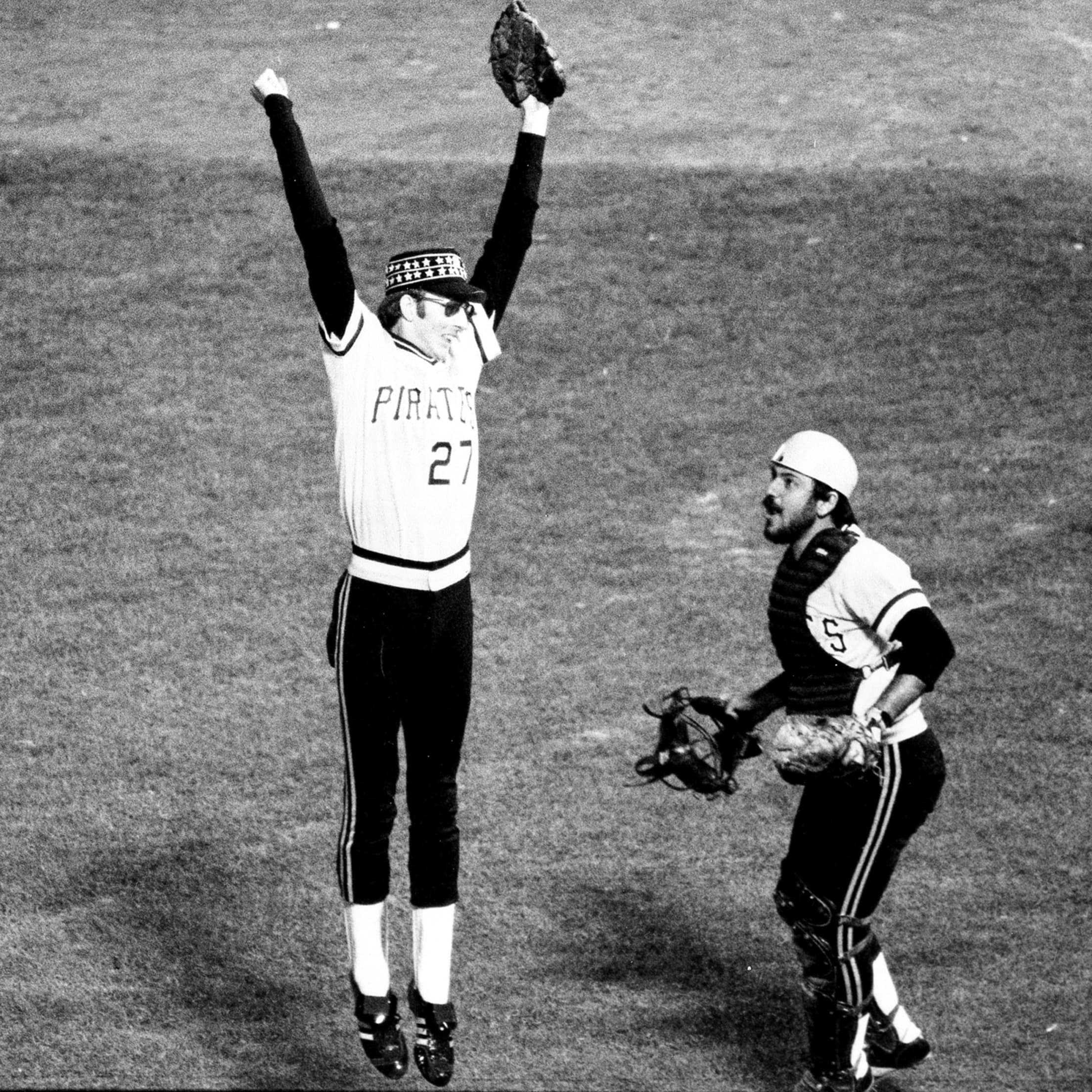 The National League playoff, against the Reds, was a sweep: Stargell won the first game with a three-run homer in the 11th, and the Pirates never looked back. Another homer and a .455 average earned Stargell MVP honors.
Then it was on to Baltimore to face the Orioles, a repeat of the '71 Classic. The Birds boasted sluggers Eddie Murray and Ken Singleton as well as three 20-game winners, including Hall-of-Famer Jim Palmer.
Game One was played in rain-soaked Memorial Stadium. "The ball was like a bar of soap," groused Phil Garner, whose first-inning error opened the Oriole floodgates. A Stargell blast was too little, too late. Orioles 5-4; Series 1-0 Baltimore.
With Game Two tied at 2-2 in the ninth, Tanner called on notoriously bad-ball-hitting backup catcher Manny Sanguillen to pinch hit. Sanguillen delivered -- and Ed Ott scored the winning run. Pirates 3-2. Series tied one apiece.
The Pirates came home for Game Three: a frigid Friday night, a 67-minute rain delay, a relentless Oriole attack. Orioles 8-4. Series 2-1 Baltimore.
The next day wasn't much better. In Game Four, Stargell hit another home run, and the Bucs scored a six-pack, which should have been fine, but the Orioles hit and hit and hit, tallying nine runs. Series 3-1 Baltimore.
With his club facing elimination, Tanner gave the ball to Jim Rooker, who pitched what could safely be called the game of his life. With the Series on the line, he stopped the Orioles cold, throwing four hitless innings before surrendering the Birds' lone tally in the fifth. As curvemeister Bert Blyleven added four shutout innings in relief, the Pirates scored seven times to ice the game. Series 3-2 Baltimore.
Game Six, back in Baltimore, saw John Candelaria pitch what the Bucs desperately needed -- a shut out. Tekulve notched his second save and the Pirates won 4-0. Series tied 3-3.
In Game Seven, Baltimore took a one-run lead in the third, but the Pirates answered with two in the sixth on another Stargell homer. By the bottom of the ninth, it was 4-1 Bucs. When Pat Kelly flew out to Omar Moreno, Tekulve -- and 24 other Pirates -- leaped in the air. The World Championship flag -- the fifth in team history -- returned to Pittsburgh.
For the book, Willie Stargell hit ,400, three home runs, seven extra-bat hits, and collected his third '79 MVP. Phil Garner had 12 hits -- for an even .500. And Kent Tekulve notched a record three saves. "I wish I had a chance to go back," he says. "Then I would have known how big it was."