Honeywell throws in live batting practice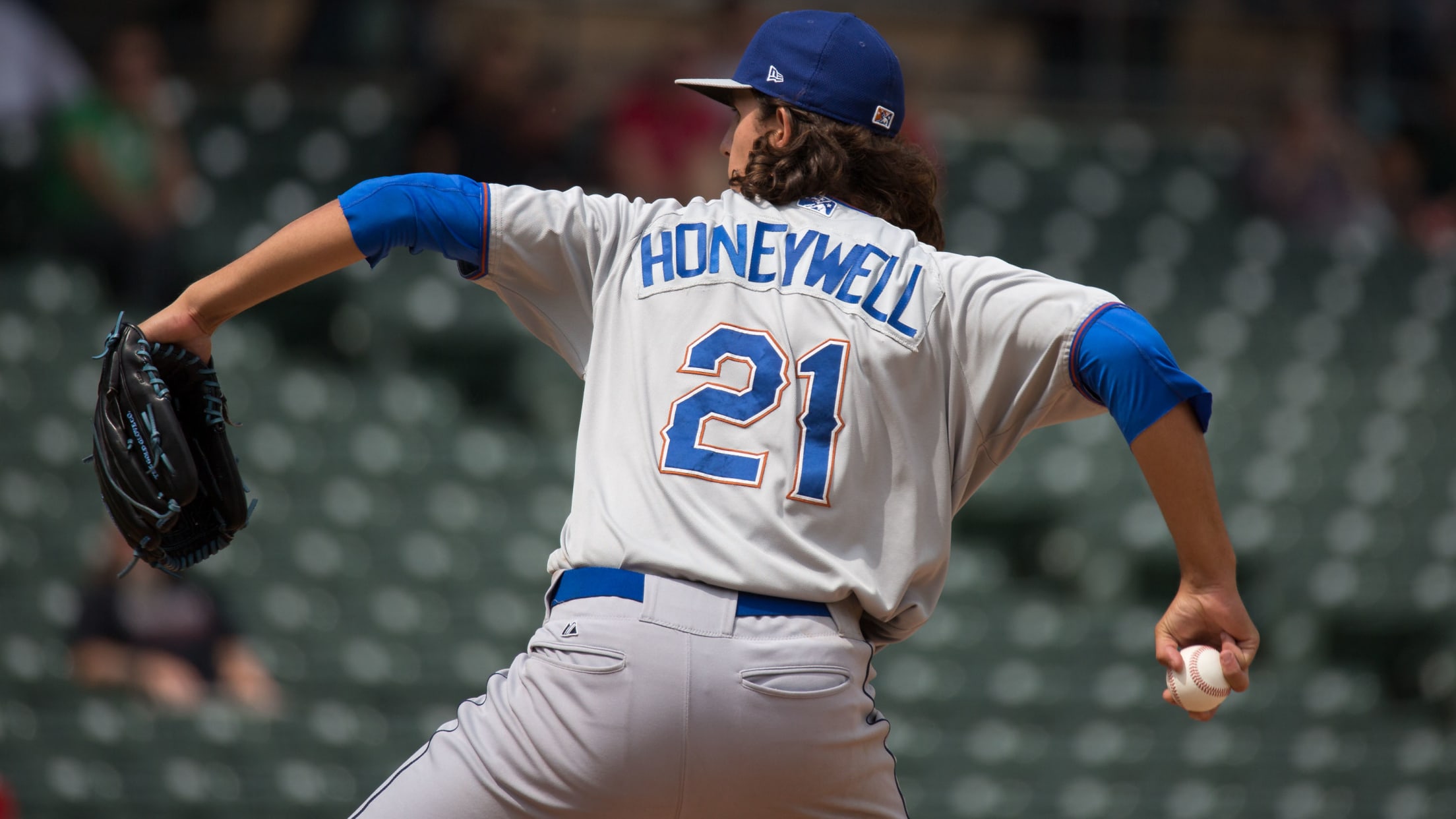 After undergoing Tommy John surgery in 2018, Brent Honeywell Jr.'s road back to the mound has taken a lot longer than anybody anticipated. But the Rays' No. 6 prospect, according to MLB Pipeline, cleared yet another hurdle this week. Honeywell -- who underwent a decompression procedure on his right ulnar
After undergoing Tommy John surgery in 2018, Brent Honeywell Jr.'s road back to the mound has taken a lot longer than anybody anticipated. But the Rays' No. 6 prospect, according to MLB Pipeline, cleared yet another hurdle this week.
Honeywell -- who underwent a decompression procedure on his right ulnar nerve on May 20 -- threw 15 pitches in a live batting practice session on Tuesday. Honeywell has been able to throw on flat ground and bullpen sessions during his recovery, but that was the first time the right-hander threw to live hitters since last April.
"I heard it went well," said Rays manager Kevin Cash. "Brent is special to all of us. It's awesome. After a big win, I'll get a text from him. I think he watches every single inning, every single pitch, unless he's doing something on the field himself.
"Every time, whether it's texting or he'll shoot me a video of his bullpen, there's a lot to be excited for. None of us can put in perspective what he has gone through mentally or physically over the last couple of seasons. This is another step in the right direction and we just want to continue to support him."
While Honeywell returning to the mound is good news for the future of the right-hander, Cash did mention that it's "highly unlikely" that the Rays could lean on him to pitch at some point this season. At this point, the priority is to allow Honeywell to get fully healthy and to have him enter next year's Spring Training with a chance to compete.
"Just given some of the things that I've gone through personally when I pitched and some of the dialogue Brent and I have had," said Rays pitching coach Kyle Snyder, who had a five-year Major League career. "I'm certainly confident that this kid is going to get where he belongs and that he's going to have a great Major League career."
Morton and Chirinos update
The Rays have suffered a handful of injuries to their pitching staff over the last week, but Thursday appeared to be an encouraging day for Charlie Morton and Yonny Chirinos.
Morton was placed on the 10-day injured list on Monday after exiting Sunday's game with right shoulder inflammation. The right-hander began his progression on Thursday, FaceTiming Cash just to let him know that he threw from 120 feet.
"He's encouraged by the way he feels," Cash said. "I think he's going to repeat [throwing from 120 feet] again tomorrow and then [athletic trainer] Joe Benge, Kyle Snyder, myself and Charlie, we'll all kind of put our heads together and put a plan together."
Chirinos, who landed on the 10-day injured list with right triceps inflammation on Aug. 3, was wrapping up a bullpen session as Cash did his pregame Zoom interview with the media. Chirinos is eligible to return from the injured list, but the Rays will get a better sense of when the right-hander can return after Thursday's bullpen session.
Roster move
The Rays made another roster move before Thursday's game against the Red Sox, as they continue to try and navigate through some of the injuries to their pitching staff. Tampa Bay recalled left-hander Anthony Banda and optioned right-hander Aaron Slegers to the alternate training site. Slegers will remain on the team's taxi squad.
Banda was on the Rays' taxi squad and is available to provide length. The left-hander said he was told to be ready to pitch somewhere between 45-60 pitches. Banda is 3-3 with a 5.28 ERA in 14 career appearances.
Pitching plans in Buffalo
Though Cash said he's still unsure who will pitch during the upcoming three-game series against the Blue Jays in Buffalo, N.Y., he mentioned that it's likely that the club will utilize an opener at some point during the weekend.
If the club uses an opener, Pete Fairbanks, John Curtiss and Ryan Thompson are the likely options. Diego Castillo also has experience as an opener.
Juan Toribio covers the Rays for MLB.com. Follow him on Twitter @juanctoribio.