Margot's amazing catch, frame by frame
It must be seen to be believed
Only two innings into Monday's Game 2 of the American League Championship Series against Houston, and Rays outfielder Manuel Margot may have the ALCS MVP Award all wrapped up. He smashed a three-run home run in the bottom of the first after Jose Altuve committed an error that could have
Only two innings into Monday's Game 2 of the American League Championship Series against Houston, and Rays outfielder Manuel Margot may have the ALCS MVP Award all wrapped up. He smashed a three-run home run in the bottom of the first after Jose Altuve committed an error that could have ended the inning, giving Tampa Bay an early 3-0 lead en route to its 4-2 win.
The cameras caught Margot in a triumphant moment as he rounded the bases, too:
Mama, Margot's that man. pic.twitter.com/kBmQ3Ttbbu

— Cut4 (@Cut4) October 12, 2020
Margot made that moment look like something any ol' schmoe could do the next inning.
In the top of the second, Astros outfielder George Springer hit a high fly ball down the right-field line. Now, in the scorebook, this would be marked down as a simple "F9" -- a flyout to right field.
This was anything but.
For starters, this is the path that Margot had to take to even field this ball:
Manuel Margot had to cover 102 feet just to have the chance to flip over the wall to make that catch pic.twitter.com/VBWy02TkzV

— David Adler (@_dadler) October 12, 2020
If you'd rather see how that looks on the ballfield, maybe this will help. Yeah, that's a long run: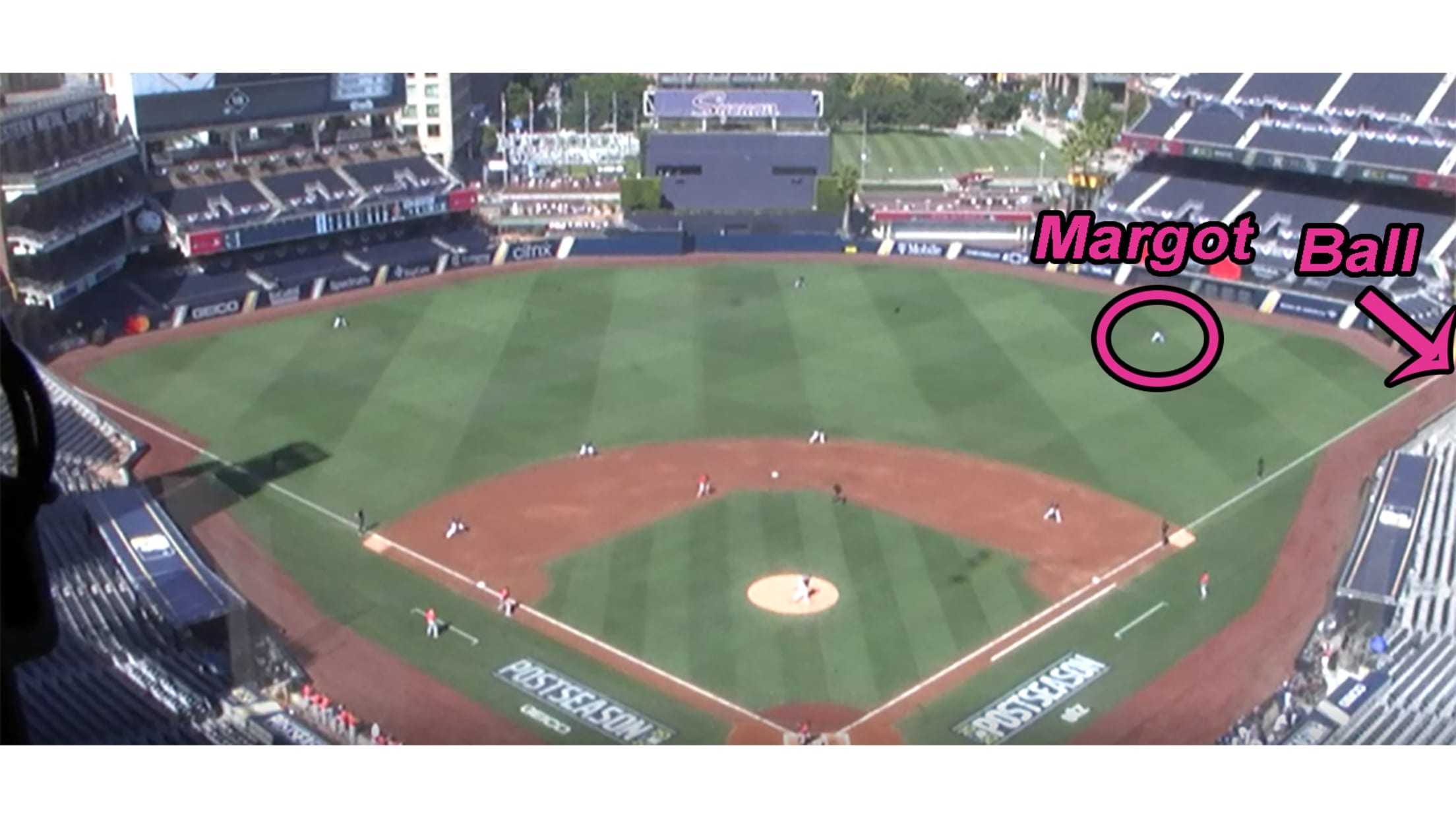 Not only that, but he had to fight the sun on his chase, too:
just ridiculous. not to mention that he was fighting the sun too while also calculating where the wall was!!! pic.twitter.com/fvH1OXGerk

— Céspedes Family BBQ (@CespedesBBQ) October 12, 2020
Once Margot got to the wall, the magic really started. He leaped and smashed into the wall, before tumbling over it:
You can almost read Margot's face. It seems to say, "Oh no, this was not my plan at all."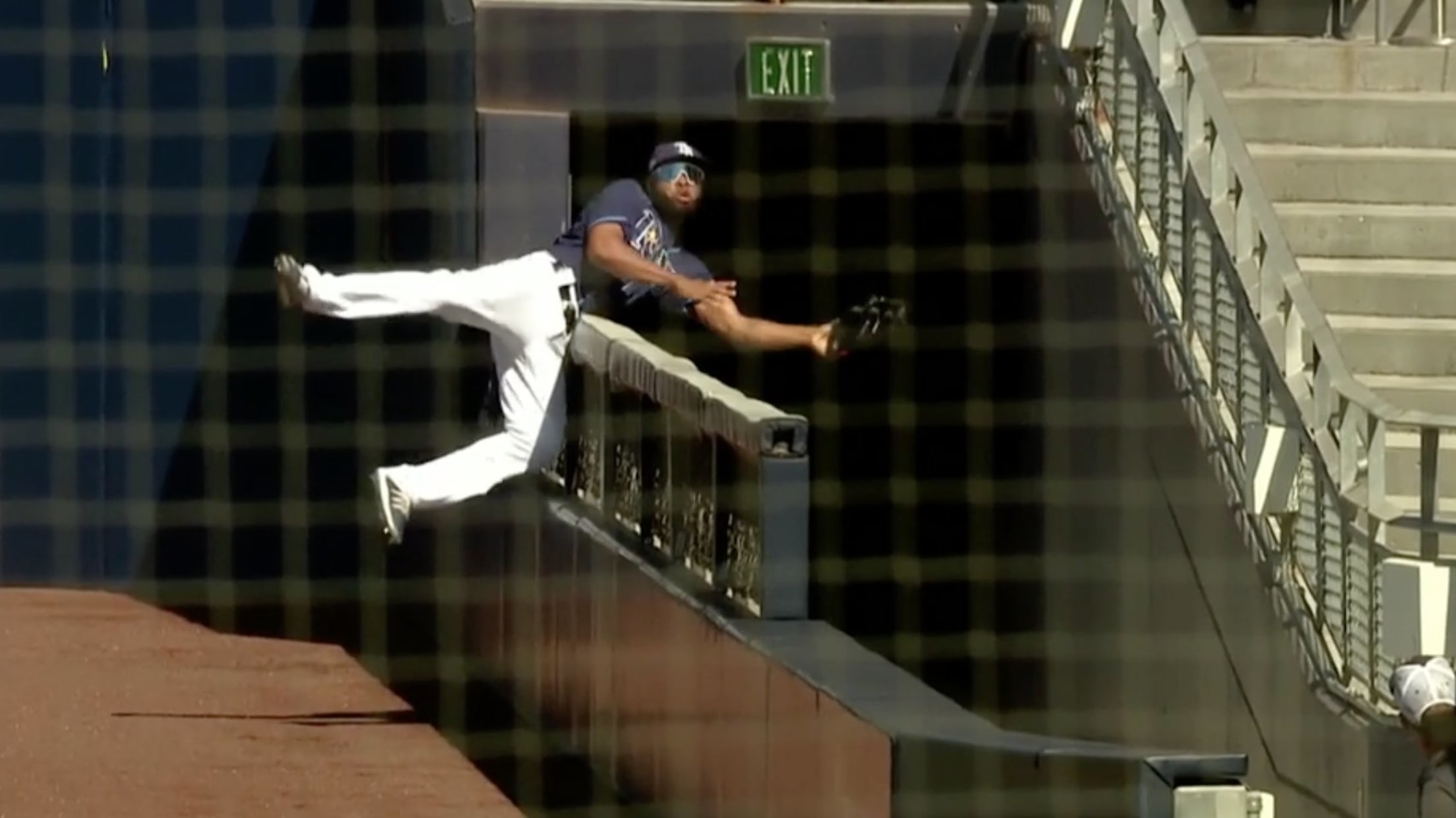 How many times have you seen a baseball highlight where all that's left at the end of it are a pair of feet? This is more like something from a slapstick comedy:
This was an out. Baseball is the best. pic.twitter.com/XhkXs2BJDY

— Josh Lukin (@coffeeon3rd) October 12, 2020
With a massive six-foot drop over the ledge, Margot disappeared from view. There was concern -- would he be OK? Did he hold onto the ball? Could Margot have fallen into a mystery pit from which there is no end -- like Ozzie Smith on "The Simpsons"?
But, like any good horror movie villain, Margot's hand suddenly shot into the frame. Somehow, he even held onto the ball for the out:
Springer could only watch in disgust as his at-bat ended in the most remarkable way:
Shockingly, this isn't the first time a player has made a catch like this. White Sox slugger Eloy Jiménez pulled off a similar snag in the Futures Game -- though only his sunglasses went flying into the abyss:
October 12, 2020
Torii Hunter also went ankles up in the 2013 ALCS. Though he didn't make the catch on David Ortiz's grand slam, his upturned legs have become an iconic moment in Red Sox lore: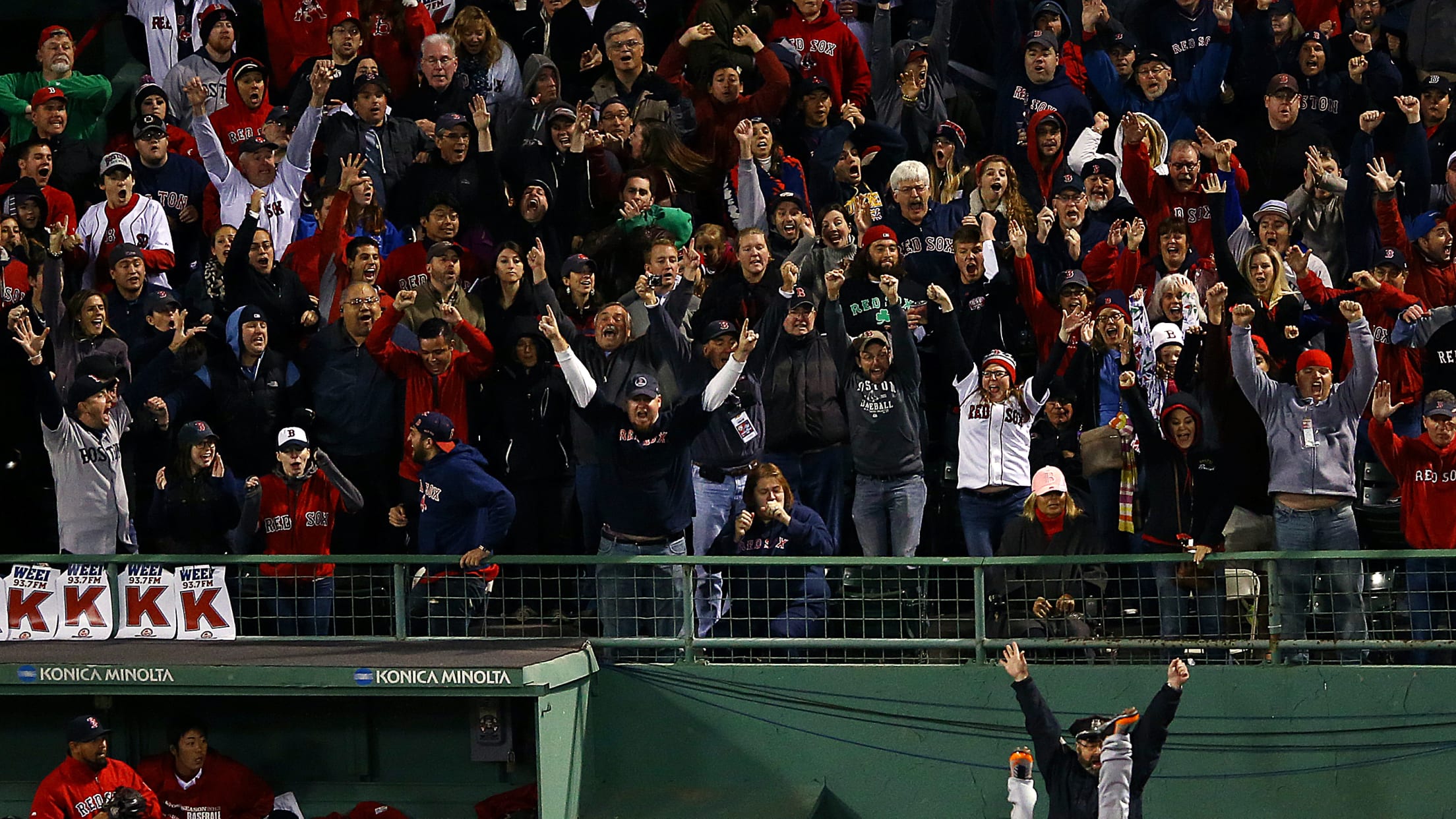 As for Margot, he somehow managed to come out mostly unscathed. During manager Kevin Cash's in-game interview, he admitted that Margot had only scratched his shin. Baseball players are something else.
Michael Clair writes for MLB.com. He spends a lot of time thinking about walk-up music and believes stirrup socks are an integral part of every formal outfit.