Bad day gets worse for Rays in loss to Sox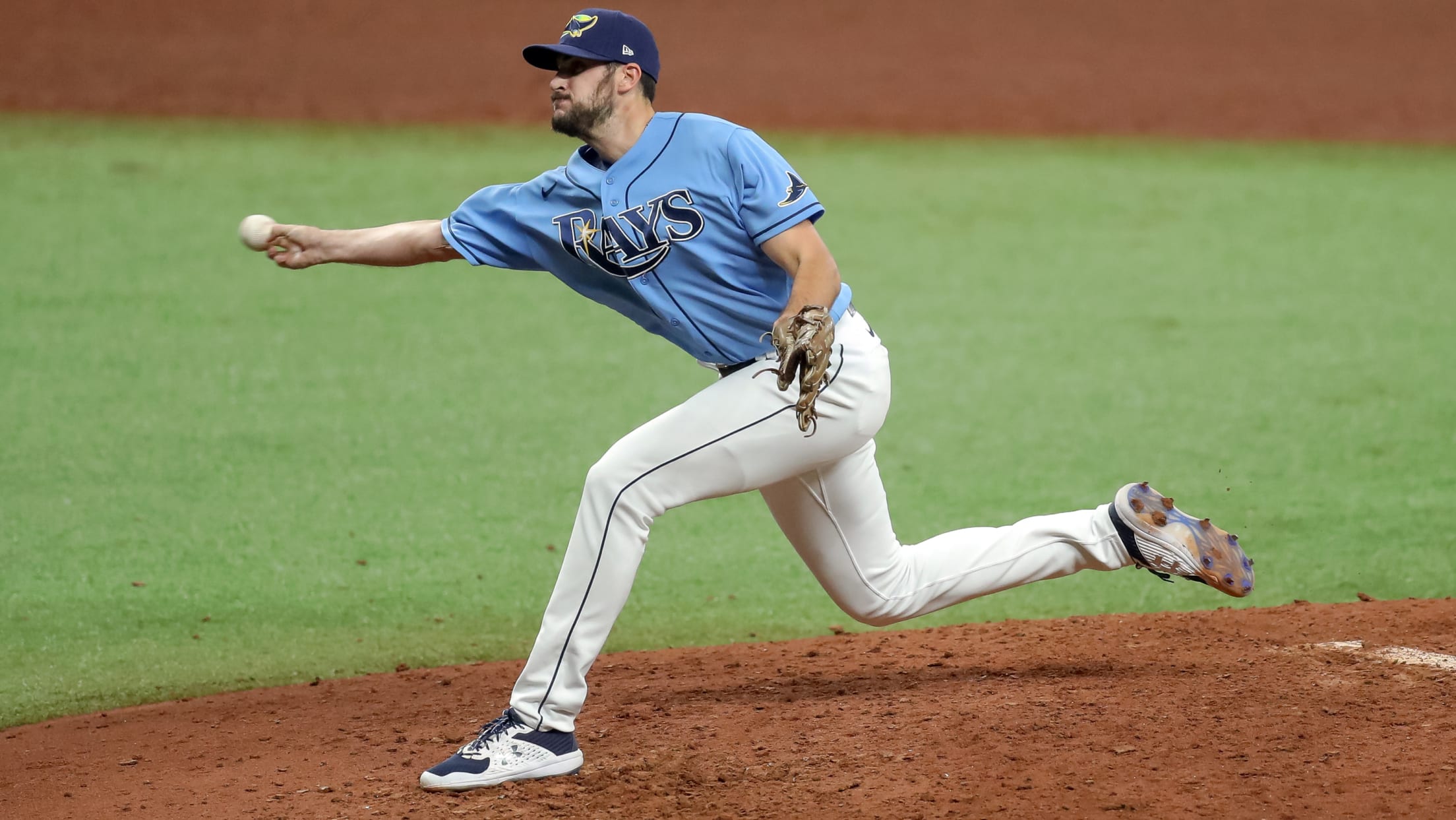 ST. PETERSBURG -- The day started with news that first baseman Ji-Man Choi was going to be out two to three weeks with a Grade 1 strain in his left hamstring. It ended with a rare off-day for the Rays' pitching staff in a 6-3 loss to the Red Sox
ST. PETERSBURG -- The day started with news that first baseman Ji-Man Choi was going to be out two to three weeks with a Grade 1 strain in his left hamstring. It ended with a rare off-day for the Rays' pitching staff in a 6-3 loss to the Red Sox on Sunday at Tropicana Field.
"It just looked like for everybody that threw off the mound today, nothing was able to get in rhythm with anybody," said Rays manager Kevin Cash. "Not our best, by far."
Right-hander Charlie Morton made his third start since returning from the injured list, allowing three runs on six hits and striking out four over 4 1/3 innings. The challenge for Morton, which was the same as his last start against the Nationals, was the location of his signature curveball, particularly with two strikes.
Boston's offense recorded four hits off Morton with a two-strike count, including a two-run homer by Christian Vázquez in the first inning that had the Rays trailing 2-0 just minutes into the game.
"I think that was the story today," Morton said. "I wasn't nearly as efficient as I would've liked to have been, I wasn't putting guys away nearly as quickly as I would've liked to have been, and really looking back on that, [it was] the inconsistencies of the location of the breaking ball."
One positive in Morton's outing, however, was that the right-hander threw 77 pitches, the most in his three starts since returning from the injured list on Sept. 2. The fact that Morton threw 77 pitches allows him the possibility of getting deeper into the game, which will help the Rays go into what they hope is a long postseason run.
Once Morton exited the game, the Rays' bullpen was unable to hold onto a 3-2 lead in the fifth. Pete Fairbanks and Ryan Thompson, who have been two of the most reliable relievers this season, had a rare off-day in the loss.
Cash said both Fairbanks and Thompson were a little bit "out of sorts" on Sunday, while Fairbanks attributed his struggles to his lack of strike-throwing. Fairbanks opened his outing with a four-pitch walk to Vázquez, which was followed up by a Rafael Devers RBI double and a J.D. Martinez RBI groundout that gave the Red Sox the lead.
"The ball was not over the plate consistently," Fairbanks said. "When you don't throw strikes, you're usually not very good. And that's what I did today. I did not throw a lot of strikes, and I was not very good."
After Fairbanks, it was Thompson that couldn't hold the Red Sox at four runs. Former Rays infield prospect Christian Arroyo completed his impressive weekend against his old organization with a two-run blast off Thompson in the sixth to give Boston a 6-3 lead.
"I grew up a Rays fan, and I always used to watch the Rays," Arroyo said. "I was watching [Dustin] Pedroia and Big Papi and these legends coming up with the Red Sox. Here I am wearing the same uniform. It's kind of surreal to be honest."
Though it was the bullpen that ultimately gave up the lead, the Rays' offense also struggled to get much going against Martín Pérez and a depleted Boston bullpen. Kevan Smith hit his first home run of the season, a two-run blast off Pérez, but that was one of the few loud songs that came from a Tampa Bay hitter on Sunday.
The Rays also struggled to take advantage of any of Boston's three errors and were 0-for-7 with runners in scoring position.
"We left a lot of guys on base," Cash said. "We didn't get that big hit, and any time you get beat when the opposing team has a few errors in there, it becomes even that much more frustrating. We just have to do a better job when guys get on base and keep the lineup flowing a little bit."
Despite the frustration on Sunday, the Rays are still in a good spot. They are 30-17 with just two weeks left to play in the regular season and entered the day with a magic number of six to clinch a postseason berth.
"These guys aren't going to go out and dominate every single outing, so we have to understand the reality of it and just hope that we learn from it," Smith said. "And just kind of use this to our advantage moving into the playoffs."
Juan Toribio covers the Rays for MLB.com. Follow him on Twitter @juanctoribio.