With Sun. deadline, Rays mulling roster choices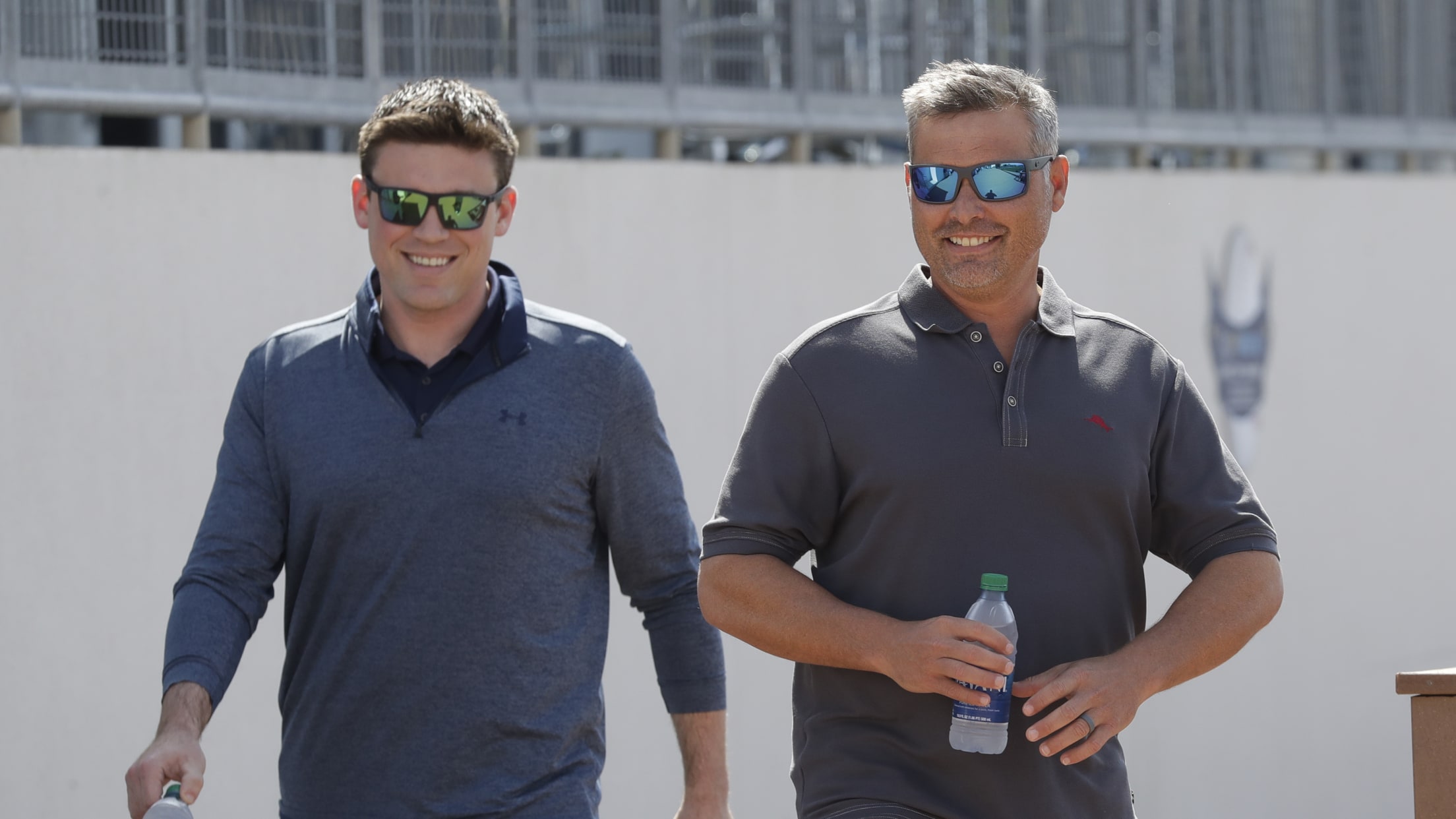 ST. PETERSBURG -- Baseball is back, but before the Rays take the field for "summer camp" next week, general manager Erik Neander and manager Kevin Cash have some tough roster decisions to make before Sunday's 3 p.m. ET deadline. Due to the unprecedented circumstances, the roster will look different when
ST. PETERSBURG -- Baseball is back, but before the Rays take the field for "summer camp" next week, general manager Erik Neander and manager Kevin Cash have some tough roster decisions to make before Sunday's 3 p.m. ET deadline.
Due to the unprecedented circumstances, the roster will look different when the Rays return next week. The rules will allow every team to carry 60 players during summer camp, but that will have to be cut down to 30 for Opening Day, with the clubs having to cut that down to 28 after two weeks, and then 26 two weeks later until the end of the regular season.
The players that don't make the active roster will be on a taxi squad that will allow teams to carry up to three players on the road. Being on the taxi squad will not affect service time, which opens the door for interesting roster decisions for the Rays.
"Nothing has been finalized," Neander said on Wednesday. "But we obviously have to get there in short order."
• Rays FAQ: Details on the upcoming season | FAQ: All you need to know about 2020 season
The order of business for Neander and the Rays will be determining how everything will operate during practices and how they'll spread out the players' workouts throughout the day. As of right now, the Rays are looking to split the players between Tropicana Field and the team's Spring Training facility in Port Charlotte. Once they have a better understanding of the logistics, it'll be time to look into the roster decisions.
With the Rays expected to compete for a postseason berth, Neander said the priority for the roster decisions will be adding players that will help the club win as many games during the 60-game regular season. Carrying enough pitching depth to protect themselves from injuries will be the priority. Then, it's possible that some of the last few spots on the taxi squad will be used for developmental purposes, which could be beneficial for prospects such as Shane McClanahan and Wander Franco, who both had a chance at making their big leagues debut in 2020.
"I think it's easy to see it that way and to be tempted to put some of these additional roster spots for developmental purposes," Neander said. "But I think it's important, at the same time, that we recognize how talented of a team we have right now. We want to be careful of how we assemble this group, and I think we need to keep the priority and our focus to do what we need to do to fortify our chances to win games this year, and then we'll see where we are from there. These are things we're thinking about and trying to make the most sense of right now."
Most players on the 40-man roster will likely be part of the 60-man roster, with Brent Honeywell Jr. being the only one not available after undergoing a nerve decompression procedure in May. Prospects Kevin Padlo, Lucius Fox, Ronaldo Hernandez and Vidal Brujan would be the tough decisions among the 40-man roster group.
There's also the decision with non-roster invitees like Aaron Loup, Ryan Sherriff, Chris Herrmann and Kevan Smith, who were all competing for a roster spot during Spring Training. If any of the non-roster invitees make the team, they will have to be added to the 40-man roster, which would require the Rays to open spots. If a NRI doesn't make the active roster, he can be optioned to the taxi squad, if he has options remaining. If not, that player will need to clear waivers before being eligible for the taxi squad. Because Loup, Smith, Herrmann and Sherriff all have Major League service time, they could elect to become free agents in lieu of a taxi squad assignment.
"[Tuesday] was busy, today is extremely busy and that's only going to continue here until we get off the ground and find our way through this," Neander said. "A lot of communication, a lot of awaiting word from the league on the health and safety protocols in that final version, but we're ready for it. A lot of people have a lot of energy stored up to put into this here."
Around the horn
• Now that it's official, Ji-Man Choi returned to the United States from South Korea and will be ready for the start of practices. Blake Snell will also be making his way back from Seattle and will be back in his St. Petersburg home on Thursday. Tyler Glasnow, who has been in Arizona, said he'll be back in Tampa within the next couple of days.
As for Yoshitomo Tsutsugo, it's still unclear exactly when he'll return from Japan, but Neander mentioned that he received a message from Tsutsugo's agent and the expectation is that he'll be returning to the United States as soon as possible.
• The Rays hosted another voluntary workout at Tropicana Field on Wednesday, and Cash said the atmosphere was "upbeat and positive" following Tuesday's news of a restart. Charlie Morton, Ryan Yarbrough, Yonny Chirinos and Nick Anderson threw simulated games on Wednesday, with Austin Meadows and José Martínez among the players that stepped into the batter's box.
• Neander said that nobody has tested positive for the coronavirus during the voluntary workouts, but did mention, without getting into specifics, that some people within the organization have contracted the virus over the last few months. As of now, Neander said he has not heard of any player that is considering sitting out the season due to health concerns.
Juan Toribio covers the Rays for MLB.com. Follow him on Twitter @juanctoribio.