Rays' bullpen falters late in rubber-game loss
Poche allows tiebreaking grand slam to Laureano after Roe struggles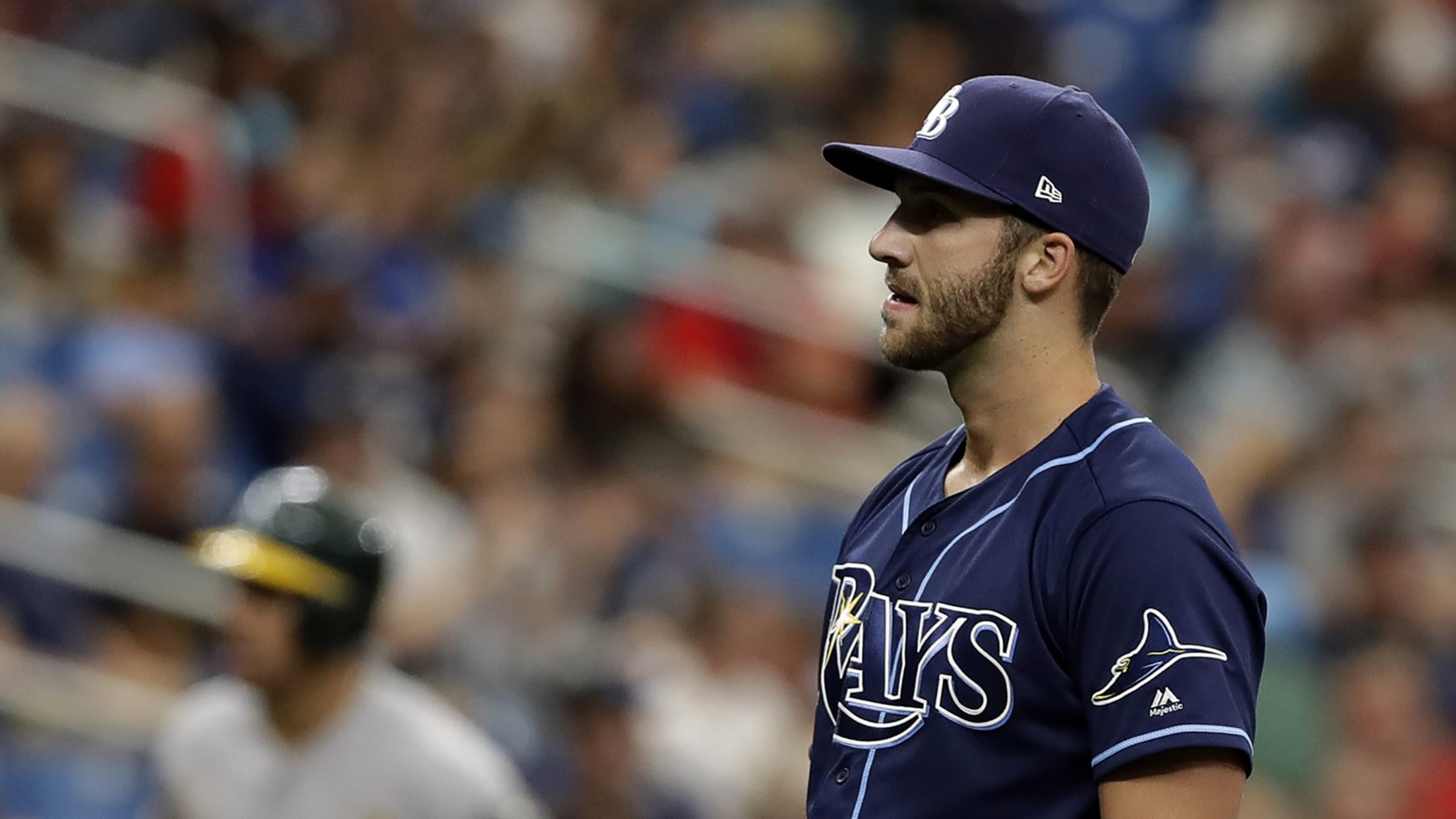 ST. PETERSBURG -- After Tampa Bay scored two runs in the bottom of the seventh to tie the game, the Rays' bullpen was unable to keep Oakland off the board in the eighth inning, as Ramon Laureano connected on a grand slam off Colin Poche to carry the A's past
ST. PETERSBURG -- After Tampa Bay scored two runs in the bottom of the seventh to tie the game, the Rays' bullpen was unable to keep Oakland off the board in the eighth inning, as Ramon Laureano connected on a grand slam off Colin Poche to carry the A's past the Rays, 6-2, on Wednesday at Tropicana Field.
With the loss, Tampa Bay is now 18-16 at Tropicana Field this season, as opposed to a Major League-best 23-10 record away from home.
Here are three takeaways from the Rays' loss on Wednesday.
1. Roe continues to struggle
While Poche was the one that allowed the grand slam, two of the four runs were charged to Chaz Roe, who now has a 4.19 ERA in 28 appearances this season.
After getting Khris Davis to strike out on his signature slider with a runner already at first, Roe walked Stephen Piscotty and then, after a wild pitch moved the runners to second and third, the Rays elected to intentionally walk Robbie Grossman to load the bases. Rays manager Kevin Cash then turned to Poche to face Laureano after Roe was only able to retire one hitter.
"The stuff is the same, the strikeouts are the same," Cash said. "It's just that inopportune walk there or a ball that gets away from him here and there."
Roe's strikeout rate hasn't been the problem -- he has 25 punchouts in 19 1/3 innings -- it's the command that has been an issue for the right-hander this season. With another two walks on Wednesday, Roe has 19 on the season. He had just 16 last year.
"It's been all year, trying to find it," Roe said. "Since Day One, trying to fight the command and command the slider along with the two-seam, and those are my two pitches. You can't command those, you're going to have trouble."
Another issue for Roe has been that he's not getting swings and misses on his slider. Roe is throwing the pitch 65 percent of the time, which is up from the 53 percent clip from a season ago. Last year, Roe had a whiff percentage of 35 percent on the slider, but it's down to 23 percent this season.
"I tried to expand it and just couldn't," Roe said. "When it was time to put it in the zone, I just couldn't find the release point and put it in the zone."
2. Chirinos delivers another quality start
Yonny Chirinos continued his strong string of starts, allowing just two earned runs and striking out seven over six innings. The Rays right-hander got a no-decision, but did a solid job of escaping traffic on the basepaths and keeping the Rays in the game.
Chirinos relied on his sinker, throwing the pitch 46 times.
"It was good to have that opportunity to be out there again," Chirinos said through team interpreter Manny Navarro. "The results didn't come out like we wanted to. We didn't win. We've just got to go out there and compete."
3. Pham getting timing back
Tommy Pham was one of the bright spots for the Rays' offense. Pham finished 3-for-5 and is 4-for-9 over his last two games after going 1-for-17 in his first five games back since missing time with a right calf strain.
Pham has been a presence in the No. 2 hole in the Rays' lineup all season, and the club is 39-21 in games that Pham starts.
"His timing is getting a little bit better," Cash said. "Swung the bat well again. That's encouraging, because we always talk about with Tommy what a presence he is in our lineup and we missed him for the [five games] he was not playing because of the calf. It took him a couple of days to get going. Looks like he's [moving] in the right direction."
Juan Toribio covers the Rays for MLB.com. Follow him on Twitter @juanctoribio.