6 surprise teams need Deadline strategies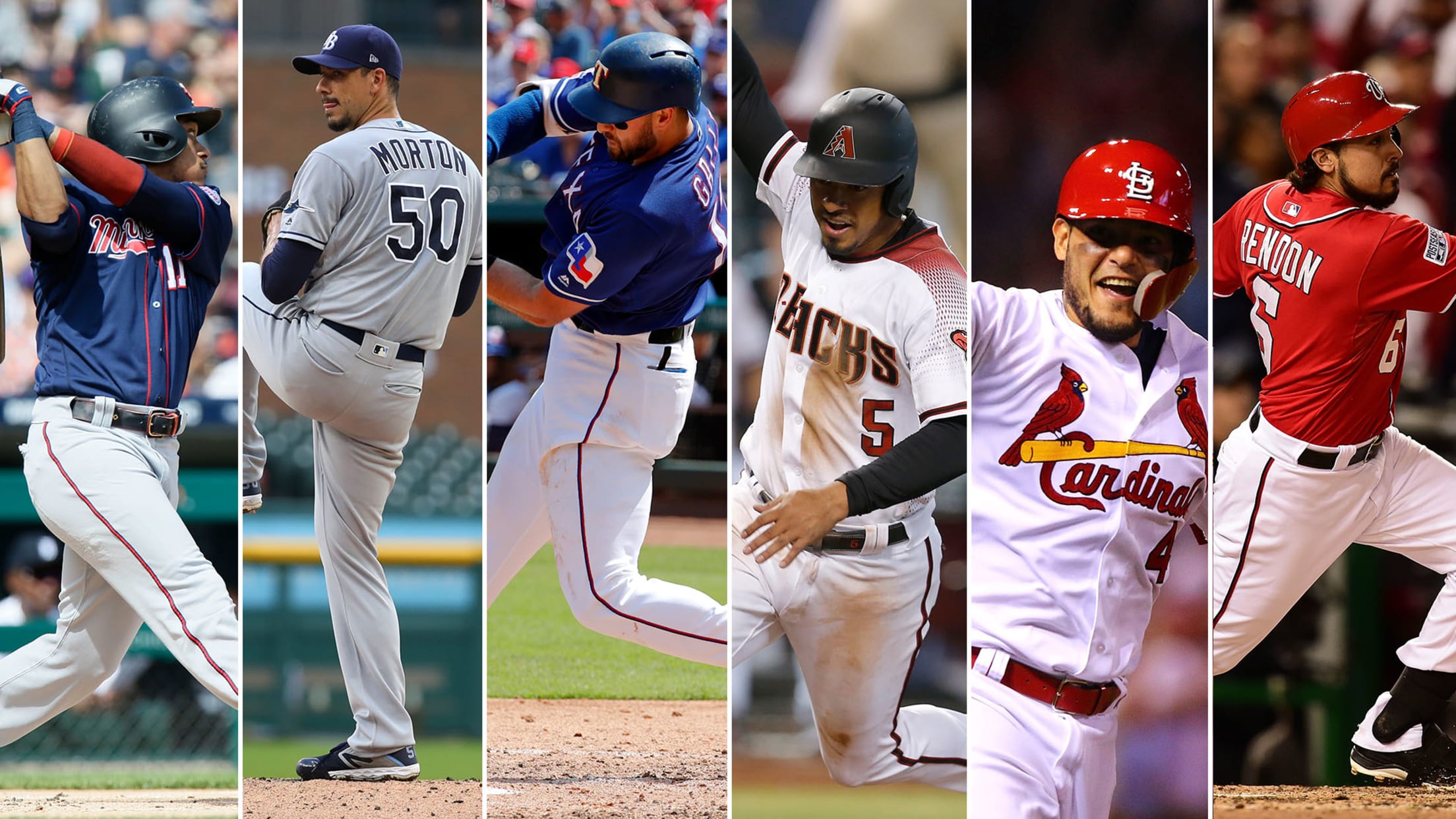 You just never know. Isn't that the bottom line? So we begin Tuesday with the Rays alone atop the American League East and the Twins running away with the AL Central. The Rangers would get the second AL Wild Card berth if the season ended today. Weren't they supposed to
You just never know. Isn't that the bottom line? So we begin Tuesday with the Rays alone atop the American League East and the Twins running away with the AL Central.
The Rangers would get the second AL Wild Card berth if the season ended today. Weren't they supposed to be in some kind of major rebuild? Same thing with the D-backs, who are three games above .500 at 35-32 and 2 1/2 games out in the race for the second NL Wild Card berth.
This is the new normal in a sport in which 67 percent of the teams have played at least one postseason series in the last five seasons, and 47 percent in the last three.
At the start of play on Tuesday, 15 of 30 MLB teams were within three games of a postseason berth, and that number doesn't include the Nationals and Cardinals, both of whom still have high hopes about this season. The Nationals have won 12 of their last 16 games and finally resemble the team a lot of people thought they'd be.
Here's a quick thought on those six surprise teams:
1) Twins (43-21, +112 run differential) -- Minnesota leads the Majors in runs and OPS and are second in home runs. Their rotation has performed far beyond expectations. SS Jorge Polanco is a legitimate AL MVP candidate, and CF Byron Buxton has arrived. Minnesota's top four starters -- Jake Odorizzi, Jose Berrios, Martin Perez and Kyle Gibson -- have all been excellent. The Twins need to add a bullpen arm or two, and they will.
Outlook: This is a perfect storm of six smart offseason acquisitions (Nelson Cruz, Marwin Gonzalez, Perez, etc.) and homegrown players (Buxton, Polanco, LF Eddie Rosario) becoming impact contributors. The Twins will add to the back of the bullpen by the July 31 Trade Deadline and make themselves a team capable of playing deep into October.
2) Rays (41-24, +100 run differential) -- Tampa Bay has no serious weakness and lots of strengths. RHP Charlie Morton leads a pitching staff that may be MLB's best and has allowed 12 runs in the last six games. DH Austin Meadows and 2B Brandon Lowe are two of MLB's most impressive breakout stars in 2019. The Rays have homered 17 times in 10 games this month.
Outlook: The Rays have money to spend and prospects to deal, and with a team this good and a front office with a great track record, it's easy to project them into the playoffs as either a division winner or a Wild Card team. Shortstop could be an area that will be addressed.
3) Rangers (35-30, +33 run differential) -- The Rangers have won six of nine games since losing their best player (CF Joey Gallo) to an oblique injury. RHP Adrian Sampson has a 1.99 ERA in his last five appearances and has added quality depth to the rotation. Instead of dealing LHP Mike Minor (2.52 ERA, 1.175 WHIP), the Rangers suddenly may be looking to add pitching.
Outlook: GM Jon Daniels is in an interesting position. He believed his club could contend in 2020 or 2021 if he was able to draft pitching and trade Minor -- and potentially others -- for young pitching. Now a window he didn't expect to be open has opened thanks to Gallo's emergence as one of the best players in the game and the team showing grit and resilience under new manager Chris Woodward. Daniels could have a different view of things by July 31, but for now, he seems likely to try to acquire pitching.
4) D-backs (35-32, +61 run differential) -- The D-backs lead the NL in runs even after the offseason departures of 1B Paul Goldschmidt and CF A.J. Pollock. Six Arizona regulars have at least an OPS of .809 or better, including 3B Eduardo Escobar at .950. RHPs Zack Greinke and Merrill Kelly and LHP Robbie Ray give the rotation a solid front three. In a crowded NL Wild Card field, the D-backs may have staying power.
Outlook: Do not expect the D-backs to tear up their blueprint and go all-in on this season. Even with a surprising start, they're still a long shot to make the playoffs. More interesting would be how GM Mike Hazen views trade offers for Greinke and/or Ray. Given the scarcity of starting pitching, he's likely to be tempted. More likely the standings around the Trade Deadline will dictate his decision.
5) Cardinals (32-32, +10 run differential) -- The Cardinals are 12-22 since a 20-10 start, and so they're either one of baseball's most disappointing teams or a real good team that has had a bad few weeks. They're hitting .225 and scoring 3.9 runs per game in this tough stretch. One thing they're not doing: selling at the Trade Deadline. They're all-in for 2019.
Outlook: Are the Cardinals what almost everyone projected them to be? Or are they the team that has had a really tough few weeks in virtually every area? Perhaps the good news -- okay, it's really terrible news -- for president of baseball operations John Mozeliak is that the Cardinals need help in so many areas that they can't all be addressed with trades. Unless something changes, the Cardinals seem committed to staying the course with their current group and possibly even adding to it.
6) Nationals (31-35, +1 run differential) -- If they add a reliever (or two), they're capable of making the playoffs even after a 16-25 start in which blame rested on a bullpen with a 6.25 ERA. During this 12-4 hot stretch, Washington's starters have a 3.00 ERA and their offense has scored the third-most runs in the Majors. The bullpen has been better but not nearly good enough.
Outlook: Would the Nationals trade either of their two best players -- 3B Anthony Rendon or utility man Howie Kendrick? At the moment, there's zero chance of that happening even though Rendon likely will test the free-agent market after the season. GM Mike Rizzo wasn't allowed to trade Bryce Harper to the Astros last summer, and it seems unlikely his bosses will have a different view of Rendon. If the Nationals continue to play well, Rizzo will try hard to upgrade the bullpen and see if his team can make an improbable postseason run.