Rays begin 2020 season with Interleague Play
Pirates at Tropicana Field on March 26; road trip to Wrigley for July 4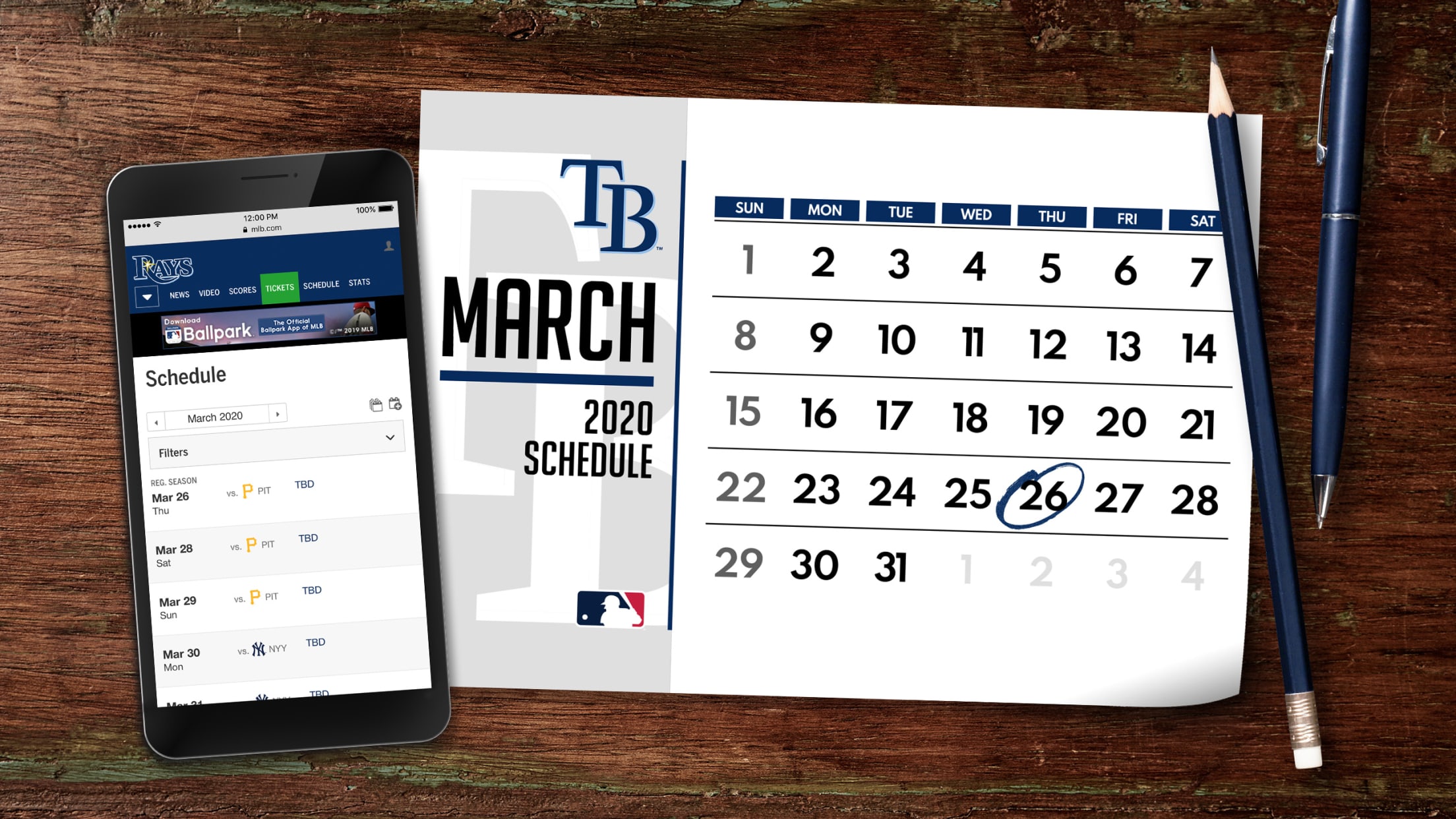 SAN DIEGO -- While the Rays still have some business to take care of during the 2019 season, the club now knows who they'll play next year, and when, as MLB released the tentative full '20 schedule on Monday afternoon. The Rays will get the season going on Thursday, March
SAN DIEGO -- While the Rays still have some business to take care of during the 2019 season, the club now knows who they'll play next year, and when, as MLB released the tentative full '20 schedule on Monday afternoon.
The Rays will get the season going on Thursday, March 26, at Tropicana Field as they will host the Pirates for a three-game set with a Friday off-day after Opening Day. If playing a National League team to start the season sounds off to you, that's because it will be the first time Tampa Bay will have an Interleague opener.
Playing the Pirates will give pitcher Tyler Glasnow and outfielder Austin Meadows a chance to play against their former team, while former Rays pitcher Chris Archer would make his first trip to Tropicana Field since being traded on July 31, 2018.
After a six-game homestand against the Pirates and Yankees to start the season, the Rays will embark on a 10-game road trip against the Rangers, Red Sox and Indians.
Aside from hosting the Pirates on Opening Day, the Rays will face off against the other teams in the NL Central and the Marlins in Interleague Play. One series of note is the Fourth of July weekend set at Wrigley Field against the Cubs. Former Rays manager Joe Maddon is on the last year of his contract, so it remains to be seen if he'll get a chance to manage against his former team.
The Rays host the Brewers for a two-game set at Tropicana Field on May 30-31, and then travel to Miller Park for a two-game series on July 7-8. It will be only the team's second trip to Milwaukee, having last played there June 20-22, 2011. Tampa Bay also hosts St. Louis (July 10-12) and will travel to Cincinnati for a three-game series from July 31-Aug. 2.
The Rays will also play 19 games against each of their American League East rivals, with 10 home games each against the Red Sox, Yankees and Blue Jays. The schedule features two weekend series at home against the Red Sox (Aug. 7-9, Sept. 17-20).
• Every team's 2020 Spring Training schedule
As opposed to the four West Coast trips in 2019, with the NL West being the crossover division, the Rays will only head out west twice in '20. They travel to Oakland on May 1-3 before finishing off the road trip in Chicago against the White Sox. The Rays also have a late-summer trip to Anaheim for a three-game set against the Angels (Aug. 21-23), followed by three games in Seattle (Aug. 24-26).
Tampa Bay's final regular-season game at home will be against the Red Sox on Sept. 20. The Rays end their schedule with a seven-game road trip to Baltimore and New York, wrapping up on Sept. 27, which will match their inaugural 1998 season for the earliest regular-season finale in club history.
Snell takes first step
On Monday, left-hander Blake Snell played catch for the first time since having surgery to remove six bone chips from his left elbow on July 29. Snell will continue to play catch on Wednesday, before a third session on Friday.
"I felt good," Snell said. "Once inflammation goes down, I think it'll feel a lot better. Overall, felt good. Happy with it and looking forward to the next time I throw."
Snell is still weeks away from a possible return to the team, but the left-hander feels confident that he'll rejoin the rotation at some point in September as the Rays try to clinch their first postseason berth since 2013.
"For sure, but at the same time, I've never had this injury, so I really don't know," Snell said. "But for me to start playing catch now, to say September, I feel very positive about it."
Alvarado gets closer to return
Left-hander Jose Alvarado (right oblique strain) completed his fifth rehab outing on Sunday, retiring the only batter he faced on three pitches. He has been sidelined since June 6, but he could be rejoining the club in San Diego, or when the team is back home later this week.
"We're talking through a lot of things with him, but I think we're really close to seeing him," Rays manager Kevin Cash said. "[Pitching coach Kyle Snyder] was really encouraged. He talked to [Triple-A pitching coach] Rick Knapp, and he was really encouraged with the shape and play of the fastball yesterday. He's close."
Juan Toribio covers the Rays for MLB.com. Follow him on Twitter @juanctoribio.