Series loss leaves Rox faced with hard task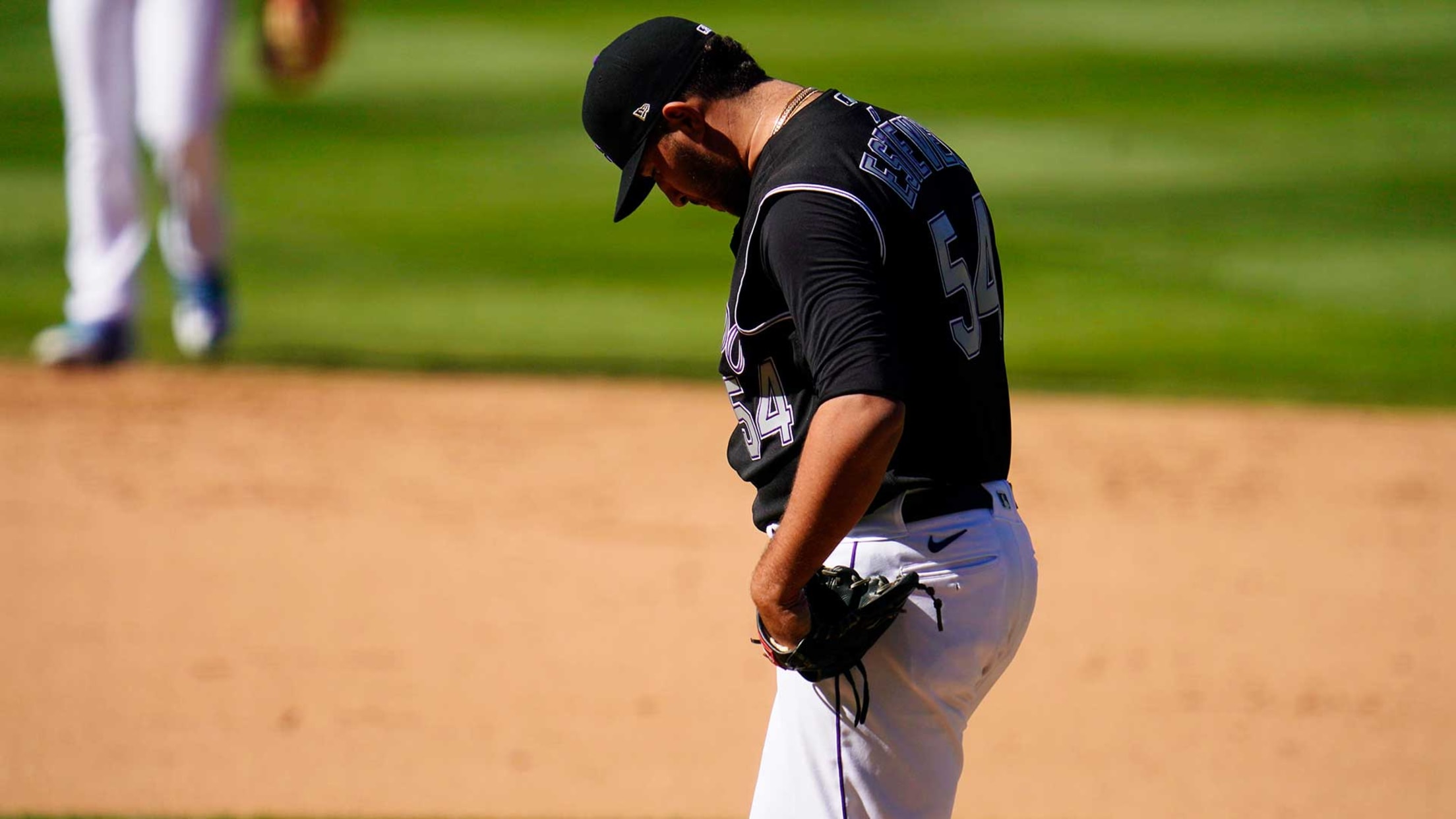 DENVER -- The Rockies have left their television audience happy not enough times, sad too many times. Either way, the Rockies are almost guaranteed to leave their fans puzzled -- as they did in Sunday afternoon's 5-3 loss to the Angels at Coors Field. For 96 pitches in 5 2/3
DENVER -- The Rockies have left their television audience happy not enough times, sad too many times. Either way, the Rockies are almost guaranteed to leave their fans puzzled -- as they did in Sunday afternoon's 5-3 loss to the Angels at Coors Field.
For 96 pitches in 5 2/3 scattershot innings, with six walks and a hit batsman, rookie right-hander Ryan Castellani somehow held the Angels to one unearned run on one hit and left with a lead. How did he not do worse? And with the Rockies issuing 10 total walks, it's hard to figure how the margin was not worse.
Then again, the Rockies could have built on a 3-1 lead after singles by Kevin Pillar and Charlie Blackmon put runners at first and third with no outs in the sixth. But Matt Kemp, who homered in the second, and Josh Fuentes each struck out. Garrett Hampson's drive to the warning track in right-center left all wondering how the Rockies didn't do better.
Instead of a key series win to start their final homestand, the Rockies witnessed Albert Pujols give the Angels a 4-3 lead with his 660th home run -- a two-run shot in the eighth off Carlos Estévez -- which tied Willie Mays for fifth on the all-time list. And at 21-25, the Rockies find themselves having to make dramatic progress, against the American League West-leading Athletics and the National League West-leading Dodgers, in the last six home games of this odd '20.
Games like Sunday's offer as good an answer as any for why the Rockies, who often pitch well (they entered second in the NL in quality starts and starter innings pitched) with reputable hitters in a hitter's park are 10-14 at home. Since an 11-3 overall start, the Rockies are a Majors-worst 10-22.
Castellani's outing -- so wild, yet not so damaging -- was something one doesn't see often. But the failure to seize momentum is an excruciatingly familiar story that's threatening to leave the Rockies out of the playoffs.
"Castellani, he hung in there; it didn't look pretty," Rockies manager Bud Black said. "He made some pitches … those are momentum changers that kept Ryan going. Then, the bottom of the sixth, we had them on the ropes with first and third and no outs. That was a little frustrating, for sure, for us not to put the ball in play and add on there."
The Angels series encapsulated the Rockies' current state.
On Friday, they did little offensively to support Germán Márquez's seven strong innings and went into the ninth inning down a run, only to out of nowhere get a solo shot from Ryan McMahon and a grand slam from Blackmon to win.
On Saturday, the Rockies again wasted strong pitching from Kyle Freeland and the bullpen, saw two of their best -- Trevor Story and Nolan Arenado (who didn't play Sunday because of a sore left shoulder) -- fail to get in a runner from third to win in the 10th, then watched the game slip away in the 11th on Jared Walsh's homer off Tyler Kinley.
Sunday was every bit as confounding.
And it goes deeper than one series. Since the Rockies were thrashed, 23-5, by the Giants at Coors on Sept. 1, all but one of their last 10 games have been winnable. They've won just four of them.
"We've talked about it all season," Black said. "We need the big hit with runners in scoring position. We've got to break through, keep the line moving and string hits together, more than just a couple -- and [we] can't rely on one grand slam."
• Raimel Tapia exits early, dealing with dizziness
Castellani's bizarre start came a day after a red-letter Saturday night for the bullpen -- even Kinley, who threw a dominant 10th and would not have had to pitch the 11th if the offense had produced.
Castellani's six walks tied a mark he set in the Minors. He couldn't recall ever being so scatter-armed while still keeping a team in position to win. But to the rookie's credit, he let veteran catcher Drew Butera take the wheel, which went a long way. The only run was on a passed ball charged to Butera, but Castellani said that was because he threw a fastball when Butera called for a slider.
"I mean, it's not a pretty line," Castellani said. "There's definitely stuff to work on. But I just know, I couldn't give up. I had to keep going through."