Velo coveted but Montgomery still reigns in KC
Royals' all-time saves leader stresses importance of 'pitchability'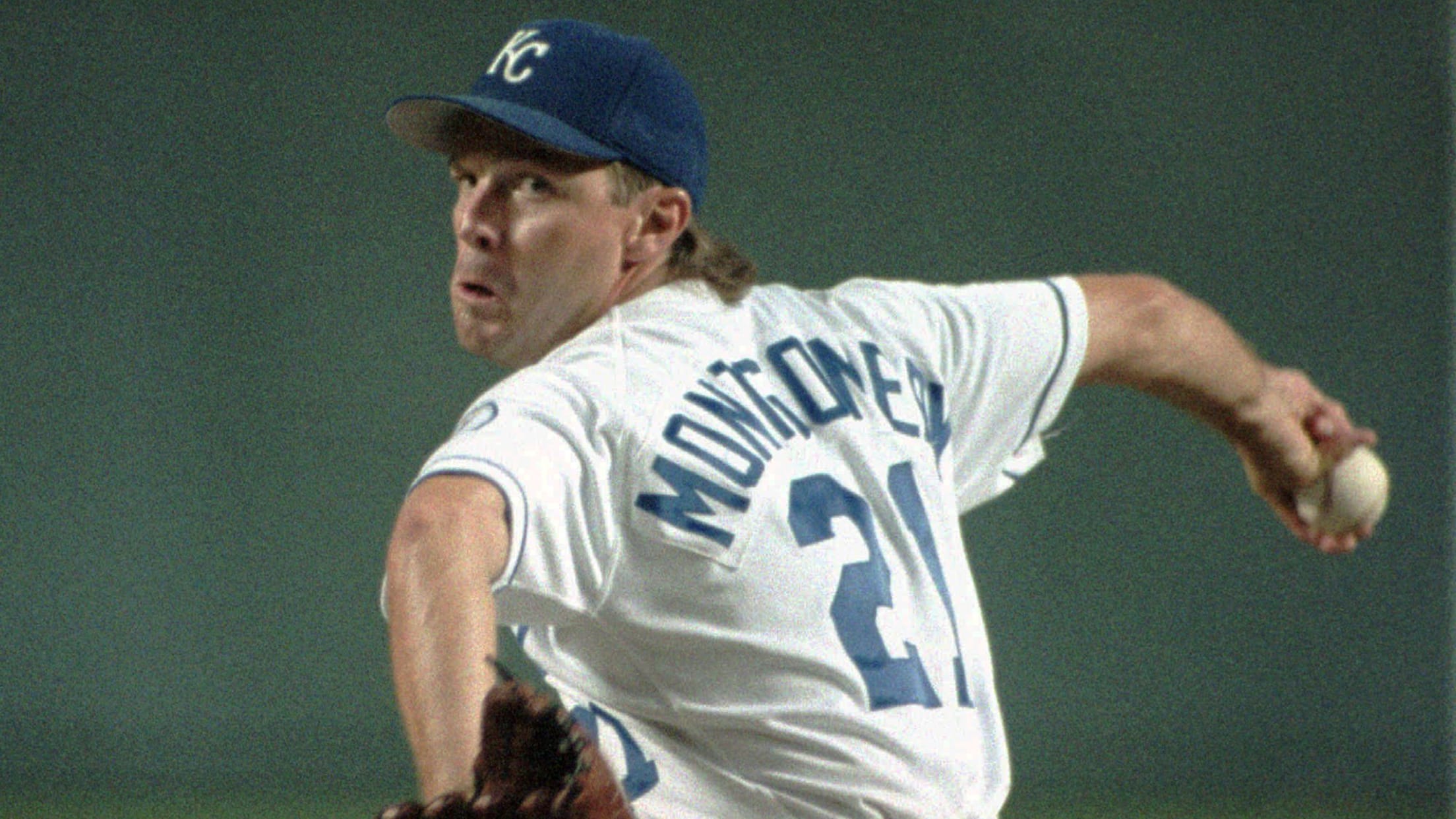 KANSAS CITY -- Jeff Montgomery is the Royals' all-time saves leader with 304, a record that seems unlikely to be broken given the relatively short shelf life of closers in today's game. But the odd thing is, Montgomery probably wouldn't have even gotten an opportunity to be a closer in
KANSAS CITY -- Jeff Montgomery is the Royals' all-time saves leader with 304, a record that seems unlikely to be broken given the relatively short shelf life of closers in today's game.
But the odd thing is, Montgomery probably wouldn't have even gotten an opportunity to be a closer in today's game.
"If you want to take it further," Montgomery told MLB.com, "I might not even have been signed in today's game."
The reason? Velo.
Montgomery, now a Royals television analyst, was anything but a hard thrower by today's standards. He got hitters out with a fastball that sat in the 86-90-mph range.
"The first time I had a radar gun on me was when I was 16 years old, and it showed 86 [mph]," Montgomery said. "When I was 26, it showed 86. When I was 36, it showed 86."
Montgomery then added with a laugh, "If I had stayed in pitching shape at 46, it probably would have showed 86, too."
There certainly were some hard throwers in the game over the course of Montgomery's career, but not nearly as prevalent as they are today, especially in the bullpen.
"There were a handful of guys like Nolan Ryan and Randy Johnson and Pedro Martinez," Montgomery said. "But it wasn't like today's game where you don't even get noticed unless you throw 95 or 96. It's all about velo.
"And it starts at an early age for kids. All the camps they go to, to get recognized, they know they have to be max effort to get the velo up. If you get the velo up, you can get a scholarship or get drafted.
"But if you want to know why the game has a record number of Tommy John surgeries, you can start right there. It's all that max effort, all the time."
And perhaps no place has more of an emphasis on velo in today's game than at the back of the bullpen, where teams across baseball covet multiple power arms.
The Royals' famed trio of Kelvin Herrera, Wade Davis and Greg Holland all threw in the upper 90s and dominated the league, carrying the Royals to back-to-back World Series appearances. In a copycat league, the rest of baseball has tried to match that power formula to close out games.
"I think that type of approach really started with Tony La Russa," Montgomery said. "He started to specialize the roles, and guys could come in and go max effort for an inning. The days of the two-inning or three-inning saves, like Dan Quisenberry used to get, were pretty much history after that."
But Montgomery still thinks there should be attention paid to "pitchability."
"If you look at pitching, there are basically three elements to get hitters out," Montgomery said. "There's changing or mixing up your velo, there's getting movement on your pitches, and there's location. That part hasn't changed.
"You can still get guys out without throwing 100 [mph]. If you look at the two guys at the top of the all-time saves board, it's Mariano Rivera and Trevor Hoffman. And neither one of them threw that hard. Mariano had that cutter at 91 or so, and Trevor had that devastating changeup. But they knew how to pitch."
Another example of the value of pitchability was with Doug Jones, who pitched for 16 seasons in the big leagues and recorded 303 saves.
"And he did it with a fastball that was maybe 83 or so," Montgomery said. "But he knew how to locate and change speeds, just messing with a hitter's timing.
"I can remember seeing hitters looking at him from the dugout, licking their chops while seeing that 83-84 fastball. Then they get up to face him and strike out on three pitches, come back to the dugout and smash their bat against the bat rack. He could frustrate hitters like maybe no one else."
Montgomery also pointed to the successful career of Joakim Soria, who from 2007-2011 saved 160 games for the Royals.
"Jack was mostly 91-92 back then," Montgomery said. "But it always looked faster to the hitter because he had great deception. Hitters were always late on his fastball, and you'd think he'd have to be throwing 98 or something. But he wasn't."
It's not that Montgomery is anti-velo.
"Hey, if I could have thrown 98, I would have loved to," he said, laughing. "It's just that if all you got is velo, you will get noticed, but you won't last unless you have more to your game than that. You still better be able to locate, and you still better have movement on your pitches.
"There are a lot of guys over the last 15-20 years who could throw upper 90s but their pitches were straight -- guys like that will have pretty short shelf times because hitters can hit velo if it's straight."
The trend toward power bullpen arms in baseball isn't likely to go away. The remarkable success that Herrera, Davis and Holland displayed assured that. But that trio also had more than just power -- Herrera had an incredible changeup, Davis had an unhittable cutter and Holland had a devastating slider.
And like Montgomery, who used a repertoire of fastball-curveball-slider-changeup, that Royals trio could throw any pitch at any point in the count. As former Royals manager Ned Yost would say almost monotonously, "It's all about command."
"But I do think the original emphasis about velo is with us to stay," Montgomery said. "I mean, I doubt we'll ever see another knuckleballer -- that guy isn't going to light up any radar guns or even get noticed.
"But radar guns don't get hitters out."