Inbox ... with a bonus helping of Yost stories
Beat reporter Jeffrey Flanagan answers questions from Royals fans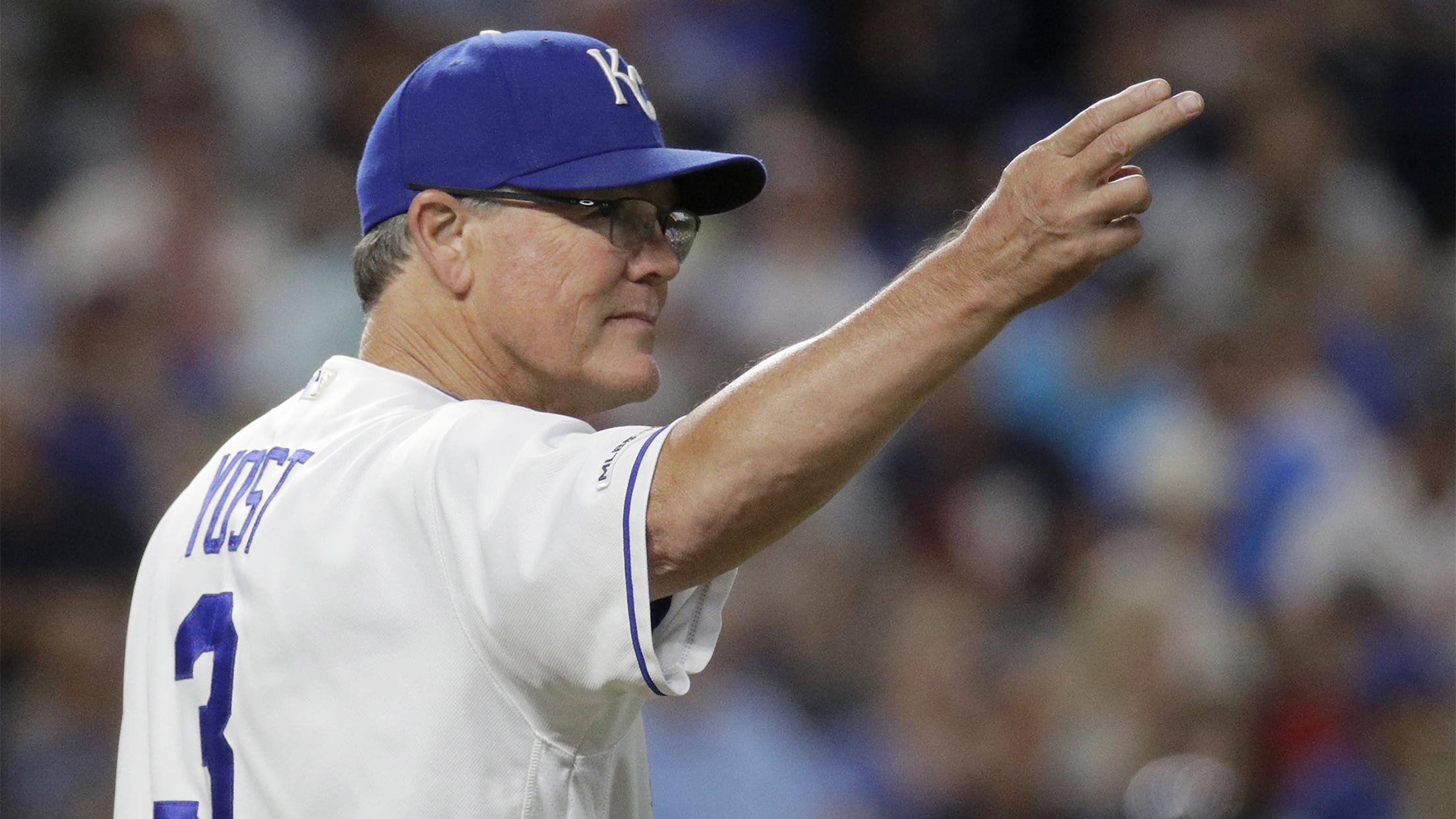 KANSAS CITY -- As you all know, Ned Yost is retiring as manager of the Royals. And as many of you know, Yost and I had a sometimes cantankerous and mostly animated relationship over the many years I covered him. But flat out, I'm going to miss him. He made
KANSAS CITY -- As you all know, Ned Yost is retiring as manager of the Royals.
And as many of you know, Yost and I had a sometimes cantankerous and mostly animated relationship over the many years I covered him. But flat out, I'm going to miss him. He made life as a beat writer interesting.
Many people, at least those I see on Twitter, mistook Yost for someone who was mean to us in the media, or mean to me. Not true. Yost just loved messing with us. It was never personal. And he only messed with the reporters he knew could take the ribbing. He was old school in that manner.
As Yost often told me, "Would you rather me be boring?"
No.
Those around the Royals beat know of the legendary shouting matches I had with Yost during our pregame private beat writer sessions. Players could hear these shouting matches in the clubhouse and would often ask me later what I said to tick Ned off. It got so bad in one instance in Spring Training this year that a coach, who was in a meeting with other coaches and scouts in the adjacent coaches' room, got up and slammed the door shut in disgust so they didn't have to hear it any more.
But here's the thing: Ned and I never held a grudge toward each other. Any dispute was forgotten 30 seconds later. That's true.
I will miss Ned constantly needling my wardrobe (I am a fan of the Jimmy Buffet line of fashion, and he wasn't).
Two years ago, Ned became agitated every time I wore this certain orange shirt at Spring Training: "Oh, here comes Mr. Pumpkin again." Every time.
So the night before the final Spring Training game that year, I went to a local Target store in Surprise, Ariz., and bought a dozen orange shirts. I handed them out to everyone in the media covering the team then, so when we walked into Ned's office the next day for pregame, the entire group was wearing orange shirts. Ned absolutely loved it.
Earlier this year, Ned and I got into a discussion about his Verizon contract -- a little bonus he got after his cell phone coverage from Verizon saved his life after he fell out of a tree stand in 2017. He bought a new tractor with the money off the contract.
Me: "Well, maybe you can fall out of another tree and get another tractor? Oh, sorry. Too soon?"
Ned: "No, not at all. Hey, what does it matter? Dying is part of the life cycle. Who is going to miss you after you die? Maybe your two dogs will miss you for a week?"
But that's the way it was with me and Ned over the years. Just fun trash talking. It was always in good fun. And it went back and forth. And whoever is the next Royals manager -- whether it be Mike Matheny, Pedro Grifol, Dale Sveum, Vance Wilson or someone from outside the organization (a definite possibility) -- I hope he's half as fun to cover.
Let's get to your questions for the final regular-season Royals Inbox of 2019:
Of the fab 5 pitchers drafted at the start of the 2018 draft, who makes it to KC first, and when?

— Ian Cook (@Wuropp) September 23, 2019
OK, we're talking about a group consisting of Brady Singer, Jackson Kowar, Daniel Lynch, Kris Bubic and Jonathan Bowlan. All of the "Fab 5" have made a case to be promoted to the big leagues in 2020. We know Bubic led the Minor Leagues in the regular season with 185 strikeouts. We know about Bowlan's no-hitter. We know how well Singer adapted to the elevation to Double-A after a rough start. But the names I keep hearing about in terms of advancement are Kowar and Lynch, who was shut down for a while with arm soreness in 2019. I'm going with Kowar just based on talks with scouts.
Will Soler, O'Hearn and McBroom all be on next year's 26-man roster?

— Scott Schumacher (@SoSchumacher) September 23, 2019
A logical question. I don't' think fans should give up on Ryan O'Hearn just because he had a poor season. The Royals see the ability there, and they see the potential. I still think he could be an everyday player at first. As for Jorge Soler, I'm convinced the Royals will offer him an extension this offseason, just from the people in the organization I've talked with. And Ryan McBroom has really been intriguing to the Royals' front office -- he looks like a natural born hitter. They have worked him a lot in right field, but sources tell me they believe his best position is still first base. Here's the thing: With MLB going to a 26-man roster in 2020, it gives McBroom a great chance to be on the Opening Day roster, splitting time with O'Hearn.
What's the over/under for the # of players currently on the Royals active roster (19 pitchers/16 position players) who'll be on their opening day 26 man in 2020?

— Brandon H. (@BHIndepMO) September 23, 2019
I would say 19 or 20. There will be a lot of movement on the pitching staff in terms of 40-man positions.
Which of the Sept callups have helped or hurt their case

— Ed Campbell (@EdCampb93252634) September 23, 2019
Randy Rosario has helped his case, as has McBroom and Nick Dini. The Royals weren't exactly expecting much from Dini, but he has shown he can control the running game, handle pitchers and he has provided a little pop at the plate.
Is Cam in Neds doghouse? No sign of him since coming off the IL?

— Ed Campbell (@EdCampb93252634) September 23, 2019
No, not at all. Cam Gallagher is dealing with an oblique injury, which takes a long time to heal. Ned told us weeks ago that Gallagher would only be used as an emergency catcher.
Which young players do you see having an impact on next year's team? Might we see someone like Nick Heath, Travis Jones, or Daniel Tillo challenge for a staring spot?
Thanks for your great work!

— Rupert (@royalrupert) September 23, 2019
Just based on people I've talked with, either McBroom or prospect Nick Heath will be the 26th man next year.
Do you think the Royals spend any significant free agency money before next season to address a future need or do they continue to wait to see what they can get out of the current squad and farm?

— Clark Topjon (@ctopjon) September 23, 2019
When I talked to David Glass, he told me he didn't' think John Sherman would have a different approach than current management about free agency. The goal is to compete for the playoffs in 2021, so it wouldn't make sense to spend a lot this offseason just to win 10 or 15 more games. I personally think Sherman will plug holes with free agents after the '20 season.
What's the current stance on Brett Phillips? I know he's struggling but his playing time is also very sporadic making it hard to get into a groove. He's clearly the best defensive outfielder. What's the plan for him?

— Ryan Crist (@ryancrist86) September 23, 2019
Well, the Brett Phillips question is constantly evolving. He is such a good defender (remember, Royals fans, that's how they won a title in 2015, with great defense). But Phillips has struggled so much at the plate. The Royals are not ready to give up on him. He made some adjustments at Omaha this year and was lighting it up there, but that hasn't translated to where it counts.
The Royals seemed to make a move for more power in 2017, then people seemed to think that was a mistake and they should focus on contact. What direction will they go next year?

— Max Rieper (@maxrieper) September 23, 2019
Oh Max, you have done it again. You struck a nerve. As you know, the Royals smashed their franchise record for strikeouts in 2018 with 1,310. They already have 1,376 this season, which will set another record. This is not who they are. We all know the game has changed to an emphasis on the three true outcomes – strikeouts, walks and home runs. But this is not the Royals' way that won in 2014 and '15, when they didn't strike out, didn't walk, hit few home runs, but stole a lot of bases, hit and ran, bunted and played great defense. They were an "action" team.
Dayton Moore told me two years ago that they wanted to join the long ball movement, mainly because they play 81 games away from the Grand Canyon that is Kauffman Stadium. But I truly believe that was a decision based on their analytics department. And last winter, Moore decided to go back to more of a speed game by signing Terrance Gore and Billy Hamilton. Hey, that didn't work out. But that was mainly because their pitching was really not good this season. I think going forward, they will still try to become more of a put-the-ball-in-play-and-run team. Guys like Adalberto Mondesi, Hunter Dozier, Whit Merrifield, Nicky Lopez, Bubba Starling, Phillips, Heath Lee and so on are perfect for that style of baseball.