Inbox: Perez's outlook post-Tommy John
Beat reporter Jeffrey Flanagan answers questions from fans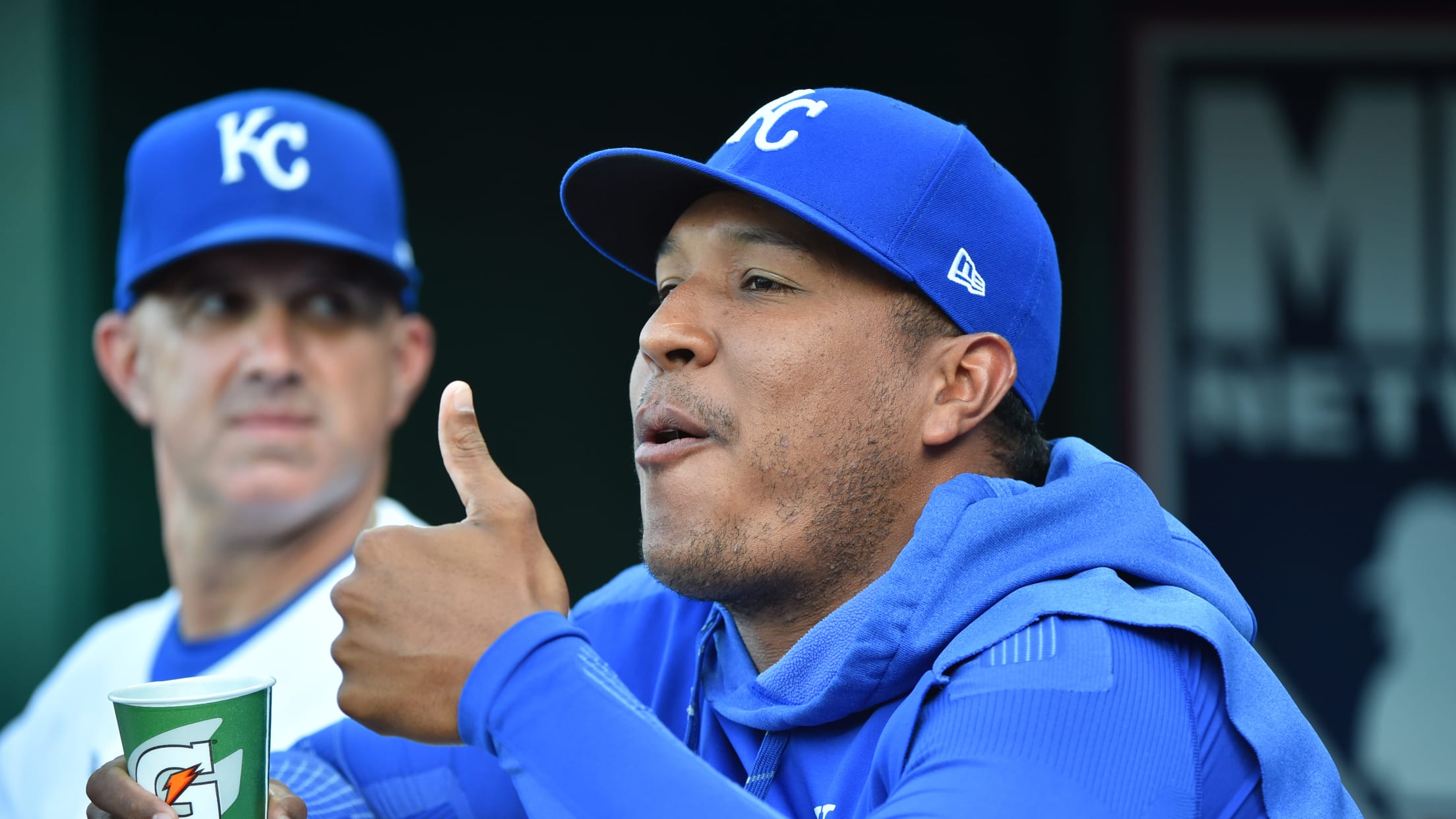 KANSAS CITY -- We are now officially knee-deep in the offseason, as the General Managers Meetings are underway, the Royals have a new manager in Mike Matheny and in 10 days or so the club will have a new owner (John Sherman). With that, let's get to your questions for
KANSAS CITY -- We are now officially knee-deep in the offseason, as the General Managers Meetings are underway, the Royals have a new manager in Mike Matheny and in 10 days or so the club will have a new owner (John Sherman).
With that, let's get to your questions for this week's Royals Inbox. And as a programming note, after this week, Royals Inboxes will begin running on Friday each week.
Again, another terrific list of questions and we apologize that we only got to a portion of them. But keep those unanswered questions on hand for the next go-around, and we'll get to them eventually. Promise.
do you have any doubts that salvy won't be the same player he was pre-surgery?

— Jackie LaVigne (@bballgurl1000) November 8, 2019
All the reports I've received this offseason are that Salvador Perez is right on schedule, maybe even a little bit ahead of schedule. He's working out in Miami and should be all-systems-go come Spring Training. It's never a given that anyone -- catchers or pitchers -- bounces back 100 percent from Tommy John surgery. But Perez is getting expert advice in his rehab -- particularly from people like coach Vance Wilson -- who had the surgery in back-to-back years toward the end of his career with the Tigers. Salvy is in good hands.
Is Pedro Grifol staying with the Royals now that he's no longer a candidate for the Giants job?

— Bryce (@BPerryKC) November 8, 2019
Matheny spent the last week calling the coaching staff and he was able to reach everyone, including Pedro Grifol, who is no longer in the running for the Giants' managerial job. All the conversations -- I'm told -- were very positive between Matheny and the coaches. Nothing officially has been announced yet but Grifol is expected to be back. I reported last week that pitching coach Cal Eldred, a close friend of Matheny's for over 25 years, will also be back. It wouldn't appear that there will be much of a shakeup on the staff.
Do the Royals have any interest or chance at signing Zach Wheeler this offseason? What are the ramifications for the Royals to signing a free agent who has received a qualifing offer?

— Cody (@CodyStormPanic) November 8, 2019
Not sure at this point if it would make sense to sign Zack Wheeler to a long-term deal. Industry estimates that Wheeler could get somewhere between $68-72 million over four years. Why would that be logical for a Royals team still at least two years from contending? Wheeler certainly could help the rotation but the timing would be odd to go all-in there.
Is Whit going to be at 2nd base next year? Come on he deserves it!

— Kelley Stumph (@StumphKelley) November 8, 2019
Certainly, Whit Merrifield would like to play second base. That is his preferred position. But the Royals have a prospect in Nicky Lopez there -- remember Lopez, the player Royals fans were pleading, pitchforks in hand, to be promoted last May? If Adalberto Mondesi (shoulder surgery) is ready to go by Opening Day, Lopez will be at second base and Merrifield will either be in right field or left field, depending upon Alex Gordon's retirement decision.
Did the Royals ever reveal the external candidates they considered for the managerial job?

— Max Rieper (@maxrieper) November 8, 2019
I reported last month that the Royals indeed interviewed "some" external candidates for the manager's job. They did not bring them into Kansas City, but instead interviewed them remotely, either by phone or in person in another market. The identity of these candidates has been guarded extremely well, and one reason for this, I'm told, is that the Royals didn't want the candidates bothered by reporters' phone calls during the process. I'm still digging into this situation and will pass any information along as I get it.
What do the guys do over the winter break? Work out? Play somewhere else? I would imagine they need to stay in shape.

— Tomorrow3 (@SkomalTerri) November 8, 2019
As one player once told me in the last few years, a player's offseason lasts about 10 days. Players either go to play winter ball or immediately launch into their offseason training programs. By the end of January, it's basically time for Spring Training, so there is very little down time.
I know Sherman isn't the official owner yet, but how much input does he have in the decisions right now from the hiring of Matheny to payroll this offseason? Is Dayton running under the guidance of him right now?

— Jeff Fett (@jeff_fett) November 8, 2019
The Royals have known about the Sherman transition for almost a year, so he has been in contact with Dayton Moore for much of that time. Though Sherman is not officially the new owner yet, decisions have had to be made regarding Matheny, the coaching staff, the budget (that's crucial), the pending television deal, etc. Moore and Sherman have been in close contact throughout the last 10 months.
Do you think this team will go after an outfield bat even if Gordon returns? Like a Corey Dickerson or Avisial Garcia? Or would it be one of the lesser guys?

— Christopher Tenpenny (@Tenpenny88) November 8, 2019
The Royals won't be making any big free-agent splashes, but they will be looking for cost-effective arms, and possibly a bargain free-agent outfielder, whether Gordon comes back or not. Brett Phillips and Bubba Starling are out of options, so the guess here is they will be on the 26-man roster next year as the Royals try to determine their long-term future with the team.
What are the plans for the pen this year? Will Kennedy be slated as the full time closer? Who are the best options for the 7th and 8th?

— Devin Reynolds (@dreynolds1345) November 8, 2019
At this point, yes, Ian Kennedy will come back as the closer, and the Royals have Scott Barlow and Tim Hill -- both of whom finished 2019 strong -- as the setup men. I wouldn't be surprised if they got an affordable free-agent to help the bridge to Kennedy – Jake Diekman? Moore definitely will be combing the market for bargains.
Any chance we bring moose back. We need lh power bat to protect soler

— john taylor (@kctaylor35) November 8, 2019
The problem with bringing Mike Moustakas back is that he's not interested in signing a one-year deal anywhere, and the Royals aren't really interested in multiyear deals in this stage of their rebuild. Plus, Hunter Dozier's improved defense has made him a lock as the third baseman of the future. There's no value in bringing Moose back for a team years away from contending. He wouldn't be interested anyway.
Is there hope the new ownership will make a splash in free agency this year especially with the new tv contract in the works?

— Johnny Germano (@BigCat1986) November 9, 2019
I've answered this one quite a bit over the last two months, but hey, one more time. Don't expect new ownership to make a big splash in free agency. The Royals are at least two years away from having a team talented enough to contend for the playoffs. Throwing money at one or two free agents simply as a public-relations move would be wasteful.
What operating model will the new owner bring to the royals? Win now or wait a long time to be competitive?

— Croix Thompson, MBA (@CroixThompson) November 8, 2019
I have been told repeatedly that Sherman will operate the Royals much like David Glass did, with an eye on determining when the most opportunistic time is to go all-in payroll wise. Look, a new owner isn't going to change Kansas City's market size. The Royals will still have limited resources, no matter who the owner is. They will have a new TV deal, which could add about $25 million or so in revenue. But compare that TV money to the Yankees, Dodgers, Angels or Rangers. Small-market owners still have to play it smart.