Inbox: Could Royals' prospects play in 2020?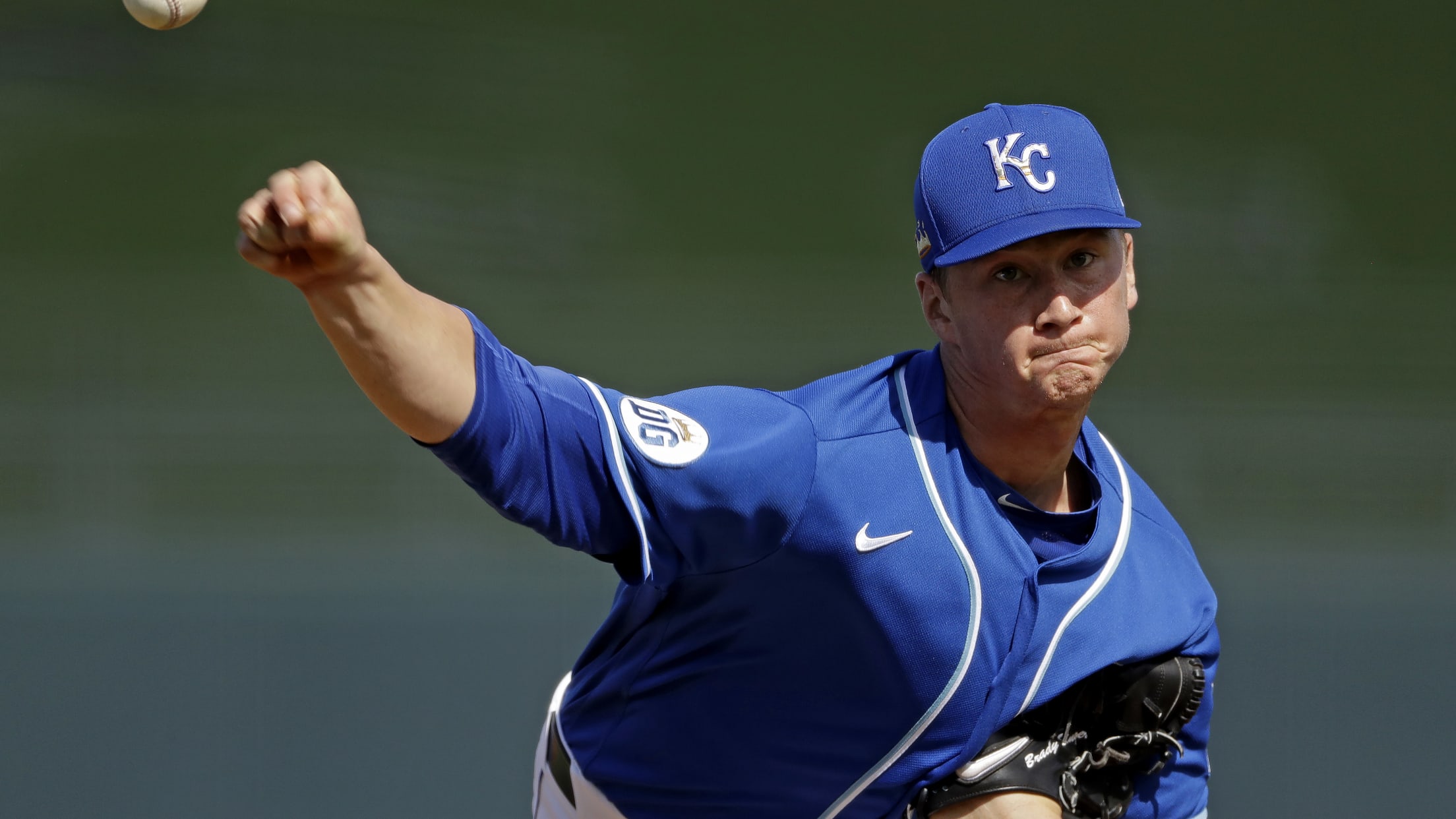 KANSAS CITY -- Baseball is back and so are Royals Inboxes. The Royals will have their first workout on Friday at Kauffman Stadium with their 60-man player pool. Opening Day will be July 23 or 24. With that, let's get right to your questions. You had so many, I will
KANSAS CITY -- Baseball is back and so are Royals Inboxes.
The Royals will have their first workout on Friday at Kauffman Stadium with their 60-man player pool. Opening Day will be July 23 or 24.
With that, let's get right to your questions. You had so many, I will try to keep answers short to accommodate as many as possible.
With so many young prospects on the royals current 60 man roster. Which ones could we actually see play this year, if things go as planned of course.

— Grizzle (@KCMO_Grizzle) June 29, 2020
General manager Dayton Moore told me on Sunday that the main purpose for having so many prospects on their 60-man player pool was mostly from a developmental side. Without a Minor League season seeming unlikely, the Royals want to keep their top prospects moving forward, and having them in summer camp is the best way. The exceptions might be right-hander Brady Singer, the team's No. 2 prospect per MLB Pipeline, or right-hander Jackson Kowar (No. 4). Singer was still in camp when we left Arizona and had an outside chance of cracking the 40-man roster and making the Opening Day roster.
What role do the Royals see Tyler Zuber taking in the organization?

— Cupcakes (@cupcakesarenice) June 29, 2020
The Royals have high hopes for Zuber. He has closer's stuff. As far as successors to Ian Kennedy in that role, Josh Staumont would certainly be in the conversation. But don't rule out Trevor Rosenthal, who overmatched hitters in Spring Training, and was quickly added to the 40-man roster in late March. Kansas City is very close -- if not already there -- to not signing free agents just to flip them, which is practice common among rebuilding teams. Rosenthal is only 30 and the Royals believe there is a lot of life left in that arm.
Since they are training at home for approximately 23/24 days, how does the pitchers get in the work they need to build up their arms or will starters only be working a set number of pitches early on in the season?

— jhb2006 (@jhb2006) June 29, 2020
Manager Mike Matheny continues to rave to us how his pitching staff kept up their workload during the pause. It seems likely the starters will be able to ramp up pretty quickly -- Matheny said there will be live batting practices already on Friday. Getting up to 100-pitch counts could happen faster than you think.
Will this be Bubba Starling's breakout season?

— Taco😷Salazar (@TacoSalazar) June 29, 2020
Before camp was suspended, Bubba Starling was winning the battle for that top backup role in the outfield. It really did seem he was primed for a breakout year, and Matheny mentioned often that he would be utilizing his bench often.
Do you really think the players will enjoy the game as much with no fans in the stands?

— Donald Caldwell (@uncleted55) June 29, 2020
I asked Matheny and Whit Merrifield how they would cope with the lack of energy created by the fans, and both said that it would be a challenge. In some ways, games will resemble an intrasquad battle on the George Brett Field in Surprise, Ariz. But players are pros, and they will adapt.
What do they do with lacy this year?

— Josh (@jmchamberlain83) June 29, 2020
Moore told me the Royals are content with having left-hander Asa Lacy -- their top pick in the 2020 MLB Draft -- work out in College Station, Texas, through the season. There's hope there will be an extended Arizona Fall League and he can get in some more work there.
Is there a trading deadline this year?

— B-RAD (@bcraaum) June 29, 2020
Yes, Aug. 31.
Will the Royals go with a 6 man starting rotation?

— Michael Overstreet #RobotJox (@i_bioloid) June 29, 2020
That's an interesting question. Matheny talked quite a bit during Spring Training about getting creative with their No. 5 spot in the rotation, which had not been resolved. With a 30-man roster, the Royals certainly could afford to extend the rotation to six pitchers, with the No. 5 and No. 6 guys going stints of two or three innings, and then having others piggyback off them.
Honest question. With the nationwide spike in cases, will the season even get off the ground?. I'm sorry but I am very pessimistic about any of the major sports starting

— Josh Buser (@Soonerroyal) June 29, 2020
That's a fair question. MLB and the Royals are doing everything they can to ensure safety for the players. That message is being pounded home to the teams and players -- take all necessary precautions at the ballpark and away from the ballpark. But COVID-19 is so unpredictable.
Any indication what the daily routine for a "taxi squad" player will be once the regular season starts?

— Alex Herman (@lxherman) June 29, 2020
Glad you asked that. Too quickly, the term "taxi squad" was used by reporters in identifying the extra 20 or so players on the 60-man player pool, and that created confusion. The Royals are terming those extra 20 or so players, the ones not on the 40-man roster, as satellite players. Teams will have a taxi squad, with a maximum of three players (including one catcher if you use all three spots), for every road trip, just in case players get injured or contract the virus.
Have the Royals announced or do you have a projected location for the Taxi Squad players to 'practice' when the MLB season gets going?

— Mike Lewis (@hogwild0107) June 29, 2020
Again, the "satellite" players will continue to work out at Kauffman Stadium when the team is on the road. As of now, the Royals will not have an alternative training site, and the 60-man pool will work out at Kauffman Stadium.
Do you believe that Bobby Witt Jr. will see some playing time later in the year or will he just gain a better understanding this year?

— Jack Caton (@JackCaton5) June 29, 2020
It would be surprising. Witt, the team's No. 1 prospect, isn't on the 40-man roster, and there's no real reason to start his service time clock. He just turned 20 on June 14. Being in the 60-person pool will help him continue his development, like being in big-league camp, which is a tremendous experience for young players.
Do you think they'll extend another year to Gordo since this season is weird?

— Stephanie 💙 (@sleith9806) June 29, 2020
Yes, I do.
What happened with the TV contract? There was a "handshake" agreement before the Covid-19 pandemic hit, does that still stand or does the pandemic change things?

— Kyle Martin (@kwmart) June 29, 2020
Yes, I reported recently that the handshake deal is still in effect. Both sides are planning on having a final deal put to bed in the next couple of weeks. And yes, the pandemic certainly affected the finances and structure.