Sale on Renteria: 'A great baseball mind'
No. 15 prospect promoted to Double-A; Covey to start Sunday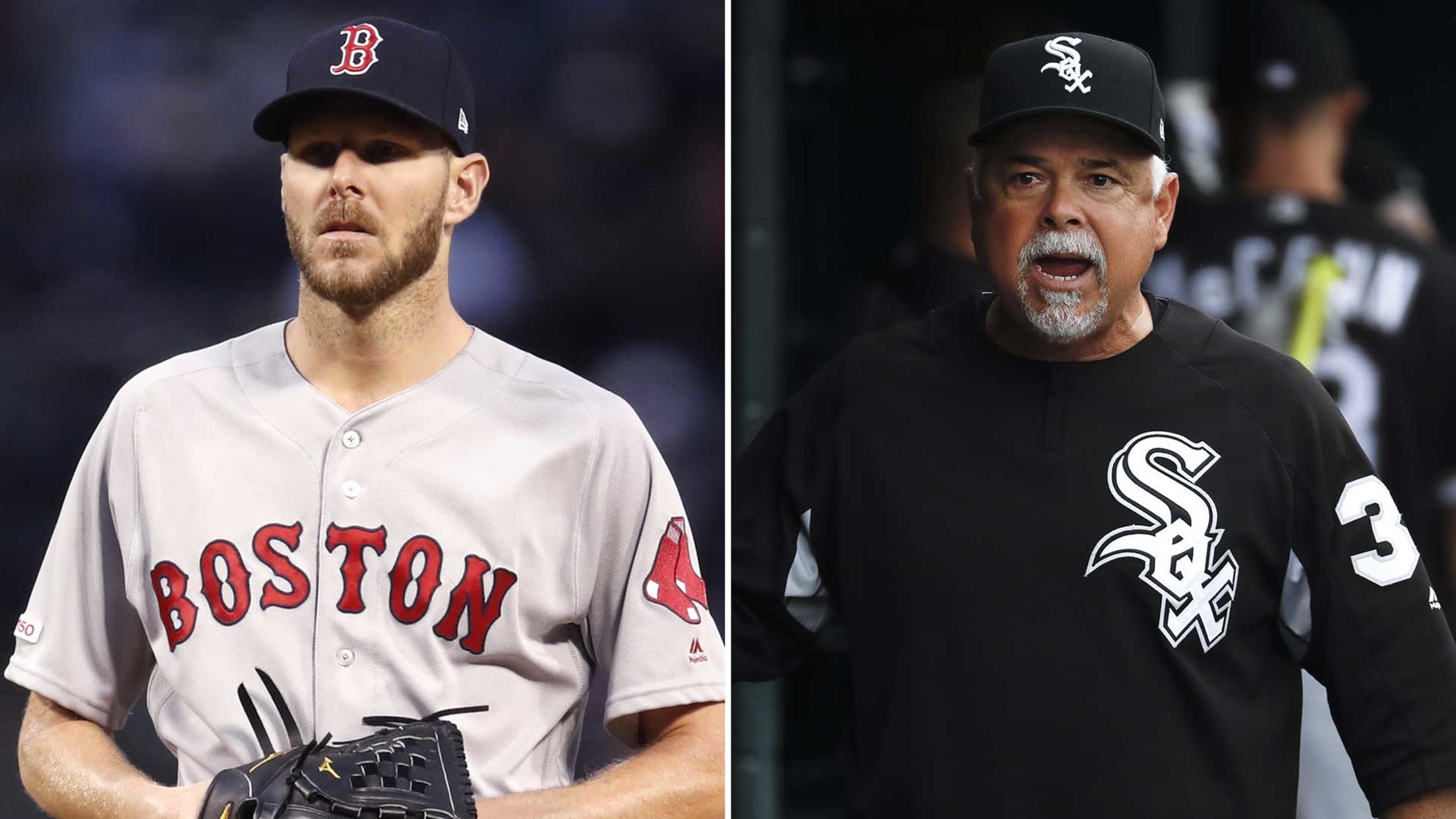 CHICAGO -- Chris Sale and current White Sox manager Rick Renteria crossed paths in Chicago during only the 2016 season, when Renteria served as Robin Ventura's bench coach. But arguably one of the best pitchers in White Sox history and a five-time All-Star with the team still was left with
CHICAGO -- Chris Sale and current White Sox manager Rick Renteria crossed paths in Chicago during only the 2016 season, when Renteria served as Robin Ventura's bench coach.
But arguably one of the best pitchers in White Sox history and a five-time All-Star with the team still was left with a high opinion of Renteria's leadership and baseball acumen.
"Absolutely. He's a great baseball mind, he's a great person," said Sale during a talk with Chicago media prior to Saturday's contest, a day after earning his first win of the season in the series' second game. "He's a guy that can get anybody in that clubhouse or anybody in any clubhouse to buy into something.
"He's a fun guy to be around, but he's that [no-nonsense type]. He wants you to run hard, he expects the best out of you. We've seen that at times from him as a manager already, and that's where the respect comes from. I've said it before: I think he's the right guy in the right place for what they've got going on. I'm happy for him."
The trade of Sale to Boston on Dec. 6, 2016, already has paid championship dividends for the Red Sox, who watched their staff ace close out the 2018 World Series title over the Dodgers. The deal also brought back right-handed pitcher Michael Kopech and third baseman Yoan Moncada among the four-player return, two players who the White Sox hope could be part of their own championship core.
Just don't expect Sale to assess the White Sox chances to achieve what Boston did in '18. It's not the style of the affable but highly competitive pitcher.
"That's not my area. I play for the Boston Red Sox," Sale said, with a wry smile. "I got this team to worry about. I enjoy coming back here and seeing everybody, and they obviously have great talent over there. But I'm trying to win the same thing they are. I'll leave it at that.
"We had some tough seasons over there. We are having a tough season right now over here up to this point. It's still the best job on the planet. I still appreciate being a Major League Baseball player. I still love going out there and pitching. I still have that fire. I still have that passion."
Hansen promoted
Alec Hansen, the No. 15 White Sox prospect per MLB Pipeline, was promoted from Class A Advanced Winston-Salem to Double-A Birmingham on Saturday. Hansen posted a 2.13 ERA with 21 strikeouts, seven walks and one hit allowed over 12 2/3 innings out of the bullpen.
The White Sox moved Hansen to the bullpen to get him back on track after a dismal, injury-plagued 2018 season where the big right-hander finished 0-5 with a 6.31 ERA over 14 starts between Winston-Salem and Birmingham, walking 59 and striking out 55 in 51 1/3 innings. Hansen topped all Minor League pitchers with his 191 strikeouts during the 2017 season, and the plan is to eventually move him back into the rotation.
"Again, it's experience, it's time, they're growing, but still not the end of their growth and development," Renteria said. "Hopefully at some point they're pushing and driving enough to put themselves on the map to be here, and then that will be another process of growth and learning."
Third to first
Renteria officially named Dylan Covey as his starter for Sunday. Covey will take the rotation spot of Carlos Rodon, who is on the injured list with left elbow inflammation. The right-hander has not thrown more than 4 1/3 innings in an outing at the Major League or Minor League level this season.
Outfielder Jon Jay continues to ramp up baseball activity in testing his right hip/groin strain and responded well to running Friday. He was hitting in the cage and working out again Saturday.
They said it
"One of the things a manager has to consider is not letting something become chaotic out there with a position player. Fortunately for us, that did not happen yesterday." -- Renteria, on using Jose Rondon to pitch the ninth in a 6-1 game