Hendriks joins fascinating young Sox bullpen
Last October, the White Sox had their season end at the hands of Liam Hendriks. In Game 3 of the American League Wild Card Series, Oakland's stud closer allowed a leadoff single to James McCann, then struck out Yoán Moncada, Luis Robert and Nomar Mazara. The A's advanced. Chicago went
Last October, the White Sox had their season end at the hands of Liam Hendriks. In Game 3 of the American League Wild Card Series, Oakland's stud closer allowed a leadoff single to James McCann, then struck out Yoán Moncada, Luis Robert and Nomar Mazara. The A's advanced. Chicago went home. Two weeks later, the White Sox parted ways with manager Rick Renteria and long-time pitching coach Don Cooper, kicking off a winter of change in Chicago.
Chicago's season won't end like that again this year. The White Sox have signed Hendriks to a four-year, $54 million contract, adding baseball's best reliever to what's become an incredibly interesting -- if anonymous -- collection of bullpen arms.
We're not trying to gloss over what Hendriks does here, but we sort of will. It's not hyperbole to say he's baseball's best reliever: We ranked him as such on Monday night hours before this news broke. We did that because Hendriks has such a great combination of quantity and quality -- no reliever in 2019-20 threw more innings than his 108 1/3 (aside from Tampa Bay's Jalen Beeks, who isn't a traditional reliever). At the same time, no reliever posted a better weighted on-base average than his .219, among the 317 pitchers with at least 30 relief innings.
As MLB.com's David Adler dove deeply into recently, a big part of Hendriks' success has come from his elite rising fastball, which he throws at 96 mph nearly three-quarters of the time and uses to get ahead in the count before dooming hitters with breaking stuff in putaway counts. That tracks with what he said five years ago, when we asked.
"It's just a mentality thing, to be honest," Hendriks told us back in 2016, two weeks into his first season with Oakland. "I think that certain people, the bullpen just works better for them. For me, it was just, as a starter I would always try and nitpick too much, while out of the 'pen it's just, 'Here you go, try to hit this,' kind of mentality."
Whenever you add baseball's best reliever to a team that just won nearly 60 percent of its games, you're doing something right. But it struck us, as soon as Hendriks was signed, that he's going to take up all the oxygen in the discussion about the Chicago bullpen. Again, that's not unfair: He's the best reliever in baseball. But the White Sox already had a pretty good bullpen, full of fascinating names you don't know enough about, even if they're currently without last year's closer, free agent Alex Colomé. (Colomé was good in 2020, but absolutely not "0.81 ERA" good; his strikeout rate has been on a steady decline and was actually below average last season.)
This is how the White Sox bullpen ranked in 2020, without Hendriks:
ERA -- 3.76, seventh best in MLB
OBP -- .308, seventh best
wOBA -- .295, fifth best
Fastball speed -- 94.2, seventh best
With Hendriks, FanGraphs has them projected as the second-best bullpen in baseball in 2021.
Colomé was good, but Hendriks is better. Either way, neither of them is doing this alone. Please allow us to highlight what makes the other guys all so interesting.
What you need to know about ...
Aaron Bummer (27, LHP)
What if Bummer is also one of the 10 best relievers in baseball? We wouldn't quite go that far, but MLB Network did, and the fact that we're even discussing that should tell you a lot about him. Bummer didn't actually pitch very much in 2020 due to a left biceps strain, but if we combined '19-20 for relievers, with a minimum of 10 innings thrown, almost no one is better at getting grounders.
Top ground-ball rate, relievers, 2019-20
75.8% -- Zach Britton
71.7% -- Aaron Bummer
67.3% -- Victor González
67.2% -- Jordan Hicks
65.4% -- Adam Kolarek
It's not hard to see why, because no one in baseball gets better sink on their sinker. (Bummer is second on this list, but Jared Hughes is an unsigned free agent and unlikely to play again.)
Most sink above average, 2020, min. 100 pitches thrown
+9.8 inches -- Jared Hughes
+8.4 inches -- Aaron Bummer
+7.8 inches -- Randy Dobnak
+7.7 inches -- John King
+7.2 inches -- T.J. McFarland
Now let's combine the ground ball ability with the fact that Bummer averages about a strikeout per inning in his career, and turn to a Statcast metric that attempts to evaluate quality of contact plus amount of contact. Among the 155 pitchers to throw at least 1,000 pitches as a reliever in 2019-20, Bummer ranks ninth, behind top names like Kirby Yates, Josh Hader, Nick Anderson, and at the very top, Hendriks. Not bad.
Garrett Crochet (21, LHP)
Crochet has thrown six regular-season Major League innings and he might already be the hardest-throwing pitcher in baseball, so there's that. It's not hyperbole, either: Crochet averaged 100.2 mph on his four-seamer. Averaged.
There were 311 pitches thrown at 100 mph or faster in MLB in 2020 and Crochet threw 45 of them, or about 15 percent, second most behind Brusdar Graterol. Remember, Crochet was only drafted in June and agreed to a contract on June 22; he didn't even debut until Sept. 19. Despite that, he was still only barely behind Graterol in terms of most triple-digit pitches thrown.
In fact, Crochet threw so hard, so often -- 45 of his 85 pitches were at 100 mph or faster -- that in the history of pitch tracking (dating back to 2008) 53 percent of his pitches hitting at triple digits was the fourth-highest number on record. He's already the hardest-throwing White Sox pitcher ever. We're obviously talking about small samples here, but it also doesn't take a lot of evidence to know if a guy can throw hard or not. Crochet can, perhaps unlike anyone else, though it's not yet clear if he'll get a chance to start.
Codi Heuer (24, RHP)
Speaking of hard throwers, Heuer -- pronounced "Hoyer" -- "only" averages 97.6 mph.
How's this for a leaderboard? We took the 177 relievers who threw at least 300 pitches out of the bullpen in 2020 and ranked them by wOBA, which is similar to traditional OBP, except it gives credit for extra-base hits. You will absolutely not be surprised by the first two names on the list, because they won the Reliever of the Year Award in their respective leagues. The third-place guy allowed one earned run; the fifth-place guy allowed five. Check out the rookie who's fourth.
Lowest wOBA, 2020, relievers
.161 -- Devin Williams
.170 -- Liam Hendriks
.199 -- Jake Diekman
.200 -- Codi Heuer
.213 -- Brad Hand
Now, is Heuer really a top-five reliever? Probably not. But there were only 13 relievers (with at least 20 innings) in 2020 who pulled off the combination that Heuer did, which was to get a ground-ball rate of at least 50 percent and strikeout rate at least 27 percent. Evan Marshall was one, and we keep coming back to the same names here -- Diekman, Williams and González. It helps that Heuer throws that 97.6 mph fastball with sink.
Evan Marshall (31, RHP)
You might not have noticed Marshall, a fourth-round Draft pick of the D-backs in 2011 who has since bounced from Arizona to Seattle to Cleveland to Chicago, the latter of which signed him late in '18 as a Minor League free agent. In parts of five seasons before joining the White Sox, Marshall had a 5.15 ERA. In parts of two seasons with Chicago, he's held down a sparkling 2.45. What changed? Let's take a look at his pitch selection.
Before Chicago: 61% fastballs, 19% changeups, 16% sliders, 4% curveballs
With Chicago: 39% fastballs, 39% changeups, 21% curveballs
In 2020, more than 70 percent of Marshall's pitches were changeups or curveballs.
Look at it like this: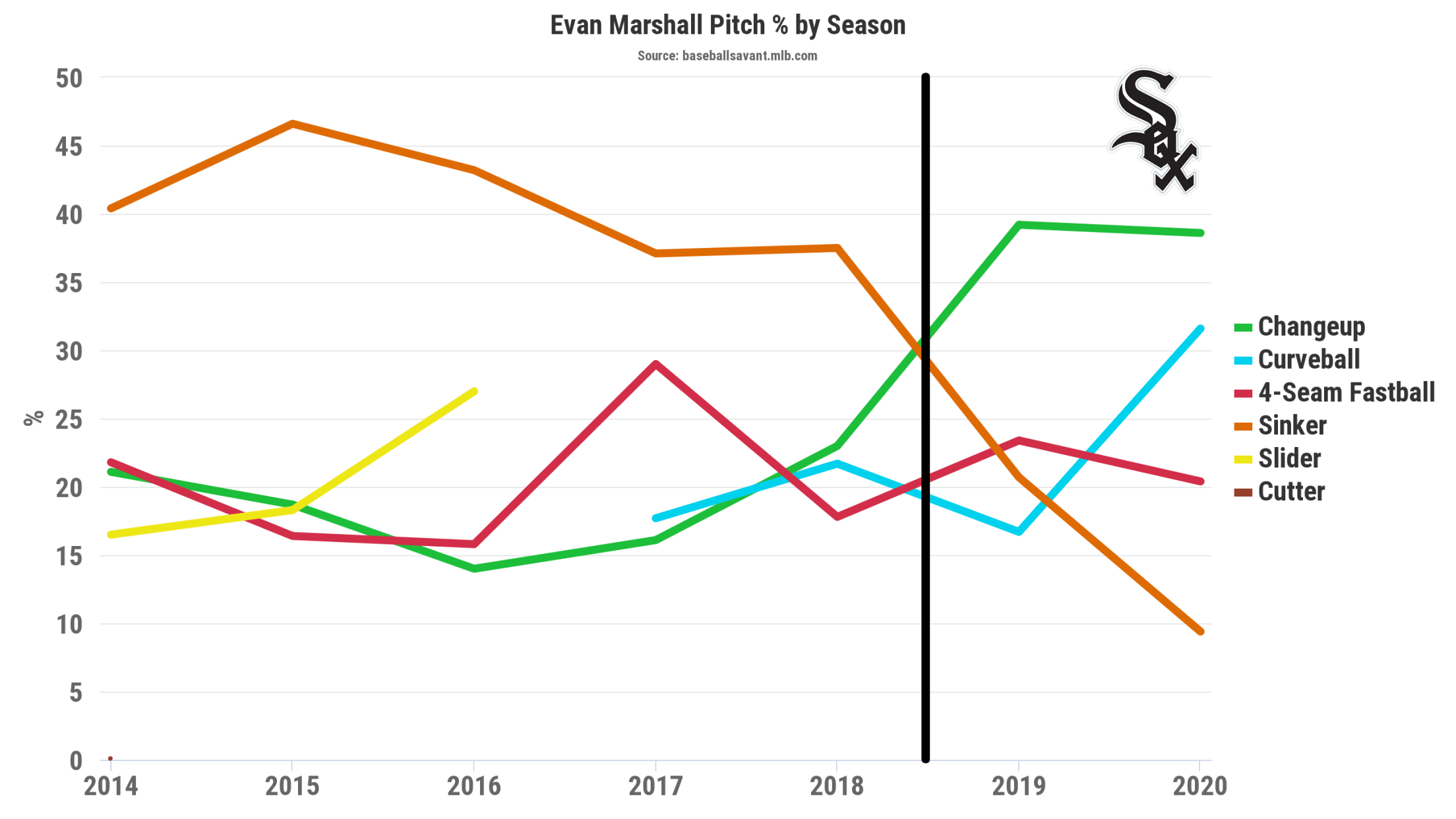 "I had been cornered into being a sinker guy. Now, it's more so throwing any pitch at any time in any count and all for strikes," Marshall said in 2019.
Not anymore, clearly.
Marshall struck out 30 against just seven walks in 2020, but more importantly, he didn't allow a single barrel. (A barrel is a Statcast term for the perfect combination of exit velocity and launch angle. There were a dozen games in 2020 during which a pitcher allowed at least five of them, so to make it through the season without allowing even one is impressive.) There were, in fact, only 15 pitchers in the 85th percentile or better in both strikeout rate and barrel avoidance. Marshall was one. So was Hendriks. So were Devin Williams and Tyler Duffey and Kenley Jansen. It's a list you want to be on.
But hey, if you want to forget all that and just marvel at what he did to Trea Turner, that's fine, too:
Matt Foster (26, RHP)
Foster struck out 31 in 28 2/3 innings as a rookie, and it was how he started that was most interesting, striking out 15 of the first 32 batters he faced. He didn't keep that rate up, of course -- aside from Williams, who could? -- but he proved that his fastball/changeup combination will play at the Major League level. Foster did, after all, allow only 16 hits in 23 appearances.
In today's game, a 93.8 mph fastball isn't exactly a standout mark. But it plays so well off Foster's change, along with some rising action, that it's still his main out pitch, collecting 21 strikeouts and allowing only three extra-base hits.
So yes, adding Hendriks is a big deal, just as adding Lance Lynn to the rotation was a big deal. But the White Sox already had a variety of interesting relievers, and there's more we didn't get to. Jimmy Cordero hasn't been effective, but he does throw 97 mph. Zack Burdi throws 98. Jace Fry has struck out more than 11 per nine innings during his four years in Chicago. Also, consider this: What if Michael Kopech, who missed all of 2019 with Tommy John surgery and then elected not to play in 2020, is eased back in relief? What if the club still adds Hand?
Either way, when it comes to the White Sox, you'll focus on Hendriks, or Tim Anderson, or José Abreu, or Robert, or Lucas Giolito, or Moncada, or Lynn ... not unfairly. This is a team full of stars. There is a bullpen full of fascinating young arms, too. They will matter if the White Sox are going to go as far as they'd like to in 2021.