Bregman makes the day for autistic fan
MONTERREY, Mexico -- Five-year-old Adrian Fonseca, decked out in a No. 2 Astros jersey with "Adrian" on the back, absorbed every minute of his time on the field during batting practice on Sunday. He met Jose Altuve, watched the Astros hit and blended in well among the sea of fans
MONTERREY, Mexico -- Five-year-old Adrian Fonseca, decked out in a No. 2 Astros jersey with "Adrian" on the back, absorbed every minute of his time on the field during batting practice on Sunday. He met Jose Altuve, watched the Astros hit and blended in well among the sea of fans who arrived early to see Houston players up close.
But there was one player he really, really wanted to meet -- Alex Bregman, his favorite Astro and the reason why he wears No. 2 on his back.
Bregman is special to Adrian, who is autistic. Adrian and his dad, Rene, are Houston natives and have been fans of the Astros' third baseman since his promotion to the big leagues a few years ago. But their admiration ramped up a notch or two when Bregman went public with his support of kids with autism.
When Bregman was alerted that Adrian wanted to meet him, he welcomed the father and son duo into the Astros' dugout, where he posed for photos and gave Adrian one of his bats -- which he signed, on the spot.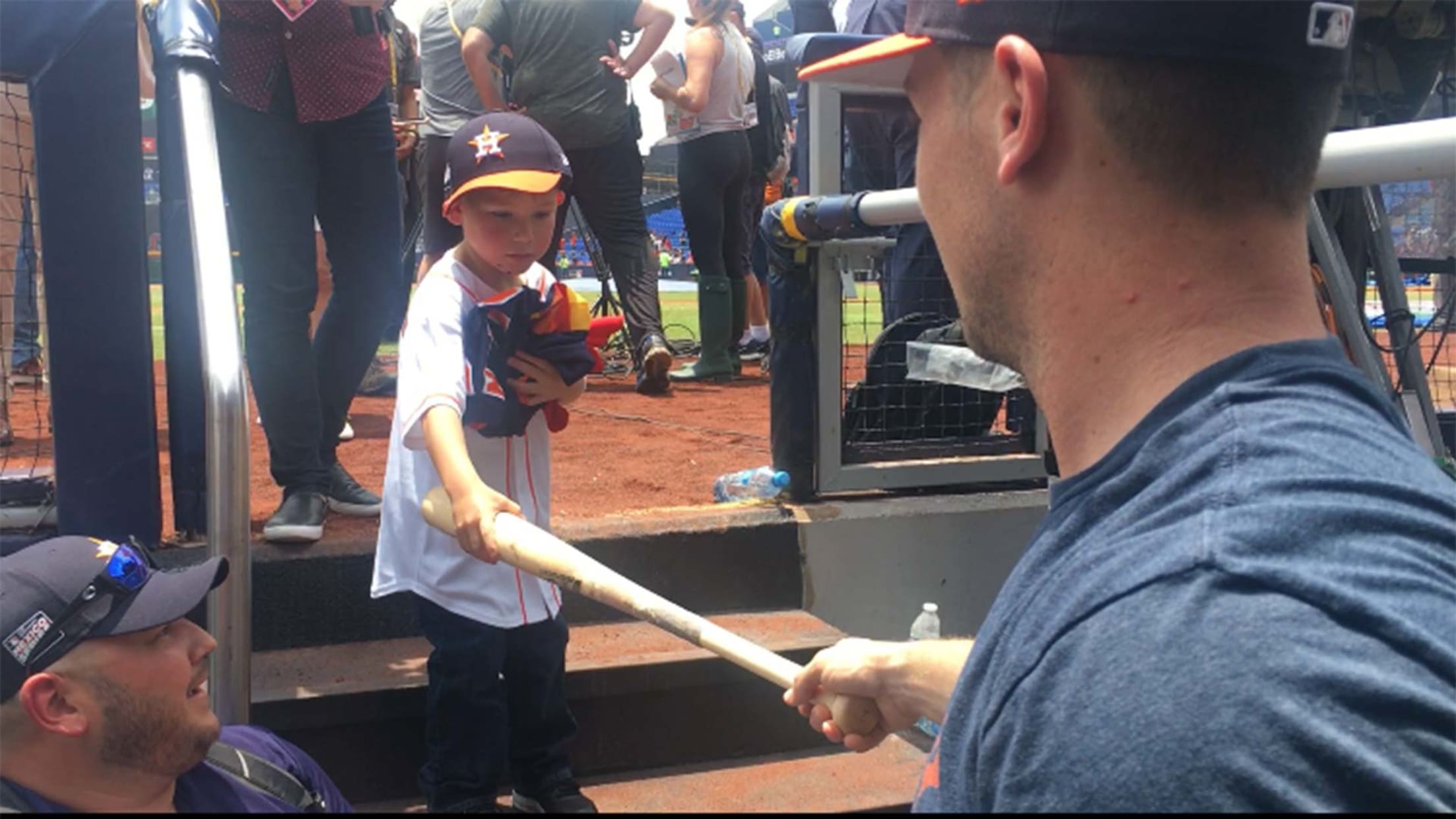 Bregman's charity, AB for Autism, supplies iPads as learning tools for autistic children. Bregman pledged $1,000 for each Houston win in April (National Autism Awareness Month) to the cause. That total reached $17,000.
Bregman also wears specially-made batting gloves with a rainbow-puzzle design, a logo closely associated with autism awareness.
After their chance meeting with Bregman on Sunday, an emotional Rene attempted to put into words what that moment meant to him.
"My favorite baseball player growing up was Ken Caminiti, a third baseman," Rene said. "And [Adrian's] favorite player is Bregman, and he plays third base. This year when he started doing all this stuff for AB for Autism, and his batting gloves. … I said, 'Man, this guy couldn't be any better for Adrian, because he just absolutely loves him.' That's why he's No. 2."