Inbox: Will Astros try to fortify rotation?
Beat reporter Brian McTaggart fields fans' questions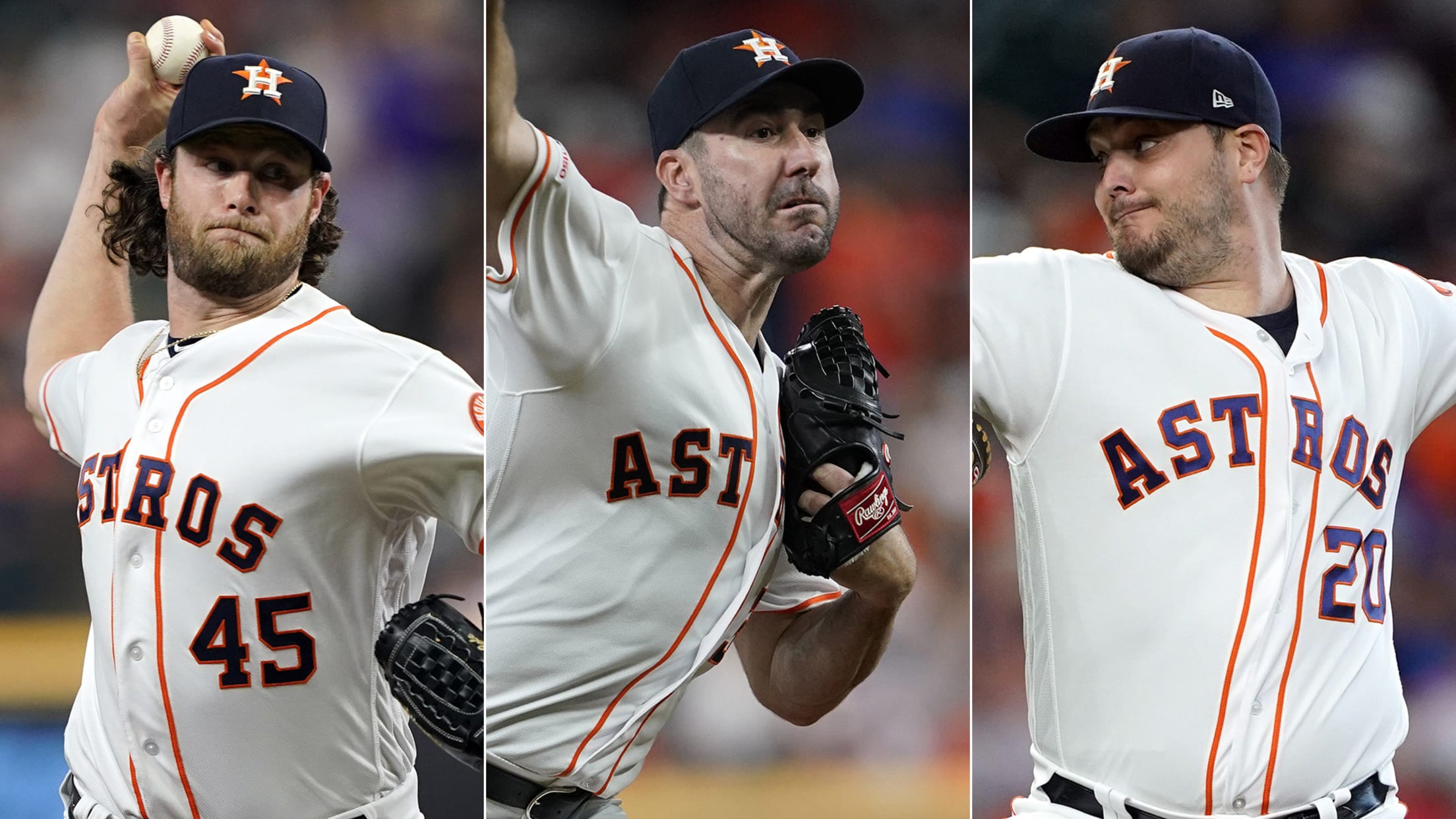 HOUSTON -- The Astros restored order in the American League West over the weekend by sweeping three games from the lowly Mariners, extending their lead in the division to 6 1/2 games over the Rangers with one week remaining before the All-Star break. It looked as though the Astros would
HOUSTON -- The Astros restored order in the American League West over the weekend by sweeping three games from the lowly Mariners, extending their lead in the division to 6 1/2 games over the Rangers with one week remaining before the All-Star break.
It looked as though the Astros would run away with the division -- and they still might as they get healthier -- but they lost nine of 11 games in late June and saw the Rangers close to within 4 1/2 games. No one saw that coming when the season started.
George Springer and José Altuve are healthy, Yordan Alvarez looks as if he's here to stay and Carlos Correa and Aledmys Díaz should return post-All-Star break. At that, we're a couple of weeks from the Trade Deadline. Expect the Astros to be active.
With so much in news, let's open the Inbox to see what's on your mind:
With Gerrit Cole set to become a free agent at seasons end, do you think the Astros will look to be aggressive and get a very good LHP in Matthew Boyd — a guy who can help us this year but also in future years as the possible number two starter with the club control he possesses?

— Tyler Dupnick (@TDup25) July 1, 2019
I think your premise is pretty spot-on. Gerrit Cole will become a free agent and figures to land a huge contract based on how well he's pitched this year. He's been an All-Star both years in Houston, but I expect the Astros to go in a different direction. While I wouldn't rule out a rental starter (Madison Bumgarner), trading for a pitcher who's controllable for a couple of more years like Matthew Boyd, who has three years of control remaining, would address a need and give them some stability later. Of course, that will require more for the Astros to give up in the deal.
If the Astros are thinking more near-term, a right-handed starter -- Marcus Stroman, anyone?-- to throw at the Yankees and their right-handed heavy lineup twice in a possible seven-game ALCS might make more sense. In 1998, the Astros acquired lefty Randy Johnson because they were anticipating a World Series matchup with the Yankees, who had some elite lefty hitters. We know how that season turned out.
In 2020, the Astros will have Justin Verlander at the top of the rotation and Lance McCullers Jr. will be back from Tommy John surgery. They could re-sign Wade Miley, who's pitched pretty well and likes Houston. Beyond that, there's uncertainly. Collin McHugh is a free agent and top prospects Forrest Whitley and Corbin Martin are hurt. Names you're familiar with like Francis Martes, Framber Valdez and Brad Peacock will be in the mix, but it's clear starting pitching is a huge area of need.
In June, twice the Astros sent Reddick to 1B late in the game (he only has 4 career 1B appearances). Is there a possiblity of a longer look for him there, moving White back to AAA, Gurriel to a super-utility and bringing Tucker up?

— Ben Stecker (@Softball_Guy) July 1, 2019
Astros manager AJ Hinch has said he would use Josh Reddick at first base only in an emergency in late in a game when the roster is thin. The club also currently has no plans to put rookie slugger Alvarez at first base, either. Reddick is an outfielder and will remain an outfielder. Tyler White is out of options and can't be moved to Triple-A without being placed on waivers. Same with Tony Kemp. The Astros may choose to release White at that point, but for now he's one of their few options at first base with Yuli Gurriel having to play so much third base with Diaz out.
Who's your top three to win the 2019 American League rookie of the year award, and can Yordan Alvarez duplicate what Carlos Correa achieved in 2015 and win it despite being a June call up?

— DreamTeamApple 🍎 (@DreamTeamApple1) July 1, 2019
Yes, I think Alvarez put himself in the AL Rookie of the Year race, but he'll need to have a big second half. If he continues to produce the way he is now, he's got a shot. Unlike the National League, where Pete Alonso of the Mets is the likely runaway winner, the AL is wild open. Alvarez's biggest competition at this point might be Brandon Lowe of the Rays. Others to watch are John Means of the Orioles and Michael Chavis of the Red Sox, but none of them has had the impact of Alvarez so far. It's about body of work at this point.
When Diaz & Correa come back, who are the odd men out?
Realistically speaking, what pitchers are they targeting in trade talks?

— Huffer3123 (@huffer3123) July 1, 2019
Both Diaz and Correa are set to return after the All-Star break, putting the Astros' lineup back at full strength for the first time since Altuve went down in May. With Alvarez here to stay and the Astros currently carrying 13 position players, two of these three will be the odd men out when Diaz and Correa are back: Myles Straw, Kemp and White.
The return of Diaz and his ability to play third will push Gurriel back to first base and could force the Astros' hand on White, who is out of options and in a 1-for-21 slump with two walks. Kemp (3-for-17 with three walks in his last eight games) has started twice since June 18, but he's out of options, as well. Straw, despite what he brings to the table with his speed, is a candidate to get sent down to Triple-A, but it's not a given. He's made a huge impact with his wheels a few times this year. Straw could be optioned to Triple-A and come back later in the season, though.
Who would you personally most like to face in an ALCS matchup if it comes to that?

— The Tine Ag (@CFTXAG) July 1, 2019
I think the Astros and Yankees are the two best teams in the AL and would make for a terrific and entertaining ALCS if they meet like they did in 2017 when the home team won every game (the Astros won in seven games). New York wasn't healthy when it was swept by Houston in April, and the Astros weren't healthy when the Yankees took three of four games from them last week in the Bronx.
These are two deep lineups and two deep pitching staffs, and both figure to add an impact­ player or two in the month of July. I certainly wouldn't count out the Twins, Rays or Red Sox in October, but an Astros-Yankees ALCS has the chance to be epic.
What is the status of Corbin Martin's elbow injury and Forrest Whitley's shoulder fatigue?

— John Burris (@burrisjohn) July 1, 2019
The last update we were given by president of baseball operations and general manager Jeff Luhnow a few days ago is that Martin was seeking second opinions, which is never a good sign. We should know more about his condition on Tuesday, but Luhnow said he's out indefinitely. Whitley is throwing in West Palm Beach, Fla., and he could get into some Gulf Coast League games later this month before being sent out to a full-season affiliate. Luhnow hasn't ruled out Whitley coming to the Astros in September, but he has a lot of work to do before that becomes a reality.