Safety-minded Astros to use 'every inch' of MMP
Espada emphasizes efficiency in effort to stay healthy, get work in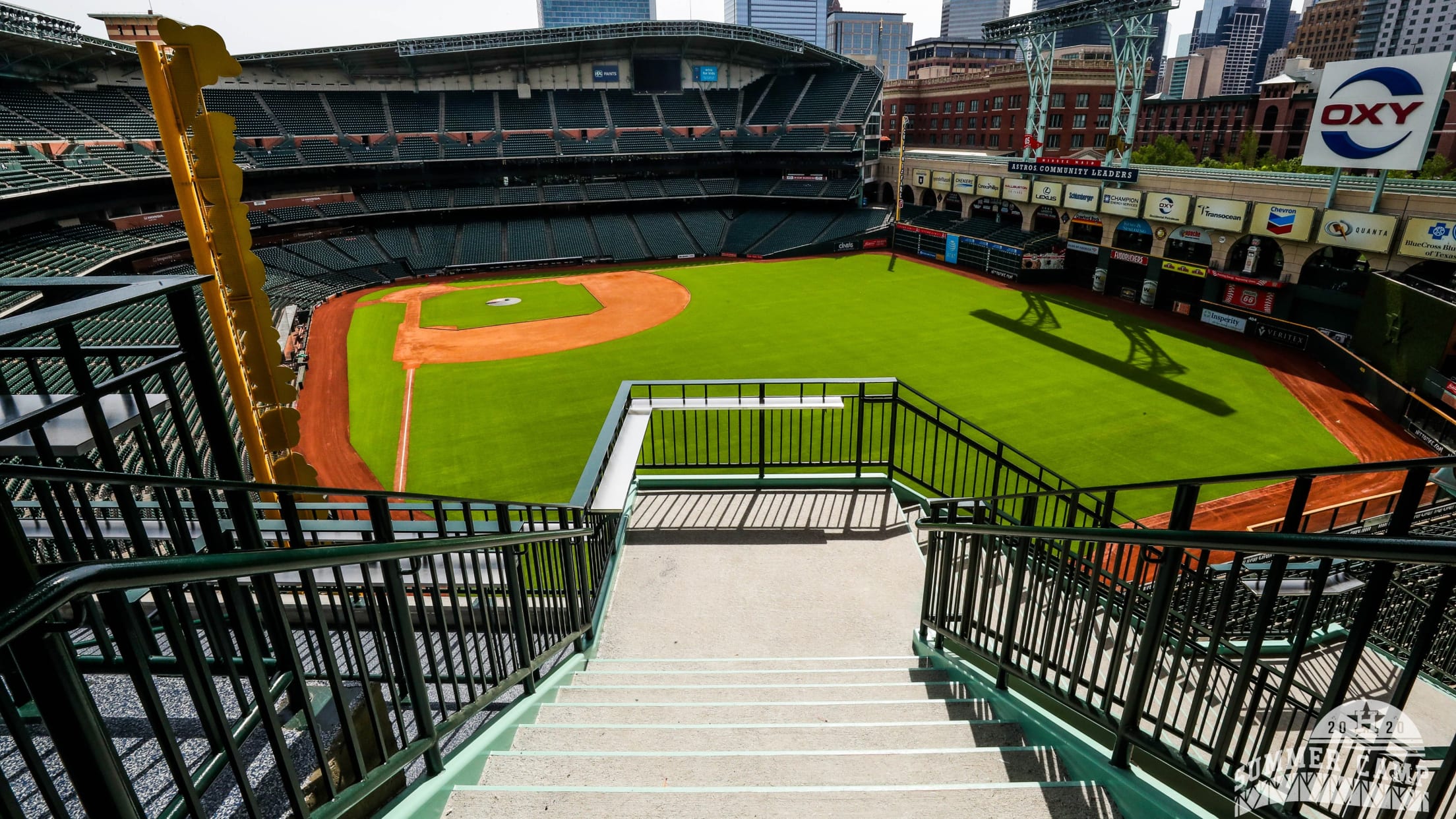 HOUSTON -- From the visiting clubhouse to the stands, there won't be much of Minute Maid Park that Astros players and coaches won't be utilizing to perform their drills while maintaining social distance when Summer Camp gets underway Friday morning. Astros bench coach Joe Espada, who organized the team's spring
HOUSTON -- From the visiting clubhouse to the stands, there won't be much of Minute Maid Park that Astros players and coaches won't be utilizing to perform their drills while maintaining social distance when Summer Camp gets underway Friday morning.
Astros bench coach Joe Espada, who organized the team's spring camp in West Palm Beach, Fla., has laid out a plan he hopes will enable the Astros to be prepared for the start of the regular season in three weeks while maintaining the health and safety of the players and the staff during the coronavirus pandemic. He said he plans to use "every inch" of the 20-year-old ballpark.
"We all need to come together and be smart and make the right choices, and we could get it done," Espada said. "Any hiccups, any poor decision we make off the field, a lot of people can get infected with the virus if we're not smart. If we are smart and we take the precautions and we follow the protocol in place, we should be OK."
While health and safety are the top priorities for Espada, the Astros will have only three weeks and a limited amount of space to get ready for Opening Day, which is July 23 or 24. The majority of the team's 56-man player pool will work out at Minute Maid Park each day, with 21 players working out at the University of Houston's new Player Development Center.
NEWS | Don Sanders Field at Darryl and Lori Schroeder Park and the Houston Baseball Player Development Center to serve as @astros' alternate training site.

📝 » https://t.co/xIfeUEtA1w #M64 #GoCoogs pic.twitter.com/KSIznb8lVZ

— Houston Baseball (@UHCougarBB) June 29, 2020
Players have been trickling into Minute Maid Park in the last few days for COVID-19 intake screening, and only those who had negative tests will be allowed into the building. The Astros had an unknown player test positive for the coronavirus two weeks ago, but Espada said he expects all 56 players to be working out Friday. All personnel will have their temperatures checked twice per day and undergo a nasal swab or saliva test every two days for the rest of the season.
"My primary goal is keeping these guys healthy and keeping them away from spending too much time together, kind of moving in and out and trying to be smart with how much time we spend on the field," Espada said. "Efficiency is going to be really important for us to get our work in and keep guys healthy."
• Here are 5 Astros storylines for 2020 season
The workout Friday will feature pitchers and catchers in the morning and position players in the afternoon. Baseballs will be replaced between those times, and there will be no overlap between the groups initially. Phase 1 of camp permits small group workouts, and Espada said no more than five players will be working out at a time in close proximity. Larger group workouts and intrasquad games are allowed in Phase 2, and exhibition games can take place in Phase 3.
"We'll bring guys in at different times, groups of five," Espada said. "Our goal is to get guys in, get the work and get them out of the stadium. By creating different time slots, we can create social distance and not have big gatherings in the clubhouse. Again, if we just follow the protocols, stay on schedule and there's no hiccups, we should not have any problems."
We're ready. Let's play ball. #ForTheH pic.twitter.com/j4fvNY6uNy

— Houston Astros (@astros) July 1, 2020
At Minute Maid Park, the Astros will utilize the visiting clubhouse for pitchers and home clubhouse for position players. In the visiting batting cages, catchers will work on their defense, while Espada will create a makeshift infield in the outfield grass for pitchers' fielding practice. Small meetings will be held in the stands.
"Infielders can do some early work, creating different areas of work where we are not more than five guys together, but we have enough distance that we could actually have 10 or 15 minutes of quality work [at one station]," he said. "I'm using all the coaches and the staff we have available. Everyone's input has been fantastic, and we are going to adjust as we go.
"We've never been in this position before. This is new to all of us, but we are going to be smart and we're not going to rush the process, we're not going to rush anything. We're going to build these guys up. They're going to let us know where they're at daily, and we'll make adjustments as we go."
Meanwhile, the players working out at UH will be kept separate, and those workouts will be staggered even more because there are more shared spaces. In the school's new baseball facility, there's an indoor batting cage and large weight room, and Espada said the Astros will take advantage of the turf stadium field at Don Sanders Field at Darryl & Lori Schroeder Park and both bullpens, which have a combined five mounds.
"It's a beautiful place," he said. "You could get guys in the weight room while you have guys in the cages, while you have guys upstairs taking ground balls. ... It's quite a facility. They should be fine."
With student-athletes returning to UH in August, the Astros will shift their secondary workout site to Whataburger Field in Corpus Christi, Texas, which is home to the Double-A Hooks, beginning July 25. The Astros received special permission from Major League Baseball to have the camp outside the 100-mile radius of Minute Maid Park.
Minor League Baseball has canceled the 2020 season.

In the wake of this news, the @astros announced Whataburger Field as their alternate "taxi squad" training site for the 2020 Major League Baseball season.

Details: https://t.co/e7S0U67AKP pic.twitter.com/Wi7hqNz8zW

— Corpus Christi Hooks (@cchooks) June 30, 2020
"We'll make sure that we do the best we can with the tools we have to build them up, and have them in the best position for them to succeed once games start," Espada said.