How Astros' postseason roster is shaping up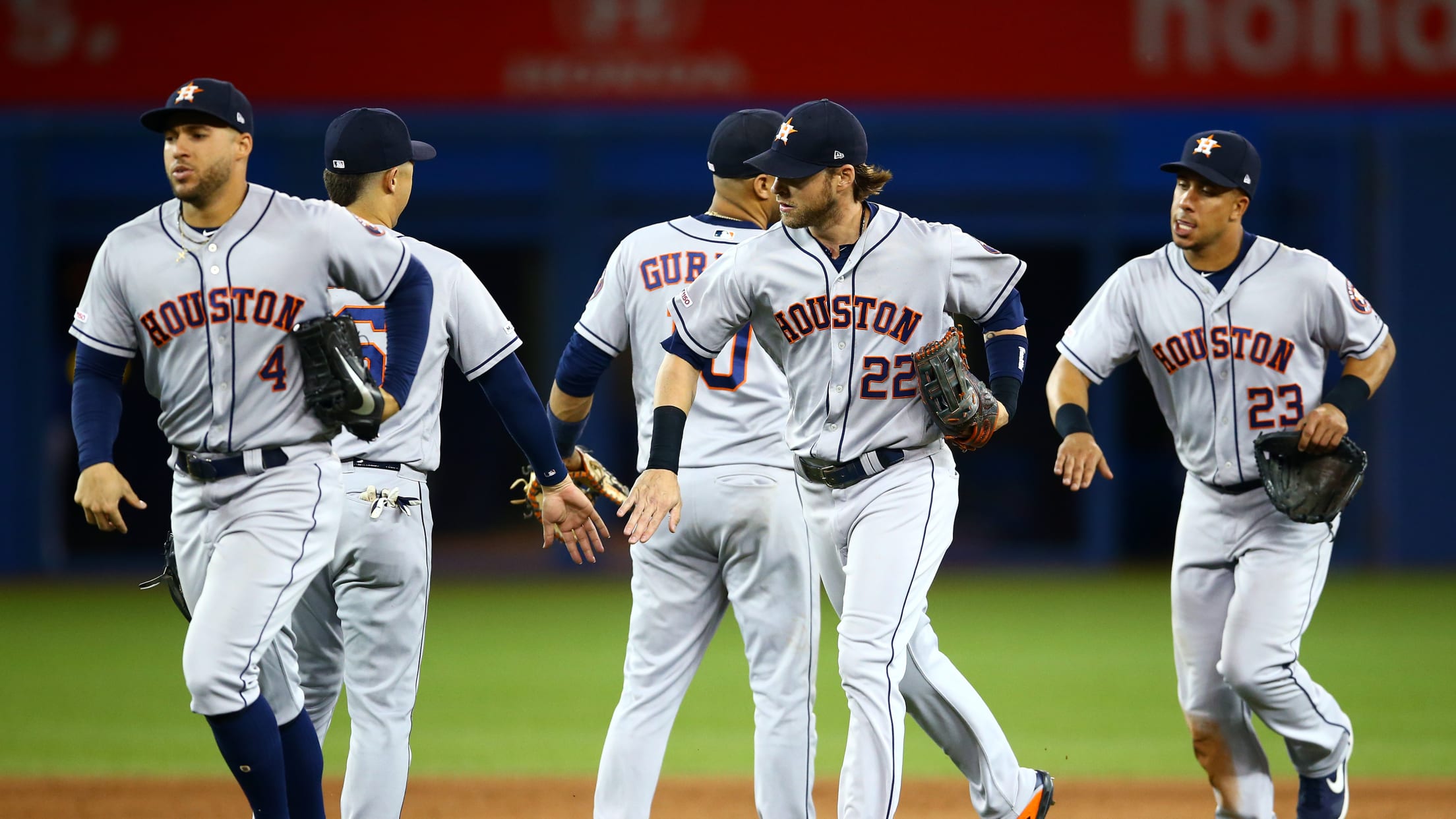 HOUSTON -- A big series by rookie outfielder Kyle Tucker this past weekend in Kansas City helped his case to make the playoff roster. Tucker went 6-for-14 with a homer and three stolen bases in three starts against the Royals, and he is hitting .325 with a .907 OPS in
HOUSTON -- A big series by rookie outfielder Kyle Tucker this past weekend in Kansas City helped his case to make the playoff roster. Tucker went 6-for-14 with a homer and three stolen bases in three starts against the Royals, and he is hitting .325 with a .907 OPS in 40 at-bats since being called up.
• Here's how the playoff rosters might look
The Astros can clinch a postseason berth Tuesday with a win over the Rangers and an Indians loss to the Tigers, and they can secure their third consecutive American League West title as early as Wednesday. With two weeks remaining in the regular season, here's what Houston's AL Division Series roster may look like:
Catchers (2): Robinson Chirinos, Martín Maldonado
Chirinos has been catching all of Justin Verlander's starts, most of Wade Miley's starts and all but one of Zack Greinke's starts so far. Maldonado has caught all seven of Gerrit Cole's starts since the catcher was acquired by Houston in July. Chirinos brings a little more pop with the bat, but Maldonado's arm will allow him to neutralize opponents' running game.
Infielders (6): José Altuve, Alex Bregman, Carlos Correa, Yuli Gurriel, Aledmys Díaz, Myles Straw
Correa should return to the lineup this week after missing a few weeks with a back injury, bringing the infield back to full strength. Gurriel missed a few games last week nursing a left hamstring injury. Straw remains on the bubble to make the playoff roster, but he will be fastest guy on the field and can play the outfield and infield.
Outfielders (6): Michael Brantley, George Springer, Josh Reddick, Jake Marisnick, Yordan Alvarez, Kyle Tucker
Tucker's big weekend has improved his chances of making the ALDS roster. At worst, he can be a pinch-hit threat off the bench from the left side of the plate. After a woeful slump, Reddick has surged, hitting .407 with three homers and 14 RBIs in 54 at-bats since Aug. 25. Alvarez, the front-runner for the AL Rookie of the Year Award, is entrenched at designated hitter.
Starting pitchers (4): Justin Verlander, Gerrit Cole, Zack Greinke, Wade Miley
After being unable to escape the first inning in two consecutive starts that were a cause for concern for the Astros, Miley righted the ship Sunday in Kansas City with a solid six-inning outing. Verlander and Cole will start Games 1 and 2 of the ALDS in Houston, followed by Cole and Miley on the road in Games 3 and 4 (if necessary).
Relief pitchers (7): Roberto Osuna, Ryan Pressly, Will Harris, Joe Smith, Héctor Rondón, Chris Devenski, Josh James
The biggest question mark is Brad Peacock, who's on the injured list for the second time this season with right shoulder soreness but appears to be close to returning. Peacock has identified the cause as a nerve problem in his neck. The Astros will carry seven relievers in the ALDS, and if Peacock is healthy, he'll be on the roster with his experience and ability to pitch beyond an inning. His return would probably pushes Devenski and James into a battle for the final spot.