Astros undergo COVID-19 testing before camp
Alvarez misses first day of Summer Camp; McCullers to throw BP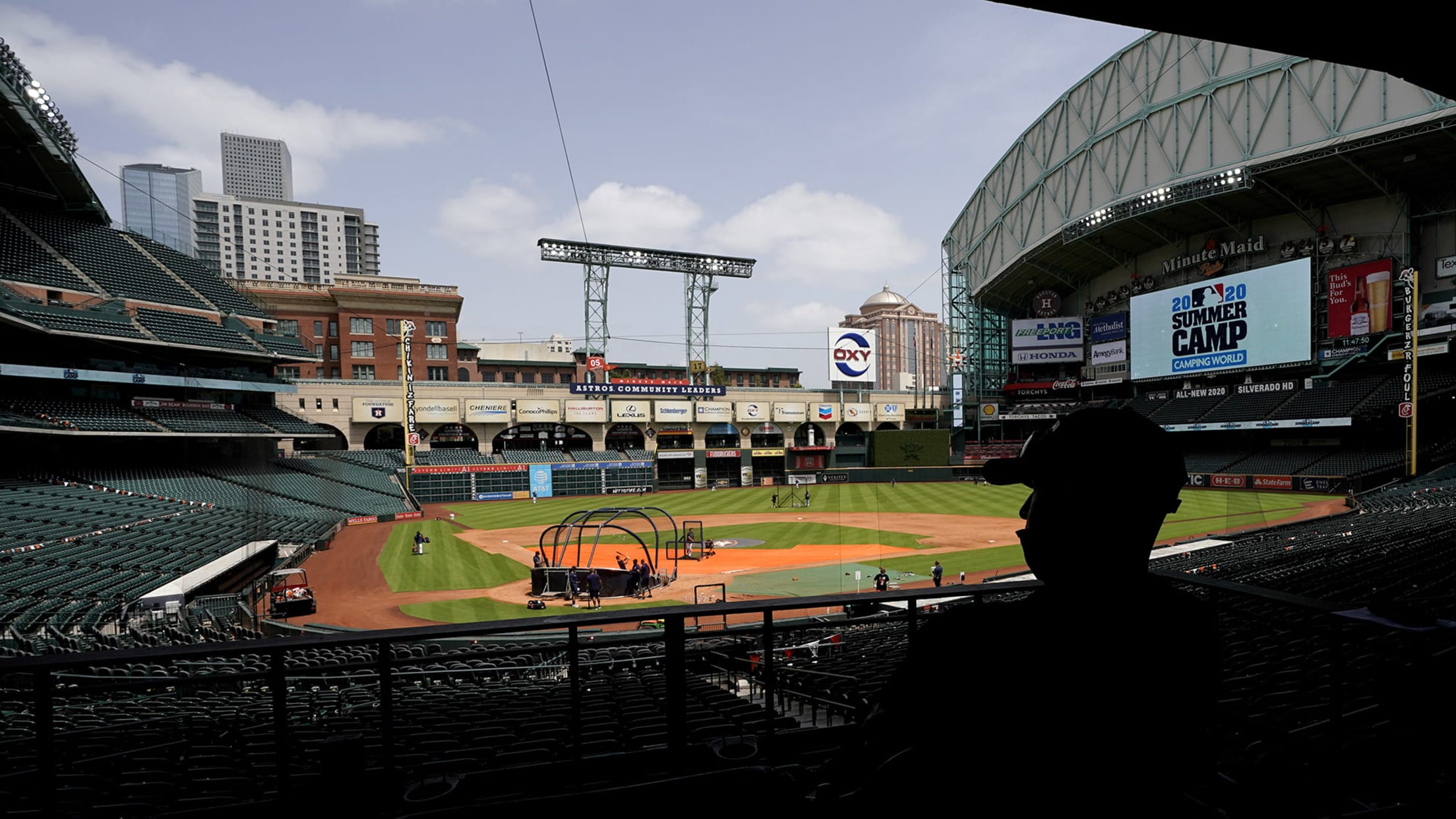 HOUSTON -- Astros general manager James Click said Friday that the team had "some additional positive tests" as the result of intake COVID-19 testing that was required prior to the start of Summer Camp. Click wasn't permitted to say whether it was players or coaches who tested positive or how
HOUSTON -- Astros general manager James Click said Friday that the team had "some additional positive tests" as the result of intake COVID-19 testing that was required prior to the start of Summer Camp. Click wasn't permitted to say whether it was players or coaches who tested positive or how many positive tests there were.
Prior to the start of Summer Camp on Friday, players and staff were screened for COVID-19, and only those who had negative tests were allowed into the building. The Astros had an unknown player test positive for the coronavirus two weeks ago. All personnel are having their temperatures checked twice per day and undergoing a nasal swab or saliva test every two days for the rest of the season, per the rules set out by MLB.
• Taking precautions, Astros open Summer Camp
How long a player who tests positive for COVID-19 could be out of action depends on a lot of things, Click said. This year, there is a separate injured list for players who either test positive or have symptoms/confirmed exposure to COVID-19. There is no maximum or minimum days for this IL.
"It even depends on the particular nature of how long they would have to be on a COVID IL," Click said. "As the league document detailed, you don't have to test positive to go on there. You could go on there for exposure while we test to make sure that you didn't contract it. It's really going to depend on a lot of particular factors."
Alvarez misses first workout
Yordan Alvarez, the 2019 American League Rookie of the Year Award winner, missed Friday's workout because he wasn't in Houston, manager Dusty Baker said. When asked why Alvarez wasn't in Houston, Baker said he couldn't comment, citing "league mandates."
When asked earlier in the day about the balky left knee that plagued Alvarez last season and into Spring Training in March, Click said Alvarez was "ready to go." Baker admitted he's started considering what other players could get at-bats at designated hitter in case Alvarez isn't ready to play.
"That's what I'm trying to decide now," Baker said. "I'm talking to guys, which guys like the DH and which guys don't like the DH, what's our best team on the field offensively and defensively. I'll decide at that point in time. Like I said, I've got to talk to these guys first. I barely was getting to know them and we ended Spring Training, and now I've got to delve in deep. I can ask questions that before appeared like I was prying."
The health of Alvarez was a key storyline heading into Summer Camp. He hit .313 with 27 homers and 78 RBIs in 87 games last year, setting a Major League record for OPS by a rookie in a season. His 1.067 OPS was the sixth highest by a player 22 or younger since 1900.
McCullers set to throw BP
Astros right-hander Lance McCullers Jr., who missed all of 2019 following Tommy John surgery, will throw batting practice on Saturday. McCullers said he will simulate three innings, which is similar to what he did a few days prior while facing teammate Alex Bregman.
McCullers came to camp healthy and ready to rejoin the rotation. He made three Grapefruit League starts before Spring Training was suspended. He hopes to get his pitch count up to 80 or 90 by the end of Summer Camp and be ready to take the ball when the season starts in three weeks.
"I'm in a very good place, mentally and physically," McCullers said. "I feel excellent. I felt great in Spring Training, but the extra time off and being able to ramp it up and pull it back down, I feel it's made me a little bit stronger. I'm excited."
McCullers will be counted on to take up some of the production of Gerrit Cole, who signed with the Yankees in December. McCullers went 10-6 with a 3.86 ERA in 2018, injuring his elbow in his last start on Aug. 4 of that year. He returned to pitch through the injury in relief during the final week of the season in September.
"Before he got hurt, this guy was one of the best around," Baker said. "You know he's a bulldog and a big-game pitcher. We're looking forward to him pitching."
Player development continues
With the Minor League season cancelled, the Astros are doing what they can to make sure players who are not part of the team's 60-man player pool for the 2020 season are still getting work in. Click said his player development staff has been busy coming up with different ways for the players to get that done.
"Our intention is to continue to do as much of that as possible," Click said. "Obviously, there are certain guys who are in circumstances that make it easier for them to do that and ones where it might be a little bit more difficult, but we've seen creative stuff, including people building mounds in parking lots or coming up with new skills you could do in your backyard or various places. Our [Minor League] coordinators will continue to work with our guys on creative ways to train."
Less than half of the 56 players currently in the Astros' player pool are working out at the University of Houston, while the rest work out at Minute Maid Park until the regular season starts July 23 or 24. Most of the players working out at UH are Minor Leaguers with no big league experience, and they will be sent to continue working at Whataburger Field in Corpus Christi, Texas, starting July 25 if they don't make the 30-man Opening Day roster. Click said every player in the player pool could help the big league club at some point this year.