Making the Cy Young case for Verlander, Cole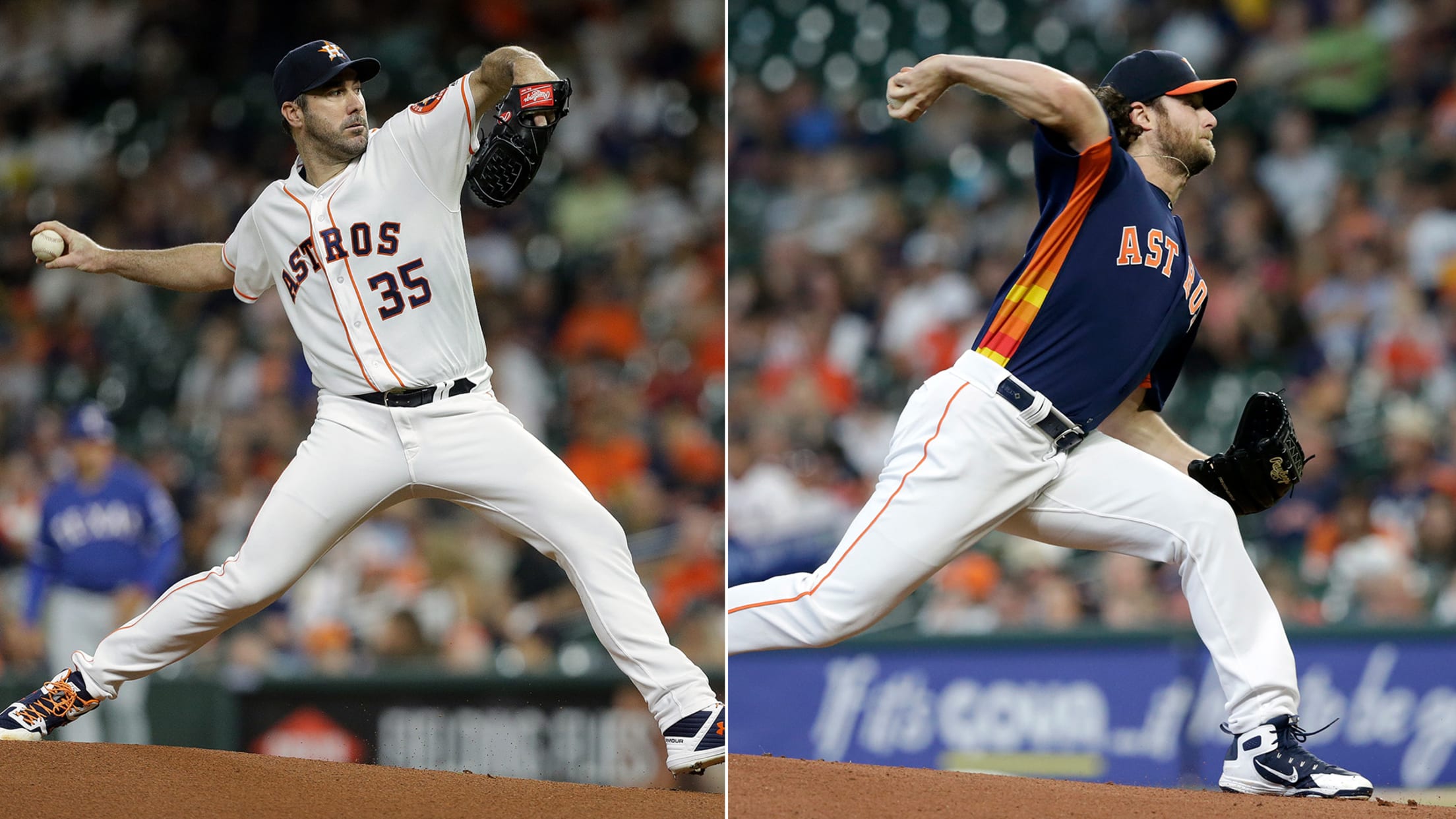 HOUSTON -- In the moments before the champagne started flowing in the Astros' clubhouse Sunday following their American League West division-clinching victory over the Angels, manager AJ Hinch told his club he didn't know who was going to win the AL Cy Young Award, but it was going to be
HOUSTON -- In the moments before the champagne started flowing in the Astros' clubhouse Sunday following their American League West division-clinching victory over the Angels, manager AJ Hinch told his club he didn't know who was going to win the AL Cy Young Award, but it was going to be somebody in the room.
With one week left in the regular season, it's almost certain that either Justin Verlander or Gerrit Cole will win the AL Cy Young Award, with the other finishing in second place. They've been running a fascinating neck-and-neck race for the entire second half of the season. Voters may have a hard time separating their accomplishments, and it might come down to what kind of stats and achievements they value the most. Verlander leads in most of the traditional stats, but some of the new-age analytics favor Cole.
There's no doubt either one of them would be worthy of winning the award. Regardless, Verlander and Cole should become the first teammates to finish first and second in the Cy Young race since Randy Johnson edged D-backs teammate Curt Schilling in the National League race in 2002.
"Both of these guys are tremendous, the way they prepare and what they do," Hinch said of his two aces. "In an era where the ball is flying out of the ballpark, they navigate lineups as well as anybody in the big leagues. They're elite, and they're elite for a reason and I'm very proud that they're ours."
Verlander has already won 20 games and is approaching 300 strikeouts. Cole needs two wins to reach 20 and has already surpassed 300 strikeouts.
"Call me old school, but wins mean something to me," Verlander said. "I think our job as a starting pitcher is to be out there late in games and pitch a lot of innings. That's how you win ballgames. It's a fickle stat. You can lose some close ones when you pitch well and you can win when you don't pitch well, but over the course of 34 starts, if you do your job, more often than not you're going to come out with a winning record."
Cole will make his second-to-last start of the season in Tuesday's series opener at Seattle needing 11 strikeouts to tie J.R. Richard's single-season franchise record (his final start will come in Sunday's regular-season finale). Verlander has one start remaining Saturday, needing six strikeouts to reach 3,000 for his career and 12 to reach 300 in a season for the first time.
"Nobody else is doing it, so it's pretty remarkable," Cole said. "It's pretty special. From a personal standpoint, I've tried to run my best race the last two years and to have somebody running their best race right beside him has been a blessing."
So who would you vote for? Here's a closer look at each pitcher's Cy Young case:
The case for Verlander (one start remaining):
Wins: 1st (20-6)
ERA: 1st (2.53)
Innings: 1st (217.0)
Starts: 1st-tied (33)
Strikeouts: 2nd (288)
BAA: 1st (.172)
WHIP: 1st (0.81)
BABIP: 1st (.219)
xFIP: 3rd (3.24)
fWAR: 3rd (6.2)
Verlander has been the model of consistency and is probably finishing the second-best season of his career. In the expansion era (since 1961), Verlander's WHIP and batting average against would rank as the second-lowest by a starting pitcher for a single season, trailing only Pedro Martinez's 2000 season (0.74 WHIP and .166 BAA). He's set a career high for strikeouts and posted seven consecutive games of double-digit strikeouts. Verlander allowed 34 home runs, which is tied for third-most in the AL, but 27 of them have been solo shots, which shows you how few baserunners he's allowed. Oh, and he also threw his third career no-hitter.
The case for Cole (two starts remaining):
Wins: 2nd-tied (18-5)
ERA: 2nd (2.61)
Innings: 4th (200 1/3)
Starts: 11th-tied (31)
Strikeouts: 1st (302)
BAA: 2nd (.189)
WHIP: 2nd (0.91)
BABIP: 4th (.275)
xFIP: 1st (2.56)
fWAR: 1st (6.7)
Cole has been more dominant than Verlander for the last two-thirds of the season, going 14-0 with a 1.87 ERA and 202 strikeouts in 134 2/3 innings in 20 starts since May 27. He was 4-5 with a 4.11 ERA with 100 strikeouts in 65 2/3 innings in his first 11 starts before things came together. He joined Martinez as the only pitchers to post at least 14 strikeouts in three consecutive starts. Cole went 15 days between starts in August while he battled a right hamstring injury, which cost him some numbers. But his sheer second-half domination and eye-popping strikeout numbers have given him one of the most impressive seasons in club history.