One pleasant surprise for all 30 teams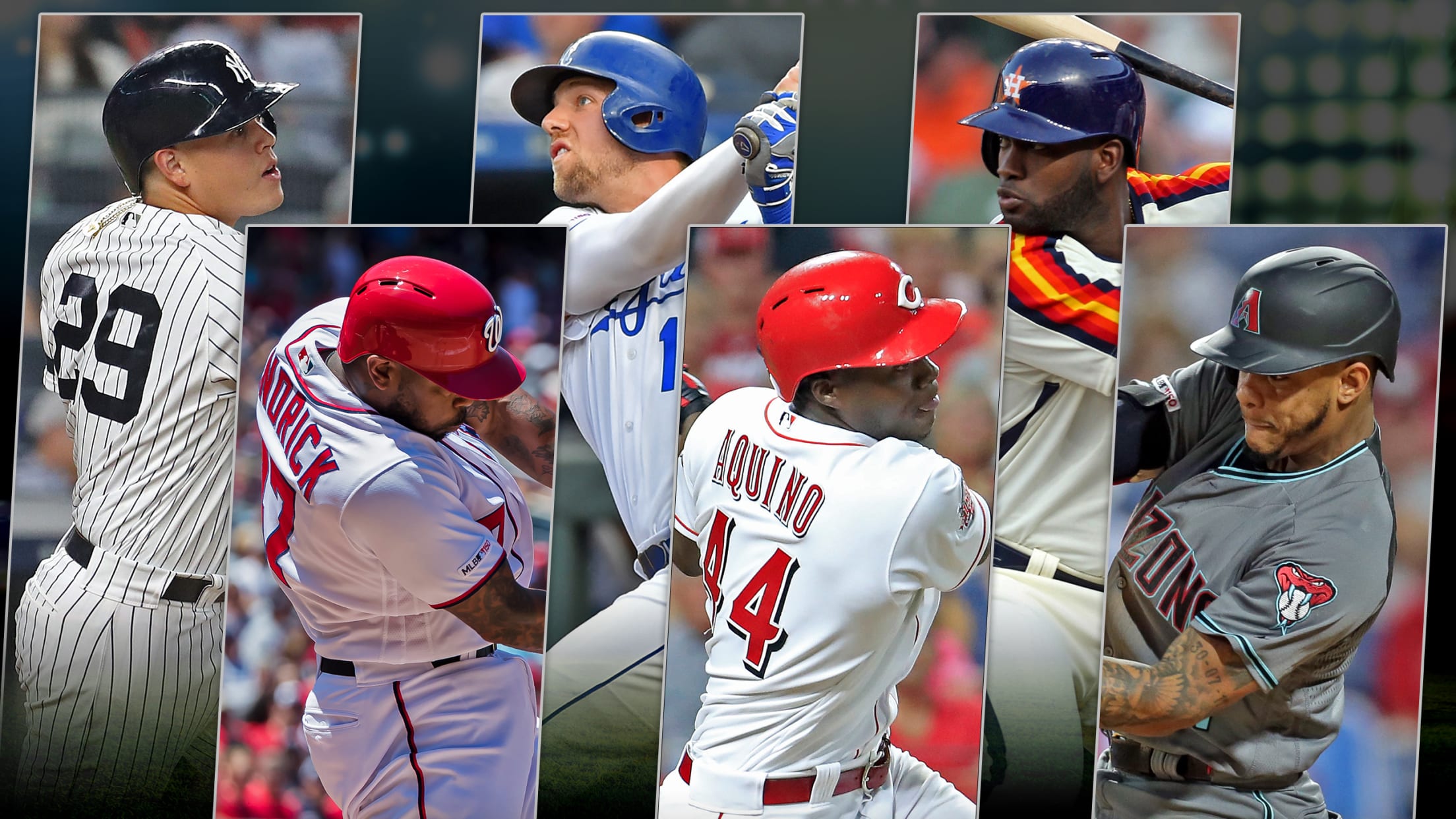 Maybe it's the kid who started hitting and hasn't stopped. Or it could be a veteran who has played the best baseball of his life. One of the best parts of a baseball season is looking back when it's over and counting how many things happened that no one could
Maybe it's the kid who started hitting and hasn't stopped. Or it could be a veteran who has played the best baseball of his life. One of the best parts of a baseball season is looking back when it's over and counting how many things happened that no one could have predicted.
No need to wait until after the season. We're here to please. Here are 30 teams and 30 things we didn't see coming:
AL EAST
Blue Jays Vladimir Guerrero Jr. and especially Bo Bichette weren't supposed to be this good this quickly. The Blue Jays could not have asked for more from their new cornerstones.
Orioles John Means fits nicely into the history of the Orioles as the latest in a long string of left-handers who understand that pitching is as much about location and changing speeds as velocity.
Rays Travis d'Arnaud may look back on this season and think, "How did that happen?" In an eight-day stretch in May, he was released by the Mets, signed by the Dodgers and sold to the Rays. He's now a major offensive contributor on a team that seems headed to the postseason.
Red Sox Rafael Devers hasn't just gotten way better offensively, although he has. The only American League player with more extra-base hits entering play Tuesday was Mike Trout. Devers' defense at third base has also improved. Still only 22, he has virtually no holes in his game.
Yankees Gio Urshela might be the biggest surprise on a team that has had more than any other, including Luke Voit, Mike Tauchman and even Brett Gardner, who at 35 is having maybe his best season. And there's DJ LeMahieu playing his way onto a lot of AL MVP ballots.
AL CENTRAL
Indians Zach Plesac has a 2.53 ERA in six starts since the All-Star break, and the Indians are 6-0 in them. The 24-year-old right-hander has performed well enough that the Indians were able to deal from a position of depth and trade Trevor Bauer to the Reds for offensive help.
Royals Hunter Dozier has done everything the Royals could have hoped for in his second full season. Best of all, he has not yet hit any kind of wall in the second half. As play began Tuesday, he had a .366 OBP with 22 homers, 20 doubles and seven triples.
Tigers Spencer Turnbull has emerged as a solid member of the rotation despite two stints on the injured list and some occasional bouts of wildness. He's still fine-tuning his pitch usage, but in a trying season for the Tigers, he's a solid positive.
Twins Mitch Garver and Jason Castro have given the Twins the best play at catcher in the AL. Entering play on Tuesday, Twins catchers led the AL in home runs (36), runs (100) and wOBA (.348).
White Sox Just when some surely were wondering if he'd ever figure things out, 25-year-old Lucas Giolito has emerged as the solid rotation piece the White Sox are counting on.
AL WEST
Angels
David Fletcher has made at least 12 starts at four positions and he's been solid at all of them in his first full Major League season. He's also one of the AL's toughest hitters to strike out.
Astros
Yordan Alvarez made his debut on June 9 and has been one of baseball's best hitters since then, adding depth to a lineup that already had plenty. His 51 RBIs in his first 46 games tied a Major League record held by Joe DiMaggio (1936).
Athletics
Marcus Semien began this season with 643 Major League games and 2,637 plate appearances. To have a player remake his game at that point is extremely rare. But he has. Per FanGraphs, he is in the top 10 in the Majors in WAR. Almost every area of his play has improved, especially his defense at short.
Mariners
Daniel Vogelbach was always well regarded by the Mariners, but he had not been able to take advantage of his opportunities. That changed in a big way this season as he rode a terrific first half right onto the AL All-Star team.
Rangers
Danny Santana is a reminder that young players don't come with guarantees or timetables. For him, his third organization and sixth Major League season has been a breakthrough. His 18 home runs entering play on Tuesday more than doubled his career total to 31. His .903 OPS was 236 points higher than his career average before the season.
NL EAST
Braves
Austin Riley made his Major League debut on May 15 and homered in his second at-bat. He hit seven in his first 14 games to help spark Atlanta's run to the top of the National League East. He had 17 in 66 games before being sidelined by a knee injury.
Marlins
Lefty Caleb Smith has been the Marlins' most reliable starter in his most extensive Major League action. He's working to regain his earlier form since spending a month on the injured list with hip inflammation.
Mets
J.D. Davis came to the Mets in a nearly unnoticed trade with the Astros during the offseason. He has fashioned a solid offensive season while starting at third base and left field. His 1.173 OPS at Citi Field represents the highest by a right-handed hitter in the park's 11-year history.
Nationals
Howie Kendrick has been one of baseball's ageless wonders. OK, he's 36. Signed again to be a utility player, he has started 52 games at first, second, third and designated hitter while crafting a .902 OPS. He's now off the IL after a hamstring injury sidelined him and he's ready to help Washington down the stretch.
Phillies
Scott Kingery has been the most pleasant surprise on the Phillies, starting games at five positions and displaying the power and speed the Phillies hoped they'd see from him. After posting a .605 OPS as a rookie in 2018, he's up to .840 this year.
NL CENTRAL
Brewers Keston Hiura has looked like the complete player the Brewers hoped he'd be since he settled into their lineup for good in late June. He still has time to make a run to get onto NL Rookie of the Year Award ballots.
Cardinals In a short amount of time, Tommy Edman has shown he can play multiple positions and seems on his way to handling Major League pitching, with speed as a significant part of his game.
Cubs Rookie Rowan Wick has emerged as a reliable member of the Cubs bullpen in just the last three weeks. He has nine consecutive scoreless appearances since returning to the big leagues.
Pirates Rookie Bryan Reynolds has forced the Pirates to open an outfield spot for him, and they've done so happily. He was third in the NL batting race with a .333 batting average at the start of play on Tuesday, and his 110 hits were the most among all Major League rookies.
Reds Aristides Aquino is the kid they make movies about. At least that's how his career has started with eight home runs in his first 11 games as part of Cincinnati's long shot playoff push.
NL WEST
D-backs Ketel Marte's 5.3 WAR (per FanGraphs) is fourth highest among MLB position players, trailing only Mike Trout (7.7), Christian Yelich (6.4) and Cody Bellinger (6.3). He had a 4.6 WAR in his first 402 games combined entering the season.
Dodgers Cody Bellinger wasn't even certain he'd be an everyday player when this season began. All he has done is make himself perhaps the leading NL MVP candidate with 38 home runs and a 1.077 OPS entering play on Tuesday.
Giants Mike Yastrzemski has made the most of his first real chance to play in the big leagues and has surpassed every expectation in making himself a likely outfield cornerstone for the Giants rebuild.
Padres Chris Paddack allowed 11 earned runs in his first nine Major League starts this season, and while he has cooled down some as the Padres focus on not overworking him, he's a reminder that no organization has more young quality arms than San Diego.
Rockies Scott Oberg had a breakthrough season in 2018 with a 2.45 ERA in 56 appearances. He has been even better this season, with a 2.17 ERA in 47 games.