'Very winnable' game gets away from Astros
Osuna, defense falter in ninth as Houston loses fourth straight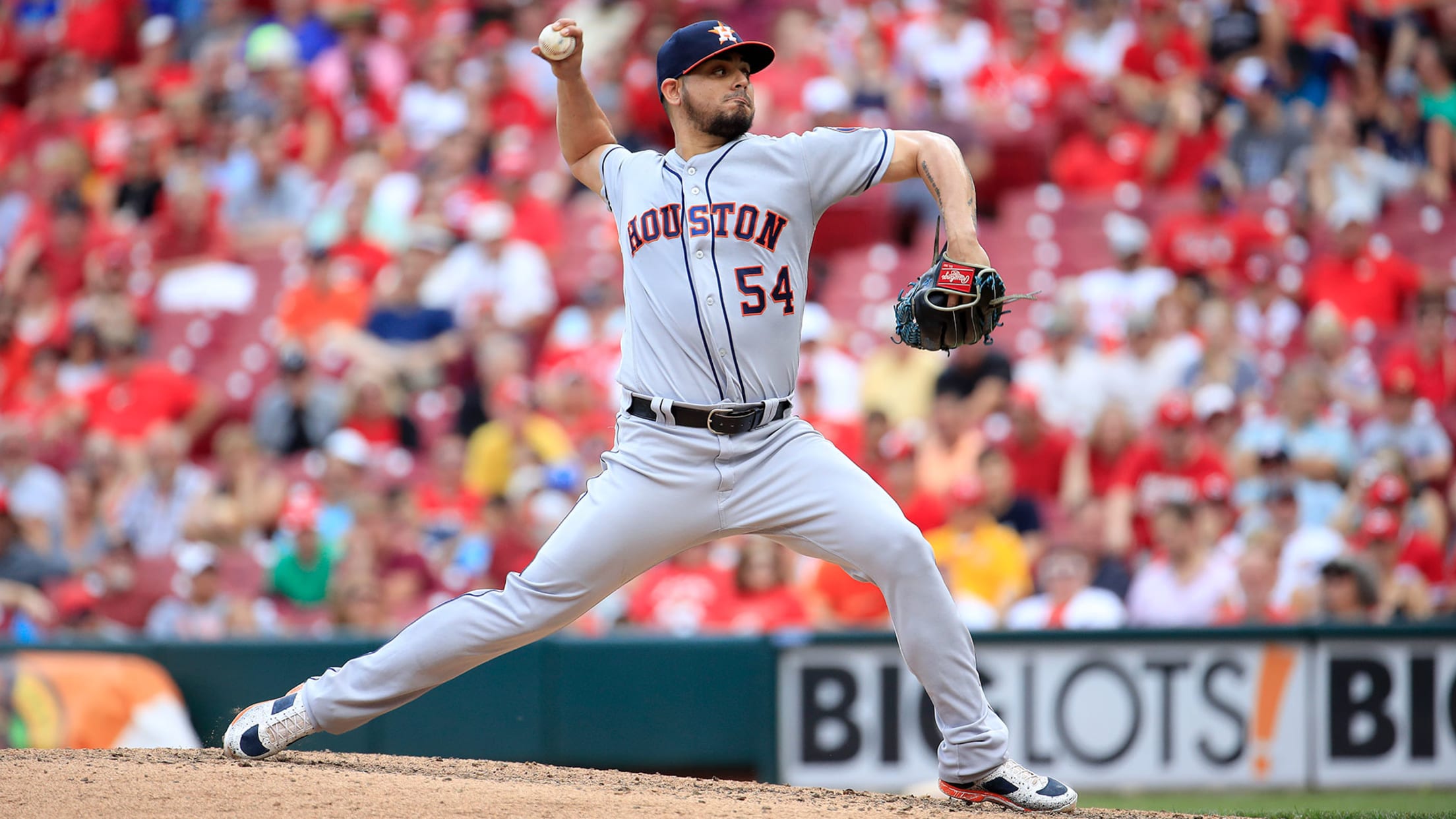 CINCINNATI -- A leadoff double by the Reds set a foreboding tone in the ninth inning for the Astros and closer Roberto Osuna, who was called upon to get three outs on Wednesday to finish out a game his club needed to avoid a road sweep. Osuna responded with a
CINCINNATI -- A leadoff double by the Reds set a foreboding tone in the ninth inning for the Astros and closer Roberto Osuna, who was called upon to get three outs on Wednesday to finish out a game his club needed to avoid a road sweep.
Osuna responded with a pair of strikeouts before things unraveled quickly. A single by Nick Senzel tied the score -- and a wild throw and misplay at the plate allowed him to get into scoring position -- and Jesse Winker won it with a walk-off single. The Reds beat the Astros by one run for the third game in a row, 3-2, sweeping the series at Great American Ball Park.
The Astros, losers of a season-high four games in a row, squandered a strong start from Gerrit Cole and lost for the first time when they were leading after eight innings (45-1). It's the first time they were swept since Seattle won four in a row from them in Houston last August.
"If you do enough things wrong or don't do enough, you're going to lose at this level, and we did a lot of both," Astros manager AJ Hinch said. "Today's game was very winnable. I've said that a couple of times in a row now, so very disappointing, yeah."
Senzel's game-tying single scored Jose Peraza ahead of an errant throw by Houston left fielder Michael Brantley. The throw took catcher Garrett Stubbs up the line and nearly onto the grass, and a desperation attempt to tag Peraza sent Stubbs' mitt and the ball flying. The ball landed in foul territory on the other side of the plate, allowing Senzel to take second and setting up Winker to play hero.
"The biggest issue was giving up 90 [feet] when we didn't need to on the play at the plate," Hinch said. "It lines up Winker to hit a rolling ground ball through the infield. We lose. One of the many things we need to gather ourselves about and figure out before the next series."
Stubbs didn't appear to have much of a chance to tag out Peraza considering how far Brantley's throw was from the plate and how close Peraza was to crossing home.
"It's frustrating that we were even in that situation, and him to get into scoring position," Stubbs said. "It's not what you want."
Osuna, pitching for the first time in a week, was behind home plate when Stubbs caught the ball, and he didn't see the ball flying out of his mitt until it was on the ground and Senzel was heading to second. Senzel initially stopped at first before taking off when he saw the ball on the grass.
"Thank God their pitcher had no clue what was going on when the throw was made," Senzel said. "think he thought the game was over or something. I don't know what was going on. A lot of stuff was going on there. It was a bad throw, the catcher's glove came off, Osuna – I don't know what he was doing. I don't think he knew where the ball was at. I was able to take second, but I have to be there on that throw. I know it's a do-or-die play, tie game, and I have to take the extra base because the game is not over."
Cole struck out eight batters and allowed one run and six hits in six innings, extending his Major League lead in strikeouts to 148. He blew away Yasiel Puig -- who homered to lead off the second -- on a 100.6-mph fastball in the fifth, his fourth pitch of that inning that was clocked at triple digits and the fastest strikeout pitch thrown this season by a starter.
"We're trying not to get swept here," Cole said. "It's a pretty important game from that standpoint. I was just doing everything I could to hold it where it was at and just try to give us the best chance. We made a lot of good pitches today for the most part. They were able to put the ball in play a few times, and it went their way."