Miley unable to escape 1st for 2nd straight start
Hinch credits A's approach vs. lefty (7 runs, one-third of an inning)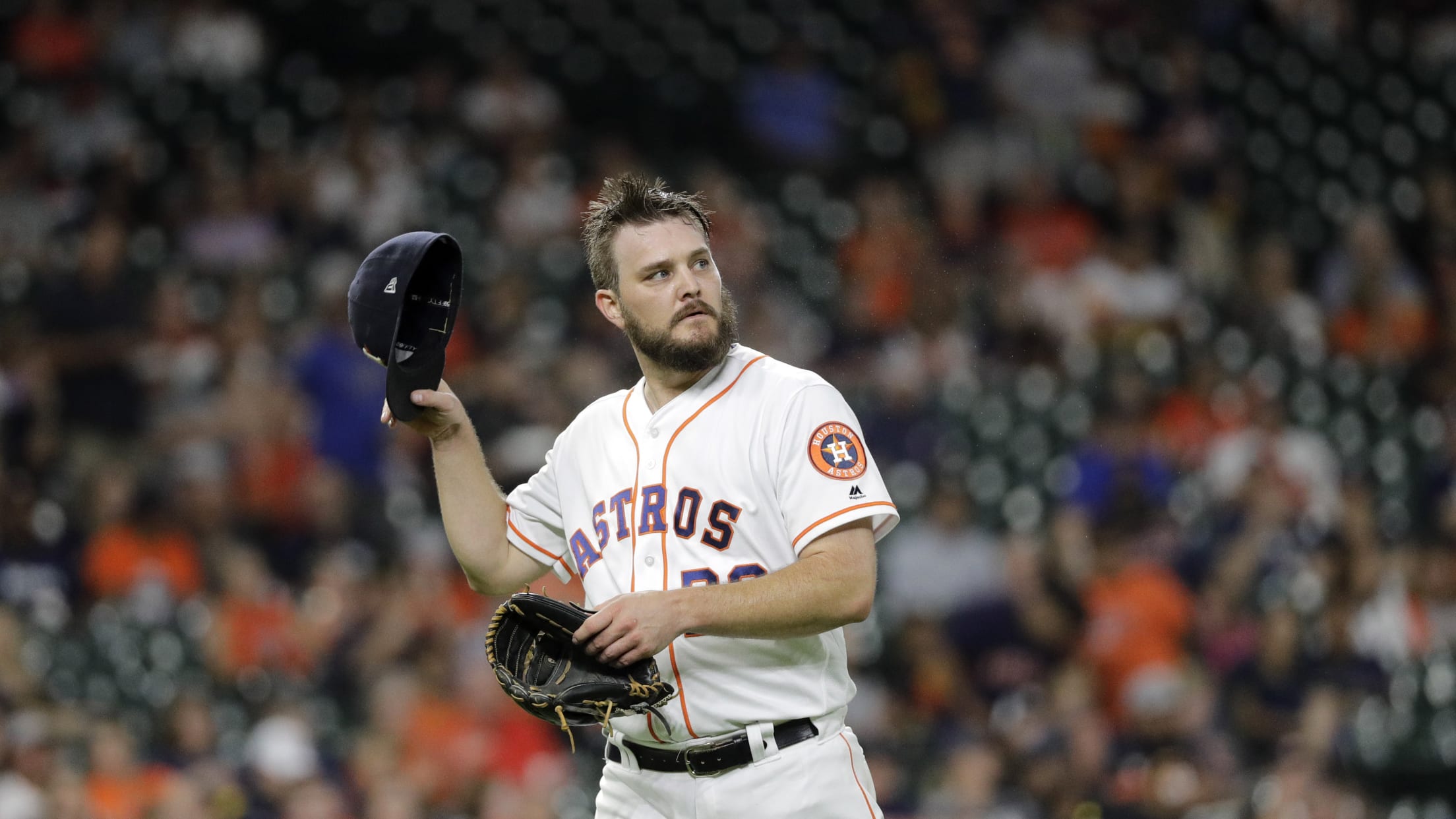 HOUSTON -- The Astros have three more starts to figure out what's caused steady left-hander Wade Miley to stumble so badly down the stretch, including a pair of starts in which he was able to record just one combined out while facing 15 hitters. Miley, who was third in the
HOUSTON -- The Astros have three more starts to figure out what's caused steady left-hander Wade Miley to stumble so badly down the stretch, including a pair of starts in which he was able to record just one combined out while facing 15 hitters.
Miley, who was third in the American League in ERA behind teammates and Cy Young front-runners Justin Verlander and Gerrit Cole just two weeks ago, was tagged for seven runs and seven hits in one-third of an inning in Tuesday's 21-7 loss to the A's at Minute Maid Park, snapping the Astros' five-game winning streak.
"Pretty frustrating," Miley said. "I'll keep working and going back to the drawing board and see if we can get through this."
The Astros' fourth starter behind Verlander, Cole and former Cy Young winner Zack Greinke, Miley was coming off an outing in which he allowed all six batters he faced to reach Thursday against the Mariners. Miley insisted he's healthy and went to the video to make sure he's not tipping his pitches.
"The swings they're taking doesn't really send signals toward tipping pitches," he said. "It's not a lot of great swings they're taking. It's just balls are finding holes. It's baseball. It's a tough game. It's a challenging game. You've got to go full steam ahead and try to get to the next one."
Astros manager AJ Hinch was adamant in crediting the A's for their approach to beat Miley by going to right field to beat the shift, which they did three times. There was also a hit that squirted through when the infielders miscommunicated up the middle. All seven hits Miley allowed were singles, and only two of them were hit harder than 100 mph.
"It just looked like their approach was pretty incredible," Hinch said. "They were all pretty committed to staying inside the ball and hitting the ball the other way. They didn't hit him hard, but they got a lot of hits and pieced together some really good at-bats."
Hinch said teams have been using the same approach against Miley the past few starts, adding that the A's executed it flawlessly. In six outings since Aug. 14, Miley has a 9.50 ERA with 38 hits allowed in 18 innings. On Tuesday, he threw 20 of his 28 pitches for strikes, so it wasn't an issue of command.
"I think the other team has a really good approach against me right now and I'm not making the adjustment," he said. "As crazy as it sounds, I felt like I located pitches pretty well for the nine batters I was in there. I got singled to death tonight, but at the same time I've got to make better pitches."
Hinch said he hasn't lost confidence in Miley.
"It takes one good start to get this taste out of your mouth and that feeling of doom," Hinch said. "It's been a rough couple of games for him, and I feel for him because he's executing OK. He's not getting the outs that he was accustomed to getting for five months. We'll keep working to try to find solutions and answers. He's not going to concede or give up. I know he'll put in the time and effort. For him, more than anybody, we'd like to see him come out of this."
After losing Monday's series opener, 15-0, the A's slugged six home runs off Astros relievers -- three against Joe Biagini -- and became only the second team in history to score at least 20 runs off Houston pitching. The 21 runs and 25 hits allowed by the Astros were both one shy of franchise records. Right fielder Josh Reddick might have single-handedly helped Houston avoid those marks in the fourth inning, when he made a leaping catch at the wall to rob Khris Davis of a potential home run.
"They crushed the ball later in the game," Hinch said. "It was kind of role reversal from [Monday], so you could probably take whatever I said and copy, paste and give it to [A's manager] Bob [Melvin], and whatever Bob's reaction to last night was, just copy, paste and put my name next to it. Pretty rough night."
Houston's magic number to clinch the AL West held steady at 8.
• Springer homers twice as Astros set season mark