Laureano, Wendelken rejoin A's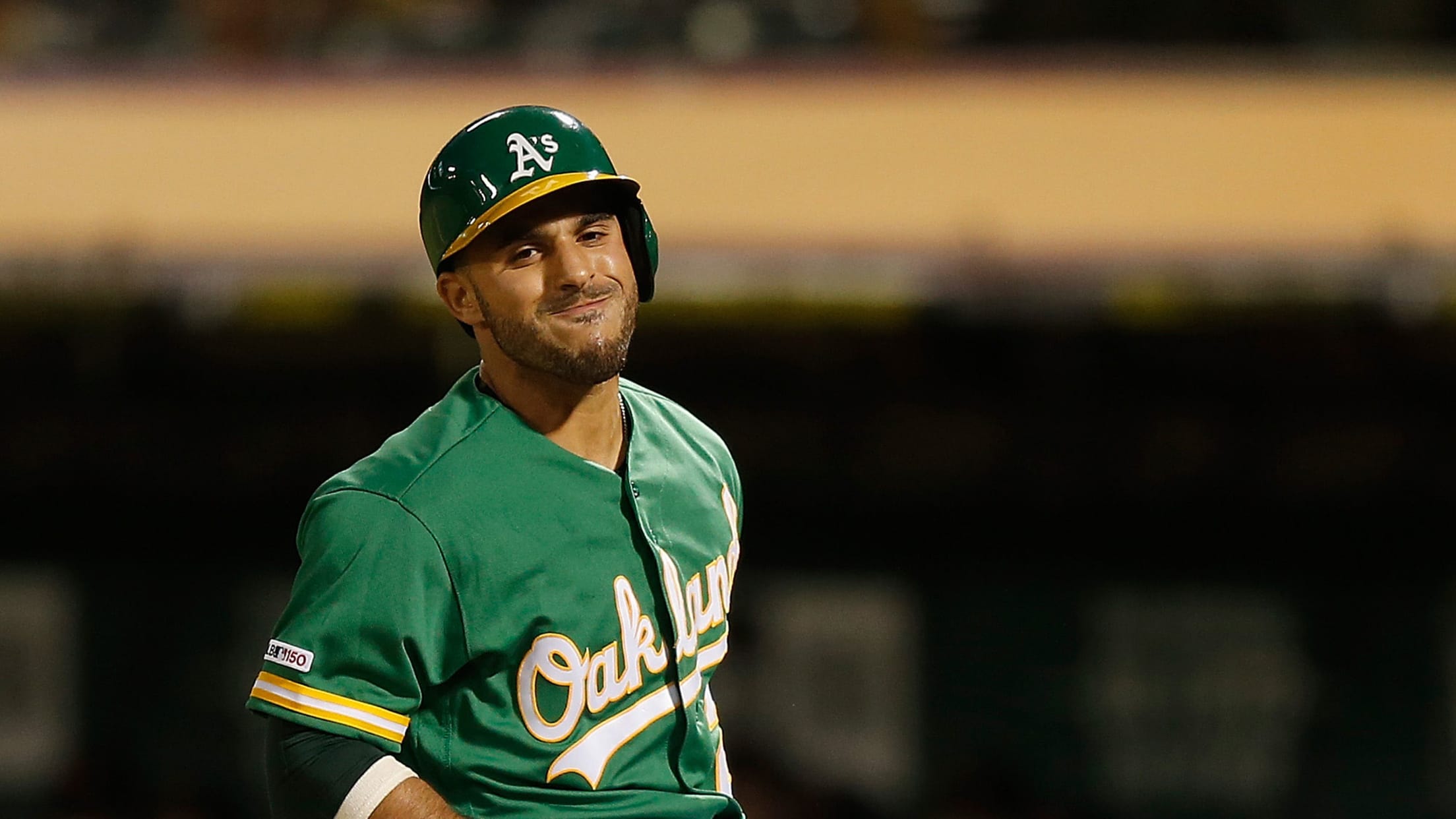 OAKLAND -- An already potent A's lineup is adding some more firepower with Ramón Laureano back from the injured list. Laureano was activated prior to Friday's continuation of a suspended game between the A's and Tigers that resumed in the bottom of the seventh inning. He sat out the conclusion
OAKLAND -- An already potent A's lineup is adding some more firepower with Ramón Laureano back from the injured list. Laureano was activated prior to Friday's continuation of a suspended game between the A's and Tigers that resumed in the bottom of the seventh inning.
He sat out the conclusion of the A's 7-3 win but was in the starting lineup for the series opener that followed about 90 minutes later, a 5-4 loss in 11 innings, going 0-for-4 with a run scored after he was hit by a pitch in his return from a stress reaction in his right shin that kept him out since July 28.
"I feel normal. It's just another game," Laureano said. "I'm just happy to play. Just locked in and focusing on the game."
There's no good time for a player to come down with an injury, but the timing of Laureano's was about as bad as it could get. The 25-year-old outfielder was in the middle of a breakout year in his first full big league season, batting .284 with 21 home runs and 58 RBIs in 107 games.
Despite missing 32 games while on the injured list, Laureano ranks second among American League center fielders in home runs and RBIs and is tied for fifth among AL outfielders with eight assists.
"We lost him when he was swinging the bat as well as he had all year and had come so far," A's manager Bob Melvin said. "He was hitting in the middle of the order. It wasn't a great time to lose him. Mark Canha filled in like he does, and we were able to get by. But it's nice to have him back. He is a true two-way player."
Laureano was frustrated at the time of the injury, but he knew the club was in good hands with Canha manning center field. Canha responded by slashing .308/.413/.521 with six home runs and 20 RBIs in 32 games, establishing himself as a major factor in the A's going 21-11 without Laureano to position themselves in the thick of a playoff race, entering Friday night with sole possession of the second American League Wild Card spot.
With Stephen Piscotty currently on the injured list with a right ankle sprain, Canha will now likely slot into a regular role in right field with Laureano back in center.
"They did what I was expecting," Laureano said. "I knew they would play way over .500 without me. There was nothing to worry about, because I know they work hard, and hard work pays off."
Petit away from club
Yusmeiro Petit will be away from the club for an unknown amount of time following the death of his father. Petit was still in the Bay Area as of Friday due to travel complications, but he's expected to head to Venezuela to be with his family at some point over the weekend. The A's right-hander also lost his mother just over a year ago.
"He's had a rough go of it the last two years," Melvin said. "He's going to be away some. There's a chance he'll be back sooner than later. We're still going through the process and trying to figure out when we'll see him again. Unfortunately, this has happened a second year in a row for him, and we all feel bad. We'll just leave it at that right now."
Petit has established himself as one of Melvin's most reliable relievers, leading the Majors with 43 inherited runners stranded. He also leads the Majors with 71 appearances, posting a 2.82 ERA over 73 1/3 innings.
With Blake Treinen also dealing with some back issues, the A's recalled J.B. Wendelken from Triple-A Las Vegas to provide some depth in the bullpen. Wendelken, who joins the A's for the fourth time this year, is 1-1 with a 4.56 ERA and .206 opponents' batting average in 21 relief appearances.