Rookies power Toronto's best wins of 2019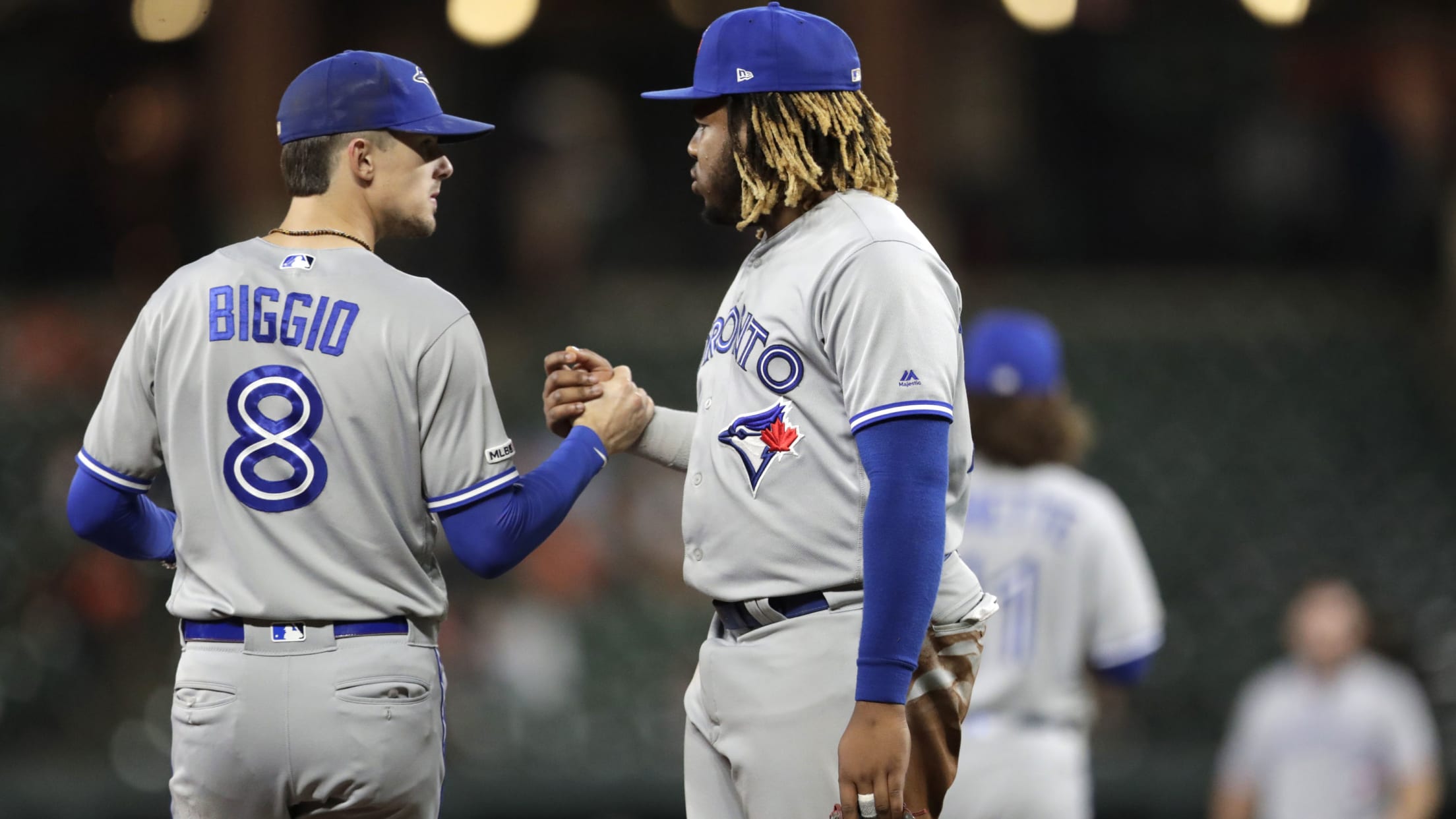 For the Blue Jays, the 2019 season was rife with opportunities, offering a glimpse of what the future might hold. Despite a fourth-place finish in the American League East with a 67-95 record, there were many memorable moments, along with several impressive firsts among a roster full of rookies. Some
For the Blue Jays, the 2019 season was rife with opportunities, offering a glimpse of what the future might hold. Despite a fourth-place finish in the American League East with a 67-95 record, there were many memorable moments, along with several impressive firsts among a roster full of rookies.
Some of those strong first impressions made their mark among the best wins the club compiled in 2019. And as is the theme throughout these five victories, they also gave some insight into what could be or what fans might see more of as the team moves forward in '20 and beyond.
1. Bo Bichette's debut
July 29
When the Blue Jays arrived in Kansas City just ahead of the Trade Deadline, they brought another fresh face into the fold, as Bo Bichette made his Major League debut. The 21-year-old shortstop singled in his first at-bat before going on a roll that would see him rewrite baseball history.
"My dad said, 'Congrats BoBo, you're a big leaguer,'" Bichette said after the win. "That was cool."
Bichette's introduction added to the excitement brought on by the debuts of Vladimir Guerrero Jr. and Cavan Biggio, and it felt like a new beginning for a club in need of rejuvenation.
What does it tell us about 2020?
Bichette's emergence was a bright spot for Toronto, and the energy he brought to the team during the last two months of the season will surely return to Rogers Centre with him next year. His first win was a sign that the future is bright and not too far off for the club.
2. Vlad goes yard for the first -- and second -- time
May 14
When Guerrero Jr. launched the first home run of his young career, he gave the people what they had been waiting for. The rookie slugger had long been touted for his power, and at 20 years and 59 days old, he became the youngest player to homer in franchise history.
Sending his second long ball out of the park just five innings later, Guerrero also became the third-youngest player to hit his first two career home runs in the same game, helping Toronto beat the Giants. Only Brian McCall in 1962 (19 years, 248 days) and Manny Machado in 2012 (20 years, 35 days) achieved this more quickly.
What does it tell us about 2020?
While Guerrero's most impressive power surge came during the 2019 Home Run Derby -- when he hit 91 balls out of Progressive Field on a record-setting night -- his first big league bomb offered a look at how his power might play at the highest level. His second homer solidified that notion, and Toronto will surely receive more of that from him next season.
3. Cavan Biggio's cycle
September 17
Biggio became just the third Blue Jay to hit for the cycle -- joining Jeff Frye and Kelly Gruber -- when he did so against the Orioles near the end of the season. The 24-year-old second baseman's four-hit night was part of an incredible surge down the stretch that saw him hit .359 (23-for-64) with four homers, four doubles, two triples, 12 walks and 13 RBIs over his last 17 games.
What does it tell us about 2020?
The club will look for Biggio to carry that aggressiveness and success over into his sophomore season. After he wrapped up his rookie year with a 29-game on-base streak -- the longest active streak in the Majors, the longest by a Blue Jays player in 2019 and the longest by a rookie in franchise history -- Toronto will certainly be hoping for more of the same.
4. Anthony Alford's 15th-inning walk-off
September 23
If the Blue Jays were looking to leave a lasting impression during the final days of the season, they certainly offered a little bit of everything in their 15-inning walk-off win over the Orioles. Toronto got out to an early five-run lead, though it was squandered by the fourth inning.
The Blue Jays mounted multiple late comebacks, tying the game in the ninth to send it to extras, and tying it again in the 12th. Nine players launched long balls, but Alford, Toronto's No. 20 prospect, ultimately decided the outcome with a two-out solo shot -- the first home run of his big league career.
What does it tell us about 2020?
Right down to the end of the season, the Blue Jays battled through every matchup and offered their opponents no reprieve. In addition to bringing that energy back next year, Alford also provided an example of how many players might play the hero on any given night.
5. Toronto's seven-run comeback
July 27
Down by seven runs in the sixth, the Blue Jays rallied for their most impressive comeback of the season when they took the Rays into extra innings and then used Teoscar Hernández's first walk-off home run of his career -- and second long ball of the game -- to give them the win.
What does it tell us about 2020?
As a team that had lost four of its last five games and seven of 11 matchups after the All-Star break, the walk-off victory displayed the resilience of that club despite its recent struggles.
"We battled the whole game," Hernández said. "We didn't put our heads down. I think that it's always been like that. We always try to fight in the game to get back, and that's what we did today."
And that's what can continue to be expected from the Blue Jays as they enter another season.