Shafer, McKinney recalled; E-Jax, Smoak to IL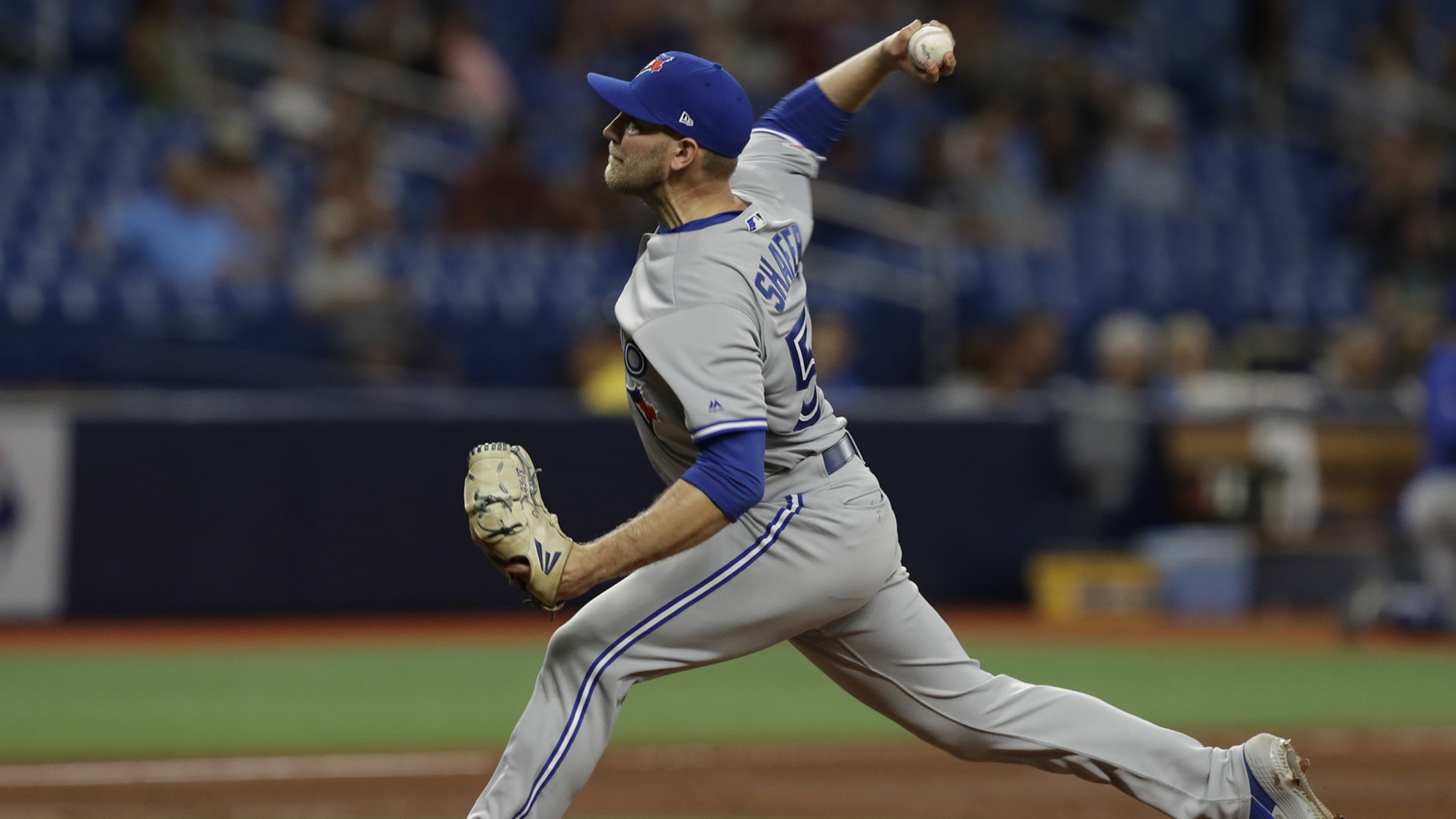 TORONTO -- Over the last 48 hours, Justin Shafer has had to pack and unpack his belongings several times. The 26-year-old right-hander joined the Blue Jays on their last road trip in Baltimore, and before the team loaded up to head home from Houston on Sunday, Shafer was informed that
TORONTO -- Over the last 48 hours, Justin Shafer has had to pack and unpack his belongings several times.
The 26-year-old right-hander joined the Blue Jays on their last road trip in Baltimore, and before the team loaded up to head home from Houston on Sunday, Shafer was informed that he would be going back to Triple-A Buffalo.
"Shafer's done a good job whenever he comes up," Toronto manager Charlie Montoyo said on Monday. "That's what I told him, 'Just don't forget there are other teams out there. You're pitching not only for us, but for other teams, so keep doing your job,' and he's got options to come back."
On Monday at noon, Shafer left Toronto and travelled down the highway and across the border, where Buffalo had an off day, and by the time he arrived to the Bisons clubhouse on Tuesday, he had another shuttle service awaiting him.
"I walked into the locker room today just to unpack my stuff," he said. "[Buffalo manager Bobby Meacham] wasn't there yet but pitching coach Doug [Mathis] was. We were just joking around and he was asking me what they said and stuff like that. Apparently he knew but he didn't tell me. He said he tried to drop hints, saying, 'Who knows when you'll go back up? It could be soon.' I wasn't thinking that I'm going back up right now."
Shafer's addition to the roster on Tuesday marks the third time he has been recalled this season. In seven innings across five outings at the big league level this year, the Florida native has allowed three runs with eight walks and seven strikeouts.
"It's definitely a roller coaster," the reliever said. "But any opportunity to come up here, you're going to take it and run with it, and hopefully just continue to try to make the best of it and be whatever they need when I'm asked."
With the Bisons this season, Shafer has appeared in 18 games and owns a 1.59 ERA over 22 2/3 innings with five saves, walking six and striking out 24 over that span. He has held Triple-A hitters to a .195 average.
"I'm kind of learning as I go," he said. "It's definitely a big adjustment between the two levels. What you see up and down the lineups, the eight-hole hitter up here is probably the middle-of-the-order guy down there. You don't have the top-to-bottom lineups down there like you do here. … Your mistakes are magnified up here, so it's figuring out a way to limit your mistakes and still do what you're good at."
ROSTER MOVES:

🔹 OF Billy McKinney and RHP Justin Shafer have been recalled from the @BuffaloBisons

🔹 1B Justin Smoak (left quad strain) and RHP Edwin Jackson (lower back strain) have been placed on the 10-day IL pic.twitter.com/wWA9TXu0fv

— Toronto Blue Jays (@BlueJays) June 18, 2019
Shafer made the trip to Toronto with outfielder Billy McKinney, who was also active for Tuesday's game against the Angels. The two players were recalled as corresponding moves for Justin Smoak, who has been placed on the 10-day injured list with a left quad strain -- retroactive to Saturday -- and Edwin Jackson, placed on the 10-day injured list with a lower back strain.
McKinney will see time in both the outfield and at first base. In 41 games with Toronto this season, the 24-year-old has hit .221/.272/.364 with three home runs, 11 doubles and nine RBIs. In 21 games for the Bisons, McKinney has gone 16-for-76, and half of his hits have gone for extra bases with two homers, two triples and four doubles.
The Texas native will join an outfield that saw Teoscar Hernandez make an early exit on Monday with a left wrist sprain after crashing into the outfield wall, though the club believes there are no major concerns for Hernandez.
"He's not bad," Montoyo said. "That's good news. X-rays were negative and he took some swings in the cage. It hurts a little bit, so he's day to day."