5 lingering questions for Padres' second half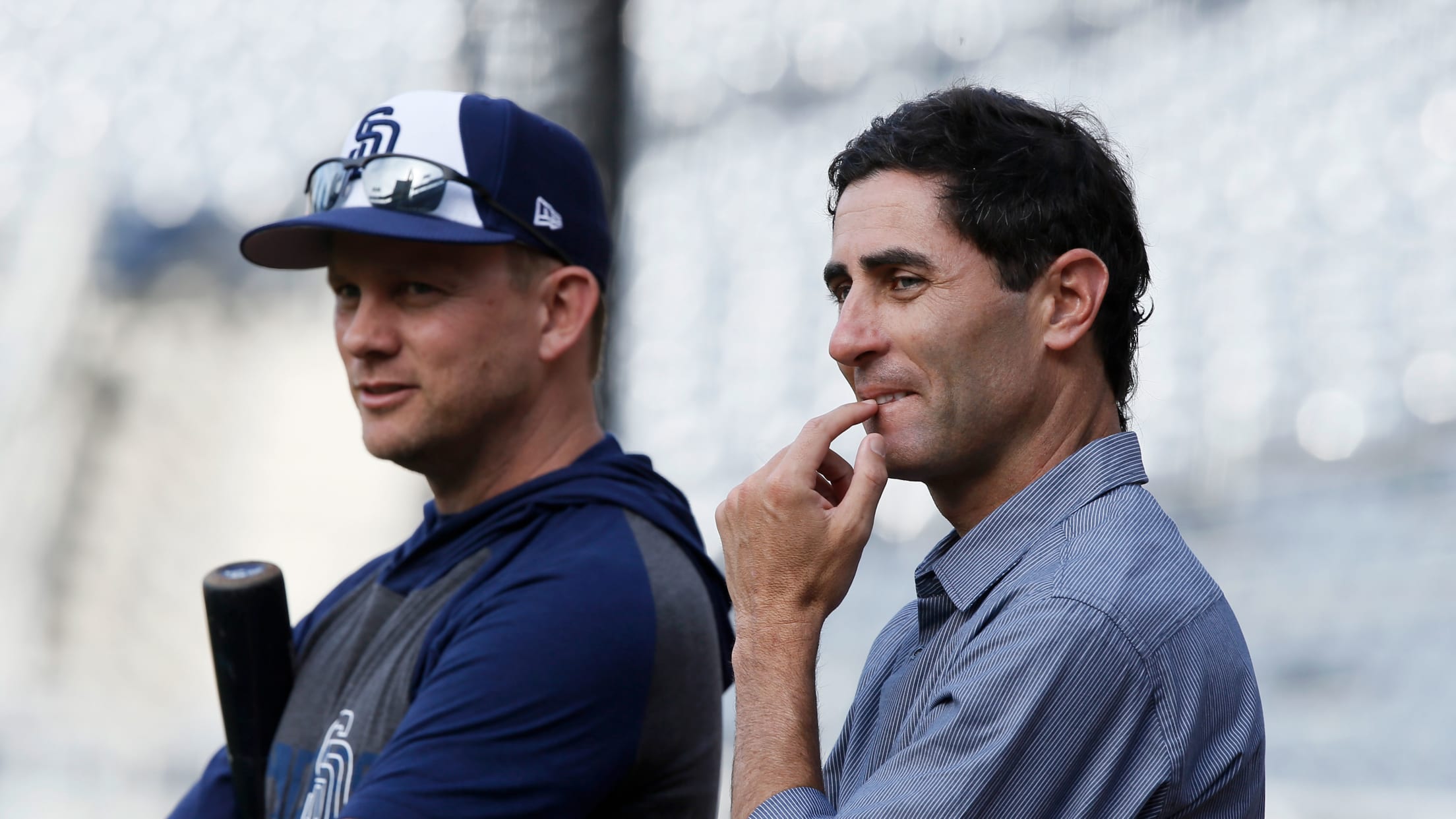 SAN DIEGO -- It's been a roller-coaster first half for the new-look Padres. But they ended it right where they started it: trending upward. With Sunday's 5-3 win, the Padres secured their first four-game series victory at Dodger Stadium in 15 years. They moved to 45-45 in the process, marking
SAN DIEGO -- It's been a roller-coaster first half for the new-look Padres. But they ended it right where they started it: trending upward.
With Sunday's 5-3 win, the Padres secured their first four-game series victory at Dodger Stadium in 15 years. They moved to 45-45 in the process, marking the first time they've hit the All-Star break at .500 or better since 2010.
"We're not where we ultimately want to be," said Padres manager Andy Green. "We're on a path. I think people can see that right now. Things are trending in the right direction."
That said, a streaky first half has given the organization plenty to ponder during the break. Here are five lingering questions:
1. What do they do at the Trade Deadline?
Are the Padres buyers or sellers? General manager A.J. Preller could bolster his team for the stretch run this season, but he won't do so at the expense of the future. Any move Preller makes will undoubtedly put the long-term view first.
Of course, Preller has some serious trade chips to dangle in the outfield and the bullpen, too. Hunter Renfroe and Kirby Yates are the two names that have been mentioned in rumors most frequently, but they're also two of the team's most valuable assets. The Padres won't move either unless they get a huge haul in return.
So … buyers or sellers? Don't be surprised if Preller entertains offers that veer in both directions.
2. Can the pitching staff hold up?
Dinelson Lamet is back in the mix, and the Padres' rotation is notably better because of it. But Lamet's return doesn't solve everything. The middle innings have been a challenge all season, and there are questions around the back of the rotation. Plus, breakout rookie Chris Paddack is on an innings limit, and he'll be monitored closely during the second half.
Still, as a whole, the Padres 4.54 staff ERA ranks 15th in the Majors. Even with serious bullpen questions and the league's youngest starting five, they're right in the middle of the pack.
It'll be interesting to see how the Friars address some of those concerns. They'll continue using their starters with five days' rest between outings. Perhaps Matt Strahm moves to the bullpen. As a lefty capable of eating multiple innings, he'd fill the most obvious void.
3. What's with the streakiness?
So the Padres are a .500 club at the All-Star break. Nobody would've batted an eye at that notion before the season. But they've sure taken a roundabout way to get here.
The Padres got off to one of their best starts in years, then they lost six straight. In May, they dropped six of seven, only to reel off five straight victories. Every time the Padres have seemed poised to fade from contention, they've reeled off a winning streak. And every time they've asserted themselves in the NL Wild Card race, they've immediately hit a skid.
In some ways, that's the nature of a long baseball season. But the Padres' results haven't always been explicable. Take the past week for example. They dropped three straight at home against the last-place Giants, then went to Los Angeles and won three straight games against the first-place Dodgers.
"That's just part of the learning process," said third baseman Manny Machado. "We'll get out of it, hopefully learn from it."
The Padres a young team with plenty of raw talent but a handful of serious question marks. Maybe "streaky" is just who they are.
4. Who's the answer in center field?
San Diego may have found its long-term solution in the outfield corners. Renfroe and Franmil Reyes have combined for 52 dingers before the break this season. They're anchoring the Nos. 4 and 5 spots in the lineup to much success.
But center field is another issue entirely. Wil Myers has served as the primary option there this season. But his glove is best suited for a corner spot, and he's slumped to a .217/.315/.403 slash line. Manuel Margot, meanwhile, has been excellent defensively and on the bases. But his bat is lagging well behind.
With Franchy Cordero out through August, there's no obvious internal solution for that production void. Travis Jankowski's return (perhaps by late July) would give the Padres better platoon options. But there's clearly no position on the diamond that's a bigger long-term question mark in San Diego than center field.
5. Where's Luis Urias?
After he was a surprise omission from the Opening Day roster, Urias, the Padres' No. 2 prospect, has played all of 11 big league games this season. He's raked at Triple-A El Paso, posting a 1.001 OPS. (But then again, everyone is raking in the Pacific Coast League this year.)
The Padres' production at second base was dreadful in April, but it's been much better since then, as Andy Green played the matchups with the lefty hitting Greg Garcia and righty hitting Ian Kinsler. Since May 1, San Diego second basemen have combined to post a respectable .272/.334/.432 slash line with 1.2 fWAR -- the 11th best mark in the Majors.
So where does that leave Urias? Well, his numbers have dipped lately in El Paso. But the Padres are still optimistic he'll take the appropriate steps forward to make an impact at some point in the second half.